Did you know that the city of Schiedam has the tallest windmills in the world? It is also the gin capital of the world! But the best part? It's just outside of Rotterdam, and can easily be reached by the Metro.
This city in the Netherlands may not be on everyone's radar. I have lived here for almost 3 years and I did not know there was so much to explore in Schiedam on a day trip. It is officially a city on its own but is still a part of the Rotterdam-The Hague metropolitan area. It was just another neighbourhood in Rotterdam before they broke away to get their own municipality. This tiny little city has a lot to offer, especially for the gin lovers out there.
I am not a fan of gin but was still curious. So once I found out about this city, I hopped on the green line on the Metro from Rotterdam (the yellow and red lines go there too) and took it all the way to the city of Schiedam. I was there in around 15 – 20 minutes, so the travel time did not eat into my fun day trip from Rotterdam.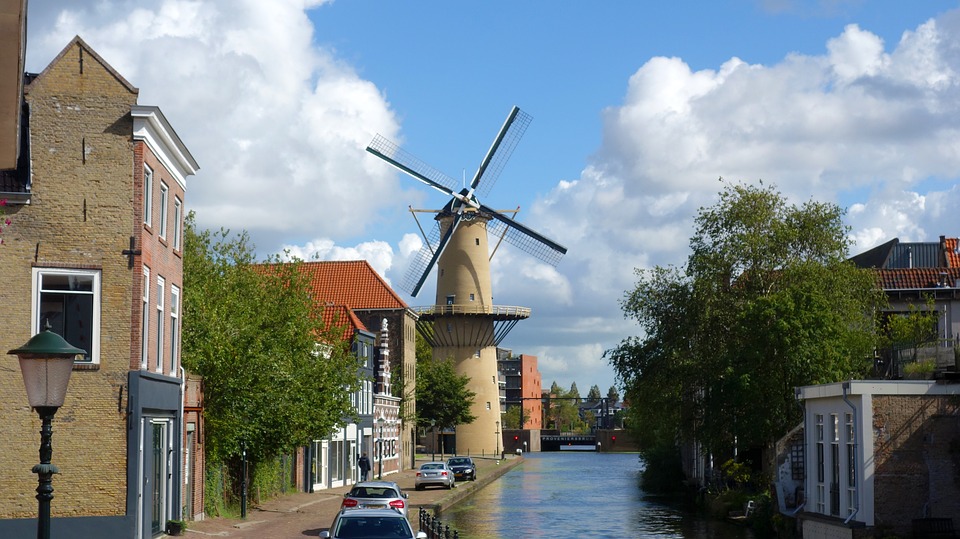 When I visit a new place, I love learning about the (regional) history and culture through their exhibits in their museums. Mind you, there are things you could never know about a place through the narratives they build, but it's a good place to start as any. Everyone loves a good museum, but oftentimes in big cities, all the best museums are hardly ever close by each other. This the charm of doing a day trip to Schiedam: all the museums are within walking distance to each other! (Don't worry if you're not a fan of museums, we have other things in store for you 😉 )
So let's start off with the museums in Schiedam that give you a little taste of the city's gin history.
National Jenever Museum Schiedam
What is there to do in Schiedam? Well, have you heard of jenever? No? Have you heard of gin? Of course, you have! Known as Dutch gin or Hollands to English speakers and gin connoisseurs, jenever is a traditional liquor from the Netherlands and Belgium.
Schiedam has an organisation dedicated to informing people about the jenever making tradition that has long existed in the country. The National Jenever Museum Schiedam is not your run-of-the-mill museum but has three parts: the Jenever Museum, Museum Mill De Walvisch, and Branderij De Gekroonde Brandersketel. These three locations bring you everything you need to know about the gin heritage. They specifically tell you about the traditional Dutch Method (yes, it is called the Dutch Method), a family recipe that has existed since the 1700s.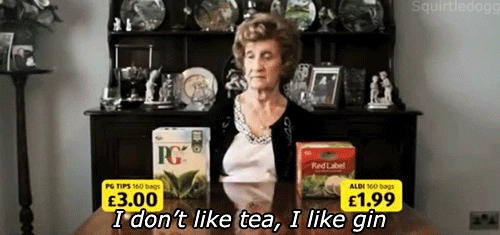 If you've just arrived in the Netherlands and have made some Dutch friends, ask them. I cannot count the number of evenings that have started with a shot of jenever to get the party spirit started. But remember, you sip the drink 😉
Website: www.jenevermuseum.nl
Jeneverie 't Spul
More opportunities to taste and explore the city's connection to making gin! This museum shows you old advertisements, films, and more to really let you get curious about just what makes this city truly special. It is located right behind Jeneverie 't Spul, a popular Gin Cafe where you can taste over 400 different types of gin. Found one you really liked? You can buy a bottle of that to enjoy anytime you want at the store!
Address: Hoogstraat 92, 3111 HL
Website: www.tspul.nl
Branderij de Tweelingh
This is another place to learn more about the Gin making tradition in Schiedam (it is the gin capital of the world after all), but what's special is that the recipe they use is an original family recipe from 1777. You will be able to taste and see just how the 'Egte Schiedamsche Moutwijn' NOTARIS, the liquor produced by the family-run business Herman Jansen, is made. You can request for a guided tour which lasts for 1.5 hours and ends with the tasting of the NOTARIS gin.
Who's feeling thirsty for some gin right now?
Address: Noordvest 93, 3111 PG  
Website: www.hermanjansen.com
But you don't care about the gin? Are you into modern or contemporary art? Then this should be on your list when you do a day trip to Schiedam.
Stedelijk Museum Schiedam
This museum has been collecting art since 1945 and has a permanent collection of "informal" and "experimental" art from 1945-1960. Their temporary exhibitions at the moment are ones you should not miss: like the Meesterlijk Vrouwen exhibit that focusses on Dutch women artists, In de Hoogstraat which narrates the history of the street the museum is on, and so many more!
Address: Hoogstraat 112, 3111 HL 
Website: www.stedelijkmuseumschiedam.nl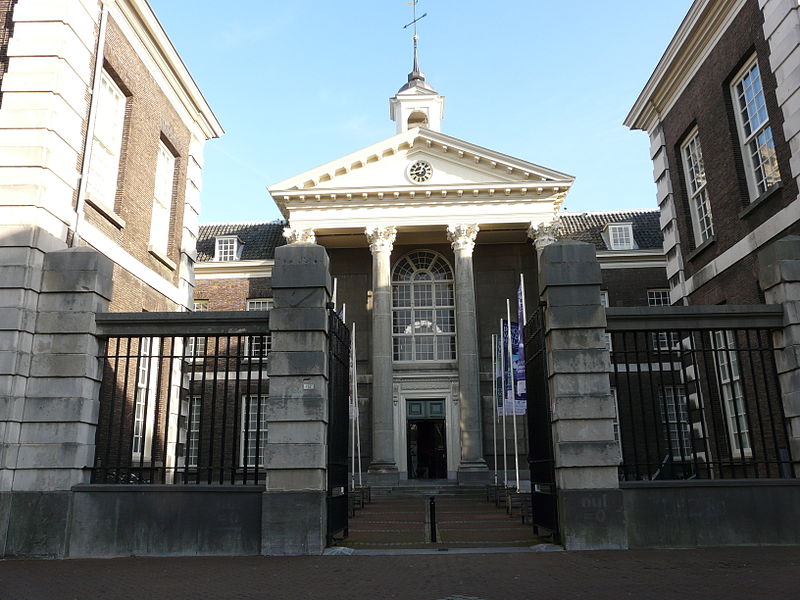 Now that we have told you about the places you could experience Schiedam's signature gin, here's a tip to know their windmills history! 
Museummolen de Nieuwe Palmboom
Nope, not just the gin capital, folks! You can learn about the history of windmills in the city of Schiedam at this museum. There is lots to know and learn about the traditional Dutch windmills that can be found everywhere in the city! So get going.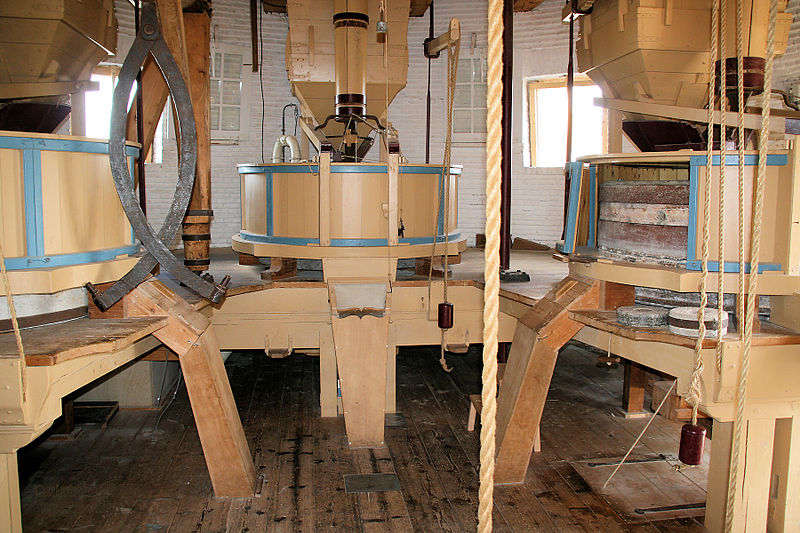 But wait! There are more windmills for you to look out for. This city has some of the best and largest windmills in the world, so don't miss them.
Windmill de Drie Koornbloemen
Windmill Walvisch
Babbersmolen
Windmill de Kameel
Windmill de Nolet
Windmill de Noord
Windmill de Vrijheid
Have you seen all the windmills in Schiedam? Looking for other windmills in the Netherlands? Well, the country has plenty of those, so don't worry. You have a lot of options! You can go to the windmill parks like Kinderdijk or Zaanse Schans. Or you could go to the one at Delfshaven in Rotterdam and make a day trip out of it! The possibilities are endless!
National Cooperative Museum
Schiedam is an old city, with many buildings and one such building is home to the National Cooperative Museum in Schiedam. Be prepared to feel like you travelled back in time! Enter the museum through their shop that sells sweets made from recipes of "yesteryear", and move to the carefully reconstructed living room from the 20s. You will also be able to understand how the Cooperative movement in the Netherlands happened, as well. You can get all of this for FREE! Not the sweets, though 😉
Address: Lange Haven 84, 3111 CH
Website: www.cooperatie-museum.nl
Bibliotheek Schiedam at the Korenbeurs
Schiedam has the first green library in the Netherlands! The Bibliotheek Schiedam at the Korenbeurs opened its doors in 2015 and is right in the center of the city. You should visit this library even if you're not a bookworm! Go there just to marvel at the great architecture and relax in their courtyard. The building has an interesting history where it dates back to 1792. It played an important role in the gin industry, which makes the city of Schiedam what it is today. Trade, art, and culture all went hand-in-hand in this historic national monument.
I for one live in Rotterdam and have gone to the library not to study or work, but to just sit in their marvelous courtyard. But if you're really looking to focus on work, this is still a library which is easily accessible by all. They have different locations around the city, but I think this is the best one.
Address: Lange Haven 145, 3111 CD
Website: www.debibliotheekschiedam.nl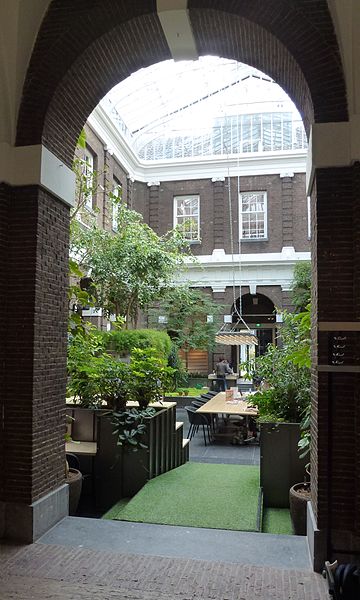 Liduina Basilica
Do you love Neo-Gothic architecture? Then be sure to make your way to the Liduina Basilica, the only basilica in South Holland. It was designed by the architect EJ Margry, and was built between 1878 and 1881. The altar of the Roman Catholic church faces east (towards Jerusalem), but also towards the rising sun.
This church is dedicated to Liduina van Schiedam, the patroness since 1968. As it still has the remains of Saint Liduina, it was given the honorary title of a 'minor Basilica' by Pope John Paul II in 1990. She is one of the most well-known saints from the Netherlands and happens to be the only Northern Dutch female saint.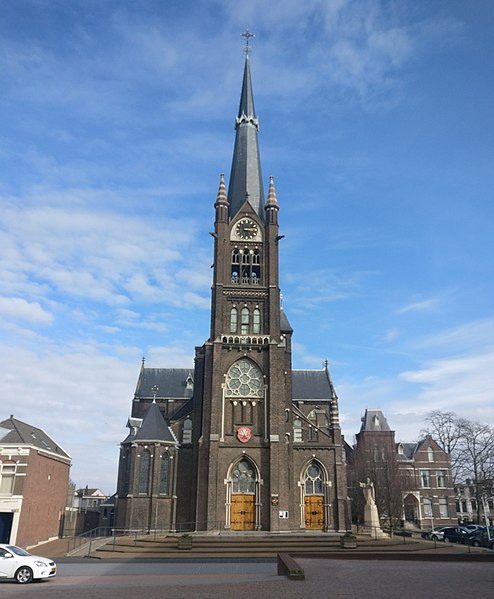 Now that's a little bit about its history, but what can you find inside? You can find works of art telling you the story of Saint Liduina: a 19th-century Liduina altar, the chasuble (the outermost robe worn by the clergy) with intricate embroidery, 8 painted panels, stained glass windows, and the remains of the saint herself.
Address: Singel 104, 3112 GS
Website: www.liduinabasiliek.nl
St. Janskerk
If you're a fan of old buildings and enjoy the architecture of a church from the 14th-century, then head to the Sint Janskerk! It was built between 1335 and 1500 in place of a smaller church. The tower of the church is 54m high and is said to be from the 14th century. Remember the patroness Saint Liduina? Her grave is in this church, while a statue of her welcomes you at the front.
Have a look at these interiors! Aren't they gorgeous?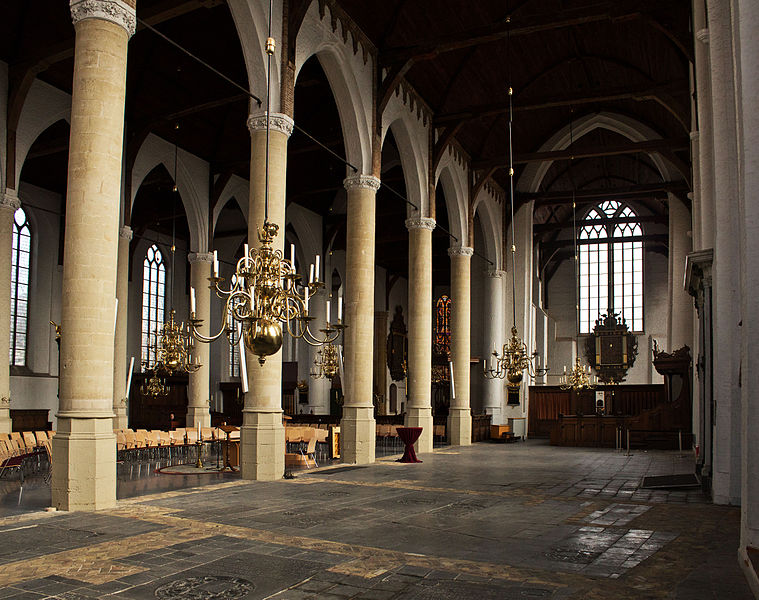 Well, there you have it, folks! 9 things to do and see on a day trip to Schiedam! Don't forget to tag @dutchreview on Instagram when you do visit and take those grams! We want to see them!
Have we missed out on anything? Or have you been there and do not agree with the enthusiasm about the gin tasting opportunities? Whatever it is, we'd love to hear from you! Let us know in the comments or join the discussion on our facebook group!