5 ways you can tell that it is Spring in the Netherlands
March has almost come to an end and we are finally able to say goodbye to the winter that has had us all curled up in hibernation for the last few months. In place of the brutal winds that have fought us on our daily cycling commutes, we are now able to enjoy the gentle (ish) winds of Spring in the Netherlands.
Lambs are beginning to skip around their fields with glee. We, in theory can skip/jog/walk or crawl (entirely dependent on the severity of your winter hibernation, no judgement here!) around blossoming parks searching for the Summer body that we lost sometime last year. The supermarkets are full of brightly colored Easter eggs and there is a strange brash hue of orange clothing and paraphernalia creeping into all the shops….but more about that later. On the whole the grey days are becoming brighter and the general hallmarks of a Dutch Spring have thankfully appeared!
Here is a quick guide to the 5 biggest giveaways that Spring has sprung in the Netherlands…
1- Rokjesdag!
'Rokjesdag is die ene dag in het voorjaar dat alle vrouwen als bij toverslag ineens een rok dragen, met daaronder blote benen.' – Martin Bril
That's right, you guessed it, the Dutch actually have a day called 'skirt day'. In short (pun intended), Rokjesdag is the first day of the year that it becomes warm enough to allow women/men/anyone who wishes to free their legs, the chance to do so without wearing tights and without catching frostbite! Yes, just because it is 'Spring in the Netherlands', it doesn't mean it will be warm and sunny, unfortunately. Made popular by the Dutch writer and Rokjesdag lover, Martin Bril, Rokjesdag is no longer merely a day, but in fact symbolic of the start of Spring.
Naturally dictated by the ever changing Dutch weather, there is not a fixed day on the calendar to mark this unofficial holiday. Instead keep an eye out for the inevitable rise of bare legs on the streets, however, please note that these legs ought to be skin coloured and not blue and/or shivering. And if you work at the Amsterdam municipality take caution when participating in Rokjesdag as not everyone is on board with the shorter hemlines! Read more here!
Rokjesdag is so popular that the Dutchies made a song about it! Check it out…
2- Chillin' on the Terras
As soon as the sun shines in the Netherlands (for more than an hour), the large open squares that were previously desolate suddenly transform into huge seating areas where every man and his dog grabs a chair and 'biertje' to soak up some long awaited Vitamin D. Streets that were once empty and soulless turn into joyfully 'gezellig' hotspots. To fully enjoy this experience you have to be quick off the mark as the 'terrassen' fill up quickly and as we've mentioned before the Dutch and queuing don't exactly go hand in hand.
So don't hang about, catapult yourself into the first available seat and enjoy getting tipsy/zat in the splendid Spring sunshine!
3- Happy Cows!
Cows?! I know, I know, the cow is not exactly the first farmyard animal the pops into your head when you think of Spring. Normally it is the birth of fluffy lambs, bunny rabbits and cute little chicks that melt even the coldest of hearts as we gear up for Easter Egg Hunts and picnicing in the parks.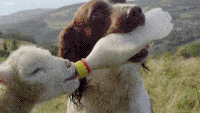 However, Spring time for the humble cow means freedom from their dark and dreery Winter shelters. They are finally free to skip (thats right, they skip), mooch and chill out in the fresh aired fields that they've missed so much.
Still doubting the skipping cow? Check out these guys below to see one of the most heart warming moments of Spring!
4- Tulips, Tulips, Tulips (and of course many other beautiful flowers)!
Unless you are still hibernating, you cannot miss the brightly coloured crocusses and dafodils that have begun shooting up around all the parks and the pretty pink blossoms that scatter the once grey trees. Of course Spring would simply not be Spring in the Netherlands without the beloved tulip. Fields upon fields of the unofficial Dutch flower have come into bloom and the striking colours of the flowers are certainly a sight to behold!
After you've caught sight of the famous fields, the next thing to add to your 'Spring to do list' is the beautiful Keukenhof gardens that were opened just recently (March 22nd). Famous for being the largest Flower Park in the world, here you can wander around a ridiculous amount of beautifully arranged flowers and really enjoy some Spring air!
5- Spring in the Netherlands: Orange Everything!
Along with the brighter days and longer evenings there is another strange and somewhat remarkable occurance that indicates the start of Spring. This phenomenon is not technically connected to the changing of seasons, however each year, sure enough, just as Spring approaches the shops begin to fill up with items in a bold and almost blinding shade of orange. (That very few people can actually pull off) And no this is not a recent thing and it is in no way connected with Trump, so you can all breath again! This is of course in preparation for the Koningsdag celebrations that kick off on the 27th April!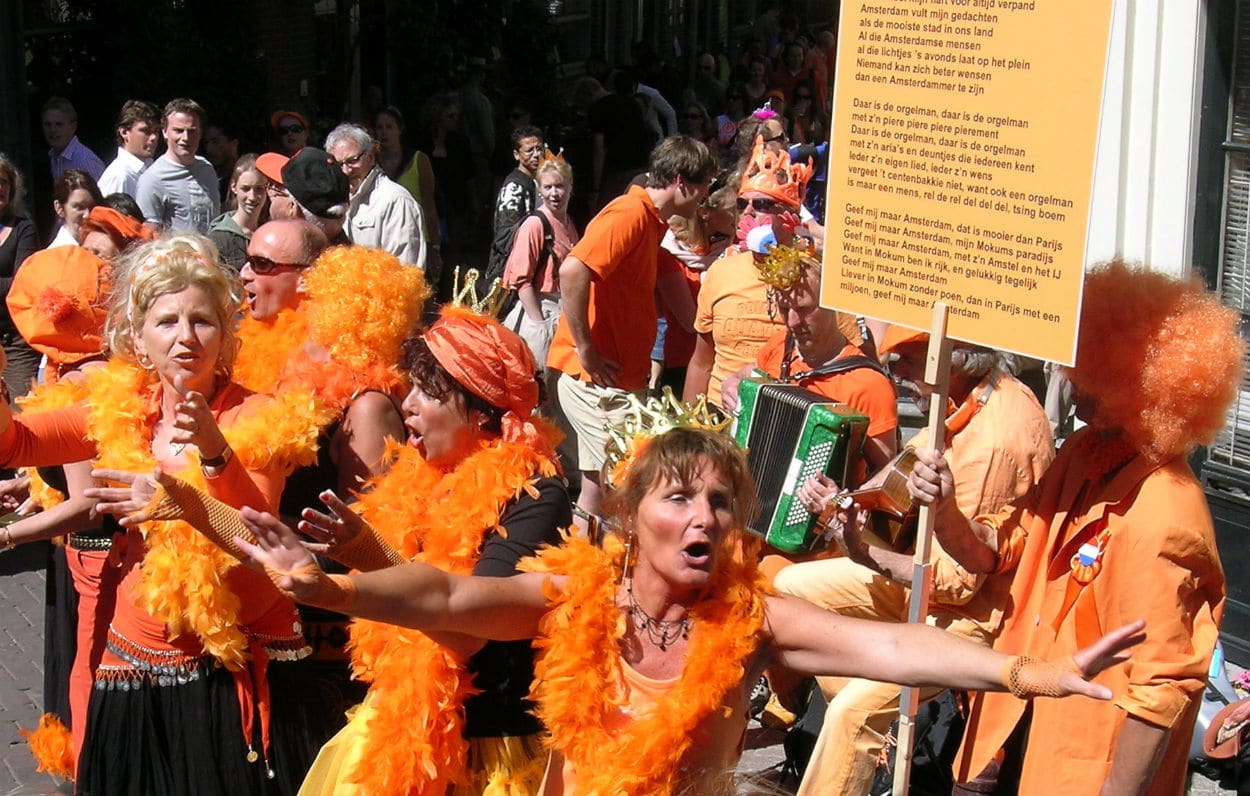 Koningsdag is pretty much the biggest party in the Netherlands and it's all to celebrate the King's birthday, so take this cue and start picking up some lovely orange attire and get ready to party in the Dutch Spring time!
Liked this article? Be sure to follow DutchReview on Facebook in order to not miss out on any other good stuff!