Living in another country can be an amazing but challenging experience. Living in a country during a global pandemic? That's more challenging than ever. You may be battling loneliness, homesickness, and concerns over navigating a health crisis in a foreign country. 
If you're feeling a little overwhelmed, you're not alone. In 2015, the Dutch statistics bureau CBS estimated there were up to 75,000 expats in the Netherlands. While we're lucky enough that in the Netherlands many Dutch people speak English to remove the language barrier, that only goes halfway to easing our worries.
Here are the most commons concerns from an international and how we can handle them.
6
Concern: should I go back home?
Should I leave everything and go back or should I stay put? Will I be able to come back to the Netherlands later? Will I unknowingly carry the disease back to my family?
If your country is one of the few lucky ones who have managed to get the virus under control, it might be worth considering going back home — provided the borders of your home country are open. Keep in mind that you may have to face quarantine restrictions upon your arrival and that traveling (especially through crowded places) is not entirely risk-free.
The solution
Well, we don't have one. This is a personal decision highly impacted by your personal situation and the situation in your home country. Here are some questions you can ask yourself when considering whether to go back home or stay:
Will my country allow me back in?
Can I get a flight there? Take into account layovers in other countries and flight cancellations.
Will I be safer there than here?
Do I feel comfortable doing a full quarantine on arrival if necessary?
Will my mental health be better there?
Can my mental health cope with potentially stressful travel situations?
What are the benefits of being home?
What are the benefits of staying in the Netherlands?
Am I okay potentially not being able to return to the Netherlands for an extended period of time?
Take care of yourself. Be kind to that brilliant mind. #SelfCare pic.twitter.com/eJ8d14ynHj

— Dr Erik Messamore (@ErikMessamoreMD) April 2, 2020
5
Concern: culture shock and language barrier
It takes enough energy to get to know your new country when the world is "normal," but now you have to learn about it in a period of crisis. Jeez…you were just starting to learn the language, make friends and get used to borrelen and haring, and then this happens.
Thanks to social distancing measures, there aren't many opportunities to meet new people at the moment, but it can increase feelings of loneliness. On top of that, maybe you don't understand enough Dutch to read the news, or even follow instructions in the supermarket.
The solution
There are some things you can do to make this situation a little better: or at least understand what's happening.
Firstly, follow DutchReview for updates and news — we're continuing to publish all the latest updates in English.
Secondly, if you're feeling a little lost in the supermarket, you can read specific supermarkets' regulation signs using Google translate on your phone. Just open the app, select the camera, and take a picture — you'll receive a full translation that's normally pretty accurate.
Finally, use this as an opportunity to keep working on your Dutch skills.
4
Concern: self-isolating when you live alone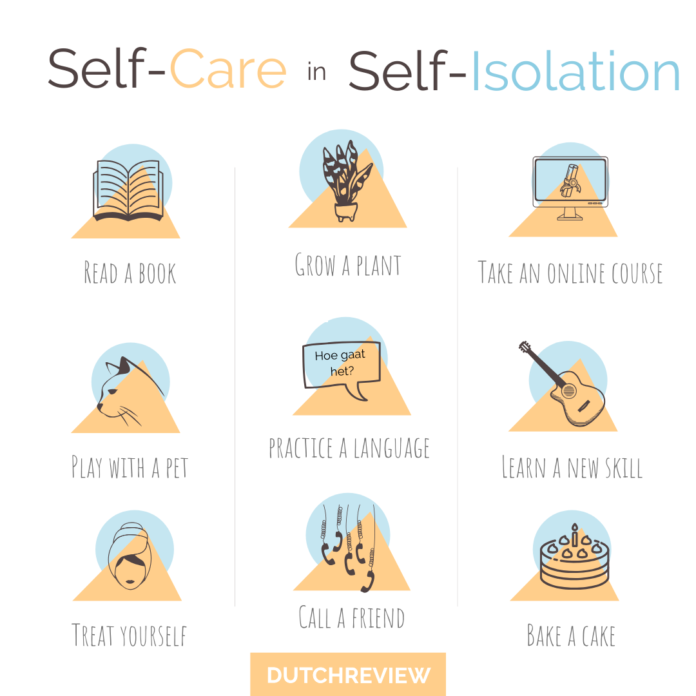 Image: DutchReview
Staying alone in a lockdown can be one of the most difficult parts of this process. While you used to be able to get nuggets of conversation from your workplace, coffee shop, or even while parking your fiets, suddenly there's nothing.
Take advantage of this time. When there's no pandemic, we're so busy with other stuff that we forget to check-in with ourselves and explore the things we like to do.
You may think you know yourself well because you've been in the same body since you were a child. Well, let me tell you something: from a cellular point of view, you are a completely different person every 10 years.
The solution
Take this time to learn more about yourself. Take up a new hobby — start drawing, sewing, playing an instrument, cooking, building Lego, decorating a room, playing a game online, or exercising: you never know what will stick!
Doing some physical activity will make your brain chemicals happy, and since you're alone, there is no shame in learning a new dance or sport in your bedroom with YouTube videos. No one will judge you for learning the basics of samba, belly dance, or pole dance. Who knows, maybe those moves will pay off in the future!
Plan a routine and stick to it. You can plan your working hours, the physical activity sessions, and even your menu for the week. It is important to make plans for the short term these days and following it will make you feel like an achiever!
3
Concern: family and friends in your home country
This is one of my biggest fears. How is my family? When will I be able to see them again?
The solution
Find ways to connect. The best way to deal with these fears is to talk with your friends and family more often. Even if there is a large time difference, it is worthwhile to have just a short chat!
Maybe this won't heal all your worries but at least you will be taking advantage of this time to connect with the ones who are important to you. I am sure they are also worried about you, and in difficult times communication is the best tool you can use to ease the anxiety.
2
Concern: the Dutch health system
Expats have very strong opinions about the Dutch health system — in fact, we joke a lot about how paracetamol is the cure for everything in the Netherlands. I felt worried when news of coronavirus started to appear over whether it would help, or whether my basic health insurance was enough to cover a hospital stay.
The solution
Luckily, the Dutch system was right this time. Because coronavirus is a viral infection, using Paracetamol to relieve symptoms in mild cases is recommended. For serious cases, hospitals have all the necessary equipment.
If you're worried that as an international you'll be treated as a second-class citizen, think again. Every Dutch doctor takes the same oath: to save lives regardless of race, ethnicity, gender, etc.
If you're worried about insurance, just give your provider a call or check on the website. I did it and now I am more relaxed about it. Even if you don't have insurance, hospitals will still take care of you — they'll just try to collect the bill later.
1
Concern: post-pandemic consequences
What will happen next? What will the economy end up in the Netherlands or in my home country? Should I start looking for a new job? Should I start sending money to my country or trying to save it just in case?
The solution
Stop worrying. All these concerns are useless because at the moment because no-one knows what is going to happen. All we know is things will change: the economy, society, and ourselves.
But the best thing we can do is expect the best — and prepare for the worst. Maybe now is not the time to buy a lot or make impactful financial decisions. Try to enjoy it: take a break from thinking or worrying about the future.
---
At the end of the day, the current situation is unprecedented: we're all feeling our way through the dark. Remember to reach out to friends, family, or mental health hotlines if you need help.
Meanwhile, remember you are not alone in this crisis. If you are an international or not, there are people just like you are having the same feelings and experiences. The best way to ease those fears is to talk about them with others.
What are your concerns as an expat sitting out the pandemic in the Netherlands? Got any tips on dealing with any concerns? Let us know in the comments below!
Feature Image: Ethan Sykes/Unsplash
Editor's Note: This article was originally published in April 2020, and was fully updated in February 2021 for your reading pleasure.