Looking for the equivalent of a dollar store, a euro shop, or a pound shop in the Netherlands? Here's what we know about shopping cheaply in the land of kortingen (discounts).
The longer you live here and search around, the more you get to know about the best places to shop. Sometimes we can all feel the pinch and we just need some guidance on budgeting our money and getting the most from it.
Well, we have compiled a list of the very best cheap shops in the Netherlands, so you can get the best korting! You'll be well on your way to frantically lobbing mountains of items in your shopping baskets.
Cheap shops in the Netherlands for household items
Let's begin where most internationals in the Netherlands begin — looking for household items.
Action
Action is amazing. It is what saved me when I first moved to the Netherlands with minimal money and an unfurnished house.
It's a store that sells random household items such as cutlery, phone chargers, photo frames, bed linen, toiletries, cleaning products, and general decorative items.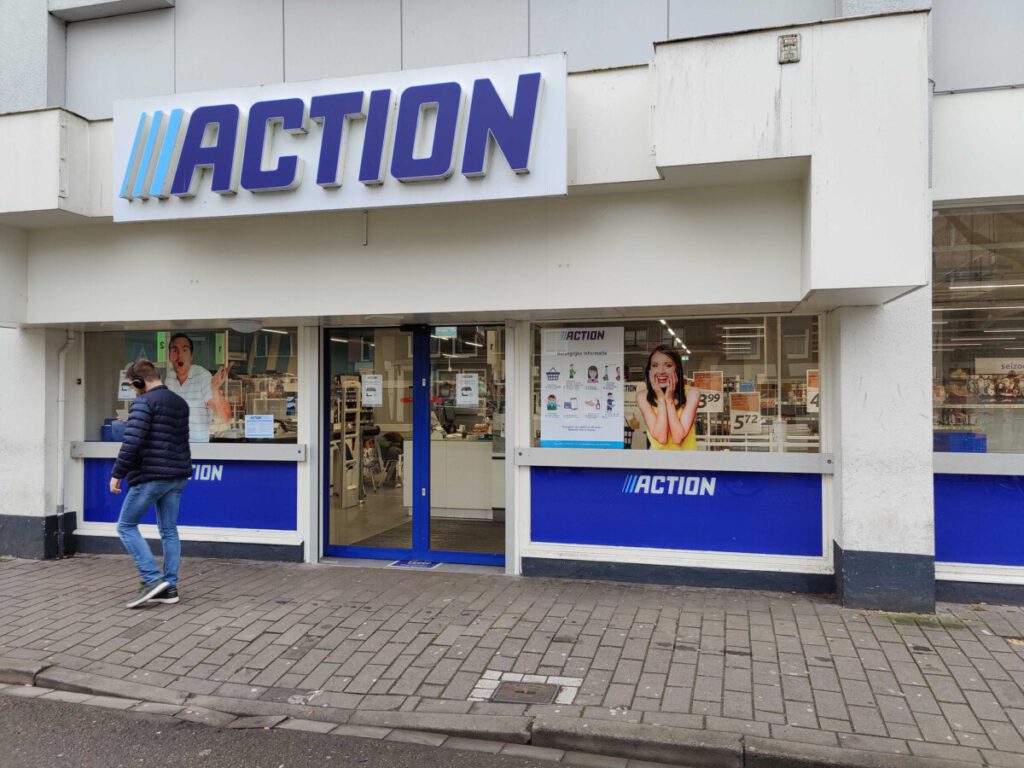 It's all ridiculously cheap and a lot of it doesn't even look that cheap if you choose right. Action has a ton of stores all over the country, so it's easy to find if you want to shop there. 🙌
Big Bazaar
Big bazaar is very similar to Action, yet personally, I think the items look a bit cheaper and there is slightly less choice. However, it is great if you're looking for a bargain on household goods or decorative items.
SoLow
Again, similar to both Action and Big Bazaar, SoLow provides you with cheap household goods and other items. This ranges from things like scarves and gloves to the more adult items, such as jokey sex games and beer pong (oi, oi).
They also sell car and bike items, culinary items, cards, and decorative items. SoLow is only found in some cities though, unfortunately.
Flying Tiger
Want hippy and cool items for good prices? Check out Flying Tiger! This shop has become a bit of an obsession for many of us.
As you wander around, you slowly end up building your trolley with more and more interesting goods (some of which you will probably never ever use).
Flying Tiger is a perfect shop to fill your home with pointless inexpensive items! Worth it though. 😉
IKEA
We all know and love IKEA. The store just speaks for itself. Plus they sell the best meatballs. I shall say no more.
Cheap supermarkets in the Netherlands
Once you've got yourself some cheap shelves, it's time to fill them with affordable food! Let's talk about affordable supermarkets in the Netherlands.
Aldi
If you're looking for the cheapest supermarket, head to Aldi. Aldi is honestly dirt cheap and good for the essentials, such as bread, milk, chopped tomatoes, sauces, butter, etc. If you're strapped for cash, head to Aldi to do your shop!
READ MORE |The ultimate guide to the cheapest supermarkets in the Netherlands
Lidl
Lidl is ever so slightly more expensive than Aldi, but with a bigger and better range of food. Lidl also does special weeks, so it's perfect for you internationals looking for a certain cuisine.
The other week they had 'British week' and I raided Lidl about four times to buy back-bacon, sticky toffee pudding, and cheddar cheese like an animal. So it's worth checking out what food they are stocking every week.
TIP: Lidl also sells some pretty nice furniture online if you're after some inexpensive furniture.
Cheap shops in the Netherlands for clothing
The next step as an international in the Netherlands may be to reinvent yourself in order to romanticise your experience of living in a new country — and how do you do that? New clothes of course! But please, make them affordable.
Primark
Most people know what Primark is and thankfully they have it here in the Netherlands! Primark is good if you need something cheap and cheerful to wear.
READ MORE |11 ways to live waste-free in the Netherlands
They also sell some household goods and duvet covers to decorate your home with. Primark stores are mainly concentrated in Holland, so you may have to travel a bit further afield if you're right in the north.
C&A
C&A is one of those shops where one item can be considered quite expensive and another dirt cheap. There are some really nice clothes in there and the sales are really good too, so have a shop around and you might find something really good.
Definitely a shop to check out for some nice, yet inexpensive clothes.
Zeeman
Zeeman is a very inexpensive shop, with both clothes and household items in their stores. The clothes are items such as underwear, gym wear, t-shirts, and jumpers.
READ MORE | Great webshops in the Netherlands: the Dutch way to shop!
The household items are usually items such as cleaning products and kitchen wear. A good shop for a flying visit if you're after a few cheap t-shirts and a bottle of bleach.
Cheap shops in the Netherlands for electronics
The final task as an international may be to find an adapter for all your electronic plugs that have suddenly been rendered useless. There's one main shop for finding something that both works and is cheap — that's a hard combo, trust us.
MediaMarkt — but only when a sale is on
The best place to go for electrical goods is MediaMarkt. They have lots of stores up and down the country so you can go to the store and see the items for yourself. The range of goods is quite extensive but there is usually some sort of sale on.
So, if you're looking for some electrical goods, here's your go-to. Only if there's a sale on — otherwise, it can be a bit pricey for some items.
---
We hope this cheap shop guide has got you well on your way to securing yourself a great deal. After all, what are we going to do with all those euros we have managed to save? Maybe you can buy those guilt-free bottles of wine after all!
What's your favourite store to go to in the Netherlands when you want to save some money? Let us know in the comments!
Editor's Note: This article was originally published in February 2018, and was fully updated in May 2022 for your reading pleasure.