The issue of homelessness can be a very serious one, and even a wealthy country like the Netherlands has its fair share of homeless folks.
Unfortunately, this is something that can happen to anyone, internationals included. People who become homeless are often ordinary people, many of whom actually had it all at one point in their lives.
While being homeless is something that can happen to anyone, not everyone has the means to solve the problem as quickly as possible. So if you find yourself homeless in the Netherlands, what do you do? Where should you go for assistance? And what agencies are there to help?
Homeless in the Netherlands
In the Netherlands, a person is considered homeless if they do not have a roof over their heads and an address where they are officially registered.
There are certain people who, despite having a place to live, are not registered in the system and therefore don't have an official address. People like that aren't classified as homeless. A homeless person has neither a roof over their head nor an official address.
READ MORE | The amount of homeless people in the Netherlands has doubled in 10 years
Being homeless and on the street
There are many reasons why people become homeless in the Netherlands. The most common reasons are financial problems, addiction and (domestic) relationship problems.
It is a very sad thing to lose your house — a roof over your head and a safe place to call your own. Some common causes of homelessness in the Netherlands include:
Huge debts due to excessive housing costs.
Bad financial management skills.
Addiction: drugs, alcohol, gambling, shopping etc.
A fire and no insurance covering the house and properties damaged in the fire.
Psychiatric problems that prevent people from being able to take care of themselves.
Being evicted from home after a fight with a partner or even parent (s).
Running away from home due to abuse.
On the run for something or from someone.
Divorce or broken relationships.
Entrepreneurs going bankrupt and homeless with no financial support due to a recession or bad business decisions.
While there are many reasons why people become homeless, each differing by country, huge debts remain the number one reason here in the Netherlands.
Due to an economic crisis, for example, many people lose their jobs and then their homes because they can no longer pay their rent and debts or make their mortgage payments.
While this might be very common in America, it also occurs in the Netherlands and even more frequently when there's a recession.
In poor or war-torn countries, there are millions of homeless people, adults and children, who have to flee their homes or live on the streets due to war, domestic problems, natural disasters or the outbreak of diseases.
While there may be no wars or catastrophic natural disasters in the Netherlands, people still become homeless because they find themselves in unfavourable financial situations due to the loss of a job, recession, mental problems or domestic abuse.
So what do you do when you find yourself in that same situation here in the Netherlands?
Look for help in your social network
If you become homeless in the Netherlands, first seek shelter with family or friends. If you're an expat and have no family (or friends) here, there are some organisations that can help you.
Realise that it is important to have an address where you are officially registered. Otherwise, you can't receive posts or benefits. If you have no one to turn to or don't know what to do, ask for help from these organisations and see how they can assist you.
In most cases, they can help you with an official address so you can receive benefits. If you have children with you, make sure to ask them about the costs associated with childcare because childcare for homeless people is usually not free.
Homeless in the Netherlands? Here's some advice!
Find a safe place to stay
The first thing you need to do is try to ensure that you literally find a safe roof over your head. If you have no friends and family, go to the Salvation Army (Leger des Heils) or any other agency and ask for assistance.
If you don't know where how to find the nearest agency that can help you, use the Opvangatlas. It's a free service that helps you find the nearest agency in your neighbourhood.
Whatever you do, please avoid sleeping on the streets. You run the risk of diseases and other problems. Sleeping on the streets can be very dangerous, especially for women. The streets are not safe at night, and there are dangers lurking in dark corners and alleys.
In the winter, it is also dangerous to sleep outside, due to the temperature. People without a social network (no friends or no contact with family) are usually the first to end up on the street. It is important that they find their way to the Salvation Army.
If you still have a source of income and can pay rent, look for a room, even if for the night. The next day, you can go to the nearest Salvation Army office, and they will help you find a solution as quickly as possible.
Take steps to sort out your financial situation
If after the Salvation Army or any other agency have helped you find temporary accommodation and you have a lot of debts, contact Schuldsanering and let them assist you in paying off those debts.
This is often the only way to get out of debt and work towards finding permanent housing in the future.
It might not be easy and huge debts may make it difficult to get a mortgage, but either way, a temporary roof over your head might be the first step in you finding your feet and rebuilding your life.
Try to maintain or find a source of income
If you have a job, make sure you do all you can to keep it. Having a source of income offers hope and a way out of homelessness.
If you don't have a job, ask for benefits from the government. And make sure you're constantly searching for work.
Well-known agencies that help the homeless in the Netherlands
The Salvation Army
The Salvation Army (or Leger des Heils in Dutch) is one of the Netherlands' most popular agencies that (among other things) offers help to homeless folks. If you're homeless, they can offer you a bed, the possibility to shower and something to eat.
They also help with advice on problems that homeless people may have and know the right people to call in case they can't help directly.
The Youth Information Point (Jongeren Informatie Punt)
The Youth Information Point (Jongeren Informatie Punt) provides information and advice about work, school, drugs, money, homelessness and housing, addiction, family problems, sex, etc., to young people (up to 25 years).
If you find yourself on the streets in the evening, you can reach the local police or emergency assistance at 070-3795160.
If you have no idea where the Salvation Army in your neighbourhood is or who to turn to when you're homeless, please quickly check the Opvangatlas. Opvangatlas helps people in socially vulnerable or unsafe situations to find suitable care, help and support.
It is totally free, and you can find suitable assistance for yourself or others. This includes help with homelessness, domestic abuse — physical and/or sexual, etc.
Note: For those in a crisis situation and who need urgent help, Opvagatlas can help you find the help you need. But if you're a victim of abuse and you feel lost, depressed, helpless and/or scared to leave your abuser, De Luisterlijn is where you can anonymously speak to volunteer workers who can offer you a listening ear.
They offer support and also put heads together on how to solve your problem(s). They are available day and night and can be reached via their helpline on 0900 0767. Their online chat support is open from 10:00-22:00, or you can email them via the website.
Homeless shelters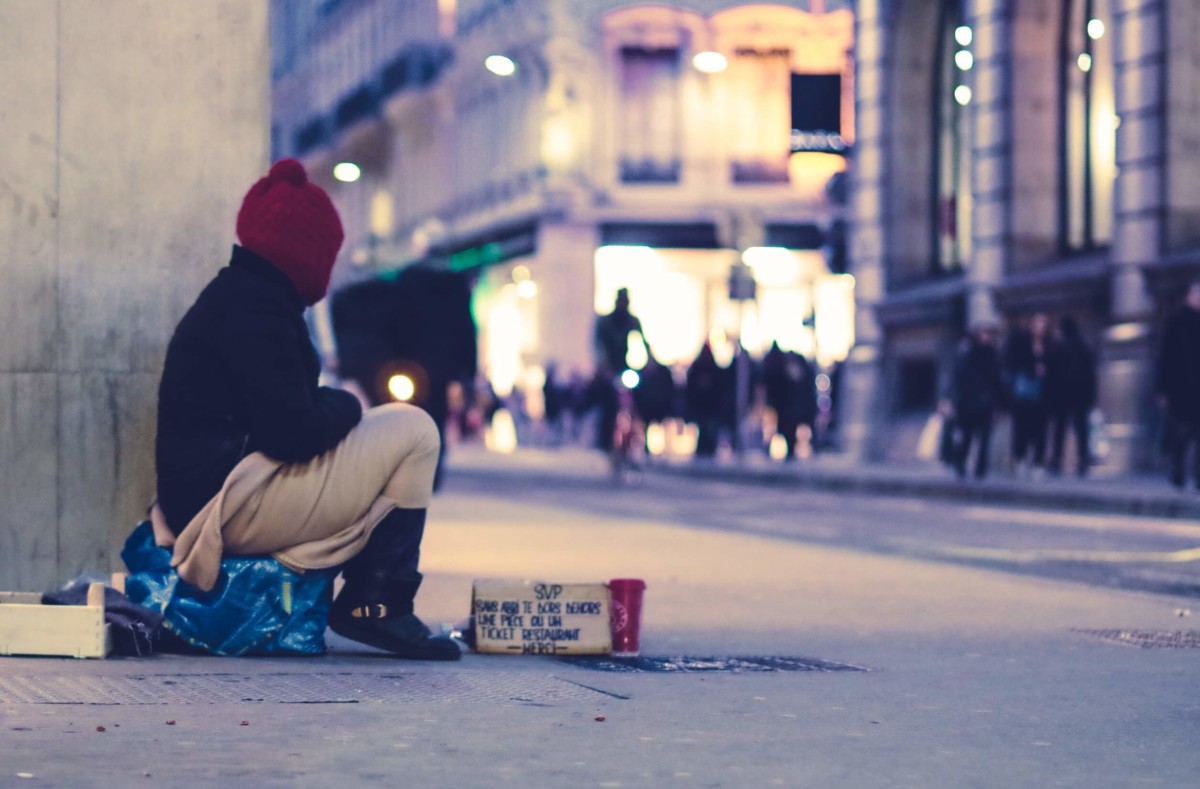 If you are a victim of physical, sexual or psychological abuse and do not want to or cannot continue to live at home, then you can go to a shelter.
This is especially if the violence takes place in the house where you live because, in some cases, the abuser doesn't live under the same roof with their victims.
Luckily, in the Netherlands, there are homeless shelters for men and women. For women who are victims of abuse by their male partners, the shelters offer them support while also keeping their location a secret from those abusive partners.
The same thing goes for men who are victims of abuse from female partners.
What help can you get at a homeless shelter?
If you're homeless in the Netherlands and at a shelter, care providers or social workers help you with:
Getting (medical) care if you're injured. This could be physical or psychological care.
Finding a secret address, if necessary.
Arranging a divorce, if necessary.
Finding a job.
Finding a new place to live when you leave the shelter.
Assistance in solving the problem with your family or (former) partner, if you want it.
Note: You can find the nearest shelter via the Opvangatlas.
What help does the Salvation Army offer the homeless?
The Salvation Army and other agencies can help you in various ways:
Resolving debts or problems with the law.
Getting an official address for receiving mail.
Getting a job, ID card and health insurance.
Tackling an addiction.
Note: You can find the nearest shelter to you via the Opvangatlas.
How long are the homeless allowed to stay in a shelter?
The homeless are allowed to stay in a shelter for up to three months. After leaving the shelter and getting settled in an apartment or any other type of temporary or permanent accommodation, they often receive a guidance counsellor or social worker who checks on them from time to time.
At shelters, professional caregivers help them solve their problems and work on getting back on their feet.
Homeless and in dire need of an official address?
Without having an official address in the Netherlands, it is impossible to apply for or receive benefits. And when you're homeless, benefits and whatever assistance you can get really goes a long way in alleviating your predicament.
Anyone who does not have an official home address can request a temporary post address from the GBA (Municipal Personal Records Database). When you're registered in the GBA, you can receive mail and apply for or receive benefits.
You must understand that registering with the Municipal Personal Records Database is only temporary and is, of course, not a home address. You can make enquiries at your town hall or ask the Salvation Army for more information.
Making payments for food and other essentials
Homeless people are entitled to benefits and can easily apply for them, mostly through the assistance of the Salvation Army. In most cases, if they have children with them, they receive extra money for childcare.
If you are homeless with children and can find your way to the Salvation Army, please ask them about the possibilities of getting benefits for you and your children. They can help you apply for the benefits you need, all you have to do is ask.
Homeless winter shelters in the Netherlands
In the Netherlands, winter can sometimes be very harsh and homeless people sleeping on the streets tend to suffer the most. Each city in the Netherlands has its own (winter) shelter program for the homeless.
If you're homeless in Amsterdam, the winter shelter opens in December and closes in April. The Amsterdam winter shelter is only for homeless people in the city who are unable to find alternatives to shelter themselves. Asylum seekers can always report to the Public Transport Safety Team at Amsterdam Central Station.
Asylum seekers who have exhausted all legal remedies and have a V-Number may go to the Bed, Bath and Bread facility (BBB). You can also find the nearest police station and asking them for help on how to find the BBB.
Bed, Bath and Bread Facility Amsterdam
There are lots of homeless people who are undocumented in the Netherlands. Most of them are scared of asking for help for fear of being sent back to the countries where they came from. While some are in the process of seeking asylum, others have had multiple asylum requests denied.
The wonderful thing about the Netherlands is that the Dutch government acknowledges that they are human beings who should not be left on the streets to die of hunger or cold during the winter. In Amsterdam, the Bed, Bath and Bread (BBB) facility offers these undocumented folks a place to sleep, shower and something to eat.
Requirements for acceptance to the Bed, Bath and Bread facility in Amsterdam:
You may or may not have a V-Number – your asylum request number from the Immigration and Naturalisation Service. (IND).
You are undocumented or your request for asylum has been denied.
You have no right to other forms of shelter.
You are not a citizen of another EU state, of a non-visa country or of a safe country.
You have a connection with Amsterdam (you are not receiving care or medical treatment elsewhere).
You are not a criminal or war criminal.
You do not have a job.
You are actively participating in the Integration Programme for Foreigners.
Addresses: Bed, Bath and Bread Amsterdam
Derkinderenstraat 44, district of Nieuw-West
Schuitenhuisstraat 9, district of Nieuw-West
Walborg 2A, district of Amsterdam-Zuid
The BBB is open from 4 PM to 9 AM every day.
The homeless receive an evening meal and breakfast. They are allowed to bring one suitcase and one piece of hand luggage.
Homeless people who have demonstrably no connection with Amsterdam will be referred back to the region of origin.
For example, if you are injured or sick and are receiving medical treatment in Rotterdam or another city, you cannot be allowed into the Amsterdam BBB.
The Homeless Winter Shelter in Amsterdam
The homeless can come in on Monday, Tuesday, Thursday and Friday between 2 PM and 4 PM. The Public Health Service (GGD) conducts an intake interview with everyone.
If a homeless person is found eligible, then they are accepted into the BBB and allowed a bed, a shower, a hot meal and breakfast for free.
The shelter is only a temporary one, and the homeless are allowed a maximum of 10 nights. In that period, the care providers help them look at long-term options.
Address: Jan van Galenstraat 323, (entrance B)
Are you homeless with a dog?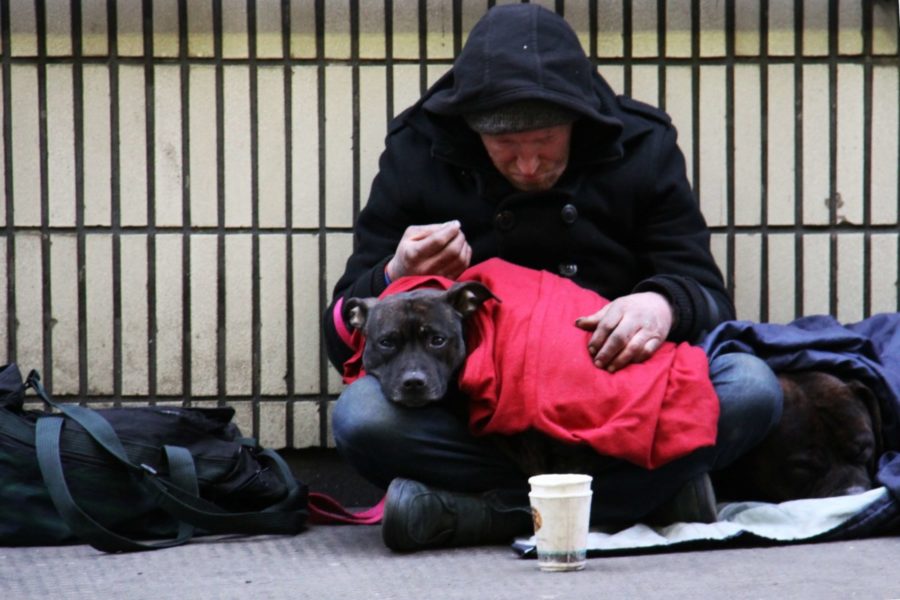 Due to the freezing conditions and how harsh it can be for dogs, Amsterdam and three other cities have a scheme where they take care of the dogs of homeless people free of charge.
HVO Querido and the Salvation Army have an agreement with Dierenopvangcentrum Amsterdam (DOA) to pick up the dogs of homeless folks at the Contactweg winter shelter in Westpoort.
The owner of the dog can stay for the night at the winter shelter while his/her dog stays in the shelter on the Meermeerweg.
Finally
Homelessness isn't easy and, for some, can be a prolonged ordeal — a nightmare they can't wait to put behind them and move on.
And while some people succeed in finding their feet in no time, others need more time and assistance to solve all the underlying issues surrounding their homelessness.
Some may have to kick an addiction first, while others may have to be kept away from an abusive family member or partner. It's never easy.
In some countries, homeless folks are treated like the scum of the earth, but luckily in the Netherlands, that is not the case.
There are lots of organisations in this wonderful country where homeless people can run to and find the assistance they seek. Personally, this is one of the reasons why I love the Netherlands with all of my heart.
You never realise that it could also happen to you at any time and most of us go through life thinking that all is sure.
Well, life can be unpredictable. In most cases, all it takes is a bad investment, the loss of a job, mental illness, an abusive partner, etc., for one to become homeless.
If you ever find yourself in a situation where it is nighttime and you have neither a bed nor a place to call home, don't panic! And please, don't sleep on the streets. There is hope. There is help — you just have to find it.
Please realise that you can always do something about your situation, and no condition is permanent or hopeless. No problem is unsolvable, even homelessness.
Note: A lot of these organisations that help the homeless rely heavily on donations. If you would like to donate to the cause, please click on any of the links below:
And don't forget to visit any of the Salvation Army offices in the Netherlands to also donate clothes, winter jackets, food, drinks, snacks, etc.
If you have old clothes you were thinking of throwing away, please take them to the Salvation Army office near you. I'm sure they have some homeless folks who could use them!
Have you ever been homeless or do you know anyone who is currently homeless in the Netherlands? Got any tips on what can be done? Leave your thoughts in the comments below!
Editor's Note: This article was originally published in June 2019, but was fully updated in June 2023 to bring you the most up-to-date information.