The famous stereotype of the Dutch bike everywhere, every day, regardless of the weather is true.
While doing so, they have many different types to get around. To help you figure out which one is best for you, we have explained all from omafiets, to mamafiets to bakfiets! 
The Omafiets
My first bike was a so-called "Omafiets", translated to grandma-bike. This Dutch bike style is known for being easy to ride as they have a higher seat and a diagonal-curved frame. I used it to bike from the experimental farm I worked in to the office and I was quite proud of biking over slippery frozen snow and only falling a couple of times. We painted it a metallic minty green and I loved it until it was (stolen) removed by the city for it being parked too long. (Yeah, if they consider your bike is abandoned the city gives itself the right to take it, pimp it and resell it).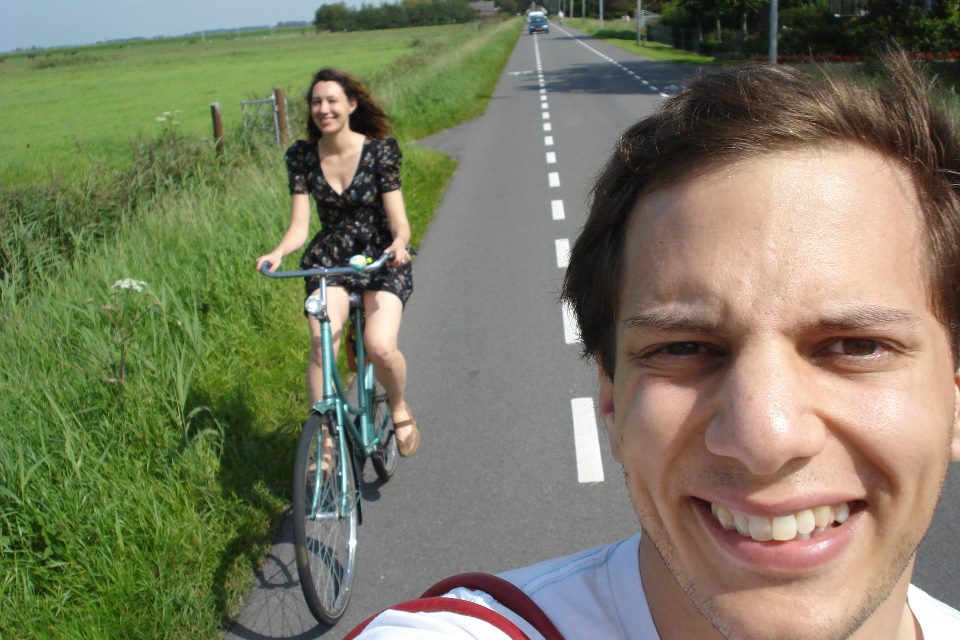 Mamafiets
When our little daughter was around two years old it was time to transition to a Mamafiets (mummy-bike). That is essentially a bike with a child-seat attached, at the back or at the front. I was very scared to bike with it, I am so naturally clumsy and the thought of falling with my child on it was my own personal nightmare. We've mostly used it for fun or short errands but she loves being there.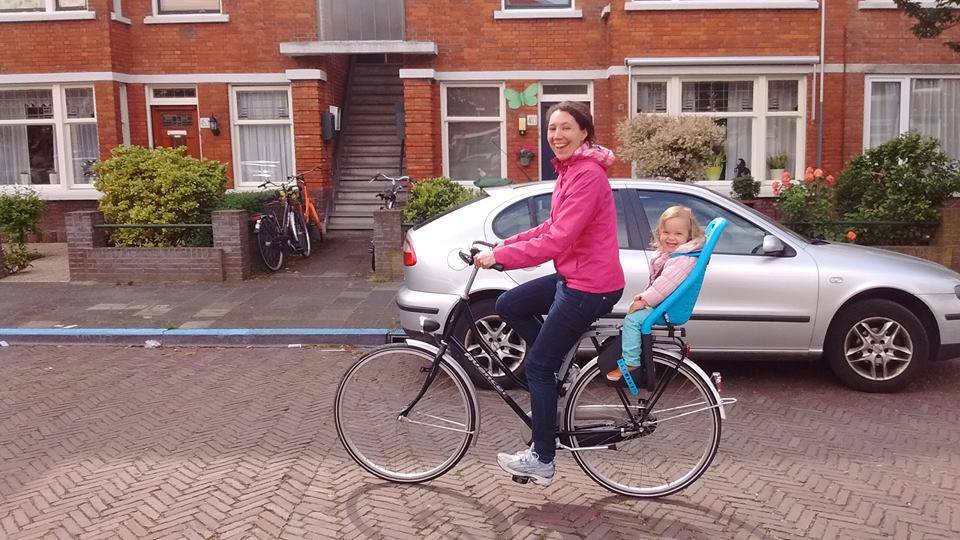 Bakfiets
With the arrival of our second daughter, now 6-months-old and the travelling circus that we have to carry around every time we go out of the house (so, all the time) I started thinking more and more of getting a bakfiets"(bucket bike?) and finally graduating to the ultimate parent bike. My older girl is soon going to school and we should be able to leave the house fast and go.
Going out with our pram, baby carrier, kid-board attachment and diaper bag is a whole adventure. Getting out of the house takes us at the very least 25 minutes, easily. Carrying everything down, and then everything up the stairs to our apartment is just daunting. So, the idea of just dragging ourselves out the door and be easily on the road was very tempting.
I started my research and asked friends about those famous bakfiets. There are so many brands and types. First, you must decide if you will get a 3-wheeled one or a 2-wheeled one. Then you have the choice of getting an electric one.
And then you have to look at the vast array of brands available. Initially, I thought I'd be getting a 3-wheeled one. They are shorter and seemed so stable at first sight. And so we went to try them.
There I was with the 3-wheeled monstrosity… ready to go and I didn't reach the end of the street. You see when you turn the whole "bucket" turns with you. I completely lost my balance and the bike was going everywhere without me having any control. I did not fall, no, but I could not drive the thing.
My husband, who's 100% Dutch and has been riding a bike pretty much since birth, as the Dutch do, also tried and he had trouble as well. He said it was completely unnatural and it was tough on a cobbled street.
I get that it is a matter of getting used to riding it, but at this time of my life, I am not up to learning a whole new skill. I'd heard the regular (2-wheeled) bakfiets are rather difficult as they are so long and unstable. That it is difficult to make them stop and you are very vulnerable to the wind.
We went on a day-trip to Utrecht and rented bikes. I picked a bakfiets as I wanted to test-run it. It went amazingly well. It feels just like a regular bike, though yes, it is a bit heavier, and it is just easy and intuitive.
This January we pulled the trigger, went on Marktplaats, on the national Dutch sport of finding second-hand deals and found one. We chose a Babboe-city, non-electric and I am so happy to be going places with my kids and my junk all in one place. We'll see how it goes. I'll let you know if I fall in the canal.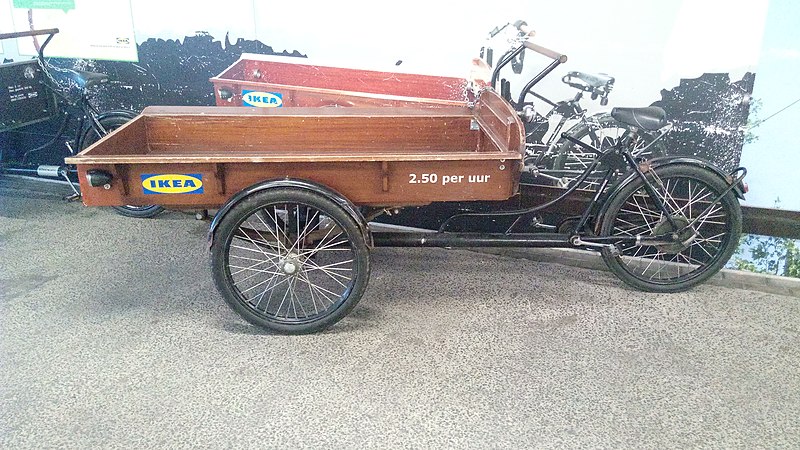 Let's talk business: the brands
In terms of brands, we heard that Troy ones have the best quality-price ratio. Babboe, Bakfiets and Gazelle are some of the most popular and are in the middle range in terms of price, in general, made of (treated) wood. Then you have fancy design brands like Urban Arrow; Butchers & Bicycles; Riese & Müller, sleek, pretty and made of the best lightweight, wind and rainproof materials, for a very different price range.
If you do decide to get a 3-wheeled one, many of my friends who opted for those did recommend getting an electric one as they are significantly heavier than 2-wheeled ones and when the wind is going against you with the added weight of the children and groceries it is nearly impossible to move them. If you go electric, do not get them second-hand. There is a cute, smaller red-and-blue 2-wheeled one called Nihola that is easier to turn and has a special part that stabilizes the bike when you turn.
As a final tip, make sure to pimp yours by painting it or adding stickers as this dissuades thieves and consider getting an insurance. For the price of such a bike, I think it's worth it.
Are you using a bakfiets biking yet? If so, which did you pick? What informed your choice?
Feature Image: Amanda Steck/Supplied