A baby was kidnapped in Eersel (North-Brabant) this morning. The half-year-old girl was removed from her parental home by youth care. The police assume that she has been taken away by her biological parents and according to the police, the safety of the child is at risk. An Amber Alert, the Netherlands signal for a missing child, has been sent out.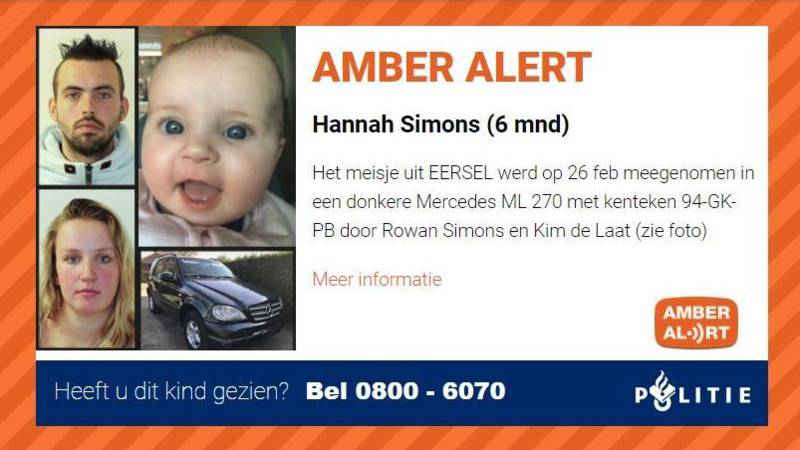 Kidnapped in Eersel with violence
The man would have taken Hannah, as the child is named, from her carer's arms this morning when she walked out of a supermarket in Eersel. Bystanders say to Omroep Brabant that he used violence. Then the man and his partner speeded away in a car, apparently a Mercedes.
Immediately after the kidnapping the police asked people via 'Burgernet' to look out for the car. An attempt has also been made to contact the parents, but without result. That is why an Amber Alert was sent out at the beginning of the afternoon. The police asks people who see the baby or her parents to call 112 immediately.
We should also look out for a black Mercedes ML 270 with license plate 94-GK-PB
Wij zijn een grote zoektocht begonnen naar een ontvoerde baby is #Eersel. Kind is vermoedelijk meegenomen in een donkere Mercedes ML 270 met het kenteken 94-GK-PB. Gebeurde op parkeerplaats bij de Lidl aan de Nieuwstraat. Zie je de auto? Bel direct 112! Meer info volgt!

— Politie Oost-Brabant (@politieob) 26 februari 2018