Michelle Obama nearly sells out Ziggo Dome in Amsterdam on Wednesday evening, in the last stop of her European book tour. The tour, "Becoming: An Intimate Conversation With Michelle Obama" promotes her autobiography, Becoming that has sold 10 million copies worldwide. 
Mrs. Obama nearly sold out the arena in Amsterdam, with 11,000 tickets sold that varied from 35 to 1000 euros.
Fans went mad when the former first lady comes on stage to "Girl on Fire" by Alicia Keys:
Just 2 lil Arubans in this huge line, excited to see @MichelleObama #IamBecoming #ZiggoDome pic.twitter.com/iWNn8ooFf4

— ?? (@supitslau) April 17, 2019
In conversation with journalist Isha Sesay, Mrs. Obama spoke of the experiences that shaped her including her childhood in Chicago, her professional life and the presidency days.
According to NOS, Mrs. Obama said, "this evening is not about Michelle Obama, this is about us all." She touched on the subject of race and gender and how these created a barrier in her professional life.
"We are taught as women to hide ourselves, but if we can open up and share our REAL stories, our pains and triumph, we will break barrieres. It's the story that has power!" #IamBecoming #MichelleObama @AtriaNieuws @ZiggoDome pic.twitter.com/ibjQkzBJOu

— Esther Terweij (@EstherTerweij) April 17, 2019
"I know what it's like to have talent and passion, but not being able to realize your potential because of the color of your skin", she said. Due to her gender and race, Mrs. Obama says she had to be "better, faster, smarter" to be taken seriously in the business world.
Mrs. Obama also spoke of the racism she faced as the first black first lady. The "angry black woman" stereotype was used against her during Barack Obama's political campaign, a racial stereotype. Other black female public figures such as Serena Williams have come forth to expose and combat this stereotype, rooted in slavery.
Mrs. Obama said, "There are people who cannot stand my voice. They are going crazy because of an outspoken woman or colored person". She also speaks of being more confident than ever at 55, but how society values men and youth.
An inspiration to all women?
I think that Michelle Obama is an inspiration to all women. A woman that was once told was not "Princeton material" by a high school counselor (but got in anyway) has become one of the most influential women in the world. From her "Let Girls Learn" initiative to educate 62 million girls to her campaign focused on solving the epidemic of childhood obesity, Michelle Obama has done a lot for the US and the world.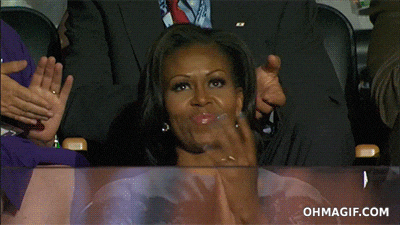 Were you there at Ziggo Dome? Let us know how it was in comments, below!
Source feat pic: defense.gov/cc (https://www.defense.gov/observe/photo-gallery/igphoto/2001533658/)