If there's one thing we love to talk about in the Netherlands, it's the weather. This time it's for all the right reasons as a hot spell is expected all the way until the middle of next week. Many of us go a bit crazy when temperatures go over 20 degrees Celcius (I'm sorry, it's in our blood) – but seeing as it's reaching 25 degrees and it's spring, we really do have an excuse to get excited about it!
So, what's happening DutchReview!?
Can I sunbathe yet?
Today
In case you haven't seen anybody cheerfully cycling with their sunglasses on and the wind blowing in their hair already, then it's a damn fine day (get outside!). It's set to get warmer throughout the day, where it will reach around 22 degrees later in the afternoon. Perfect weather for that much-needed drink outside after work.
Tomorrow
Tomorrow is another beaut of a day, with temperatures reaching 24 degrees Celcius (hell-freakin-yeah!). Sadly, most of us will be at work for it, but don't fret because we're set for a scorcher all weekend too! Temperatures will drop to 10 degrees once the sun goes down, so certainly not all-out shorts weather just yet.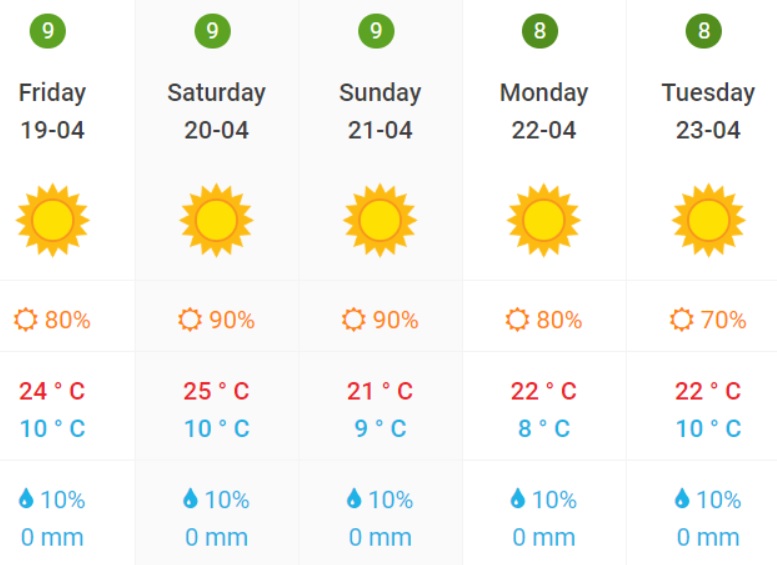 This weekend
This weekend is going to be amazing weather! On Saturday temperatures are set to reach 25 degrees. Yes, TWENTY FIVE – and there was us thinking that we'd spend the whole of April under an umbrella. Like I said before though, it's a bit chilly once the sun goes down, so don't go too underdressed if you're out of the day.
 Next week
The weather is going to continue for the first half of next week at least, so it won't be ending as soon as the weekend is over. For the second half of the week, it's looking to still stay warm, just not quite so warm and sunny, but we'll have to wait and see.
How are you liking this weather? Let us know in the comments!