If this is your first time voting in the Netherlands, or the last one was ages ago and you remember little, here's what you need to know and do with the upcoming Dutch municipal elections! 
What're the upcoming Dutch municipal elections about?
On the 21 March, two votes will take place concurrently –  one for municipal councils and one an advisory referendum vote on the new Intelligence and Security Services Act 2017 (Wiv).
And here's the awesome news for you internationals: holders of non-Dutch passport (EU and non-EU citizens) are allowed to vote only in these Dutch municipal elections!
Dutch municipal elections of 2018: How does it work?
The Dutch municipal elections are held every 4 years. They distribute seats in the city council proportionally (10% of the vote equals 10% of the seats). The number of seats is different for every municipality as it is based on the number of its inhabitants.
The voting on municipal elections is of a preferential type – a voter has to choose a specific candidate, which will count automatically as a vote for the party.
Municipal elections in the Netherlands do not appoint a mayor – unlike many other countries, here the mayors are not directly elected but 'appointed by the King', based on the advice of the City Council and the Ministry of Interior Affairs after a job offer is open to all citizens. Although it wouldn't be much of a Dutch political situation if there wasn't a good debate and some trials being held on electing a mayor in the Netherlands.
Are you going to vote in the upcoming Dutch municipal elections?  Feel free to get really political in our Facebook-group!
Dutch municipal elections: Who can vote?
Everyone aged 18 and above with legal, active (so, not unregistered) residency in any municipality in the Netherland can vote, regardless of their nationality, with the only difference that EU citizens can vote based on registration, whereas non-EU citizens need to have 5 years of uninterrupted residency. Or better say, residents can choose to vote or not because, unlike in neighboring Belgium, voting in the Netherlands is not obligatory.
Dutch municipal elections: Before the election day
Some weeks to days before the actual election day, all residents eligible to vote, receive, by post mail, their personalized voting pass (stempas), as well as a folded list of all parties and candidates (it can get pretty long!). Every member of a household with voting rights gets one such pack. The stempas has a QR code or a hologram on it, which will be scanned at the voting station.
You need to take your voting pass with you on the election day, to prove your eligibility to vote. In case your voting pass hasn't arrived or arrived damaged, make sure to contact your local municipality for reissue. Also, make sure to bring your ID!
You can vote in any voting station of your choice as long as it is in the same place as your registered address is. So, you can live in one neighborhood and vote in another, but you cannot be registered in Utrecht and vote in Amsterdam.
On the election day
Every neighborhood has a few voting stations (stembureau, stemlokaal), open from 7:30 to 21:00, and located in various easy-to-access public places such as schools, municipal centers, libraries, bars, windmills and even someone's home.
Every voting section is handled by a team, usually, active members of the local community, who facilitate the voting process, make sure no violations happen, count and register the total number of votes at the end of the day.
Once inside a voting station, you need to provide a member of the stembureau's team with your voting pass and a valid ID. EU citizens, citizens of Lichtenstein, Iceland, Norway can identify themselves with a driver's license. Non-EU citizens and citizens of Switzerland need to show ID card or passport, or their Dutch residence permit.
The team will take your voting pass and provide you with the voting paper, where you are to mark your choice. You are then invited to the actual voting desk. Marking/writing on the voting paper is done only by a red pencil (so, not with your lucky pen), that is available on the desk. In front of each entry on the voting paper, there is a small circle – you need to fill in the circle next to the name of your preferred candidate.
Place your voting paper in the voting box – this very often looks like or is a plastic trash bin, so don't be surprised.
The Dutch municipal elections: a few points of attention
The only requirement to vote in the Dutch municipal elections is to have a local residency, so you do not need a whole inburgeringsexamen for it. However, do not expect to be provided with English language voting pass, voting paper or explanations in English at the station – these are, after all, Dutch elections.
Make sure to prepare names, parties and how to use the red pencil in advance. Any voting station has a board with instructions at the entrance. You can ask the members of the voting station for help, of course, and most probably they will do their best to assist, but they are not required. Oh, and you can't ask somebody to assist you in the voting booth – voting is secret in the Netherlands.
Once you are done marking on your voting paper, make sure to fold it well, and do not give it to any member of the team (or anybody else!) to place it in the voting box – this may invalidate your vote. You need to put it in yourself.
If you make a mistake while voting, you can ask the stembureau team for another voting paper, but once only.
Vote only with the red pencil, if even you don't like the colour or think it is politically binding 🙂
Once again, voting is preferential – a voter has to choose a specific candidate, which will count automatically as a vote for the party.
Voting by proxy (instead of someone else)
Surprising for many non-Dutch but in fact fully within the laidback and liberal attitude of the Lowlands, you are allowed to cast a vote on behalf of someone else or authorize someone to do it for you – a family member, a partner, a friend, a complete stranger even. A lovely Dutch word for it is 'volmacht'.
There are two ways to do that:
Take your voting pass, the voting pass of the person you will vote on behalf of, and a copy of his/her ID to the municipality. You will get the so-called kiezerpas (not a stempas) which you will use at the voting booth to receive a voting paper and cast the vote for the other person.
On the back of the personal voting pass, the person who authorizes you to vote on his/her behalf needs to list your names and date of birth, to sign it and provide you with a copy of his ID to use in the voting station.
In both cases, the person voting on behalf of another person must also vote – you cannot cast someone's vote and not vote yourself. Also, you need to do it in one visit – you cannot first vote for a friend and return an hour later to vote yourself.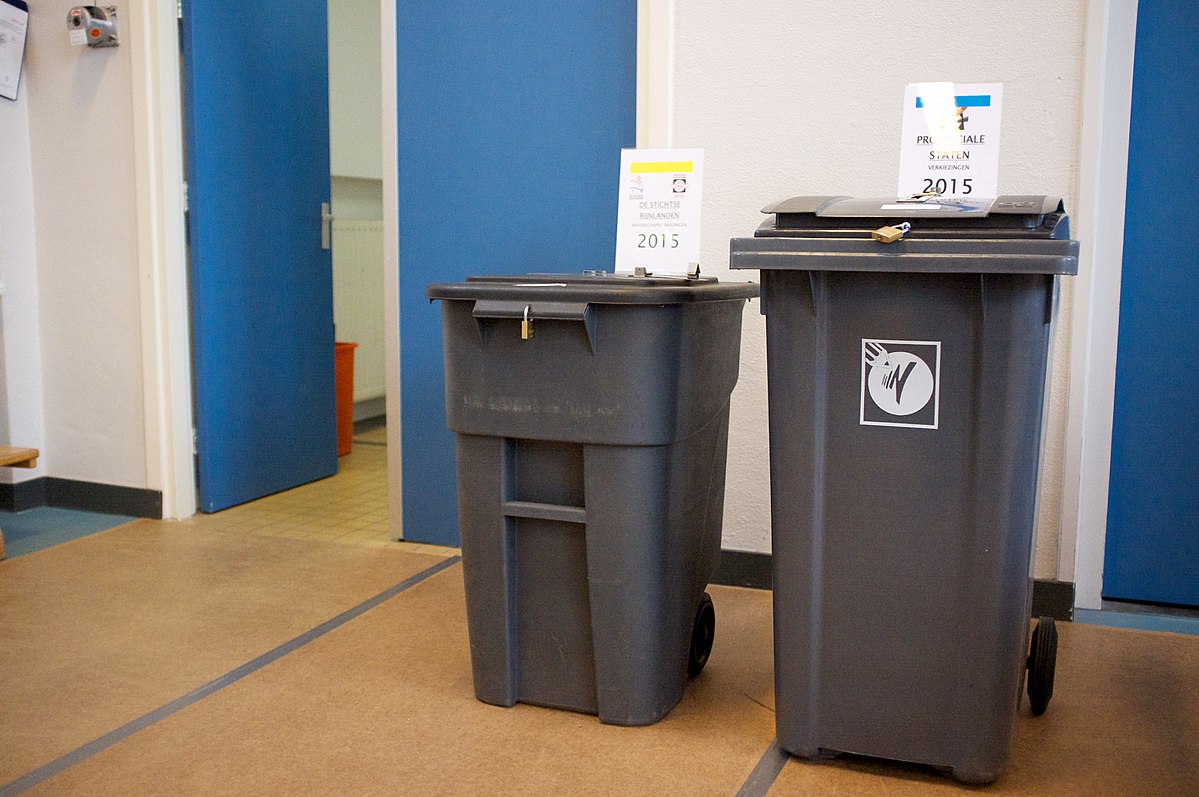 Dutch municipal elections: Who to vote for
…is, of course, your own personal decision. We only have one advice – do your research and think of it carefully. After all, municipal councils are tasked to take care of your living area, to be clean, green, offer good conditions for normal life. Use this voting experience to also introduce yourself to the Dutch political and electoral system. If even you (still) don't have the right to vote for Parliament, this can be a good exercise for understanding how this land of windmills and tulips is run, what are its short and long-term objectives and plans.
Are you going to vote in the upcoming Dutch municipal elections?  Feel free to get really political in the comments or in our Facebook-group!