If you're Dutch and living overseas, voting while living abroad is still possible! That's right, you're still able to vote in elections and referendums. However, NOT for local government elections. For these elections you'll only be able to vote on the referendum on the Wiv 2017 – Wet op de inlichtingen- en veiligheidsdiensten (also known as the Sleepwet). If you're only temporarily outside of the country and still have a Dutch (postal) address your ballot paper will be mailed there and you can authorise somebody to cast your vote on your behalf. This goes for ALL elections, so in that case, you will be able to vote in the local elections on 21 March.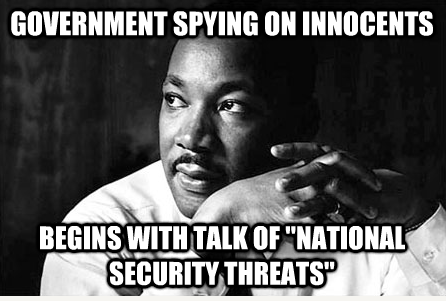 Voting while living abroad: Registring
If you're permanently living outside of the Netherlands, you'll have to register first before you can do anything. Unless you live in the following areas: Wellington, Ottawa, Pretoria, Muscat, New Delhi, Doha or Moskou. In that case, you'll be able to cast your vote at the embassy/consulate. In all other cases, you'll have to register. Unfortunately, you won't be able to do that anymore before the upcoming referendum, but if you register now you'll be able to vote for every next national, European election and referendum.
Registering takes a little bit of time, but it's a one-off thing. You'll have to print the form, fill it out, sign it and then upload it, together with a copy of your Dutch passport or ID-card.
Note: For voting while living abroad; you're only able to register if you no longer have a Dutch address. If you've already registered you might not have to do anything this time, but your registration has to be from after 1 April 2017. If you registered before, you'll have to do it again. Registrations form before 1 April 2017 were not permanent and have to be renewed at every election.
What can you expect to receive?
If all this is taken care of, you'll receive the following pieces in the mail: a briefstembewijs (proof of eligibility to vote), a ballot paper, a white ballot paper envelope, an orange return envelope and an instruction manual.The list of parties and candidates you'll receive separately, by email, once it has been finalised. It's possible to receive everything my mail, but receiving the list of candidates by mail might actually resolve in receiving the whole lot too late, so make sure you're aware of that.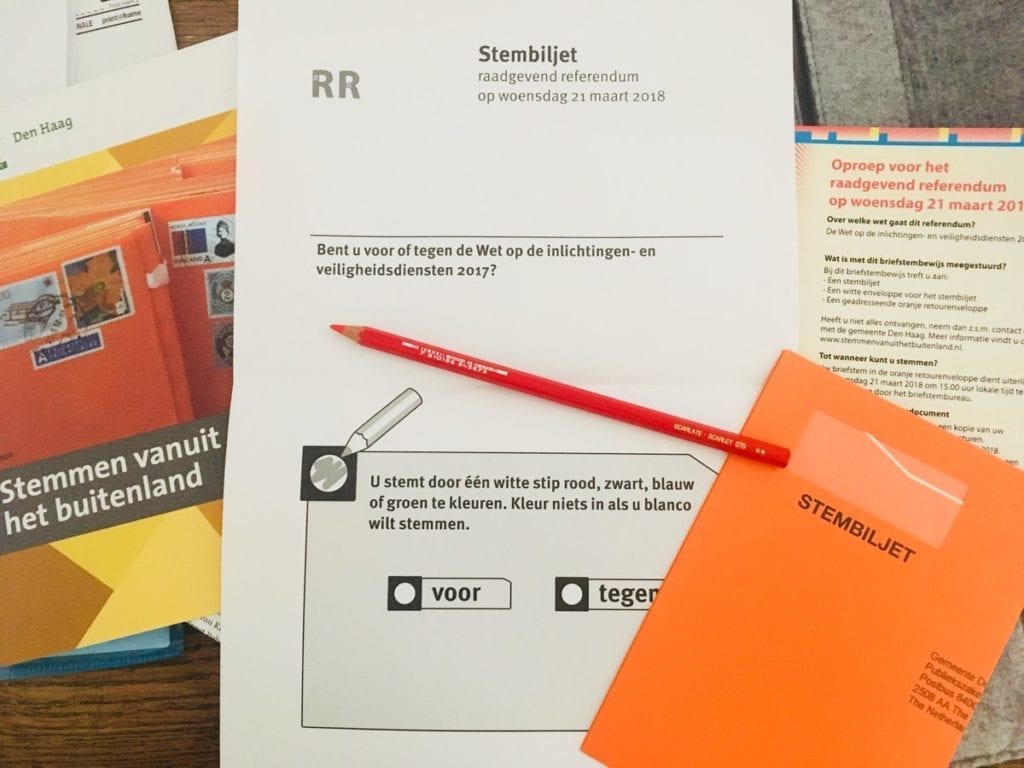 If you live in a country that takes more than a few business days to get mail delivered I would opt for the email option (which is the default option, so you won't have to do anything if that's what you prefer). Officially you should be receiving all this about a month before the elections, but that is not always the case.
Some of you might remember the national elections from last year and the thousands of people overseas not receiving their ballot papers in time. This lead to a lawsuit against the Dutch government. And although the case was lost, all political parties agreed something had to change. A bill has been drafted (but still has to go through all layers of parliament, so a lot can still change). Anyway, the aim is to make voting overseas easier and faster to prevent something like last year from occurring.
If you haven't received your voting papers on time or if they're incomplete, contact the local government office in The Hague via kbn.verkiezingen@denhaag.nl or call them on +31 70 353 44 00. They should be able to assist you.
Voting while living abroad: How?
Ok, time to vote! You cast your vote by using a red, blue, green or black pen (purple glitter pen votes are invalid… BOO!). Put the paper ballot in the white envelope. Then, you sign the briefstembewijs and take a copy of your valid ID-card or passport. Put all this (white envelope with your ballot paper, signed briefstembewijs your you proof of ID) in the orange envelope and send it back to the Briefstembureau (the voting-by-mail station) in The Hague.
Make sure to frank it sufficiently as the return envelope is not Postage Paid. If you feel your vote might come in too late if you send it to The Netherlands, then you have the option of sending it to an embassy or consulate that is closer to you. Your vote has to be in on the day of the election, prior to 3 pm, so be sure to send it in on time! Good luck!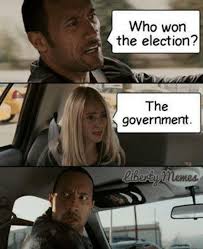 Will you be voting in the upcoming elections? Don't forget to share with us in the comments!