INCOMING: hard temperature drop
Dutch weather is playing tricks on us again and it's not looking good for picnic plans this weekend. Don't even bother unpacking your spring clothes as today was the last warm day of the week. We're expecting a harsh drop in temperatures by the weekend, after a couple of days that felt like summer.
Temperatures will decrease along the course of the week. By Friday, temperatures should not exceed 8 degrees, 12 degrees less than since Monday. Prepare for some rain and winds rising up to 35 km/h. There's even a small chance of snow – shocking, we know. Might be a good weekend to catch a movie or stay inside with some hot chocolate.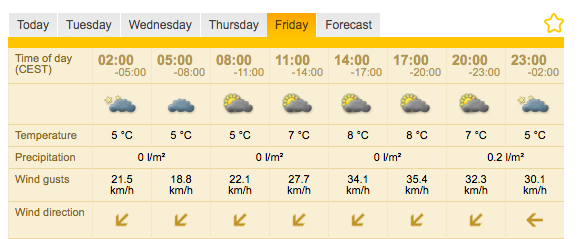 Tomorrow, temperatures in Amsterdam will reach a maximum of 13 degrees, with 3 degrees the lowest at night. It will still be mostly sunny, despite a few clouds.
Not all is lost for April, though. After the weekend, temperatures should pick back up to around 15 degrees and sunshine.
What are your plans? Let us know in the comments!