If you've ever paid attention to Leiden's skyline from the train, you've probably seen Naturalis. I certainly had, though I hadn't realised quite what it was. Housed in a beautiful new building that has been open to the public since 31 August 2019, Naturalis is home to all 42 million pieces of the Naturalis collection and over 100 researchers.
While you're in Leiden visiting this fabulous museum, there's no harm in checking out what else Leiden has to offer. That's where Stad van Ontdekkingen comes in: anything you need to know about Leiden is right there in front of you. 
There are eight different galleries in the museum, which chart life's course from inception to death. You'll pass from Life into the Ice Age, and from there perhaps to the Dinosaurs, Early Humans or Live Science. We decided to give you a sneak peak into five of these galleries in today's article, as well as giving you an overview of what you can expect from this amazing museum based in Leiden.
Naturalis: A new (rather fabulous) home for the museum
Now, as I think is obvious from the photos we've accompanied this article with, the building Naturalis is located in is totally gorgeous and very impressive. This is actually Naturalis's new building, which has only been open to the public since 31 August 2019. Inside, there's a beautiful mix of oak-coloured wood, marble, specially made white concrete sculpted into patterns that resemble the cells in plants, and a red stone filled with tiny, sparkling crystals from Iran. The whole feeling of the building is airy, accessible, and welcoming. School children were visiting when we were there, and they seemed so at home in the building.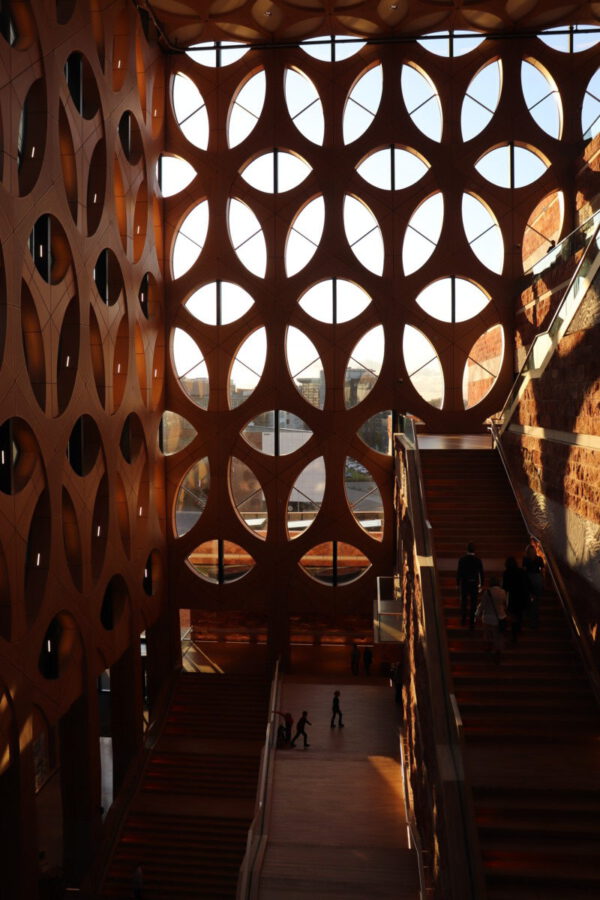 The exhibits are focused on being very accessible and interesting to all ages: in the Life gallery, you can touch four of the taxidermy animals; in the Seduction gallery, there are a bunch of interactive games that would work for anyone, child or not. You can really see that the museum is built to educate and enthuse anyone who visits it about natural sciences.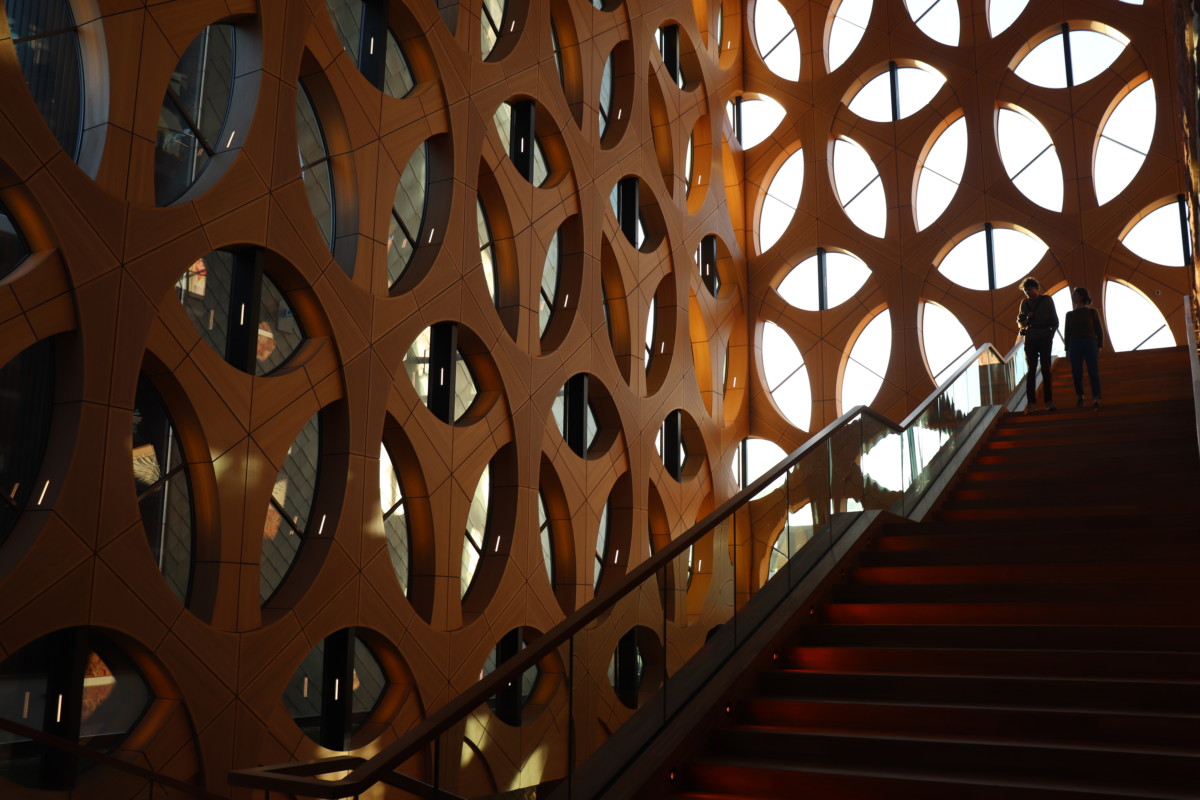 Life: from under the sea to the king of the jungle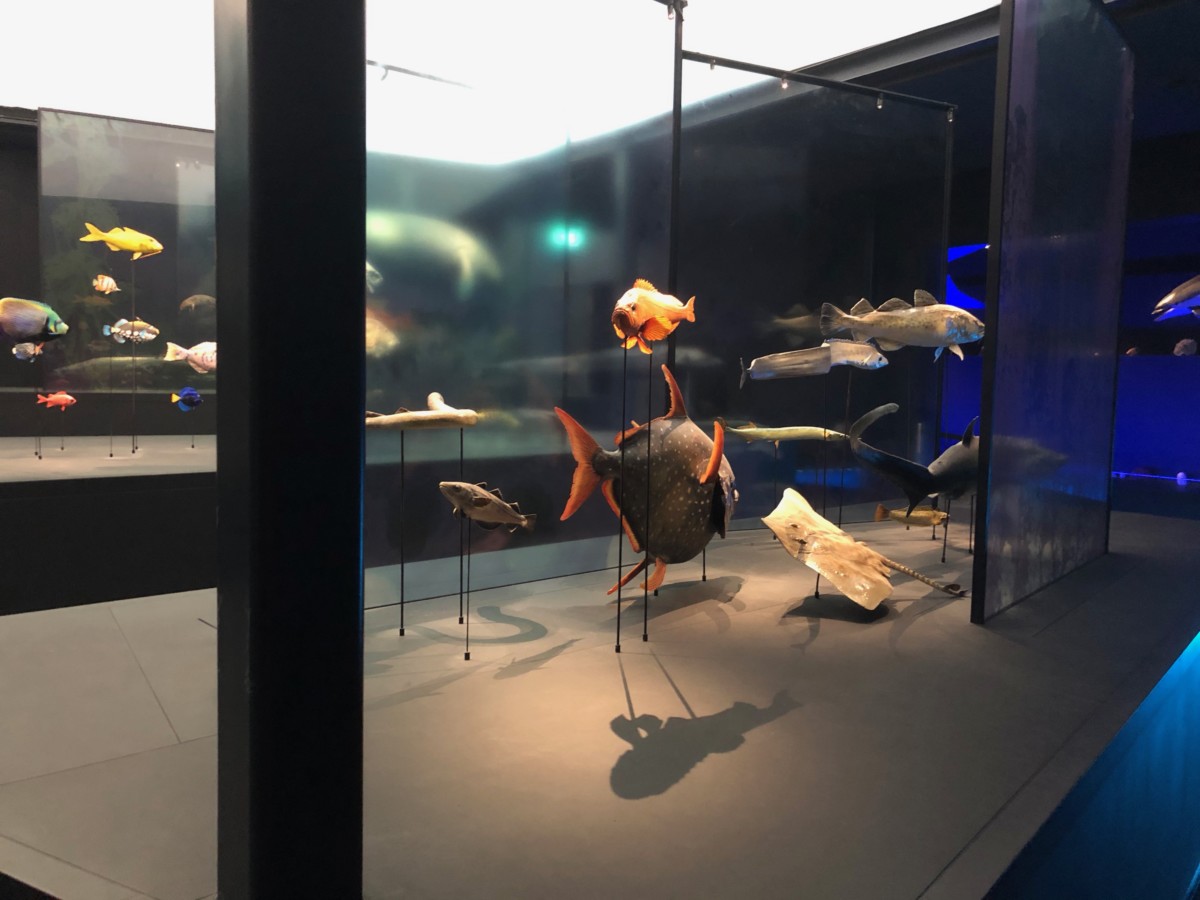 We start with Life, which you enter from under the sea, and slowly make your way to the surface. There, you're greeted by an immense mountain of animals, which you slowly ascend to the tune of rain storms, animal noises and birdsong. You'll see an elephant, tigers, lions, tiny shrews, tortoises, moles, frogs, buffalo… It's a truly awe-inspiring sight that really makes you consider humanity's place among all these beautiful animals. What I particularly loved was the way the animals were mixed together. In a lot of natural history museums, the animals are put in similar groups, which can make things feel a bit sterile. At Naturalis, you see shrews alongside an elephant. Not only does that give you an amazing sense of the diversity of the animal kingdom, it also makes the whole exhibit feel friendly and accessible.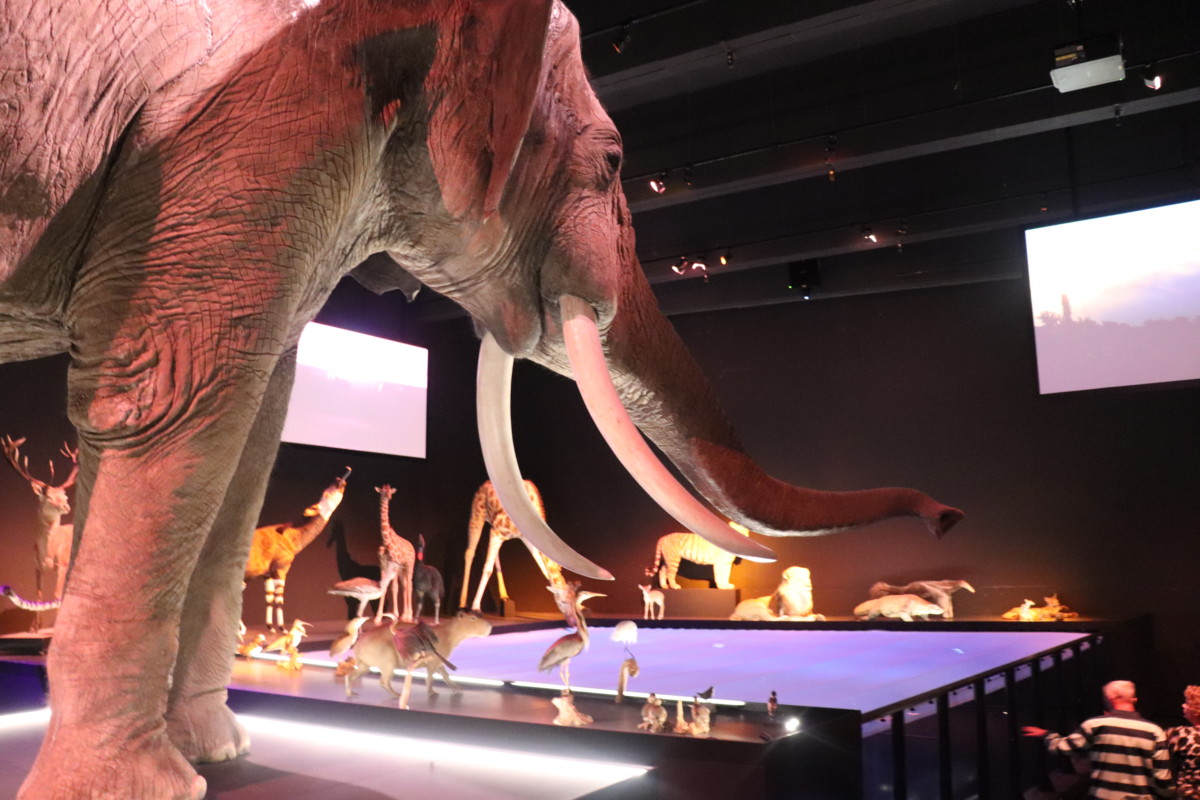 Another wonderful aspect of the Life gallery was the four animals that you could touch: a hedgehog, an aardvark, a mole, and a tortoise. Even as a so-called adult, getting to touch these once-living animals was an amazing feeling. The whole room was incredibly atmospheric. Hearing rain patter down and watching a thunderstorm take place on one of the many projector screens in the room made me want to stay hanging out with all the beasts all day.
Dinosaurs: step back in time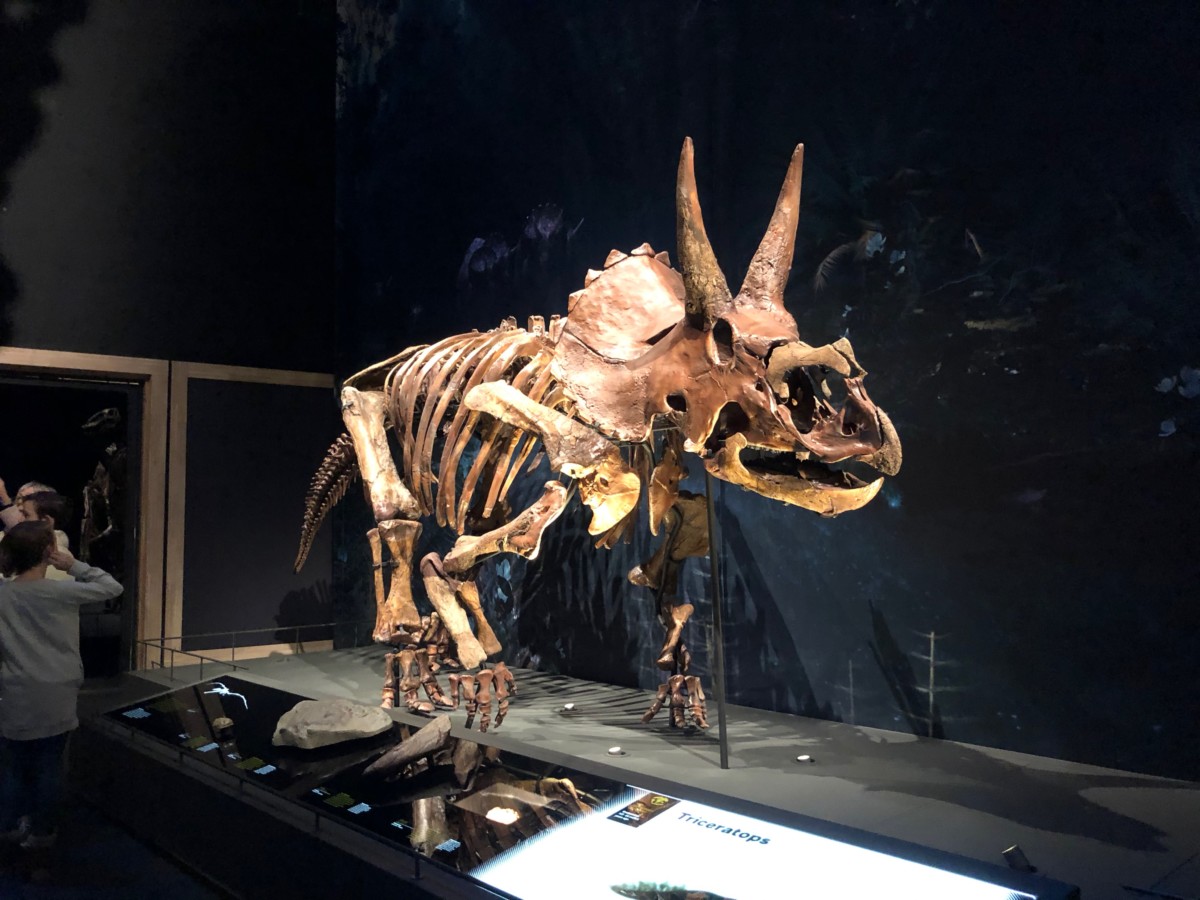 This gallery will please anyone who has ever wanted to hang out with the most awe-inspiring of prehistoric creatures. And we really do mean hang out: the whole idea of this exhibit is to bring the dinosaurs to life (luckily, not in the Jurassic Park sense). With the help of incredible animations and eerily realistic sounds, it really does feel like you've travelled back in time.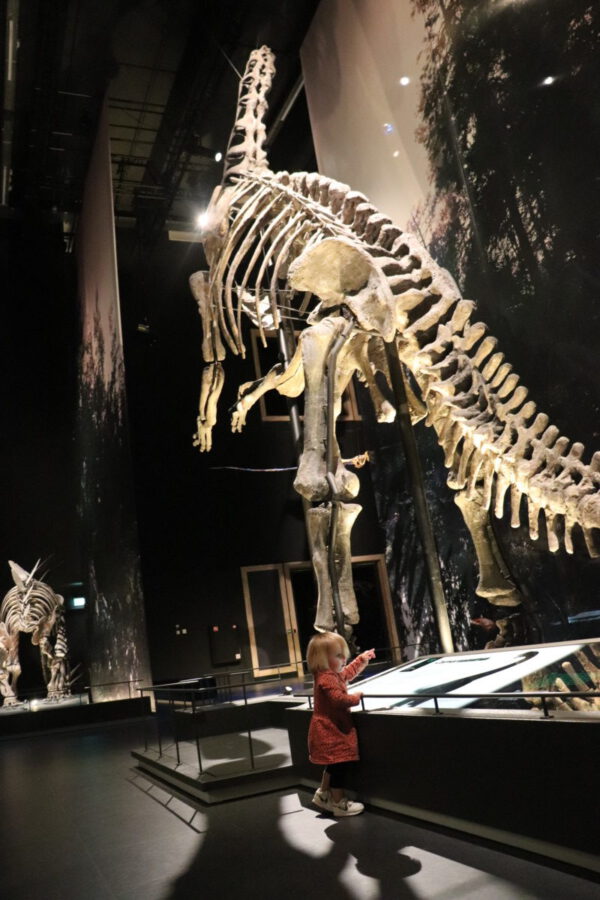 The star of the exhibit is, of course, Trix, the resident Tyrannosaurus rex. She was around thirty years old when she died- which seems to have been old for T. rex standards, as Trix is one of the oldest found in the world. She lived a tough life- you can see she had broken ribs at one point from her skeleton, the exhibit explains. There are also lots of other dinosaur skeletons- a Triceratops, long-necked leaf eaters, flying dinosaurs and an awesome Stegosaurus will thrill you as you wander through the gallery.
Seduction: life, love and reproduction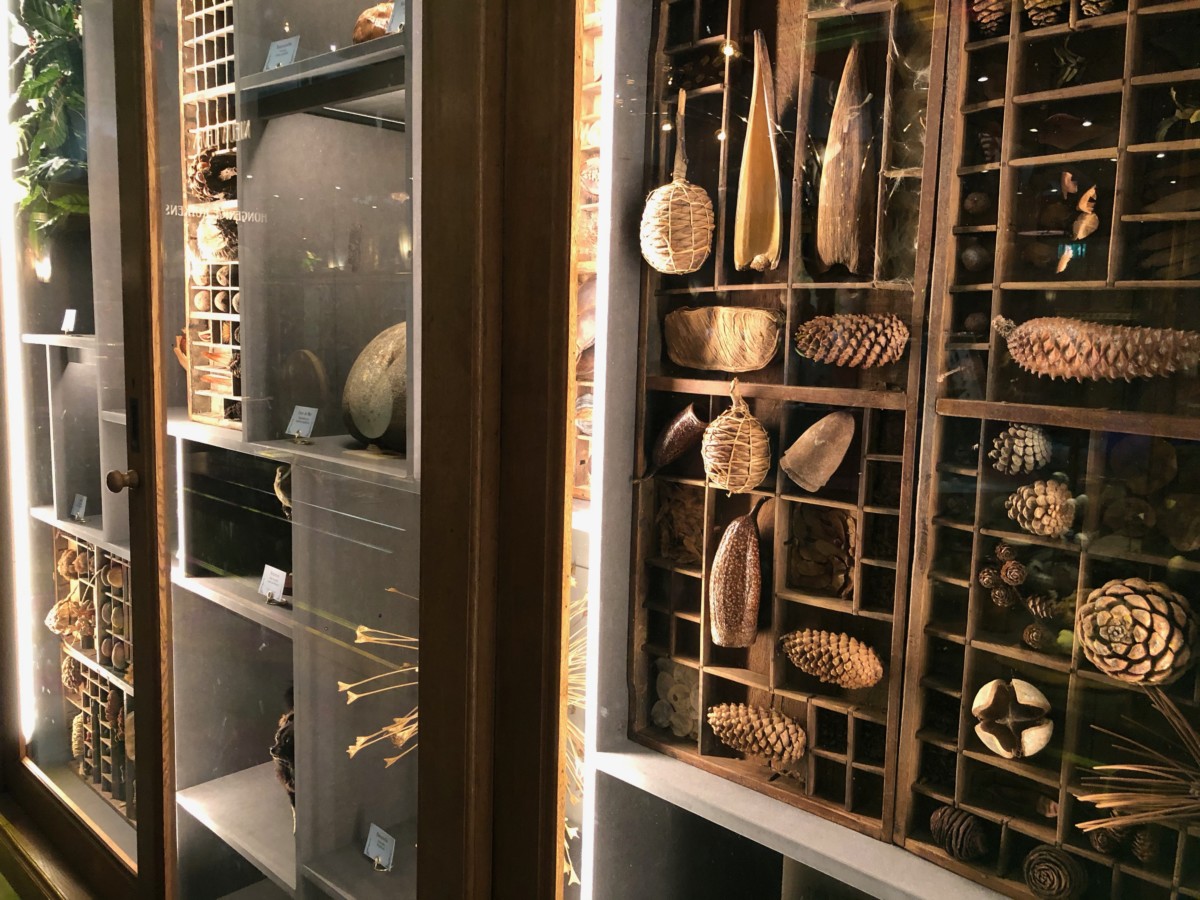 This is probably my favourite of the galleries we visited when we came to Naturalis. Set up as a department store (perhaps the most seductive of all attractions) it's an absolute treasure trove of reproductive organs, cute baby animals, and perhaps the best part of the entire museum, a circular lampshade adorned with crocheted sperm. There is an interactive game in which you can race two sperm to the egg by bouncing an exercise ball up and down; a telephone through which you can hear animal noises and then their interpretation in English (or Dutch), and the opportunity to go on a blind date to see if you're as decisive as animals are about who's hot and who's not.
Death: the end of life- or not?
Be prepared to be utterly enthralled by this gallery: it's beautiful, mysterious and an ineffable combination of sad and uplifting. The message that the gallery tries to get across- and does so very well- is that there can be no life without death. The two are deeply connected. The room is set up as a labyrinth, with semi-transparent black walls. You can watch an incredible animation of the circle of life (the projector screen is also circular, which just adds to the effect). One of the first things you see upon entering this section is a taxidermy gorilla facing a gorilla skeleton. This really sets the scene for the entire gallery, which is all about confronting death in a non-threatening, non-depressing way. I found it really refreshing and just plain fascinating.
Live Science: making science accessible to the public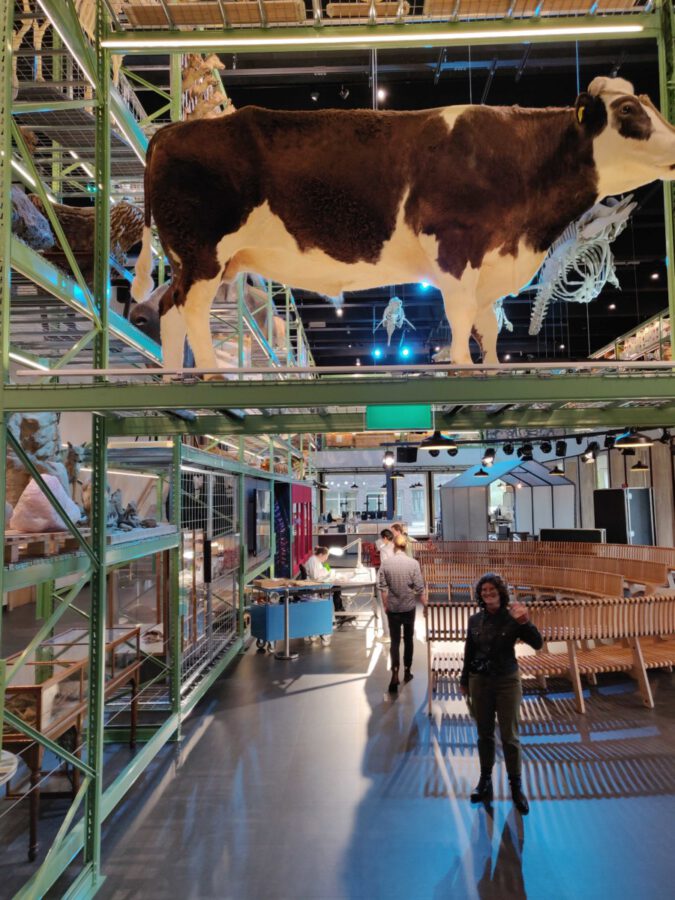 This particular part of the museum is open to the public for free. Its aim is to showcase the scientific research Naturalis is doing. You can wander through and check out the taxidermy Dutch species- we found the collection of Dutch native birds particularly nice. There are also working scientists present: we watched one dismember a bird to prepare it for the taxidermy process, which was totally fascinating (though perhaps not for the squeamish). Then we headed upstairs and saw the Dino Lab in action: a scientist there showed us some dinosaur bones that they were in the process of separating from each other and then identifying. It was amazing to see this work being done right before your eyes. There is also an extensive collection of reference books for anyone to consult. I loved the effort to make some of the museum accessible to people who might not be able to afford the ticket price.
Want to see more of Leiden?
If this article has inspired you to want to see more of Leiden, then we have the place for you to go! Leiden's tourism office, Stad van Ontdekkingen, can help you find out about everything from museums to shopping in Leiden. If you want more museums in the this cute city, then check out our favourite museums in Leiden.
Have you been to Naturalis yet? What's your favourite animal? Let us know in the comments below.
Feature image: Ailish Lalor/Supplied.