There are so many places to eat in Amsterdam! And considering how crazy the city is, sometimes it may seem like a tough task finding some nice place to eat. But don't stress out, because DutchReview is here to help.
Here are some of the most chill and hip restaurants in Amsterdam, that also offer delicious food and amazing cocktails! (we all know you like those cocktails too much).
Obviously, as we're still in the corona times, you should probably think about just ordering from these amazing spots.
The Birdhouse Amsterdam
One of the chillest places to eat in Amsterdam is The Birdhouse restaurant. It is one of the few places that offers an escape from the hustle and bustle of Amsterdam. It's a charming restaurant with a chill vibe, allowing you to enjoy your meal in a very pleasant atmosphere. Not to mention that the staff is absolutely amazing, and ready to answer any stupid question you may have.
Once you're there, you get to choose from quite an impressive menu with quite a few healthy options, may I add. From the very beginning you notice that the dishes are separated into two categories: bowl or toast. This means that you either get your meal on a toast or in a bowl.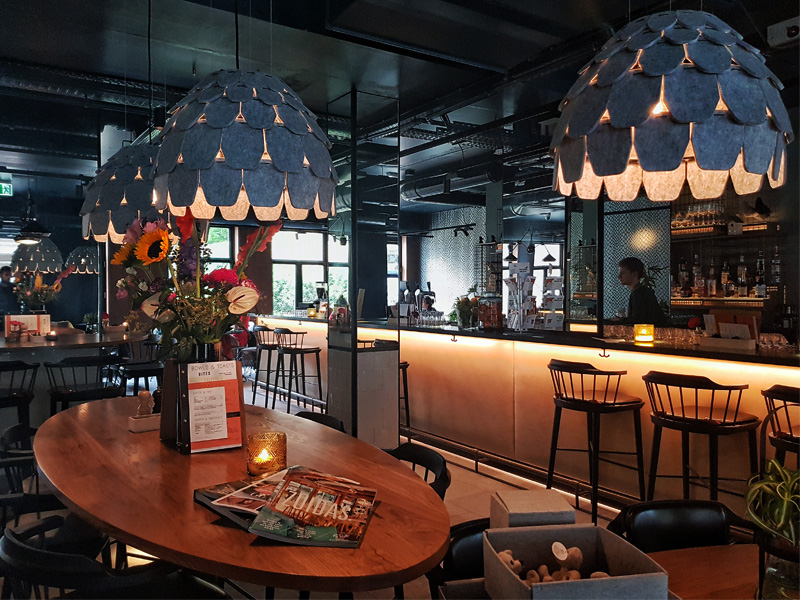 We decided to go with two bowl meals – one healthy, and one carby (because I cannot bring myself to admit that pasta is unhealthy). The healthy option was one of the most visually appealing dishes I have seen in my entire life. It was a tuna bowl pickled in garlic and herbs. At the bottom of the bowl it is served with crispy noodle salad, wakame and cashew nuts.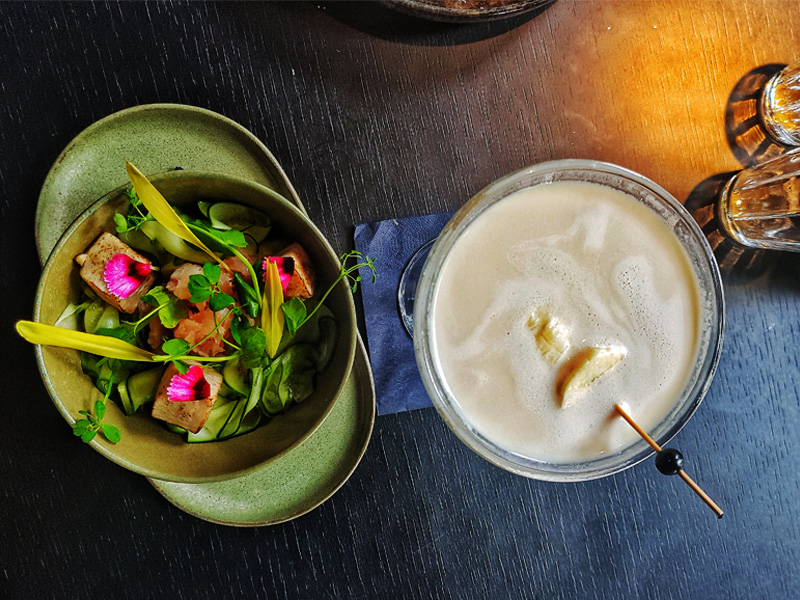 As for the 'carby' option, we opted for a delicious pasta. What was absolutely striking about this dish was how absolutely light it felt on the stomach. Unlike regular pasta that makes you fall into a food coma for hours, the pasta at The Birdhouse actually made me feel light as a feather while eating it. It also made it easier to lie to myself that I was not cheating on my diet.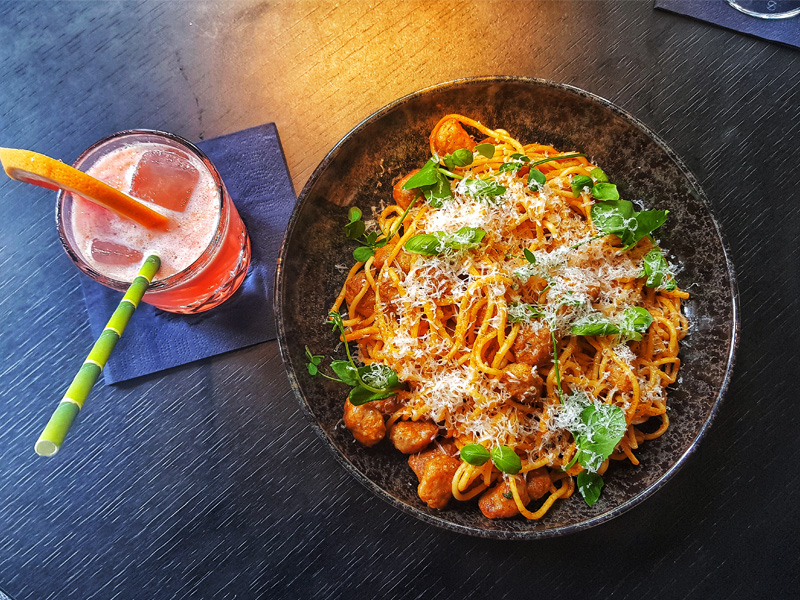 And yes, we had cocktails during lunchtime! But one would be a fool not to get something alcoholic, considering the impressive cocktail options that the restaurant offers. They sure felt refreshing on that hot summer day!
As if the restaurant wasn't amazing enough already, it also has a private lounge that you can book for private events. So if you're looking for a way to impress your family/friends/colleagues/boss with a new and unique venue, then The Birdhouse Amsterdam is the place to be!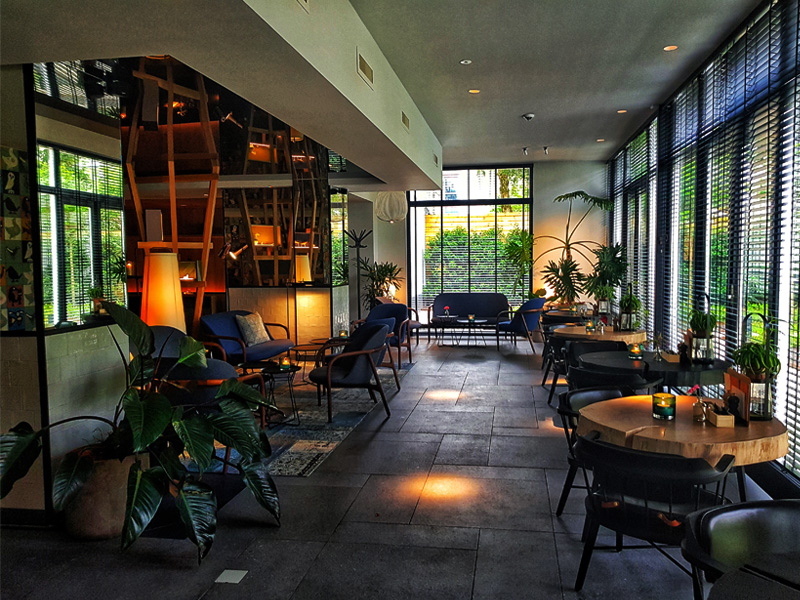 Address:
Plantage Middenlaan 46
1018 DH
Amsterdam
Netherlands
Website | Instagram | Facebook
Bardak Amsterdam
Bardark is a Tel Aviv themed bar in Amsterdam, located in the ever-growing hip and cool Pijp. Although it's labelled a bar, it's also a great place to go for dinner, perfect for those nights when you want to go for some chill drinks, but know you're going to get hungry. You don't often find a bar that also serves food until late. It is truly one of the best places to eat in Amsterdam!
The menu is pretty simple – each thing you order will arrive on a tray with three side-sauces, a bit like a portion of street-food. The three sides (tahini, manjo and chilli) are a nice addition because you can choose which sauce you want on your meal and how much
If you like meat and mint, treat yourself to the Arais kebab – a neat combo of both. It comes in a 'flavour-soaked' pita, which is delicious, but if you want to go for something a little less fatty, then just get the kebab from the grill, or a different meat altogether. We'd suggest the rib-eye steak or their melt-in-the-mouth chicken liver.
For all the vegetarians out there, we cannot talk up the grilled okra enough – rightly nicknamed the "Sexy Okra" by the head chef. This is how you serve ladies' fingers, ladies. There's also a vegan-style mushroom shwarma, which comes with oyster mushrooms, sour cream and a lovely warm pita.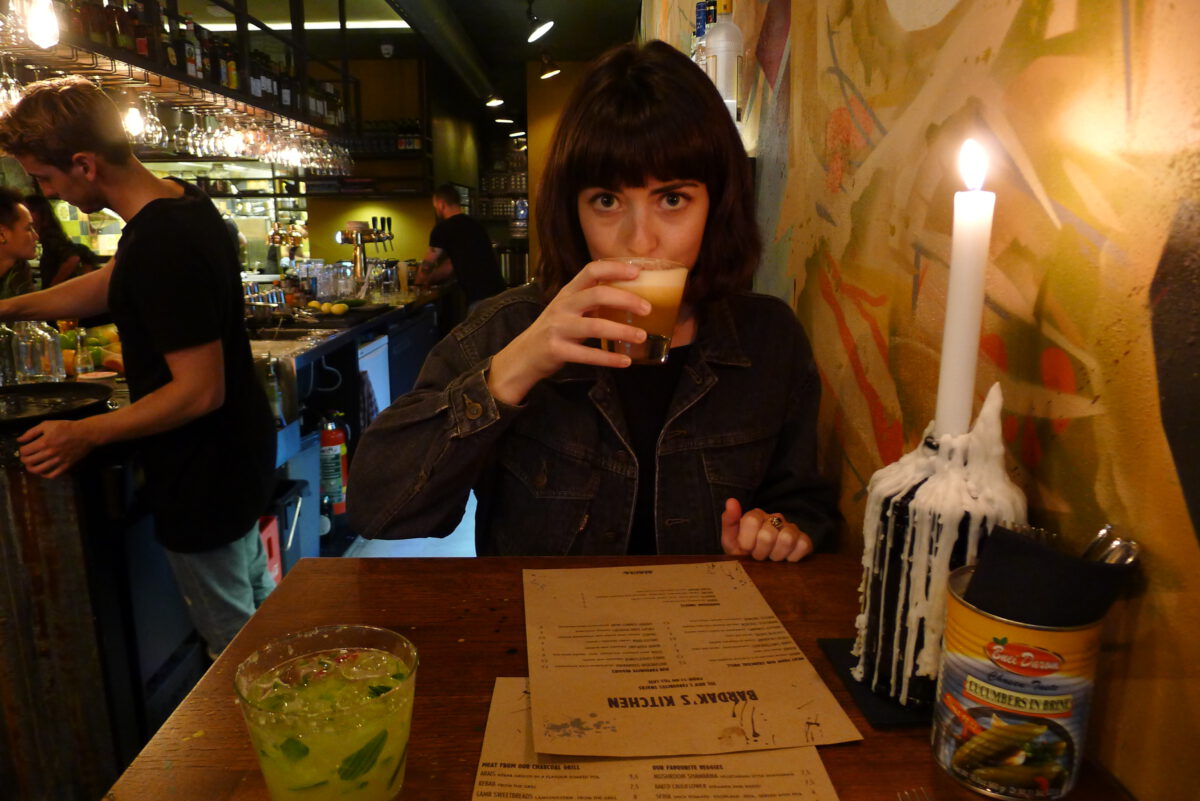 The bar offers a unique range of alcohol and and some of the best COCKTAILS in Amsterdam. We'd recommend the Solero Sour, the Chili Cucumber Margarita and the Pink Lychee Martini.
As for desserts: whilst the Kanafeh was a beautiful mix of Kadaif pastry and goat cheese (with ricotta and honey), our favourite dessert had to be the Babka, AKA "Grandma's Chocolate Roll".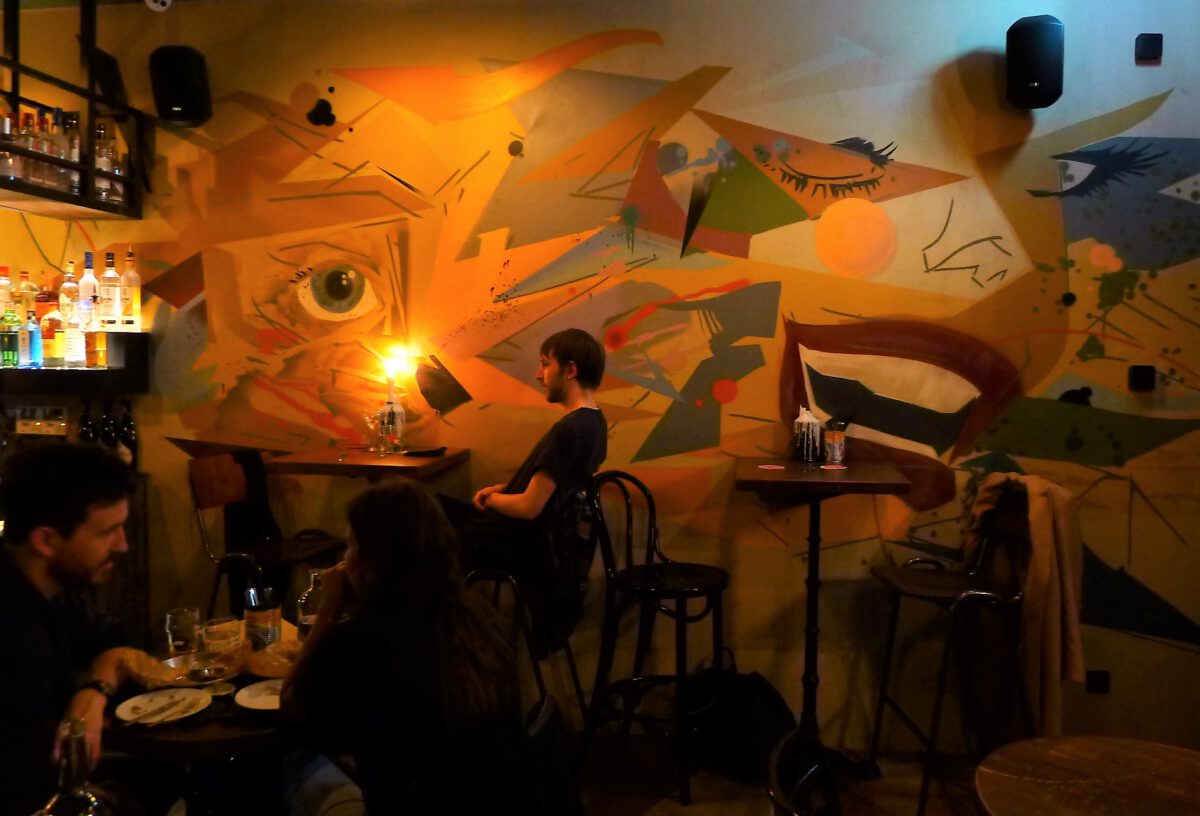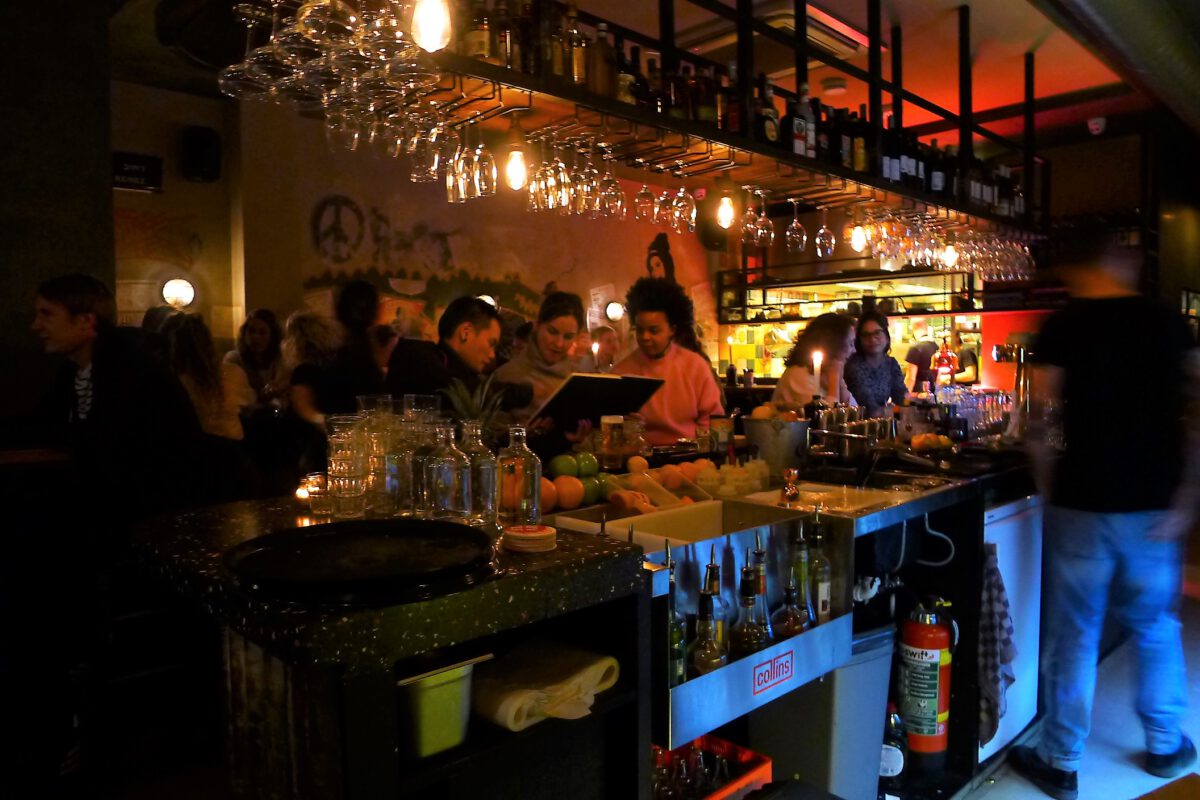 Address:
Ferdinand Bolstraat 12, 1072 LJ
Website | Instagram | Facebook
Bar Fisk Amsterdam
Somewhere in the Eerste Sweelinckstraat is Mediterranean heaven on earth, which is also one of the best places to eat in Amsterdam. A new restaurant where lovers of fresh fish and good wine can come taste the very best that Amsterdam has to offer. Fisk is the Scandinavian word for fish and is no surprise that it is one of the specialities of Bar Fisk.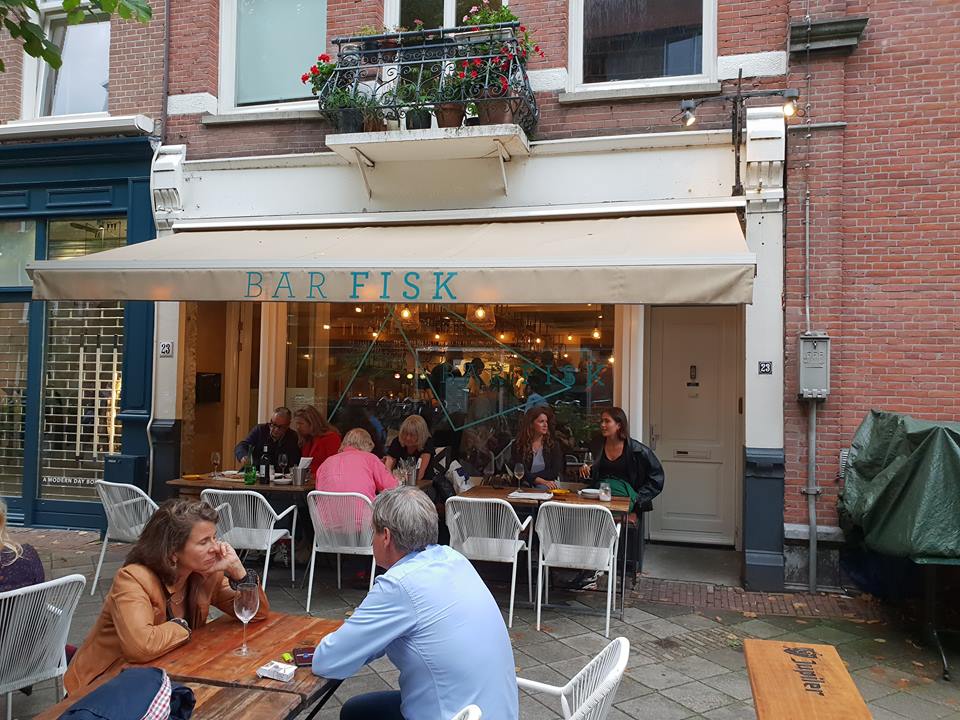 Despite the Scandinavian name, Bar Fisk's menu is a mouthwatering combination of Mediterranean and Israeli cuisine. Inside, the decor is elegant and traditionally Scandinavian. The restaurant has a very creative and relaxing feel which helps create an atmosphere that depicts a fusion of Scandinavia and Israel. Most striking is the large bar, which for a large part is adjacent to the open kitchen.
In Amsterdam, food from the Middle East seems to be a bit of a new hype and Bar Fisk is where Amsterdam residents come to sample dishes from Tel Aviv and other popular Israeli cities. Their menu is presented in a rather unique manner: choose between The Tasty Monday, Lunch Menu and Dinner Menu and get blown away by the possibilities the Wine and Cocktail Menus present. Making a choice can be quite a difficult task. Good luck with that.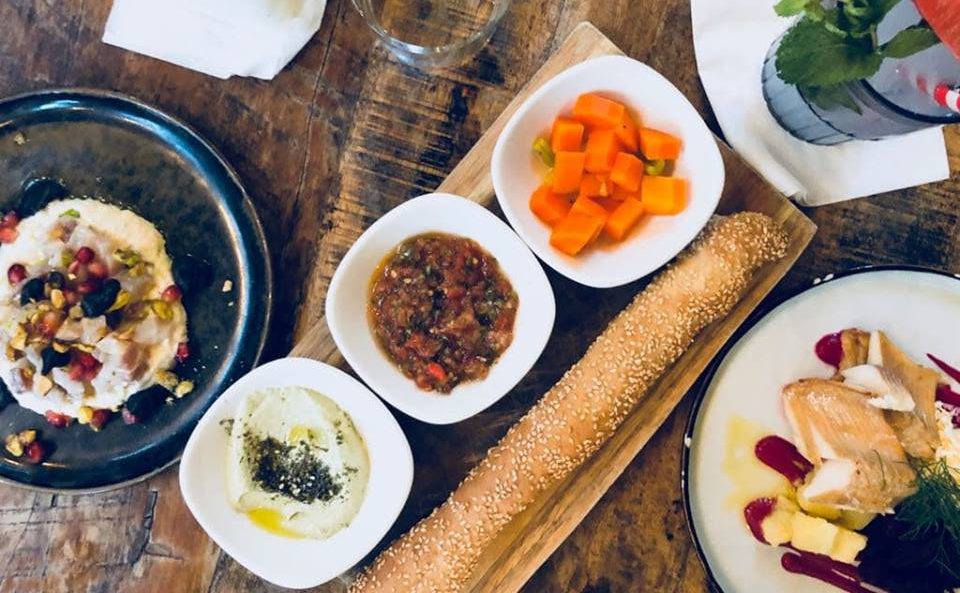 Take a seat by the bar and watch exactly how your cocktail is mixed and at the same time watch the chefs filleting fish and cooking up some of the best dishes you've ever tasted.
Nothing new there! Just Bar Fisk making sure that you see how fresh their products are, how they prepare your dish and also show off some cooking skills. The freshness and skill are reflected in the dishes that are brought before you. Simple and well presented, but always with a twist that distinguishes them from other Mediterranean seafood restaurants. On every plate you see a touch of the Middle East. Make sure you try the Calamari, the Shrimp Falafel, Catch of the day Sashimi or the Corvina Tartar.
Bar Fisk is well stocked when it comes to wines. Besides the famous Sauvignon Blanc and Merlot, you will also find many wines that are slightly different with wonderful tastes. If you are having trouble picking a wine, don't be shy in asking for help. The cheerful staff know what they have on offer and are always happy to help you find a wine that suits your taste. The cocktail menu is also very unique and customers are encouraged to be adventurous and give new cocktails a chance. You won't be disappointed. Lovers of gin and tonic are also well catered for.
Bar Fisk is that place where everyone can come have some drinks, enjoy Mediterranean food, have a chat with friends and just feel at home. If you truly love Israeli food or you're willing to try something new then Bar Fisk is the place for you.
Address:
Eerste Sweelinckstraat 23
1073 CL Amsterdam
Website | Instagram | Facebook
Escobar
Obviously, when you hear the name Escobar we all think of fine drinks and good food, right? Well, you should now, at least when you're looking for places to eat in Amsterdam. Cuz this colourful joint in the pulsing neighbourhood around the Gerard Dou plein has a lot going for it.
What's at Escobar? I present you with a fine terrace (there in the middle of October), funky vibey decor with Latin touches, good cheerful drinking and nice Mediterranean food you can share with your friends. Had a fun talk with the young owner, Roderick, how it opened up a year ago and how Escobar made a name for itself for good drinking. Now they've just introduced a new menu and we're on a path to gain a reputation for serving more than fine food as well, and boy oh boy, they're on the right path.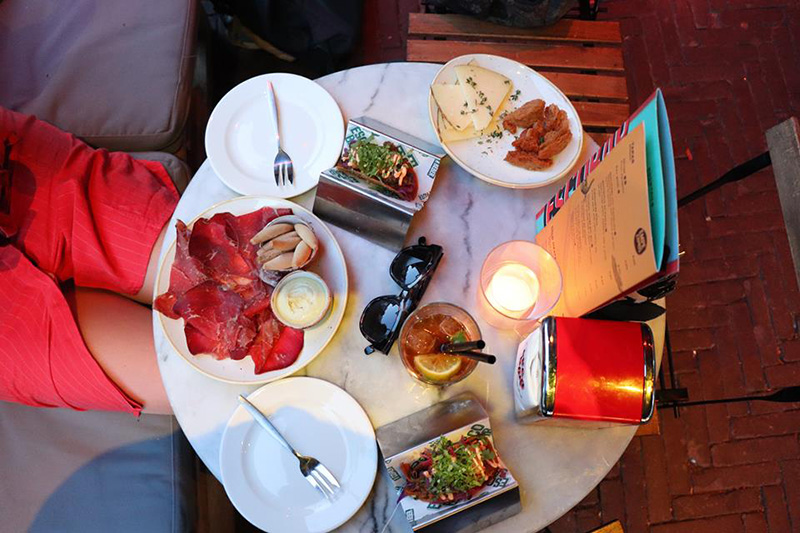 There are some classics there and some very creative dishes as well – and a nice surprise (something we sadly see less and less when eating out in Amsterdam) is that all is very modestly priced. We started with some Manchego, cecina de leon (cold cuts) and a 'crispy' taco al pastor.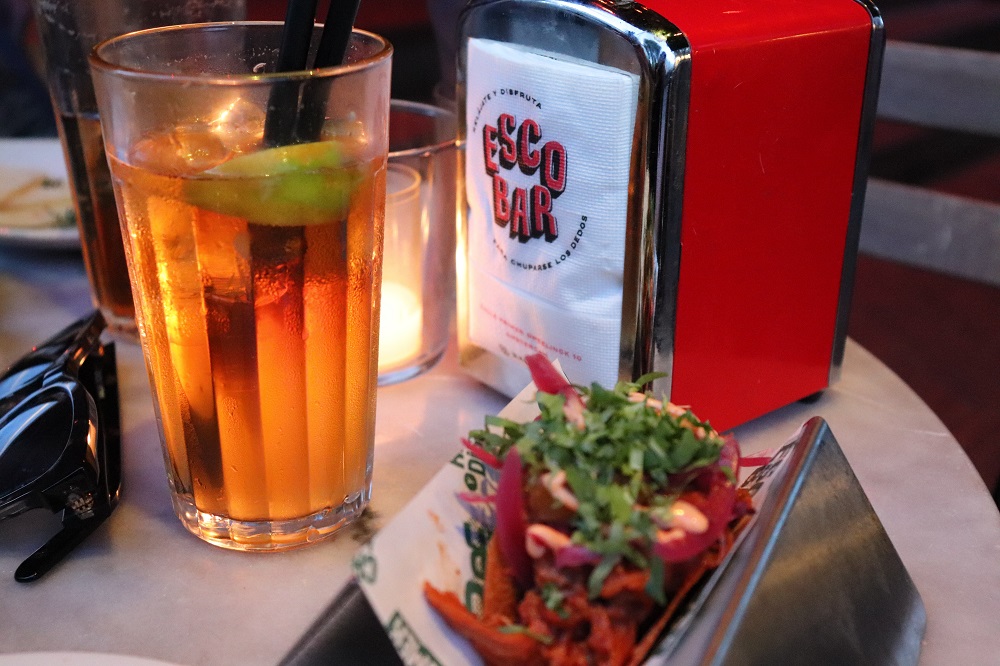 Now we need a moment to talk about that taco, I've eaten quite a few in my ongoing reviewing-career, and I can now say without a doubt that crispy taco's > regular taco's. Eat that taco people!
Ahem, moving on: aguachile, cauliflower and bbq'd celeriac in manchego cream (!!). I'm still not sure what celeriac is, but it sure tastes good and can some politician please put forward a plan that half of all our food needs to be served in manchego cream?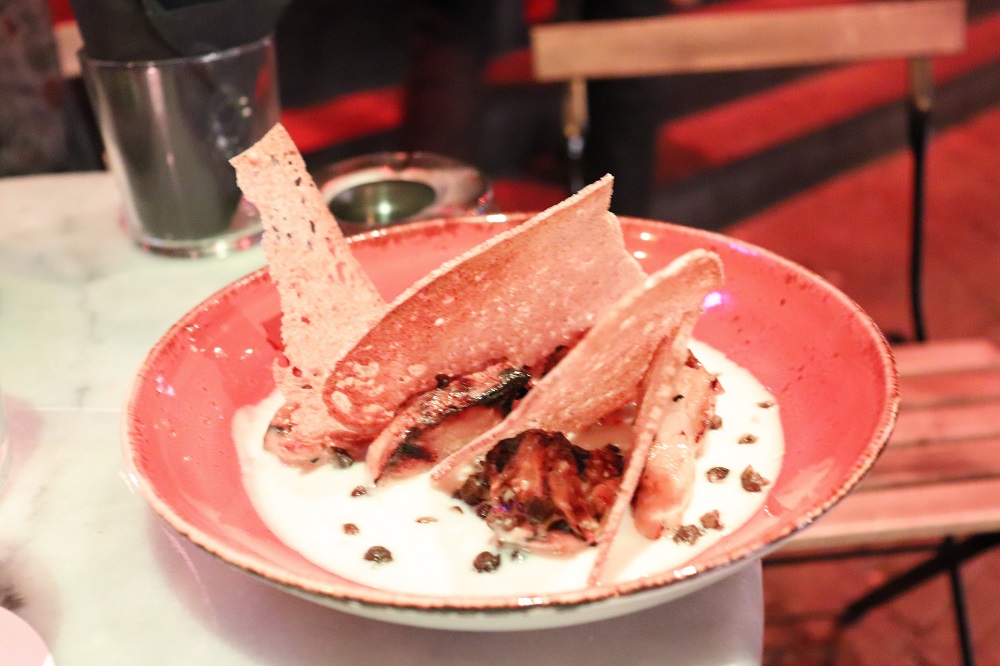 Things got chilly outside, it is still the Netherlands, so we enjoyed two deserts inside. The place was buzzing by then, so if it's a pre-game dinner you're after then you've come to the right place.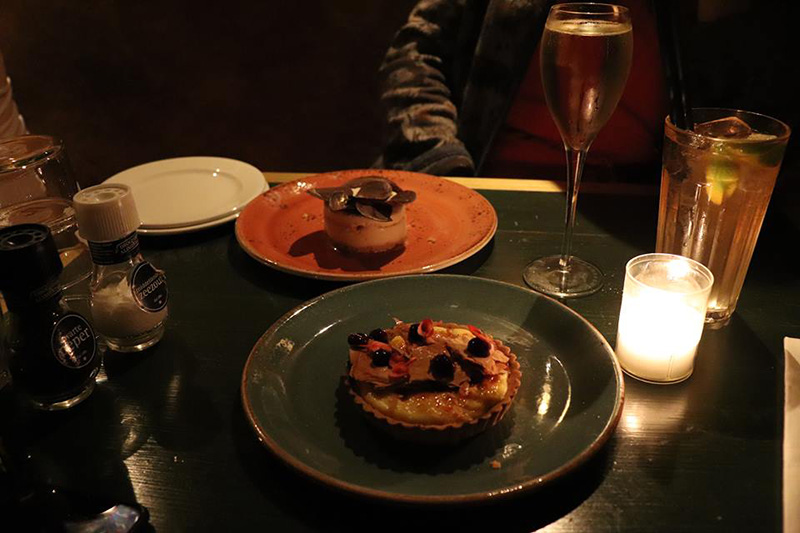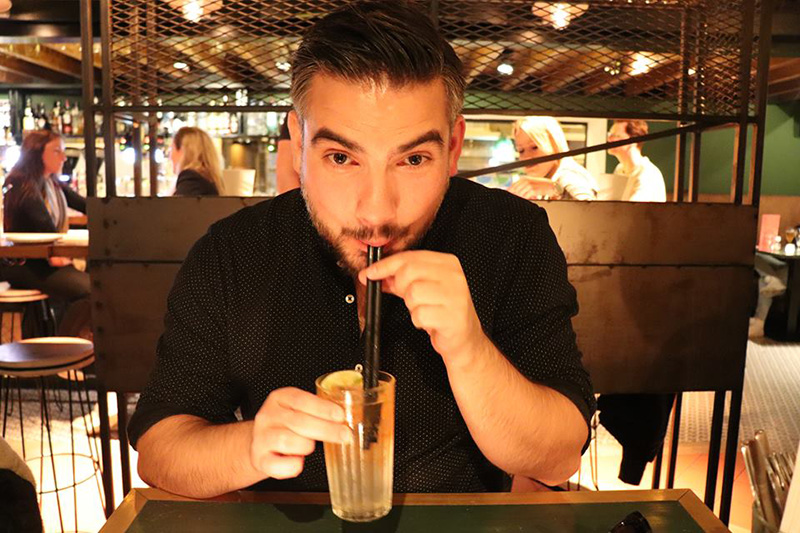 All in all, Escobar made for a little holiday to a warmer more-latiney mood for a night, good stuff!
Address:
Eerste Sweelinckstraat 10A
1073CM Amsterdam
Website | Instagram | Facebook
Kluis
Feeling fancy? If you're looking for a slightly more sophisticated night out – it's got to be Kluis, the final restaurant on our list. This is certainly what you call fine dining. You'll find it located on the bustling Haalemerstraat. This brand new restaurant has everything you are looking for.
The starter was bread and selection of butters (ft unique flavours like squid ink and beetroot). Yum! You can choose if you want starters. The oysters come with lemon and a sauce of red onion and red wine vinegar.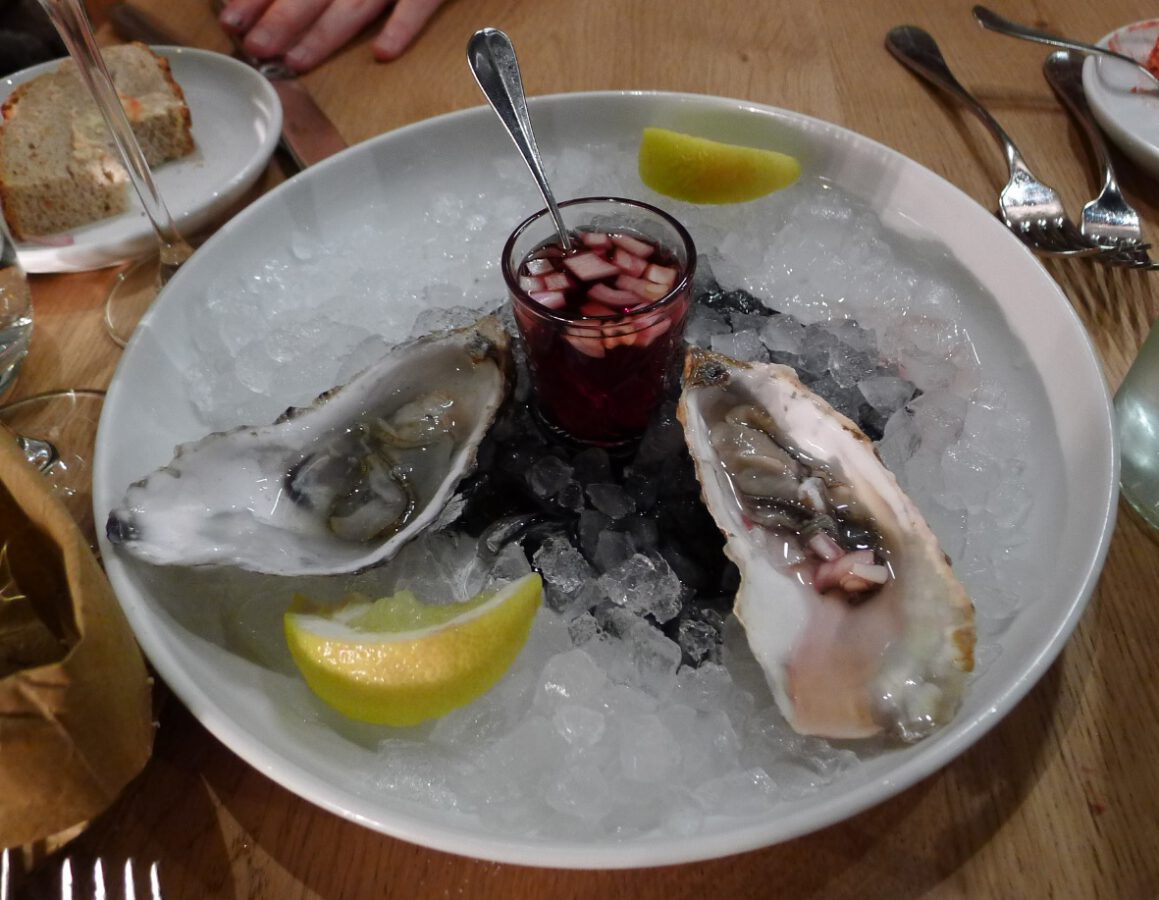 Amuse – the one we tried was beef with a wasabi sauce on edamame beans (very amusing).
It's a 'tasting menu' so you pick from 3 – 6 courses, or you can ask for their signature dishes (which also sound amazing).
We'd recommend the Coquille and king krab dish – the beurre noisette (butter sauce) was to die for and the trompet de la mort (mushroom or "death trumpets" as we like to call them) were simply exquisite!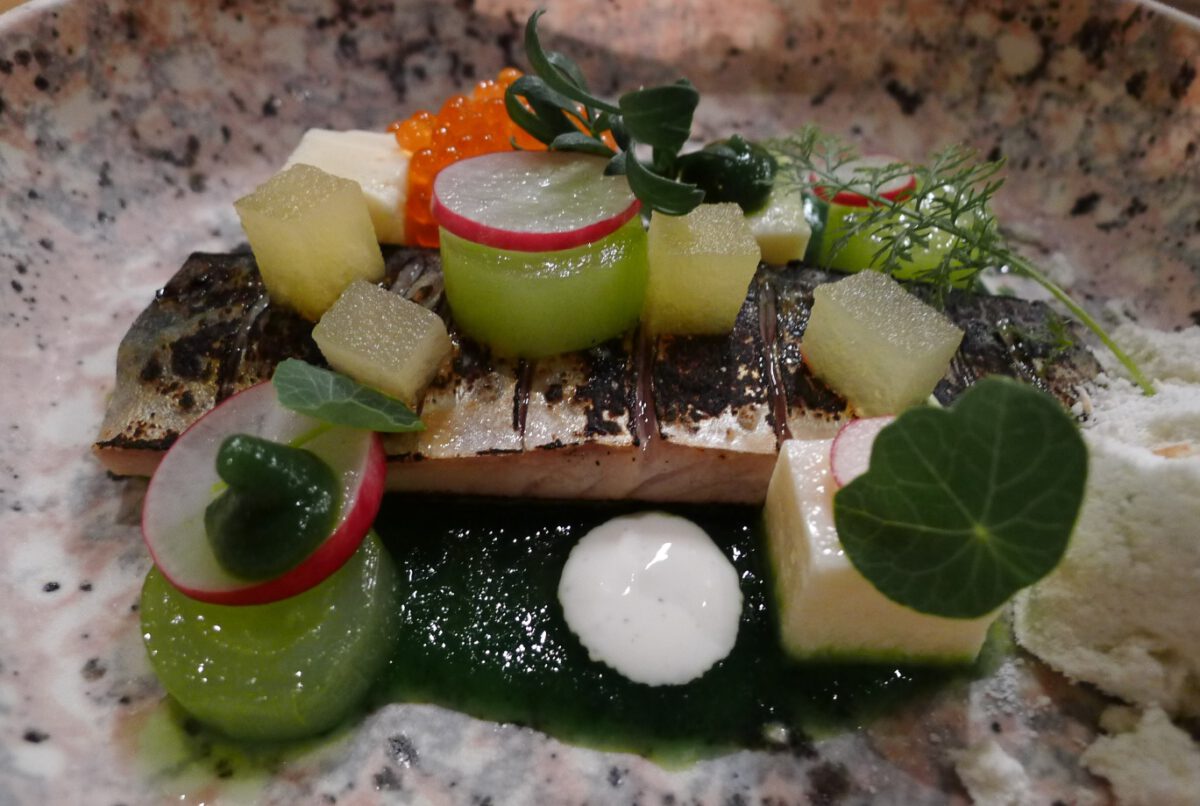 Guests can also enjoy a range of wines carefully paired with each dish. We even had the chance to explore their wine cellar, where they will eventually host wine tastings and special events.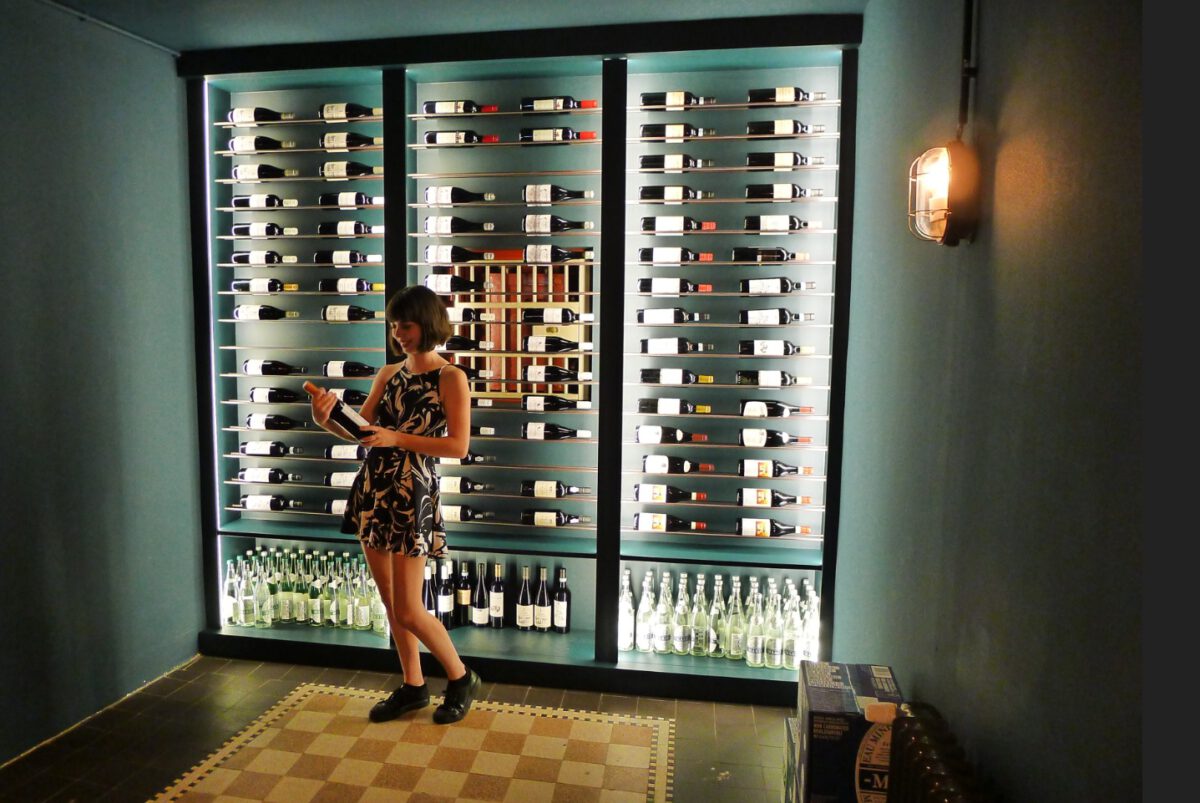 For dessert you can choose between sweet or savoury – a selection of Portuguese cheeses or, if you're more of a chocolate person, the brownie with coconut ice cream was delicious.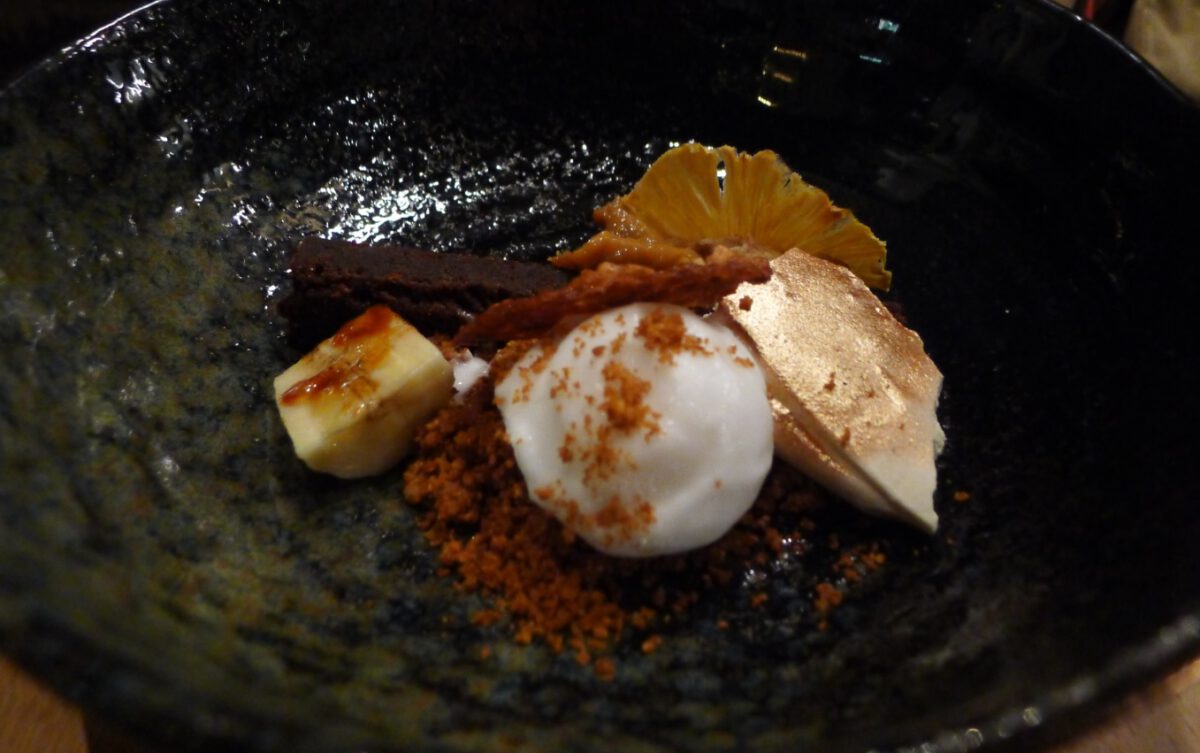 Overall, it had a fantastic service from knowledgeable and friendly waiters. The decor was great, it was minimalist and very trendy.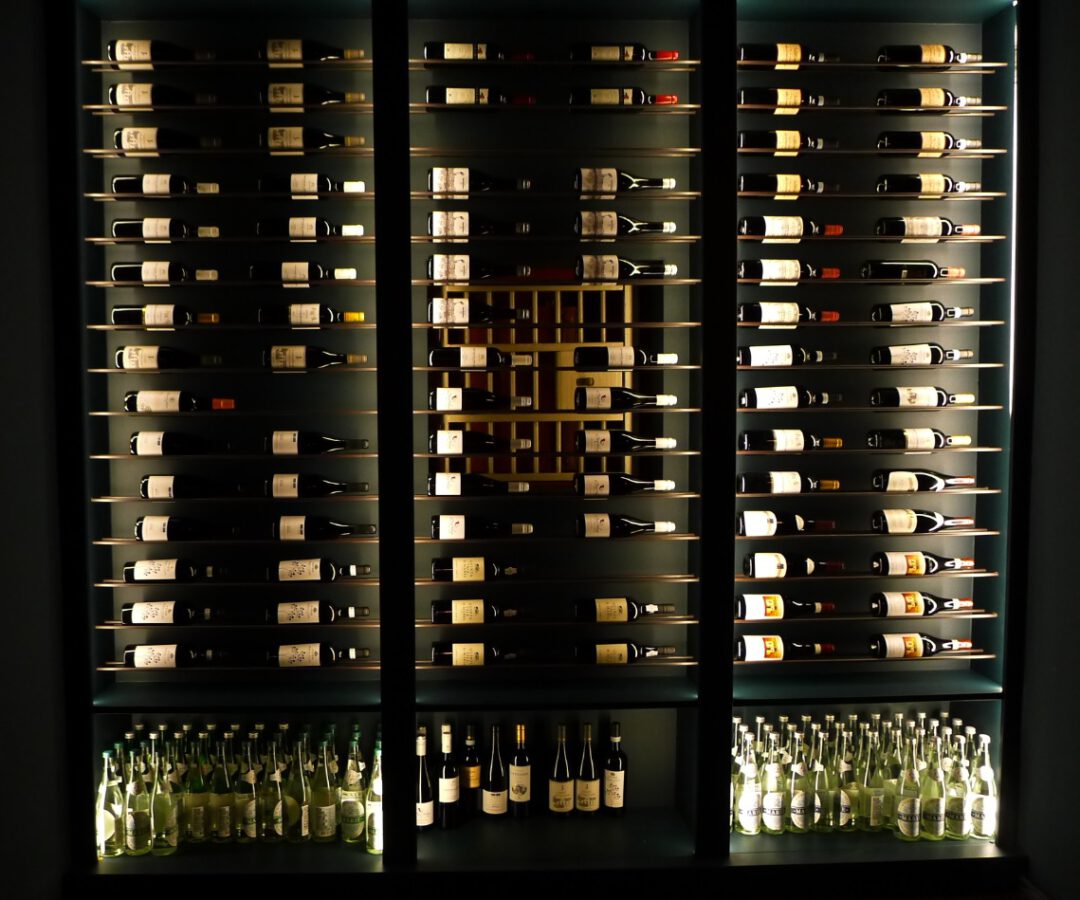 Address:
Haarlemmerstraat 118
1013 EX Amsterdam
Website | Instagram | Facebook
So there you have it! These are some of the best places to eat in Amsterdam in 2018. Have you been to any of these amazing restaurants? Let us know in the comments below!
Editor's Note: This article was originally published in October 2018, and was updated February 2020 for your reading pleasure.
All images: Abuzer van Leeuwen/Supplied and Veronika Licheva/Supplied.