There are so many places to eat in Amsterdam! And considering how crazy the city is, sometimes it may seem like a tough task finding some nice place to eat. But don't stress out because DutchReview is here to help.
Here are some of the most chill and hip restaurants in Amsterdam that offer delicious food and amazing cocktails! Also know that different DutchReviewers went to different trendy places so it's not like just one person got to do all this food reviewing, enjoy!
Coronavirus update: Yes, restaurants are now open in the Netherlands! However, you need to show the 'coronacheck' app if you want to go inside. You can find full details of current government guidelines here.
Midtown Grill
An eclectic and excellent eating experience! To be honest, I wasn't immediately excited by the prospect of eating at a steakhouse near the Leidseplein. But boy was I wrong!
When you walk into Midtown Grill you immediately feel it's not going to be your normal — cliché — steakhouse experience. Its interior is showered in class, luxury and with a good choice of eclectic wallpaper (how often do you appreciate that in a place? Well here I am).
The staff is courteous and never makes you think you're eating out in Amsterdam, that's a compliment, and the menu is limited, not 627 options, but what they did, they did really well. (It had proper veggie options too like any place should have nowadays.)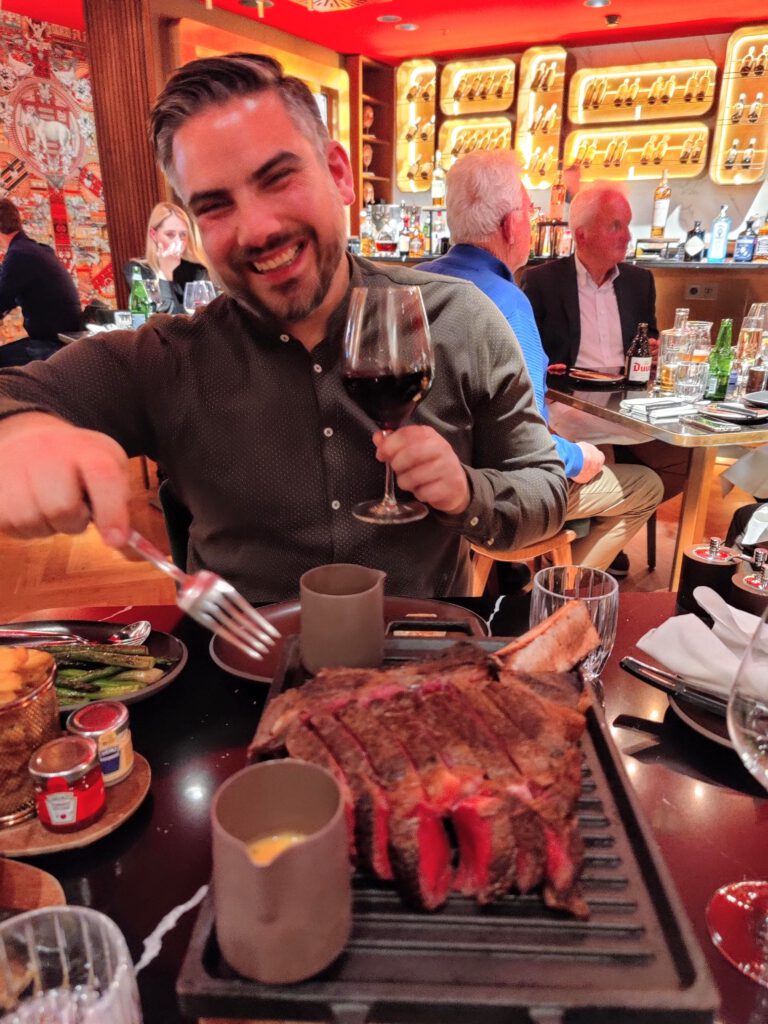 We shared a proper steak together and it was a beast. The staff shows you the cuts beforehand and advises as well on how you should want it prepped (a thick-cut should be a bit medium, or else you're just eating raw meat).
They also made me a custom whisky sour and I can definitely recommend the 'mixed plankje' and the lobster bitterballs (how can I not??)
📍 Address: Stadhouderskade 12, Amsterdam, NH 1054 ES
🍽 Recommendations: Lobster Bitterballen and a steak obviously
👍 Socials: Instagram, Facebook
NOMADS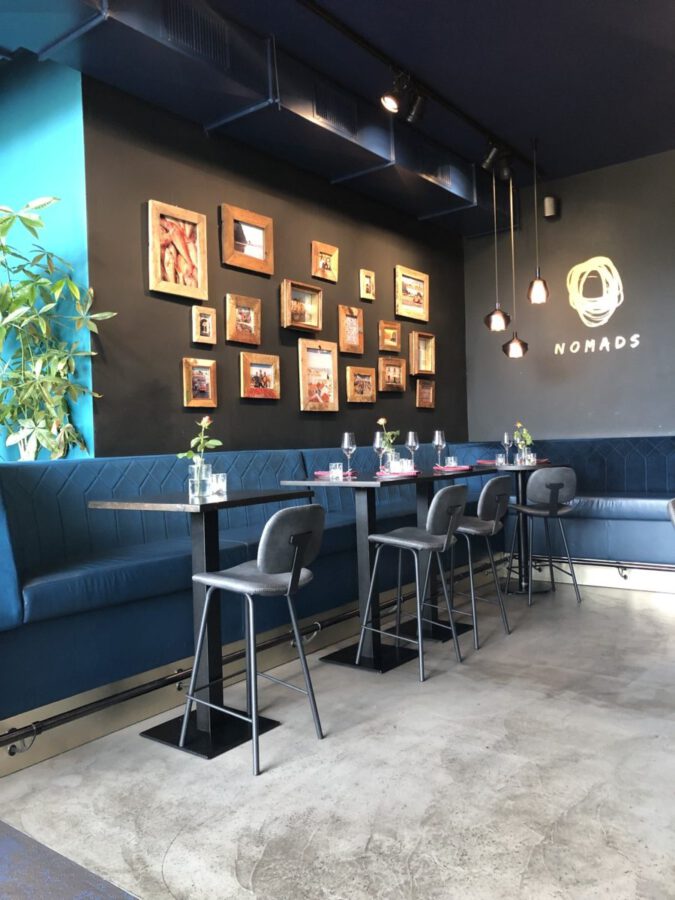 Twice a year, NOMADS "travels" to a different location. Not only does the menu change to the country's food, but the interior design of the restaurant. We visited when it was adorned with photographs of the streets of Alfama and typical blue tile murals in the bathroom — you guessed it, Portuguese cuisine.
We had a four-course meal, accompanied by a bottle of white Serras de Azeitão from Setúbal. Everything was great, particularly the octopus salad and the pasteis de bacalhau (or codfish pastries for the foreigners). These are staple dishes in Portuguese culture, and we are glad they haven't been forgotten. The oysters were the best part of the meal; they literally tasted like the sea.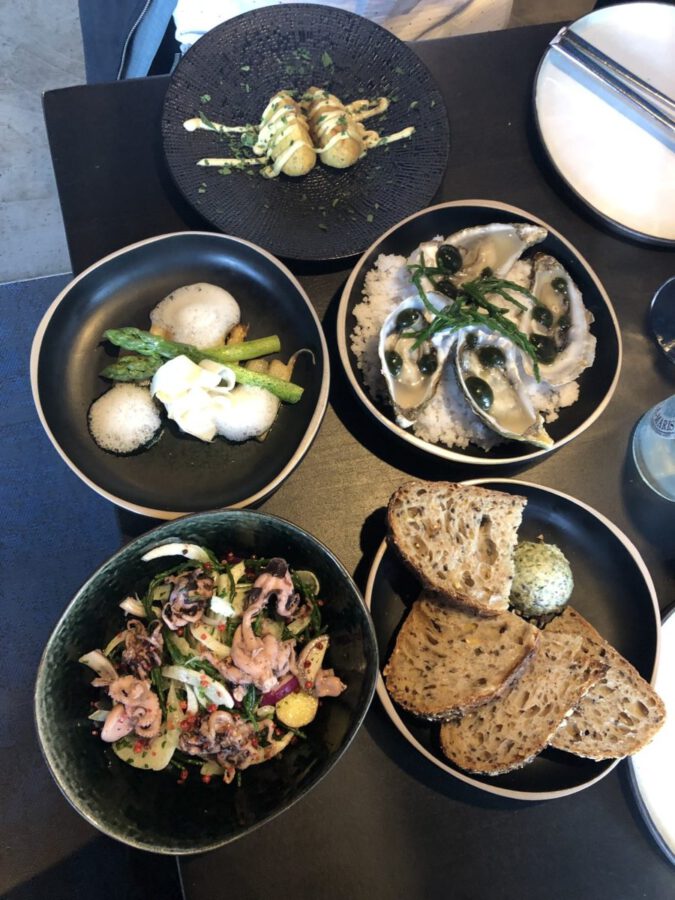 For dessert, we got a true Portuguese treat. THE pastel de nata that is so hard to replicate was by far the most authentic we've eaten outside of Portugal. It couldn't beat the original "Pasteis de Belem" as it follows an ancient recipe from the Jerónimos Monastery, but it would surely beat a lot of well-established bakeries in Portugal.
We also had a "rice pudding", a take on the classic "arroz doce". The pudding's consistency and tasty was perfect, which is hard to do with just milk and rice. It's usually topped with cinnamon, but the Chefs at NOMADS innovated again by adding raspberries, blackberries, and blueberries, as well as a fruit infused foam.
It was a great experience. NOMADS made us feel like we were back in a mother's kitchen in Lisbon.
📍 Address: Oranje Vrijstaatkade 55 1093 KS Amsterdam
🍽 Recommendations: Oysters,pasteis de bacalhau, and pastel de nata
👍 Socials: Instagram, Facebook
NENI Amsterdam
A sharing menu including the best falafel in town? Sign us up. We took a trip to NENI Amsterdam to try their new Balagan menu — and we weren't disappointed. Right next to the Olympic stadium in Amsterdam-Zuid, NENI's location might not be the first choice for tourists. However, it is worth the short journey outside of the centre.
As you enter, you're greeted by the smell of fresh bread baking in the deli (well, only on the weekends). Here you can purchase freshly baked Mediterranean goods, including sourdough, babka, and challah. 🥐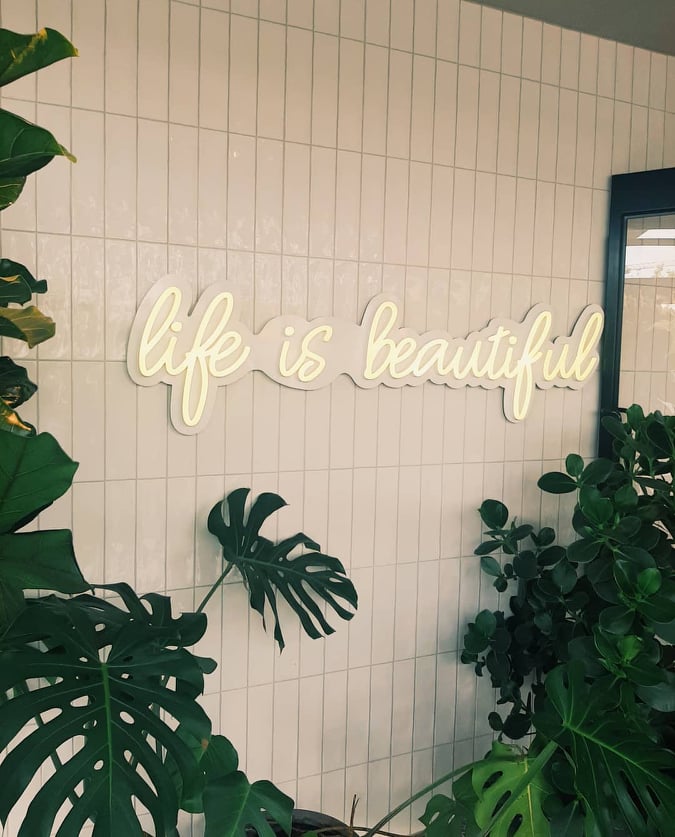 The concept at NENI is that sharing is caring. There is a wide range of plant-based, fish, and meat dishes, ideal for when you are as indecisive as we are. We had the Balagan menu, which offers a variety of their top dishes. The more people you have, the more dishes they add. You can ask for just vegetarian dishes.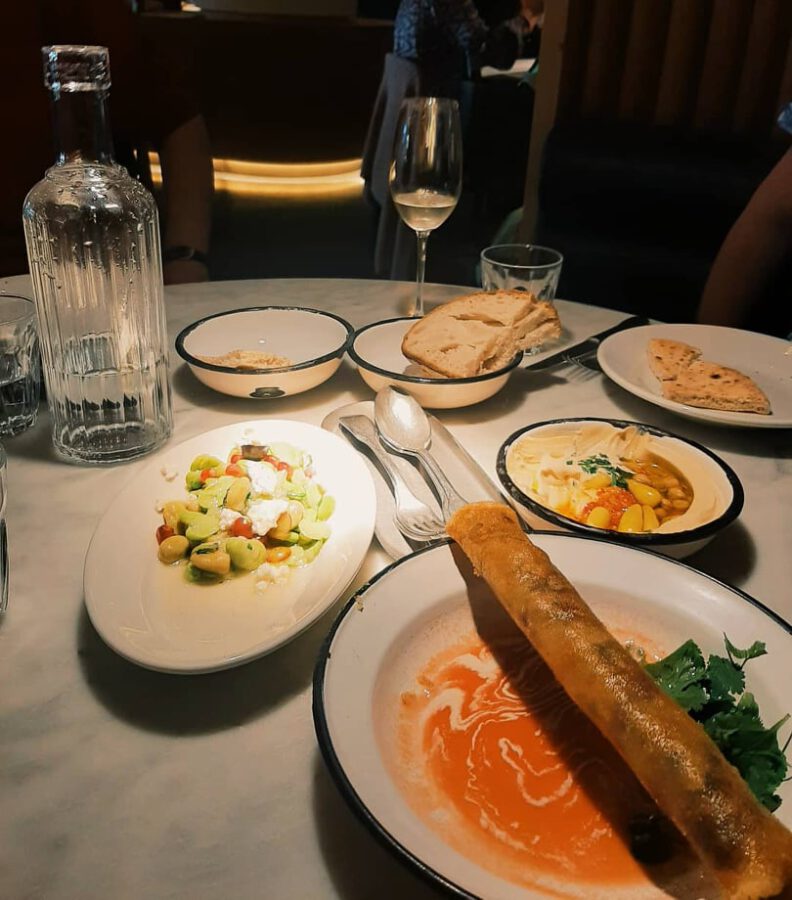 It's not the cheapest, coming in at €40 per person, but you get a lot of bang for your buck. For four people, we were completely stuffed — and happy about it.
All of the food was fresh and had a perfect balance of salt and spice. Our highlights were the caramelised aubergine and possibly the best falafel we've ever had. But there wasn't a dud dish on the menu.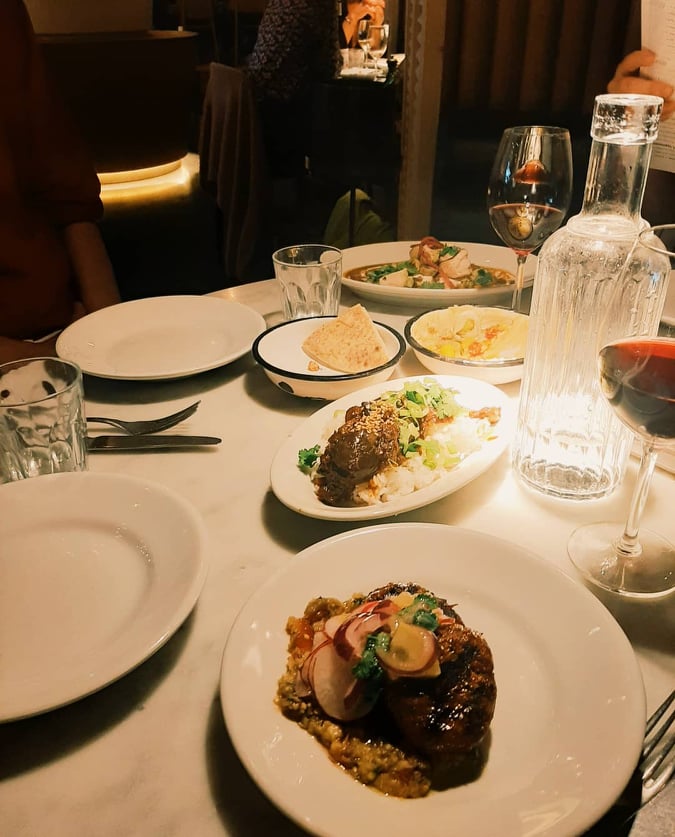 NENI has a great concept and food that's packed with flavour in every bite. The sharing menu was a little on the pricey side, but you get a lot of food for the price you pay. Perfect for a special occasion or a stop by for a deli lunch.
📍 Address: Stadionplein 8, 1076 CM, Amsterdam
🍽 Recommendations: Carmalised aubergine and falafel from heaven
👍 Socials: Instagram, Facebook
Bardak Amsterdam
Bardark is a Tel Aviv themed bar in Amsterdam, located in the ever-growing hip and cool area — de Pijp. It's perfect for those nights when you want to go for some chill drinks but know you're going to get hungry. It's truly one of the best places to eat in Amsterdam!
The menu is pretty simple — everything you order will arrive on a tray with three sauces, street food style. The three sides are tahini, manjo, and chilli.
If you like meat and mint, treat yourself to the Arais kebab. It comes in a "flavour soaked pita", which is delicious. If you want to go for something a little less fatty, then we'd advise getting the kebab from the grill, the rib-eye steak or their melt-in-the-mouth chicken liver. 😋
For the vegetarians out there, you've got to try the grilled okra. Quite rightly, it's nicknamed the "Sexy Okra" by the head chef. There's also a vegan mushroom shwarma, which comes with oyster mushrooms, sour cream, and a lovely warm pita.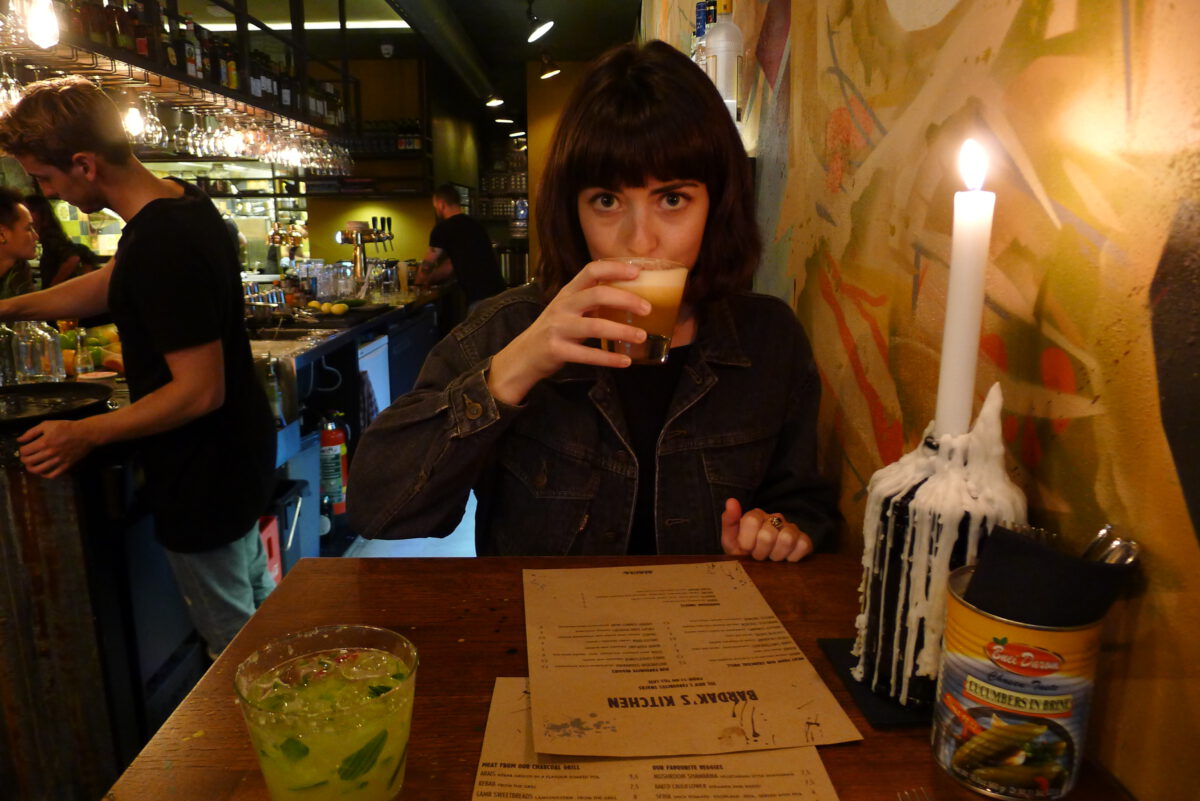 The bar offers a unique range of some of the best cocktails in Amsterdam. We'd recommend the Solero Sour, the Chili Cucumber Margarita, and the Pink Lychee Martini.
As for desserts: while the Kanafeh was a beautiful mix of Kadaif pastry and goat cheese (with ricotta and honey), our favourite dessert had to be the Babka, AKA "Grandma's Chocolate Roll".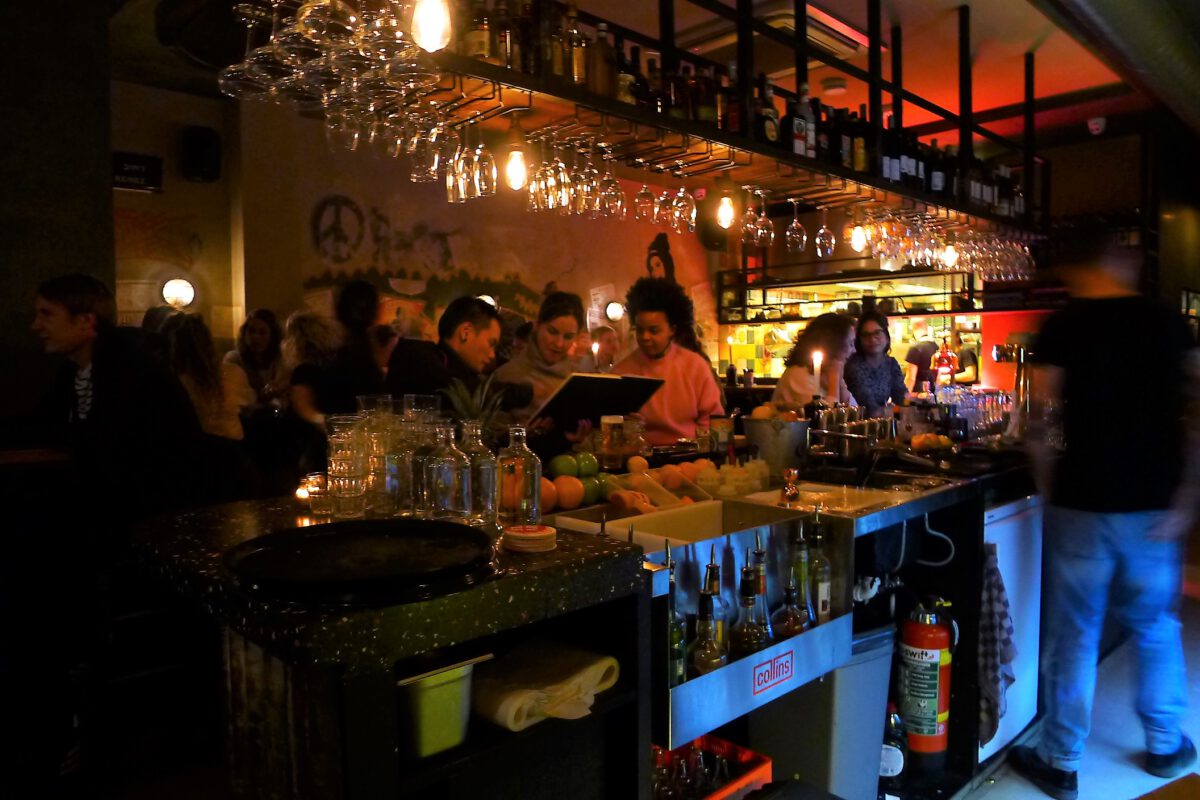 📍 Address: Ferdinand Bolstraat 12, 1072 LJ
🍽 Recommendations: Sexy Okra and the babka
👍 Socials: Instagram, Facebook
Vanderveen Bar and Restaurant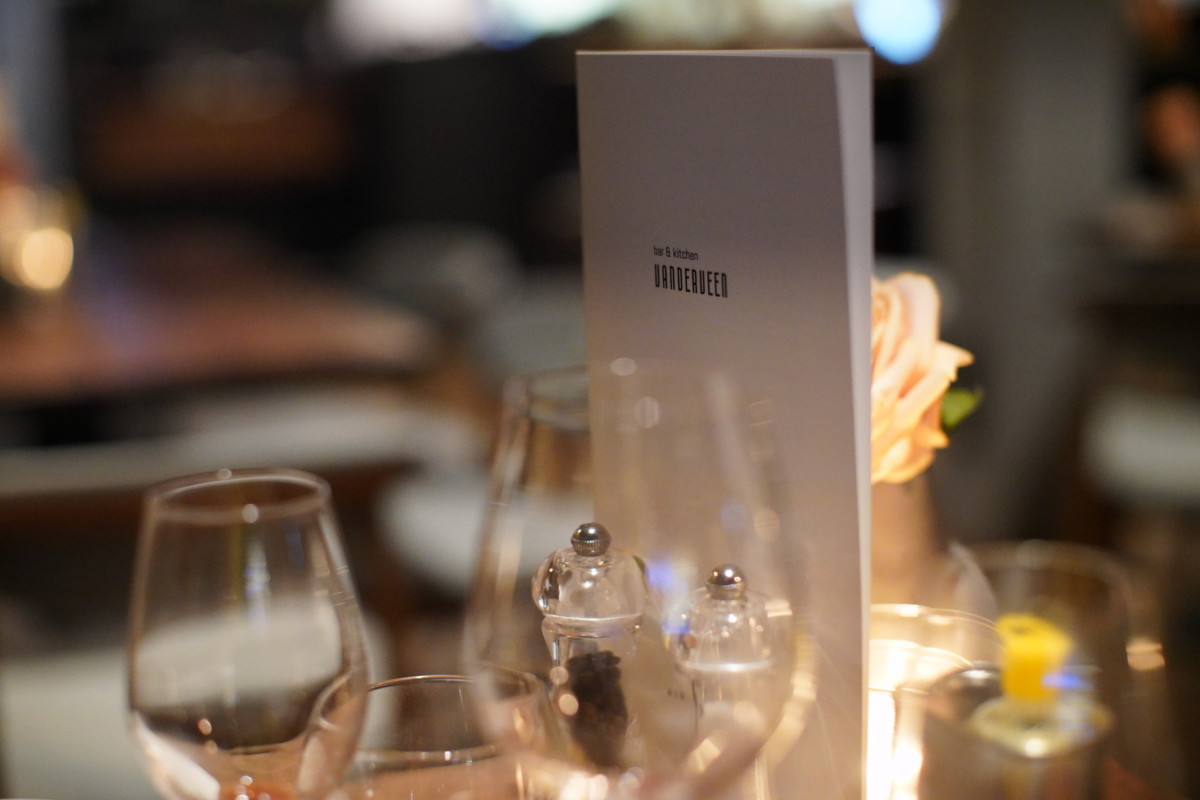 Looking to impress a hot date without breaking the bank? Well, here's a cosy little nook that will do all your charming for you. Vanderveen Bar and Restaurant, managed by Fabio, Luca at the bar and a dynamite team of five chefs who make their mark in fine dining. This hotspot will leave you full and happy. The same chefs that do breakfast and lunch have also mastered fine dining in the evening. The staff at Vanderveen are cut from the same very special cloth and at very reasonable prices.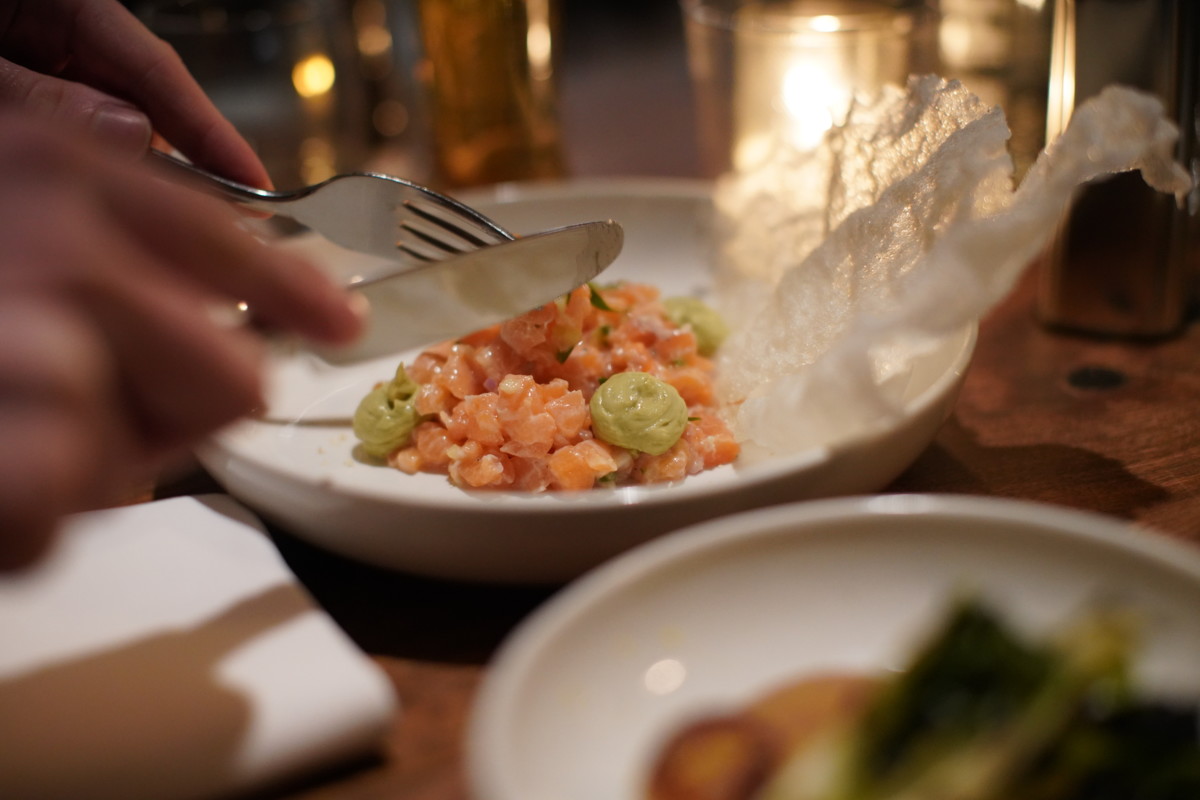 You can find this hidden gem in southwest Amsterdam on Beethovenstraat. Upon entering, it's immediately visible that they've got enough space for heaps of people. The front end has a communal vibe as if you've just come in for a game of chess and a coffee. Out the back is where the wining and dining happens, the real magic.
Knowing that Fabio and his chefs had kept a cheeseburger on the menu, my stomach ordered for me. He smiled and agreed it would fix any hunger I had, and we agreed the best starter was their refreshing chilled salmon tartar. Grazing the dinner menu, we kept getting distracted by the wine selection. With wines from Australia, Italy, France, Portugal and even further imported by their next-door neighbour, it wasn't long before Luca suggested one. We went with the white wine from Deakin estate Australia, perfect.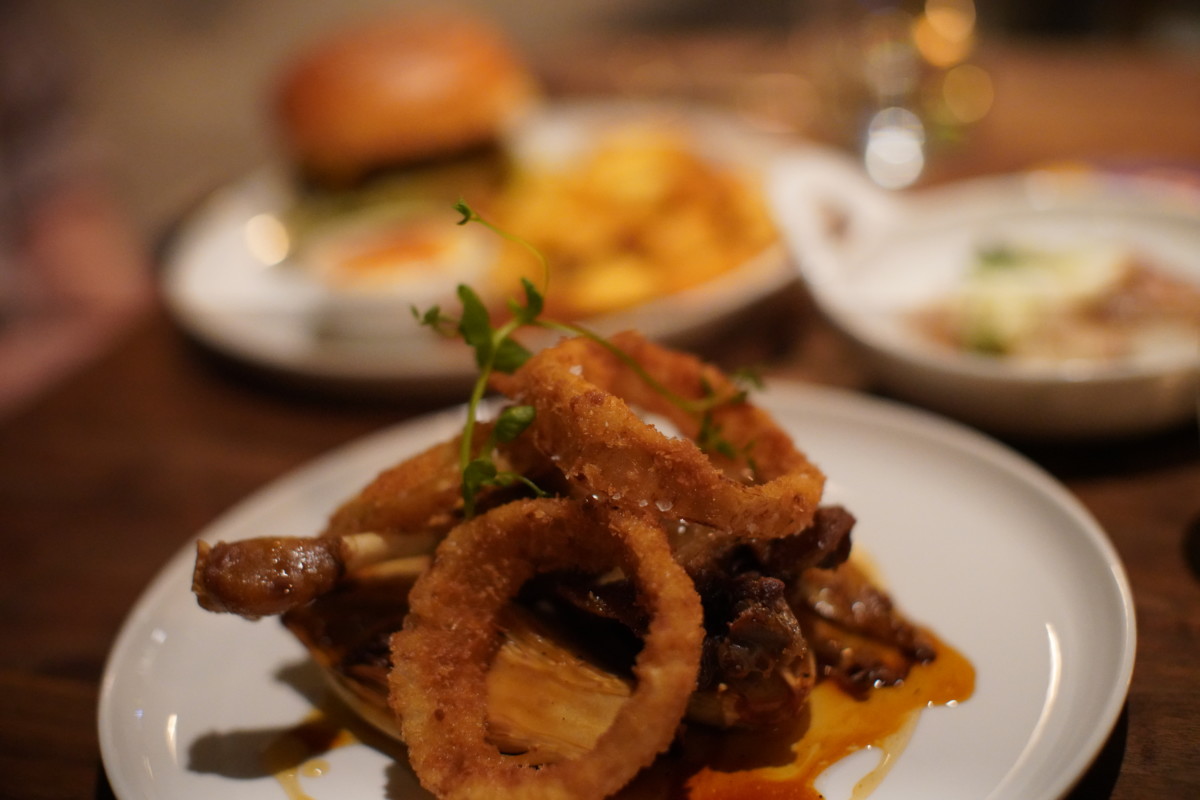 The duck took its final form drizzled in a seductively sweet orange reduction. The cheeseburger? Well, it was delicious. When it came time to depart, Luca, the bartender, asked if we'd like coffee, agreeing two espressos were the perfect end to a cosy evening at Vanderveen. Talking with Fabio or Luca for a few minutes, it's plain to see they love good food and good wine.
READ MORE | 30 things to do in Amsterdam in 2021
More impressive still is that Fabio's family has made their own olive oil for generations. It's available to try right now, so if you're looking to get out of the cold and relax with some good company, Vanderveen on Beethovenstraat is the place. The music you'll hear in Vanderveen is reason enough to step in for a hot cup of coffee on a snowy Sunday. They've created seamless playlists for morning, noon and night.
📍 Address:Beethovenstraat 27-a, 1077HM, Amsterdam
🍽 Recommendations: The cheeseburger and the salmon tartar
👍 Socials: Instagram, Facebook
Bar Fisk Amsterdam
Somewhere in the Eerste Sweelinckstraat is Mediterranean heaven on earth, which is also one of the best places to eat in Amsterdam. A new restaurant where lovers of fresh fish and good wine can come taste the very best that Amsterdam has to offer. Fisk is the Scandinavian word for fish, and it is no surprise that it is one of the specialities of Bar Fisk.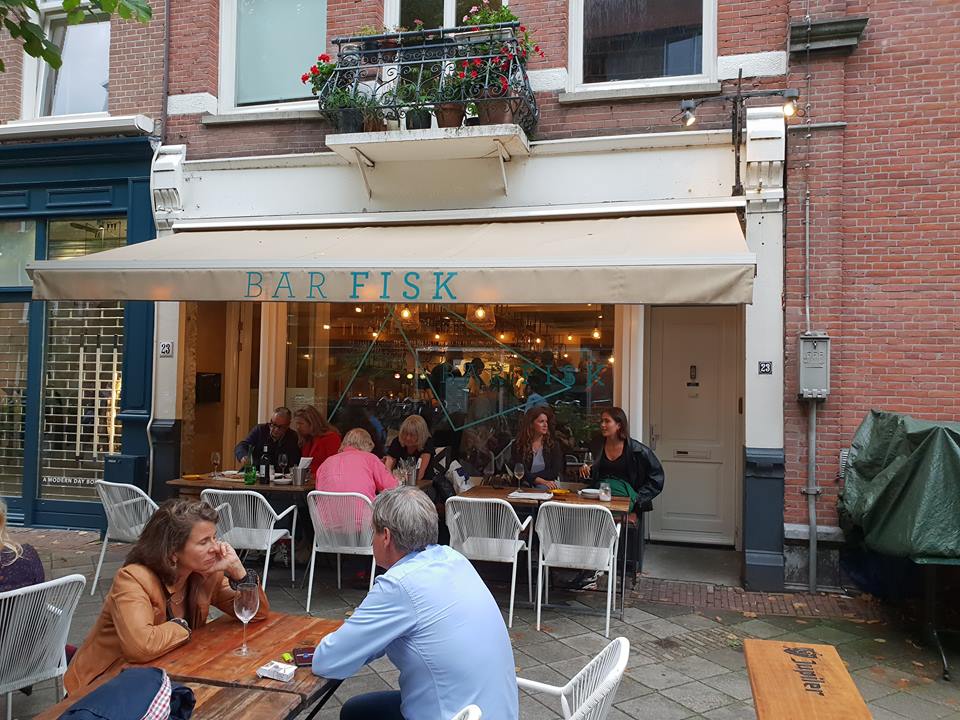 Despite the Scandinavian name, Bar Fisk's menu is a mouthwatering combination of Mediterranean and Israeli cuisine. Inside, the decor is elegant and traditionally Scandinavian. The restaurant has a very creative and relaxing feel which helps create an atmosphere that depicts a fusion of Scandinavia and Israel. Most striking is the large bar, which for a large part, is adjacent to the open kitchen.
In Amsterdam, food from the Middle East seems to be a bit of a new hype, and Bar Fisk is where Amsterdam residents come to sample dishes from Tel Aviv and other popular Israeli cities. You can choose between The Tasty Monday, Lunch Menu, and Dinner Menu and be blown away by the range of the Wine and Cocktail Menus. Making a choice can be quite a difficult task. Good luck with that. 😅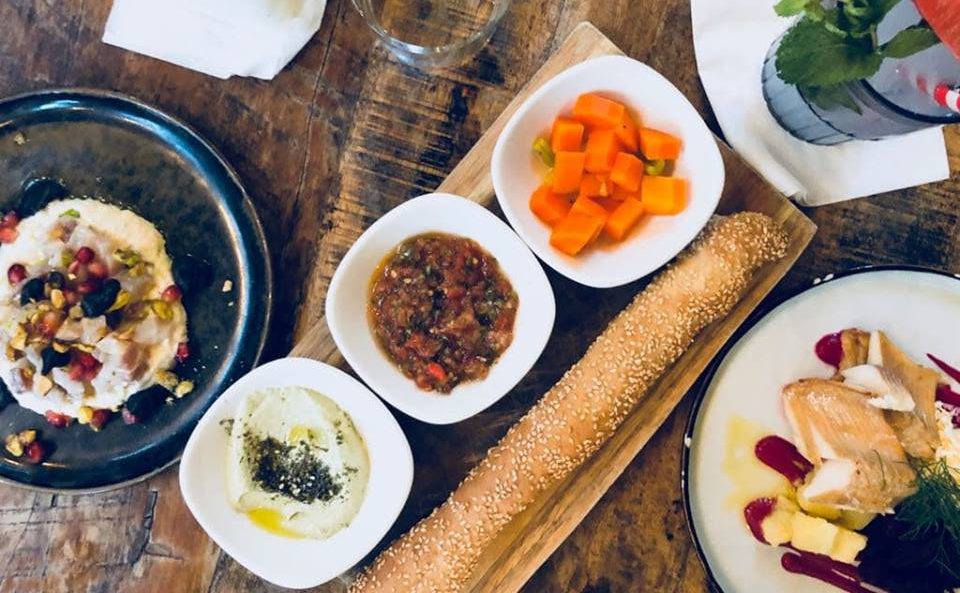 Take a seat by the bar and watch exactly how your cocktail is mixed while also seeing the chefs filleting fish and cooking up some of the best dishes you've ever tasted.
Nothing new there! Just Bar Fisk making sure that you see how fresh their products are, how they prepare your dish and also show off some cooking skills. The freshness and skill are reflected in the dishes that are brought before you. Simple and well presented, but always with a twist that distinguishes them from other Mediterranean seafood restaurants. On every plate, you see a touch of the Middle East. Make sure you try the Calamari, the Shrimp Falafel, Catch of the day Sashimi or the Corvina Tartar.
Bar Fisk is that place where everyone can come have some drinks, enjoy Mediterranean food, have a chat with friends and just feel at home. If you truly love Israeli food or you're willing to try something new, then Bar Fisk is the place for you.
📍 Address: Eerste Sweelinckstraat 23, 1073 CL, Amsterdam
🍽 Recommendations: Calamari, Shrimp Falafel, Sashimi
👍 Socials: Instagram, Facebook
Escobar
Obviously, when you hear the name Escobar we all think of fine drinks and good food, right? Okay, it might not be the first thing that comes to mind, but we recommend this as a place to eat in Amsterdam with some Latin flavour. 'Cos this colourful joint in the pulsing neighbourhood around the Gerard Dou Plein has a lot going for it.
What's at Escobar? A gorgeous terrace, funky vibey decor with Latin touches, a cheerful drinking spot, and Mediterranean/Latin fusion food you can share with your friends. We had a fun talk with the young owner, Roderick, about how Escobar made a name for itself for drinking when it opened up. Now they've just introduced a new menu, and we're on a path to gain a reputation for serving great food as well, and oh boy, they're on the right path.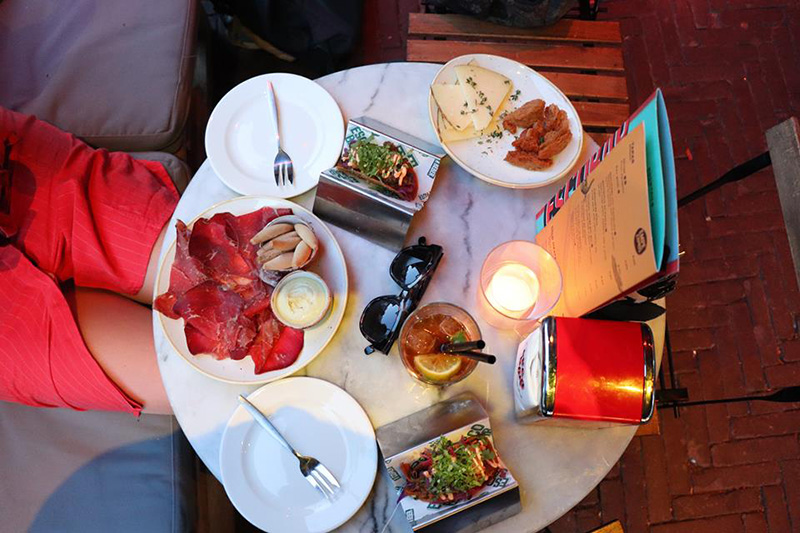 There are some classics and some very creative dishes, and a nice surprise is that all are fairly priced. We started with some Manchego, Cecina de Leon (cold cuts), and a 'crispy' taco al pastor.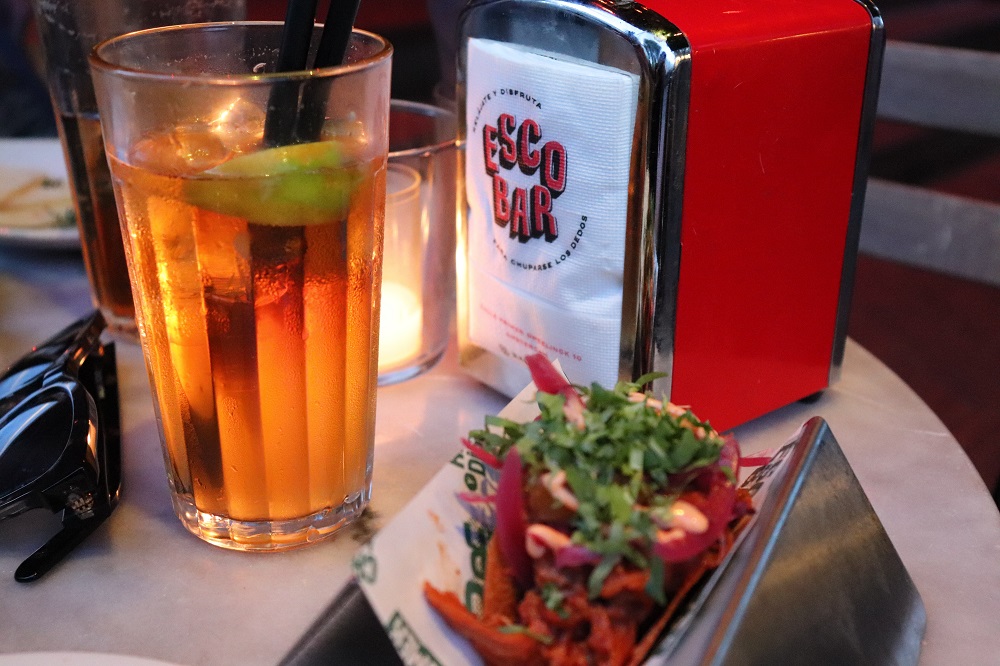 Now we need a moment to talk about that taco. We can now safely say that crispy tacos are better than soft tacos. Fight me.
It featured aguachile, cauliflower, and bbq celeriac in manchego cream. We're still not sure what celeriac is, but it sure tastes good.
Things got chilly outside. We're still in the Netherlands, so we enjoyed deserts inside. The place was buzzing by then, so if you're looking for good food and a boogie, then you've come to the right place.
All in all, Escobar took us on a welcome little Latin break.
READ MORE | 7 delicious, trendy and gorgeous places to eat in The Hague
📍 Address: Eerste Sweelinckstraat 10A, 1073CM, Amsterdam
🍽 Recommendations: Tacoooos
👍 Socials: Instagram, Facebook
Kanarie Club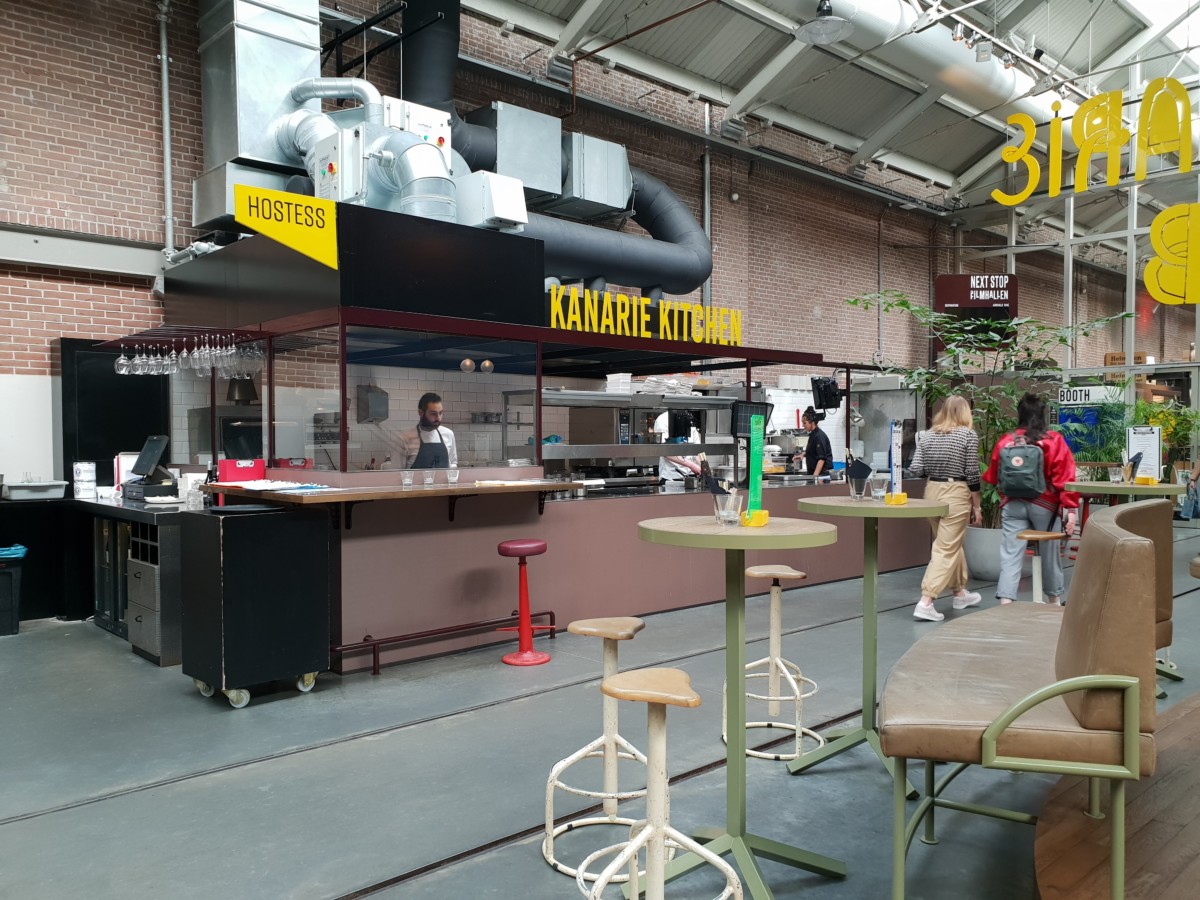 The former tram depot in Amsterdam known as "Food Hallen" is where you'll find one of Amsterdam's most stylish hotspots. The interior of the Kanarie Club's design is made up of materials and colours inspired by the different industries housed in the hall. From woodwork and metalwork to painting.
It's split up into different zones: a café where you can work, a cosy restaurant, and a beautiful cocktail bar. With film and food halls in the Kanarie Club's backyard, this old tram depot in Oud-West is rightly one of Amsterdam's most popular working spots.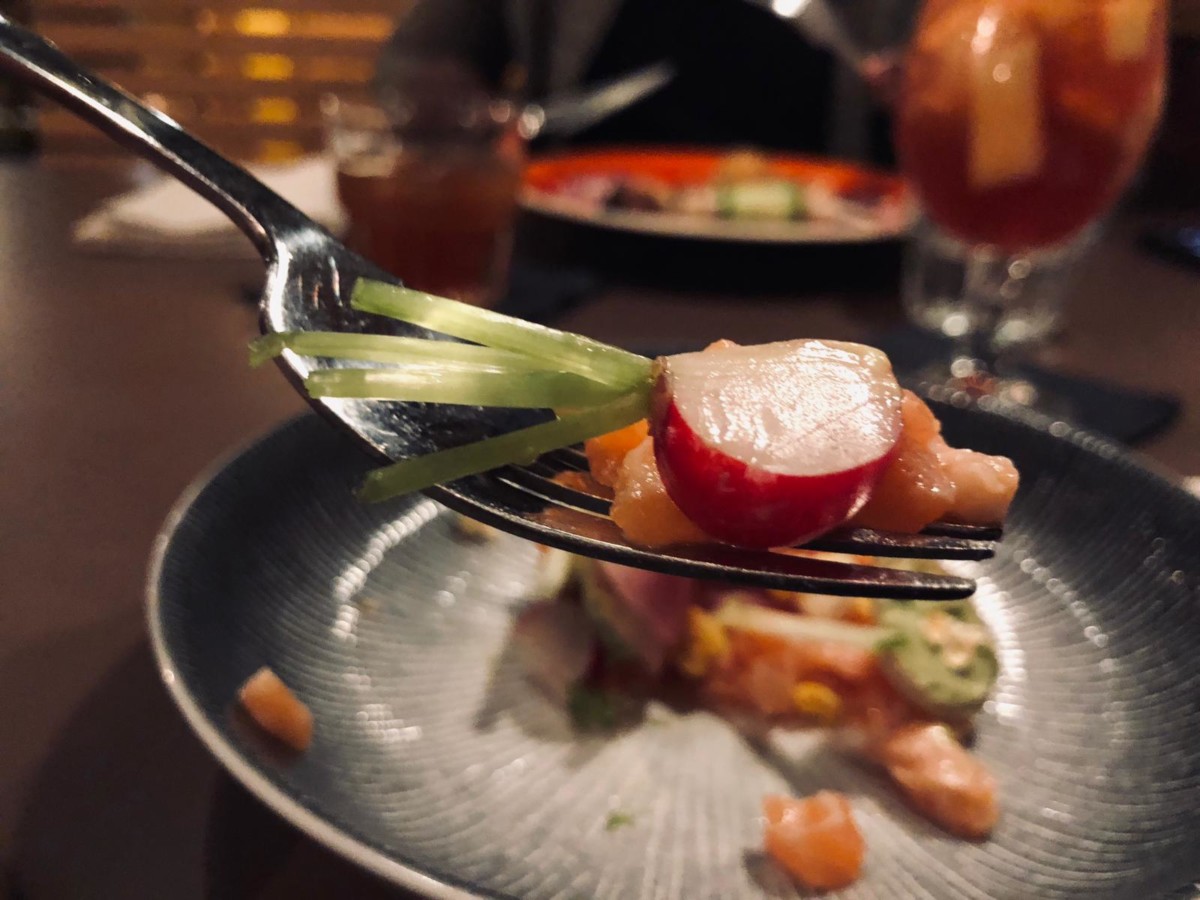 Drinking with a large group at Kanarie Club
Kanarie Club not only offers a nice spacious bar (including cocktails and bar bites), it is also centrally located and is ideal for large groups. The bar bites offer an excellent variety, and there is always something for everyone. You can also play a game of beer pong to pass the time. The famous Kanarie Club pool bar serves as a playing field for the beer pong.
Besides beer pong, there is also enough space to have a drink or celebrate with a nice group of friends. Kanarie Club has introduced the "Bird-Day Box". This box contains all the necessities to celebrate a good party with your friends. The box can be reserved for groups of 10 people or more. What do you get? A cask of beer, two rounds of the famous Dutch bitterballen, balloons and a DJ at the weekend from 21:00 to play your favourite birthday songs for you. The costs for the Bird-day Box are as follows: 10 people (130 euro), 20 people (170 euro) and 30 people (210 euro), etc.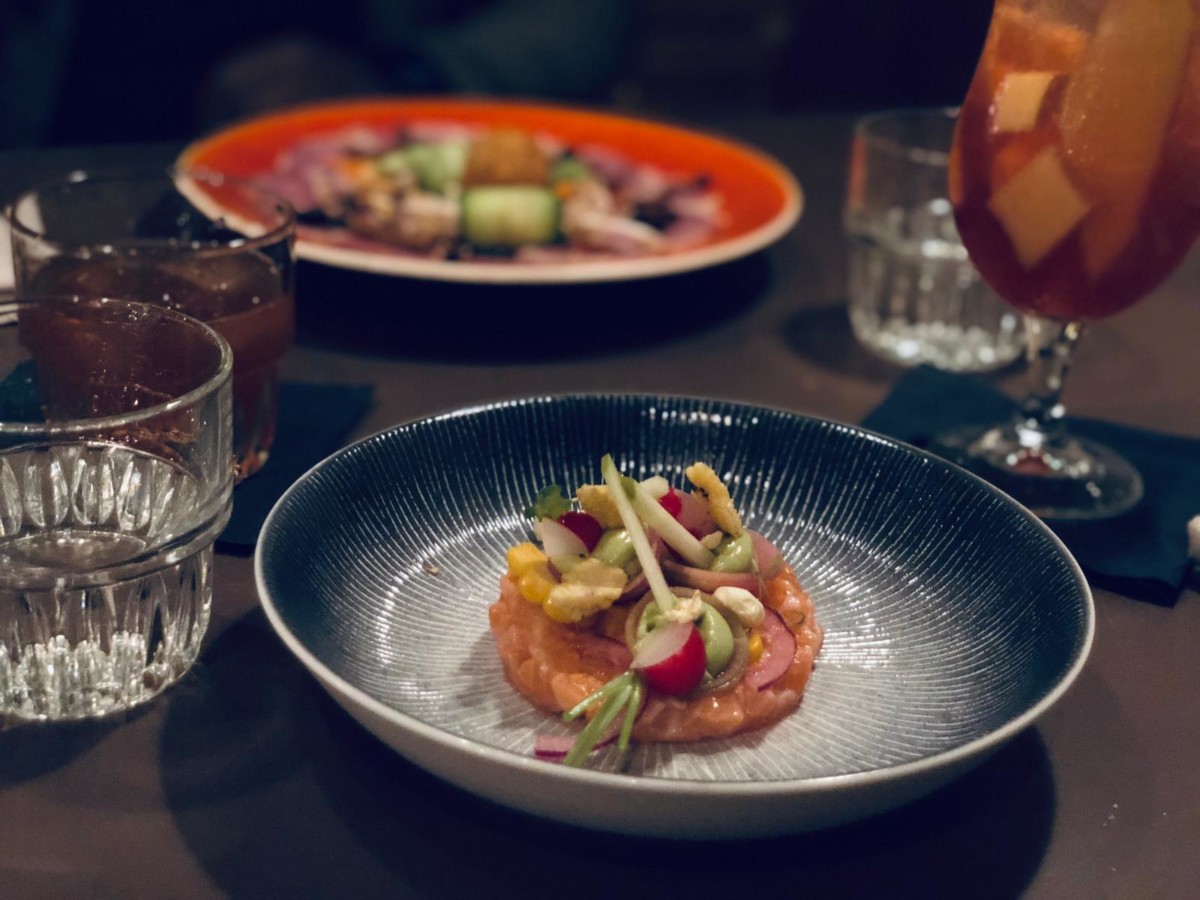 The Kanarie Club isn't just an ideal work spot for students, freelancers and those looking for a place to enjoy some quiet time or chill with friends and family. The menu is extraordinary, the atmosphere is nice, the staff are cheerful, and the setting is as beautiful as expected. Whether you're there for breakfast, for flexible working, lunch, dinner, or just to drink cocktails: Kanarie Club remains one of Amsterdam's best hotspots.
📍 Address: Bellamyplein 51, 1053 AT, Amsterdam
🍽 Recommendations: Bitterballen
👍 Socials: Instagram, Facebook
Kluis
Feeling fancy? If you're looking for a slightly more sophisticated night out — it's got to be Kluis. This is certainly what you call fine dining. You'll find it located on the bustling Haalemerstraat.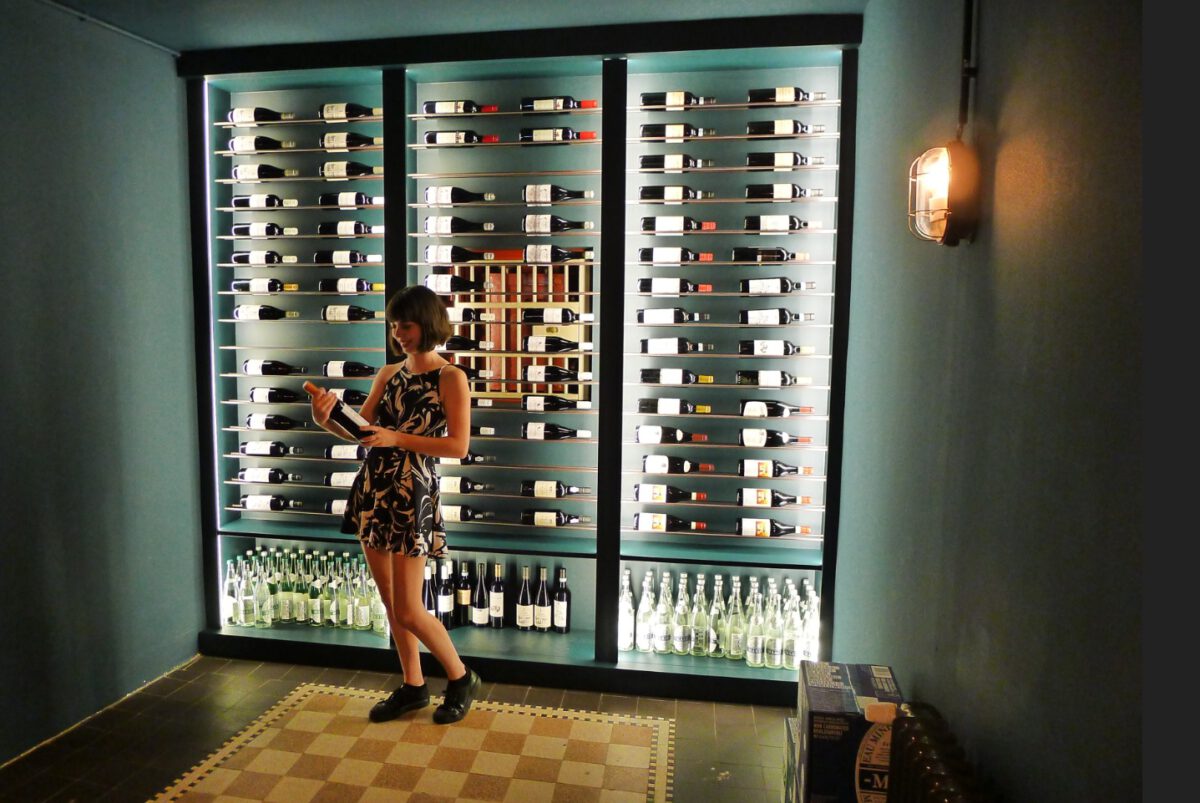 The starter was bread and a selection of butter (ft unique flavours like squid ink and beetroot). Yum! You can choose if you want starters. The oysters come with lemon and a sauce of red onion and red wine vinegar. There were an — the one we tried was beef with a wasabi sauce on edamame beans.
You pick from 3-6 courses, or you can ask for their signature dishes (which also sound amazing).
We'd recommend the Coquille and king crab dish – the beurre noisette (butter sauce) was to die for, and the trompette de la mort (mushroom or "death trumpets" as we like to call them) was simply exquisite!
For dessert, you can choose between sweet or savoury. We suggest the selection of Portuguese cheeses or, if you're more of a sweet tooth, the brownie with coconut ice cream is delicious.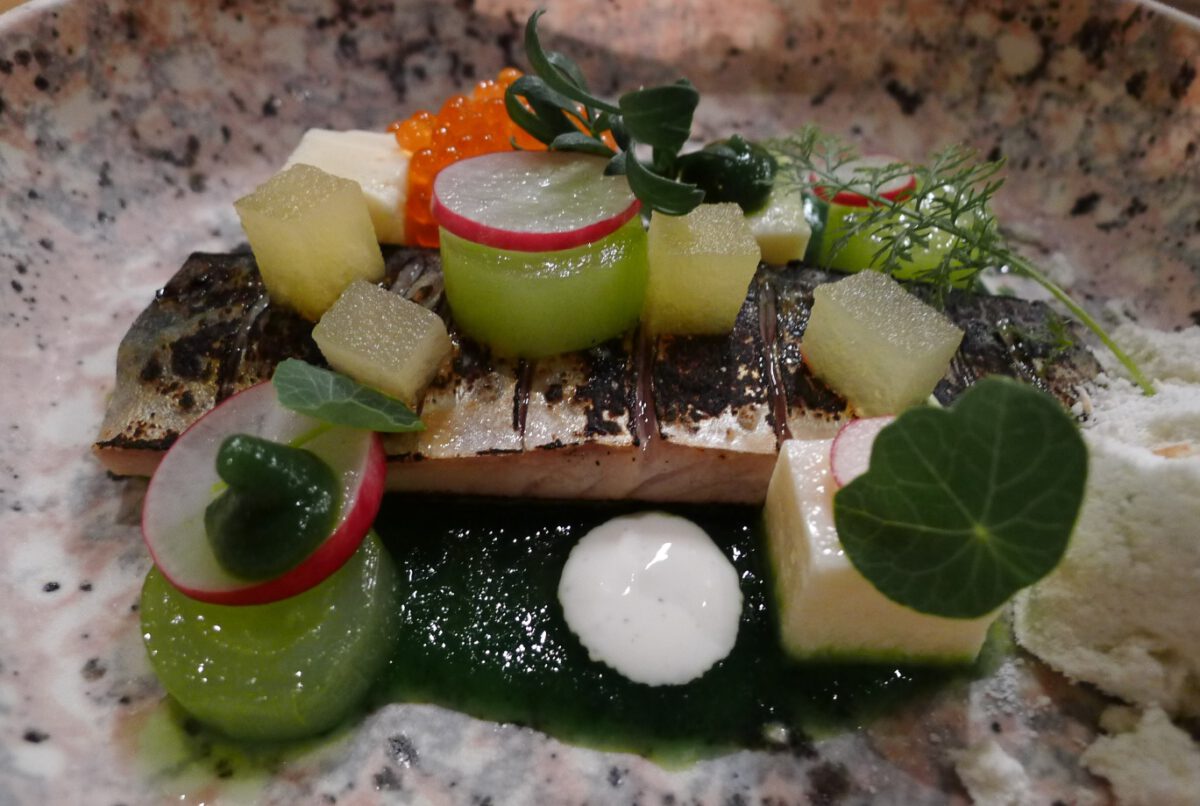 Guests can also enjoy a range of wines carefully paired with each dish. We even had the chance to explore their wine cellar, where they will eventually host wine tastings and special events.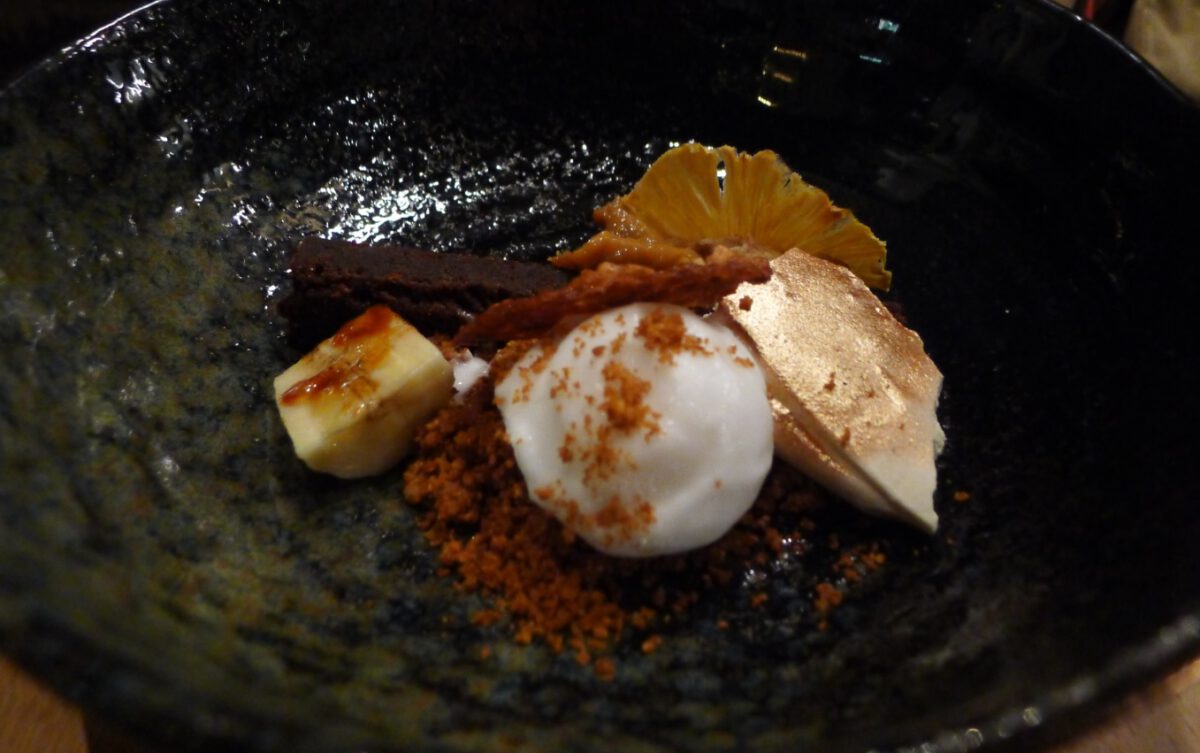 We had fantastic service from knowledgeable and friendly waiters.,The decor was minimalist and very trendy, and the food – of course – was delectable. Overall, an A-class experience.
📍 Address: Haarlemmerstraat 118, 1013 EX, Amsterdam
🍽 Recommendations:Coquille and king crab, and trompette at la mort
👍 Socials: Instagram, Facebook
So there you have it! These are some of the best places to eat in Amsterdam in 2018. Have you been to any of these amazing restaurants? Let us know in the comments below!
Editor's Note: This article was originally published in October 2018, and was updated November 2021 for your reading pleasure.
Feature Image: Abuzer van Leeuwen/Supplied