Amsterdam is a city that has it all. The endless range of shops, clubs, cafés, restaurants, galleries, museums, concerts, exhibitions and events ensures that Amsterdam is never boring! And yes, this includes poetry and spoken word hangouts. Amsterdam is home to tons of them!
Perhaps there is no city in the Netherlands that appeals to the imagination more than Amsterdam. Many poets have been inspired by her buildings, streets, parks, a mix of cultures, diversity, and atmospheres. Their works have told of the city's beauty, her people and her experiences throughout the years.
I have been a poet for as long as I can remember and there is something about Amsterdam that both inspires my poetry and drives me to perform my poems in almost every poetry event/hangout in the old city. Lovers of poetry are at home when in Amsterdam. Poetry events are regularly organised in various bookshops, cafes, bars, libraries and even theatres, and if inspiration or soothing spoken words are what you seek, then Amsterdam has so much in store for you.
Here are 6 of Amsterdam's most popular poetry and spoken word communities and if you're into the spoken word, then you would definitely want to check them out.
Labyrinth Poetry and Cocktail Bar Amsterdam
Labyrinth Poetry and Cocktail bar is where good food, positive vibes, and awesome cocktails are mixed with creativity to produce the perfect bar and poetry experience. Labyrinth is the proud home to the art of mixology, and you will find it in the African-Caribbean soul food, the music, the poetry and spoken word and of course, in the cocktails. Labyrinth is initiated and hosted by Sam Kingue Ebelle. Born in Cameroon, having worked in some of the best bars worldwide, Sam is one of Amsterdam's most gifted mixologists. If you visit Labyrinth, either pick one of the many delicious cocktails on the menu or just ask him to surprise you. You won't regret it! I promise!
The Open Mic Evenings take place every Monday night while every last Saturday of the month is the poetry night. This is the perfect space and opportunity for every poet, spoken word artist, storyteller, comedian or singer/songwriter to share their art. These evenings are a mix of languages, but the art is mostly in English. The lineup is limited so make sure to be on time. The doors open at 8 pm and the poetry evening starts at half-past eight.
A combination of poetry and jazz music takes place once every 6 weeks on Sundays during Sundays Jazz & Poetry. So let your heart enjoy stories and music in different languages at Labyrinth Poetry and Cocktail bar Amsterdam. For reservations and more information, check out their website and Facebook and Instagram pages. As a tourist, a visit to Amsterdam is not complete without checking out Labyrinth Cocktail, Soul Food & Poetry Bar.
Website: Labyrinth Poetry and Cocktail Bar Amsterdam
Address: Amstelveenseweg 53, 1075 VT Amsterdam
Kode of Conduct Poetry Amsterdam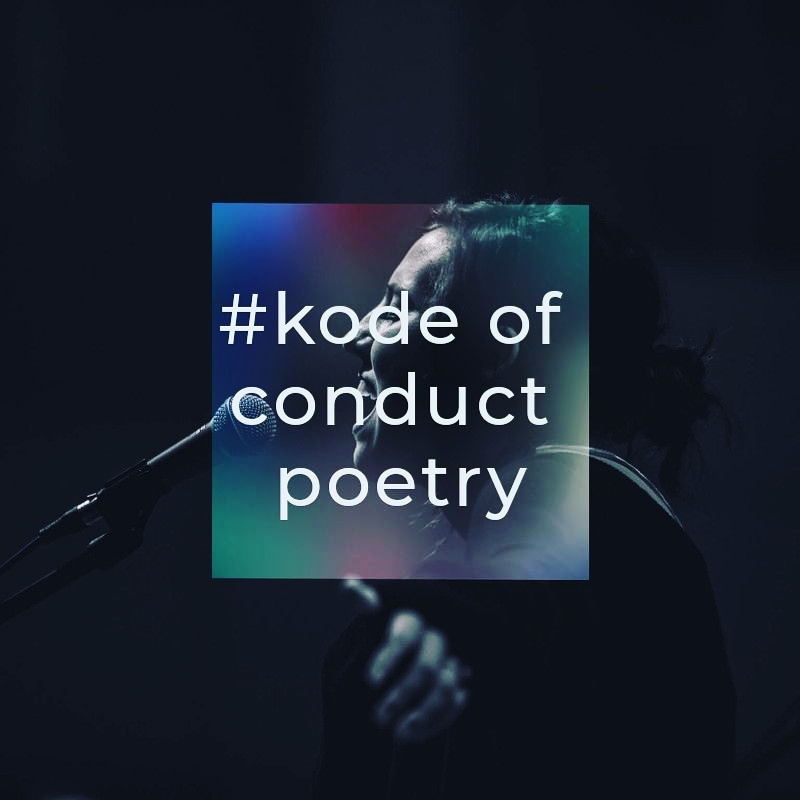 While Kode of Conduct may be considered the 'new kid on the block,' it has been an 'unofficial' poetry hangout for students since 2012.
The poetry hangout now has a permanent meeting location at Poetry Circle Nowhere Amsterdam and their first 'poetry and open mic' event is taking place this year on March 27 in the same building. Come immerse yourself in the world of literature and poetry, get acquainted with one of the Netherlands' creative spaces for young people, discover well-known and unknown artists, enjoy upcoming talents and be seduced by their beautiful vibes and moving words.
At Kode of Conduct, the floor and the mic is open to all stage performances. Participate in and/or enjoy poetry/spoken word, storytelling, stand-up comedy, live music, open mic sessions, etc. The perfect place to unleash your creativity.
Kode of Conduct also organises Mental Health Evenings. This is a mental health support group that welcomes everyone, especially foreign students and expats in the Netherlands who may be going through tough times like; loneliness, burnouts, (winter) depression and/or homesickness. During the Mental Health Evenings, the group sits in a circle and everyone is given a chance to share their story with the group. There is support. There is love, and most importantly, there is a safe space to share, because sharing is the first step in finding a solution. Join Kode of Conduct and be part of a movement that is quickly gaining ground in the Netherlands.
Check out the Kode of Conduct website, follow them on Facebook, Instagram and Twitter to stay up to date on their upcoming events. If you have any questions or would like to perform an act, send an email to info.kodeofconduct@gmail.com.
Website: Kode of Conduct Poetry Amsterdam
Address: Madurastraat 9, 1094 EL Amsterdam
We The People Amsterdam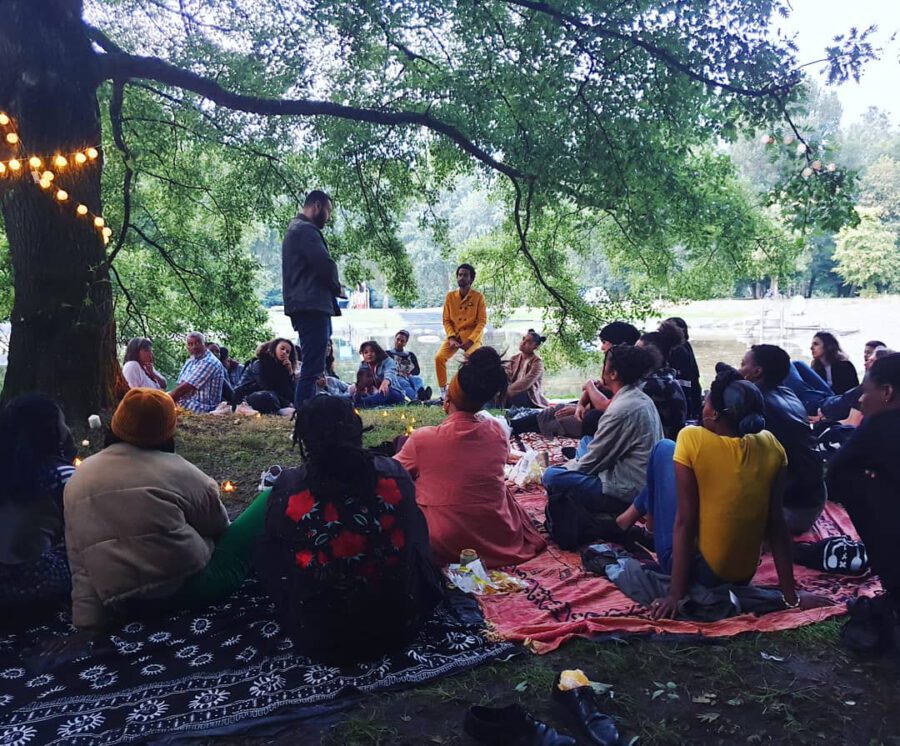 We The People is a place where poetry isn't just unique, it is dynamic, raw, and exceptional. We The People… is for the people. It's a place where people who want to create, feel, express and share come to find likeminded individuals and together, give their voice in birthing something beautiful, a vibe that is both different and original.
We The People believe that art should be democratic and that the power of expression should always lie in the diversity of it. A haven for creatives and expressive young individuals from diverse backgrounds, the platform was born out of the need for an avenue where the creative energies of talented young people can be unleashed. We The People intend their poetry nights to be warm, safe and approachable gatherings. Join their summer poetry hangout called PoeTree where they come together at Amsterdam's Gaasperpark and in a picturesque, serene and inspiring environment, to share poetry with one another under a tree. Don't miss it!
We The People welcome love, respect, and good vibes. Check out their Facebook and Instagram pages for updates on their upcoming events.
Word Up Amsterdam
Word Up is where internationally and nationally known and unknown spoken word talents are brought on stage in a casual and cosy atmosphere. Project Word Up was born out of the merger of two organisations: MUTE and Spoken Notes. Word Up regularly host poetry and spoken word events in Amsterdam and is a movement that celebrates and inspires self-expression through spoken word poetry. The movement encourages people to share their creativity with the world around them and to use spoken word poetry as an instrument through which they can explore and better understand their culture, their society, and, ultimately, themselves.
The poetry events are filled with so much energy and inspirational words and are bound to entertain and maybe even inspire you to start writing your own poems. Word Up is where performance and creativity come together, and Amsterdam events are hosted at Café CheckPoint Charlie. Follow their Facebook and Instagram pages for more details on their upcoming events.
Website: Word Up Amsterdam
Address: Nassaukade 48, 1052 CM Amsterdam
ABC Poetry
While the American Book Centre may not be a typical poetry hangout, it still deserves to be mentioned because it's one hell of an awesome book store that organises wonderful poetry events every once in a while. Amsterdam Spui is where you find the American Book Center (ABC), and they have been there since 1986 – four floors full of English books in all genres you could ever imagine.
They also host Open Mic events where you get a chance to go public with your book, song or poem. Everyone is welcome and it is the perfect intimate setting for you to share your talents and express your creativity. There is also an ABC Open Mic MEETUP group that you can join and share with friends if you regularly use the MEETUP app to find events around you.
Website: ABC | ABC Events
Address: Spui 12, 1012 XA Amsterdam
Soul Food Poetry Amsterdam
Soul Food Poetry is where energy meets art, rhythm, melody, creativity, delicious soul food, and everything nice. This is poetry and spoken word done right! Step into a world of images, spoken word, videos, audio and all things creatively poetical and listen to special stories, poems and music. Be inspired, be entertained, and let your emotions be stirred up by creative wordplay.
As if that's not enough, treat your tastebuds to some delicious soul food during the break. Don't forget to order your dishes while buying your tickets on the Soul Food Poetry Facebook page. This is to avoid standing in line as their queues can be quite long. Soul Food Poetry host their events at the Volta events centre in Amsterdam. Check out their website, Facebook and Instagram pages for more details on their upcoming events.
Website: Soul Food Poetry Amsterdam
Address: Houtmankade 336, 1013 RR Amsterdam
Have you ever attended a poetry event in any of these poetry hangouts? Let us know what your experience was in the comment section.
Feature Image: Chuka Nwanazia/Supplied