As you might know by now, Leiden has a special place in our hearts here at DutchReview. Given it's where our office is based, it should be of no surprise that we frequently get asked: "where should we go out for dinner in Leiden?"
Well, if you're wondering the same thing, then lucky you — we like eating, and we like writing about it. So we have come up with the top hotspots for a lekker night out at restaurants in Leiden.
Let's kick off this list with the best place to eat meat in the city (don't worry, we got some excellent veggie options coming as well). 💁‍♀️
But not just any meat…
1. Just Meet
This one was on my Leiden list for a long time, but it was always packed when I tried to walk in on a Saturday or Sunday. I was relieved when I finally secured a reservation at this deluxe meat-eating establishment on the Breestraat.
Just Meet is located in an absolutely fabulous building. There are two large dining rooms, both equally atmospheric and divided by a hallway with a large piano in it. It also has one of the best classic staircases you'll encounter in Leiden.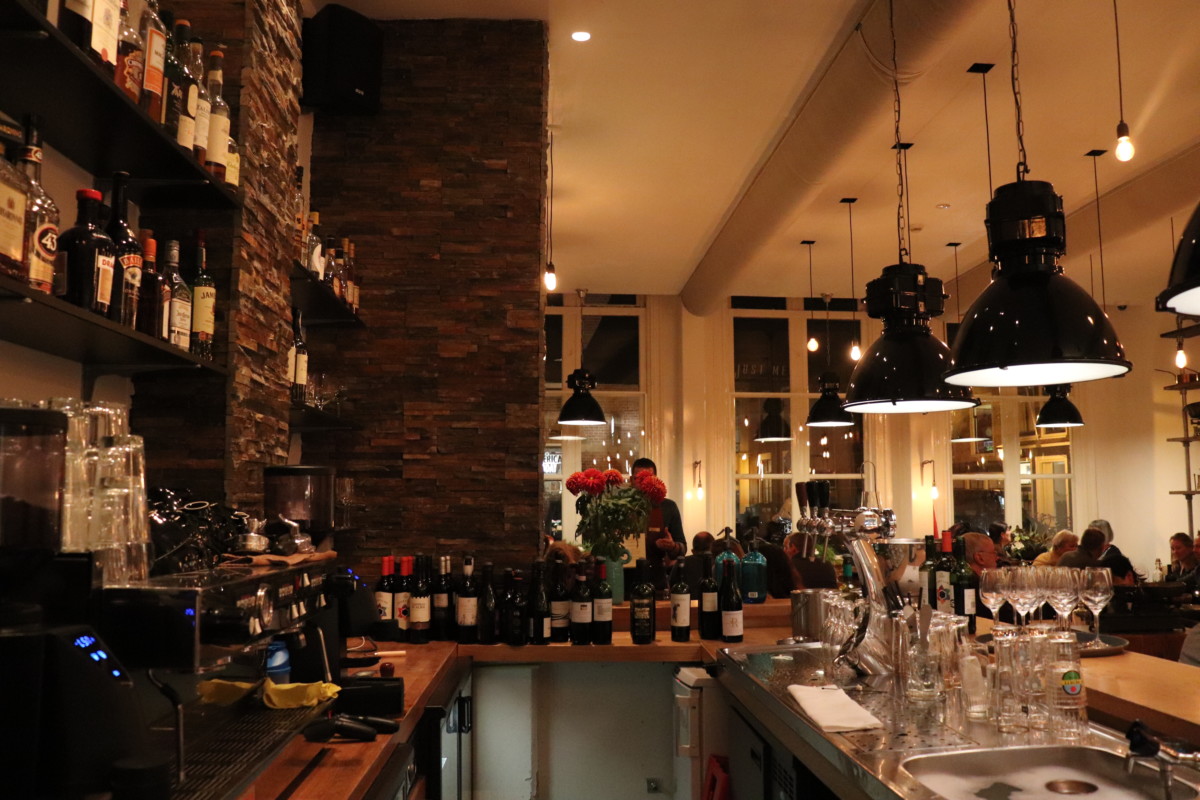 We started this dinner with a serving platter called 'Plateau Just Meet', and that was awesome from the get-go. It even featured some vegetables on it: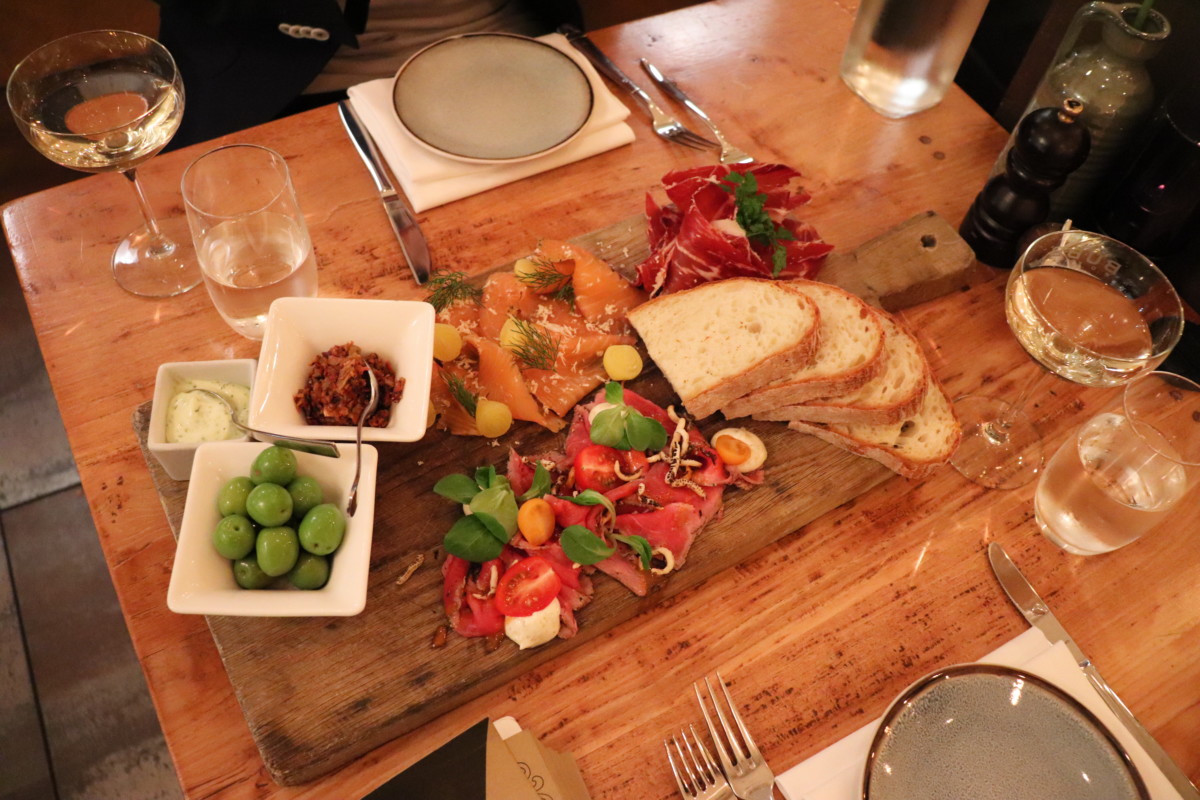 But now, let's go on a truly carnivorous adventure. See, for real meat lovers, you need to go for one of the sharing steaks. After selecting your meat of choice (ask the waiter for their recommendation), they will collect your meat from the "curing cabinet".
A fun part of the process is that you get to select your own knife. Each knife comes with its own story (we definitely talked about these knives for 10 minutes — sorry to our lovely waitress for keeping you so long!)
After the foreplay, you can watch the cooks prepping a beautiful plate of meat.
And there it is, one of the best steaks I've ever tasted in the Netherlands. My mouth is watering evening now as I'm writing about it.
2. Aan de Rijn
Having a coffee or beer at the beautifully located Aan de Rijn while visiting Leiden's Saturday street market is one of my favourite things to do. It's just made for your Instagram.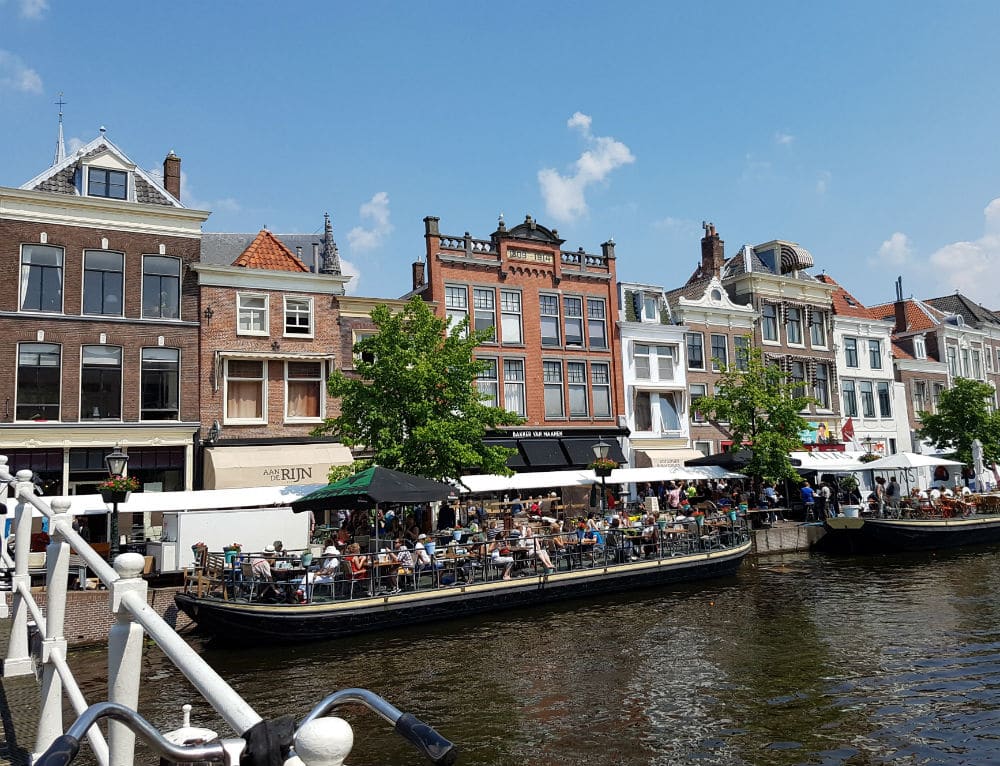 So if you're pining for the classic canal views of Leiden, this is the place to be. The interior is also pretty goddamn gorgeous when the weather in the Netherlands fails us, as usual.
As you can see, the place has got it going on. With some funky tunes and the quality service by Roos, David, and the crew, you're in for a fun night eating out in Leiden.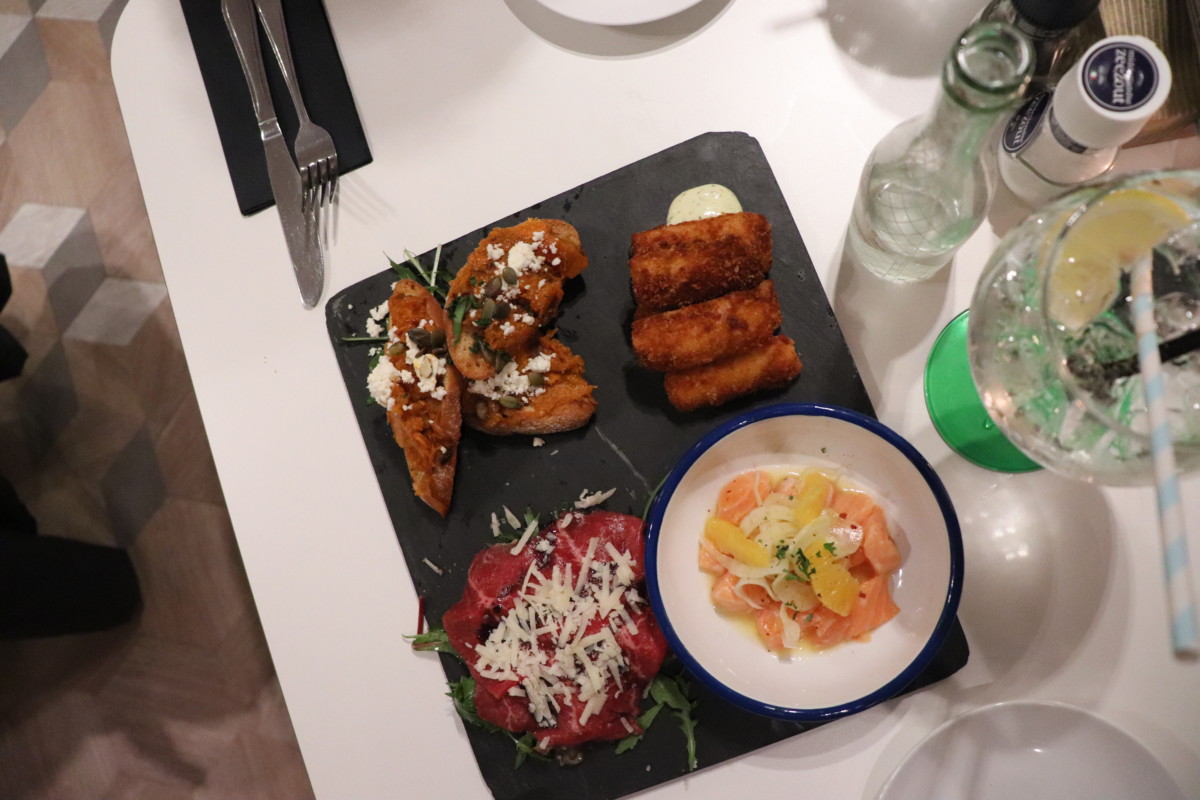 Shared dining is the done thing here. The idea is that you select a couple of small dishes at once, which are beautifully arranged on a wooden board. It's a solid concept, and you can mix and match whatever you want (honestly, there are no bad choices).
A great terrace, lovely decor, and a shared dining concept is just the start of what Aan de Rijn has to offer — you can't go wrong with that.
📍 Location: Nieuwe Rijn 37
🍽 Recommendations: Shrimp croquettes, poke bowl, and cheesecake.
👍 Socials: Facebook
3. Bar Lokaal
Not far from Aan de Rijn is another crowd-pleaser in Leiden (not that anything is far away in Leiden, but this one is literally around the corner). Bar Lokaal brings you some deluxe veggie dishes, but no need to worry meat-lovers. They've got some top-notch cuts for carnivores as well.
First of all, it's worth noting that Bar Lokaal is located at one of the most beautiful squares in Leiden — the Hooglandse Kerkplein. After having a few glasses of wine, you can almost taste that romanticized 16th/17th century.
Tip: you have to drink wine there. Not only do they know a lot about wine pairings, but they also serve wines from our favourite wine company, Baltazar.
Like many other spots in the city, Bar Lokaal encourages sharing (which is good because I'm always eyeing up what everyone else has ordered). The portions, and the price tags, are a bit bigger than other shared dining venues, so you should be satisfied if you order between four and six dishes.
We devoured a lovely smoked rib-eye, but where Bar Lokaal really shines is in when it comes to their vegetarian dishes. Especially their cauliflower dish is making a name for itself. Here's a picture of it — it tasted just as good as it looks.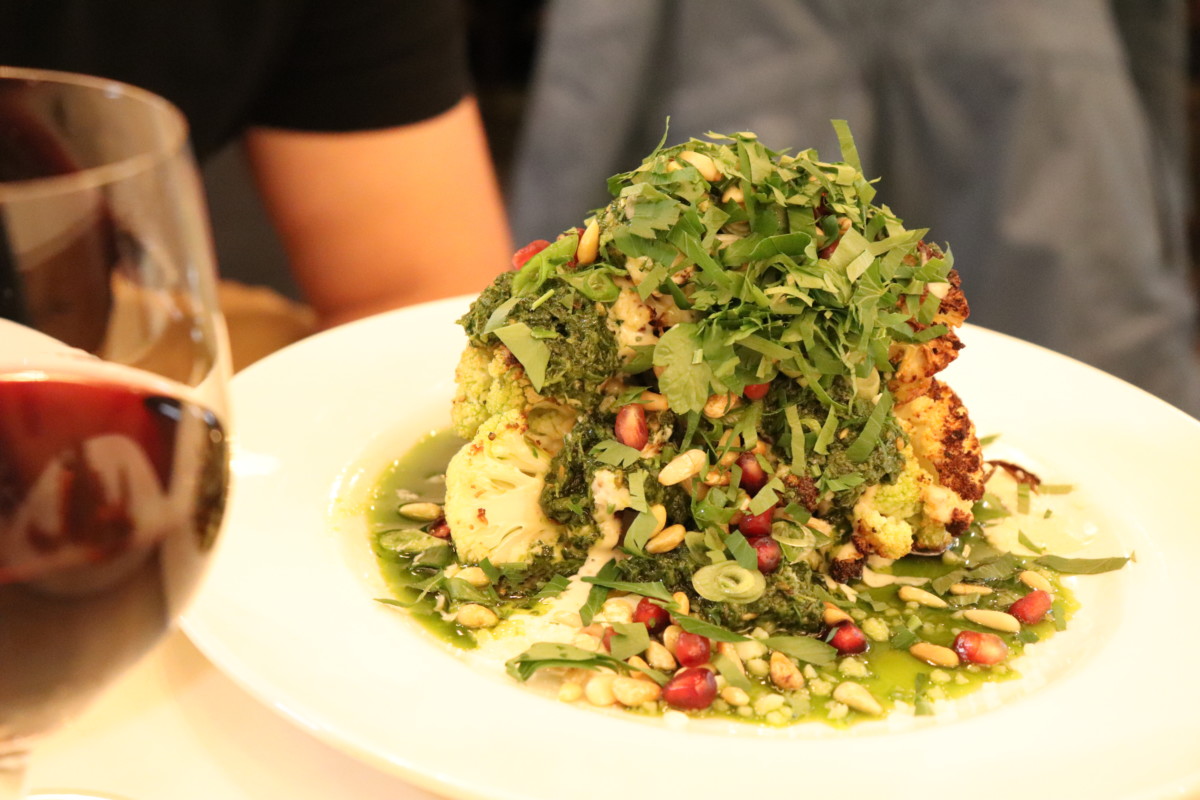 Other tips? Well, make a reservation if you want to bag a spot — it's packed most of the time, and you can see why. Luckily, they're open for breakfast and lunch as well if you're around for a daytime bite.
📍 Location: Hartesteeg 13
🍽 Recommendations: The banging roasted cauliflower
👍 Socials: Instagram, Facebook
4. Freddy's Gastrobar
For a tasty meal that will have you lekker waving and a cosy interior, Freddy's Gastrobar in Leiden is a great place to grab a filling lunch or romantic dinner.
A new restaurant to the landscape of Leiden's many food hotspots, Freddy's opened up in 2022. Built into the lowers floors of the Heineken Head Office, this gastro bar is named after the famous Freddy Heineken.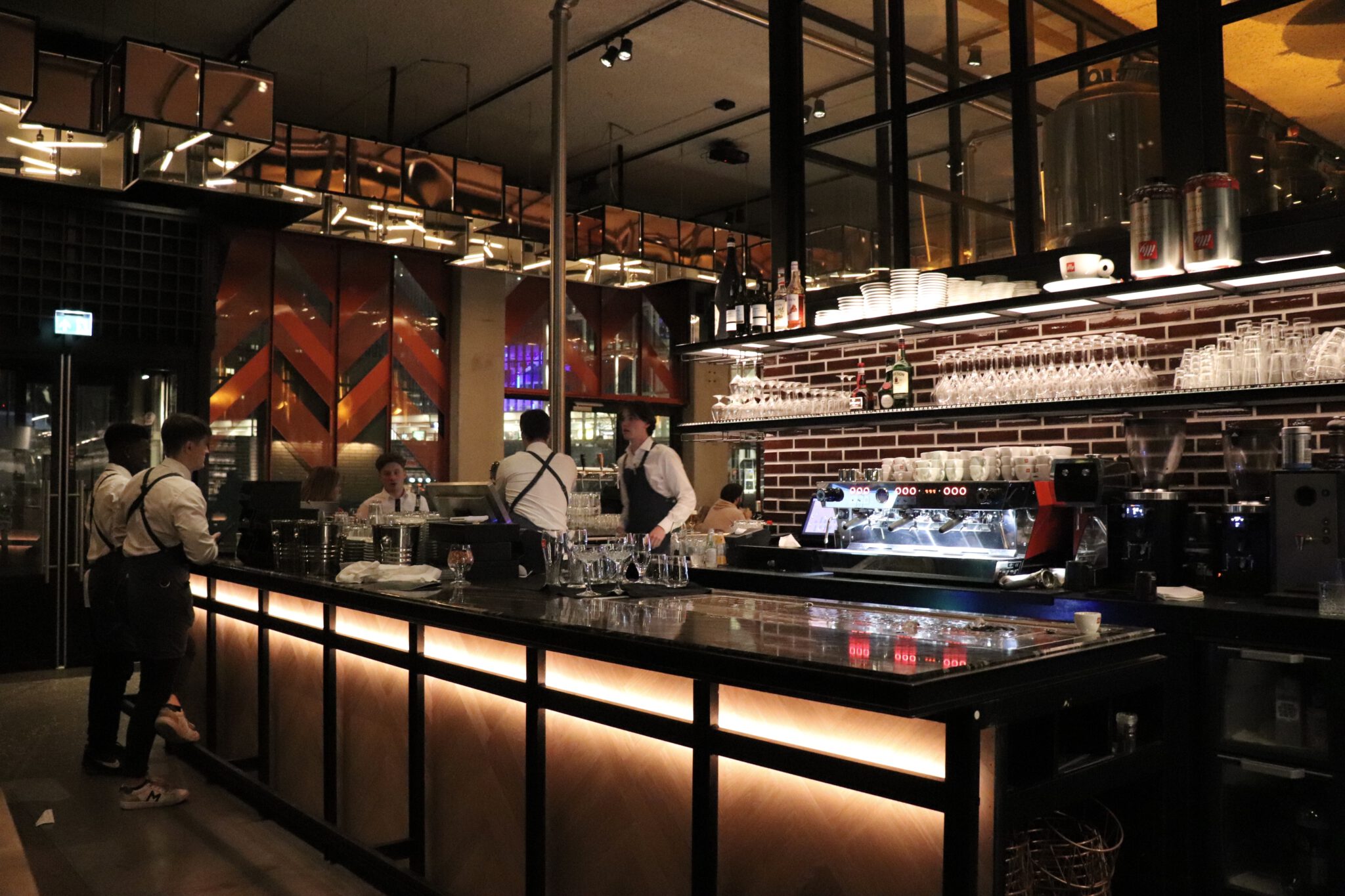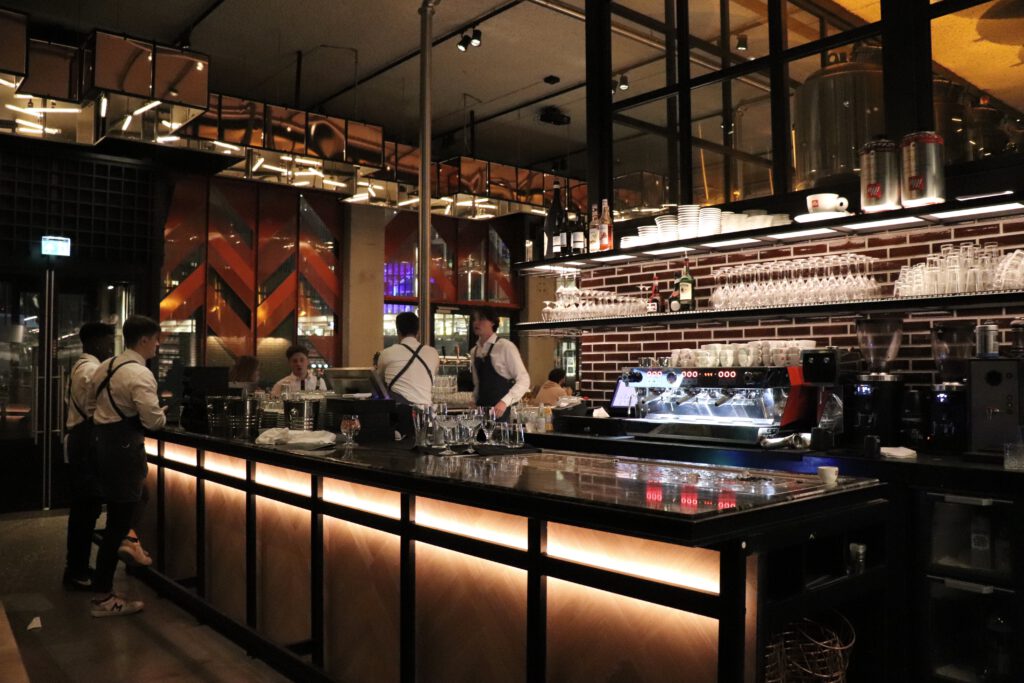 With multiple food choices on offer, from three-course set meals to delicious desserts and even vegan options for those plant-based folks, this restaurant in Leiden has something for everyone.
Freddy's is also a mere hundred metres away from Leiden station, so it makes a great final stop on a day out in the small Dutch city. Plus, with some epic borrel deals, it's also a great spot for post-work drinks — because we all know that Dutch 9-5 is stressful. 😅
And, if you're a big beer drinker, you'll be delighted to know that Freddy's has two tables with their very own beer taps, meaning you can have a night with endless drinks and chatter. 🍺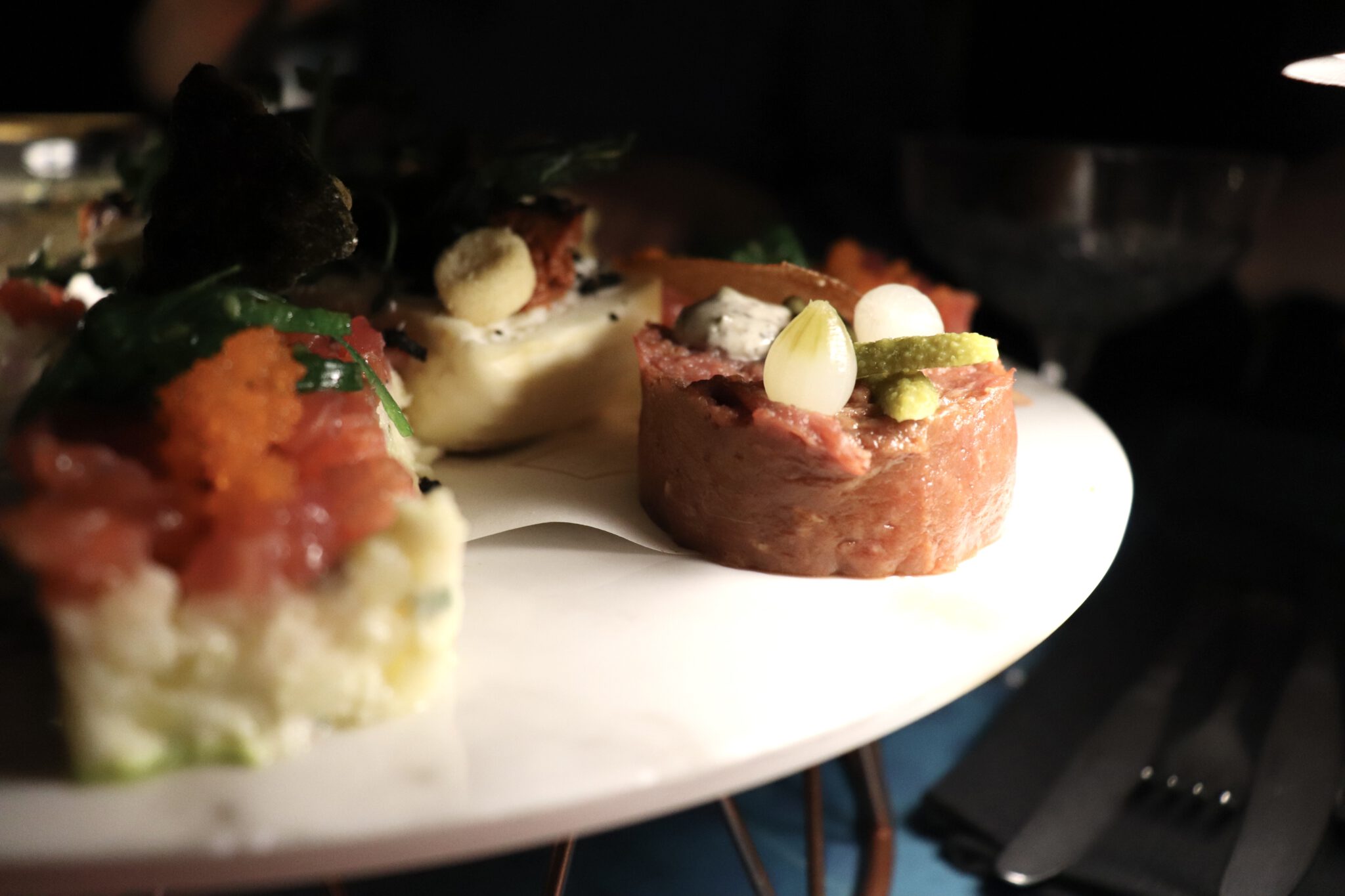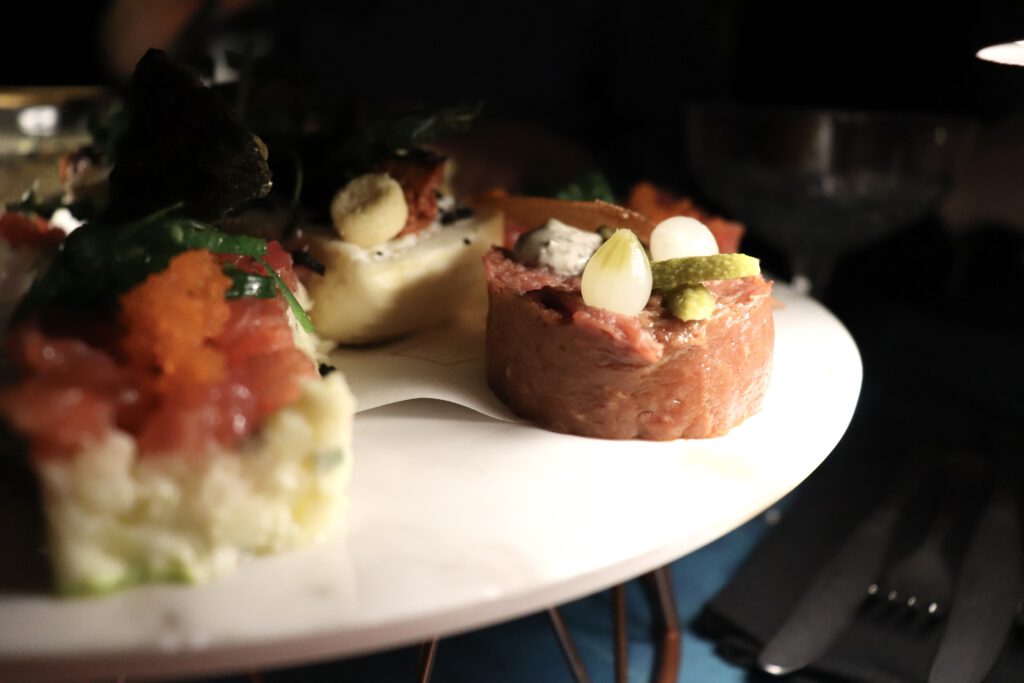 If you do take a trip to Freddy's, make sure you do a bit of research about Freddy Heineken, the man who was kidnapped, and make sure you note the painting of the namesake himself on the walls while you enjoy the plush seats and sit at the grand wooden tables.
5. Pizzabakkers in Leiden
Fancy a pizza with a view of the prettiest house in Leiden? And all that without breaking the bank? Well then, you're in luck because there's a Pizzabakkers in Leiden too!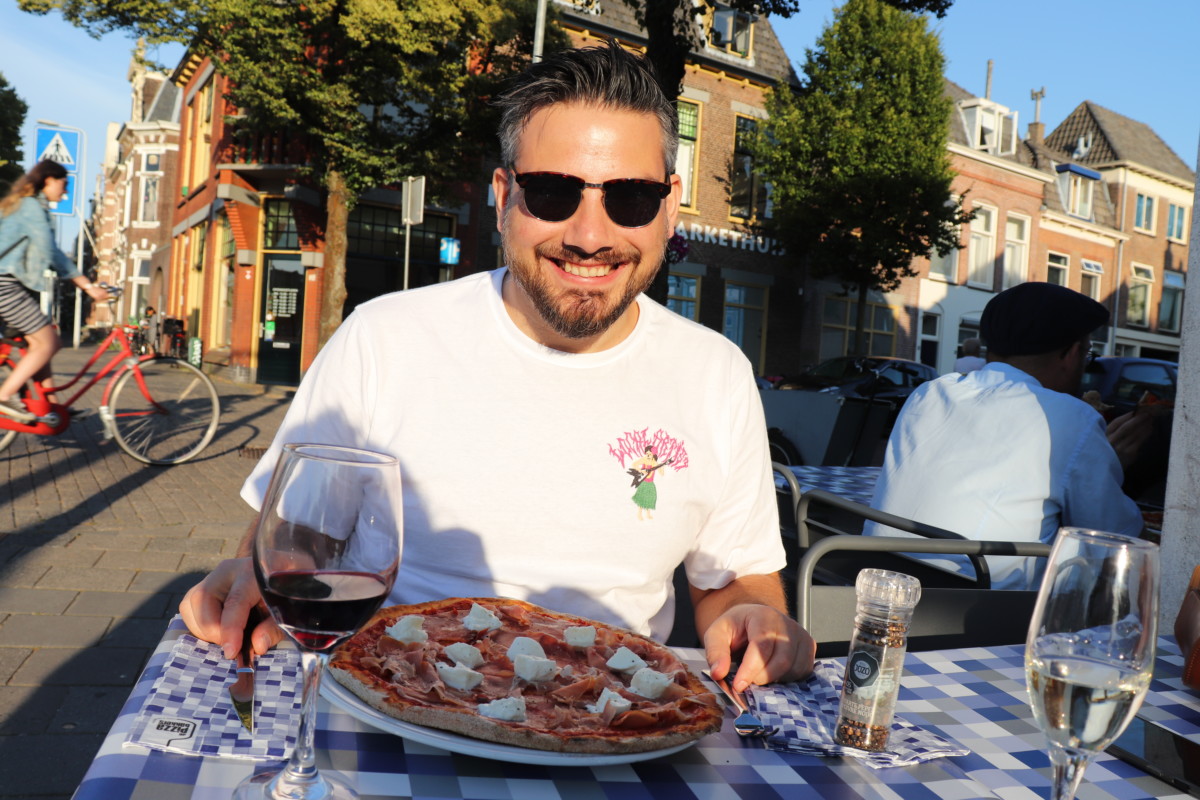 De Pizzabakkers is a small and homley franchise. A few of them are popping up around the Netherlands, all of them run by spirited owners who put in their heart, soul, and salami. Their pizzas are always delicious, thanks to the influx of Italians in the Netherlands. You'll even find a young Italian lad doing his magic in the kitchen. This authenticity puts it far above other generic franchises.
Since I lived in Italy for a while, I have been absolutely spoiled when it comes to pizza and espresso. So I can happily report that the Pizzabakkers in Leiden also passes my totally unscientific pizza-eating trial.
What else is there to know? Well, prices are reasonable, which is good if you want to swing by for a quick pizza. I had the pizza of the month twice, and both were great pizzas with premium toppings and were enough to satisfy my (large) appetite. Another plus side to the Pizzabakkers in Leiden is that they have a scenic terrace where you enjoy the view of (what is in my opinion) the prettiest house in Leiden.
6. The Roof at PLNT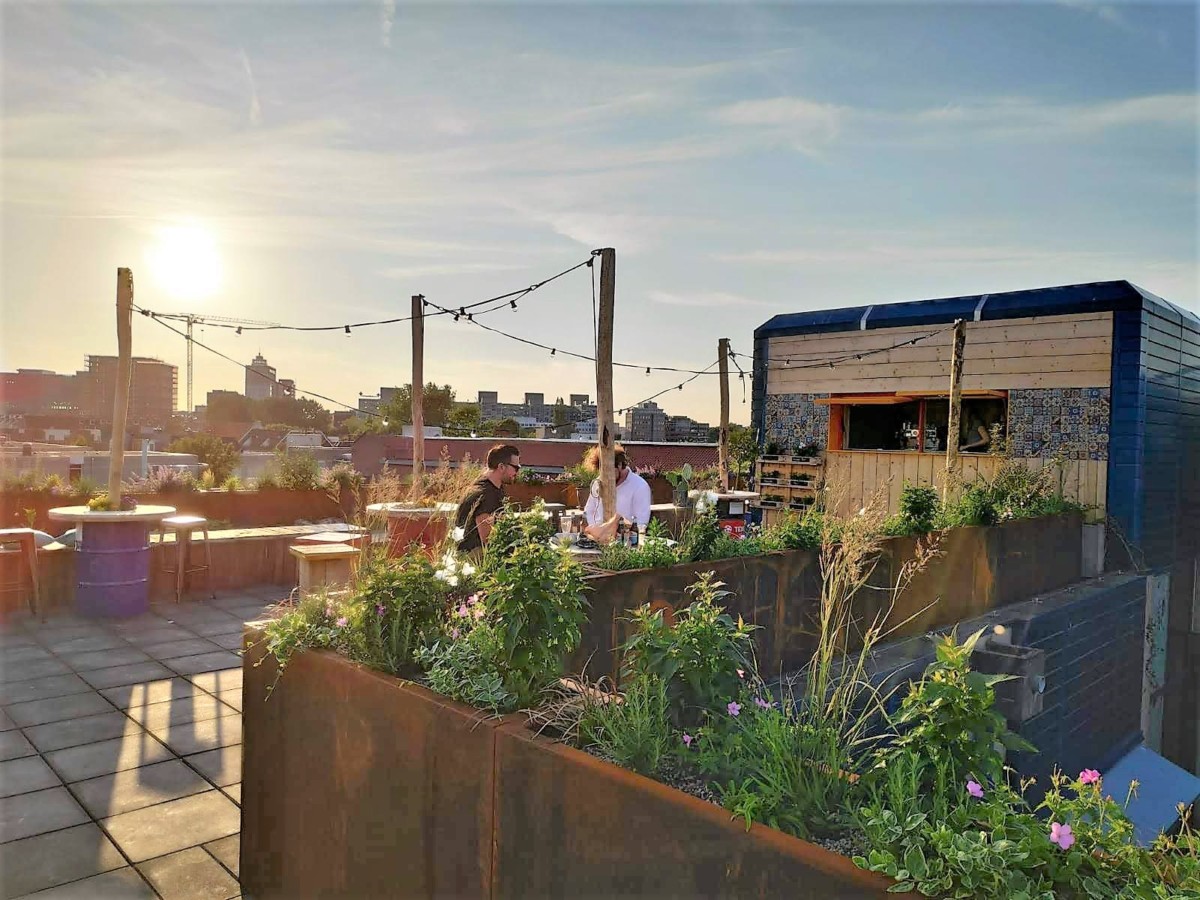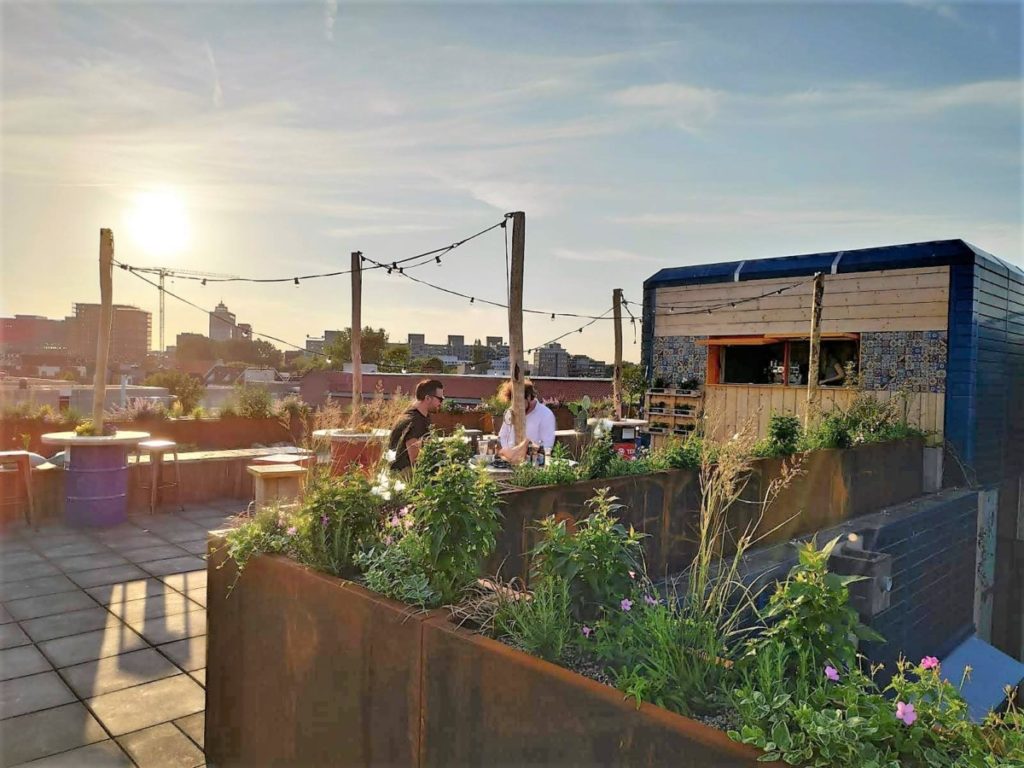 Wait a minute, isn't the DutchReview office at PLNT? It sure is! And you might have spotted the rooftop in our Instagram stories.
The roof at PLNT is a unique place in the city's heart. In the middle of the 'Singelpark', it's a great place for students, startups, entrepreneurs, and residents to congregate. Dutch innovation is even put to the test on the roof. For example, there are plans to make the roof retain rainwater and for plants to generate electricity. 😮
It is covered with beautiful flowers and greenery and boasts stunning views over Leiden and, yes, even a chicken coop! You might have just thought that it was only open for us lucky few, but the Rooftop is opening up to the public more and more.
Is the weather decided to be typically Dutch and rain? Well, you're always welcome to stop by for coffee or have lunch in the ultra-hip workplace/cafe in PLNT.
Both the roof and the indoor Midi provide a range of healthy options and with economical prices. ( You might even run into us!)
📍 Location: Langegracht 70
🍽 Recommendations: Honestly, whatever they've got as the daily special
👍 Socials: Instagram, Facebook
7. City Hall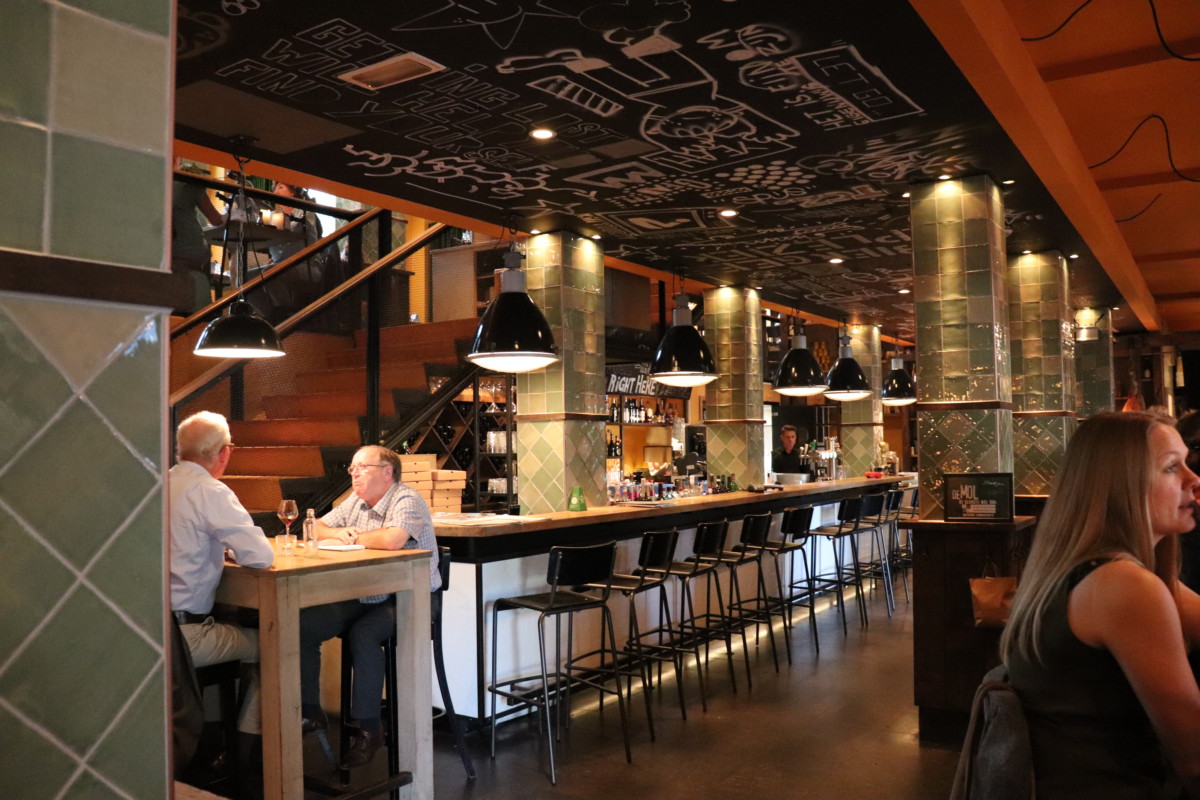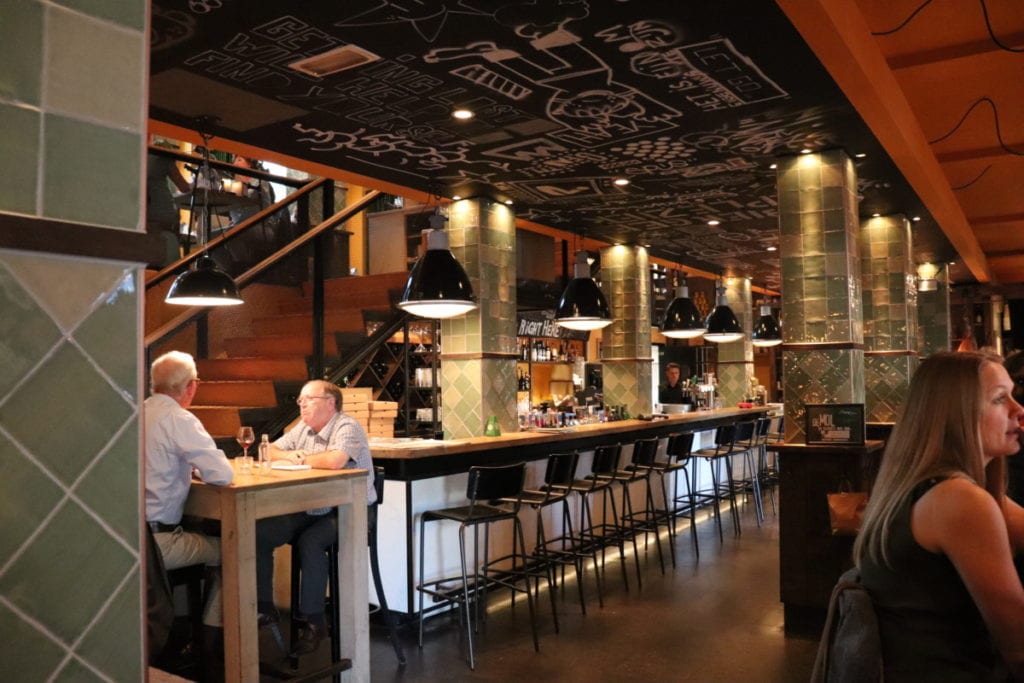 If you've ever visited Leiden, you'll know the City Hall — a beautiful building that marks the city centre. But it offers more than admin queries. Tucked within the historic building is an Italian bistro. This is the perfect place for a treat (as the menu is on the pricey side), but it's worth splashing out.
📍 Location: Stadhuisplein 3
🍽 Recommendations: Tortellini con pere e pecorino
👍 Socials: Instagram, Facebook
8. Tabú
Did you know that Leiden never used to have a Latin, Mexican, or taco restaurant? That's loco, right. Well, Tabú has solved this issue with its stunning canal views, colourful decor and zesty food.
It has to be mentioned that every Monday and Wednesday from 5 to 7 PM, they host a "cocktail madness" when two of their daily special cocktails go for 12 euros.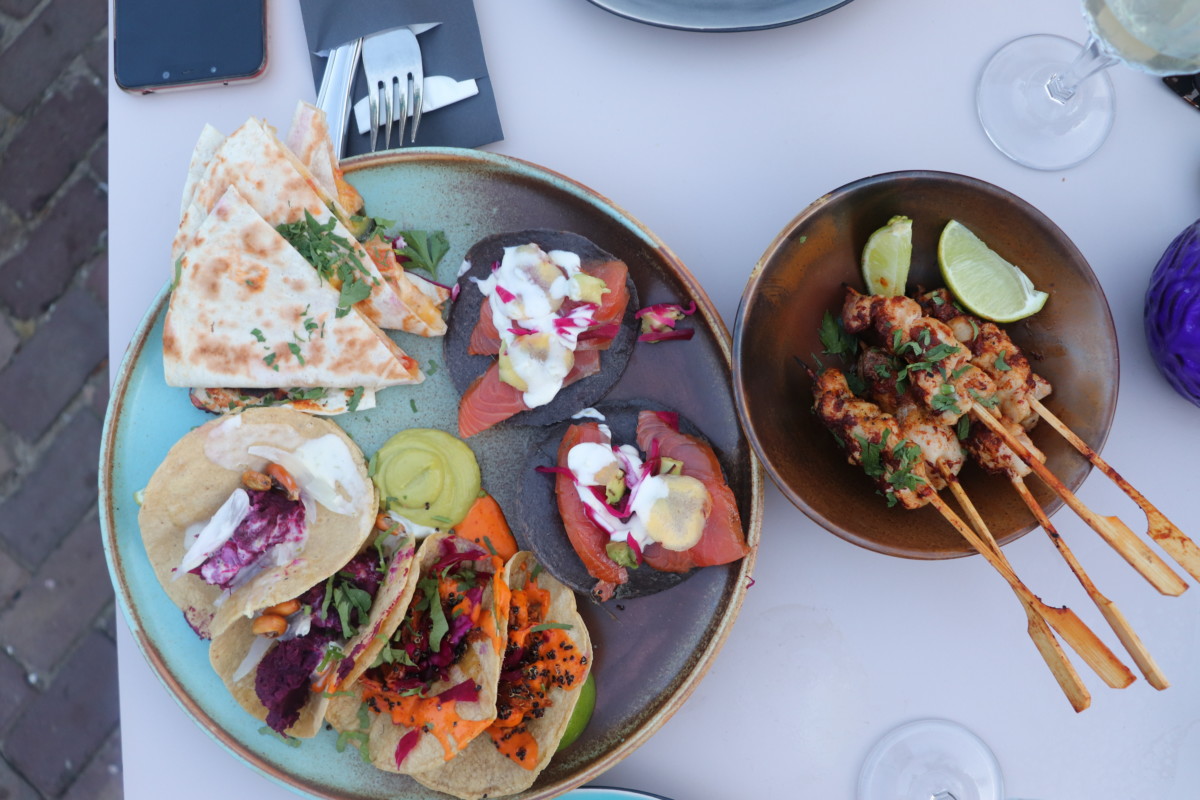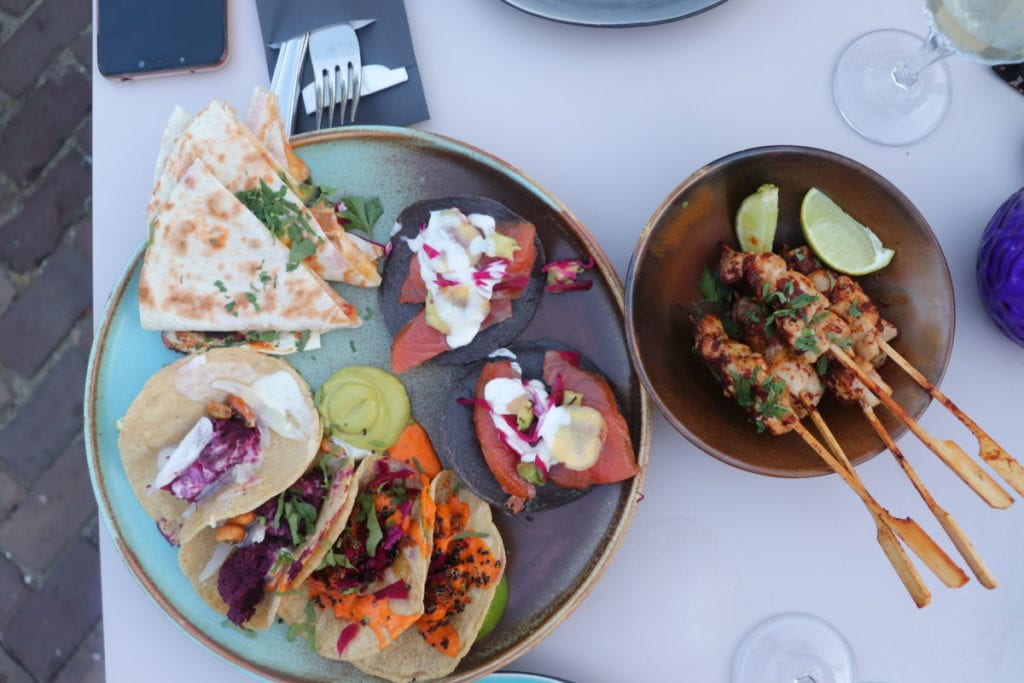 📍 Location: Rembrandtstraat 27
🍽 Recommendations: Tostada del salmone and the quesedilla
👍 Socials: Instagram, Facebook
9. Lot en de Walvis
It's a staple of the Leiden food and drinks scene and one of my favourites (whenever the weather permits). One of the best parts of Lot en de Walvis is the great location, with gorgeous views of the marina and an extensive terrace.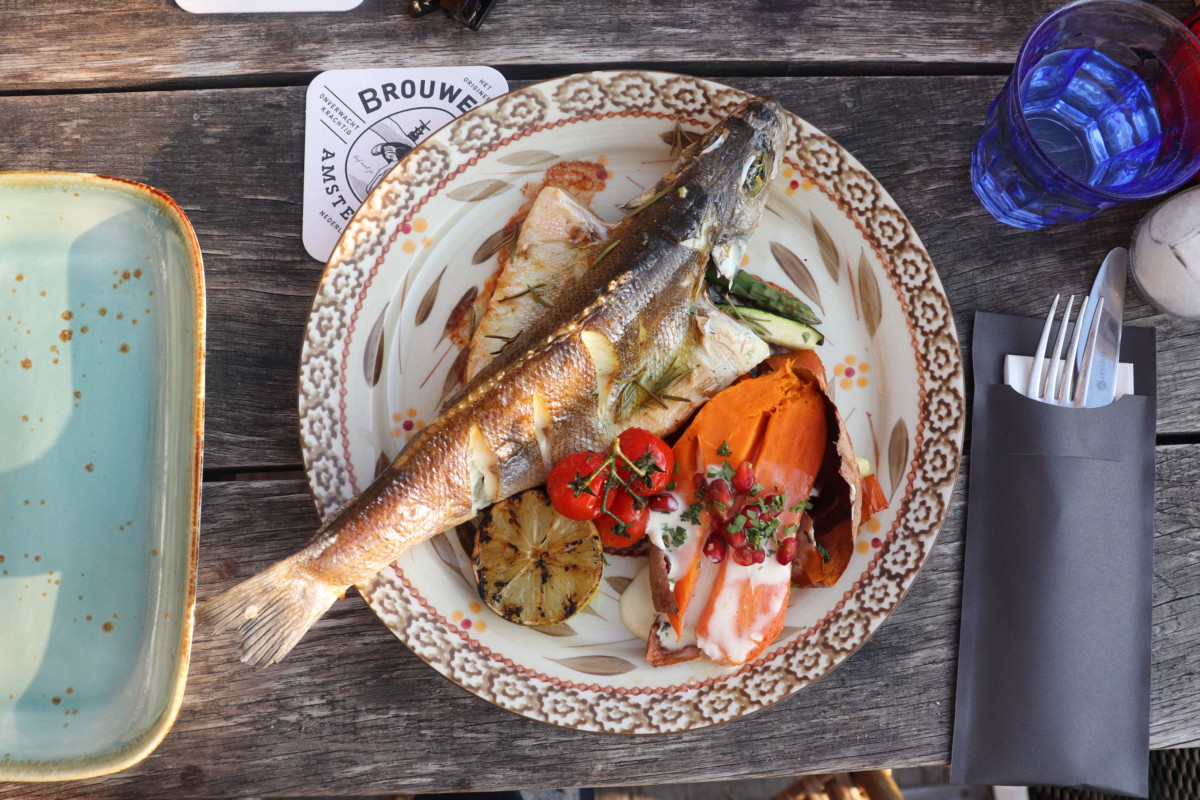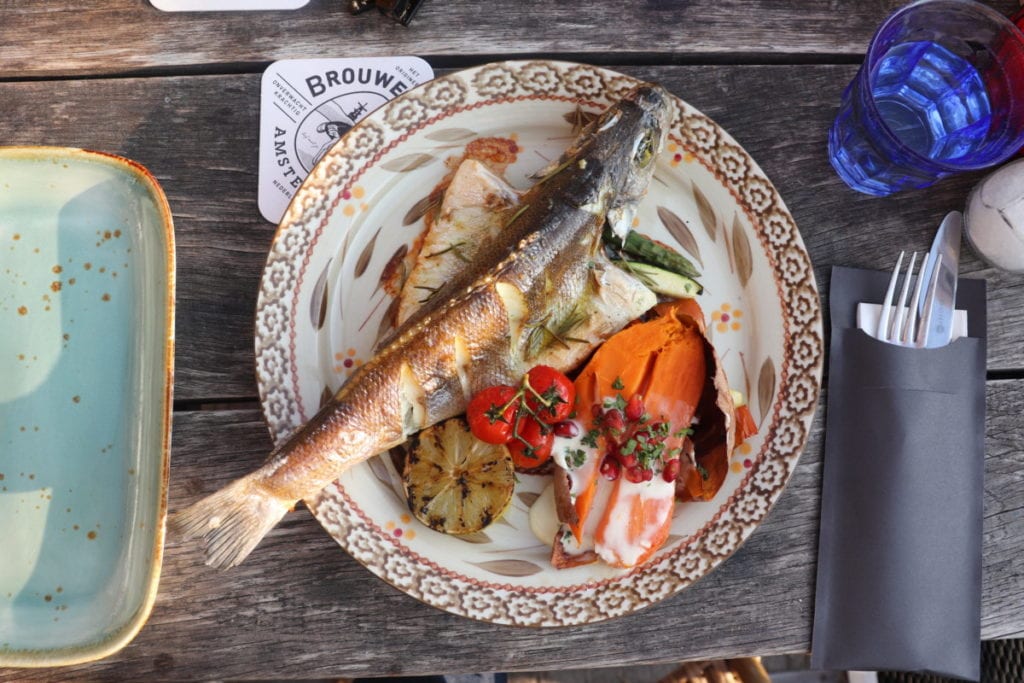 📍 Location: Haven 1 2312 MG Leiden
🍽 Recommendations: Pepesan Ikan Nasi Kuning (the fish dish above)
👍 Socials: Instagram, Facebook
---
Here was our list of top dining spots in Leiden! Have you been to any of these restaurants yet? Or have we missed your favourite off the list? Let us know in the comments below!
Editor's Note: This article was originally published in July 2019 and was fully updated in December 2022 for your reading pleasure.