The famous Dutch master Rembrandt van Rijn was actually born and raised in Leiden. Yes, that same lovely classic town just South of Amsterdam. With the 'Young Rembrandt Studio', now also open for visits, it's the perfect time to discover the beautiful Leiden and explore where Rembrandt was born, raised, schooled and spent his formative years (and all that without the swarms of tourists of present-day Amsterdam). 
There's already plenty of good reasons to visit and explore Leiden. Every year on the 3rd of October, we're reminded of the rich history of what used to be a leading world city in the 16th and 17th century. But I'm still baffled when, after living in Leiden for more than a decade, I find out other epic details about Leiden. One of my favorites that almost every day I cycle past the birthplace of the Rembrandt van Rijn. How amazing is that!
With the opening of the Young Rembrandt Studio in Leiden, and it being a lovely Spring day, I thought it was more than the right time to take you all on tour through Leiden and the spots of a young Rembrandt.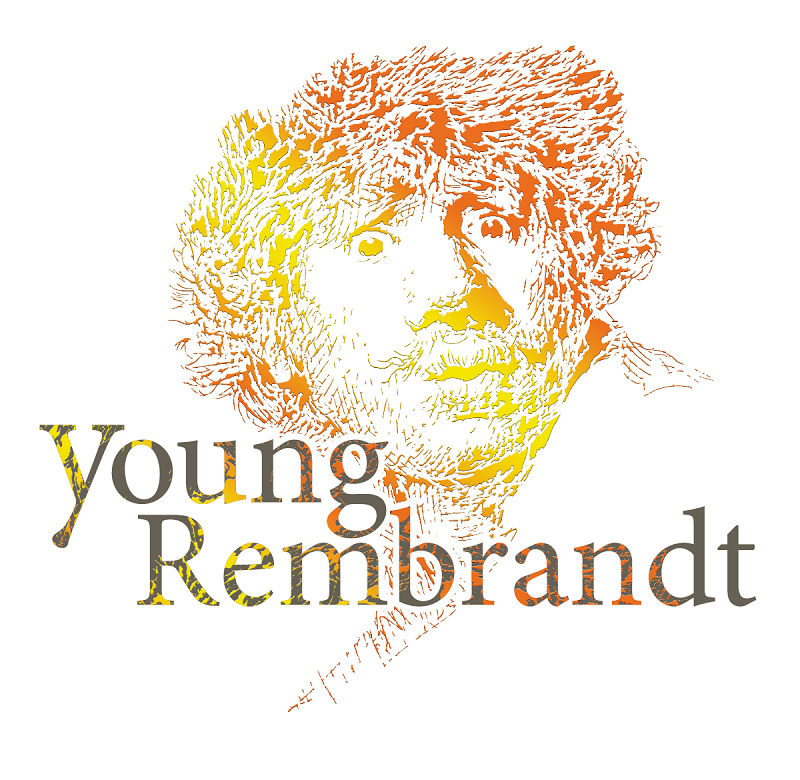 PS. This is by no means the official (and excellent) Rembrandt walking tour set up by the city of Leiden. You can buy a little booklet for just 2,95 with that route at the Tourist Information Centre VVV in Leiden or the Young Rembrandt Studio – and since we're on the subject:
#1 The Young Rembrandt Studio
Just opened up in May 2018, and here to stay, is the Young Rembrandt Studio. It's the perfect starting point for our tour through Rembrandt's Leiden.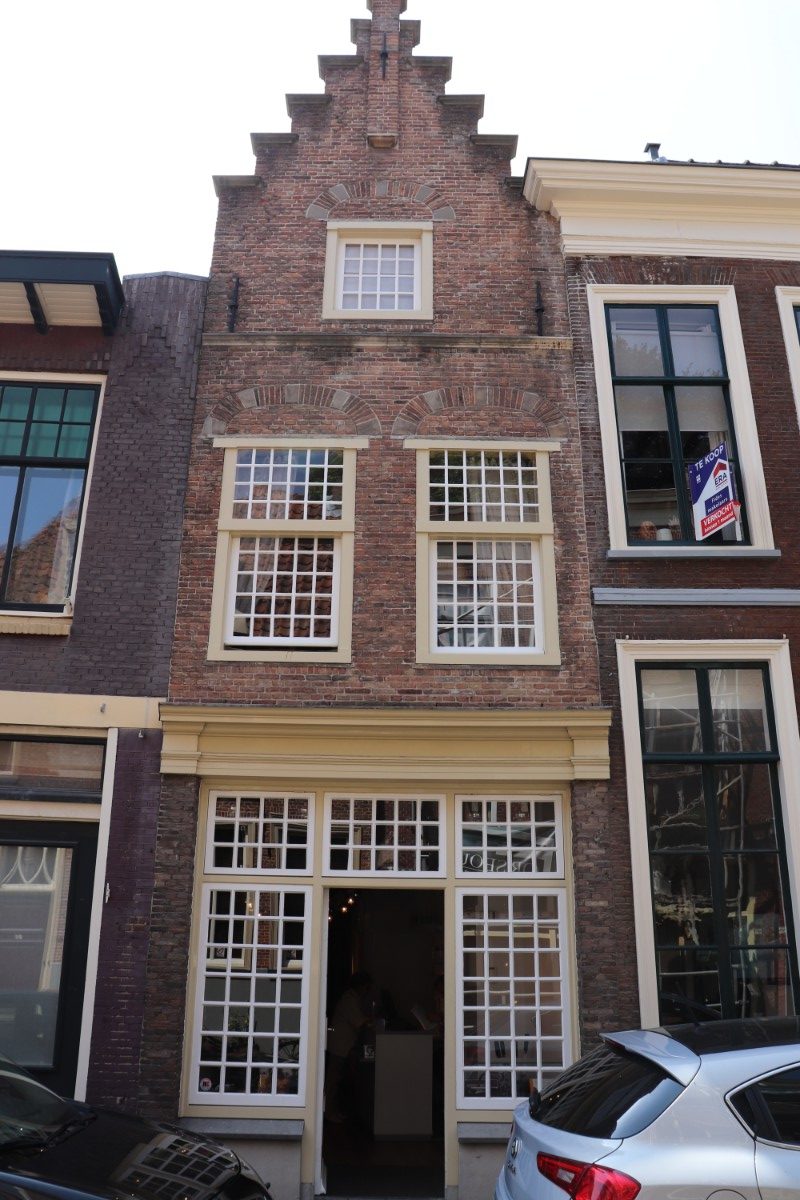 Located at the Langebrug (that street which runs parallel to the Breestraat) in a cozy classic Dutch house is the (free of charge!) Young Rembrandt Studio. Langebrug 89 is also the location where Rembrandt actually learned the art of painting from his tutor Jacob van Swanenburgh. Inside you'll find tons of Rembrandt paraphernalia. They've got portraits, posters, mugs and also free brochures and maps of Leiden and Rembrandt's history in Leiden.
But that's not the main reason why we're here. The core of the Young Rembrandt Studio is a short but epic, piece of storytelling on Rembrandt and his contemporaries period in Leiden. In a room which takes you back to the Dutch golden age, a 'video mapping' will unfold telling you all about the young Rembrandt and the town he was born and raised in.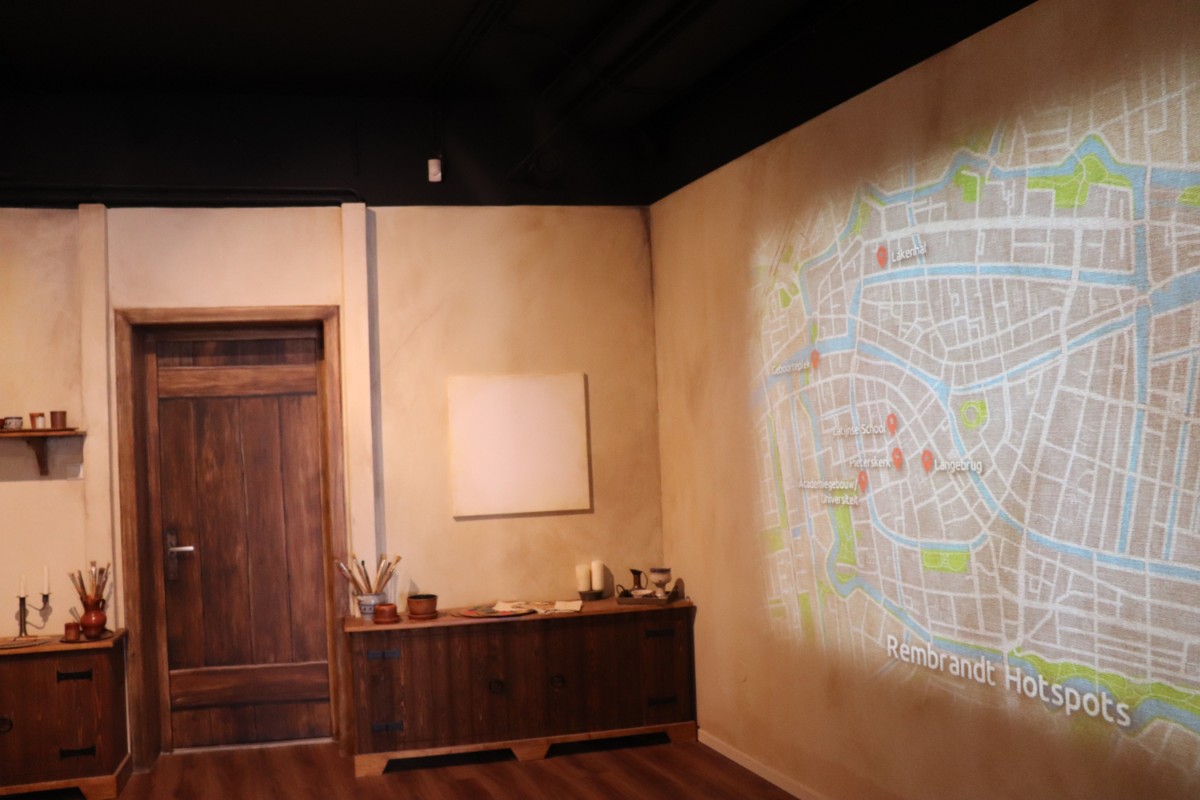 It's more like an experience in the sense that there are multiple screens where things are happening. And it's the perfect starting point for a tour through Leiden based on Rembrandt's life, since they'll show and tell you about all the Rembrandt-hotspots in Leiden.
Here's a little time-lapsed impression of the Young Rembrandt Studio:
The Young Rembrandt Studio is also located right next to the house of another famous Dutch master: Jan Steen!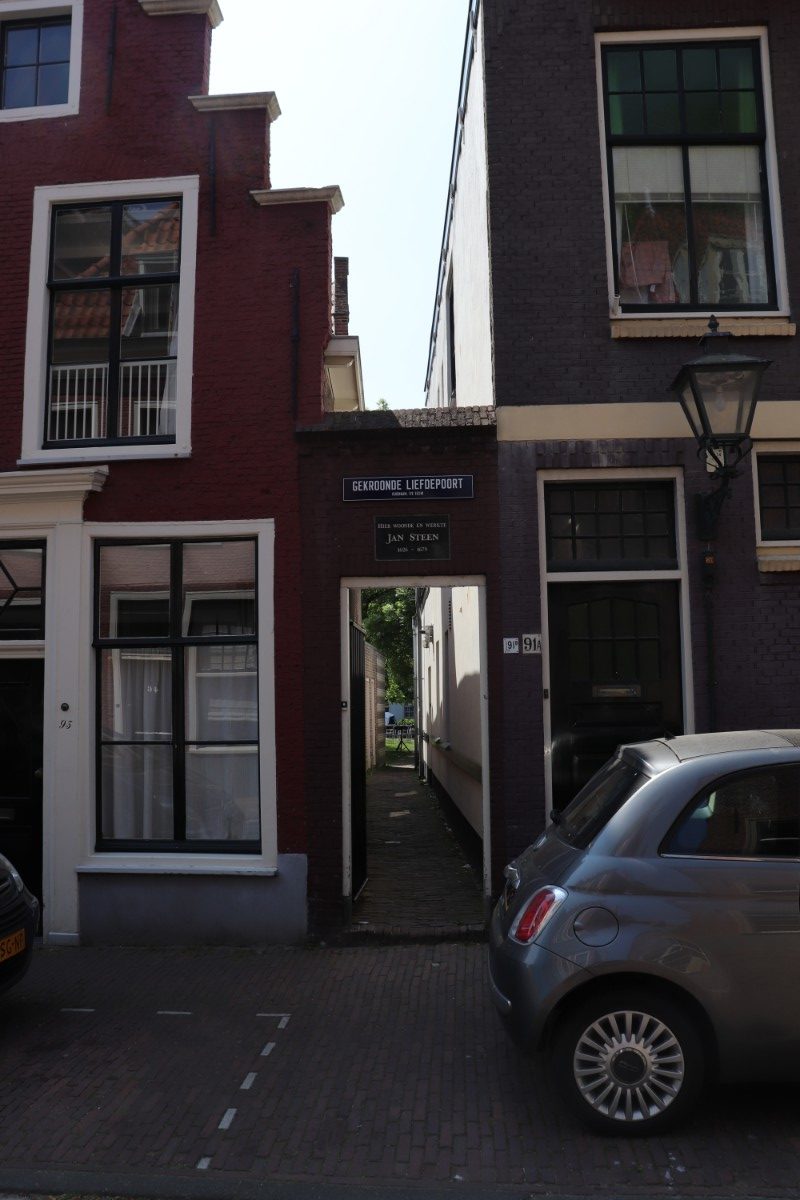 Oh, and did I mention it's free already?
Adress: Langebrug 89, Leiden
Here's a little map of Leiden in the olden days. Pretty interesting to see that back then there wasn't that much difference in the city center compared to the layout now: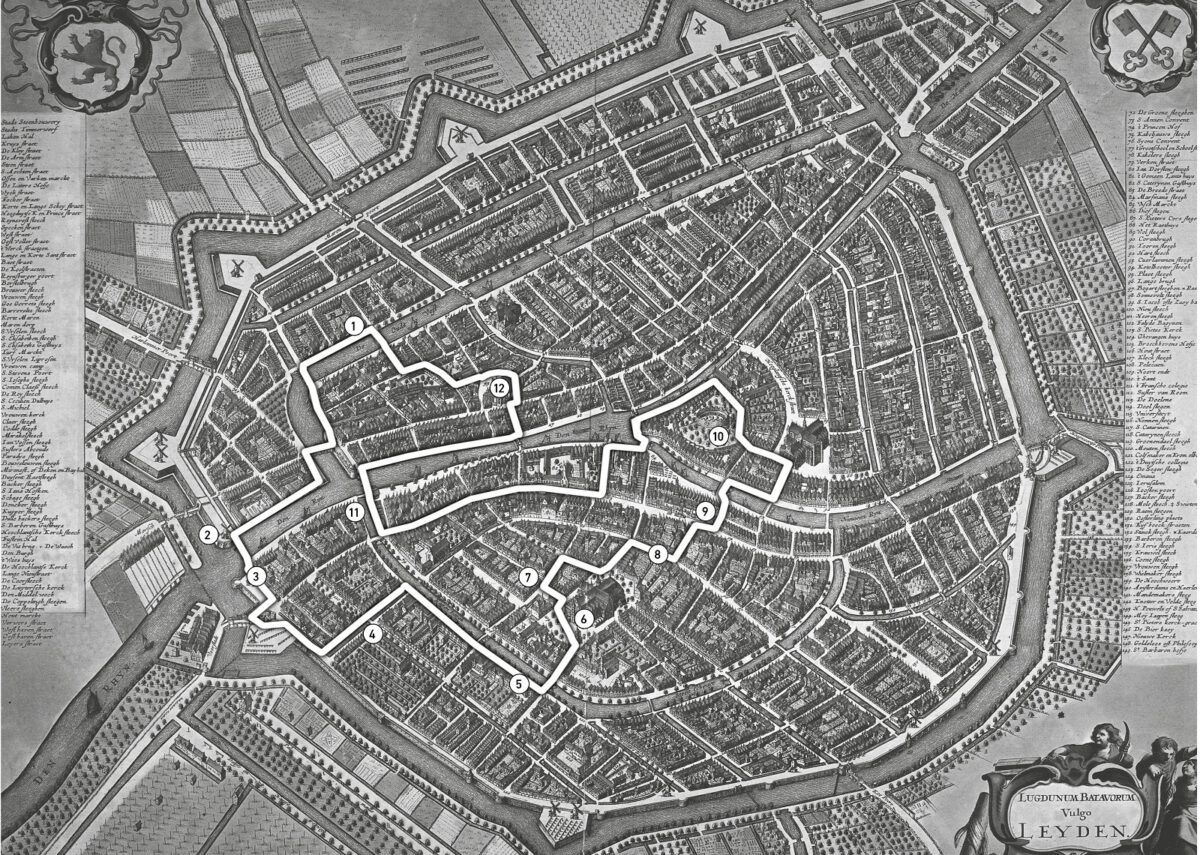 Before we continue let me just once again state that there's an excellent booklet and walking tour of the Rembrandt hotspots in Leiden available at the Tourist Information Centre VVV (Stationsweg 26, just a minute or 2 walking from the central station) for 2,95. It's also for sale at the young Rembrandt Studio. If you're visiting Leiden and want to get the most out of that visit I recommend stepping into the Tourist Information Centre anyways. They've got some enthusiastic people working there who will happily work with you to plan your visit and help you with anything there is to Leiden (or check out their handy city guide to Leiden).
Anyways, time to explore the Leiden of the young Rembrandt a bit more and head on to the Pieterskerk.
#2 The Pieterskerk square
Leiden has two iconic towering churches, one of them is the Pieterskerk (St. Peters Church) which is the oldest church of Leiden and dates back to 1121.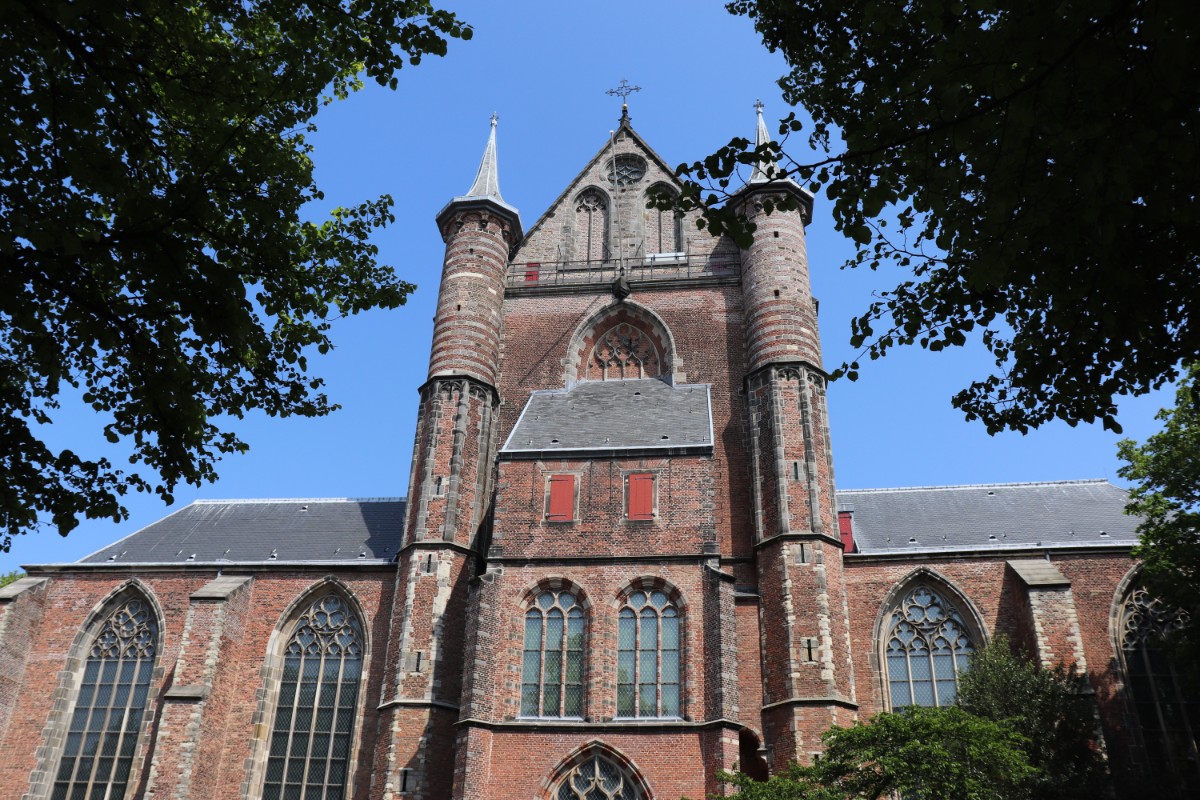 The Pieterskerk is the church where Rembrandt's parents were married in 1589 and later also were buried. Rembrandt was born into quite a religious family, so he probably has spent quite some Sundays inside this majestic church.
The church was even more of an important landmark back then than it is now. That other famous painter, Jan Steen, is also buried here.
The Pilgrims and the Pieterskerk
Furthermore, especially interesting for you American readers, the Pilgrims also stayed here. Working and living around the St. Peters Church from 1609 till 1620.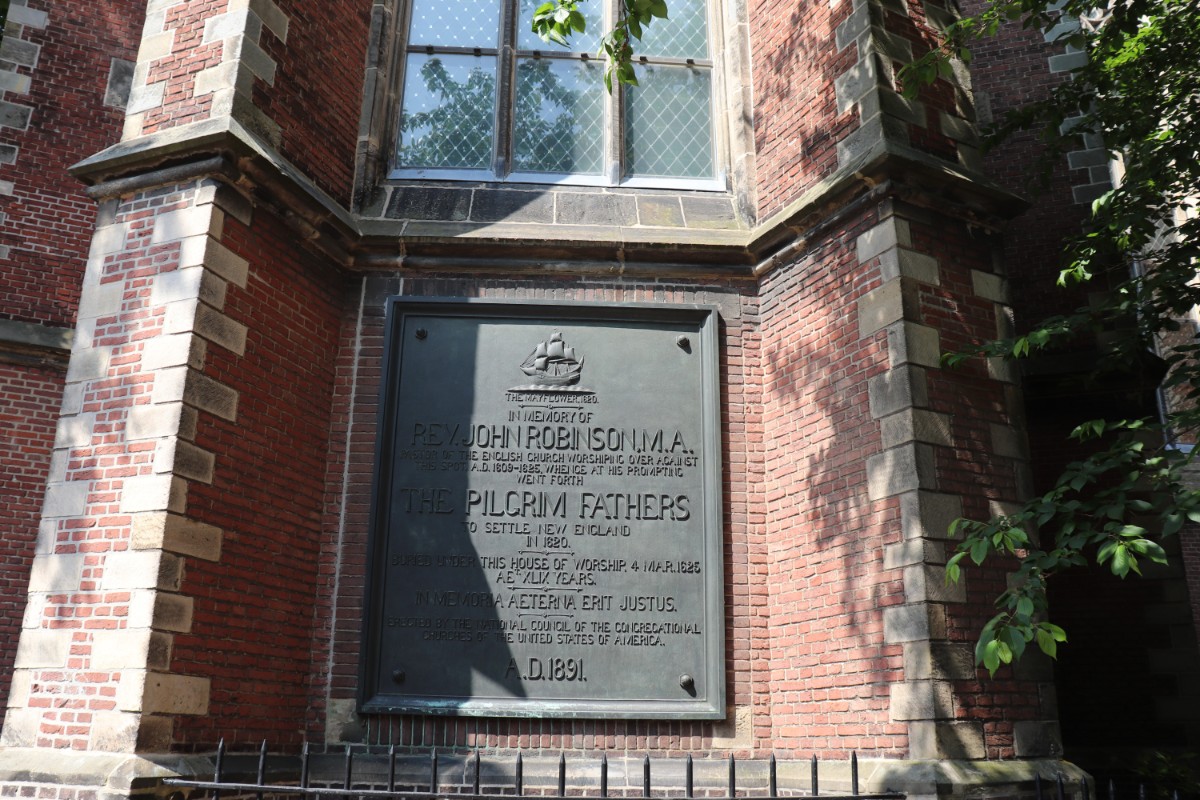 You should also visit the Pieterskerk and its square. It's simply a feast for the eyes as some of Leiden's most beautiful buildings are located here. Once again, pictures say it better than words: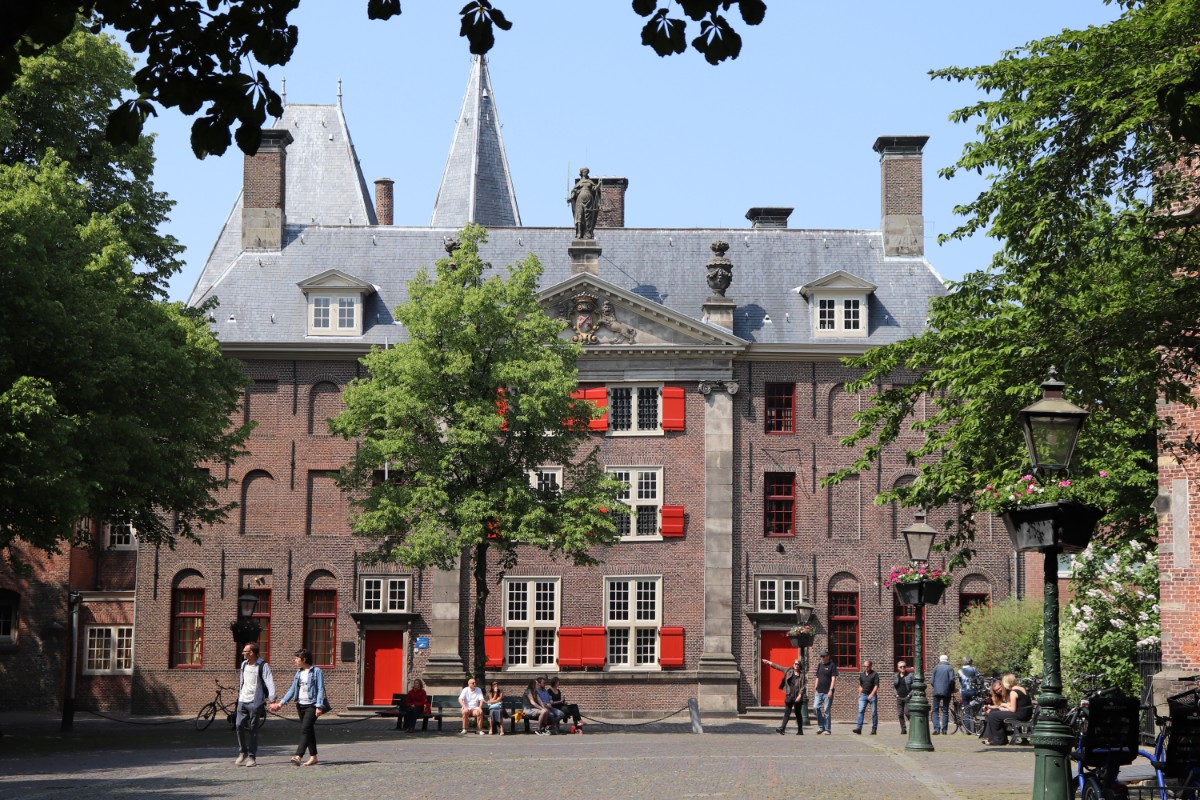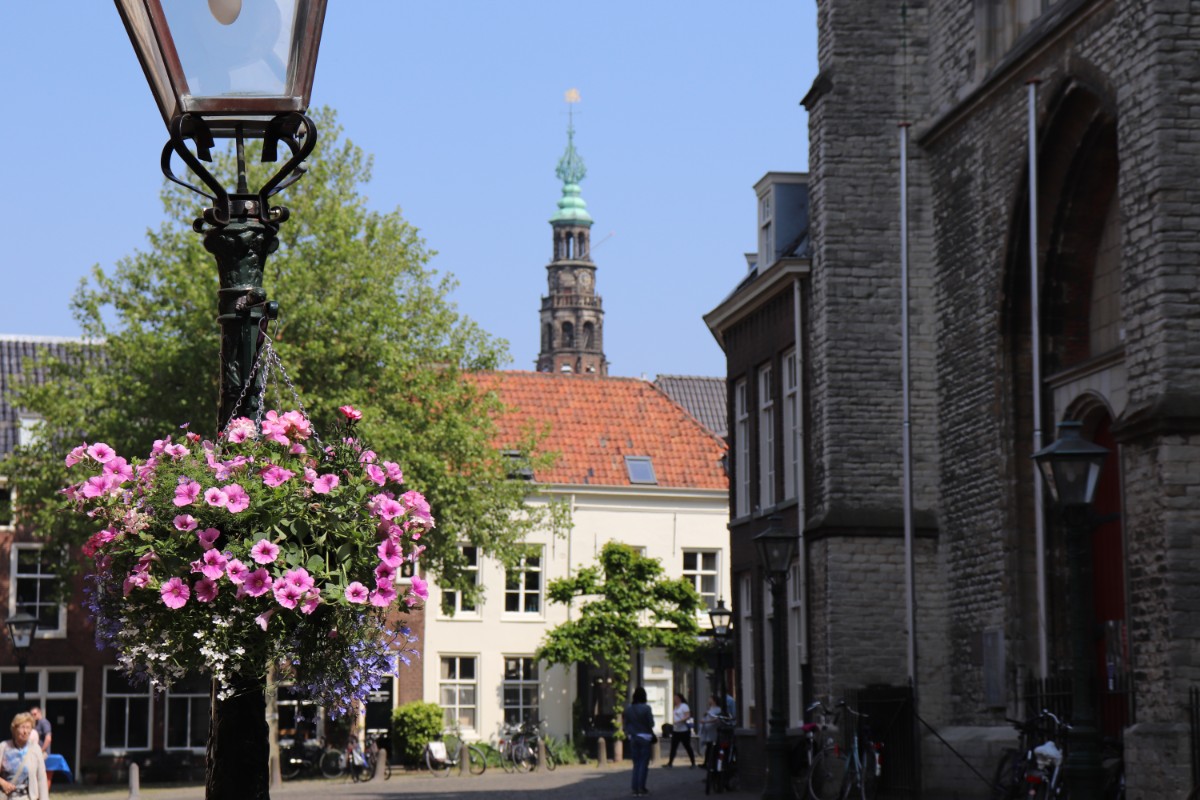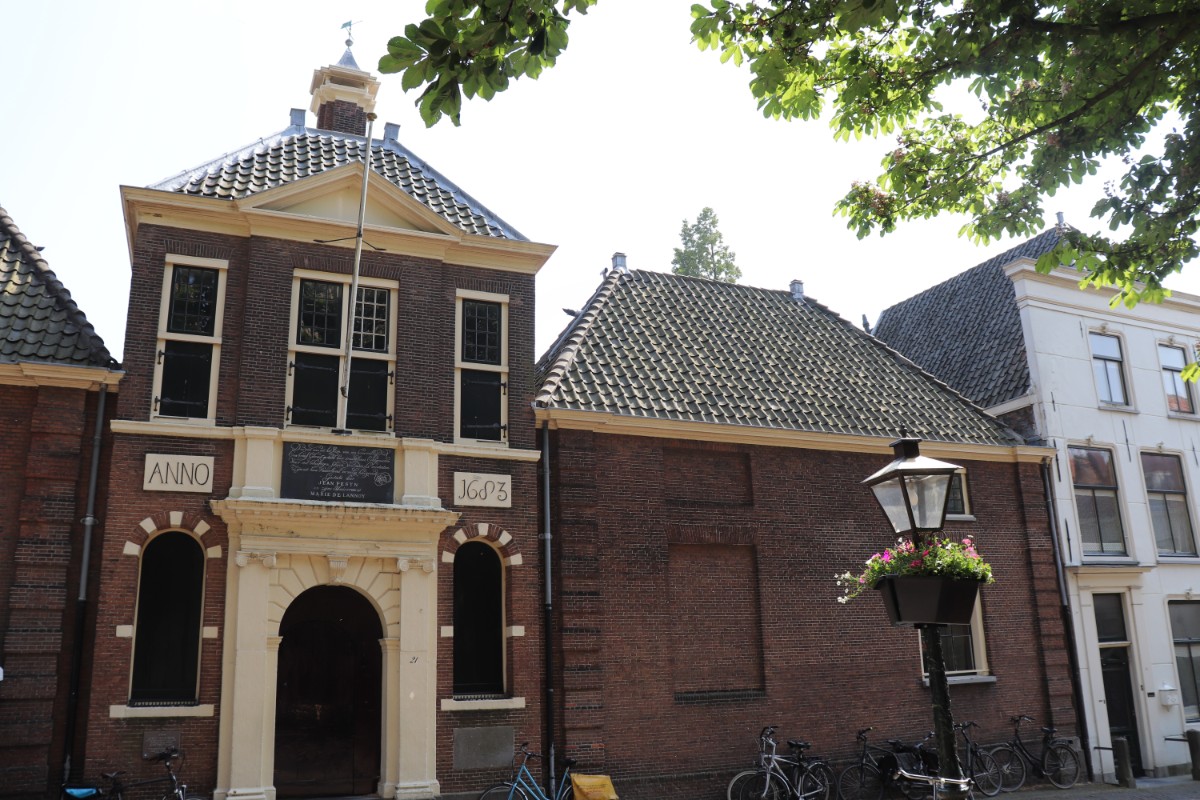 When Rembrandt was born, Leiden was still a medieval city surrounded by walls and such. But between 1574 and 1600 the number of 'Leienaren' grew tremendously from 10K to 22.000 people – becoming the biggest city in the Republic of the Netherlands after Amsterdam.
Back to those beautiful Leiden spots, Rembrandt's old school is just 50 meters away from the church, so that's our next stop on this Rembrandt tour through Leiden.
#3 Where Rembrandt went to school: The Latin School at the 'Gerecht'
The Netherlands might be small, but Leiden is really, really compact at times. His school is only 50 meters away, and of course, it's located in another amazing classic building, the Latin School: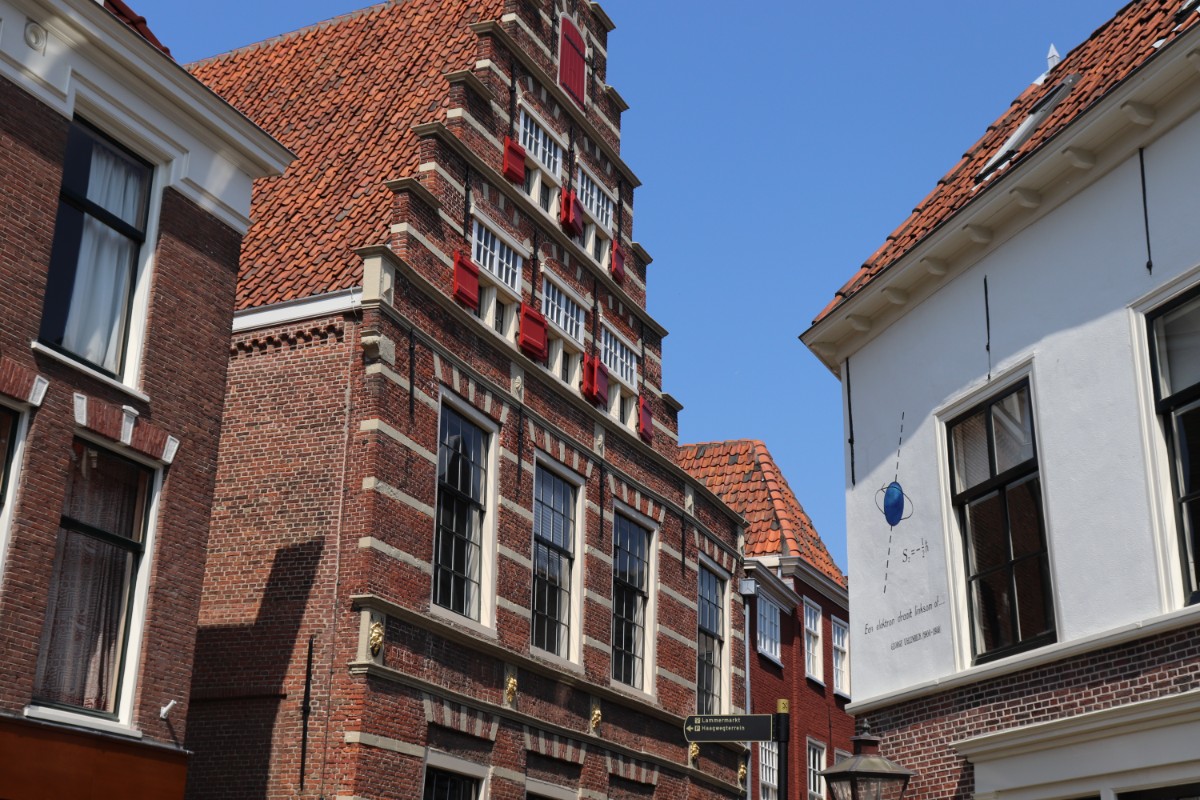 The building with its characteristic facade dates from 1600. All classes were taught in *surprise* Latin, the pupils spoke Latin and exams were in Latin too. Not too surprisingly classical literature and such were big topics, which must have helped Rembrandt tremendously with choosing subjects for his paintings. Drawing was also taught to Rembrandt at the Latin School, if there was ever a school course that paid off…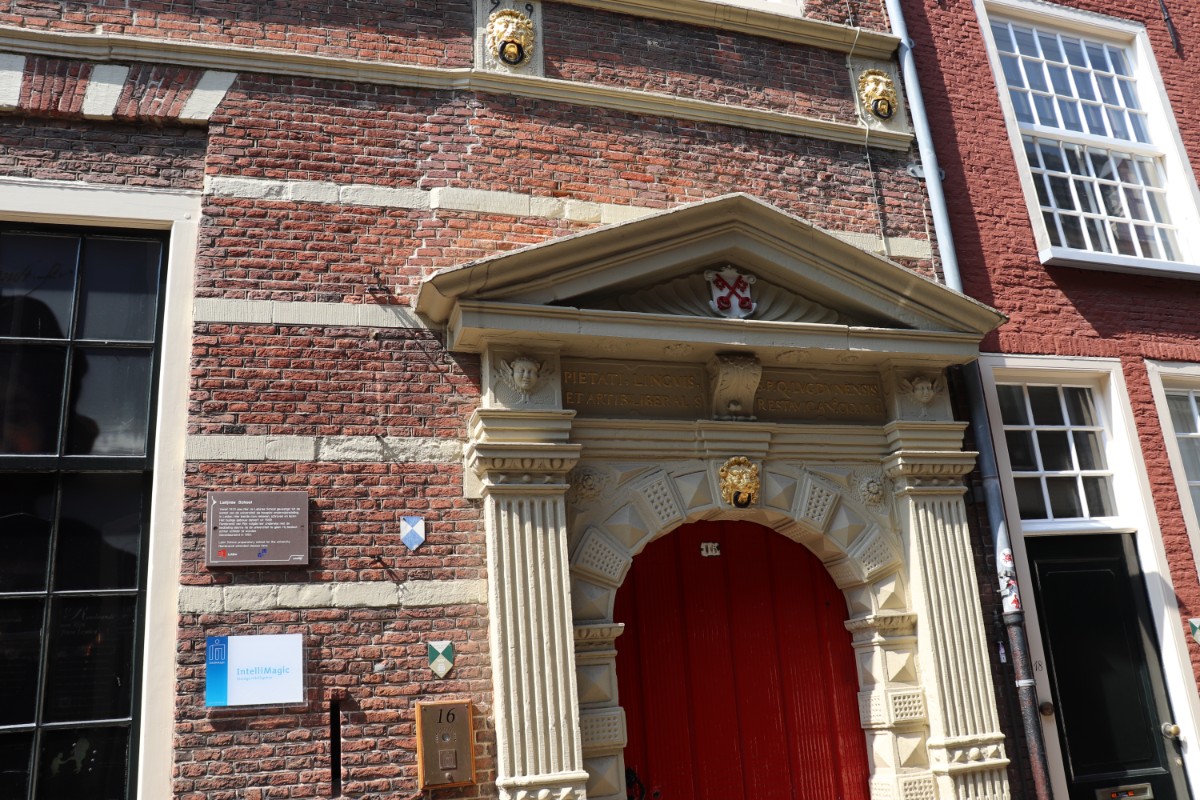 Rembrandts parents were aiming for him to get a proper education and pursue a scientific or church-related career. They enrolled him at the Latin School at the age of 10.
He later registered at the University of Leiden at the age of 14, when normally people would be 17 years old when enlisting at the University. It's also unclear if he actually and physically attended classes. People also signed up at the University back then because of the tax-free wine and beer (things were better back in the days indeed) and suspension of local military subscription.
Rembrandt later dropped out of Uni to pursue a career as a painter, guess in the end his parents were still okay with that.
Het Gerecht
You're lucky because this Rembrandt hotspot is once again located at one of the finest parts of Leiden; het Gerecht. It's where they used to hang people in olden times (admittedly less pretty), now it's a beautiful small square.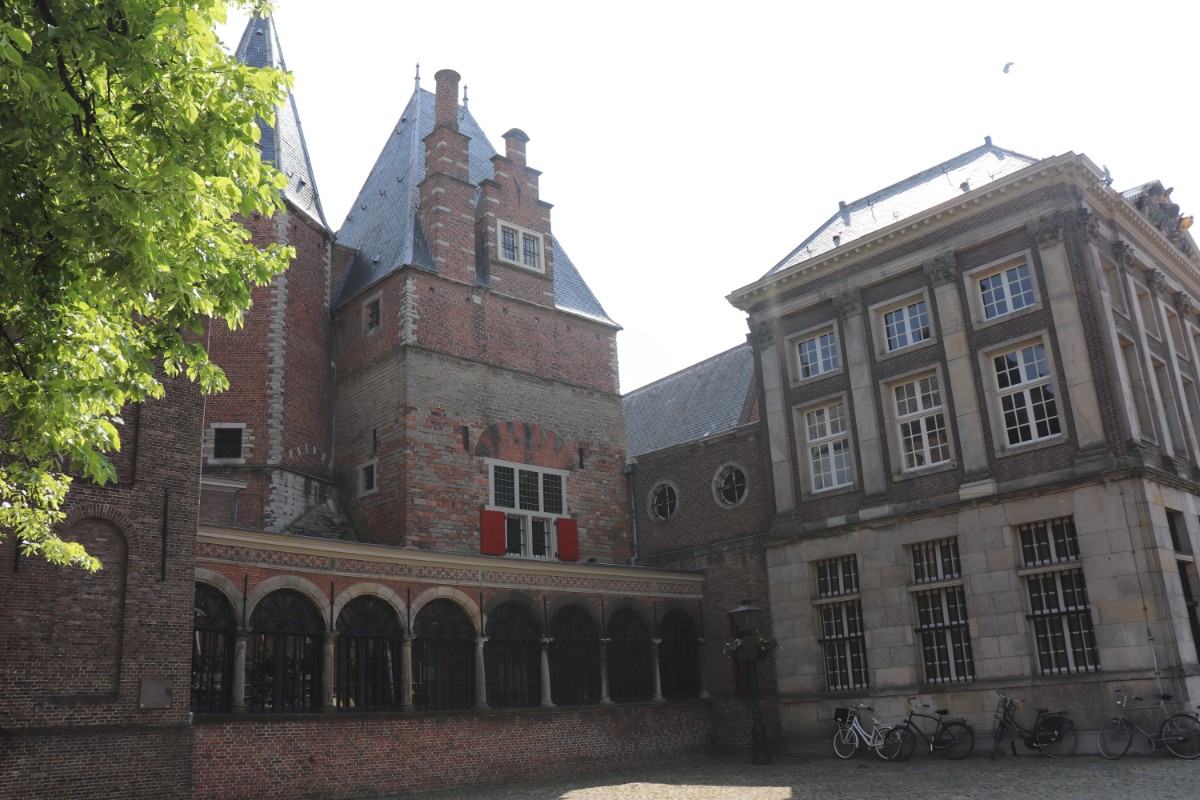 Time to head to the last location, Rembrandt's birthplace and the Rembrandt park. Head in the direction of the Rapenburg.
#4 The Rapenburg
'A stately wide street, a beautiful wide canal, lined by high and beautiful lime-trees on both sides', which are pleasant to walk under in the summer. No better place could be found in all the city'
– Jan Jansz, describing the Rapenburg in 1614
Not a particular Rembrandt hotspot, but you surely don't want to miss out on a walk along the grand Rapenburg canal. It's the finest street of Leiden and some say it's even the prettiest canal in the Netherlands.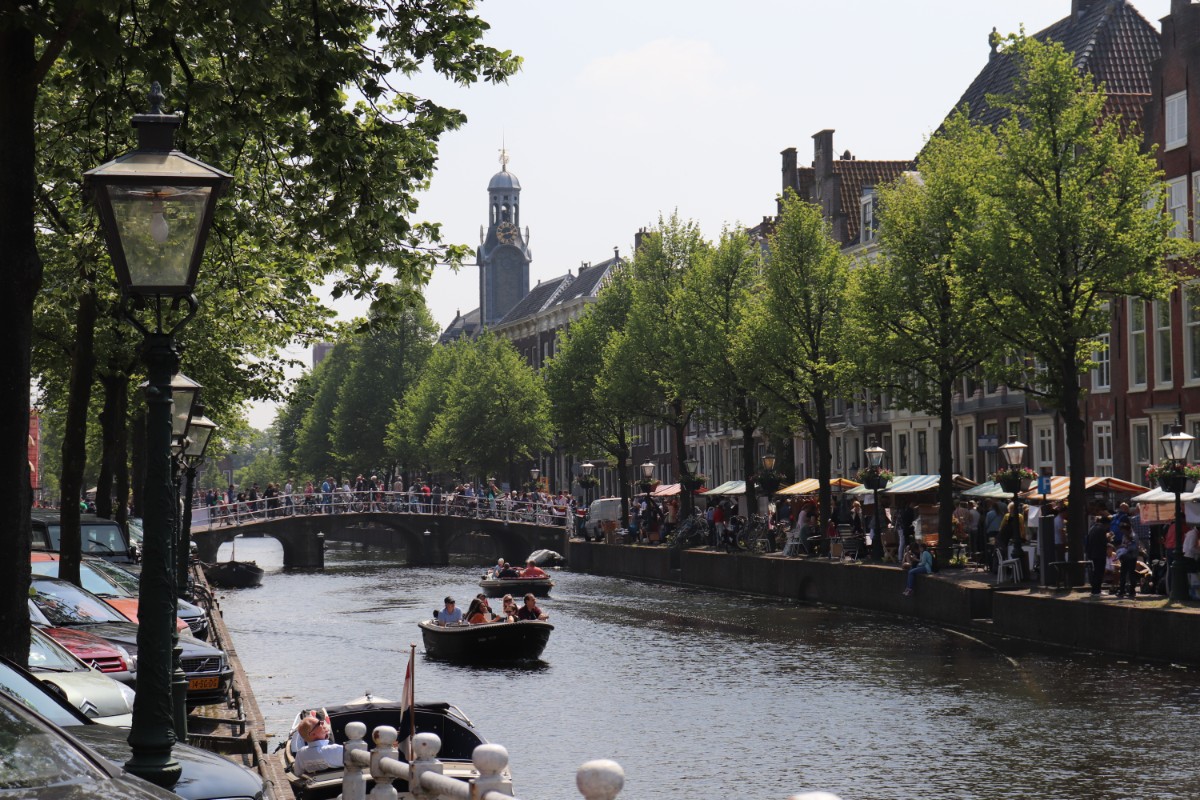 The oldest building of the University; the Academy building, is located here (the one with the little tower!) and plenty of great institutions, such as the Antiquities Museum (which also is worthy of an article by itself another day).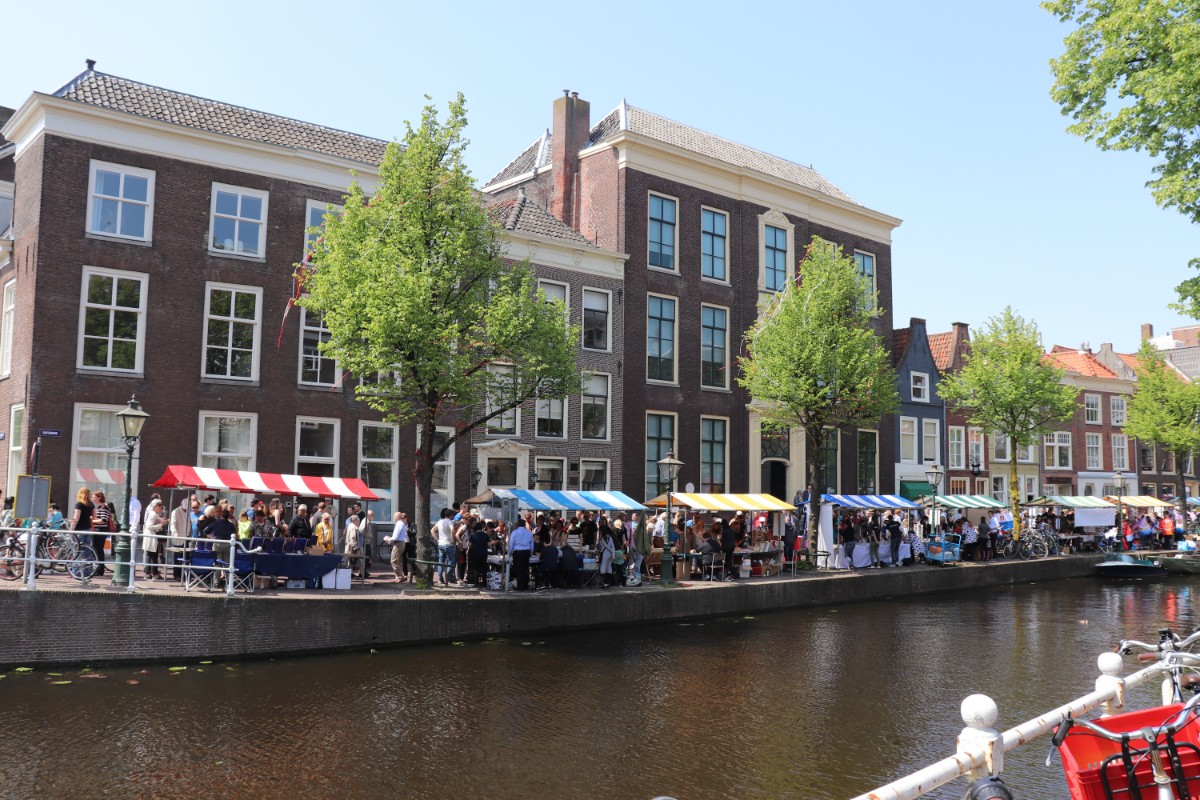 All in all the Rapenburg is just one of those amazing spots in Leiden where you can really feel the vibe of the days of the young Rembrandt.
Moving on! It's time for the birthplace of Rembrandt, which is – lucky us – also located at a pretty spot in Leiden.
#5 Weddesteeg; where Rembrandt was born in Leiden
For those of you hoping that you would find some little cozy medieval Dutch house here, sad news: the house where Rembrandt was born in was demolished over a century ago. There's now only a gable stone reminding you of the birth of the Dutch master here: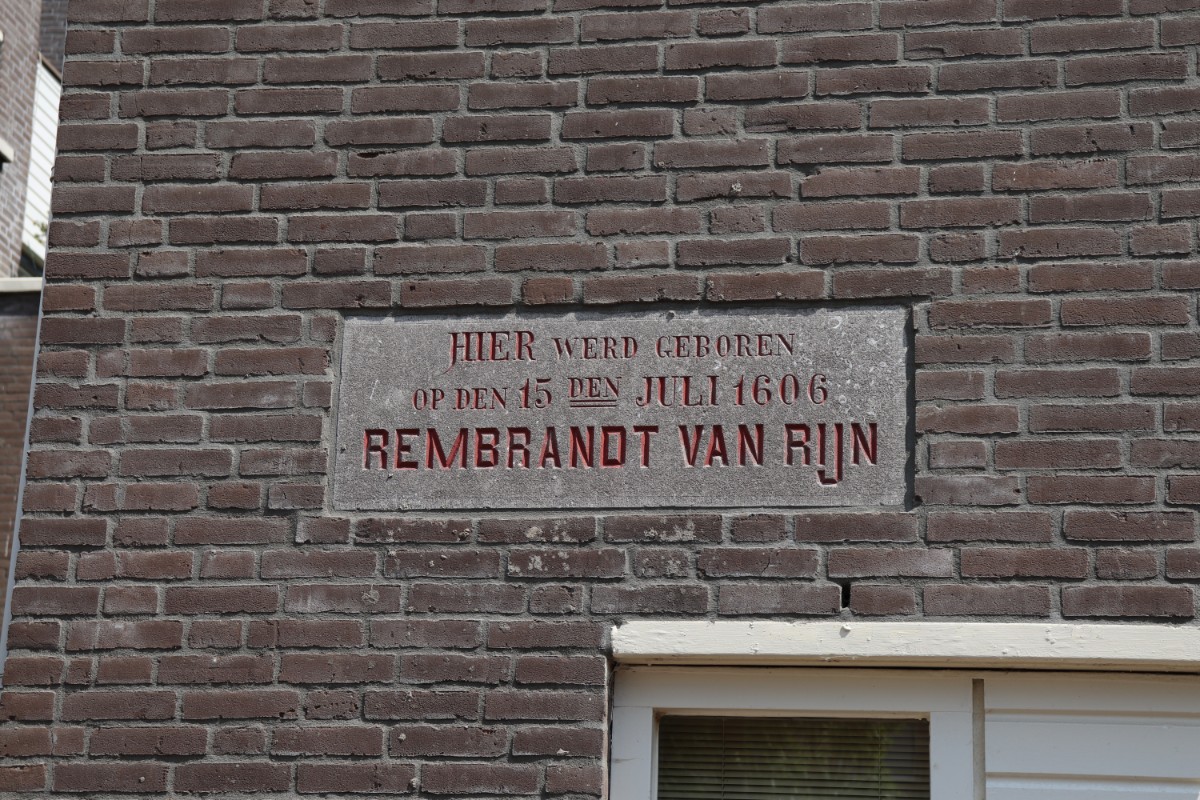 Rembrandt was born in Leiden on July 15th 1606. As you've gathered by now, he spent his youth here, went to school and enjoyed some training as a painter. Later in life, Rembrandt lived both in Amsterdam and Leiden.
Despite the lack of an actual birth house here, it's still a good Rembrandt-spot to visit; there's a little statue and portrait of the master here, tastefully done: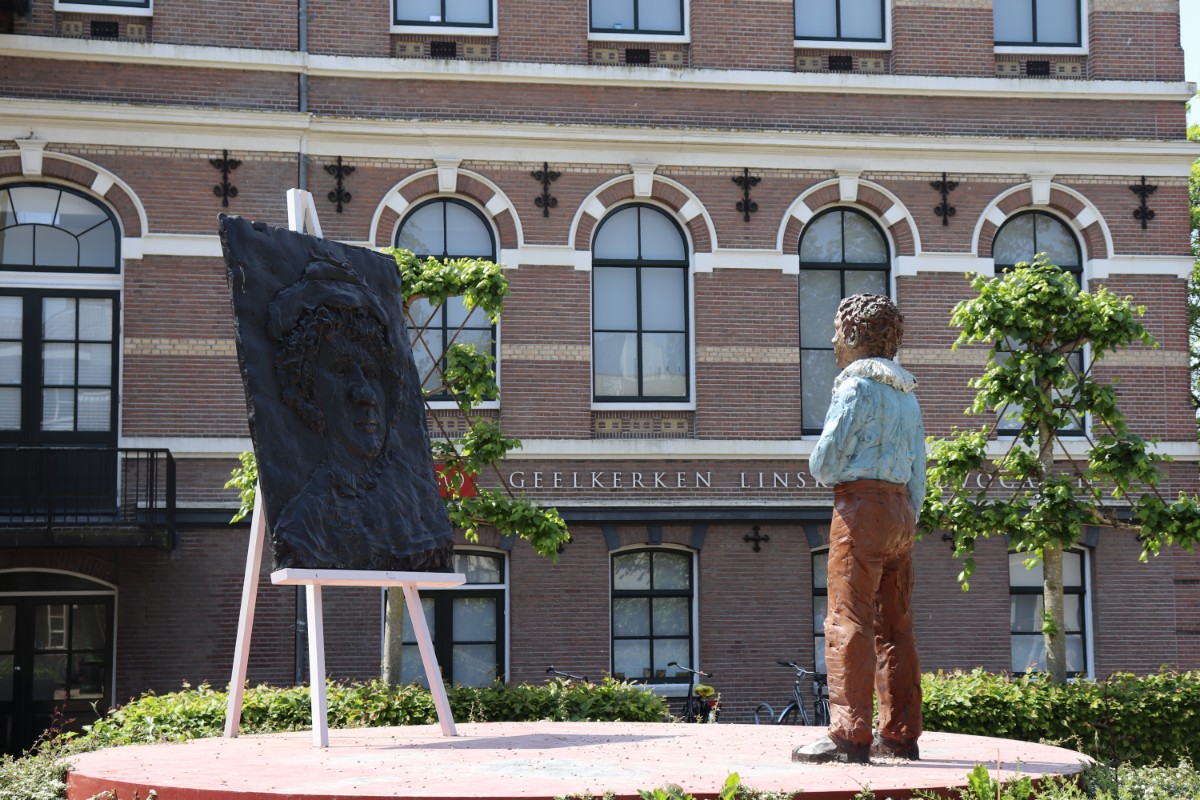 (Actually, nobody knows for sure if this little statue is supposed to be Rembrandt or not)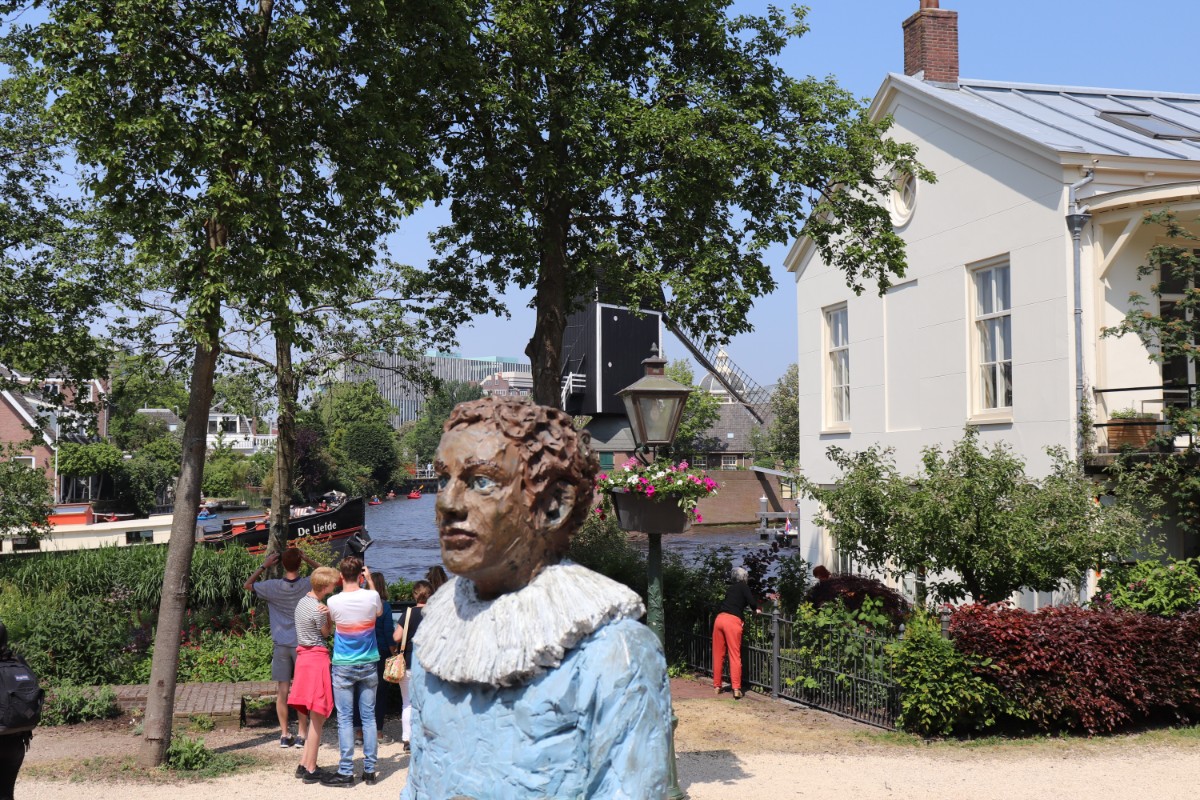 And third, I'm now used to it but for the new visitor to Leiden it will certainly be a pleasant (not such a big) surprise: the surroundings of this little square are extremely picturesque once again! You really appreciate Leiden, even more, when you're looking at the town through the eyes of a visitor: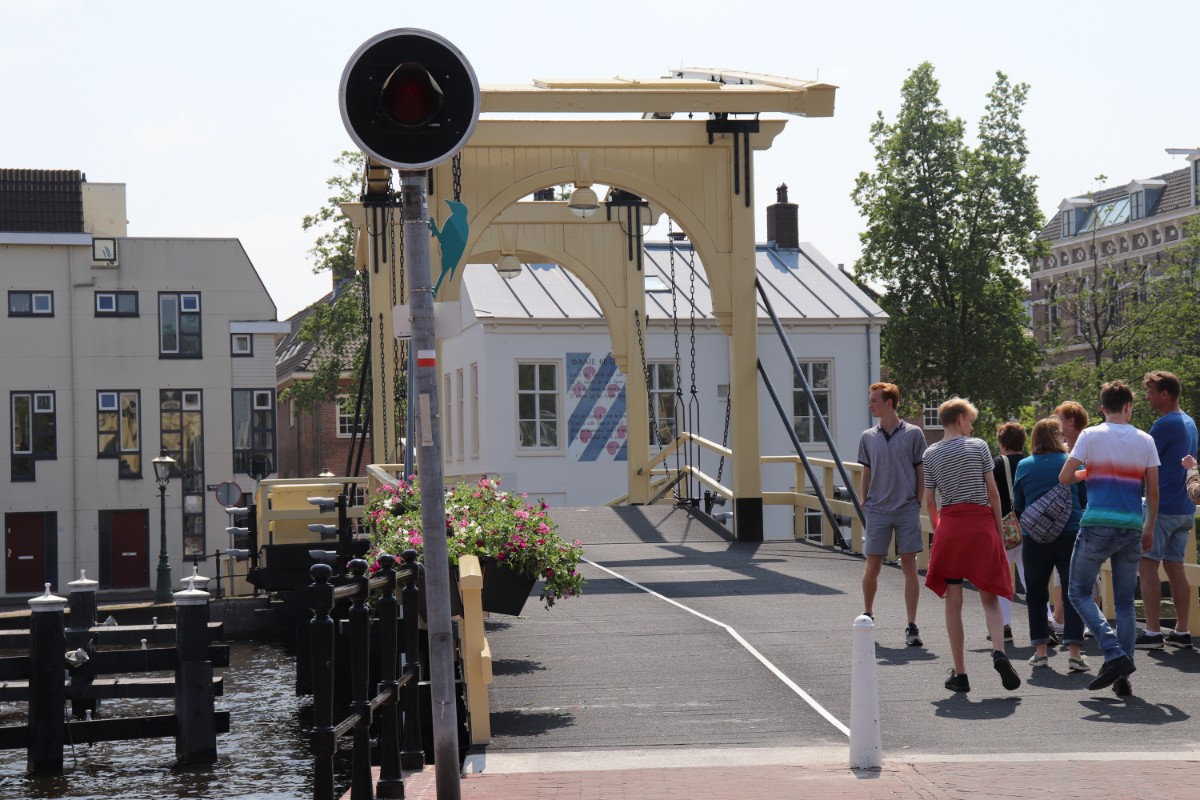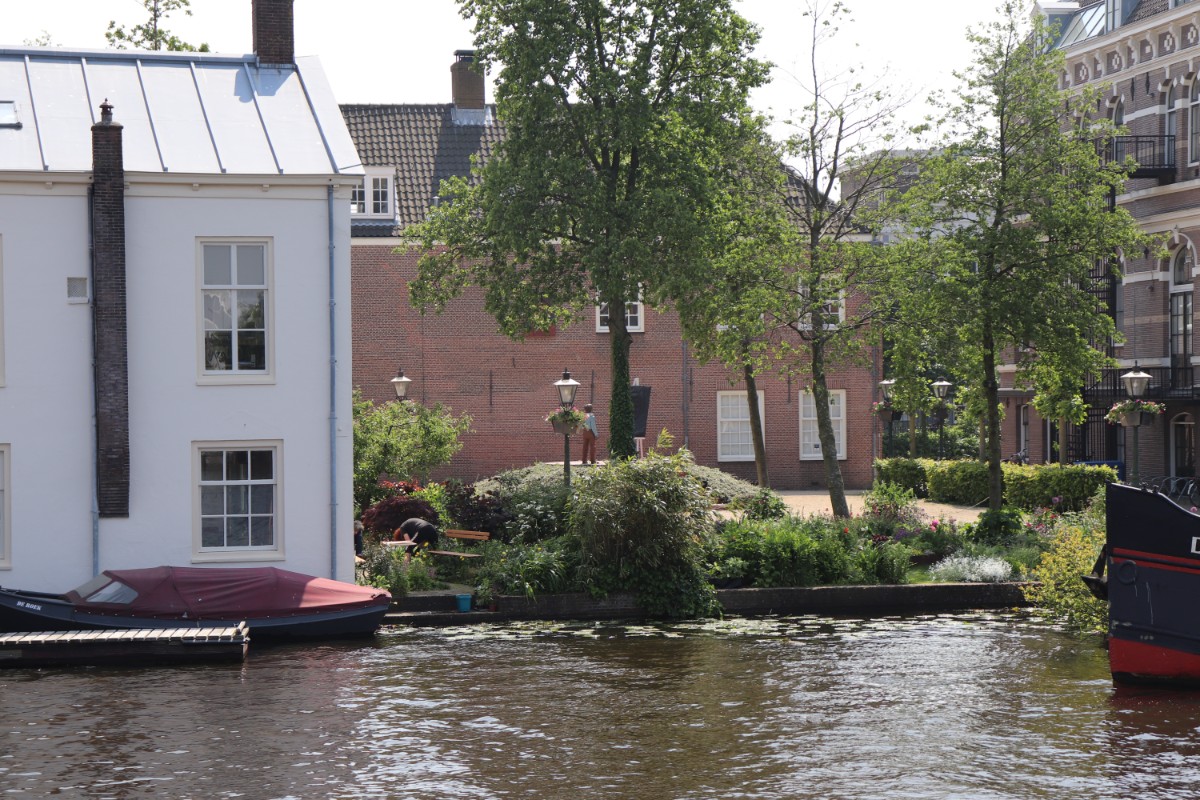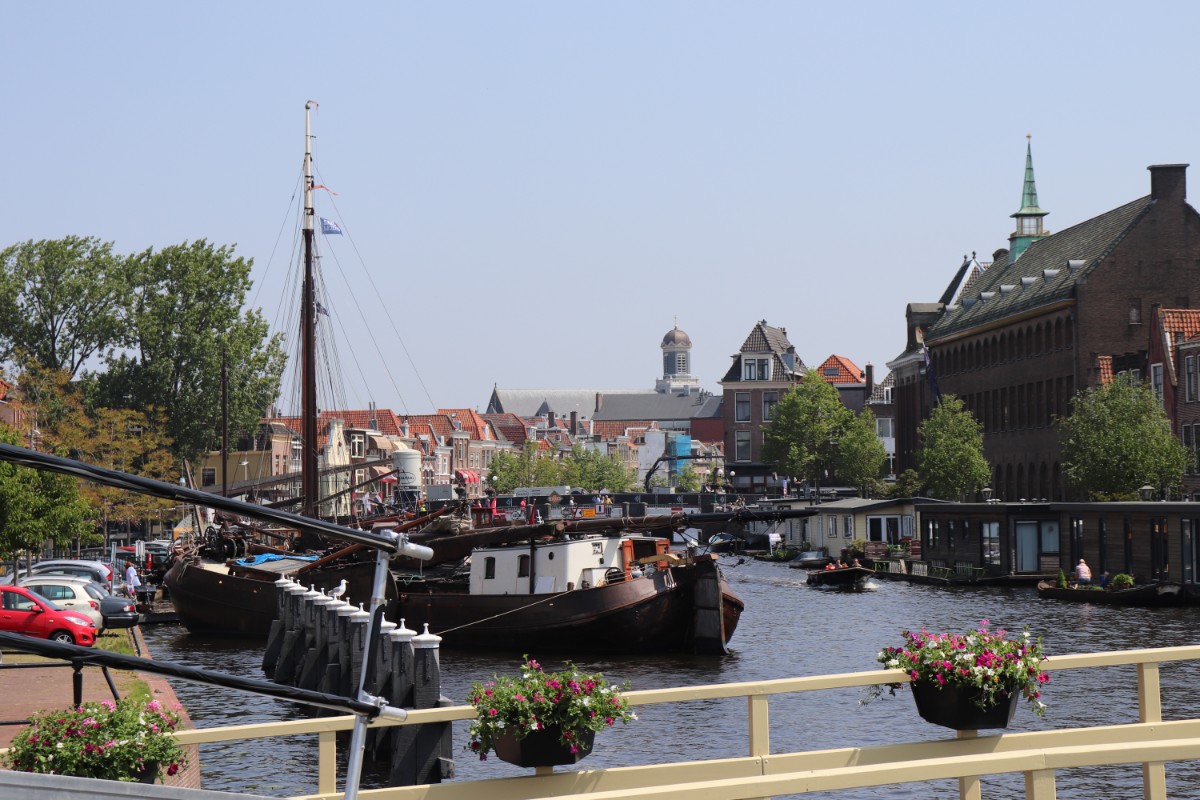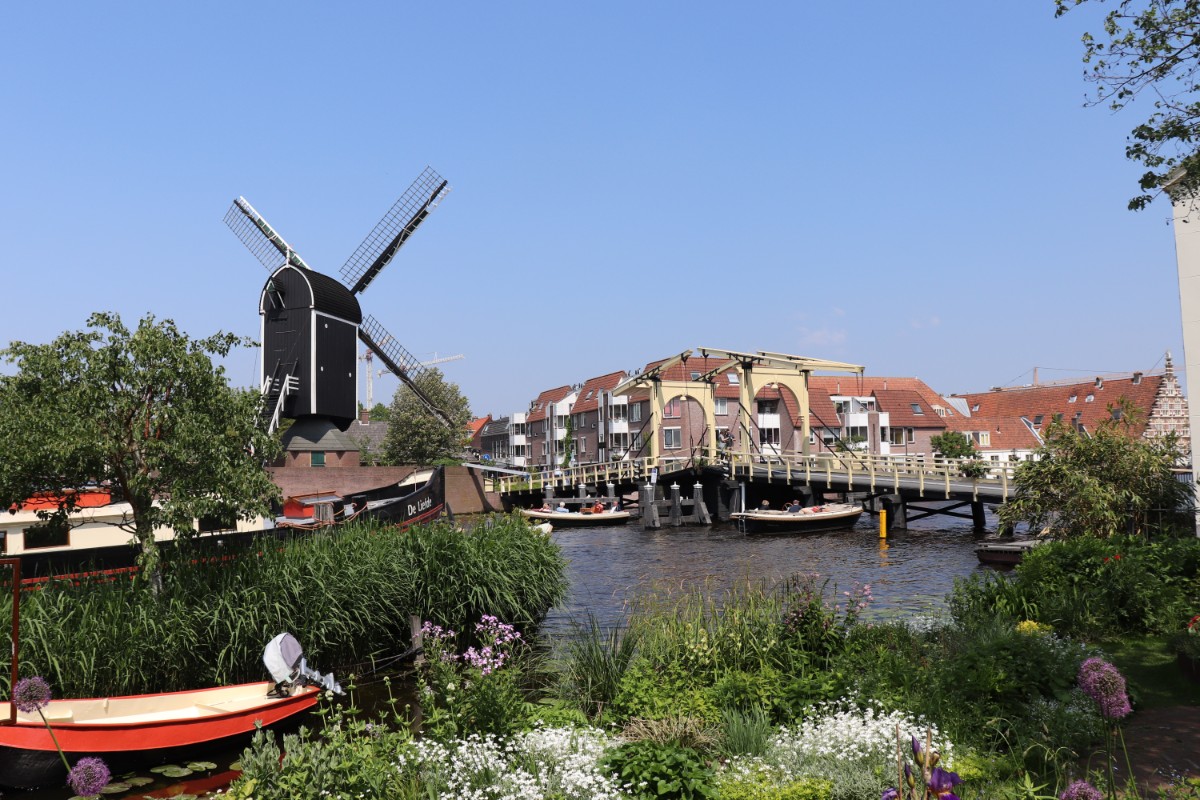 So maybe his house isn't there anymore but you can see this spot is definitely worthy of a visit, so scénic! And a windmill to see as well, for those who needed to check that box. Was that it?
#6 the Rembrandt Park
There's more, walk past the little Rembrandt statue and you will find a cute little park perfect for sunbathing and watching the boats pass by. It's the Rembrandt Park!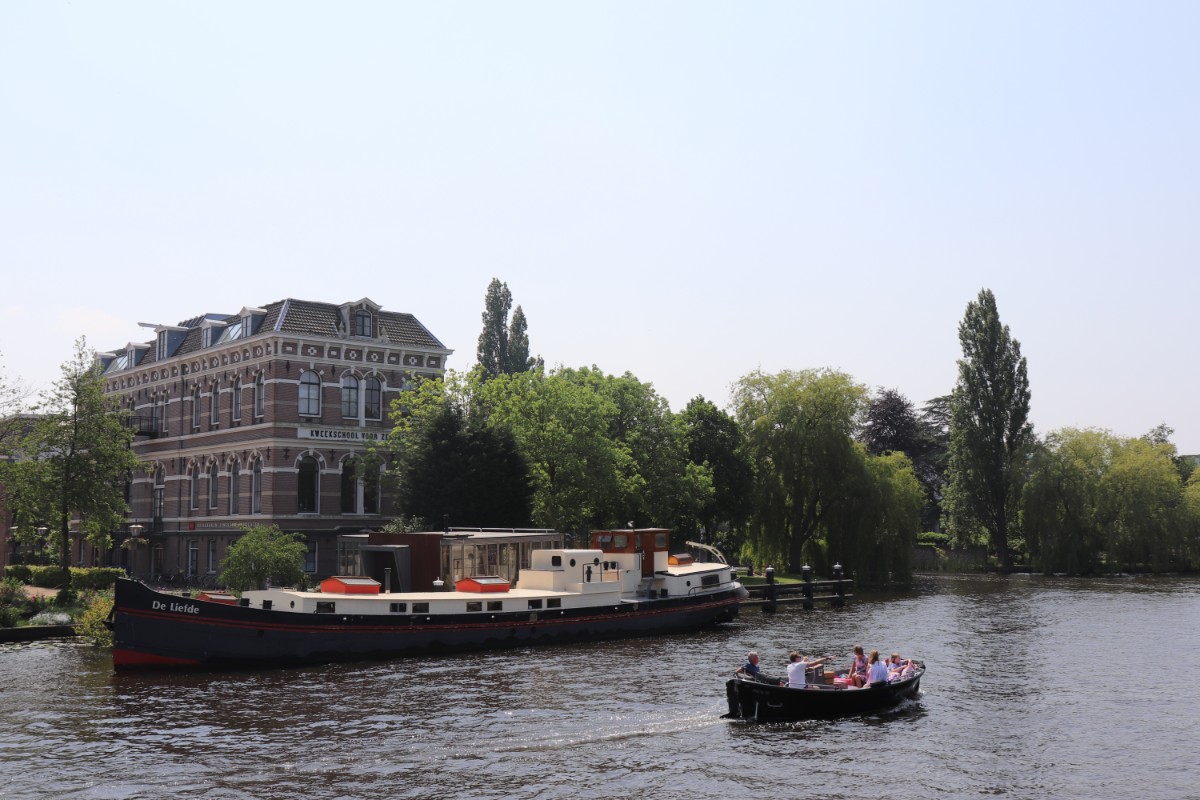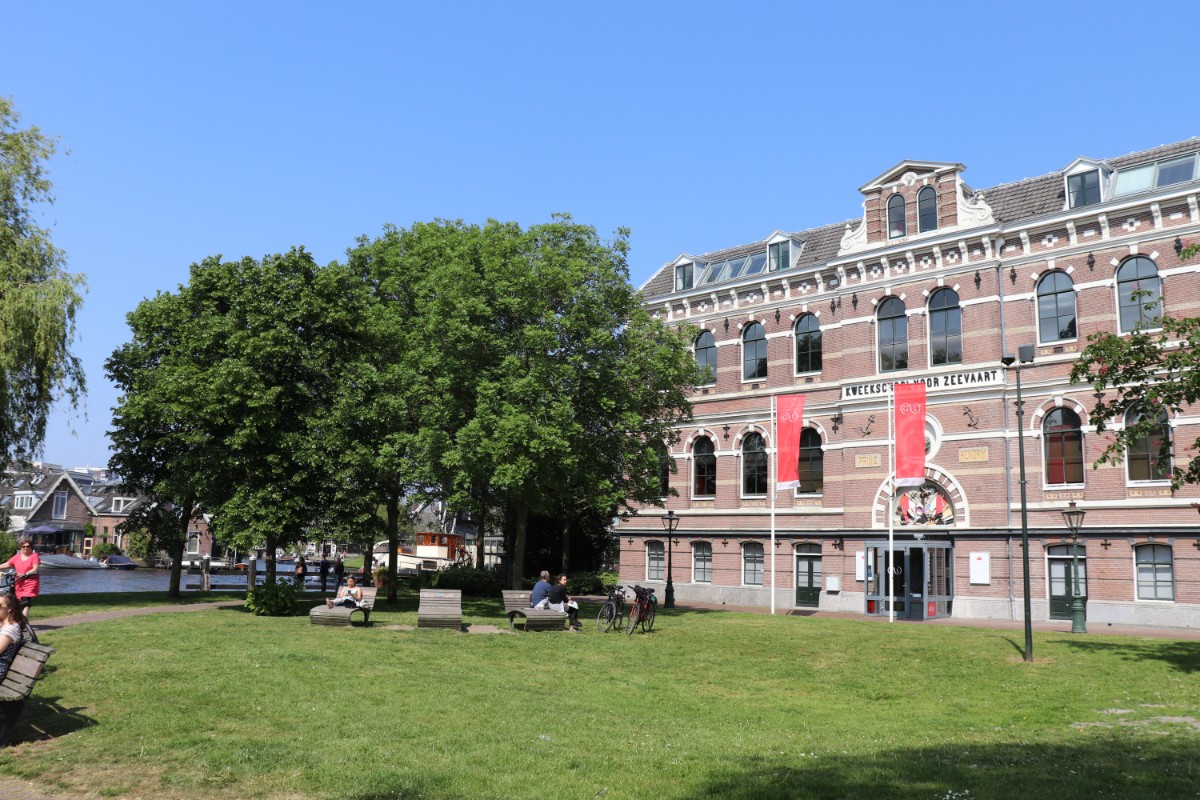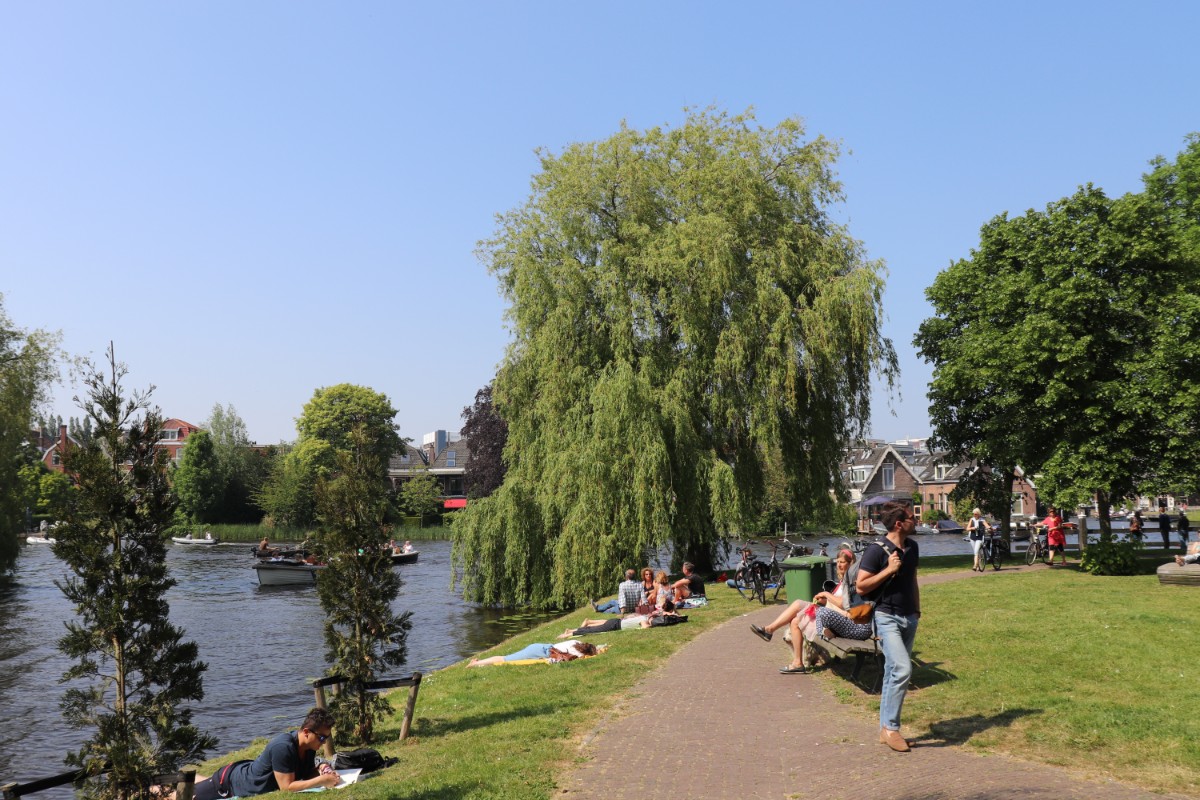 That's it for this article, but not for Rembrandt and Leiden. We haven't even talked about his paintings that are present in Leiden for instance!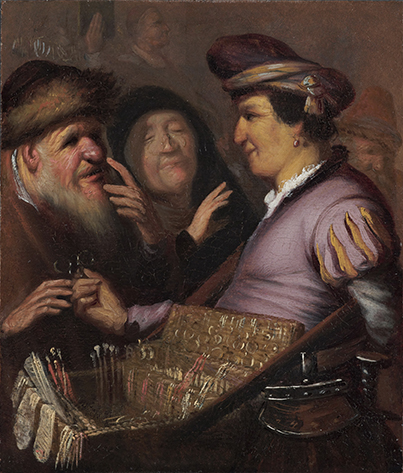 Well, there is a good reason for that, the best of Rembrandt in Leiden is in the Lakenhal museum – which at the moment is closed for renovations. However, they're opening up again in the Spring of 2019 and the Lakenhal is even getting ready for a young Rembrandt exhibition in November 2019! So grab your schedule and start planning that trip to Leiden to see the young Rembrandt and get the full Rembrandt Experience!
Ever been to Leiden? What were your favorite spots? Your favorite museums? Feel welcome to share your experiences in the comments or in the DutchReview group on Facebook!