The guide to taking the (direct) Eurostar train from Amsterdam and Rotterdam to London in 2019: 8 things to know
We've finally taken the direct (-ish) Eurostar train from the Netherlands to London! Only fair that we share what that is all about. So take a train seat and all aboard for an extensive article on our experience with the direct Eurostar train from Amsterdam to London. But we went from Rotterdam (in this case) to London.
Will it be quicker and cheaper than flying to London? How's the customs process? How is the food on board the Eurostar train? How's getting to and from St. Pancras International like? How are the Eurostar hotels? How is the channel tunnel? (spoilers: dark and boring).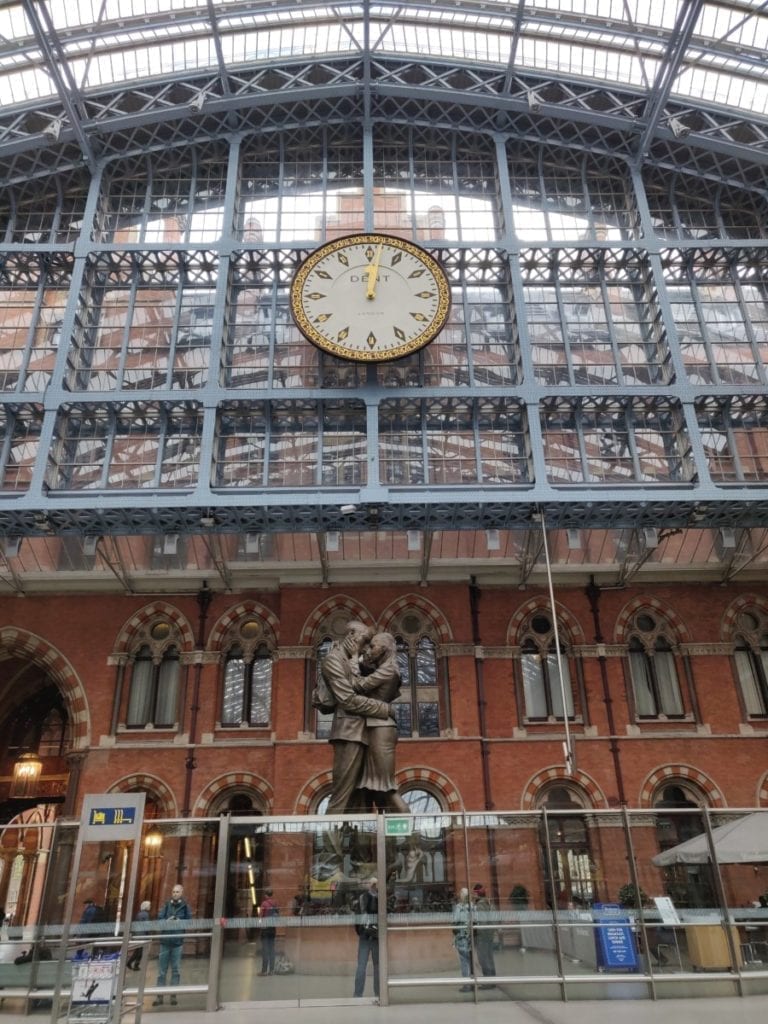 Yes, you guessed it, it's time for the ultimate:
Everything you always wanted to know about taking the Eurostar train from Amsterdam or Rotterdam to London
First of all, let's get us some tickets! ALL ABOARD
#1 How to get tickets for the Eurostar train, what kind of tickets do you need to get and how much do they cost?
It's 2019, so obviously going online for your tickets is the way to go. It isn't a surprise as well that tickets get cheaper once the departure date is further ahead or when things are slow. No drastic changes there and it pays off to book your ticket well in advance to get the best price for the best times.
The Eurostar train to London (or Amsterdam/Rotterdam, depends on where you're reading this 😉 ) has 3 different classes with different price-tags. What is good to know is that all come with decent legroom and they'll allow you to bring luggage.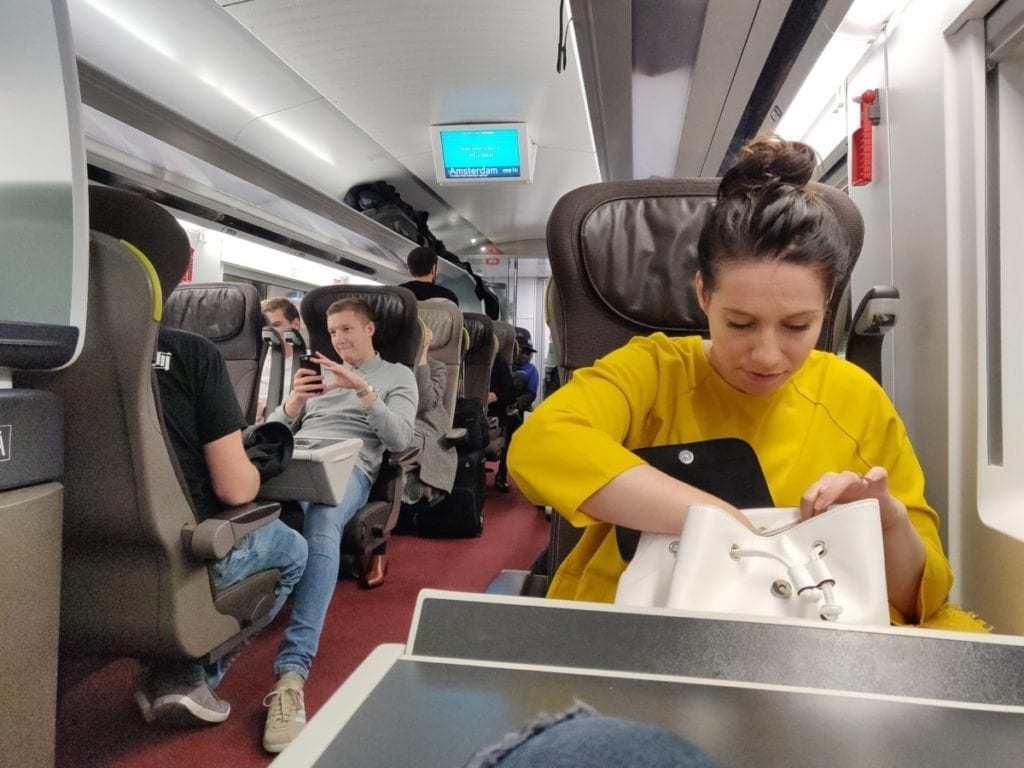 Standard is well, standard. This is between € 59 – € 220 for a one-way ticket. Standard Premier is the regular upgrade and Business Premier is the high-life with swanky meals on the train and the business premier lounge. Standard Premier is € 99,50 – € 274 and Business Premier is € 360 for a one-way ticket.
Life is just a tad bit better in the Standard Premier and it comes with some flexibility and snacks. So check the prices, sometimes it's just a few euros more than standard – well worth it.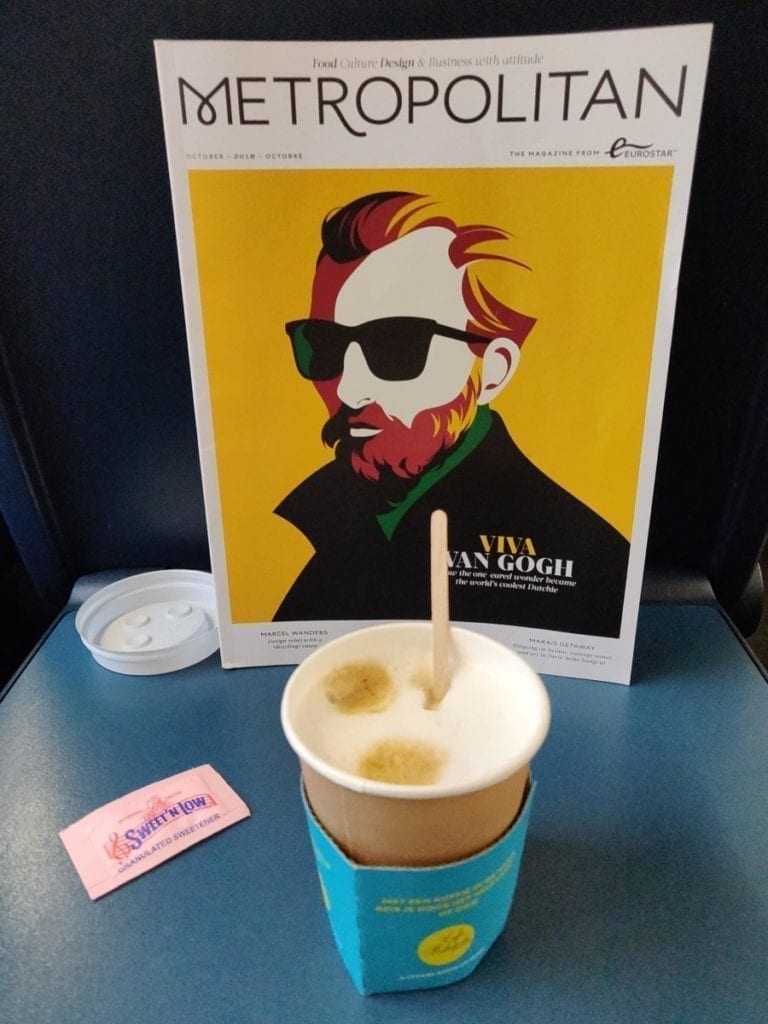 Oh, once you get the e-tickets, download the Eurostar app. This one will load you the tickets and all really easily – never had such a tranquil experience with any air travel.
#2 Getting on board the Eurostar train and how about the custom process?
Eurostar and common sense highly advise you to be present well in advance before departure time. They generally don't stop that long, so don't expect the train to be standing there on the platform for a while.
Here's the Eurostar train arriving at Rotterdam Central Station:
Once that train pulls in, you know it's going to be different than your ordinary NS ride. They've got pursers helping you out there and helping you towards your seat, it's a thing when you've never internationally traveled by train. Oh yes, there's a designated seat – that's a good thing!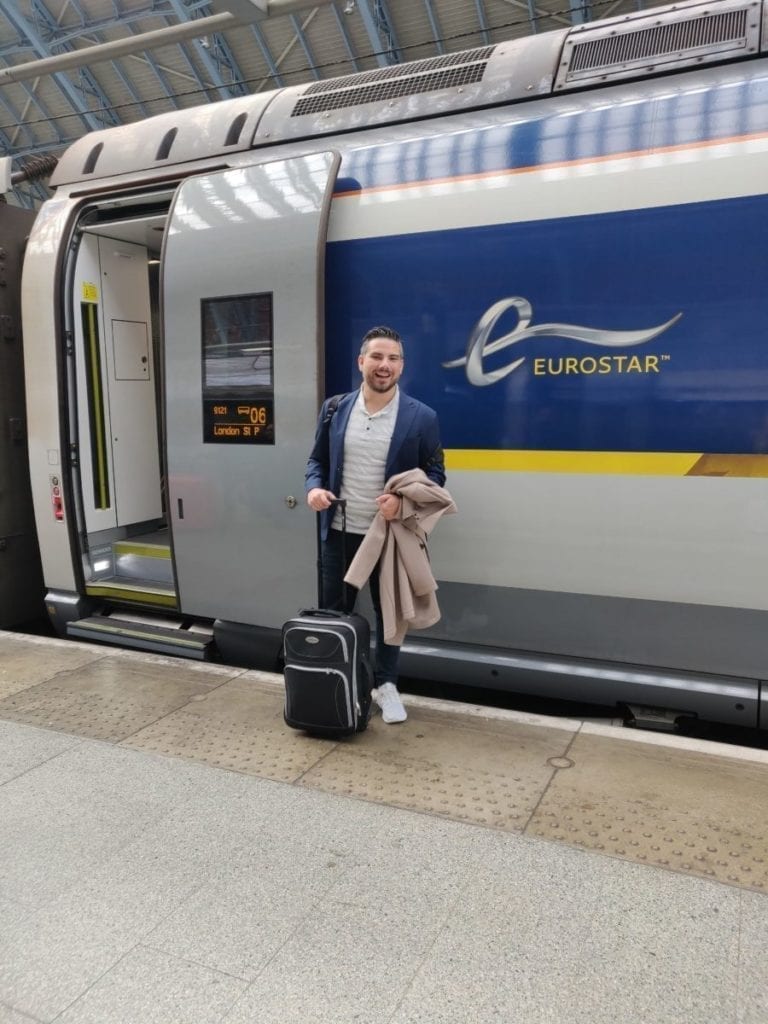 The custom process, well, it's a custom process – that's never going to be fun (and god knows what #Brexit has in store). But it's way more relaxed than any airport in the world and it doesn't take up much time. So it's barely a nuisance.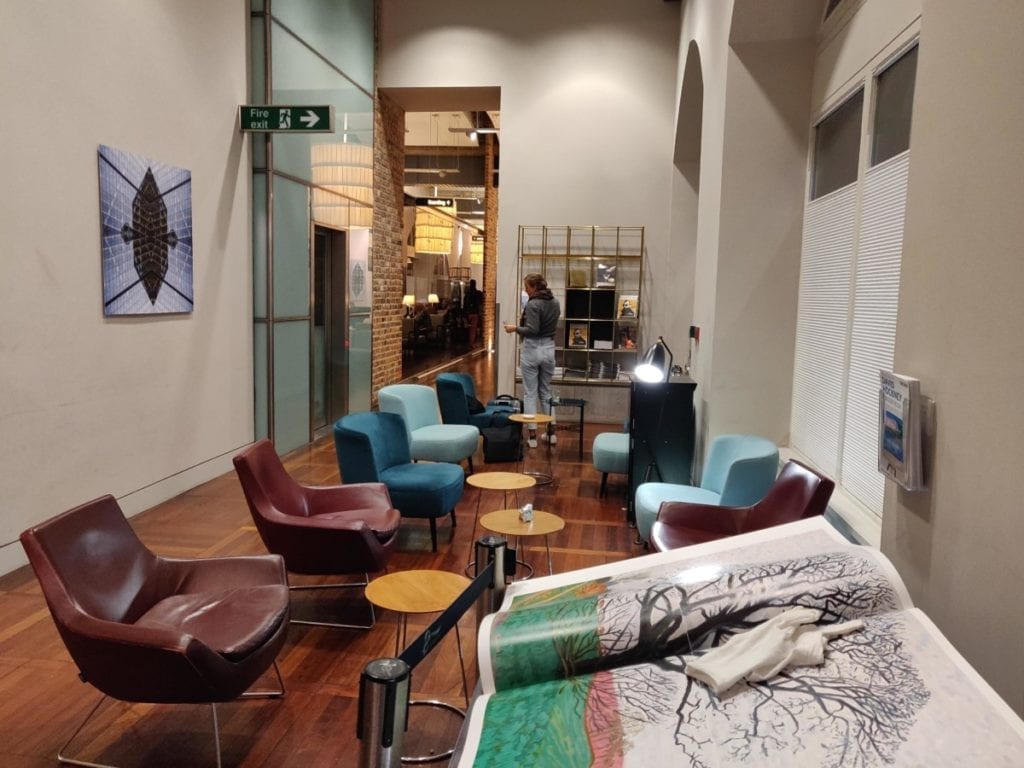 Check-in times are different for the classes (premium gets you later check-in) and there's a boarding call for your train about 10 minutes in advance, you can't miss it.
#3 How long does the Eurostar from Amsterdam to London really take?
The journey from Amsterdam to London St Pancras varies from around 5 to 6 hours, so for a faster journey pay attention to train times. The journey from London to Amsterdam is a bit shorter at under 4 hours. Not too bad!
#4 Is it really directly to London?
Customs is apparently also what's making you get out of the train and still doesn't make it a direct trip from Amsterdam or Rotterdam to London. Because both Amsterdam and Rotterdam Central Station don't have any room for the whole custom process, this is done in Brussels. So in Brussels, you have to leave the train, go through customs and then check in again, which is no matter how you put it a disturbance of what is otherwise a pretty tranquil travel experience. This could be solved once authorities finally handle things, which could be in April 2019 but nowadays the end of 2019 seems more realistic.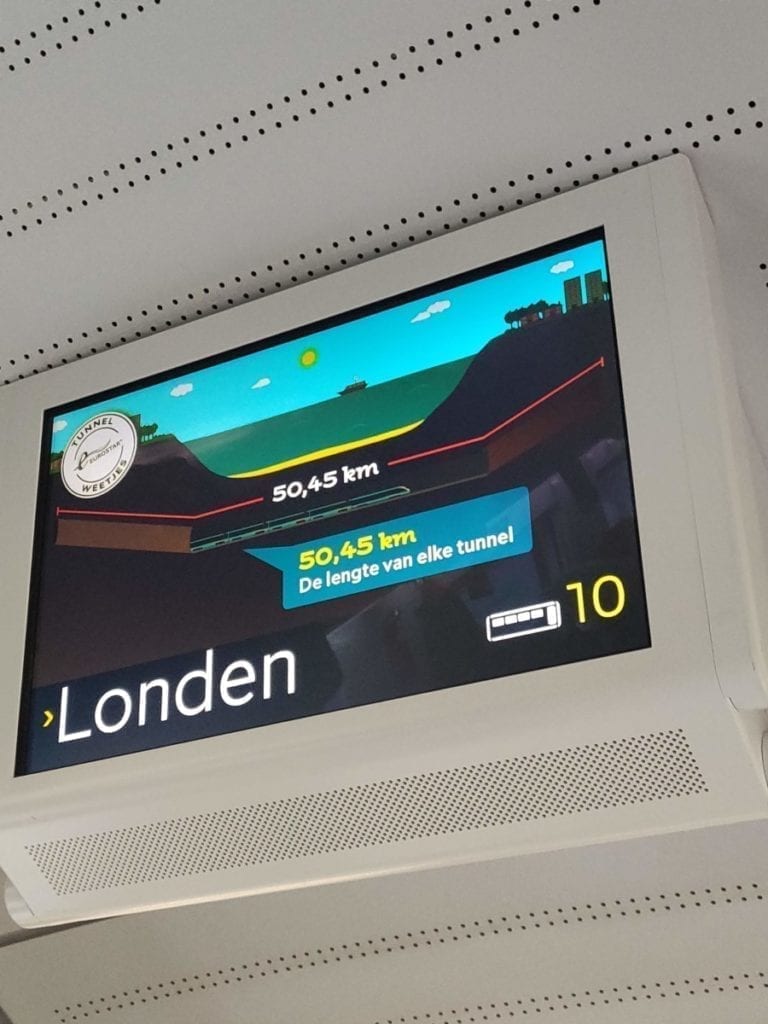 The way back though was one of the nicest travel experiences I had in life – EVER. Its a direct journey from London to Rotterdam or Amsterdam, customs are done in London. And I don't know, it was a bit surreal to just hop on a train in London and then exit in the Netherlands at your train station. Way better than flying in or out – but we'll get onto that bit somewhat later in this article.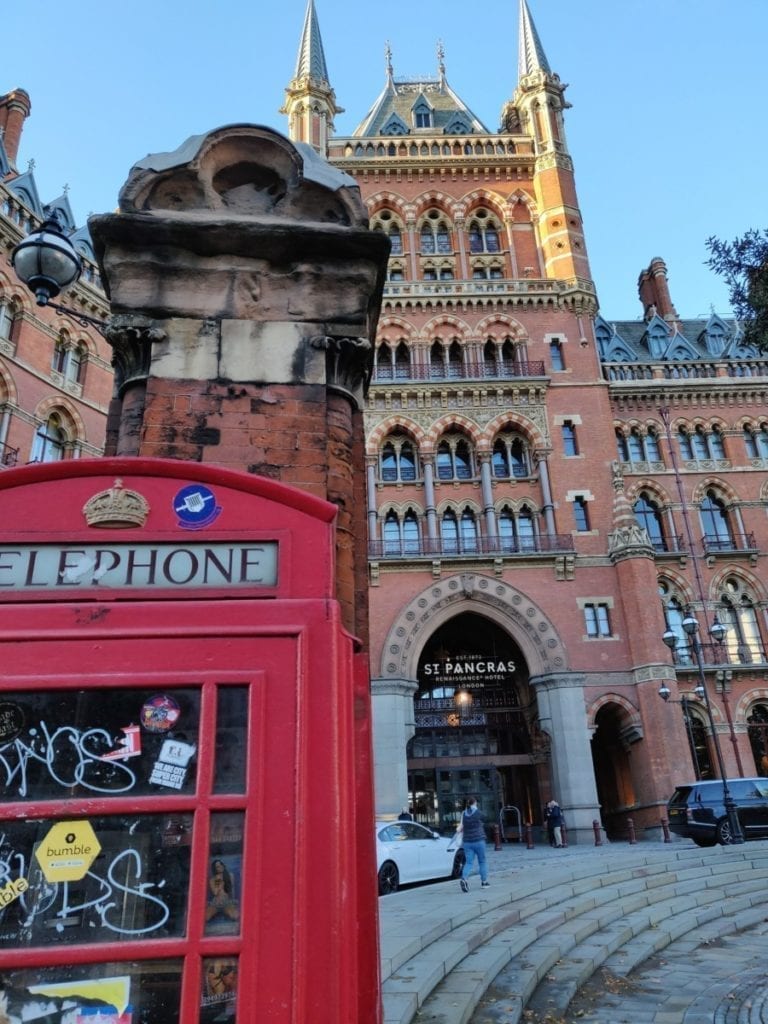 #5 Travelling to St. Pancras International London, what's that like?
Another straight up-side to taking the train to London with Eurostar is that your arrival point isn't some wretched cheap-ass airport 50 km from Londen center. The Eurostar train stops at the nicely located St. Pancras Station – right next to Kings Cross station in the north of London with access to tons of tube-lines. When we arrived we opted for a UBER, forgot how murderous traffic was in London at any time of the day (start biking you Brits!)
The station itself has a bit of that turn-of-century-splendor you're looking for when internationally traveling on a train and it's far more decent than most railway stations on the continent.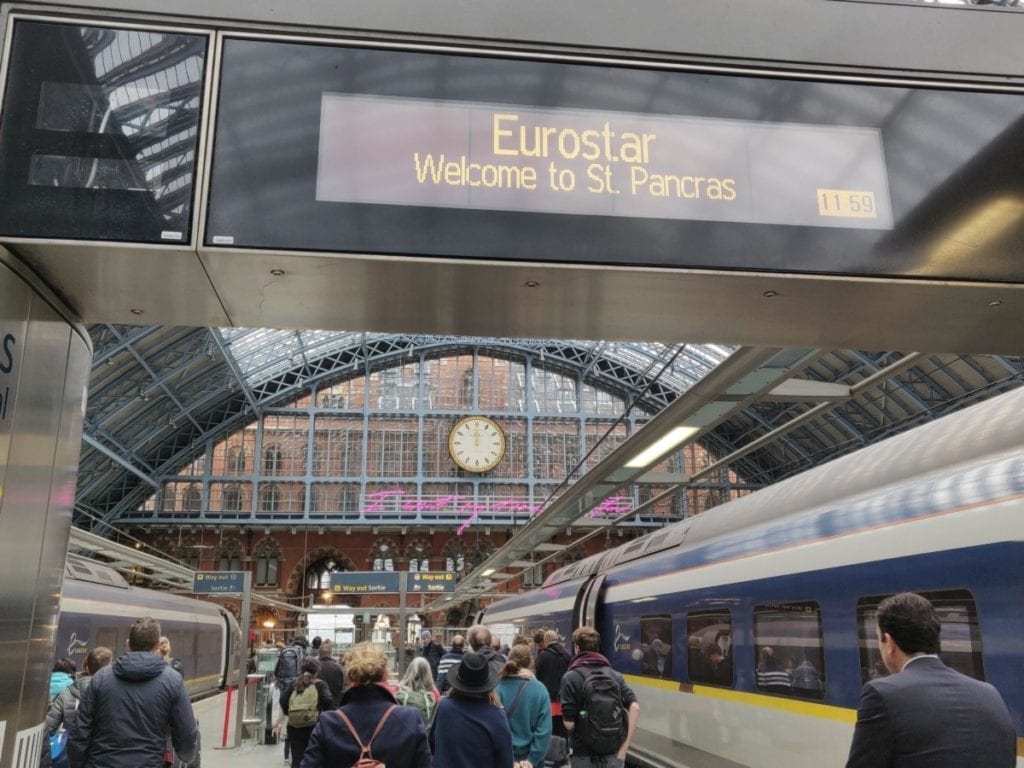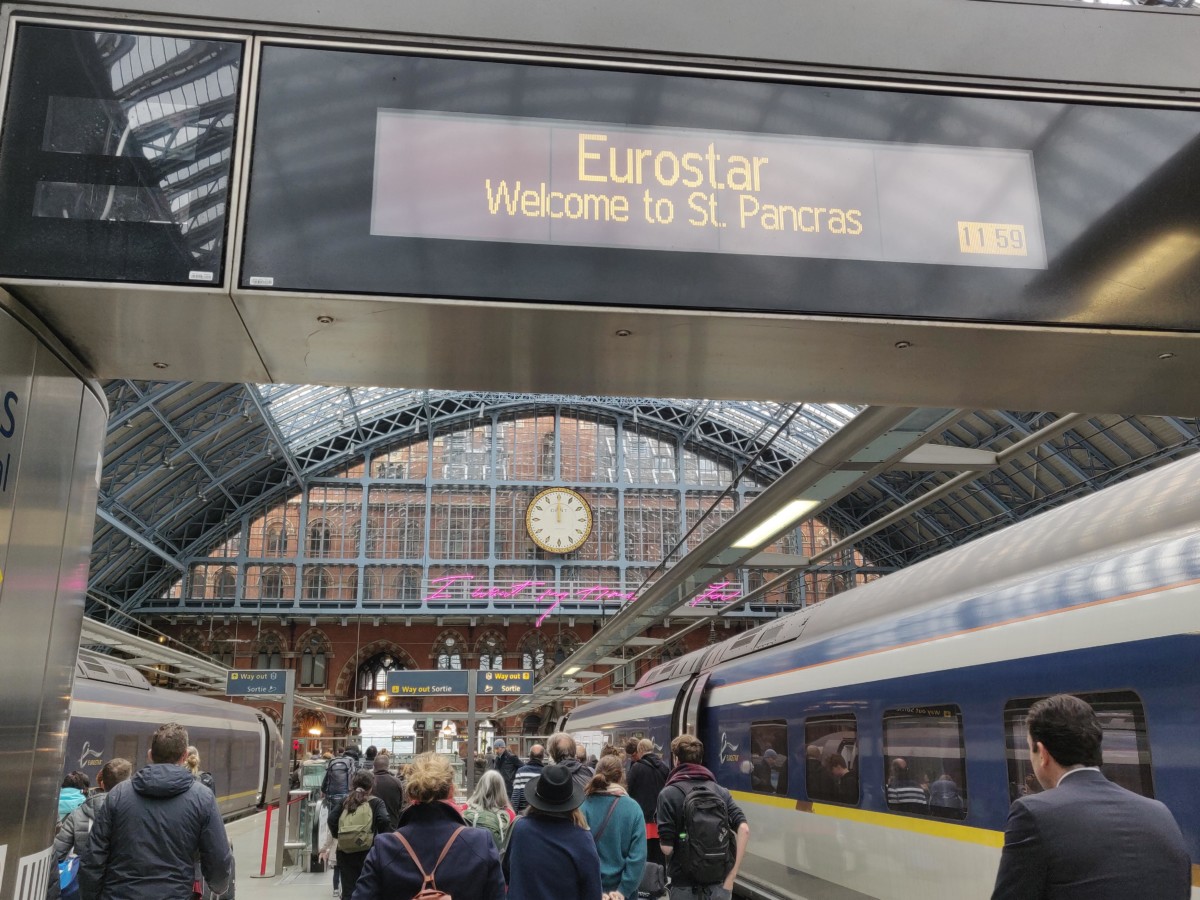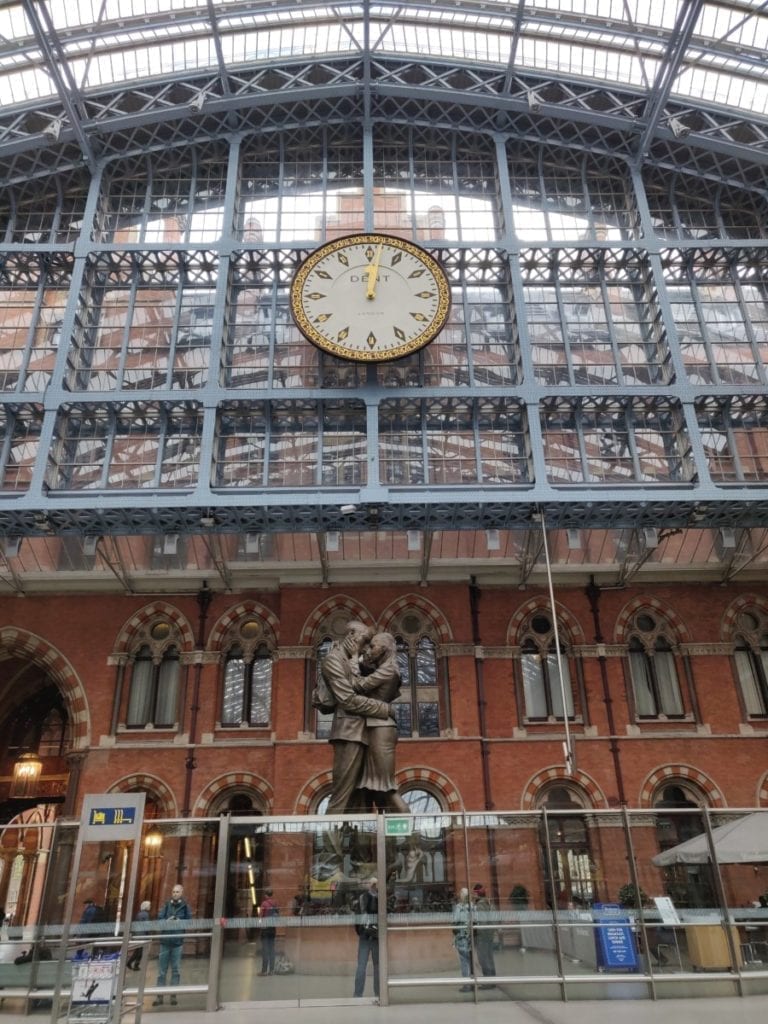 The Eurostar lounge at St. Pancras was also more than okay, with a complimentary cocktail area – can't go wrong with that!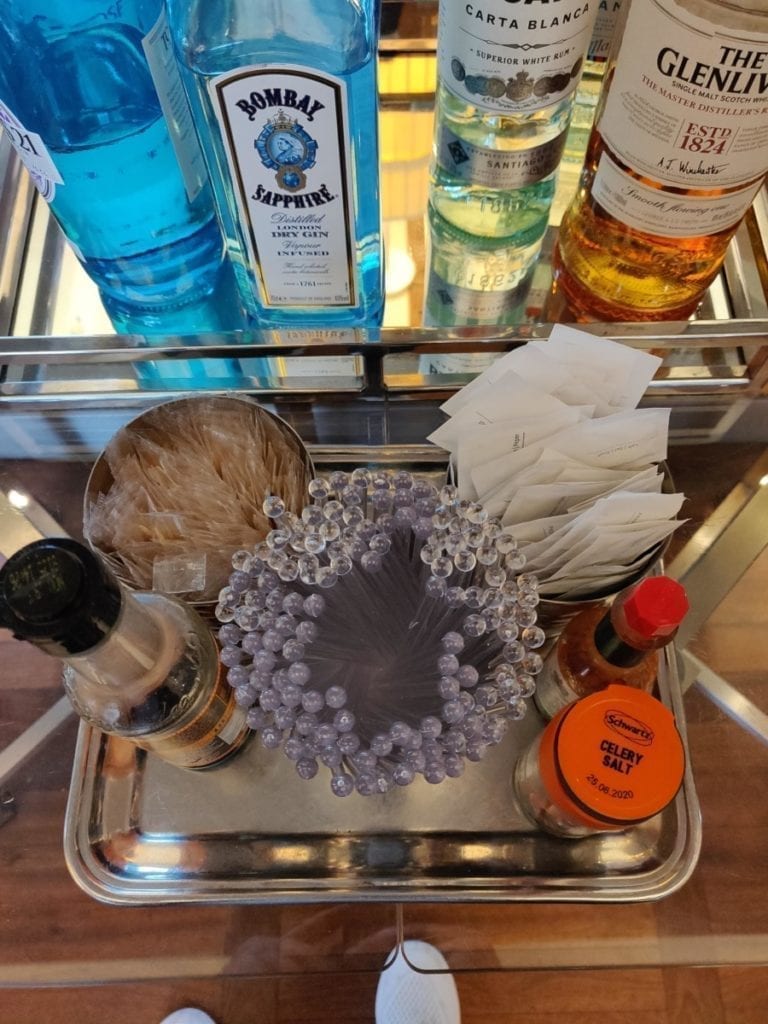 #6 What was our experience on the Eurostar train connection from Amsterdam/Rotterdam to London? What's it like?
Right off the bat, no matter which class you're seated, it's better than any plane or train. The amount of legroom is spectacular, there's a nice train magazine, a railway carriage with a bar, in certain classes you get free drinks and snacks. Or even champagne and a proper meal when you're traveling on Premium: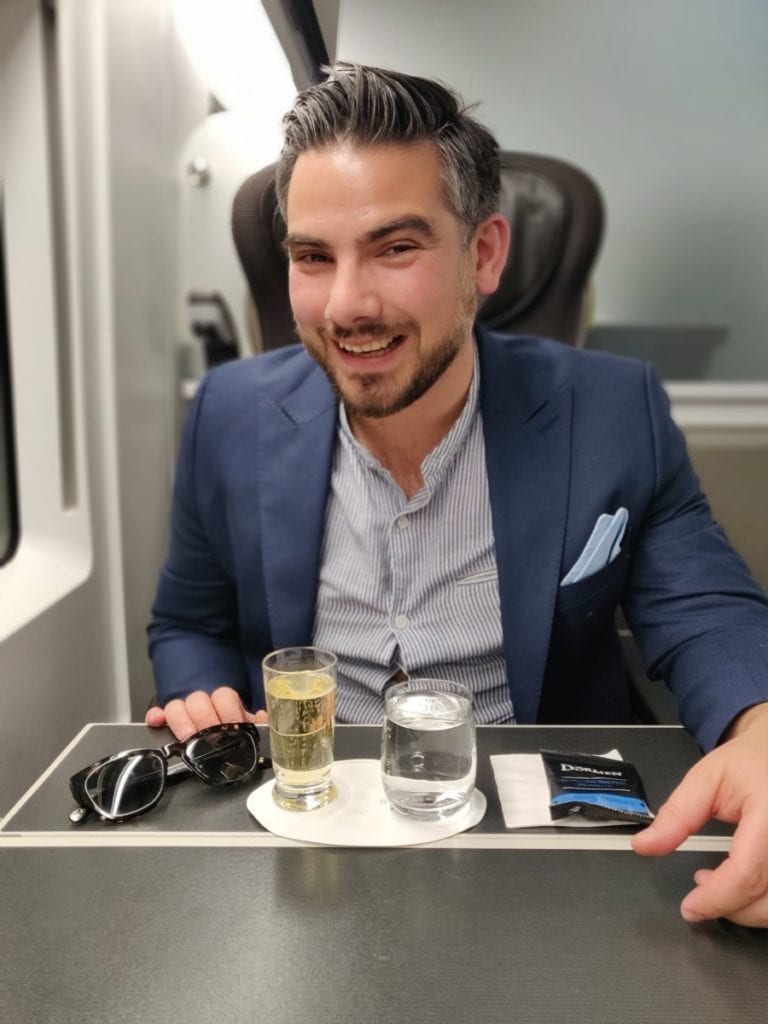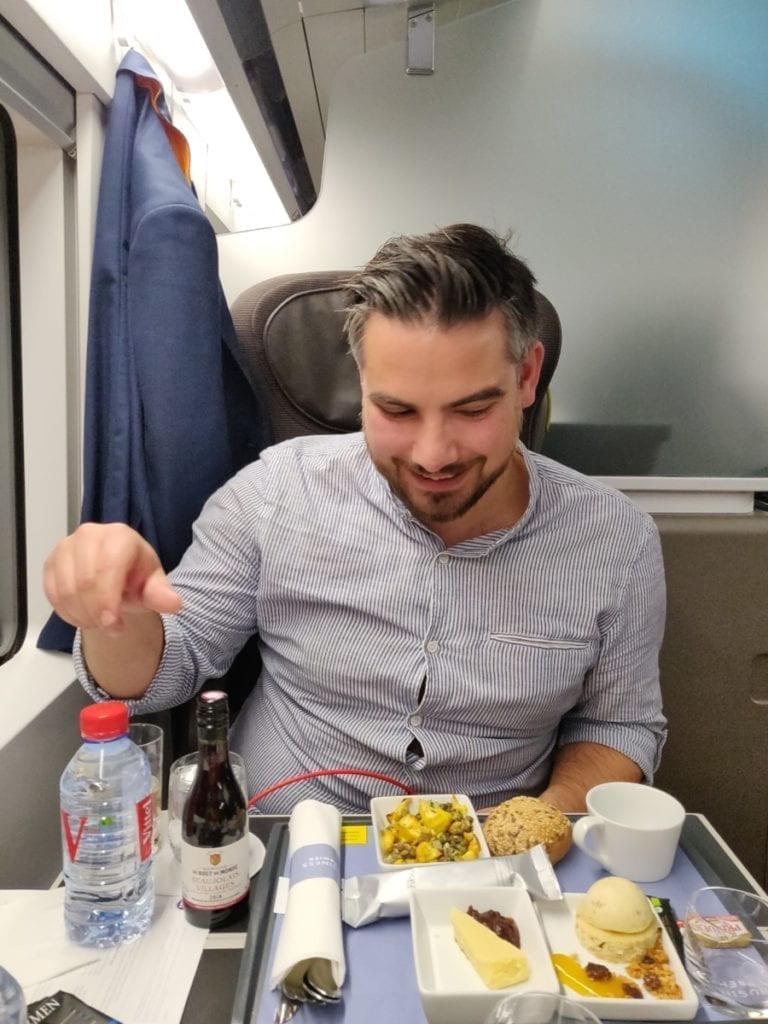 Stowing away all that luggage is no problem (you can take a shitton of luggage, another upside) but sadly the same can't be said for the wifi. On both journey's the wifi on the Eurostar train was lacking at best, or non-existing at all – other passengers had the same problem. So this is something they need to fix, fast.
The staff on the trains were extremely helpful, notably better than on short cheap airliners: really another plus for Eurostar there.
The trip itself and the passing landscapes were pretty relaxed. It was nice to see a bit of the English countryside, the journey through the tunnel was dark and full of nothing (no stops there) and coming into any station went super quick – no delays!
#7 Staying with a Eurostar hotel, the Draycott – that was just awesome
Eurostar offers a thorough experience and can also set you up in a hotel. They've got agreements with numerous hotels throughout London, which works out pretty nice for all involved.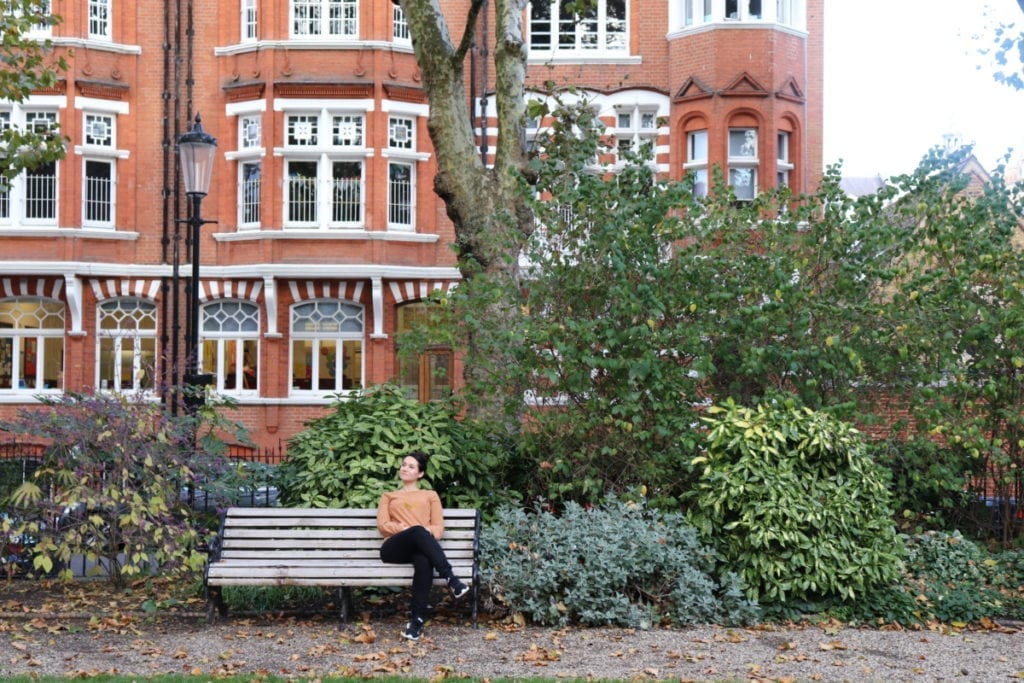 We went for the quintessential British experience and got set up at the Draycott in Kensington. And boy oh boy, did that hotel deliver. See if you're going for that train journey anyways – you want it to be a special trip, and their hotels and especially the Draycott were a great choice.
The Draycott – it was so good that we need to talk about this
It doesn't look big from the outside and on the pictures, it looked a bit, well, old-British. But inside the Draycott hotel takes you back to a London that I'm sure only exists in our fantasies. All of their rooms are beautifully styled in pure Britannica; stylish classical music playing, portraits from grand old Britain on the wall – all done with class and respect for past times – but nowhere outdated.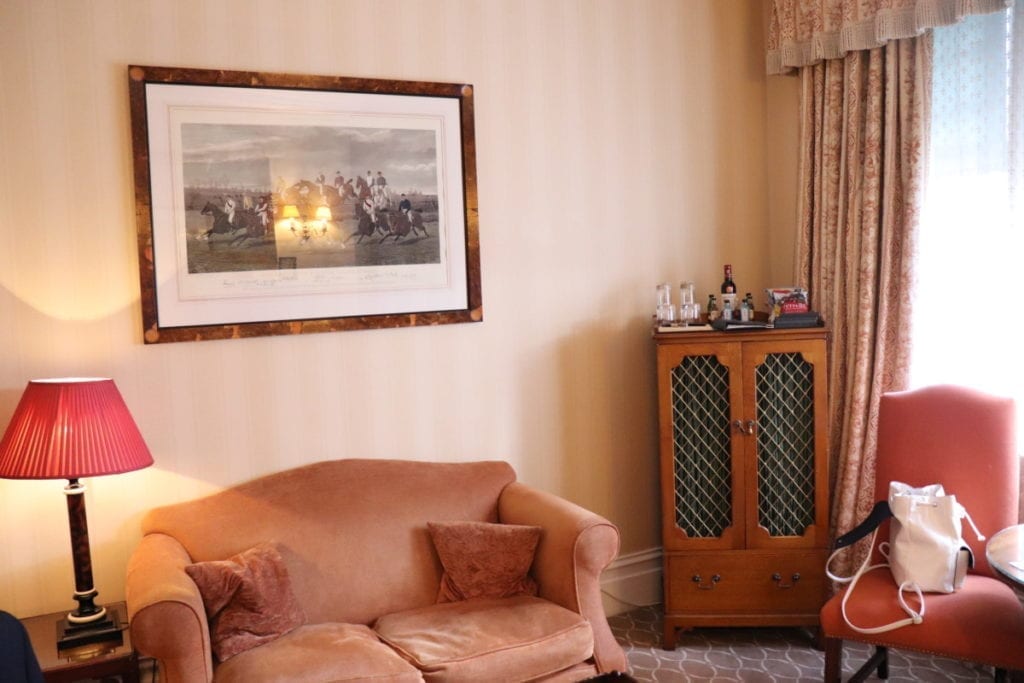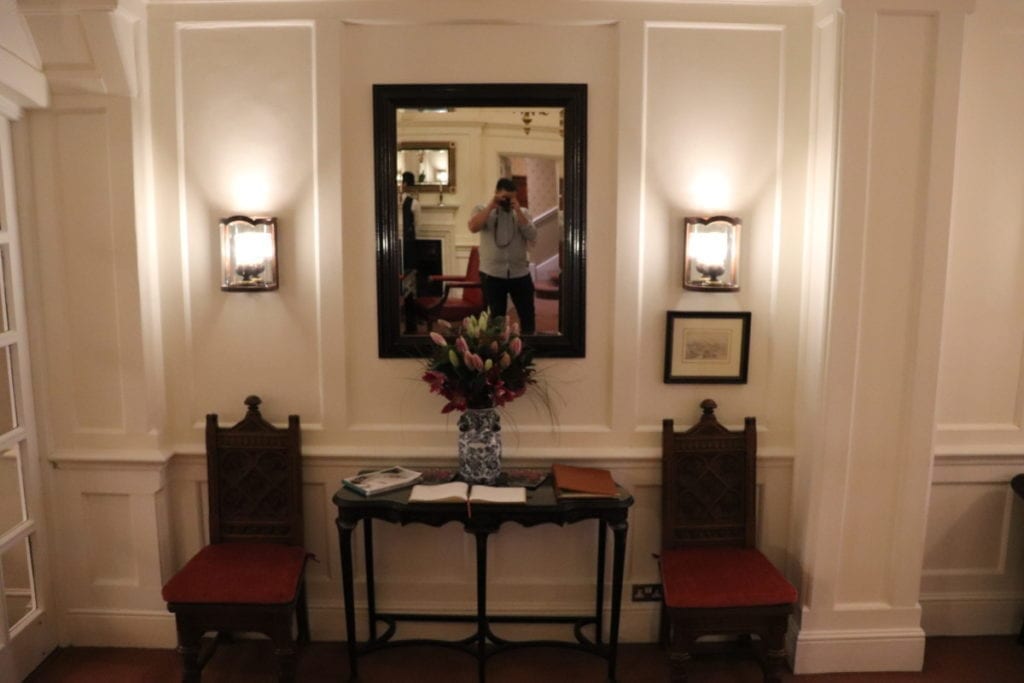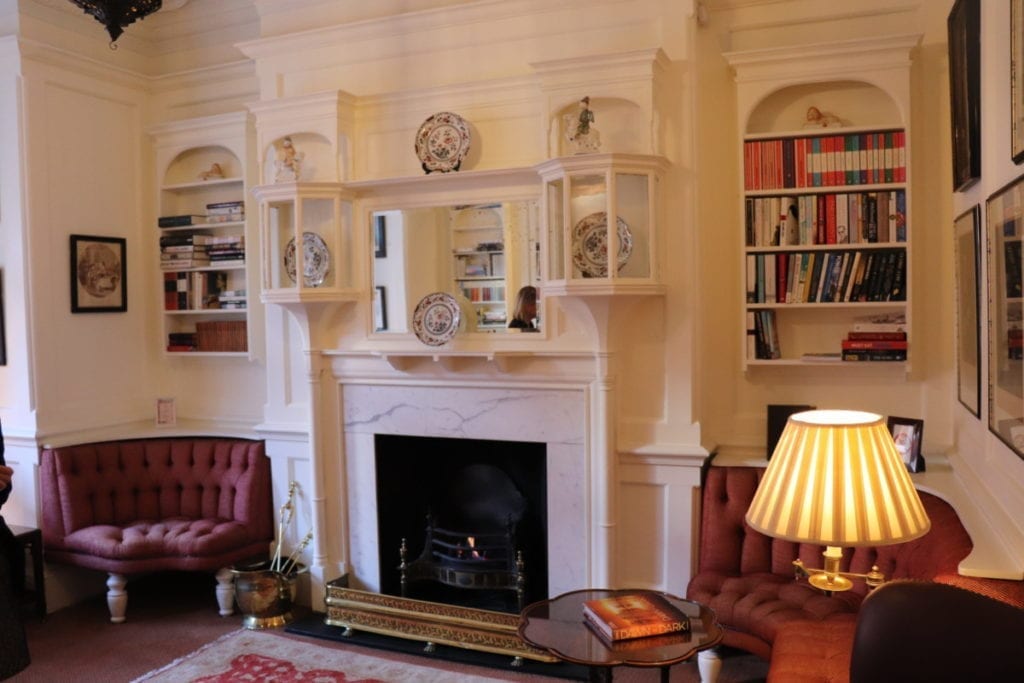 All rooms are named after writers instead of having an arbitrary number. The rooms are all different themselves as well, so no one room is the same. I was also pleasantly surprised by the stylish desk and the grand bathroom.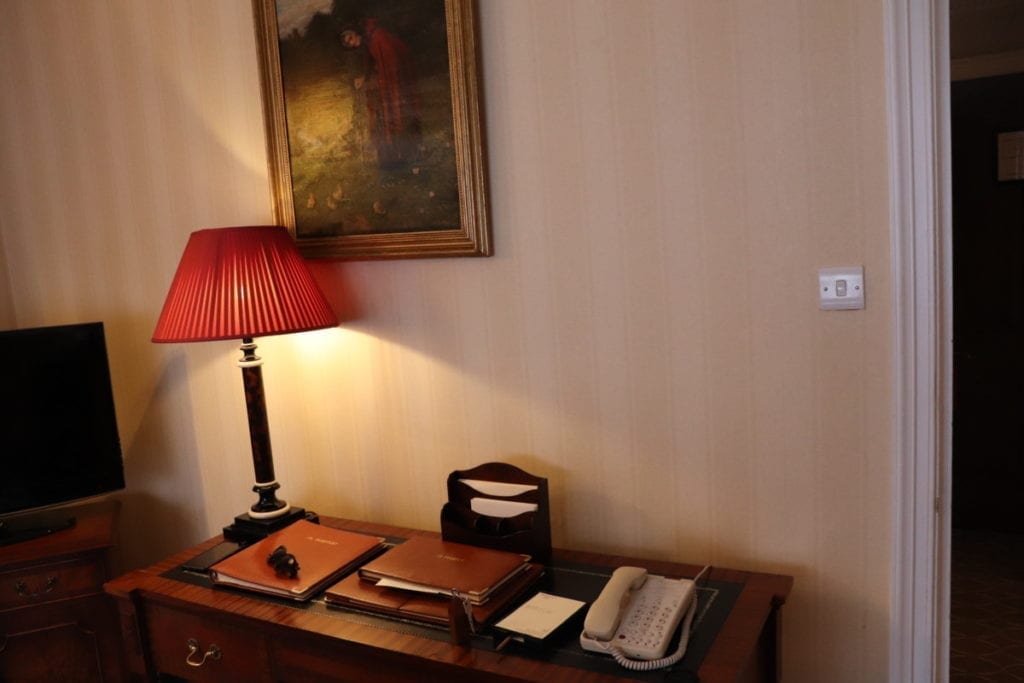 Two big plusses of the Draycott, besides its epic scenery and pleasant service, number one:  the moments in the day where they served complimentary tea, champagne (!!) and hot chocolate in the beautiful drawing room.
Not just because it's nice to get free delicious stuff (those homemade biscuits!) but also because they got the atmosphere really right there. It's the closest you'll get to your Downton Abbey Fantasy.
The other big upside for the Draycott was their serene garden; beautifully styled and a nice getaway from the hustle and bustle of London.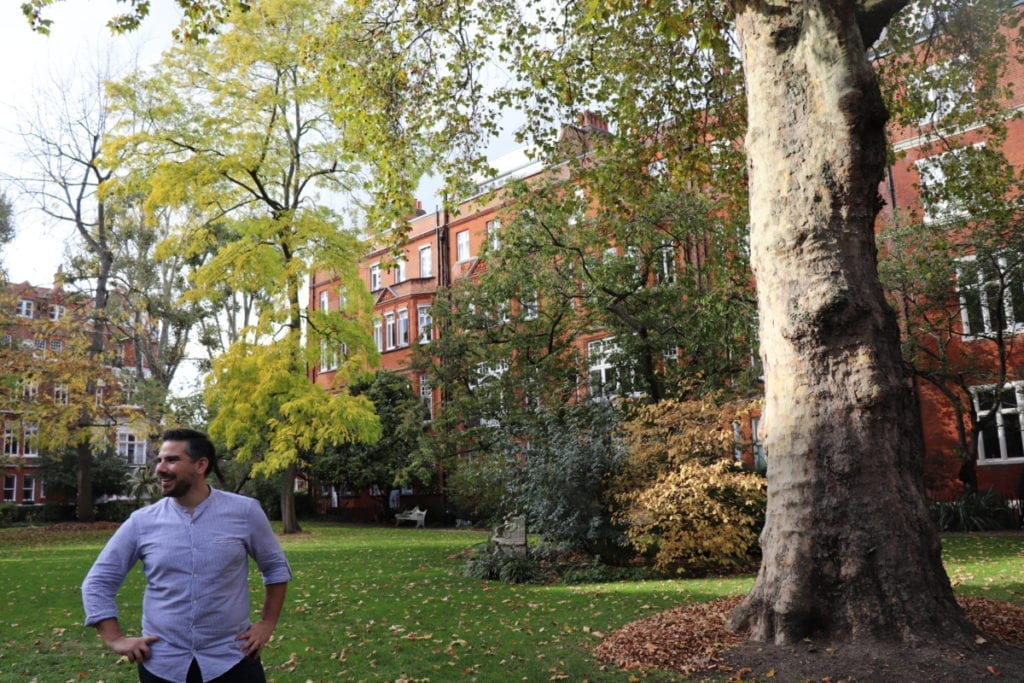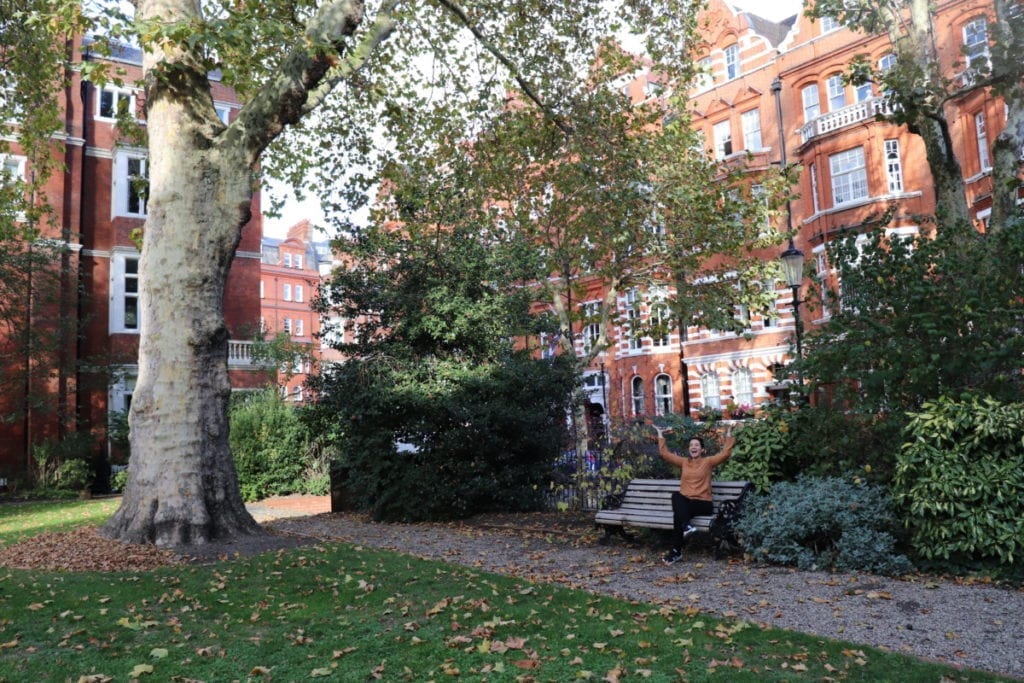 All in all, I can wholeheartedly recommend booking one of the hotels with Eurostar, more-than-pleasant experience!
#8 When leaving from Rotterdam or Amsterdam. Flying from Schiphol to London or taking the Eurostar train to London?
The million dollar pound question, what's better? Flying to London or taking the Eurostar train? Well, as you might expect, the answer depends on your situation.
First of all, if you can book a bit in advance, want to visit the center of London and live closer to Amsterdam Central or Rotterdam Central than you live to Schiphol or any other London-connected Dutch airport then the Eurostar is probably your best bet. Tickets are decently priced when booking in advance and I found it way better than traveling to any London airport (Bar London City, which can be expensive). Most of London's airports are so far away that reaching the city center will take plenty of time as well, not to mention the money that the transit will cost you. I'd rather spend less and get a decent trainride right in to the city like we did with Eurostar.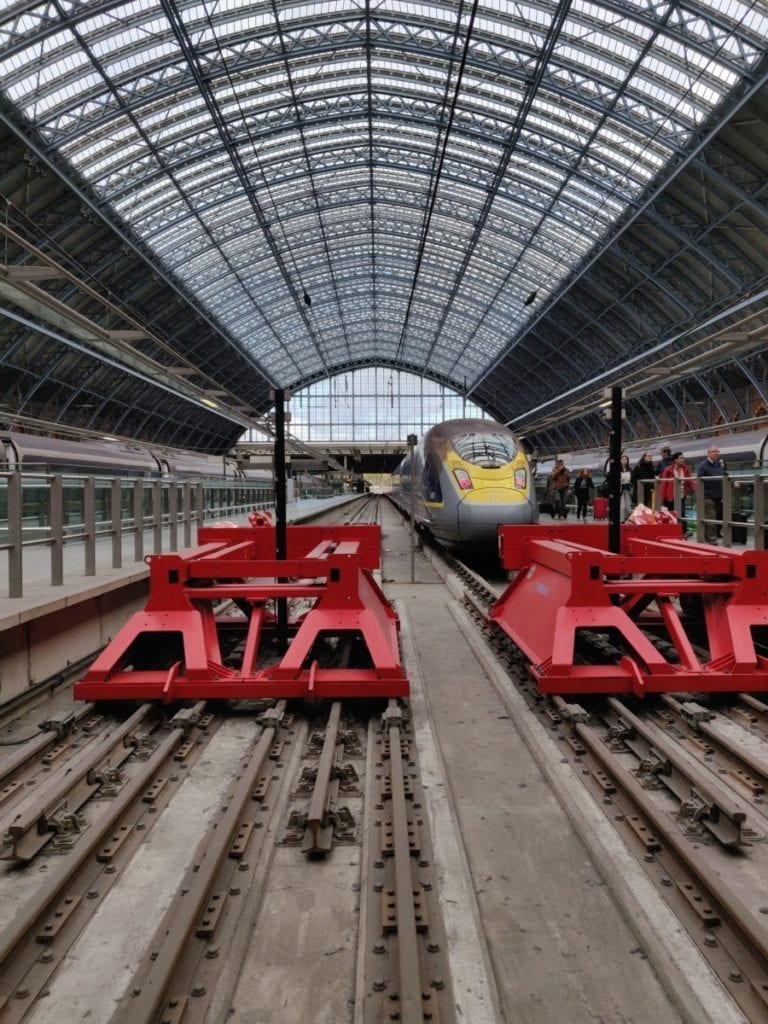 When it comes to service and experience in general, the Eurostar is also better in my opinion. There's legroom and actual service, something which you won't find with many aircraft companies nowadays. Personnel also makes you feel genuinely welcome, instead of like cheap cattle when flying with something like Ryanair.
If you're looking for a one way trip from London to Amsterdam/Rotterdam, then the Eurostar is a no-brainer with its direct journey. But of course, it isn't all champagne-life, the interruption in Brussels when taking the train from the Netherlands to London is something which isn't pleasant in any way. And it might still take a while when this is solved, with Brexit and all that happening. So that's something to take into account when one makes the decision between the plane or train to London.
But overall, when living near a station and booking ahead? Choo choo! All aboard for that direct Eurostar train from Amsterdam to London! ( Or Rotterdam 😉 ) And luckily, in June, Eurostar will be expanding the train service from London to Amsterdam to three times a day, instead of two.
Have you ever taken the direct Eurostar train from Amsterdam to London? Or from Rotterdam to London? Let us know your experiences in the comments!