When summer time is creeping up on us, all the Dutchies get the travel-bug, and maybe it has gotten to you too? You might just had enough for a moment of all the windmills and lovely Dutch towns. Or perhaps you are just looking for some new weekend trip ideas? Then a quick trip to our fair neighbour of Belgium might but just what you need. Here is our guide to Mechelen – one of Flander's most charming cities
Located right in between Antwerpen and Brussels is the lovely Flanders town of Mechelen (pronounced Mehgellen, more or less). It isn't as big as Antwerp or as touristy as Brugge but that is kind of the charm of the town. Before we get to what to do in Mechelen, where to eat when there or where to sleep, let's first dive into the rich history of what first used to be the capital of the Netherlands.
The history of Mechelen – the capital of the low lands
Yeah, you read that correctly, before the hey-days of Brussels or Amsterdam there was Mechelen. Back in the first half of the 1500s, Mechelen was the official capital of what was then called the 'Low Countries'  (Netherlands, Belgium and our little cousins of Luxembourg) under the queen Margaret of Austria. It didn't last very long as later in the 16th century after Margaret perished, the capital was moved to Brussels and the Netherlands went its own way with Amsterdam. But still, pretty buildings galore in Mechelen, it has a capital aura to it and you can tell.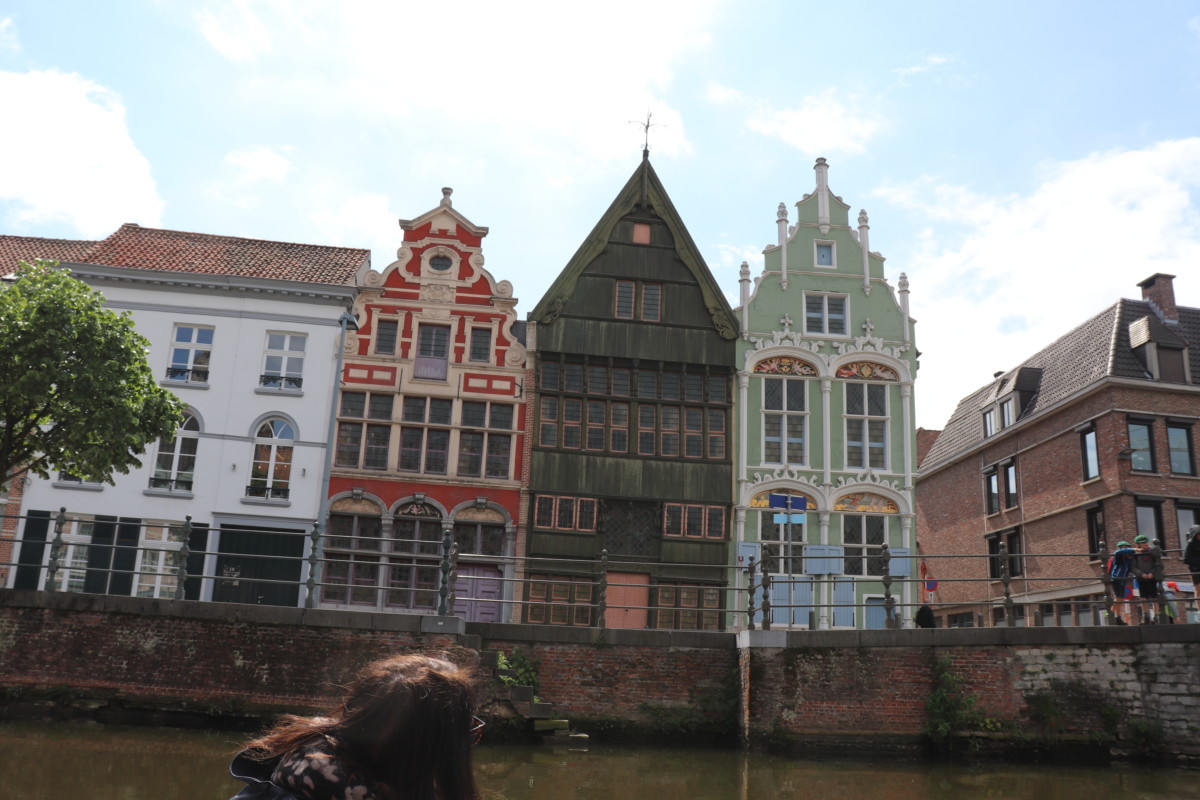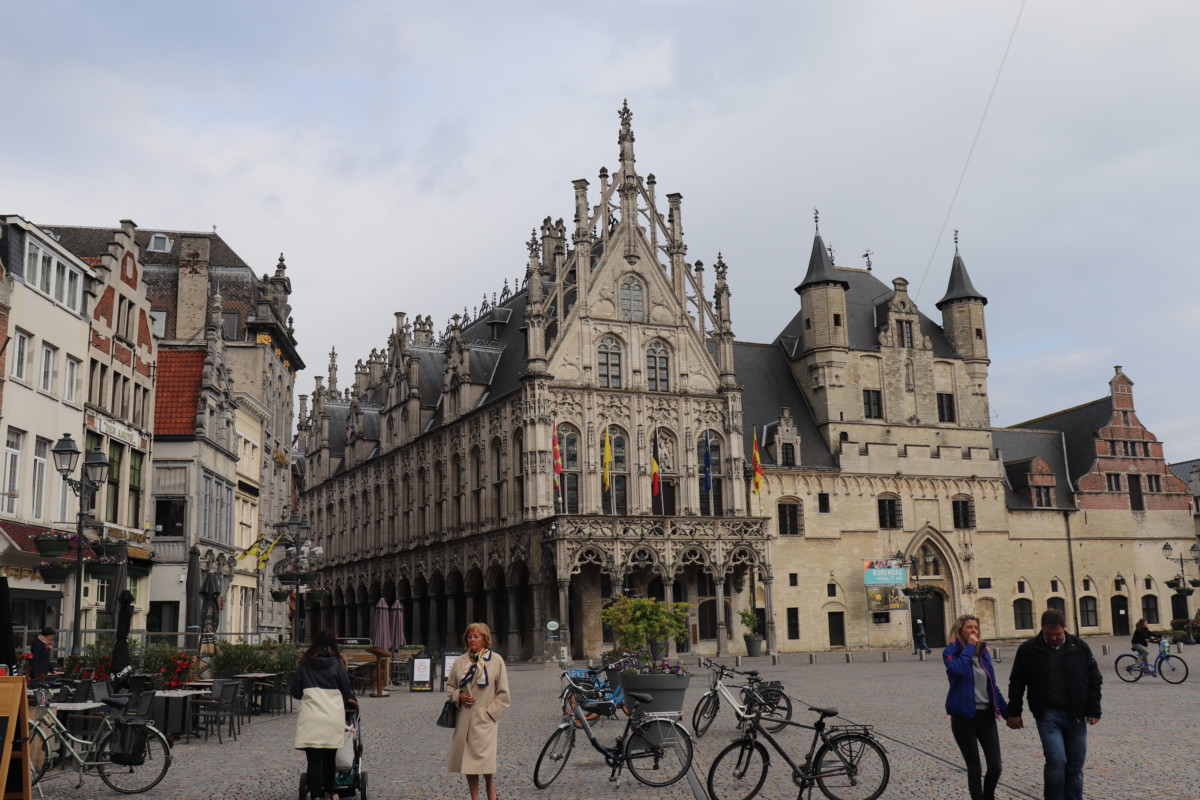 Later in the industrial age, Mechelen was dubbed the 'arsenal of Belgium' so there were some big explosions in the past, but nowadays this is most noticeable through old industrial sites which make for nice spots to enjoy a drink (or 2).
Highlights of Mechelen – what's there to see in Mechelen?
History is all fun of course, but what's there to do in Mechelen? First and foremost, enjoy the beautiful scenery of the historic town! It's the perfect town for a short trip as it is really compact and all the must-sees are really close to each other.
Grote Markt of Mechelen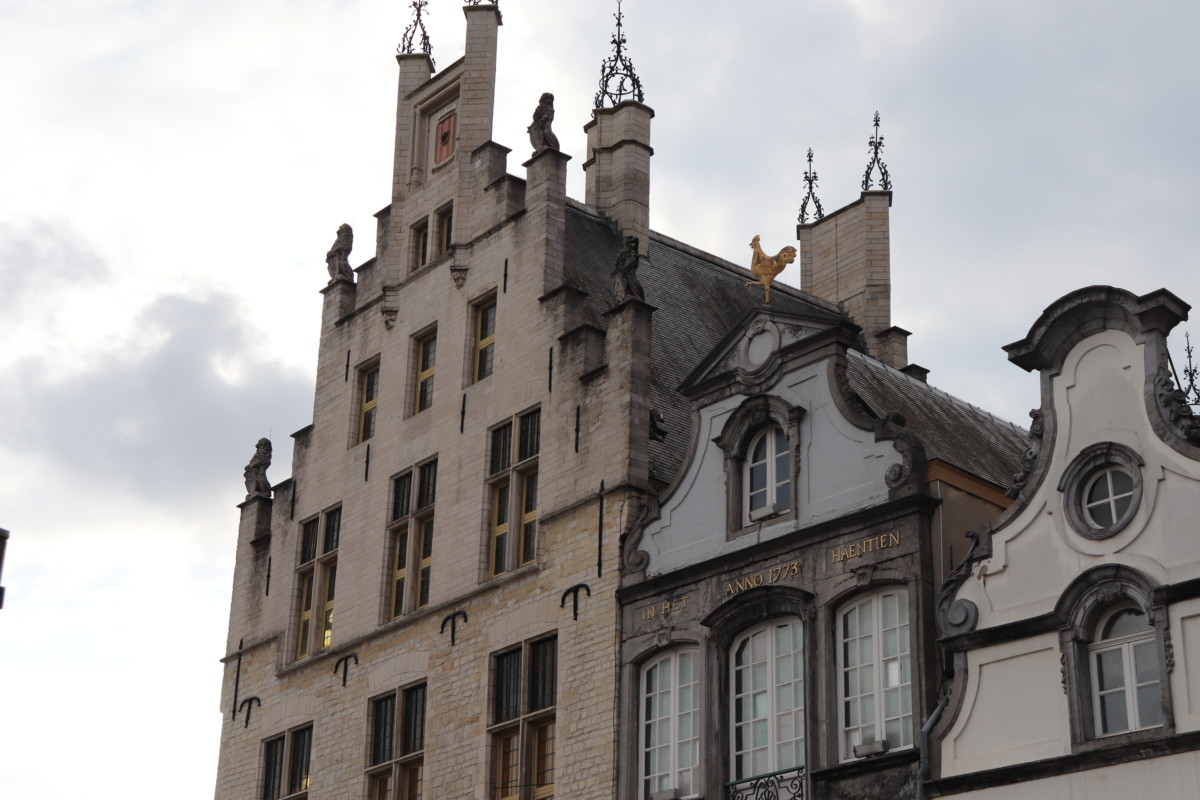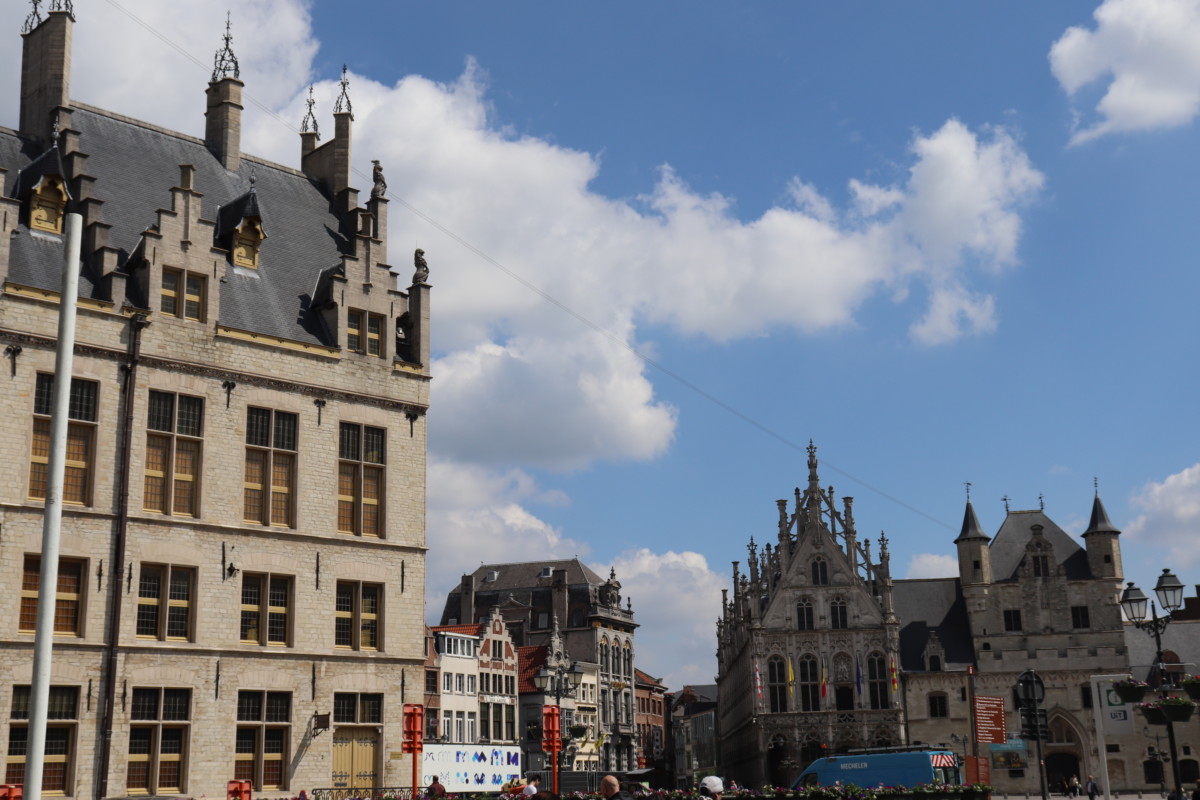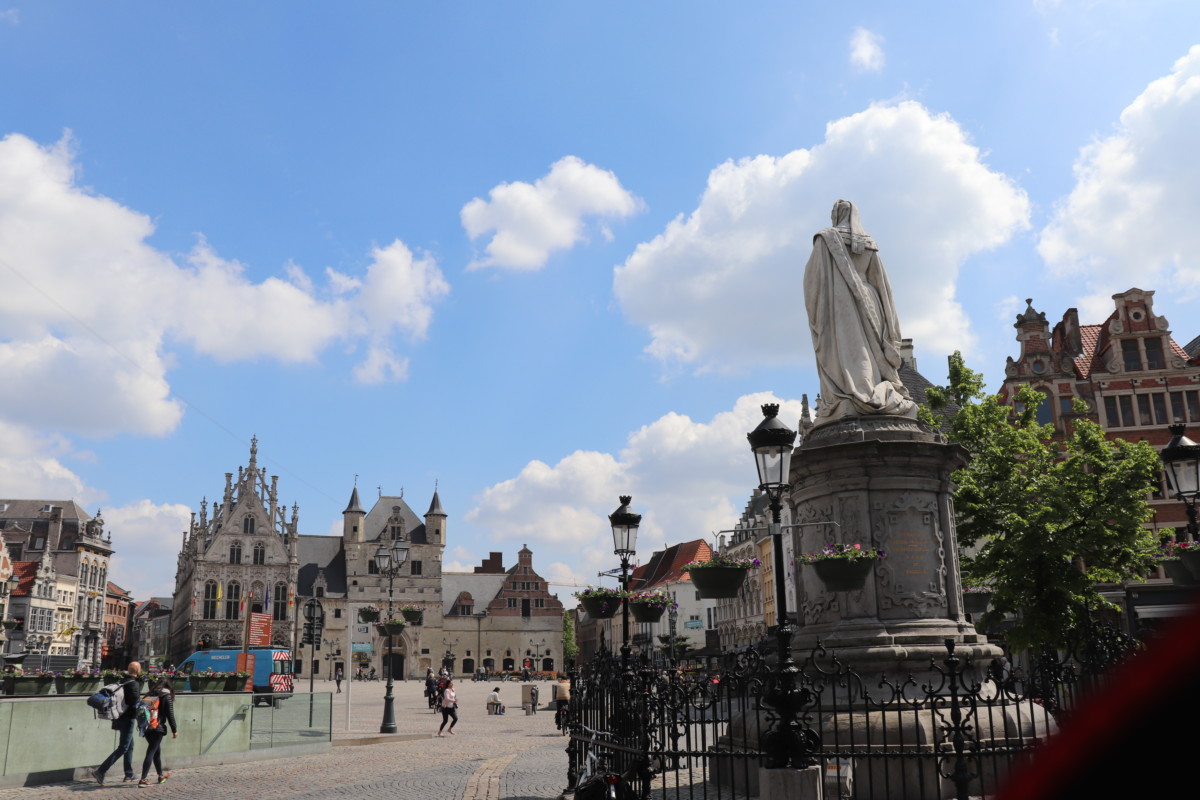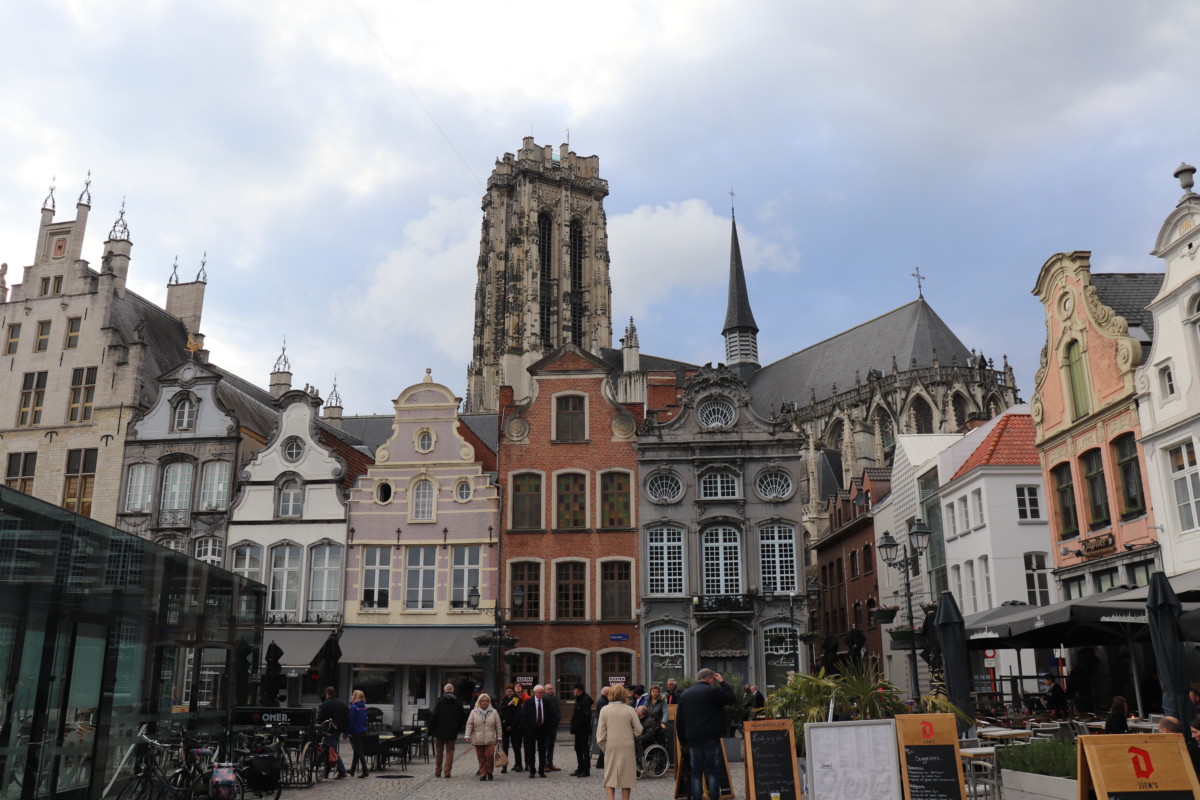 It's the big square of Mechelen and essentially the centre of the city. What's special about it? Well, these historic towns in Flanders always got the best looking squares ever, just look at these charming sights.
And like I said before: all of these charming sights come without the bustle of tourists you're encountering every day in Bruges or Amsterdam. Making it all an even better delight.
The Grote Markt isn't the only spot worth seeing though, there are tons of scenic streets and squares. Here's the lovely Vismarkt in Mechelen for example: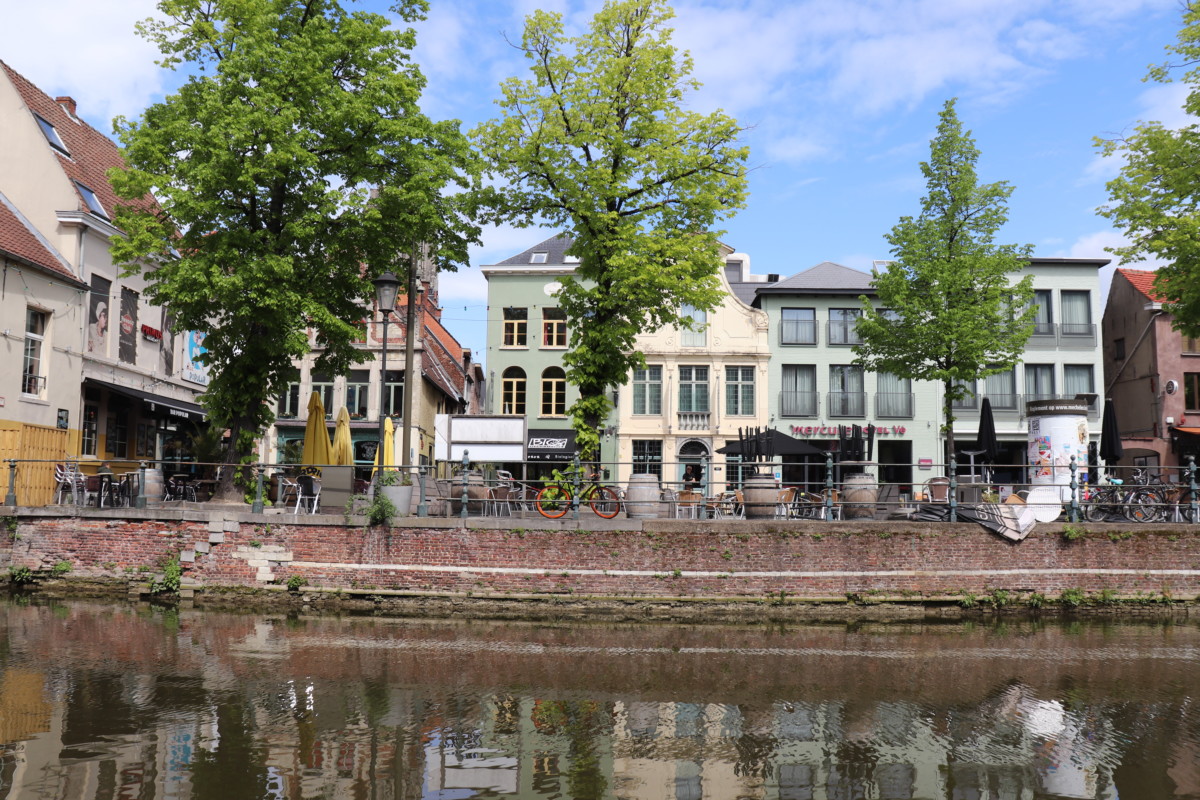 Yup, that's a pic shot from a boat, which takes us to the next thing-to-do in Mechelen.
Taking a boat tour on the Dijle through Mechelen
This one is a no-brainer if it's not raining and you're not incredibly thrifty. During the high season, there's a boat departing from the Haverwerf (opposite the Vismarkt) every hour or so. Pay the captain €7, hop on board and enjoy the ride. For 45 minutes you're getting treated to some beautiful waterside-scenery while there's some pleasant explanation as well to what you're seeing. It's low-key, it's cheap, the captain is super-friendly, we felt we were on holiday, pretty views too: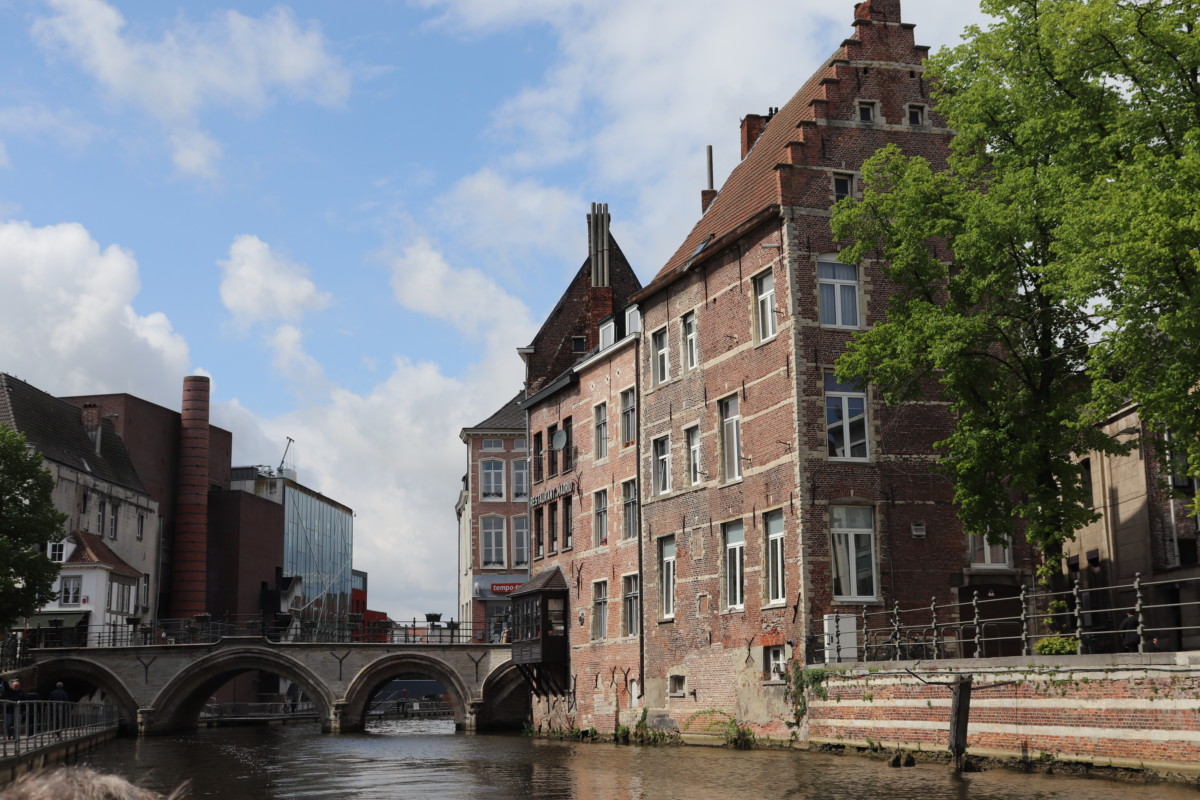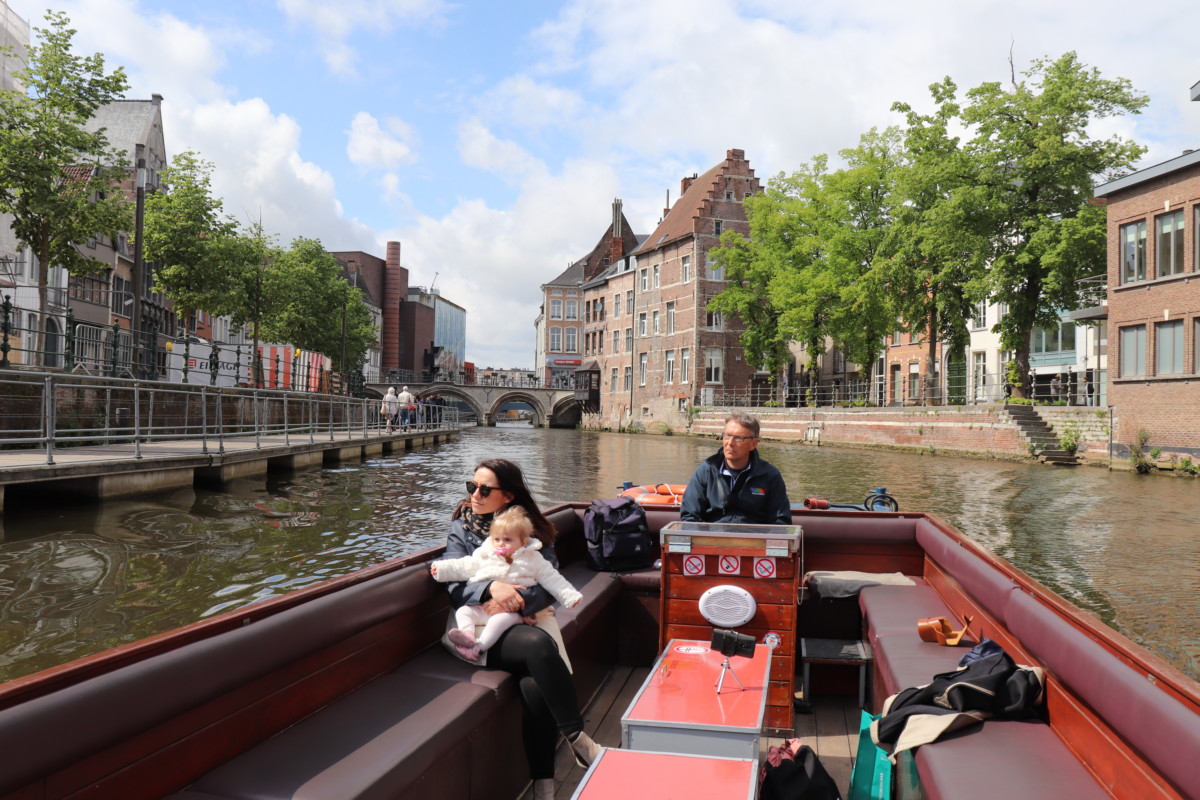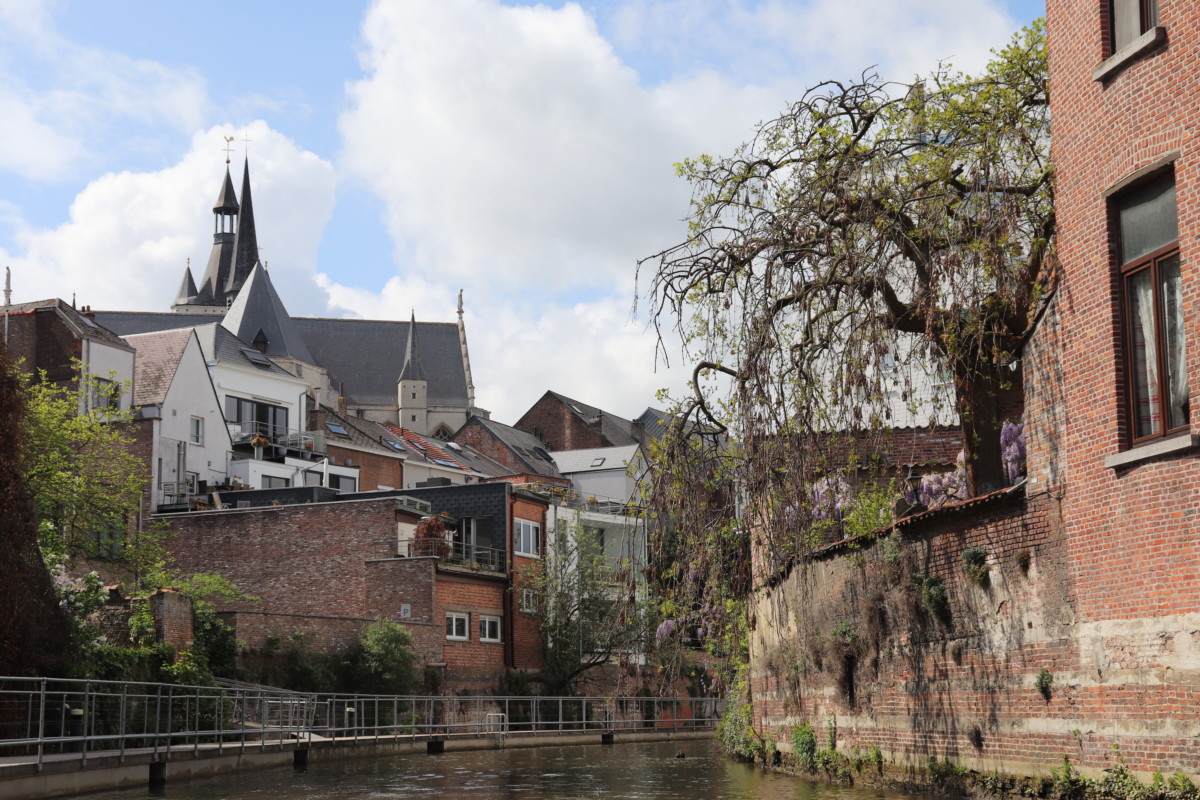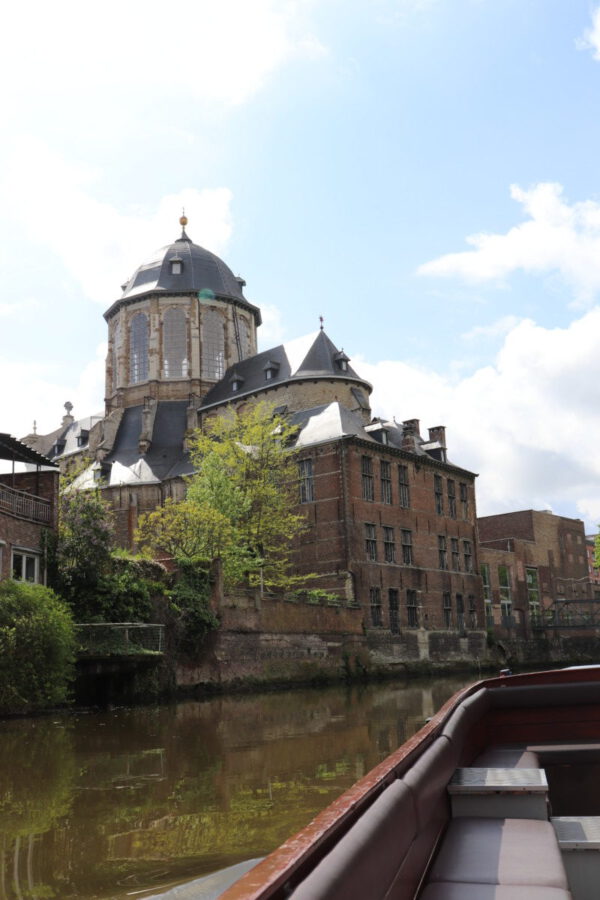 Climb Saint Rumbold's Tower
With 538 steps to the top, this is Mechelen's largest church and one for the lovers of heights and views.  This impressive Catholic church was "completed" in 1520 and is the unofficial compass of the city, you can see it from almost anywhere. It's free to visit and that's something that needs to be on your things-to-do-in-Mechelen list.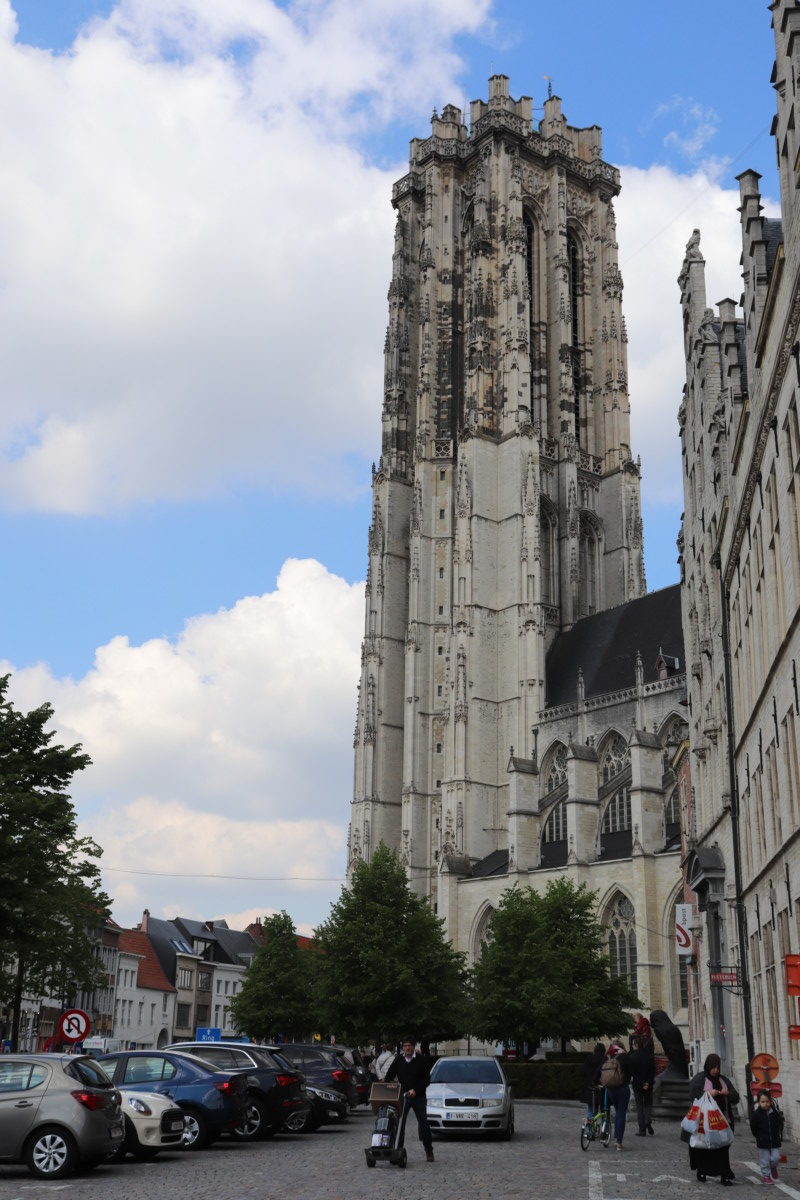 Fun fact:
The tower was actually never finished, but in 1520 they stopped building for a bunch of reasons. The tower was only 97.5 meters high, while the intention was that it would be 167 meters high (wow!).
Once you've made the climb (take your time, pro-tip: don't drag your baby along) there are some beautiful views to be enjoyed from up there.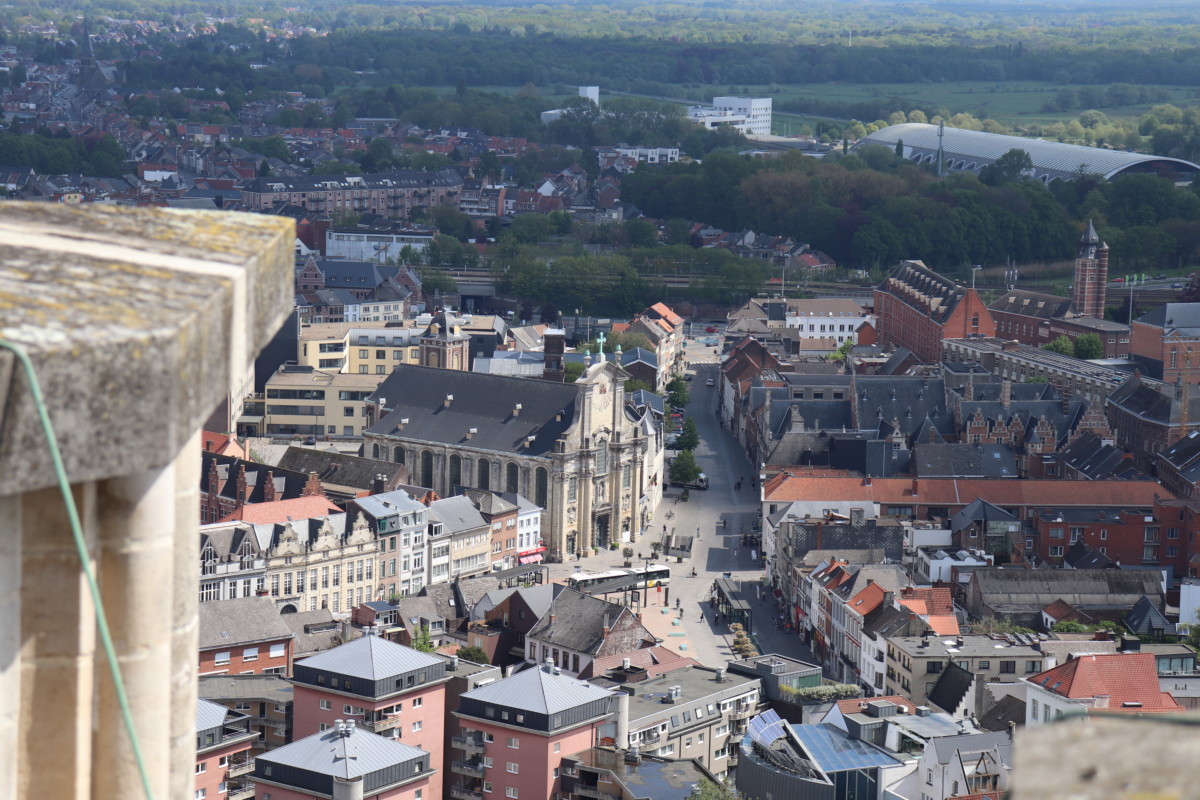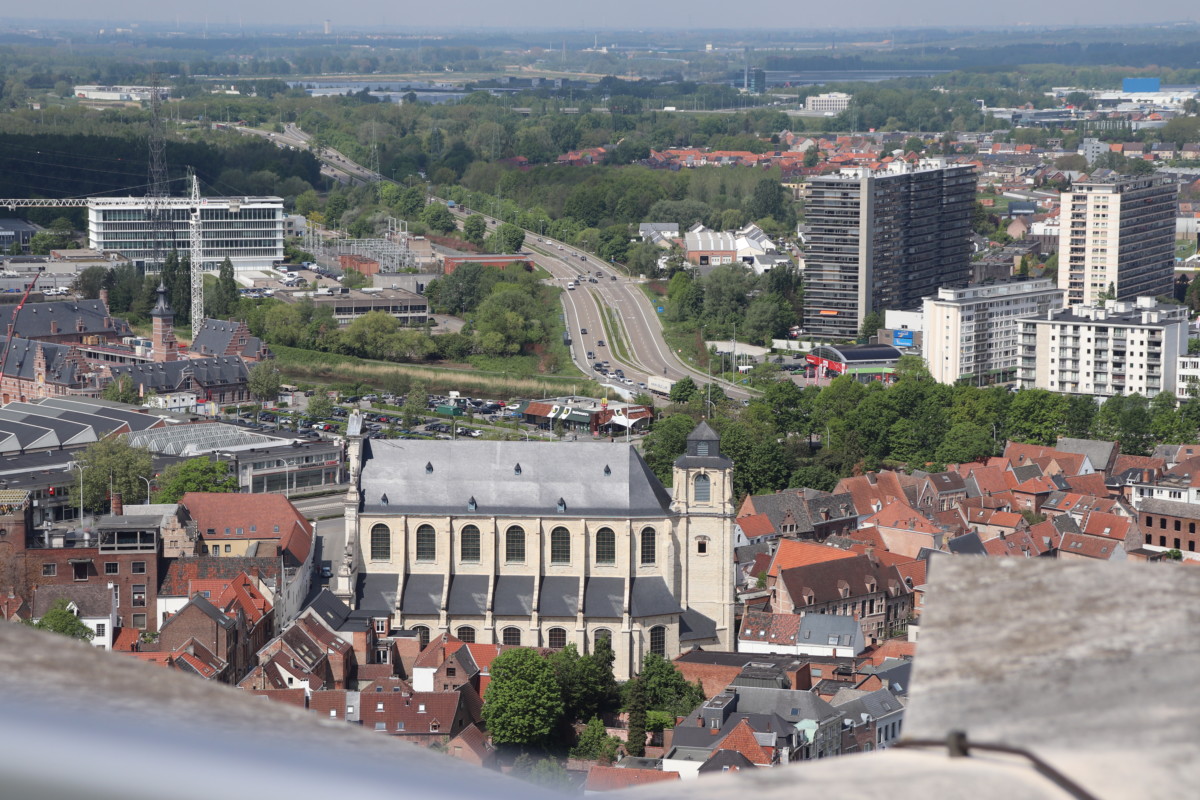 Next up, one of the most beautiful museums I've ever seen.
Museum Hof van Busleyden
So back to the ages of Margereta of Austria and the times before her, Mechelen and Flanders did pretty well back then (1300-1500's) and it showed. These were the days of the Burgundians and life was good (for medieval standards anyways).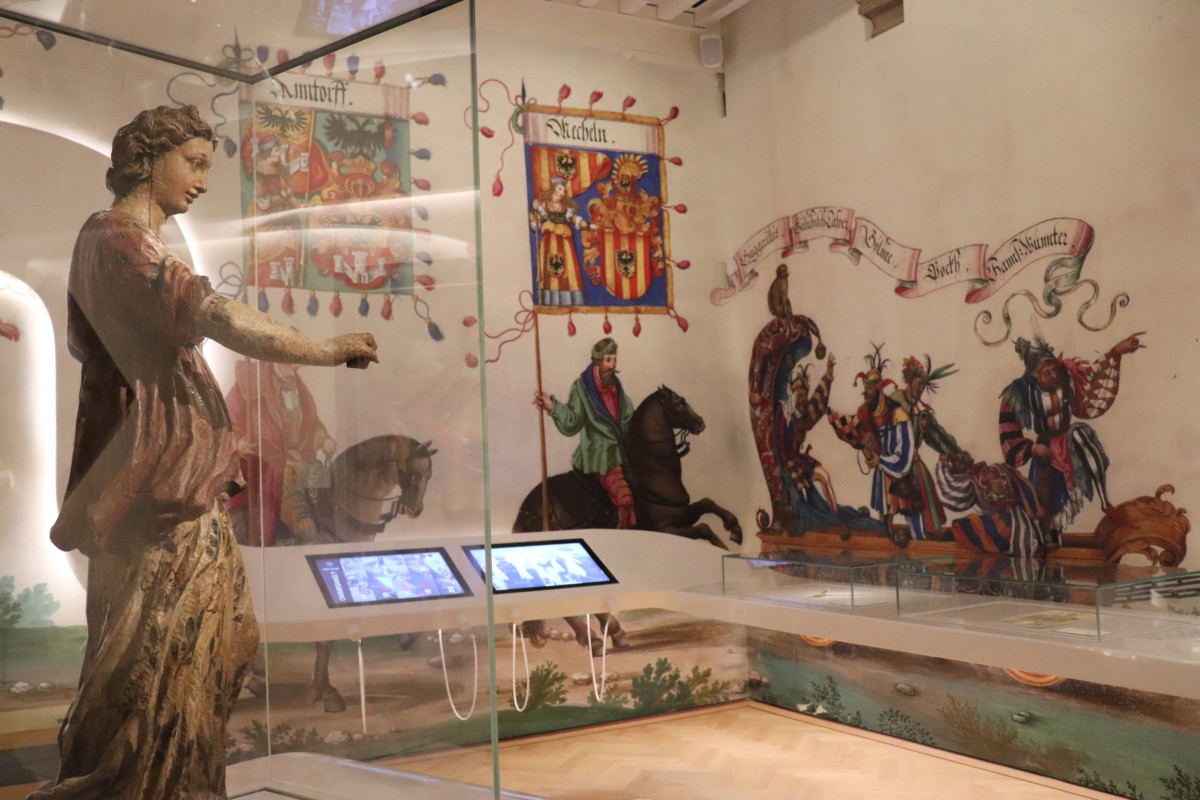 When you're visiting the Museum Hof van Busleyden you're transported back to that golden era of Mechelen. The building itself is gorgeous, the art beautiful and the narration is captivating. All of it is accessible in English as well.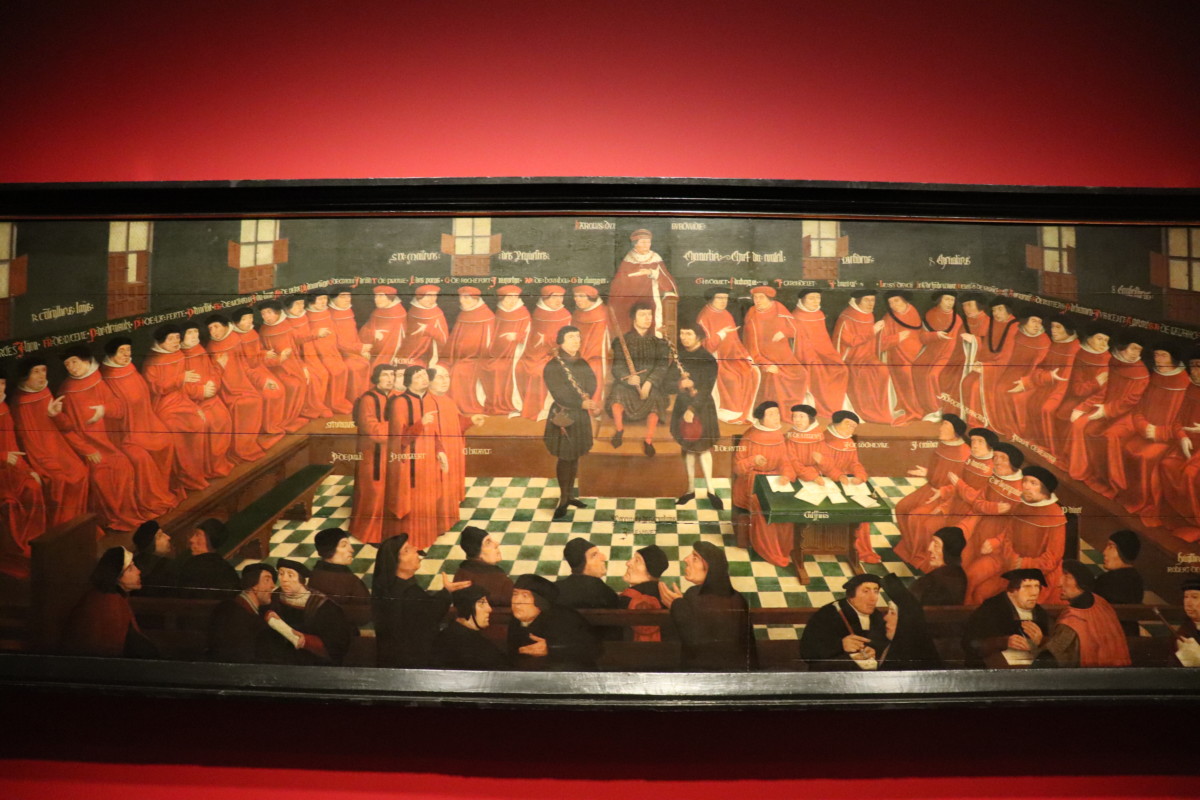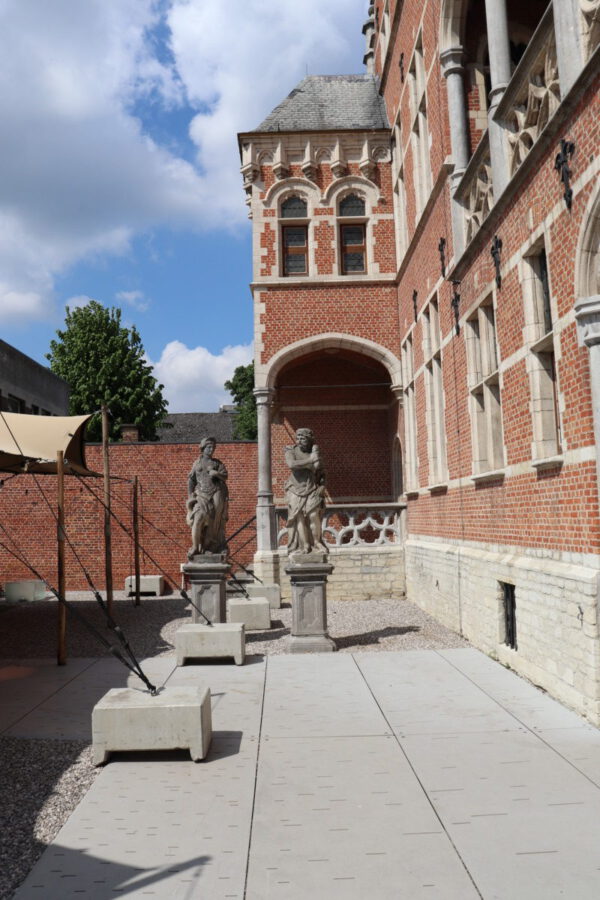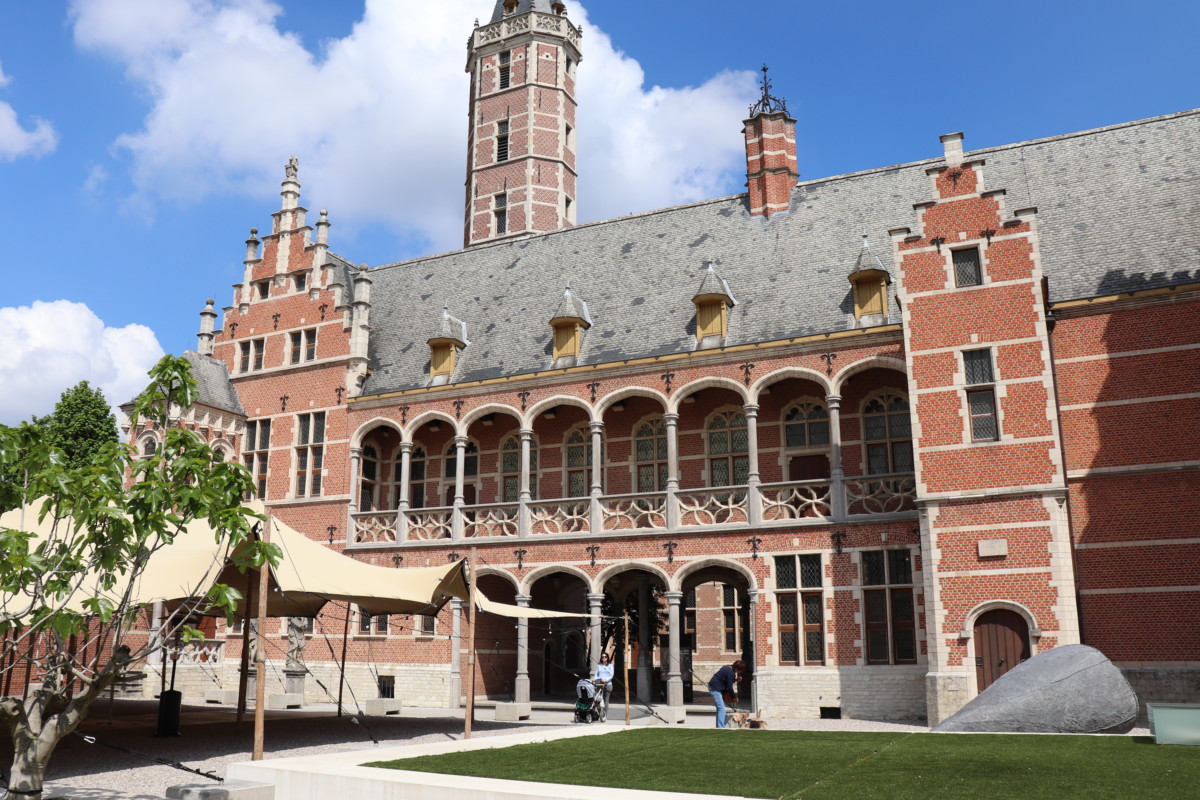 Things to do in Mechelen: drink beer
Trust me, have a 'Maneblusser' you'll like it.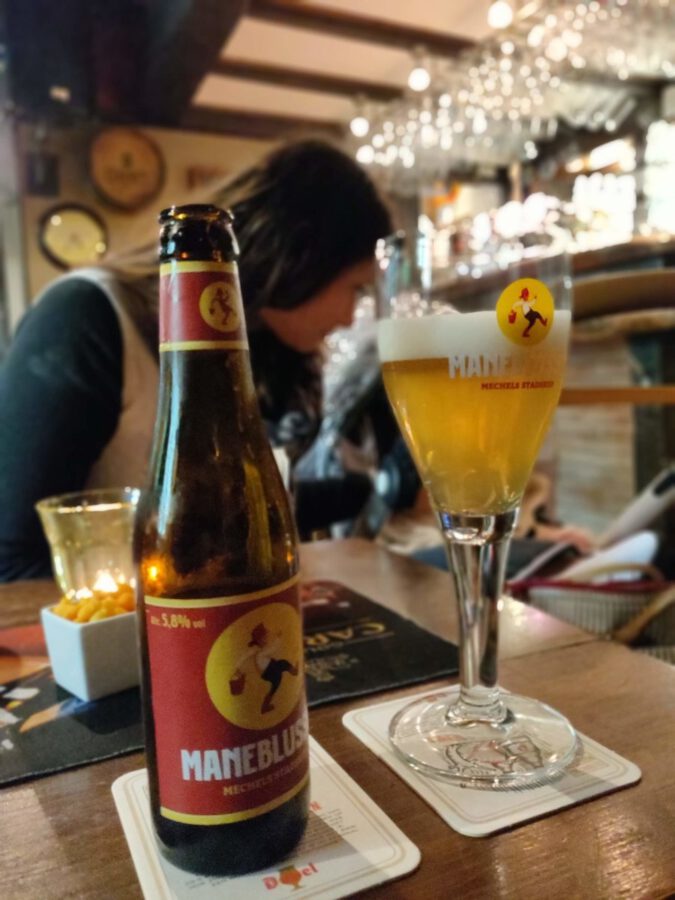 But besides drinking, there's eating, and eating in Mechelen is good.
Where to eat in Mechelen?
Just like many Dutch cities nowadays, Mechelen has seen a recent influx of trendy and hip eating establishments adding to the traditional Belgian restaurants which already served some quite exquisite food. (The Belgian cuisine is superior to the Dutch culinary tradition anyways, THERE I SAID IT). I'm sure there are many great spots to eat in Mechelen, but here are the two I visited.
Sister Bean -breakfast, lunch and brunch
This cute place was almost packed when we arrived for their signature brunch. Head upstairs for their €20 brunch and eat so much that you can't move all day long (do this one after climbing that church tower).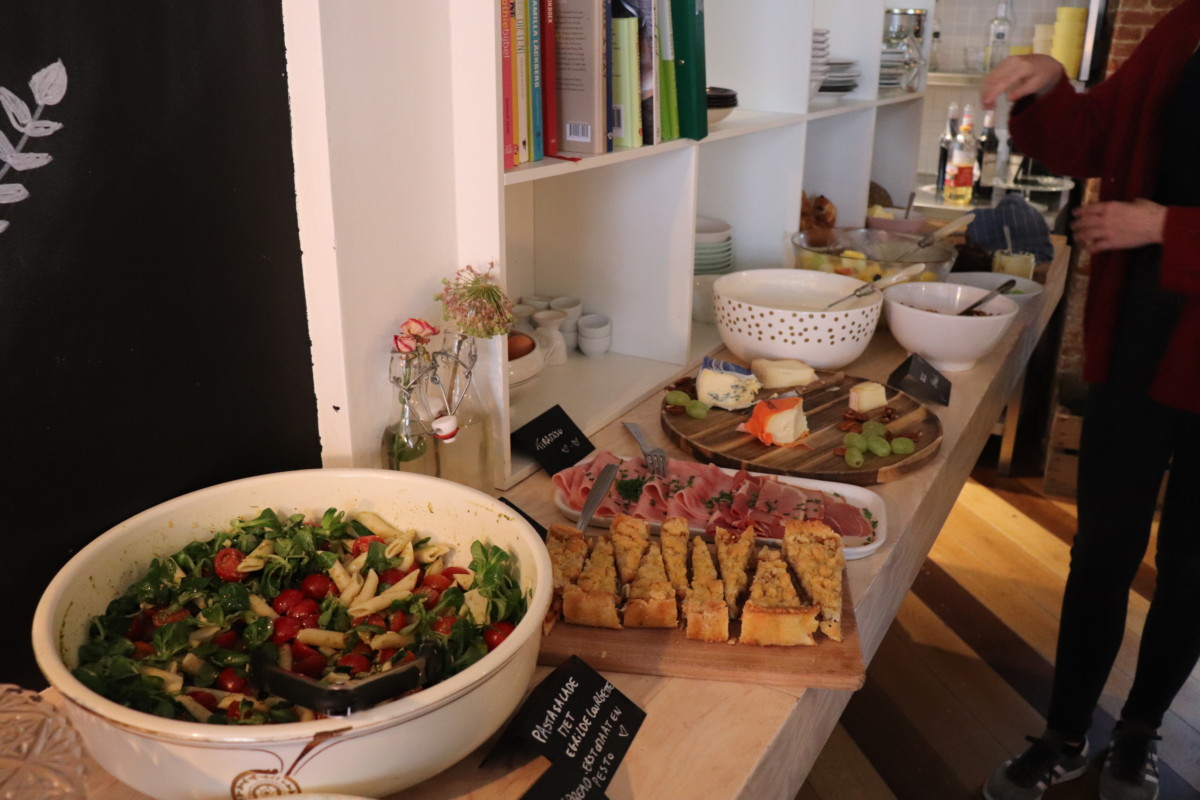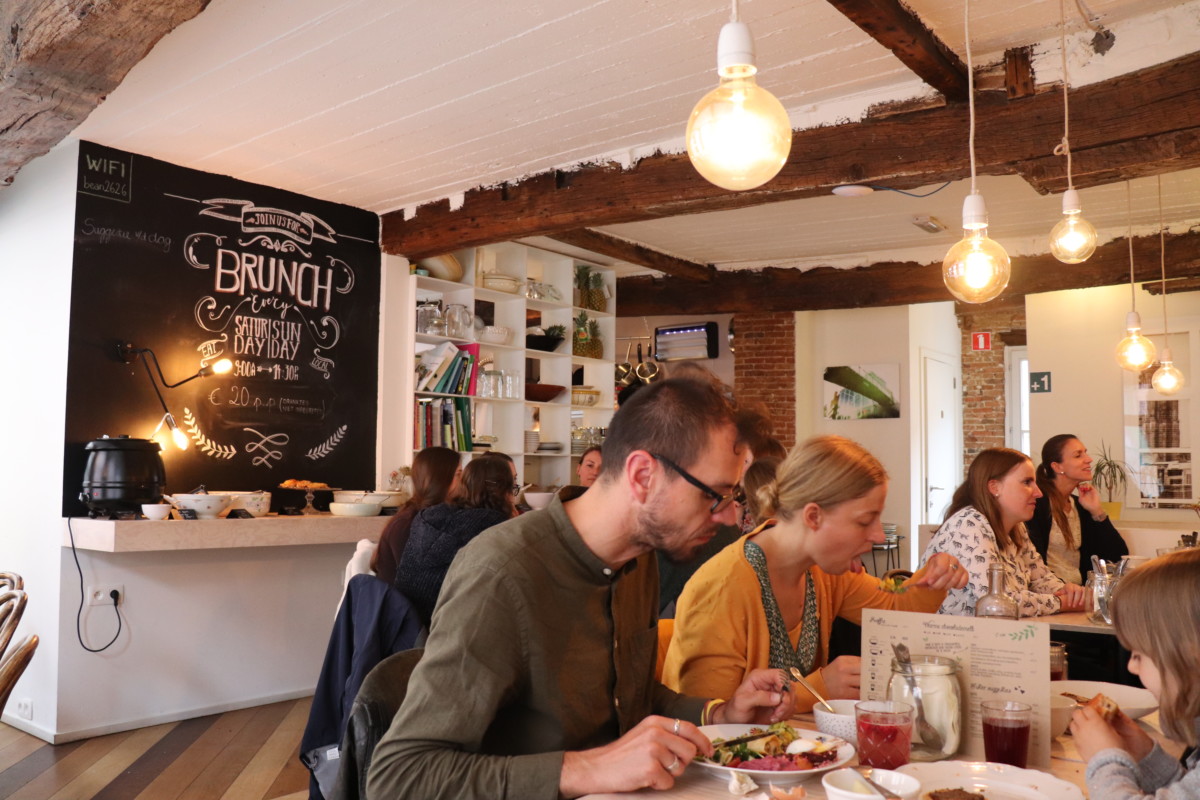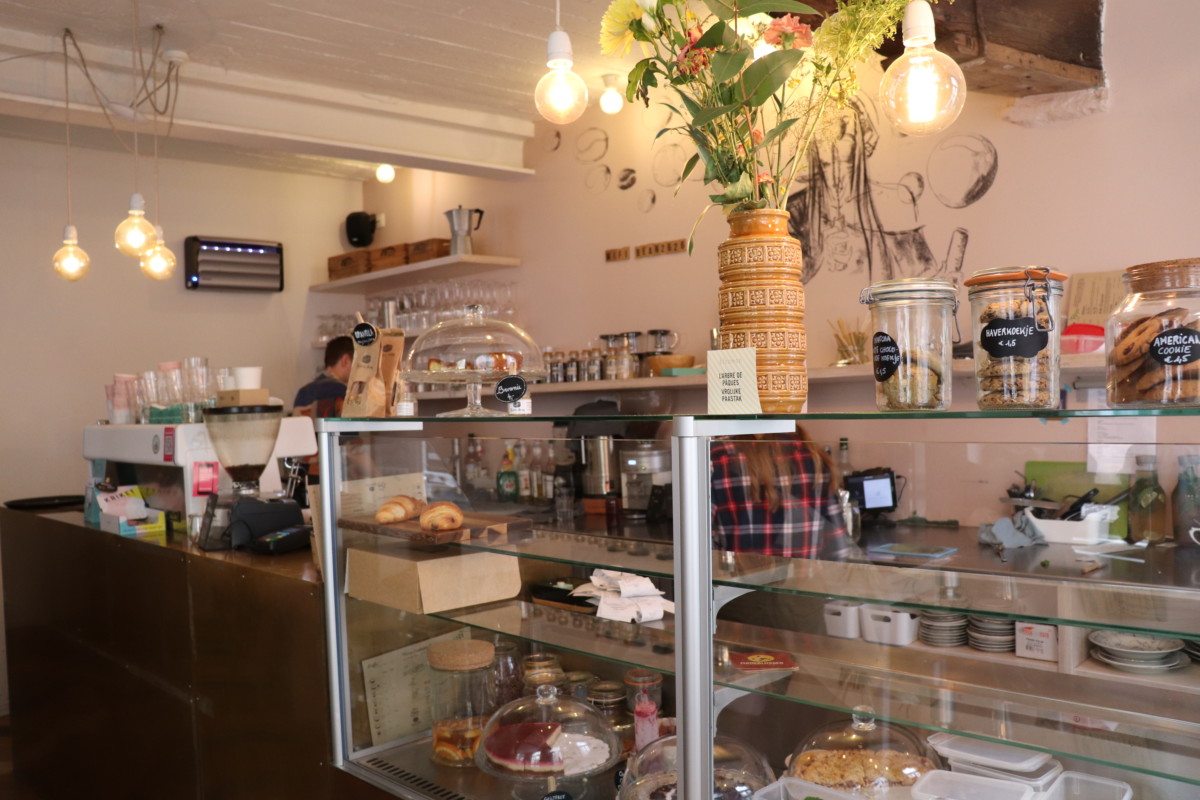 Basically everything you could wish for was there on the menu, from croissants to empanadas. It was a family place as well, so bringing the little one was no problem – that goes for the whole of Mechelen actually.
For dinner we got tapas!
Sava at the Grote Markt
Sava serves some kick-ass tapas and everybody knows it, come dinnertime the whole place was packed. Since it's 2 floors there was enough room for everybody luckily. Their tapas range from the traditional Albongidas to lovely stuff such as asparagus in a coat of fried ham and cheese. Big plus; the portions were big and the prices were low.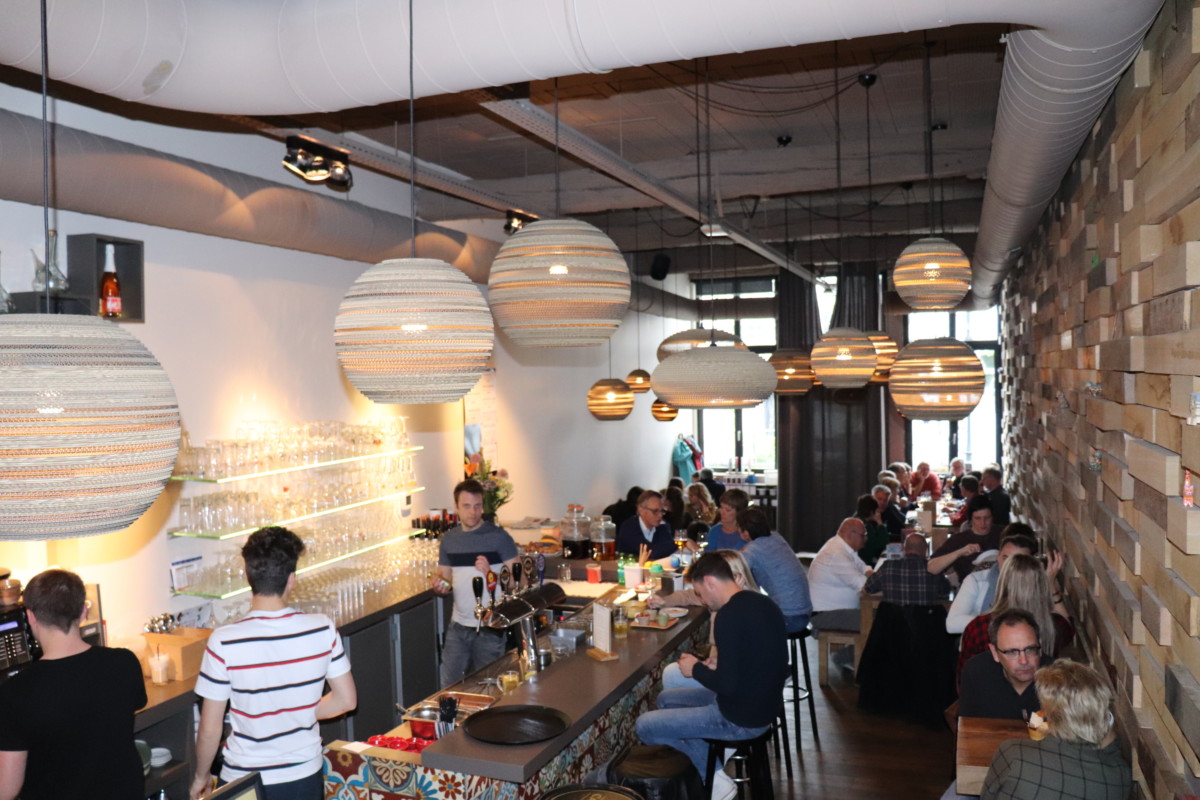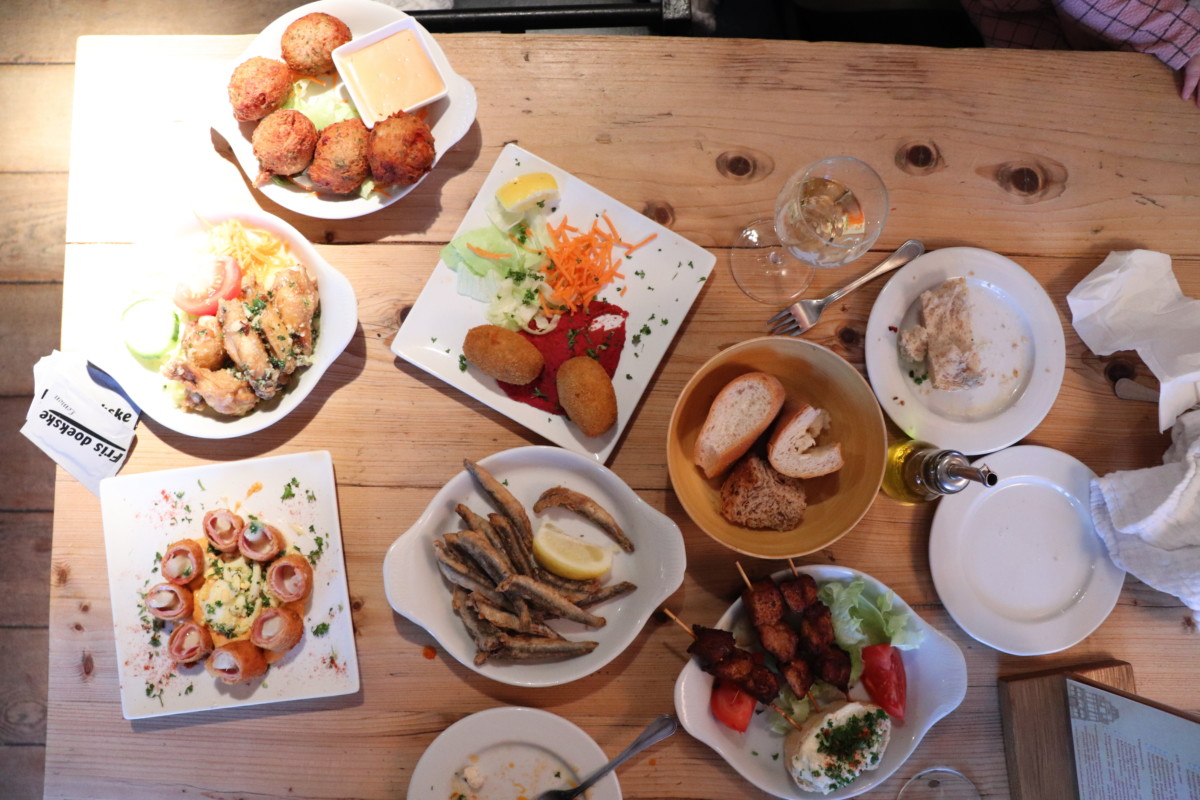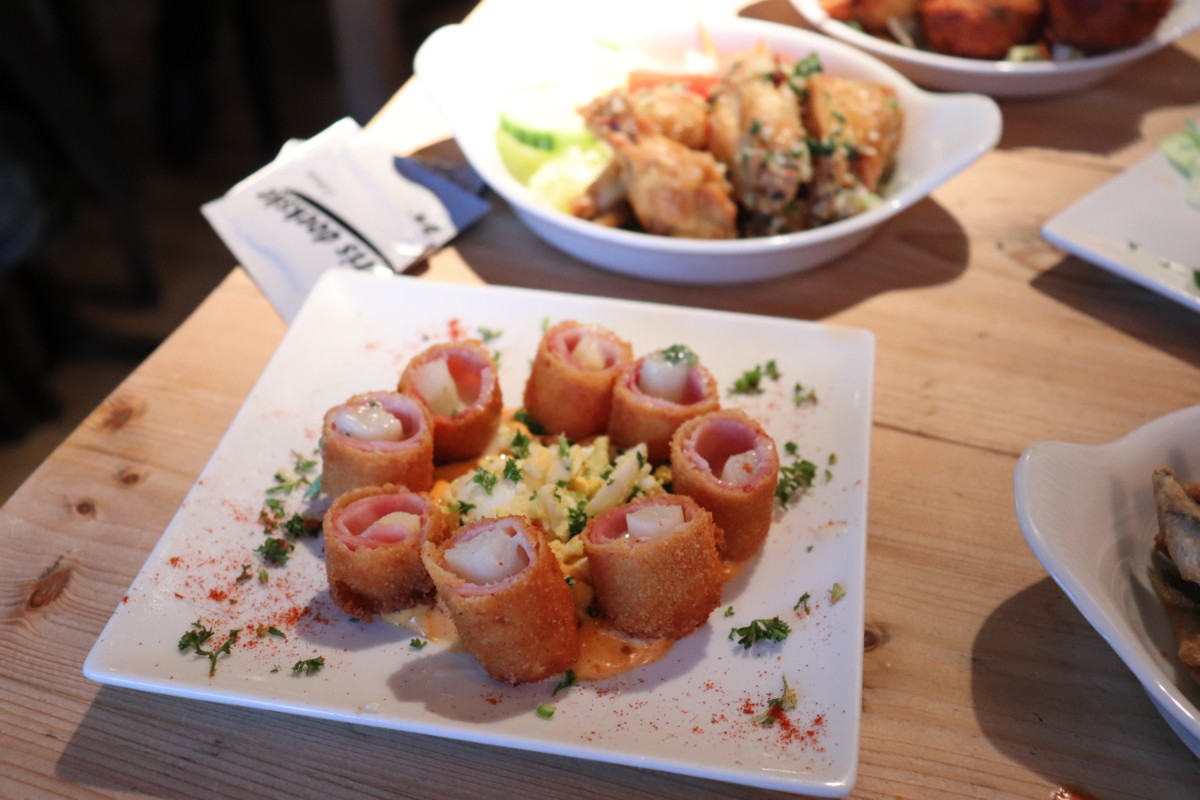 A solid place for everybody, you can drag dinner out for a few hours or go there for just a quick bite and a glass of wine.
There were tons of other places that attracted us; we had the appetite – but were short on time. Check this site though for more suggestion on what and where to eat in Mechelen.
Where to sleep in Mechelen
We slept in Mechelen for one night so we tried to get it right. Located in the centre of the city (with its own parking!) is Martin's Hotel Patershof. We've stayed at a Martin's Hotel before, it's a small-scale chain and you just know everything is going to be more than alright and standards were going to be in order. But this hotel was something special!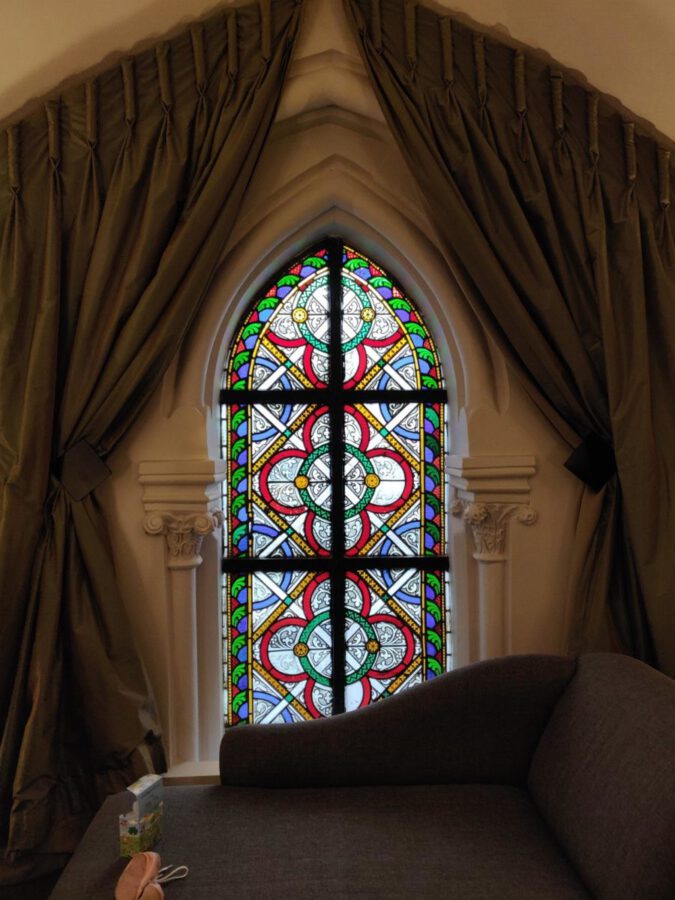 Yes! 'Patershof' is located in what used to be a church and the way the hotel fitted itself into this old building and mixed up the hotel and church elements was really tasteful and an excellent example of repurposing a building done right.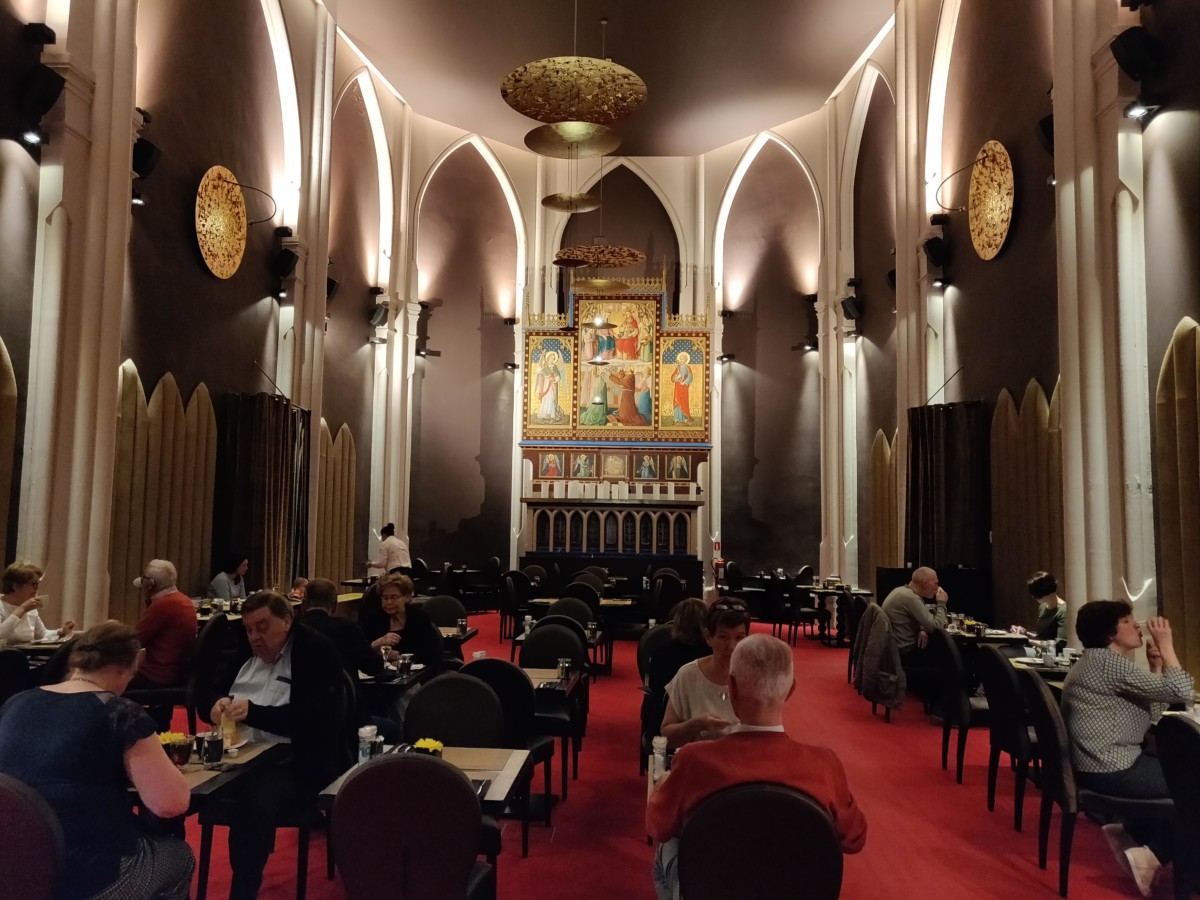 The breakfast buffet was something special, lots of good stuff on the menu but having it in that hall was an unforgettable experience. Service was great and the added bonus of staying in such a building was that the rooms weren't the standard hotel size (aka small) but were pretty huge. All in all, a pretty special experience, if you're looking for something different than by all means check out this hotel in Mechelen.
Bonus! The Mechelen zoo: Planckendeal
This could have gone under the header 'things to do in Mechelen' but it was so nice and technically a few minutes drive from Mechelen that the Planckendael zoo gets its own section. As said, just a few minutes away from Mechelen is a zoo divided up into 5 parts – all of them modelled after a different continent in the world.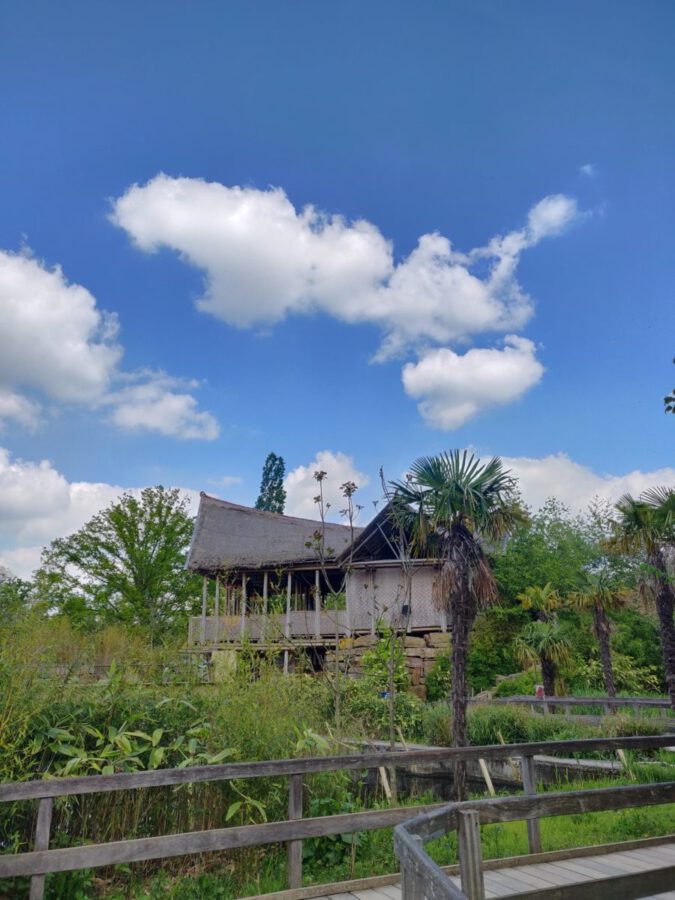 They really went for it because every continent is littered with the characteristics and music of Asia and Africa. I'm sure it might not have been all politically correct, but we really got a zen-feeling walking through Asia.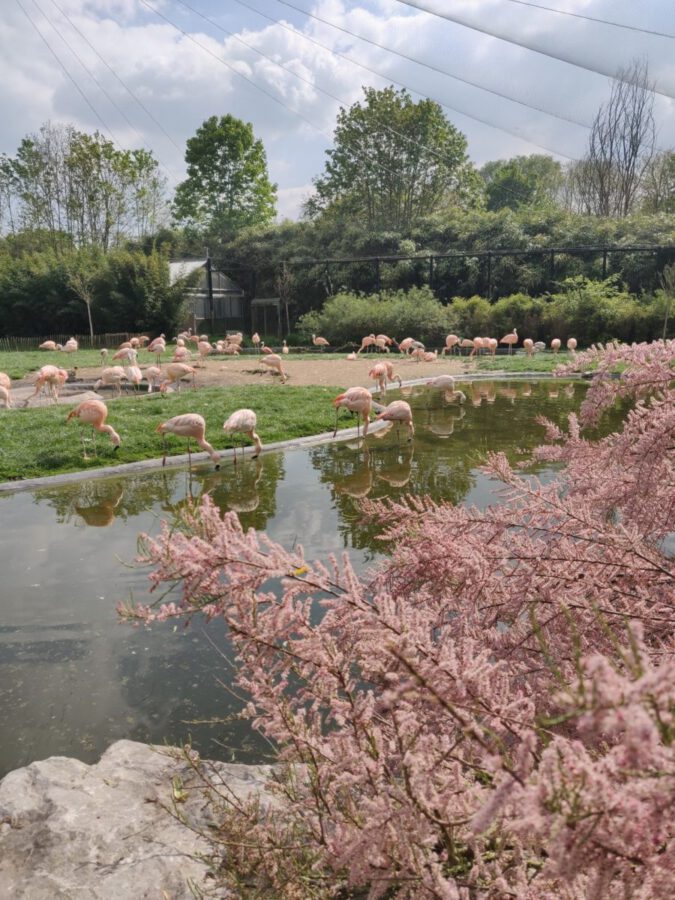 The handy part of this layout is that both the start and finish of each 'continental' route gets you back to the same square in the middle, so getting lost won't happen soon. There are tons of animals to see, most of their confinements were set up pretty spaciously as well and went hand in hand with loads of information on the animals and their natural habitats (in English!). You easily spend a whole day there if you want to see everything in the Planckendael zoo.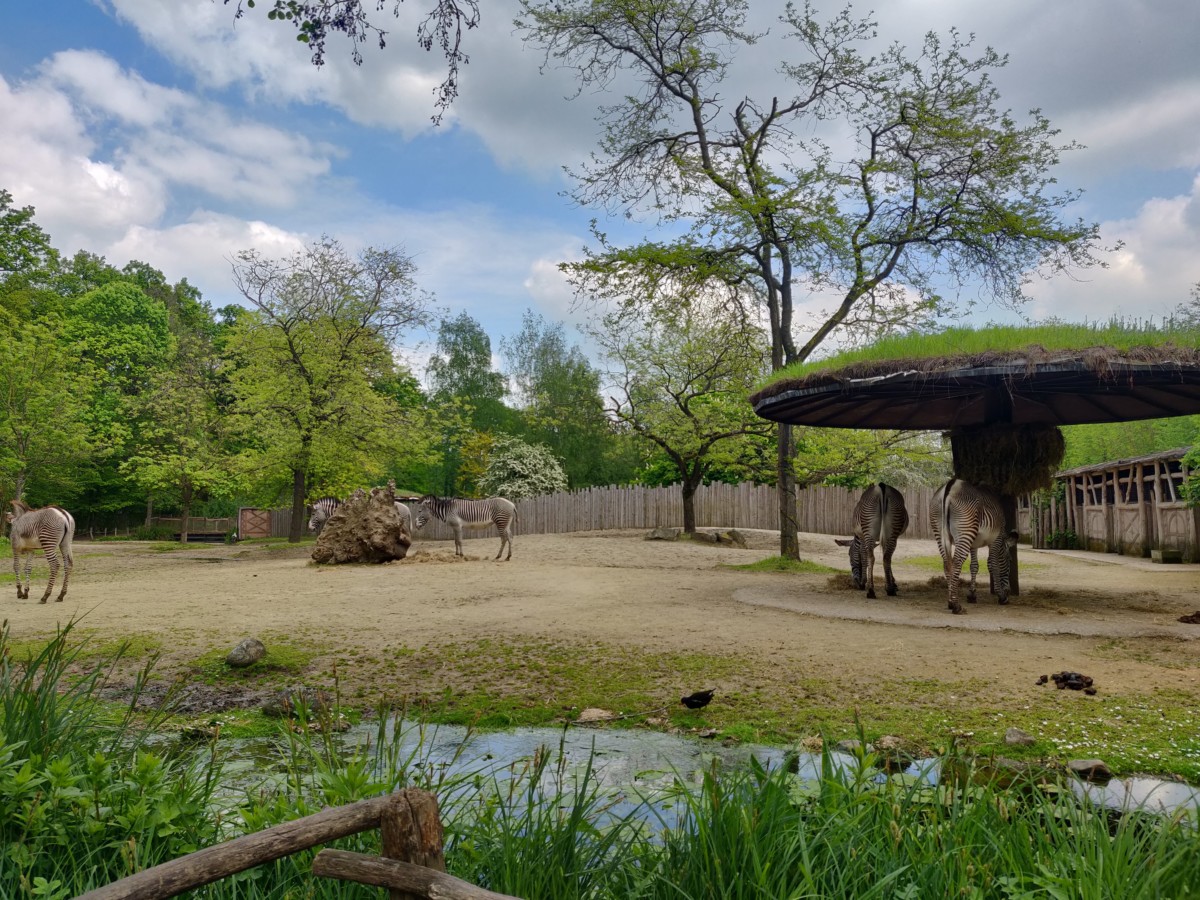 That's it for now, as you could read Mechelen is well worthy of your visit, even if you're just spending time in Antwerpen or Brussel or on the way over to France. Might not be the place for a vacation for a week but was really the perfect cute Flanders town we wanted to see, perfect for one or two days!
Thinking about visiting Mechelen? Have you been to Mechelen? Let us know in the comments!