If you're looking for an out-of-this-world sort of experience, we have just the place for you to go to: Doloris!
Doloris in Tilburg has just opened it's doors to it's nearly indescribable experience. We're going to try though in this article, as it is truly special and you don't have anything like Doloris in the Netherlands (or the world for that matter)
Tilburg, the sixth largest city in the Netherlands, and one of the best cities to visit if you're looking for nature, art, or culture. We've already written about culturally illuminating museums, restaurants which are unique in their own way, and stores you can shop at until your feet give way.
But what to do with one of those generic office-buildings from a few decades ago? Surely that can't be turned into anything worth writing about? Well, turns out you can, since Doloris has just opened up in an old post-office building and everything about it is truly special.
Levi Hildebrand and I went to Tilburg and checked out how the city gives a new life to old buildings, check out the Doloris part at 5.00!
What is Doloris?
The best way to describe Doloris would be to say it is an experience. What they offer you is something really special. They have 2200 square meters of art and 40 'experience' rooms which are designed to be a maze for you to find your way through. It was originally inspired by Peristal Singum Berlin, which is now permanently closed.
"So what's Doloris like DutchReview?"
If you're worried about what to expect, don't worry we went in there to check it out just a few days before it opened up. So here's what you need to know about Doloris experience in Tilburg, or as they call it themselves: the 'meta-maze'.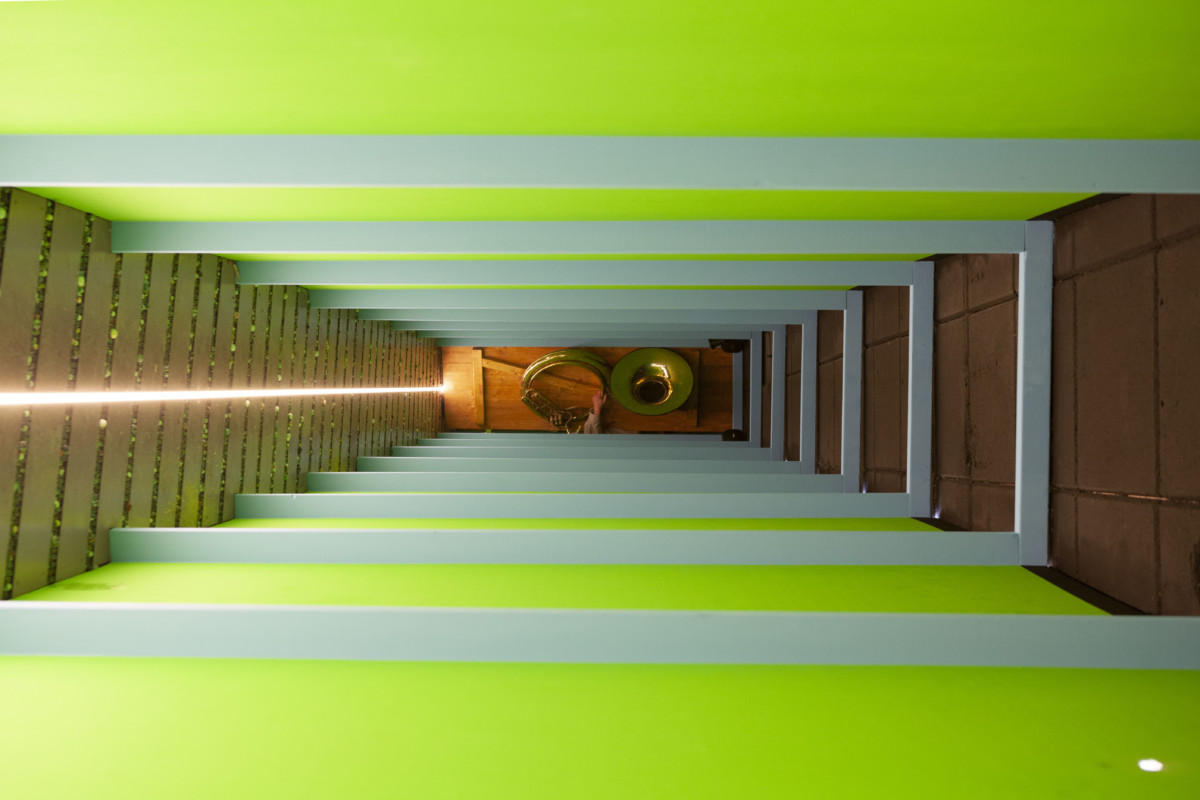 #1 No camera!
In this day and age it isn't an experience until everybody and his dog has put their day on instagram (tag #dutchreview). It was kind of weird, and weirdly refreshing, that you couldn't even take your smartphone or anything in there. For one, the artists involved in this wanted to keep their creation secret – for optimal effect. And two, added benefit, it was nice and a personal relieve not being around a camera and all these modern day communications, made it all really immersive. Or as they say on their FAQ:
The Meta Maze is a place to tease all your senses. Anything you'll need, you will bring along with your natural presence – feeling, seeing, listening through the best apparatus of the world: Human perception and fantasy. Therefore, your visit here will be completely device-free. Please leave all devices outside to experience the Meta Maze in the very moment. This is your only now.
Little negative though: no actual pics from me of the maze in this article.
#2 The experience of Doloris
We only did like 10-rooms and they were mindblowing
mind blowing.
It's a play on all your six senses as there are dark rooms, fuzzy rooms, artistic references to spirituality and pop-culture and weird sounds and music. All of it is interesting, all of it gets you to another dimension.
There will be crawling, gazing, touching, venturing, friendly scares and some mind boggling stuff when you're making your way through Doloris experience. Also, it's good to point out that nowhere it was really scary, it doesn't go for cheap thrills like that, but it's the best spot to take your little 3 year old cousin (minimum age is 12 years old) or easily-startled-and-psychotic-grandma.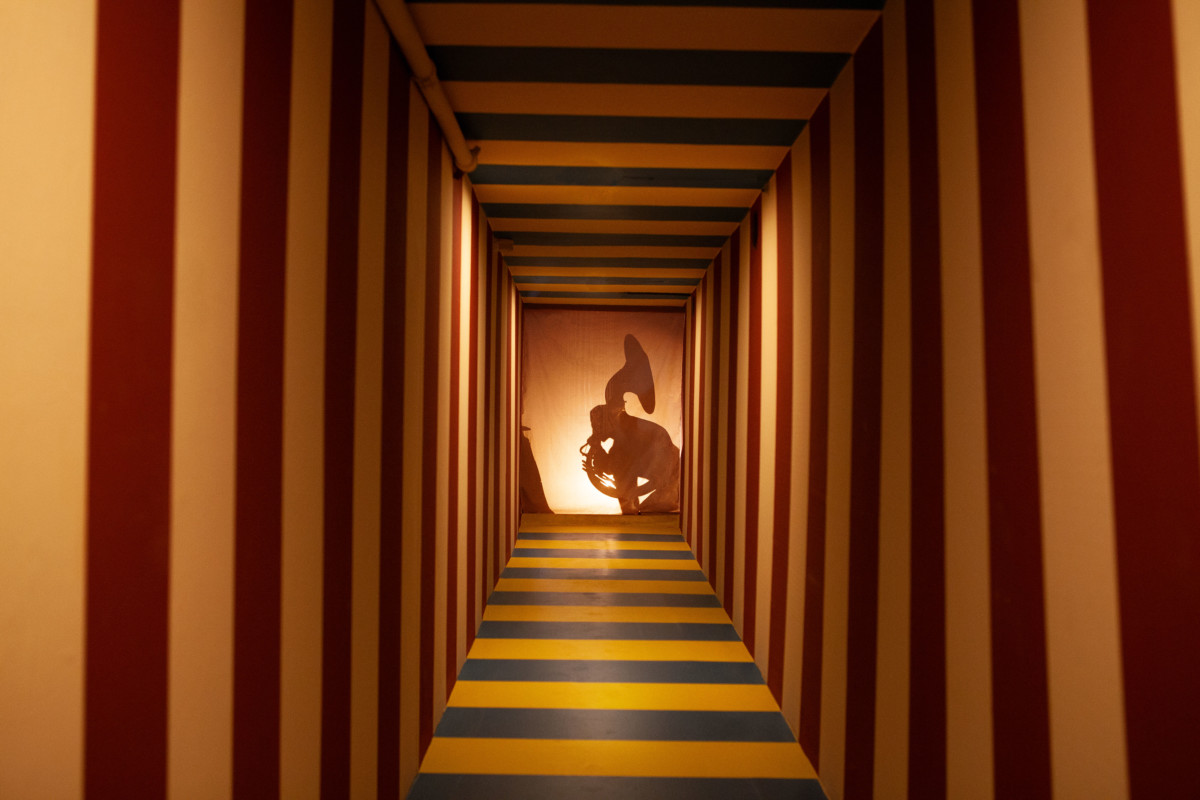 #3 The theme of Doloris
Well, again, it's hard to describe. But I find that it was significantly different than the Peristal Singum experience. Maybe the 'Efteling' would be a good word to drop now. This Dutch themepark, near Tilburg, has a trippy style as well at certain spots (enchanted forest springs to mind) and some creators of the Efteling were also involved at setting up Doloris. The fabulous worlds of M.C. Escher and Dali also spring to mind while I'm writing this.
Here's a video about the creative process at Doloris and its first visitors:

Creative director at Doloris is Tim Henrik Schneider who was also involved in Peristal Singum, you can read an interesting interview with him right here.
For those interested in who built Doloris' Meta Maze: KARMANOIA is a Berlin-based artist platform that created the surreal walkthrough maze in Tilburg during the past year in cooperation with a dozen of Dutch artists and a lots of helpers. 
#4 Visit with friends, but experience Doloris by yourself
As you might realize by now, Doloris does things differently. And since it's so focused on immersiveness and different realities, the crew that created Doloris also realized that immersion would be broken up pretty quickly when you're there with 4 chatty friends.
This man will blindfold you and take you to the start of the experience: solo, alone, in je eentje. And once again, just like being without a phone, it's a masterful move since you don't get to experience that many stuff alone nowadays. Although you will probably encounter other people in the maze (for lack of a better word) it's by no means an attraction for the
#5 Dress to be impressed
The maze is a unique experience where you even have to consider their dress code: solid shoes, comfortable and light clothing is recommended. There will be some crawling, ducking and hopping (made that up) so don't go on your highest heels.
All in all, it's something you've got to experience first-hand yourself.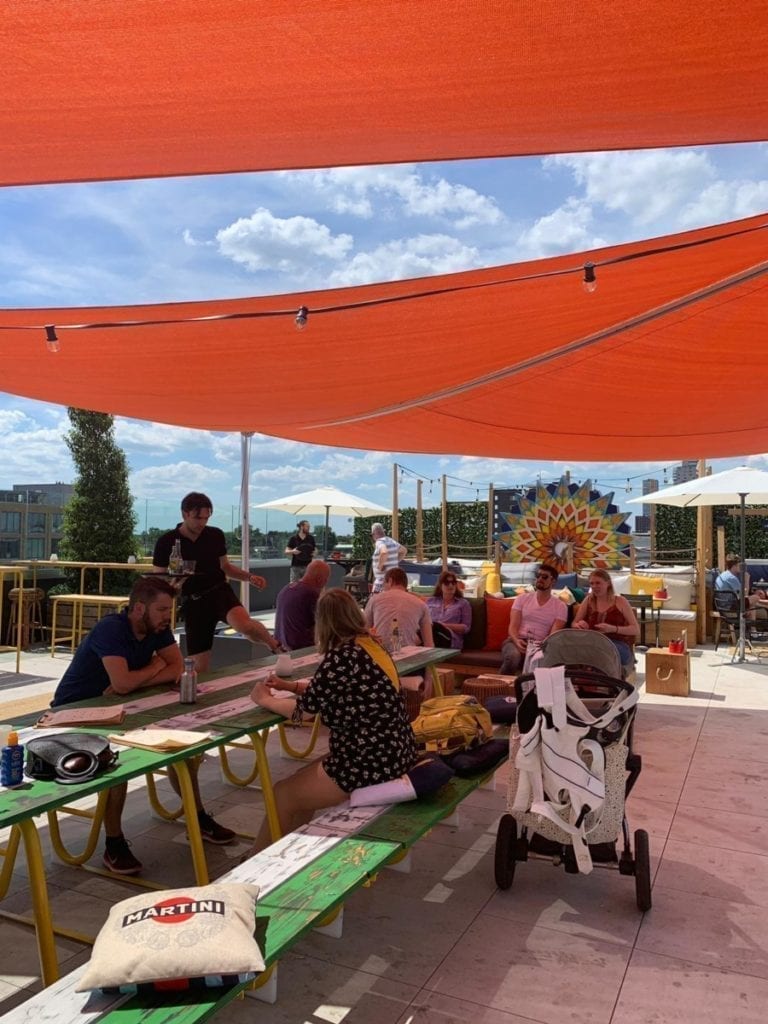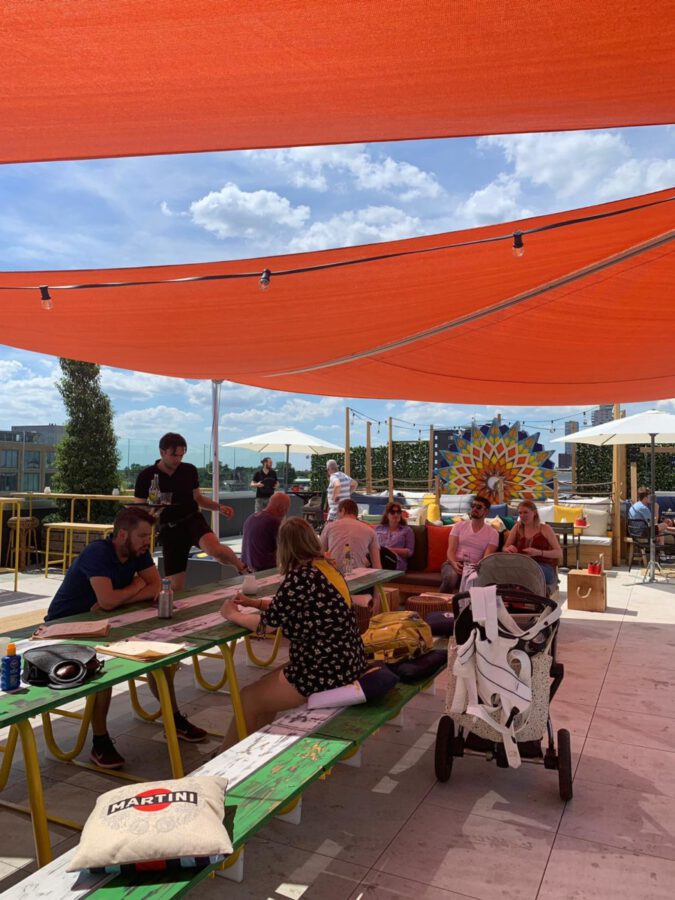 The Doloris rooftop bar!
A bit more conventional but still really cool is the rooftop bar they've opened up on the roof of the building. It has a perfect view of the skyline of Tilburg in nearly all directions. The bar/restaurant interior is supercool and really befitting the psychedelic nature of the experience as you can see.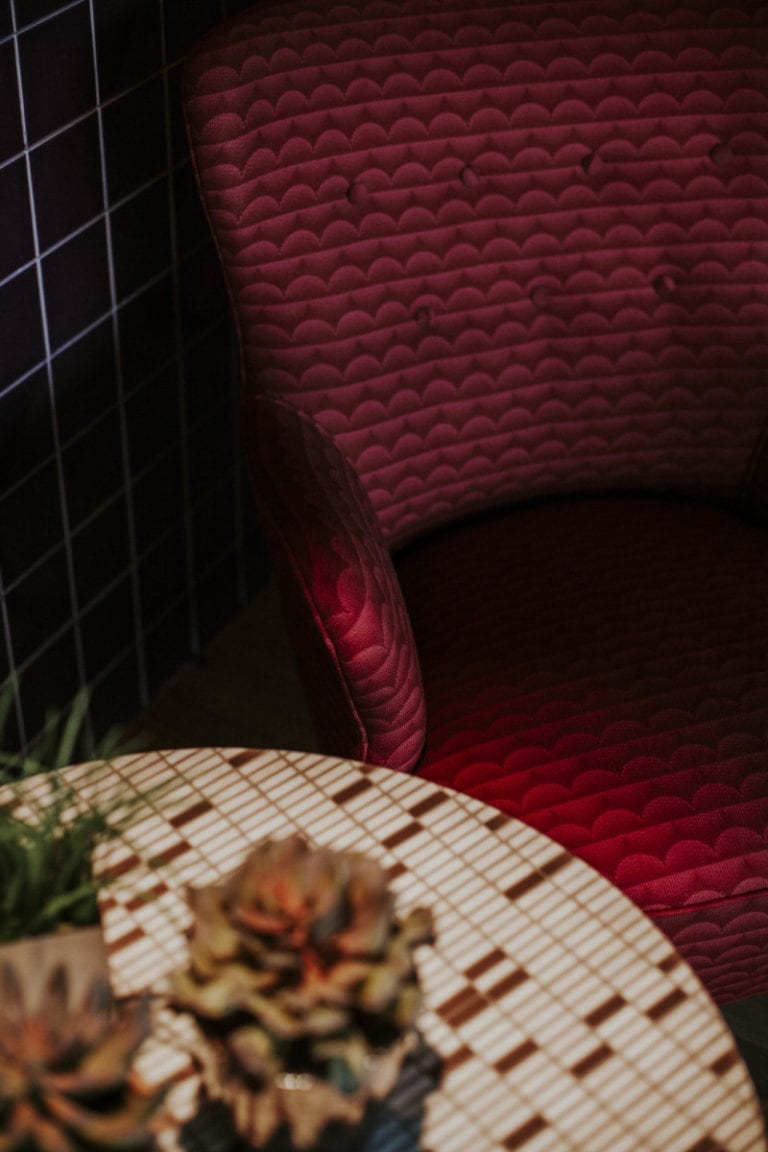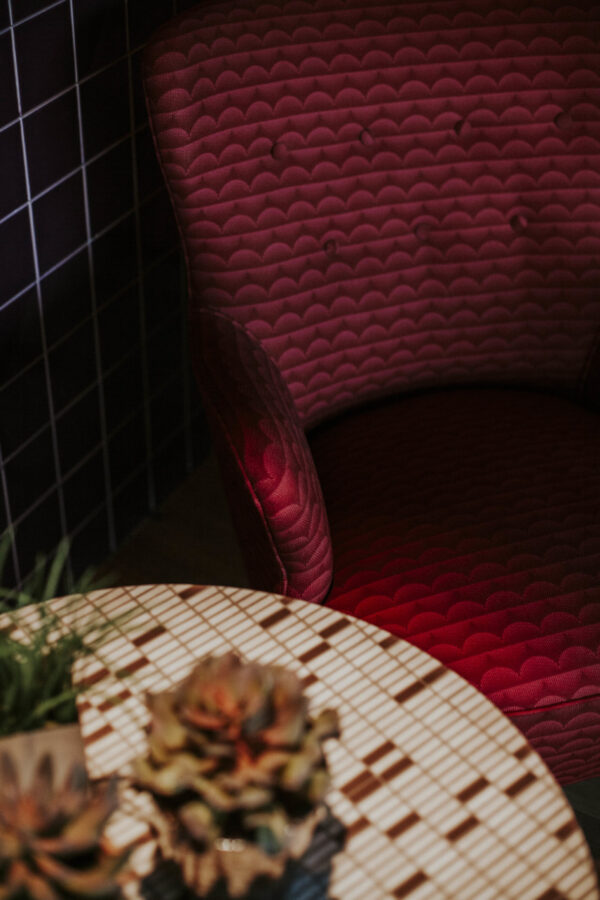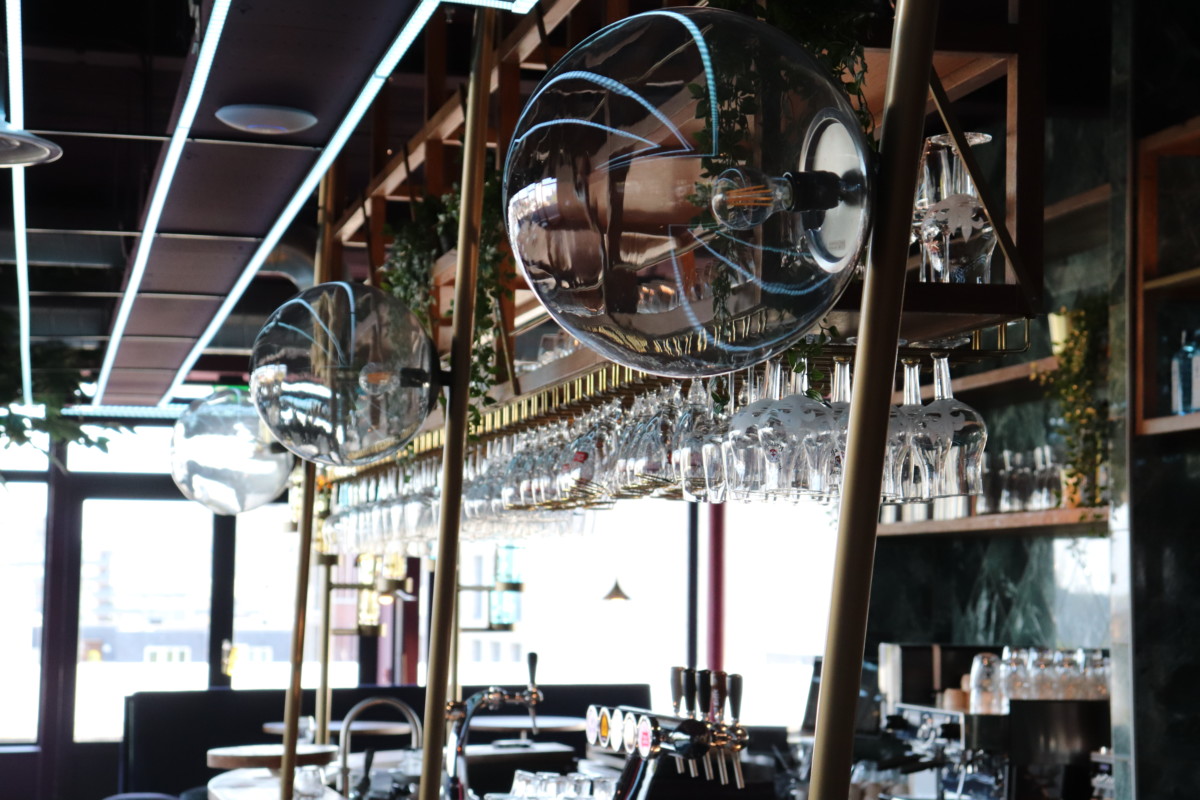 The outside area is perfect for when the sun comes out and it's already a hotspot of Tilburg. With some swooping views of Tilburgs Spoorzone and signature church.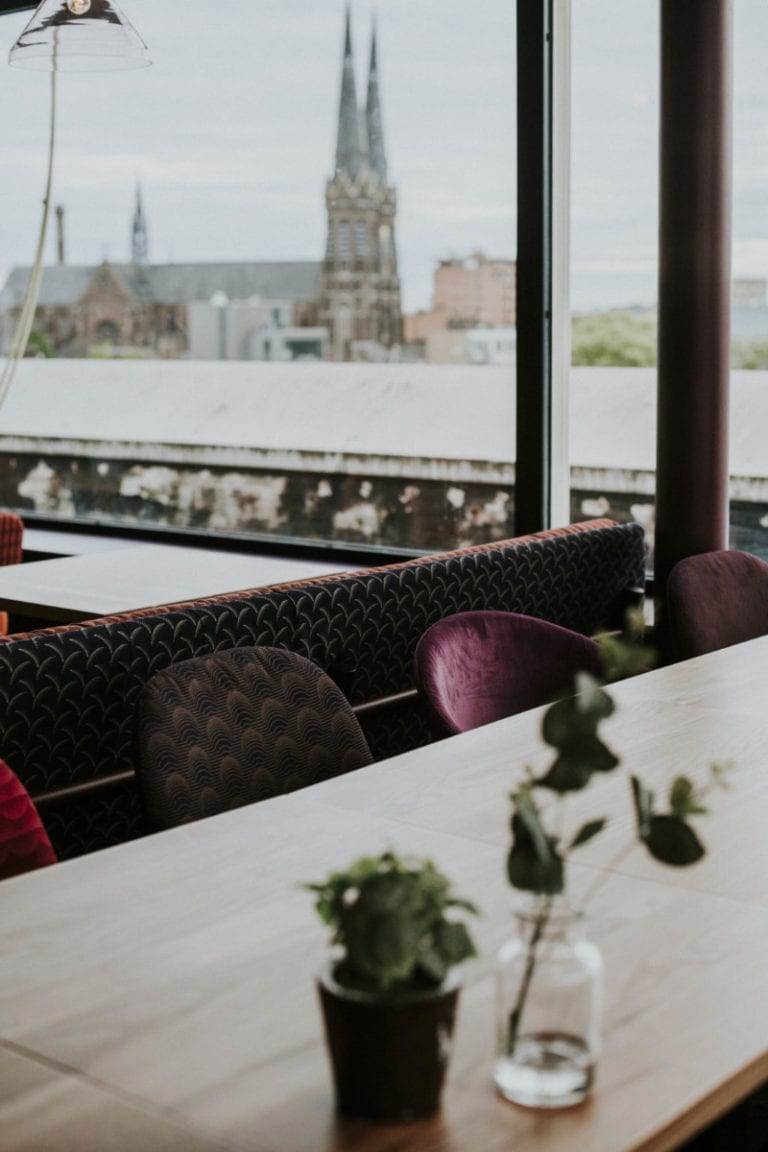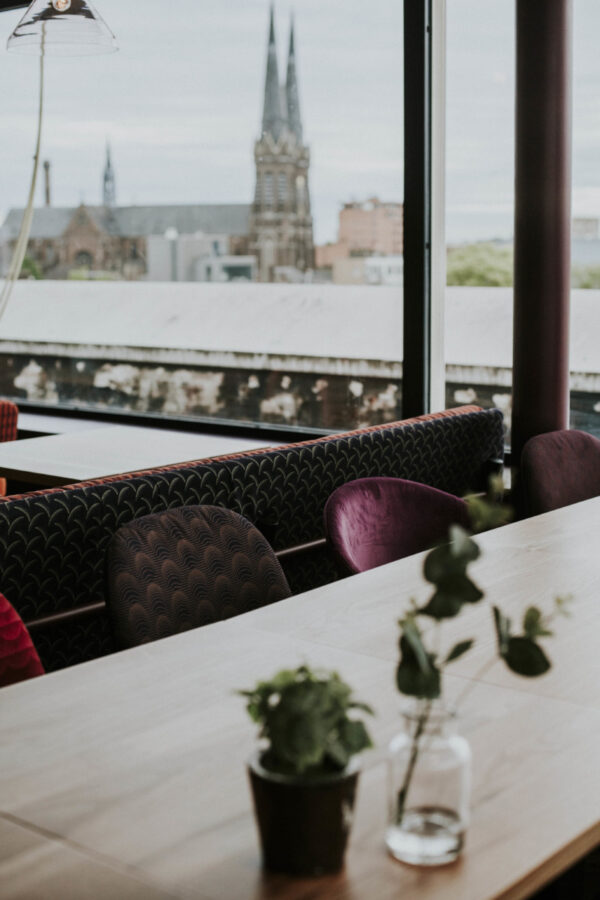 The menu at Doloris has dishes from all over the world – and yes, cocktails too, wouldn't be a proper rooftopbar if they didn't serve those. I can imagine that when you're there with friends and you've all went through the meta-maze of Doloris it should be great to chill and talk about the experience. All your senses are heightened too so get ready for your tastebuds to get tingling too!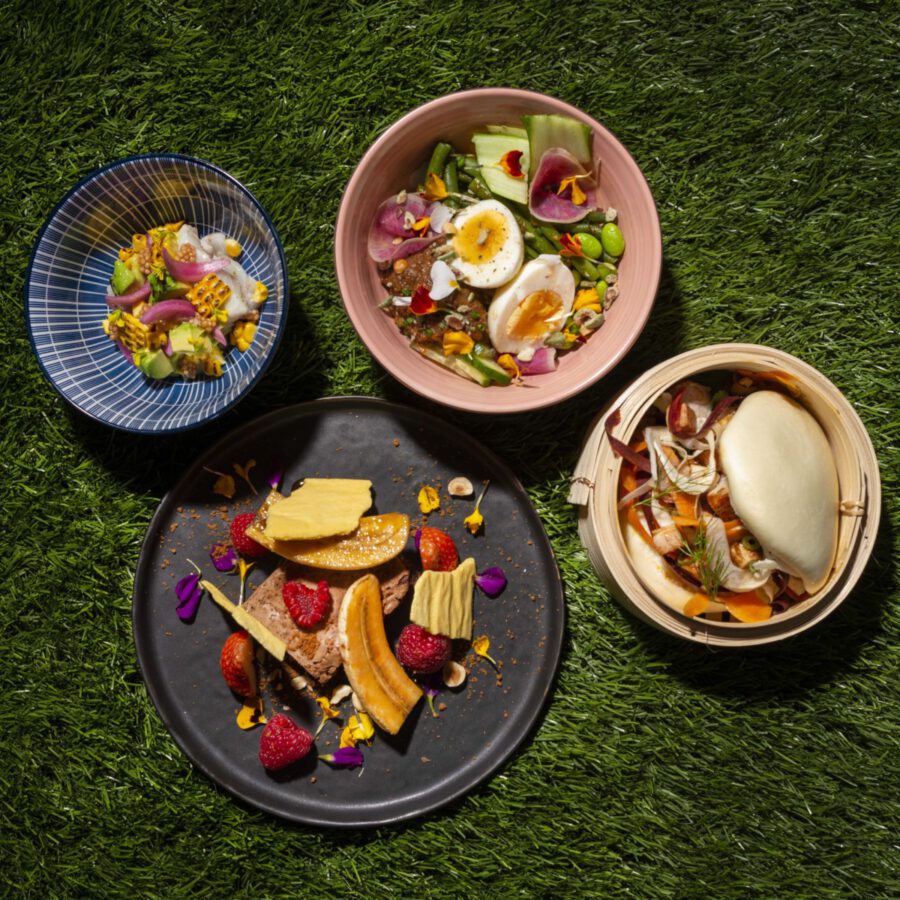 When is Doloris open?
It's open now! (since May 2019)
Oh you meant opening times? You do need a reservation though, because they are open only from Thursday – Sunday. For the maze, you have to book a timeslot, and is open only from Friday – Sunday. You can reserve online for the restaurant and the maze. You can also get an open ticket at the door though, but it is 1 euro more.
How do I get to Doloris in Tilburg?
Like we said, it's right in the heart of the city, so it's a quick walk from central station. Although Tilburg is the 6th largest city, it is still small, so you can reach the place on foot comfortably.
Address: Spoorlaan 21, 5038 CB, Tilburg
What can I do in Tilburg besides going to Doloris?
Want to turn a visit to Doloris into a proper daytrip to Tilburg? Good idea, plenty to do there. How about some culture? There are some great museums in Tilburg and plenty of other cultural hotspots. Tilburg has also somehow nearly perfected the art and process of refurbishing old buildings.
Take the LocHal for example, a state-of-the-art library in which used to be a giant hall to repair locomotives. It is an architecture marvel and is a great place to study and chill.
Fancy something else? The Summer might be the best period to check out the lush nature of Tilburg. Or just go for one of those awesome events in Tilburg, tons of stuff happening there. Need even more? Have a look at the ticket to Tilburg website!
Have you visited Doloris? Anything like it elsewhere in the world? Let us know what you thought in the comments!