While it may be shocking to many expats, most Dutchies cycle without helmets! If you are cycling with a helmet in the Netherlands, well, people can tell that you're a foreigner.
Cycling is an important part of Dutch culture. As the Dutch dare to do what most people wouldn't on bicycles (like carrying an entire TV on their backseat), you would think they'd be super careful by wearing a helmet, right? Wrong! Most Dutchies wouldn't be caught dead wearing a helmet. 👱‍♂️
Here are some reasons why the Dutch don't wear helmets:
1. Other road users are more aware of cyclists
Over 27% of all trips in the Netherlands are made by bicycle. This means that wherever you are in your car (except the motorway, of course), you will almost always be sharing some part of your journey with a cyclist.
Compare this to the UK where only 4% of journeys are taken by bike, and you can begin to understand why Dutch car users are so used to sharing the road.
Peter van der Knaap, the director of the Dutch Institute for Road Safety and Research (SWOV), believes that cycling is becoming safer over time due to Dutchies cycling so much. 🚴‍♀️
According to the Dutch Institute for Road Safety and Research (SWOV), travel by bike is less safe than travel by car. However, travel by bike is safer than travel by moped or by motorcycle.
READ MORE | Do's and don'ts of riding a bicycle in the Netherlands
2. No one wears a helmet while walking
OK, this argument sounds a bit weak, but it's true! Head injuries aren't as dangerous when you are cycling. Besides, they are just as likely to happen in a car, and most head injuries actually happen when walking.
In addition, falls are responsible for almost 50% of traumatic brain injuries in the USA, yet you don't see people advocating for compulsory helmets in cars or when out on a summer stroll. 🚶‍♂️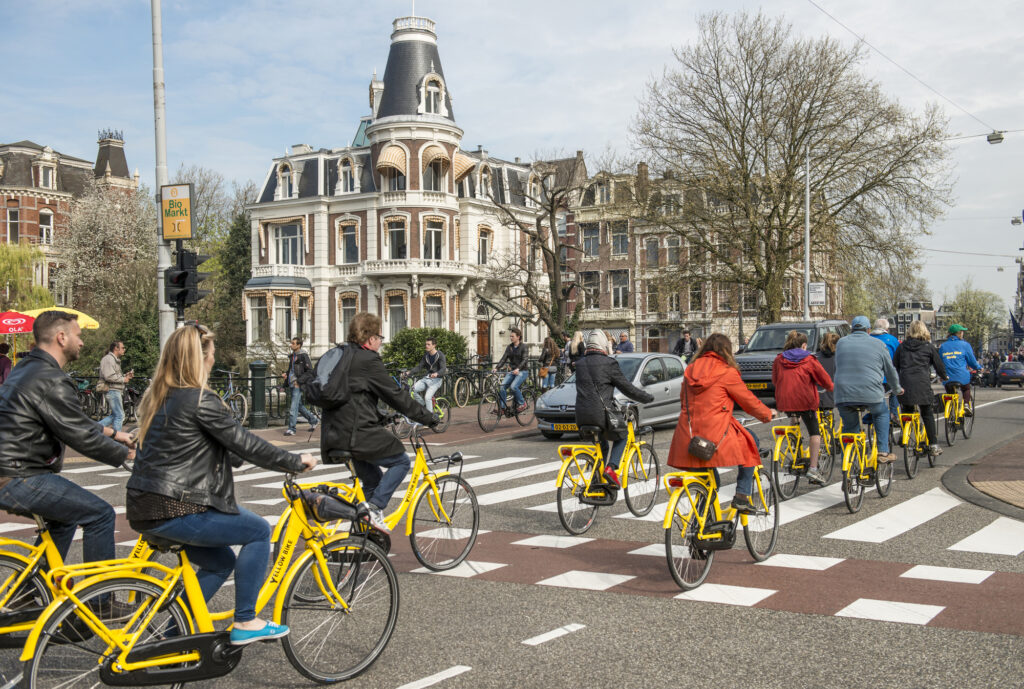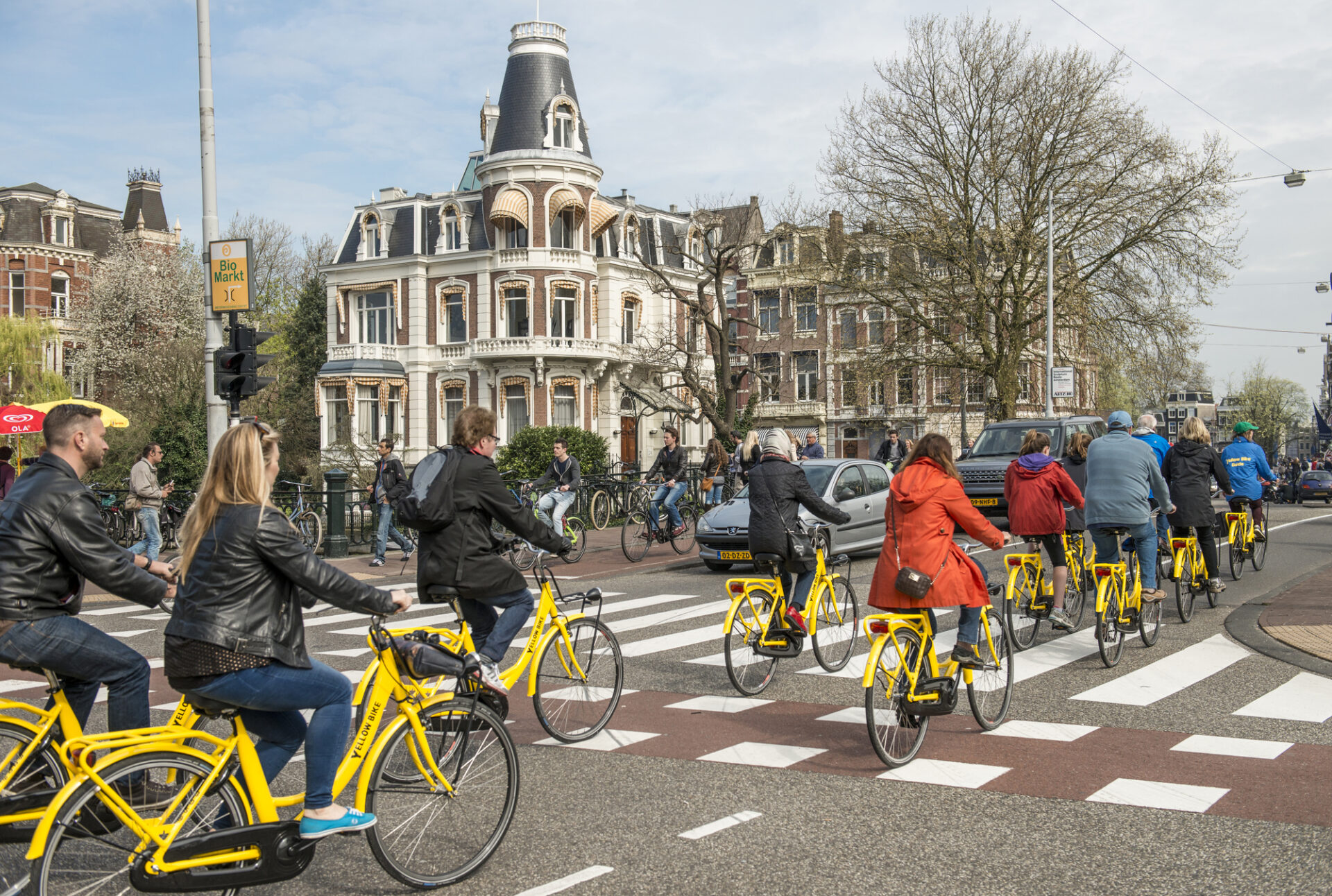 3. Helmets can be ineffective
Many Dutch people argue that bike helmets are restrictive and can actually obstruct the vision of cyclists, making it difficult to quickly look over the shoulder to check the traffic or make a sharp right turn without hitting anyone.
To further back up this theory, a traffic consultant for Fietsersbond, Theo Zeegers, says: "If you are hit by a car on your bike there is no helmet that will protect you."
There is actually no bike helmet ever developed that will protect you against the kind of dangerous impacts you experience at high speeds. It is impossible to make such a helmet, and I don't think one will ever be developed.
What he ultimately says is that helmets may be helpful when having a collision with other cyclists. However, if you get hit by a car, a helmet will not make a difference. A very controversial statement! 💁‍♀️
4. Traffic lessons for five-year olds
Verkeerslessen (traffic lessons) start in school when Dutchies are five years old. It may just begin with running around the playground and knowing that red means stop, and green means go.
The older the Dutch children get, the more complicated the lessons become, and before you know it they're all cycling themselves to school.
5. Less restrictions = more cycling
As you can imagine, cycling every day (the Dutch manage at least 70 minutes per week!) means that the Dutch have definitely earned their frikandel and fries on the weekend.
A 2015 study quantifying the benefits of cycling in the Netherlands showed that all this cycling and fresh air mean that Dutch people have half a year longer life expectancy and 6,500 fewer deaths per year. 😲
So what would happen if the government suddenly decided to introduce compulsory helmet use? According to Cycling UK, enforced helmet laws in some countries have caused a huge reduction in bicycle use. For example, in Western Australia, bike use has dropped by about 30% since the introduction of such a law.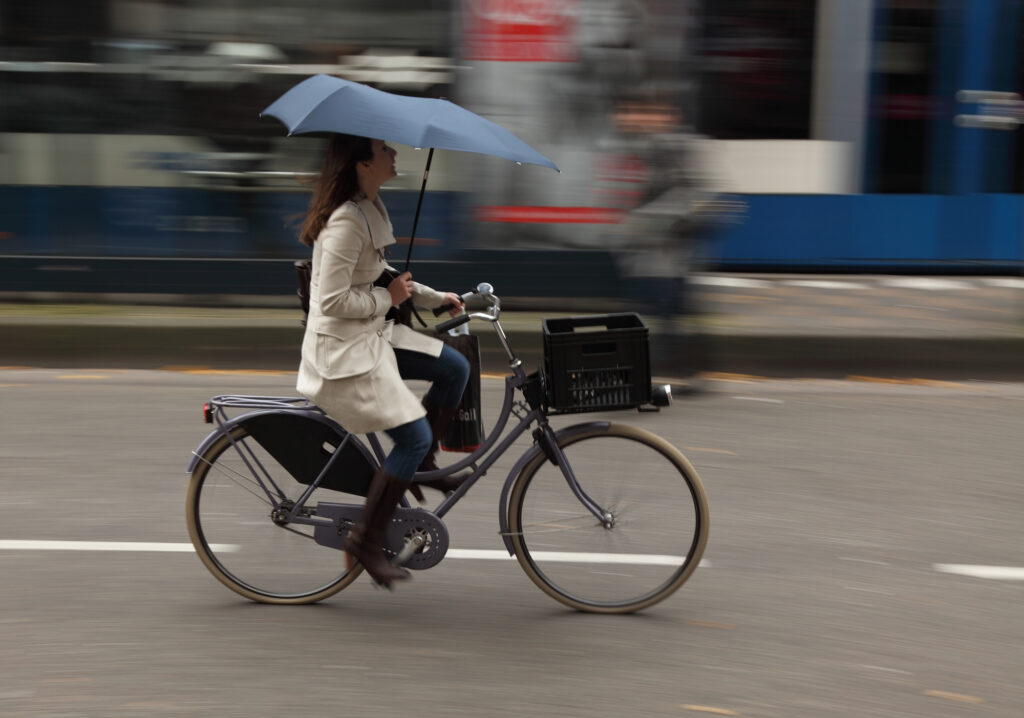 Who knows what would happen in the Netherlands if the government introduced a similar restriction. It's possible that it would put people off the many short cycling trips they take if they didn't have their helmets with them.
Instead of promoting and enforcing helmets, the Dutch seem to be more focused on implementing good biking practices such as no drunk cycling, no texting whilst biking, and having well-lit bicycle paths.
What do you think about the Dutch not cycling with helmets? Tell us your thoughts in the comments below!
Feature Image: ivonnewierink/Depositphotos
Editor's Note: This article was originally published in October 2018, and was fully updated in September 2021 for your reading pleasure.