Ah, Dutch food… The Netherlands is known for many things: tulips, iconic houses by the canals, love for cycling and cheese to name a few.
What if we tell you that there is one other thing that has been kept secret all this time. Something very Dutch and very underestimated: Dutch cuisine.
Yes, we can hear you questioning our (rather bold?) claim but bear with us and think about it. Stroopwafels, bitterballen, pannenkoeken, stamppot, gevulde spekulaas and the list goes on. The Dutch have some pretty tasty food.
So, in the name of spreading the word about the tasty side of the Dutch food (while keeping some of the weird stuff at bay), we have decided to start a monthly series called "Cooking with Dutchreview". For this special task, we have decided to get a little help from the one and only The Dutch Table. Interested? Good, then let's get cooking!
Recipe of the Month: eiersalade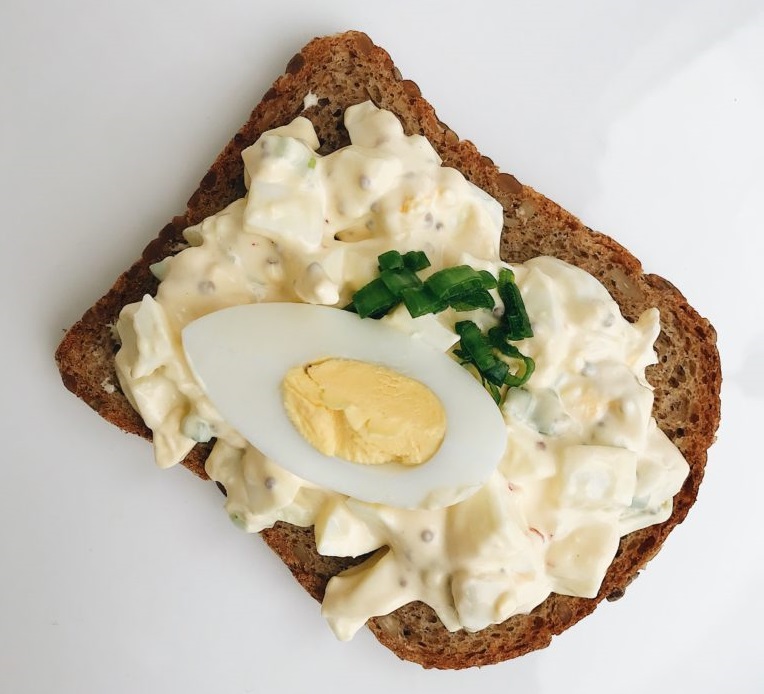 The days are slowly getting warmer and sunnier. Okay, living in the Netherlands; when we say "sunny" imagine only a day or two, the rest? Grey clouds and rain. With sunny days or not, we are slowly leaving winter behind and Easter is just around the corner. So, what other time is better to get into the kitchen and make something?
Since everyone is busy getting Easter shopping done and maybe rushing to get everything ready for the big family brunch, we thought we'll give a little helping hand. This month's recipe eiersalade is easy, tasty and very Easter appropriate! Moreover, it is versatile. As Nicole from the Dutch Table suggests: You can substitute cream for yogurt, use half mayo and half cream, add chopped pickles, dust it with paprika or curry, add more mustard or splash some sriracha. It's all up to you!
If you decide to make this recipe, don't forget to tell us about your experience in the comments! 
The Recipe
As I've mentioned before, it's not only easy but quick to prepare too. The whole recipe takes only minutes to prepare once you have the eggs boiled. The ingredients are not complicated and probably stuff you already have!
Ingredients:
8 eggs
4 tablespoon mayonnaise (I used 2 spoons of mayonnaise/2 spoons of Greek yogurt)
2 tablespoons heavy cream or milk
1 spring onion
1 tablespoon mustard
Salt and pepper to taste
After boiling, peel the eggs and cut them in the middle. Put all the yolks in a separate bowl. chop the remaining egg whites in small cubes. Break the egg yolks with a fork and add the mayonnaise and the cream (or milk). Like I've mentioned before, I've used 2 tablespoons of mayonnaise and 2 spoons of Greek yogurt instead of full 4 spoons of mayonnaise. On the side, dice the spring onion thinly and add it to the yolk mixture together with the mustard. Now that we are done with adding most of the ingredients, give it a good old stir. Finally, its time to mix the egg whites with the egg yolk mixture. After carefully doing so, add salt and pepper if needed. And ta-da! You can garnish it with spring onion too.
Your eiersalade is ready!
My Experience
With Easter coming, lately it's all about chocolate, family visits and more chocolate! So when it was time to pick a recipe for April, Nicole and I decided to pick something that could be enjoyed during these days. Our first pick had to be canceled thanks to my broken-down oven (sigh) so we decide to go with eiersalade as a last-minute decision and what a good one that was!
This recipe is refreshing and good at any time of the day. Seriously! So far I've had it as a late breakfast on my bread, in a sandwich with some sliced tomatoes as lunch and on a cracker as a late evening movie snack. I'm afraid, with the way I ate that they never had any chance to make it to actual Easter but hey, it only takes less than half an hour to make so that's perfectly fine.
Plus, with eggs mayonnaise and mustard, it's pretty hard not to like it. So in case you are looking for a quick and easy recipe that tastes and looks tasty; why not give eiersalade a go? It's healthier than any supermarket versions too. Win-Win!
Long story short, eiersalade, you were a success!
The Dutch Table
The Dutch Table is your online resource for traditional Dutch food recipes. Started by Nicole Holten, The Dutch Table is here to not only help you explore Holland's best keep secret (yes, the food) but also to let you learn about the traditions and the history behind the recipes.
Here is what Nicole has to say about the Dutch food:
"Ask a Dutch person about their country's culinary traditions and they will most likely grimace, shrug their shoulders or even apologize for the fact that the Dutch kitchen has not much to offer. Nevertheless, for such a small country as the Netherlands, its regional kitchens consists of a large and exciting variety of dishes, many of which are rich in ingredients and history. This blog's intention to explore it all, one recipe at a time!"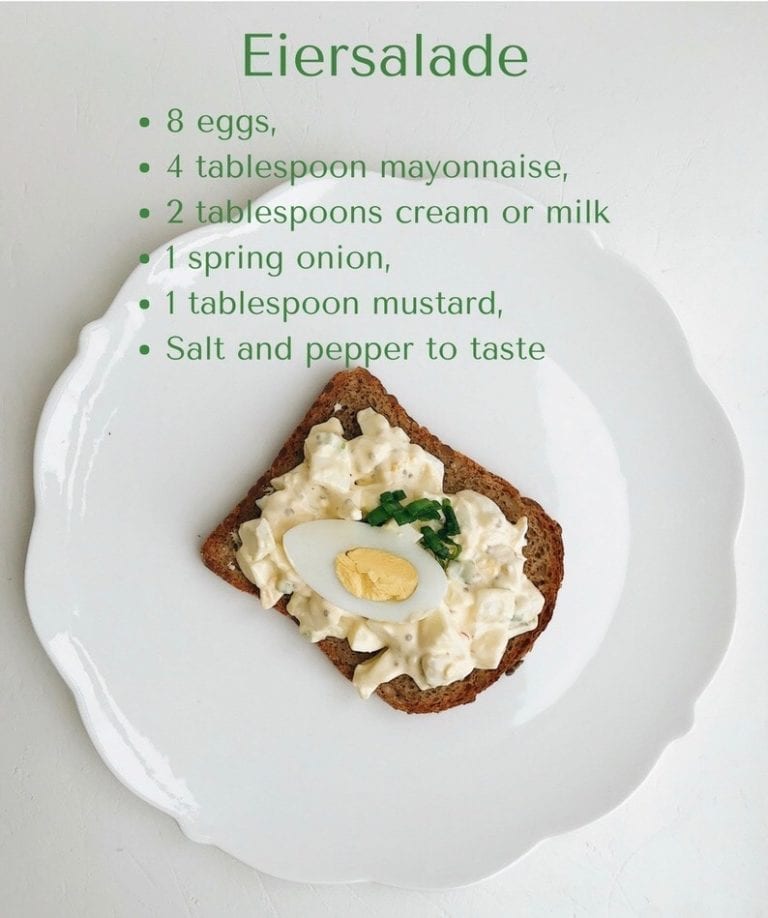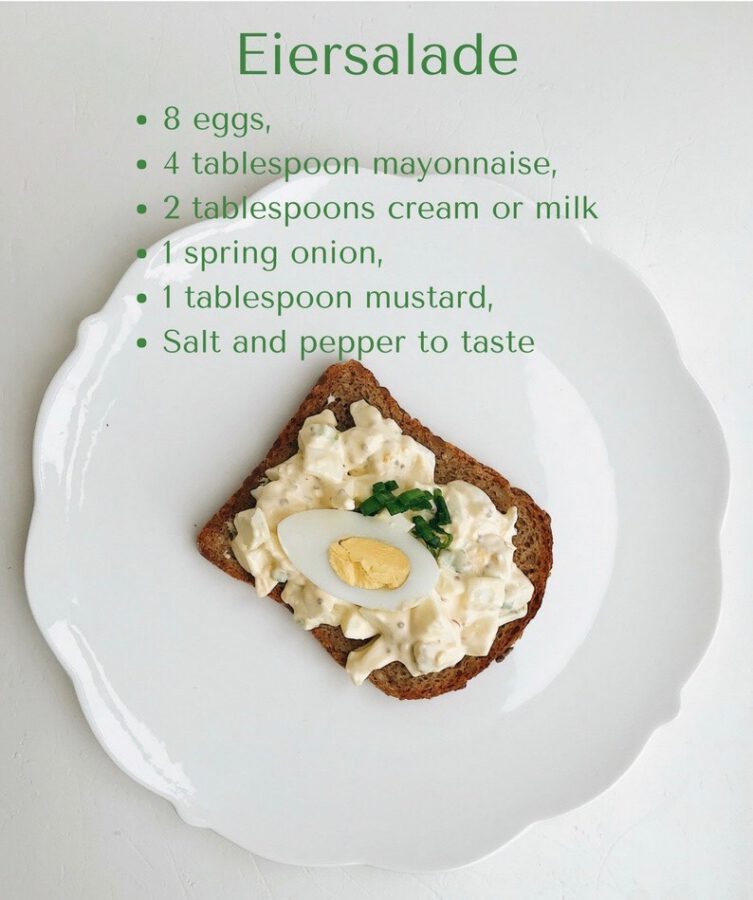 Like Dutch Food? Read some of our other recipes:
Did you enjoy this meal? Have other suggestions for Easter meals? Let us know in the comments!
Feature Image: Ceren Spuyman/Supplied