A stroopwafel (literally translated to syrup waffle) is a Dutch snack that is gooey and absolutely delicious. Small ones, big ones, no matter the flavour — everyone loves a lekkere stroopwafel.
With something of a rags-to-riches origin, stroopwafels have their very own Cinderella story. The sweet treat's rise from a poor man's food to a yummy snack for everyone has made it much loved, both within the Netherlands and abroad.
So put the kettle on, kick back, and take some time to chew on the origins of this biscuit — plus its recipe for success.
This post might have affiliate links that help us write the articles you love, at no extra cost to you. Read our statement.
What is a stroopwafel?
First of all – just what is a stroopwafel? This moreish morsel consists of two thin, circular waffles pressed flat on a waffle iron, which then imprints a distinct checked pattern.
The baked waffles are then sandwiched together with a sweet, sticky caramel and the edges are finely trimmed. The result is a mouthwatering biscuit (or 'cookie') with a slightly crisp shell and delicious ooey-gooey-rich-and-chewy centre.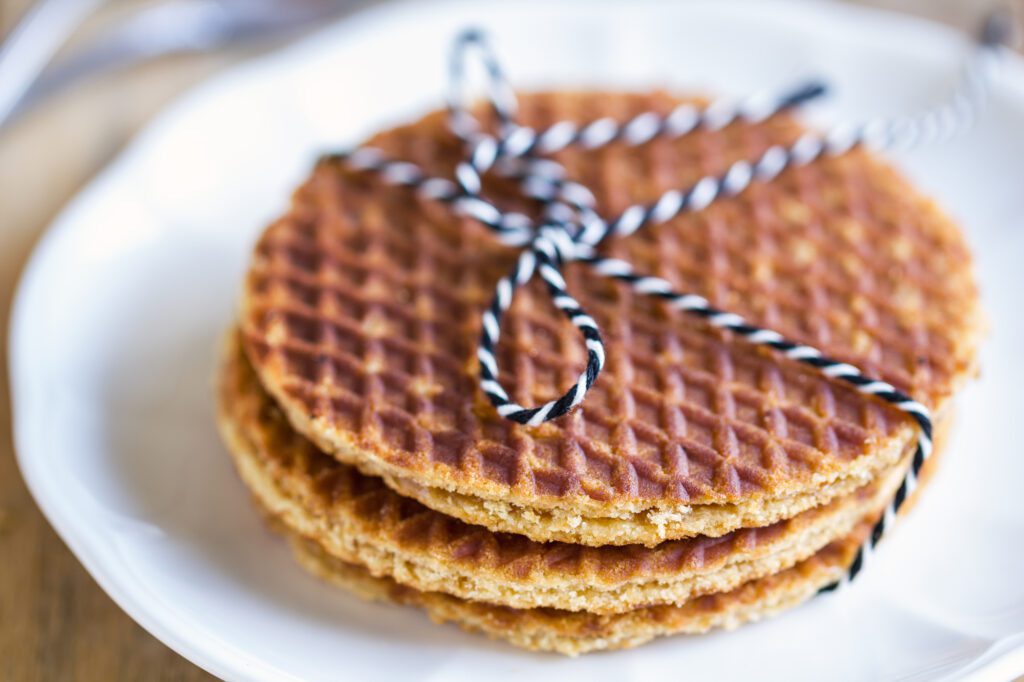 How did it come to be?
The history of beloved waffles in general in Europe stretches back hundreds of years, with records from the 7th Century detailing the consumption of the treats.
By the 13th Century, waffles were important enough in the Netherlands to merit an official waffle bakers guild — fancy, right?
READ MORE | These are 7 Dutch foods you need to try before you die
However, the exact origins of stroopwafels are a mystery of history. The only thing that's known for certain is that the iconic Dutch treat was conceived in Gouda. Sources have stated that the first stroopwafel was made anytime from the late 1700s to the mid-1800s.
The identity of the inventor is also speculative but it was generally agreed that it was created by a humble baker.
The initial prototype was made from bakery leftovers — which is a nice way of saying crumbs — pressed flat with a waffle iron. Unfortunately, the first batch of waffles was too dry and crumbled in the baker's hands.
To remedy the situation, it was decided that they were to be sandwiched together with syrup. Over time, an official stroopwafel recipe then evolved to incorporate flour, butter, sugar, yeast, egg, milk, and cinnamon — although some recipes today vary. 😋
READ MORE | The Dutch food dream: 13 unmissable dishes in the Netherlands
Being made up from leftovers meant that early stroopwafels were a cheap treat and easily affordable for the lower class within the country. Hence they were initially branded armenkoeken, or "poor people's biscuits."
But such enjoyable treats deserve to be shared — so that's what people did and if you've tasted a stroopwafel, you'll know it's hard to stop once you start. Everyone wanted more and Dutch bakers answered the syrupy call.
By the 19th Century, there were over 100 stroopwafel bakers in Gouda. Today, largely owing to the automation of production, there are only five bakeries left in existence that make homemade stroopwafels.
The rise of the stroopwafel worldwide
Since its inception, the sweet treat has remained extremely popular in the Netherlands, and an astounding 22 million packets are sold each year. That works out at about 30 stroopwafels eaten per person, annually. 👀
Given the treat's popularity, it's not surprising as you will find it everywhere: from supermarkets to vending machines and cafés. They can also be found being used creatively in other products such as ice cream, custard, and cakes.
Stroopwafels have also become a popular export, with various countries now taking advantage of the phenomenon and producing their own.
But are they always called "stroopwafels" in other countries? Nope! They're known by a variety of interesting monikers: in Morocco, they are called Amsterdam Delights while in Brazil, they're Happy Waffles.
In the US, however, they're given a variety of names, including Dutch Moon Cookies, Stroopies, Strooples, and Besties.
Stroopwafels in the US
Originating in the Netherlands, the famous stroopwafel has and will always be popular in the country of its conception. In the past decade, however, the lekkere treat has also become popular in the United States.
So, how did the Netherlands' syrupy snack become so popular in America? One reason was that Lance Armstrong started promoting them as a good source of energy for cyclists in 2010. We see Dutch cyclists racing by on their fietsen and can't help but agree.
The second step to the stroopy's rise in popularity occurred when United Airlines did something that we can't help but love. They started serving Daelmans stroopwafels on flights in 2016. Who wouldn't love a warm gooey treat on a long plane ride? Talk about getting the holiday started early.
The favourite Dutch snack was slowly gaining attention and then in 2019, everyone wanted a bite. Why? McDonald's announced the Daelmans stroopwafel McFlurry flavour in America. Just imagine it — all that caramel and cinnamon deliciousness with ice cream. We'd be the first in line. 🙋‍♀️
Luckily, today people in the US can buy authentic Dutch stroopwafels anytime online.
How do you eat a stroopwafel?
While you can unwrap a stroopwafel and start munching away, the Dutch have a pro way of eating the treat.
First, they lay the stroopwafel on top of a hot cup of tea or coffee. This tempers the syrup and releases a beguiling bouquet of cinnamon, butter, and caramel. Then, they bite into the oozing caramel. Yum!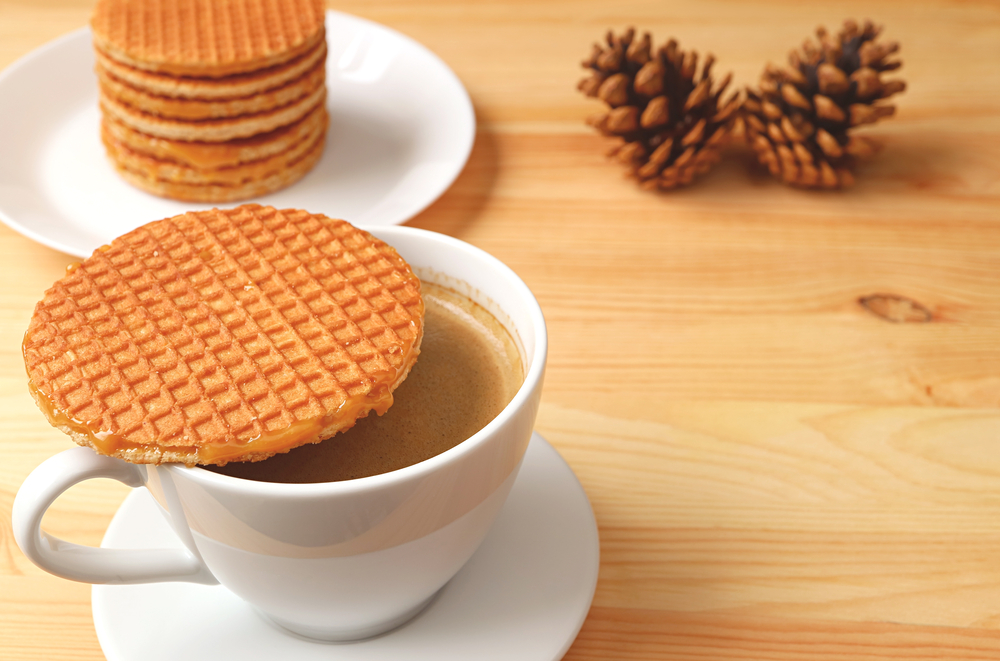 What you will need:
A stroopwafel
A cup (the opening should be a little smaller than the stroopwafel)
One minute of patience
Method:
Place your stroopwafel on top of your cup like a lid (see why it needs to be smaller?).
Wait for one minute or until the caramel in the middle has melted.
And that's it! Enjoy your stroopwafel with your cuppa.
I scream, you scream, we all scream for stroopwafel ice-cream
If you're reminiscing about those days when you could gorge yourself on stroopwafel McFlurries, or if you never had the chance to taste the waffley yumminess — here's a recipe for stroopwafel ice cream that will get you there. It will make enough for four portions (but you don't have to share. 🤫)
What you'll need
500ml whipped cream
½ can of condensed milk
2 stroopwafels
½ tsp cinnamon
2 tbsp caramel sauce
Making the deliciousness that is stroopwafel ijs
Grind the stroopwafels into very fine crumbs — it's almost like it's returning to what it started as before becoming a stroopwafel.
Heat the cream in a small saucepan and add the stroopwafel crumbs and cinnamon. Stir until the stroopwafel crumbs have dissolved.
It may be tempting to lap up the lekker-smelling, oh-so-creamy mixture, but rather place the stroopwafel mixture in the fridge until it is cold.
Whip the cold stroopwafel mixture with the condensed milk. Now we're talking!
Once mixed, spread evenly in a sealable bowl and place in the freezer for at least 6 hours. We know it sounds like forever — but it'll be worth it!
Remove the ice cream from the freezer 15 minutes before serving — if you can wait that long, that is. Make scoops of ice cream and garnish with the caramel sauce.
Eet smakelijk! (Enjoy your meal!)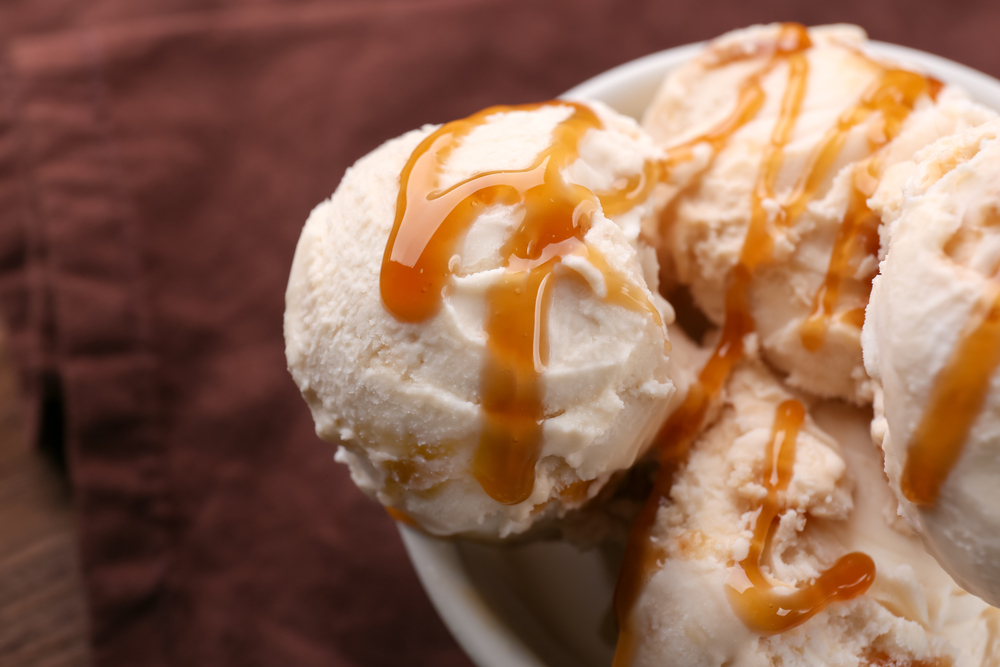 Where to get stroopwafels in the Netherlands
Finally, we get to the most important bit: where to buy, or eat, stroopwafels.
While you can buy pre-packaged stroopwafels in Dutch grocery stores, if you're looking for the tastiest stroopwafels, you will undoubtedly find them freshly made at your local market. They also often sell big bags of stroopwafel offcuts called 'snippers' which make for a seductive snack.
If you're like us, you're drooling by now and you need your very own stroopwafel to dull that ache in your belly. Nee, you don't have to wait for the weekend market — you can order the famous Daelmans stroopwafels online at stroopwafels.com and get your sweet treat delivered to your door. Having a craving while on vacation? Lucky you, you can even order from the US. Hoera for all of us!
There you have it, the Cinderella story of the stroopwafel. The only thing left now is to eat one or 10 — be warned, they are addictive.
Did you like our guide to stroopwafels? Which is your favourite Dutch treat? Let us know in the comments below!
Editor's Note: This article was originally published on 6 July, 2016, and was updated in July 2023 for your reading pleasure.