The holiday season is definitely the most pleasant time of the year but it can become overwhelming when you have a toddler. In the Netherlands, holiday traditions bring huge opportunities to put a smile on your children's faces.
Christmas traditions are divided into parts: Sinterklaas, special celebrations on first and second Christmas Day (that's right, there's two!), plus Christmas holidays and New Year's Eve.
Sinterklaas with a toddler
Mark the dates in your calendar for next year: Sinterklaas celebrations begin on the first Saturday after November 11, several weeks before the culmination of Pakjesavond on December 5. All the cities celebrate the arrival of Sinterklaas and his assistant Black Pete (Zwarte Piet) in the form of a parade, while children party on the streets.
Children who live in the Netherlands leave their shoes at night filled with carrots, hay and sugar. They believe that Sinterklaas and Zwarte Piet will come and take horse treats and leave amazing presents for them. This is the time when Dutch parents give gifts to their children.
December 25 & 26, Eerste & Tweede Kerstdag with a toddler
Referred as first and second day of Christmas, Eerste and Tweede Kerstdag is often a time for family (and traditionally for Church services). There are special family gatherings, with special breakfast and several courses of dinner. This is when family presents are exchanged!
In Dutch Happy/Merry Christmas can be said as 'Prettige Kerst' (Happy Christmas), 'Zalig Kerstfeest' (Merry Christmas) or 'Vrolijk Kerstfeest' (Cheerful Christmas).
Christmas Days are not of course just a time to sit and eat. To entertain your toddler you can also add variations like doing a craft activity, playing Christmas special games, baking and cooking new dishes, watching Christmas movies and listening to Christmas songs.
Dutch Christmas food
It is essentially a hot plate or grill in the middle of a table surrounded by all sort of meat, seafood and vegetables. Each and every person sitting in the room can prepare their meal according to his or her own preferences. Other special popular dishes in the Dutch holiday season are:
Speculaas, spiced cinnamon and ginger cookies
Kerstkrans, a wreath shaped pastry, filled with glace fruits and almond paste
Banktstaaf, a type of sweet Dutch pastry filled with almond paste
Kerstkransjes, Christmas 'wreath cookies' are used to decorate the Christmas tree.
Jan Hagel cookies, flaky Christmas cookies with cinnamon, almond flakes and candied sugar.
Kerststol, a fruity Dutch Christmas loaf and,
Oliebollen, fried balls of batter
Dutch Holiday Season Songs
Singing or playing Christmas songs is also very traditional during the holiday season. Here are a few Dutch songs you can sing along with your toddler at home!
Christmas Crafts with toddlers:
Yearly Crafty Ritual
Make a Christmas scrapbook and take your Child's handprint every year.
Decorate your house
You can take this to the next level by making it eco-friendly Christmas. And creating homemade decorations for the Christmas tree and every corner of the house
Donations
Make a bag and add all your child's old clothes and toys he is not using anymore. Spread Kindness and make someone else's Christmas special!
December 27 to 31, Christmas Holidays with a toddler
These days are perfect to get out of the house and see the best the Netherlands has to offer! Some suggestions:
Window shopping
Go for window-shopping, streets are beautifully decorated let your kid enjoy this Christmas vibe from his stroller.
Visit a museum
Children love to explore new things visit the Children Museum for fun learning. Holland has a lot of amazing museums like Linnaeushof.
Head to an indoor playground
Let them play take them to the indoor playgrounds for amazing playtime at places like Monkey Town.
Show your kids the real animals at your nearest petting zoo. They usually have fun events on these holidays!
Spend time with family
It's time to visit family and friends and make your kids bond stronger with people who care for them.
Go Christmas light spotting
Drive around to look at the lights. You will be impressed by how much work some of your neighbours put into their decorations. Plus, you can get inspiration so you can make your own place look even better next Christmas.
Check out an outdoor skating rink
If your toddler has some balance you can head to one of many outdoor ice-skating rinks in the Netherlands! Prop up your little one with a stabiliser, and send them gliding across the ice!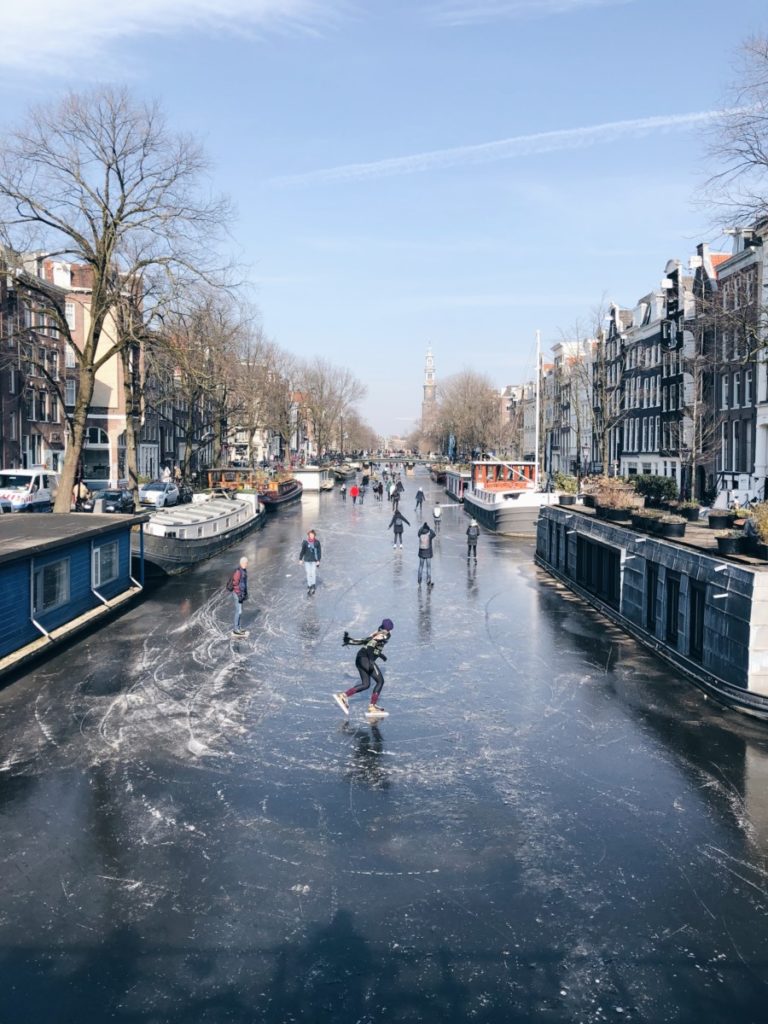 New Year's Eve with a toddler
Let's not forget the end of year bash, its party time! In the Netherlands, lighting your own fireworks is one of the best activities – you'll hear them going off everywhere!
Eating oliebollen (oily balls) at midnight is one of the most widespread New Year's Eve traditions in the Netherlands. Meanwhile, hundreds of parties will take place on the streets and in clubs.
When toddlers are around it's best to host your own house party. But, everyone has his or her own way to celebrate this night. Many people like to book a restaurant with a view of a nearby fireworks display.
Christmas with toddler: New Years Day Dip
The Nieuwjaarsduik is very famous among swimmers of Netherlands; they begin their new year by running straight into icy cold water. Even if you're not brave enough to make the splash yourself, you can enjoy the party atmosphere at the beach with your toddler and watch everyone else turn blue.
It's an old shared fact that the things children remember most about their childhood are activities rather than toys. When they grow up they won't remember expensive gifts rather they will remember the whole experience.
Let's educate our children to associate the holiday season as family bonding time. Remember children learn faster from their first-hand experiences. Set up your family's holiday traditions in a way that they fall in love with them and so they follow those throughout their lives.
Prettige Kerstdagen en een gelukkin Nieuwjaar!
(Merry Christmas and a Happy New Year!)
What are your family holiday season traditions? Have you done any on the lists above? Let us know your favourite way to celebrate the Dutch holiday season with toddlers in the comments below!
Feature Image: freestocks.org/Pexels