How sex workers in the Netherlands and Amsterdam are starting their own brothel. How's this coming along?
We might try to persuade you that the best reasons for visiting the Netherlands are our nice flowers, delicious cheese, great art or perhaps the hip and trendy Rotterdam. But let's face it, the gritty side of the Netherlands, and especially Amsterdam, continues to draw in heaps of (men) tourists interested in our liberal take on drugs or our famous and open approach to prostitution. We've already written a bit about the position of sex workers in the Netherlands, and mentioned how sex workers in Amsterdam are opening up their own brothel. Before we have a look at how that is going down (sorry, lame pun), what's happening again these days in the Netherlands when it comes to prostitution and sex workers?
Sex workers in the Netherlands; what's going on again?
Prostitution in the Netherlands has been legalized since 2000, and being a sex worker in the Netherlands is considered a regular job (by the taxmen, your parents in law might still disagree). Sex workers have the same set of rights and obligations as any employee in the Netherlands. Since 2011, sex workers in the Netherlands also pay taxes over their hard earned money – because nobody is going to screw the Dutch government out of some money (sorry, I'll stop now). So, in theory, all is well and women (and a few men) working as a sex worker in the Netherlands get to unemployment benefits and all those other sweet benefits of our cozy welfare state… in theory
There has been an effort by the municipality to clamp down on the dirt of the sector, buying out the more shady establishments and (sometimes literally) cleaning up the Red Light District. There have been some complaints about the motives of the city, with some people claiming the municipality is mostly doing this for the real estate prices. Others claiming that most of the action was online anyway, in case you wanted escort girls in Amsterdam.
This year will also saw the opening of the very first independent-owned brothel: a group of sex workers in the Netherlands decided to rent a place on their own and become their own boss (Brothels were already pragmatically legalized in 2000). Sounds like the next step in the regulating for the sex workers of the Netherlands, how did it go in practice?
Sex workers in the Netherlands and their own brothel: how did it work?
The concept is called 'My Red Light' and dates back to the Amsterdam of 2007 when the city tried to combat crime in the notorious neighborhood. During these past years, the city closed down over a 100 'windows' where ladies offered themselves – some of these closings were protested and out of discussions by the city and sex workers came the concept of 'My Red Light'. The city helped out with a social investment and bought 4 buildings, which were then rented out to these sex workers of Amsterdam.
Three months ago the organization, officially now a 'foundation', opened up their doors – the backbone of the organization made up by active and former prostitutes.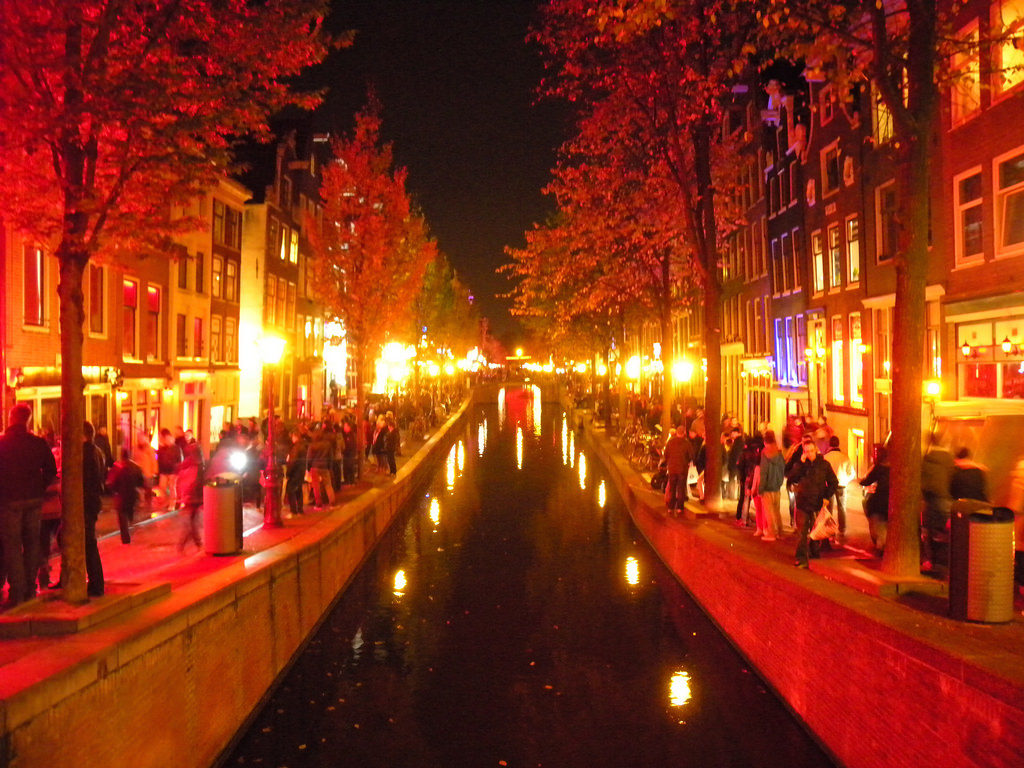 How is it working out for them?
Three months after its opening, My Red Light is slowly trying to fit in the neighborhood and it's trying to establish a network of sex workers in the Netherlands – or better said Amsterdam. As soon as it makes any profit, they're planning to invest their money in workshops on language-  and business training for the employees. There's also a discussion going on about investing in insurances, workers compensation and other safety nets that come with regular jobs. And lighthearted sidenote, the brothel is also nicely designed by some award winning furniture company and with the wishes of the sex workers in mind.
Still around 75% of the sex workers are from Central- and Eastern Europe, which all kind of makes all these good intentions hard to carry out. Justine le Clercq, a spokeswoman for My Red Light, also says that it's a work in progress and hope that they will be totally run by sex workers in the Netherlands in 2 years time.
What's not good about it?
The official network of prostitutes; Proud – has some criticism. A spokeswoman claims that it's just another brothel and it isn't really run by sex workers in the Netherlands. The media attention for My Red Light has also put the other brothels in a bad spotlight. What prostitutes really wanted is to run their business from their own homes without any problems – the spokeswoman claimed. – We can see some problems with this idea, the police as well since they say that if Proud had their way there wouldn't be enough checks on human trafficking. And then there were also legal conflicts when members of Proud didn't end up in the management team of My Red Light, as they claimed, were promised. My Red Light stated that was because of troubling records of these sex workers in the Netherlands.
All in all, it's fair to conclude that My Red Light is a noble initiative but still can't completely shake off all the bad practices that came along with the oldest profession of the world.