So you want something original, different, tasty and in Amsterdam? Well, we did all the 'hard work' for ya and ate and drank like kings and queens at 5 creative and original places in Amsterdam. And yes, it's a 'we' – thing. Weirdly half of DutchReview was into delicious food all of a sudden* Smakelijk eten! 
*You can too, join the DutchReview crew!
Pesca : A Theatre of Fish (Ross)
Tucked away on Rozengracht, Pesca invites you into a heady world of fish and theatre. Upon arriving, you are greeted by a receptionist who offers you a glass of sparkling wine to set the mood. While sipping your drink, you are then guided to the fish market to pick out your meal.
The marketplace is set up like a high-class fishmonger's. Sumptuous seafood and cuts of fresh fish are arranged on a bed of ice and seaweed for you to gaze upon. Here, an aproned fish expert takes you through everything that's on offer, in Dutch or English. This can be very useful if, for example, you do not know very much about fish.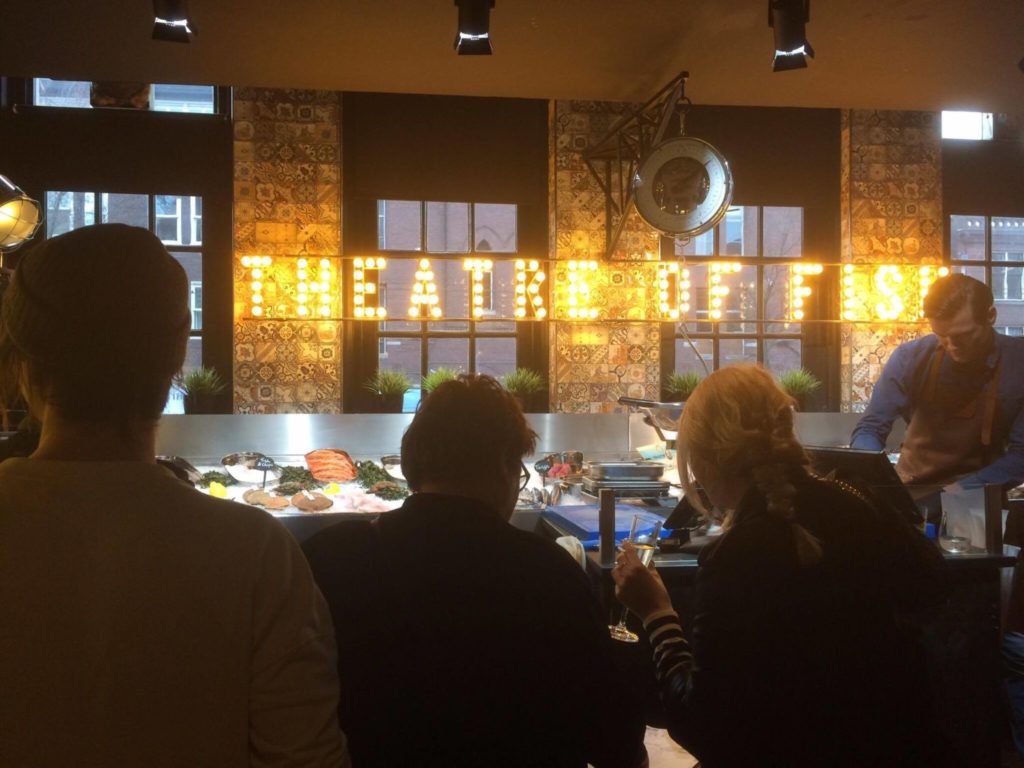 As someone who likes seafood without being much of an aficionado, I found the fishmonger's in-depth knowledge of his catch very helpful. For two people, you can simply pick out several types of fish that take your fancy, while the fishmonger recommends portion sizes. You choose side orders if you want them, and your fish order is weighed out and sent to the kitchen. You receive a buzzer which lights up when your food is ready.
With your mouth still watering from the fish market, you are ushered to the wine cellar. Here, you receive wine recommendations based on your fish order. Your bottle of wine is handed over in an ice bucket, and thus fortified, you are brought to your table.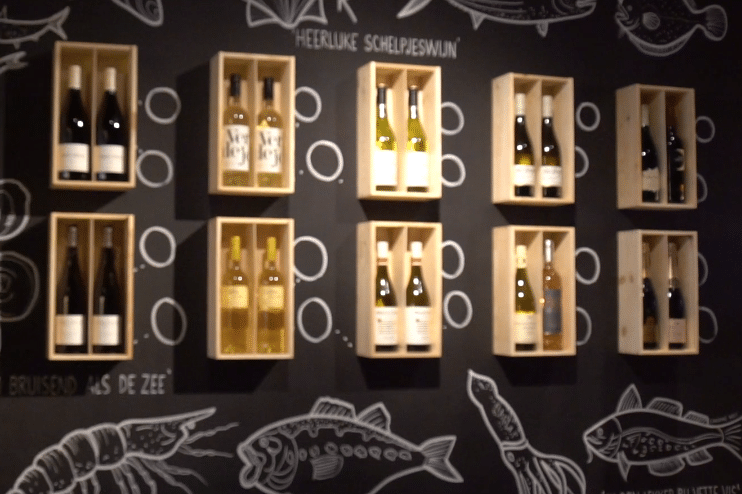 For my dinner partner and myself I had ordered four oysters, two scallops, a portion each of monkfish, dogfish and stingray, and a side order of friets and salad. We had not been sitting long before the buzzer buzzed to denote that our oysters were ready. I went up to the serving counter to collect them.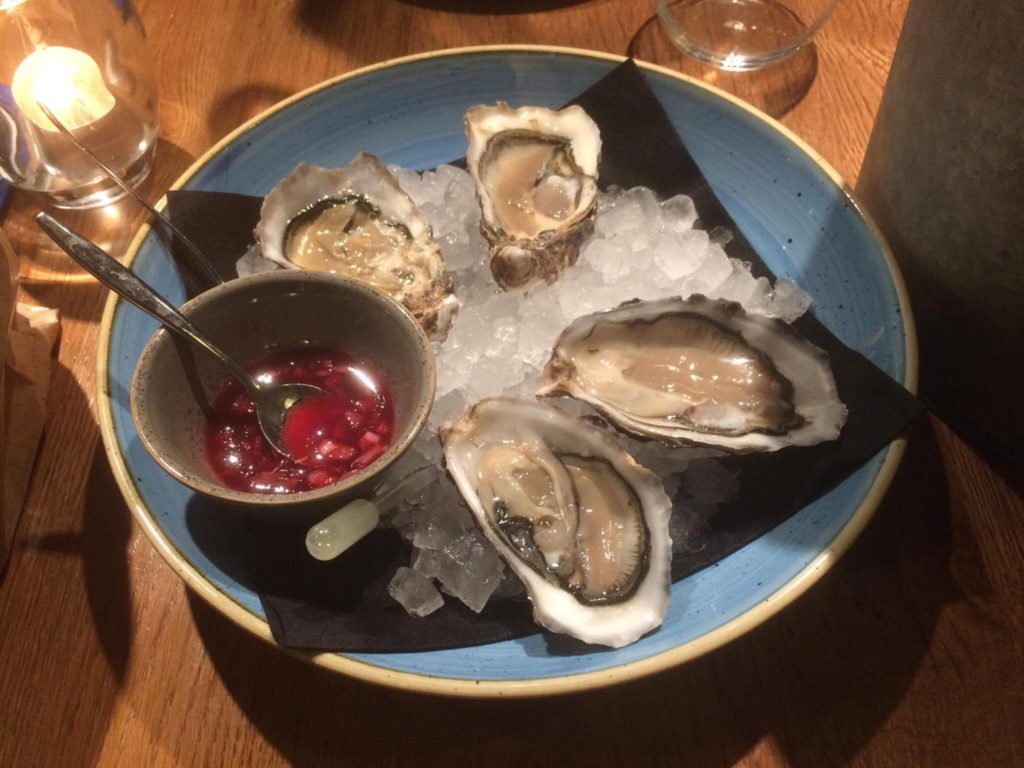 A series of buzzes then followed in quick succession, announcing the arrival of our scallops, monkfish and dogfish. One slightly trying aspect of the Pesca concept is that you have to get up and cross the restaurant several times to collect your different portions. The explanation for this is that the restaurant can therefore dispense with waiting staff, meaning they can charge less for the food. The large number of dinner guests attested to the fact that many people thought it well worth the compromise.
What's more, the food is excellent. Our dogfish was deliciously salty, and the scallops were plump, juicy and tender. The monkfish, which in other restaurants can seem a little bland, had a fresh citrus flavour. Each dish was expertly accompanied by a jus or sauce tailored to the individual fish. The stingray, which I had never tried before, was my favourite: soft, moist, and flaking easily from the bone. It had a delicate flavour that melted on the palate. It also went very well with the friets.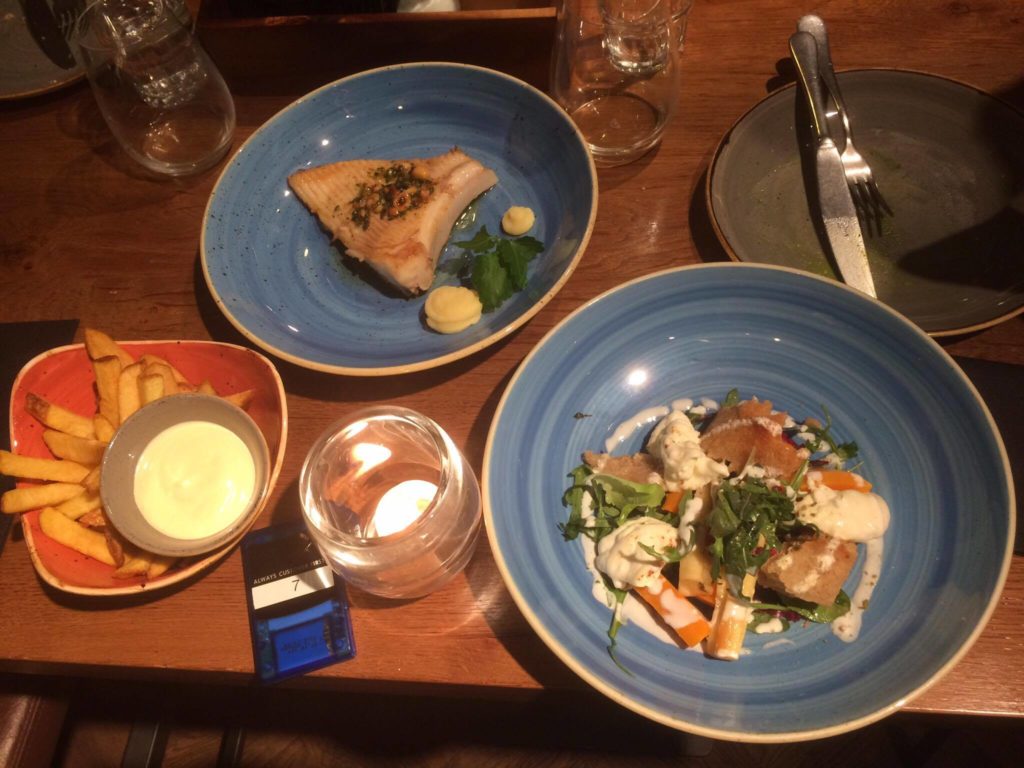 Despite my initial scepticism, the whole meal was very filling. Indeed, the purpose of Pesca's fishmongers is to recommend not only appetizing food, but sensible portion sizes, thereby cutting down on food waste. We left the restaurant filled and satisfied.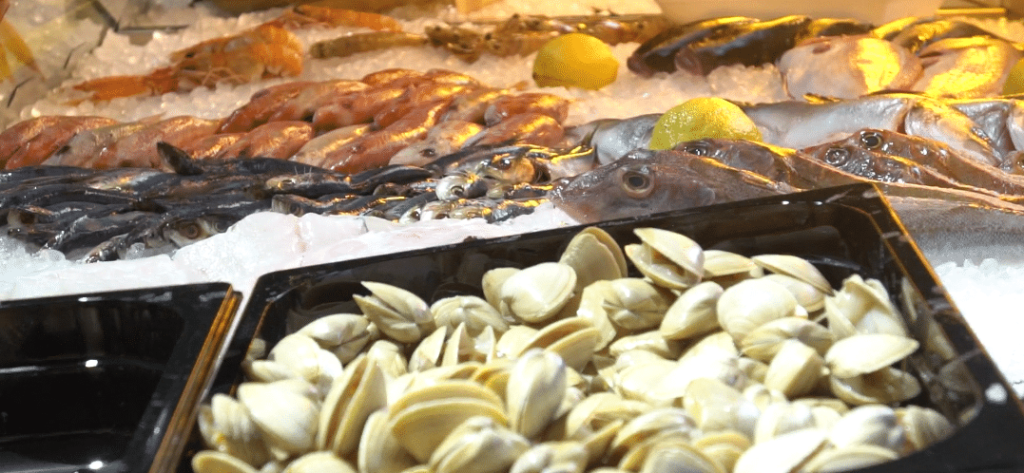 The Verdict
Excellent fish, a warm atmosphere, good service. What more could you want! Try it for yourself at Rozengracht 133, Jordaan, Amsterdam. And book ahead, because it's popular.
Address: Kruisplein 153
Website | Instagram | Facebook
Adam & Siam! (Amalie)
Adam & Siam is a fusion restaurant in Amsterdam with a Thai-inspired menu ('Siam') and a more European-cuisine (the 'Adam' menu). Useful, if you have different preferences within a group!
The restaurant is located in the heart of Amsterdam and veryeasily accessible from central station. It has two entrances, but is partitioned into separate areas. This makes it feel smaller than it is and both areas have a different atmosphere.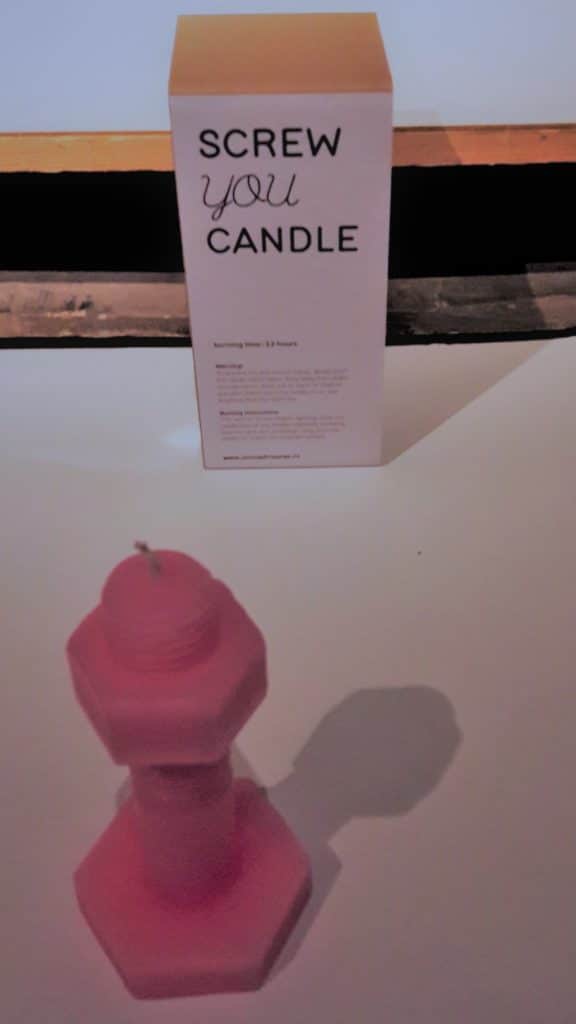 Adam & Siam houses temporary art-exhibitions and when we were there, you could buy nut-and-bolt shaped candles. Presumably, these were intended to relieve frustrations of some sort. Or create them. It occurred to me that, if you know any engineers you want to annoy, this is a good gift-option.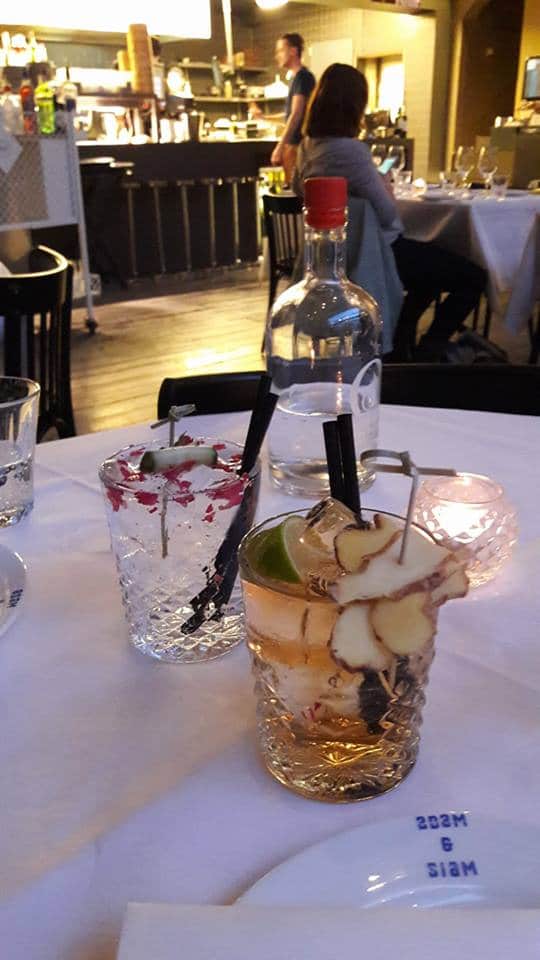 To take the edge off our hunger, we had a mixed drink. I highly recommend Siam's "Little Dark Mule". The name alone made me feel badass. It was delicious, gingery, you could taste the lime, and came in a beautiful tumbler. I now dream of this beverage, and intend to baptize my first cat with it.
My friend had a Hendrick's G&T with flower petals and cucumber. I always notice how cucumber is a surprisingly strong flavour, or maybe it's the scent. Anyway, it was fine, but I'm not a G&T girl.
First things first
For starters, the first course. It was satisfying, but we were so excited to eat, we forgot to take a photo. My friend had a chicken saté slathered in peanut sauce, a battered shrimp, and vietnamese spring rolls. I had two battered corn snacks and spring rolls with two choices of dipping sauce. We both had a cabernet sauvignon.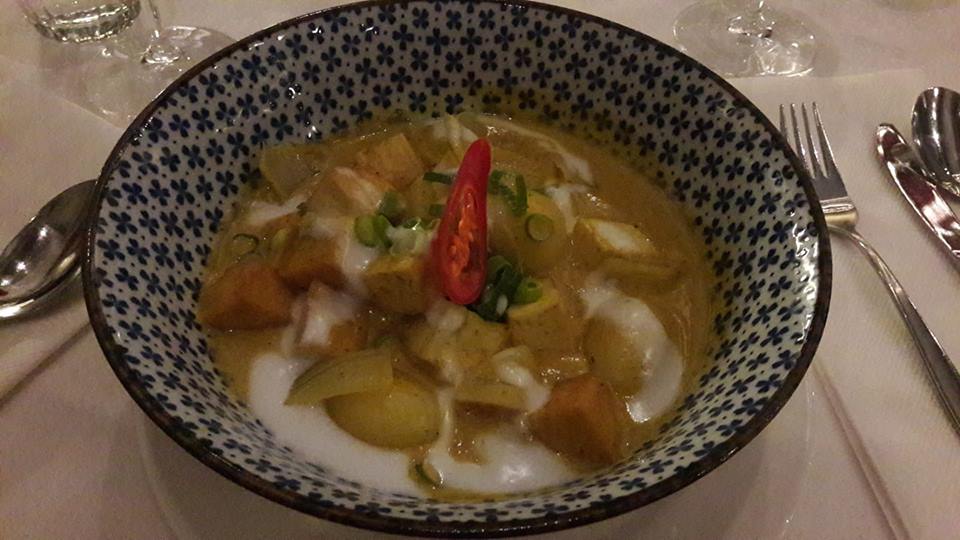 The main was rib-eye with vegetables and sauce Bearnaise for my friend, and tofu curry for me.
When I used to eat beef, I liked it red and my friend also seemed pleased with how rare it was. This was the default, so if you like it well-done, bear that in mind.
Personally, I would have liked my main a bit spicier or with more lemongrass, but it was easy to request something to give it an extra kick. The wine was probably better with rib-eye than with curry (I shouldn't have chosen red), so that's something I would check about next time.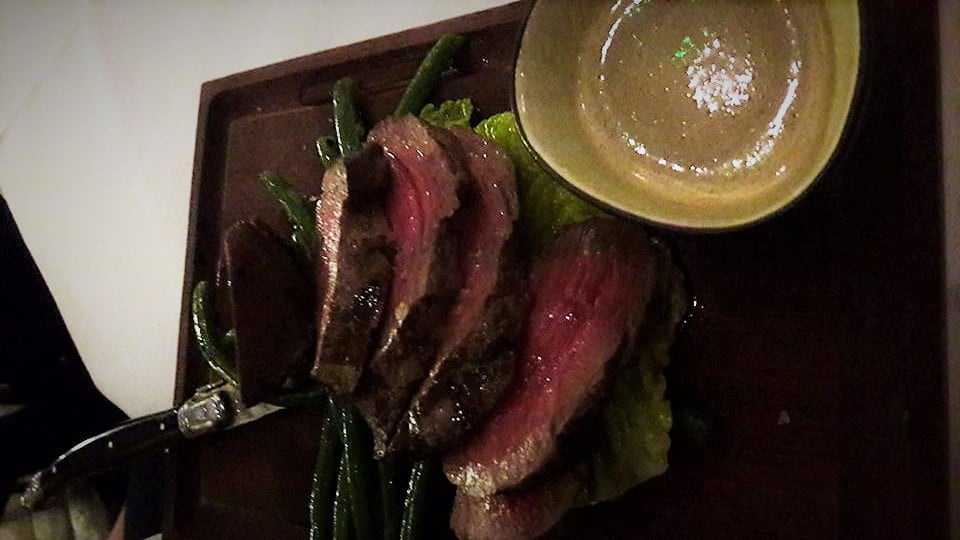 Dessert arrived, as it tends to do, after the mains. A pretty blue-and-white patterned plate with sticky rice, mango sorbet, a flower made of mango slices, some sort of wafer, and mango coulis. Like ginger, mango is a way to my heart so I was happy.
The verdict
If you like men with beards, you should check Adam & Siam out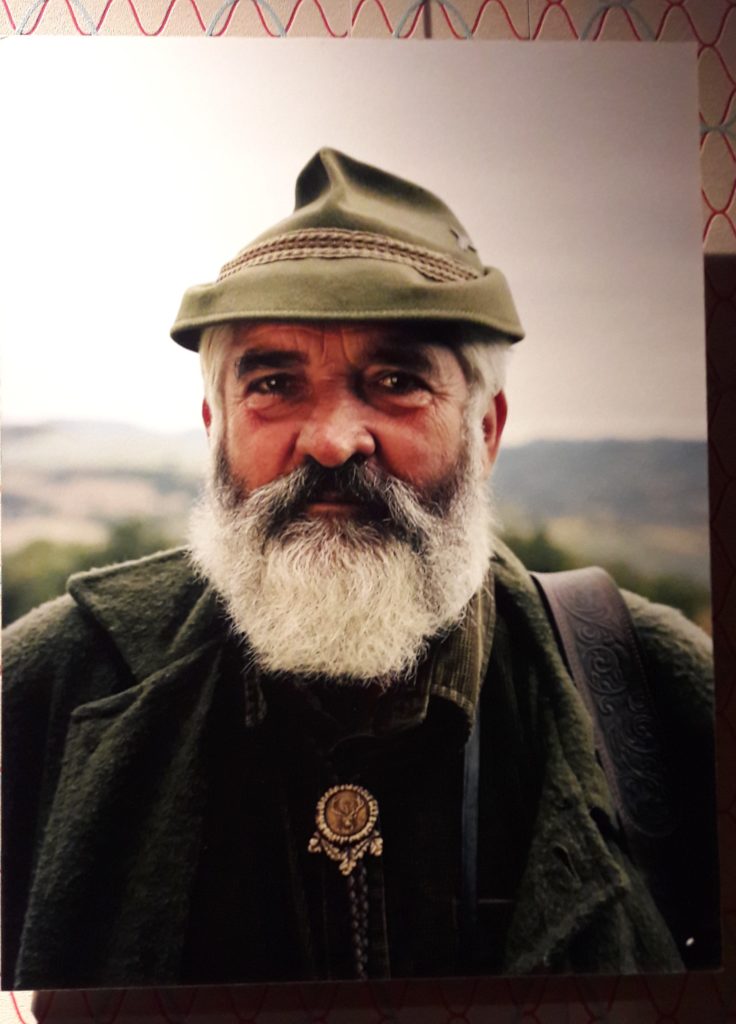 There were even photos of this older bearded gentleman in a forest hanging around. He is part of the art exhibition and looks friendly (just like the staff!).
Anyway, after all of that our stomachs were bulging and we happily took our time to digest, before being on our way. One thing; the place filled up pretty quickly. You should arrive around 19:00 or before to be sure of a space!
Address: Kruisplein 153
Website | Instagram | Facebook
Floreyn  (Marianne)
At first glance, Floreyn is the kind of place you want to go when you have something to celebrate; when you want to treat yourself; when you want to pull all the stops but in a casual, off-hand (and very Dutch) way. That was perfect for me: I was taking my friend out to congratulate her after a first day at her brand new, pretty grown-up job.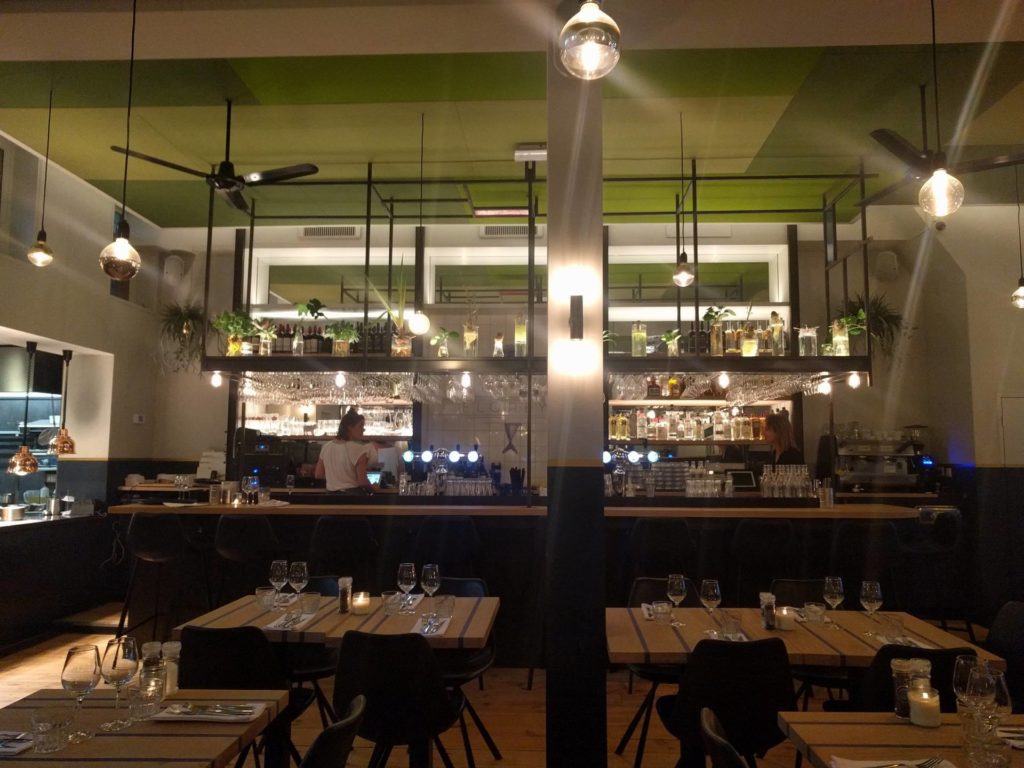 She and I sat down, looked around and searched for the perfect terms to define the atmosphere of the restaurant. We came up with jazz bar. The interior is clean, pretty, and industrial-chic like the rest of the Amsterdam hotspots. Smooth jazz plays in the background -the kind that lulls you into a sense of (accurate) security, matching with the lovely staff.
My friend and I went for a 5-course meal (this was, after all, a night to celebrate). We went in without any expectations and ended up blown away by the creativity -and the simplicity- of every course. Here is what we were offered.
We had some appetizers to start off: your average bread-and-butter stuff (though it is worth mentioning that this was real bread, which matters greatly to two French girls), and some delicious savory tompouce. Tompoucen are usually sweet treats, a little like mille-feuilles, with a hard topping and some soft cream. Impossible to eat with dignity, yes, but delicious. The savory take of this typical Dutch treat was surprising, but it worked. It was a fresh snack and a subtle way to whet our appetite and poke at our curiosity.
The starter was a marvelous cauliflower dish. "You may have thought cauliflower to be boring before," the waitress told us, "but this dish should prove the opposite." And boy, was she right.
Next came the mains: a celery-based dish for my veggie friend, and the veal filet for me. By that point we were already getting pretty full, but everything looked too good to miss. The veal did not disappoint; cooked just enough to remain tender, with delicious gravy and mustard on the side and some light, mashed potatoes to ease it down.
Then came a lovely platter of 4 different types of cheese -I wouldn't be able to give you their exact names (they were Dutch cheeses)- but I can tell you that we enjoyed them. The platter featured some blue cheese as well as some goat and cow cheese.
Finally, we were asked whether we wanted dessert… Of course we did. There is always room for dessert. Although the apple pie and the butter cake sounded great, it was a 'chocolate dessert' kind of evening, so we opted for the Chocolate Buckthorn. Although we were stretching our stomachs a bit, it was worth it. A very good ending to a great culinary journey.
The Verdict
If I had to sum up Restaurant Floreyn in one word, it would be flavorful. Every dish is well-crafted to combine different textures and surprising flavor combinations that work incredibly well together. If you are looking for a fancy dinner out without wanting to break the bank, Floreyn is your place. Oh and make sure to check their menu online, they update it every month.
Kanarie Club (Abuzer)
It's big, yellow, open all day long and located in Amsterdam-West at the Foodhallen. It's the Kanarie Club! It certainly lives up to its name in the sense that it's awake and open all day long and has big yellow letters all over the place.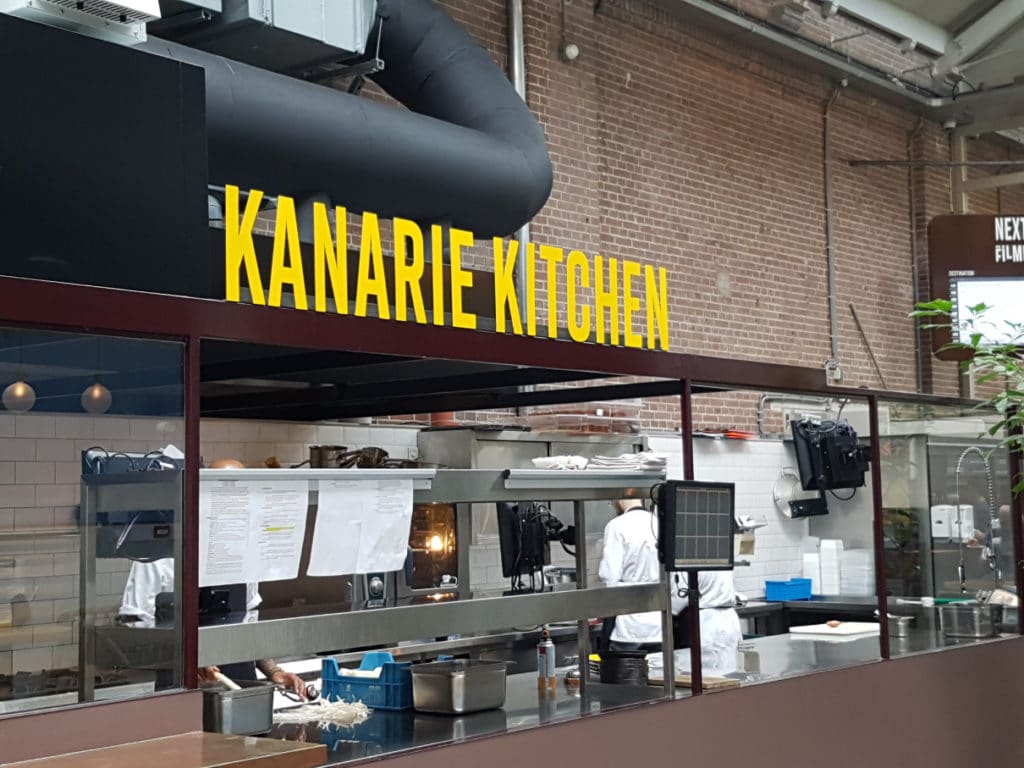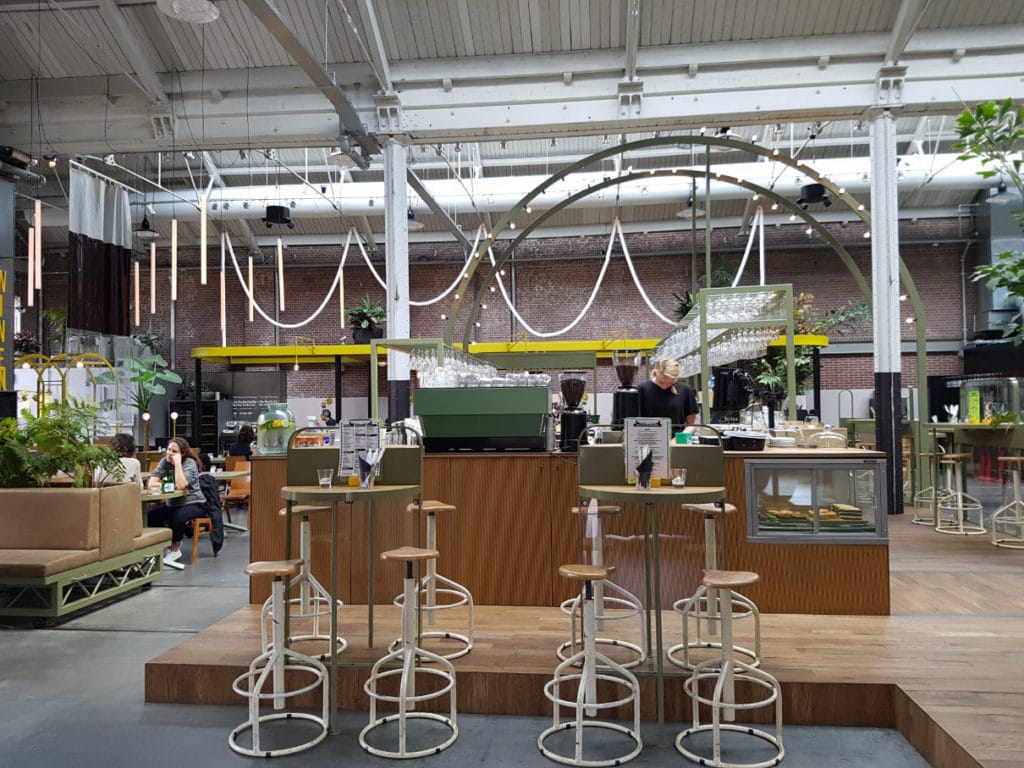 Since it opened up in 2017 and is by the people that brought you the foodhallen you can rely on it's decor to stunning as ****. Whether you're there for breakfast, lunch or late-night drinks – this place is sure to provide the right atmosphere – truly a hotspot.
Marianne and I went there for lunch and drinks. So we have to return for dinner one day! In a weird moment of small appetite, I opted for the Pastrami sandwich while Marianne went ahead and got stuck in the Kanarie Burger. Both were excellent (yes, I whined for a little bite of that burger – for review purposes obviously) – but I gotta admit that sandwich was a little, well, too little – but excellent quality.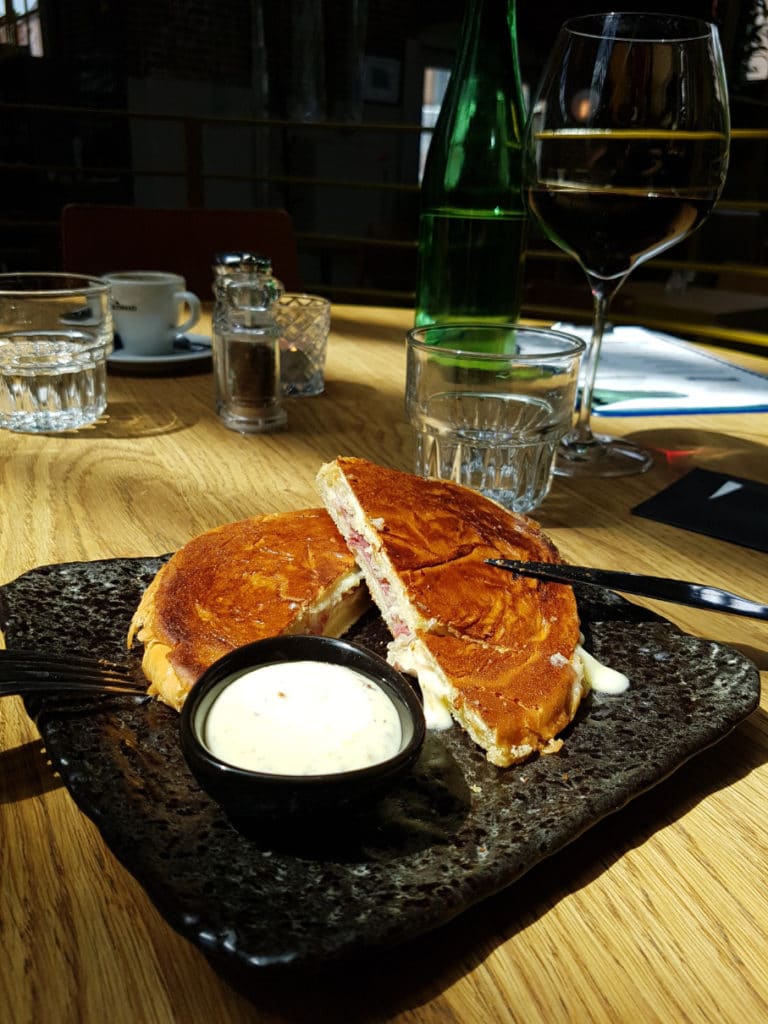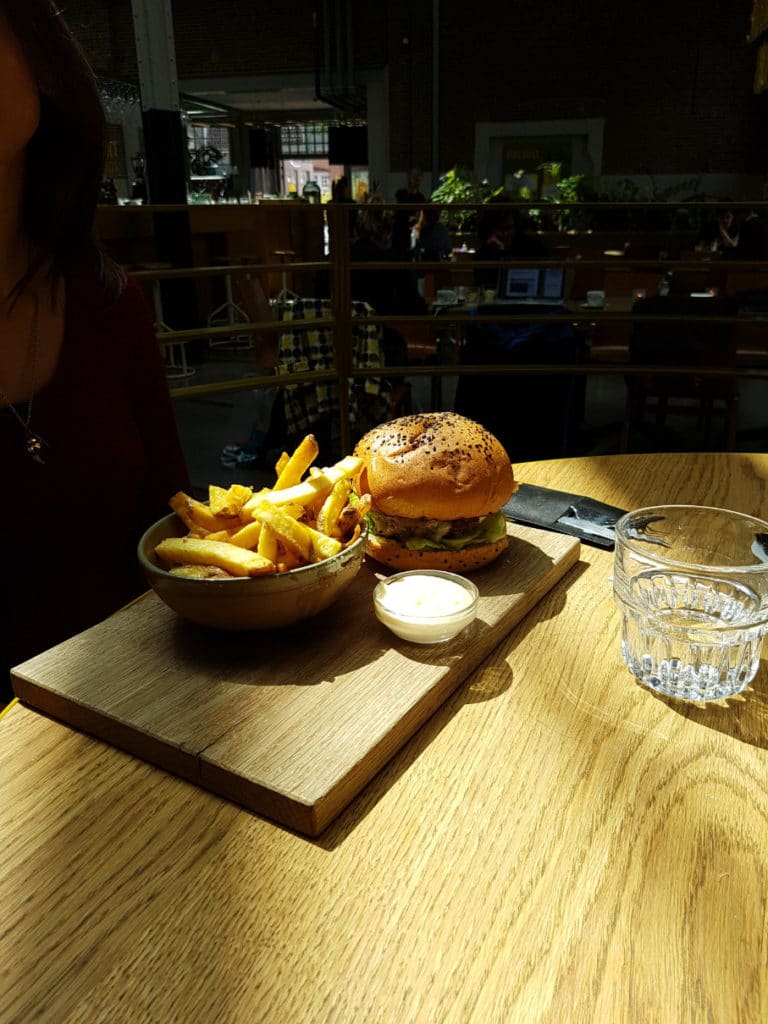 The cocktails though were both great in size and quality, so cheers for that! And when the sun is also shining you can take them outside on their terrace as well!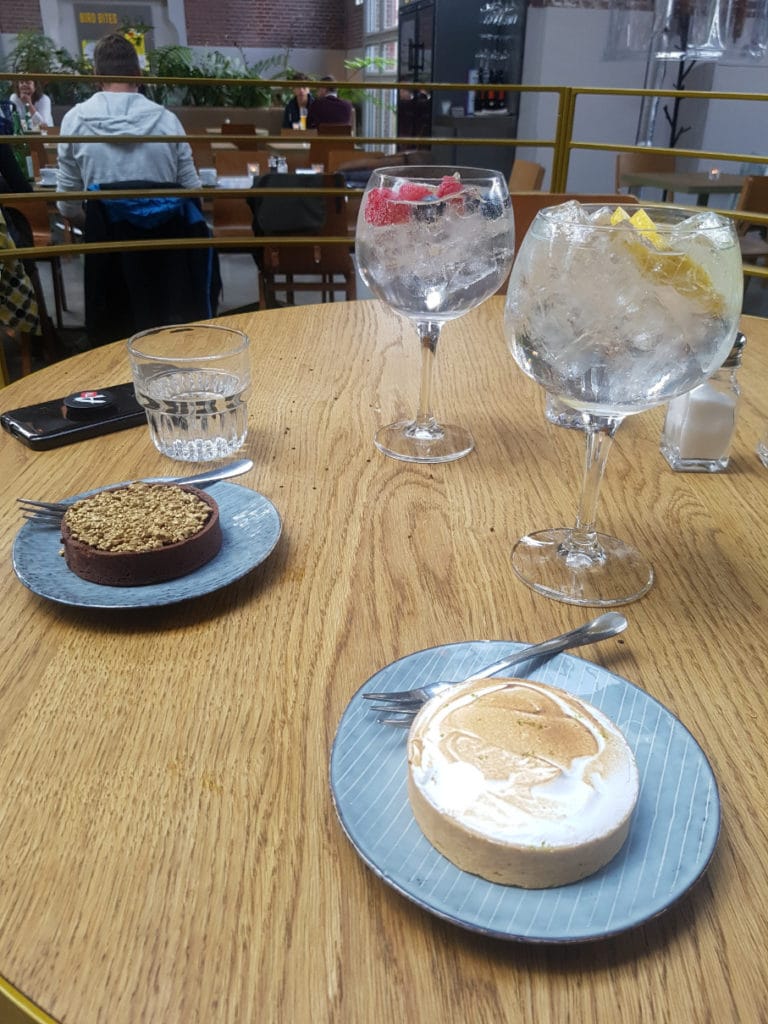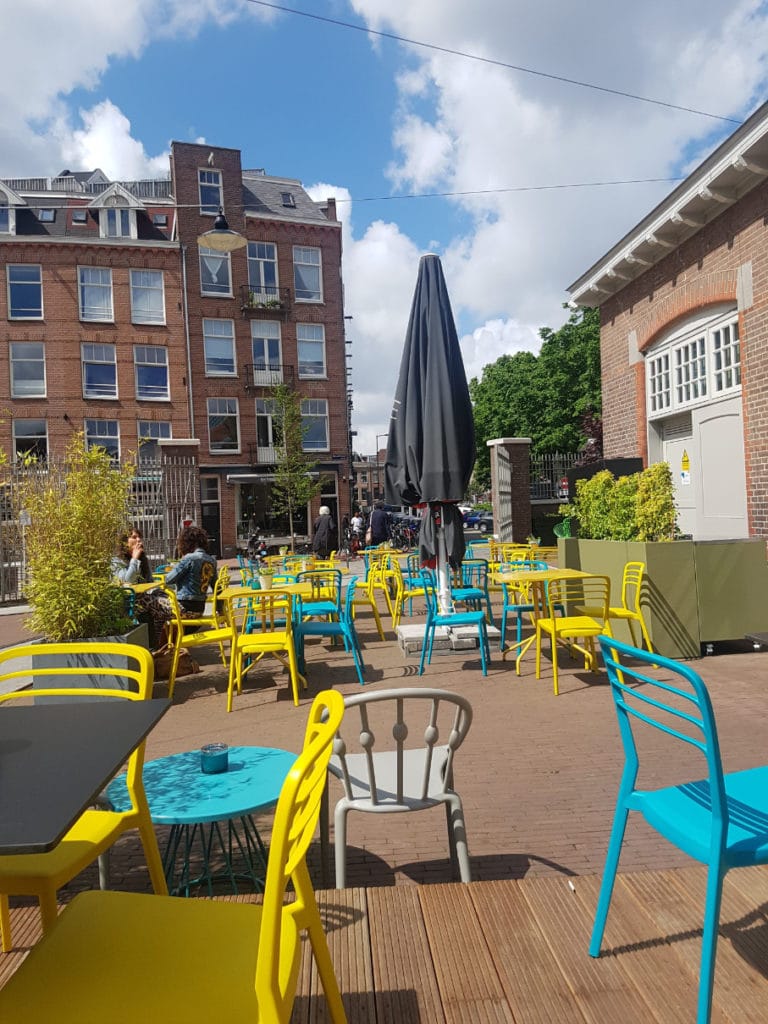 The Verdict
All-round fancy hotspot! A sure thing when in Amsterdam-West whatever the time of day may need 🙂
Address: Bellamyplein 51
Website | Instagram | Facebook
Wyers (Alexandra & Lachlan)
Wyers Bar & Restaurant is conveniently located within walking distance from Central Station. It is part of the Kimpton DeWitt hotel with direct access for hotel guests as well as a separate entrance. It claims to be an Amsterdam Restaurant with American roots thanks to Brooklyn born chef SammyD, which we learned from the menu once we took a seat around lunch time at a fairly empty but inviting looking restaurant. The interior has a clean, industrial look with warm elements like flowers and Delft porcelain plates on the tables.
After a glance at the extensive drinks menu, which was bigger than the actual food menu, we decided that it was late enough (yes, it was past noon) to sample some of their house cocktails. Lachlan went for the Bergamot Buzz with a very interesting combination of tea and beer, and I chose the Kokosnoot that tasted delightfully refreshing thanks to the lime and soda mixed with Jenever. They also have over 25 beers on draft as well as a very decent wine card perfect for after-work drinks.
Having worked up an appetite thanks to our cocktails we decided to order some snacks first followed by two Sam-wiches, which were the crowd pleasers on the menu according to our waitress. We found all-time favourites like chicken wings, bitterballen or salmon on the menu that were all transformed into creative dishes with a twist. The Lollipop Chicken Wings were delicious and their Bitterballen surprised our taste buds with a filling of oxtail and marrow. We further sampled the Cuban with roast pork, Swiss cheese and pickles and the very spicy "Koen's" Hot Dog with jalapeños and kimchi. I was not prepared for this expert level of spiciness (although the waitress did warn us) and Lachlan had to finish my half, which he didn't complain about.
We were very surprised when our attentive waitress, who never neglected to re-fill our water glasses regularly, presented a tray with desserts to choose from. As there were no desserts on the menu we didn't expect any sweets but happily tried the cheesecake with fresh fruit and the chocolate mousse with brownie. There was no crumb left on our plates when we got up to thank the staff and roll ourselves out of the restaurant!
The Verdict
Cocktails, good food – what's not to love? All in all a very pleasant place for after-work-drinks or a (business) lunch.
Address: Nieuwendijk 60
PS: Feeling stuffed after all that delicious food? We know how important to take care of your dental health to keep on enjoying all the yummy stuff. So, if you ever need a good international dentist who can help you in English or Dutch, we got you!