The weather this weekend in the Netherlands promises to be sunny and crisp. Here is what the weather will look like over the next couple of days.
Today (Friday)
Today, the highest temperature is expected to reach around 9 degrees Celsius. On top of that, we are expecting a nice sunny day with little to no rain in most areas. This comes as a relief considering the crazy hail weekend most Dutch towns experienced a week ago. So grab your colleagues after work and go for a nice Dutch borrelen.
Saturday
Saturday is going to be slightly warmer. With an expected temperature of 11 degrees Celsius, two degrees extra is technically considered warmer. We are also expecting a whole lot of sunshine, with some clouds, but who cares? A crisp fall is always much better than a damp one.

Sunday
Sunday is pretty much going to be a copycat of Saturday. With an expected temperature of 11 degrees Celsius and sunshine, we are going to have two amazing days this weekend. So make sure to get out and make the most out of it, before the rain takes it all away.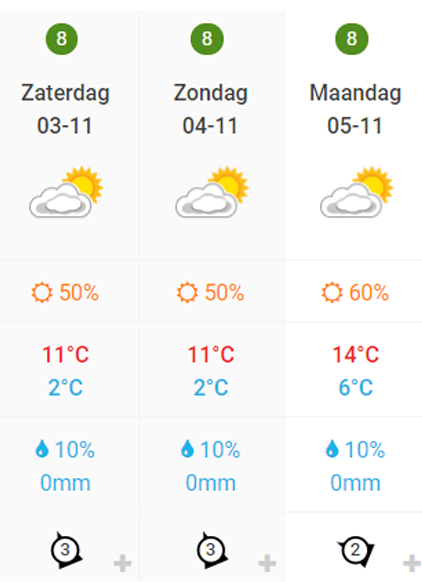 Bonus Round: Monday
Monday is going to be one hell of a warm day for November – 14 degrees Celsius mixed with some clouds and sunshine. Now we're not sure if going to work on a Monday when the weather is nice is something good or just pure agony. But at this point we'll just take whatever Dutch Mother Nature is giving us.

Are you happy with the weather this weekend in the Netherlands? What will you be doing to enjoy the upcoming sunny days? Let us know in the comments below!