A daytrip to the Apenheul, let alone to Apeldoorn, may not be the first idea on everyone's mind. But here are several reasons why you should definitely go there, while the weather is still oh so lovely. 
In the literal sense. Forget the idiom. It is one of a kind, it is fun and exciting and it is in Apeldoorn. Or, as fellow expats tend to encourage each other while commiserating online at the prospect of having to move to Apeldoorn, "it is in the middle of nowhere". In fact, Gelderland's Apeldoorn is one of my favorite municipalities in the Netherlands. I'm in love with its gorgeous fir tree forests, which give me a mountain-like feeling.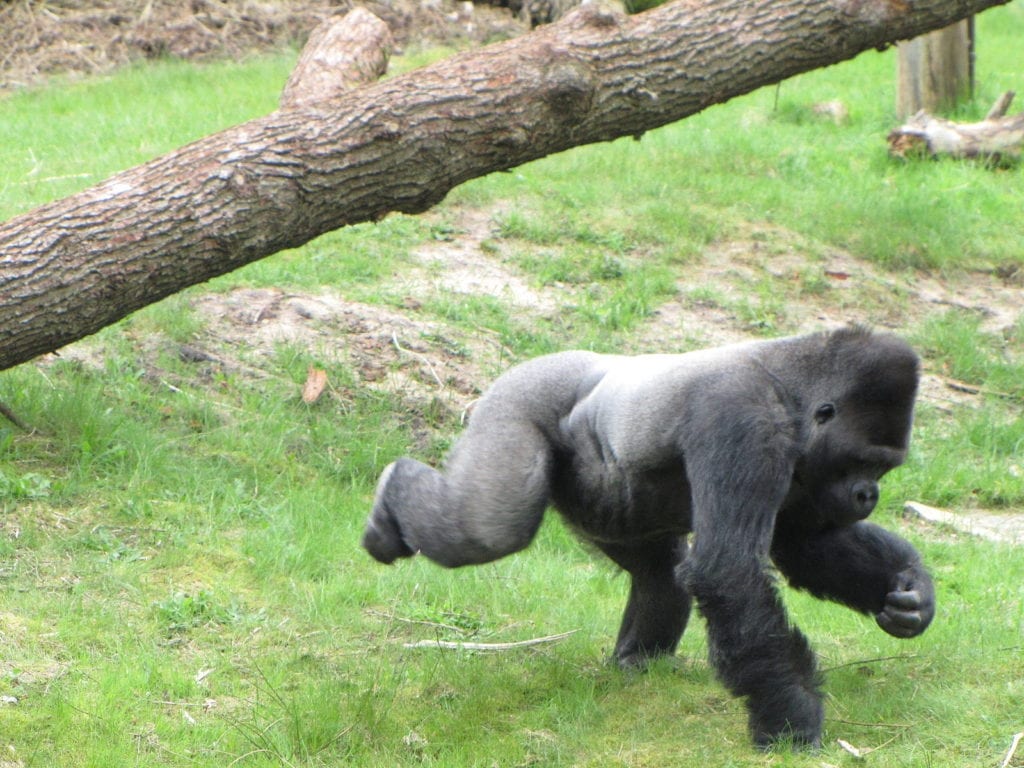 A daytrip to the Apenheul also means a daytrip to Apeldoorn
Apeldoorn is best known for the wonderful Paleis Het Loo, a former summer royal residence, where I always take visiting friends or family. And, of course, its infamous ticks, that you'd better stay as far away from as possible when hiking through those fine fir tree forests. If you're neither into royal palaces, nor into tick-induced adrenaline, you can always give in to your kids and take them to Julianatoren, the oldest theme park in The Netherlands, right across the road from the palace. Or, you could head straight to the Apenheul, the primate park, another Apeldoorn record holder. Opened in 1971, it was the first zoo in the world where monkeys could roam freely among the visitors. Well, some of them, at least, don't worry you might have to share your ice-cream with a gorilla.
A monkey park?
It was Wim Mager, a Rotterdam-born Dutch photographer, who came up with the idea of the park back in the 1960s, when it was still legal for private citizens to own pet monkeys. Mager had not one, but two, and, predictably, things got out of hand when puppies were born to the pair. His solution was an apen ("monkey) heul ("safe heaven") and you know what they say … the rest is history.
Why a daytrip to the Apenheul is worth it: monkeys, nature, and fun
The Apenheul is located on the outskirts of the city within the wonderful Berg en Bos park, which is, to me, the most beautiful park in the Netherlands. Yes, think fir strees and slopes and a small waterfall, small ponds, a bigger lake, playground in a forest meadow, an adventure forest. While access to the park is free, visiting the Apenheul is not. It is, in fact, quite expensive according to online visitors' reviews. You can save up if you buy your tickets online or if you visit on a weekday.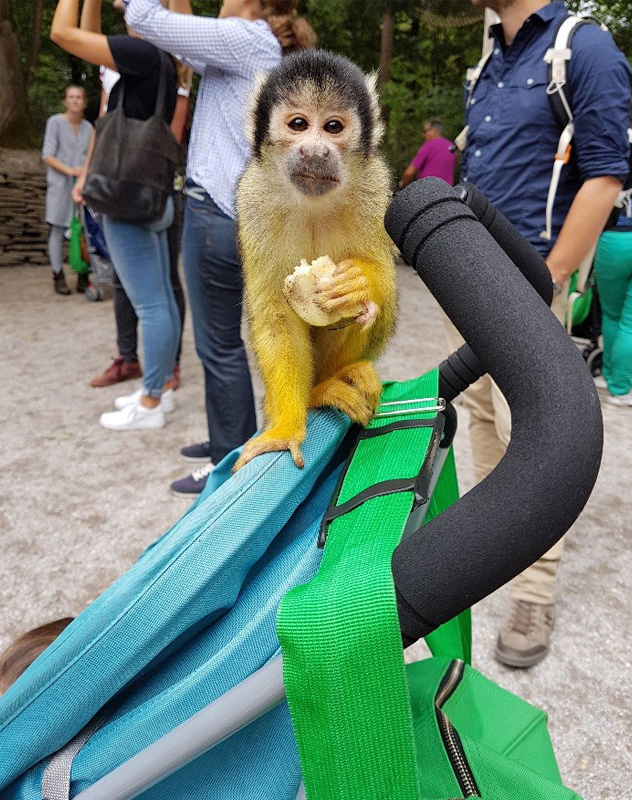 The parking is huge and across the road from the entry to Berg en Bos, which is a 10 minute walk from the actual entry to the Apenheul. Upon entering the monkey park, you are strongly encouraged to put all your belongings (including your handbag) in their so-called "monkey-free" bags – green zipped up shoulder bags which are, of course, park property and should be returned before leaving. You won't have much time to wonder whether they are not actually overdoing it, because you will run right into a flock of very cute squirrel monkeys, some of them carrying tiny pups on their backs. They were all over our stroller, looking for food.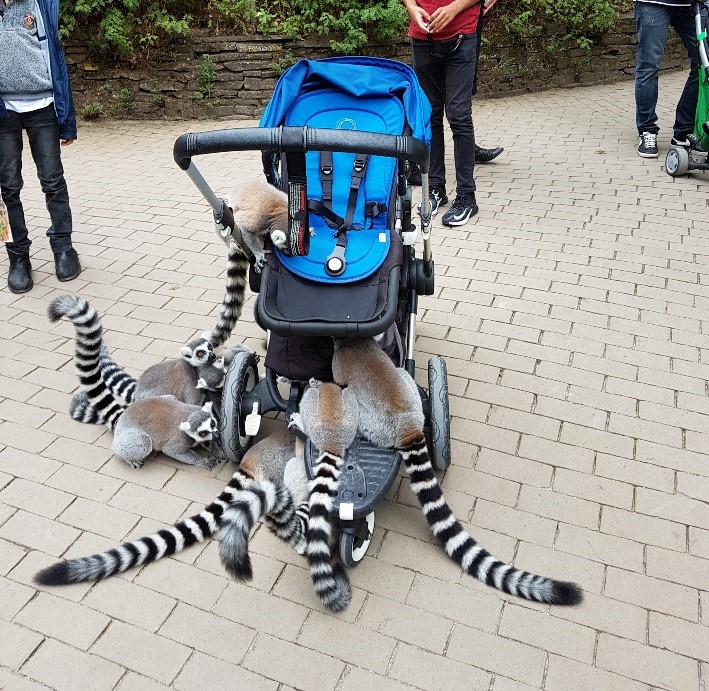 My older son was thrilled, secretly hoping they'd also jump on his shoulder. My toddler was amused at first but then thoroughly annoyed at the prospect of having his property confiscated by those fast, fur-covered animals. What we did not do (and you should not either – under no circumstances) was to pet or lure the monkeys. This is a no-no as they can bite if irritated.
A daytrip to Apenheul: you have to come prepared
Once inside the park, you have to follow a route which takes you across areas where monkeys roam freely, restaurants, playgrounds, themed interactive areas, enclosures of big monkeys such as gorillas or chimpanzees, all within the gorgeous Apeldoorn forest.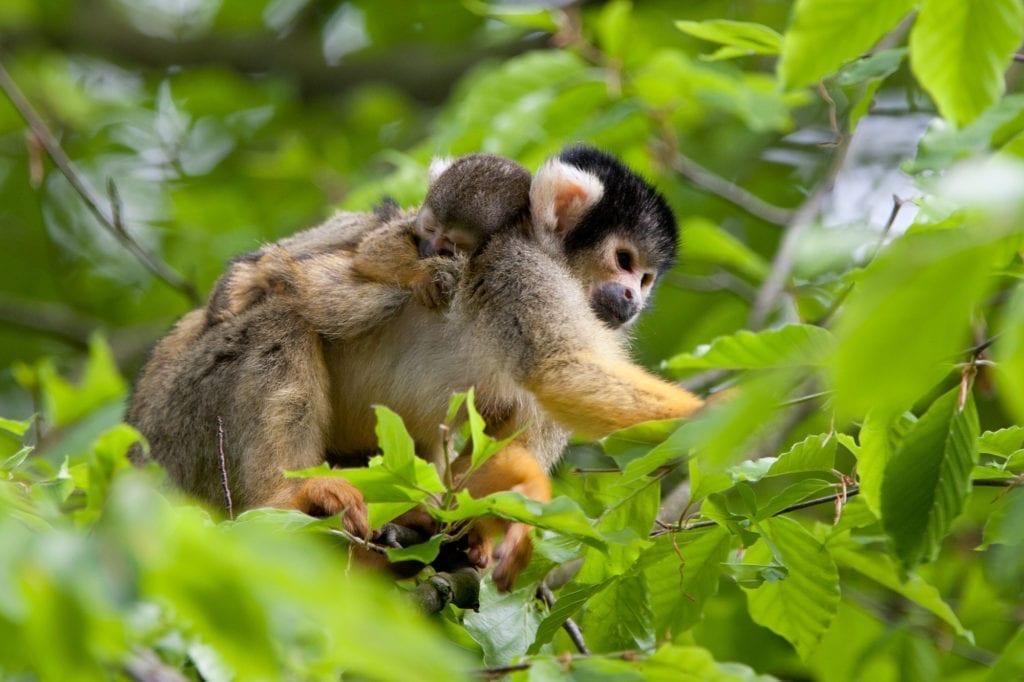 It is very important to check timetables before you go, because feeding demos are scheduled for particular times and some of the areas where monkeys are free to move actually close one hour before the end of the day (i.e. currently at 16h00 instead of 17h00).
Food options are what you would normally expect in a zoo or theme park, but with a twist – for instance, you can get tasty organic fries. You may also bring your own picnic, but you should only eat in designated/restaurant areas. Not a surprise, right, with all those roaming monkeys?
All in all, time flies when inside and it is easy to spend the whole day there, especially if you also want to have time to breathe – I hardly ever have, with my kids. I assume monkeys living in The Netherlands are as meteo-sensitive as the rest of us, so if you're planning to visit, try to pick one of the few remaining warm sunny days. Once doom descends, forget about monkeys. Time to talk Sinterklaas again.
Will you be going on a daytrip to the Apenheul? Let us know in the comments below!