Bookstores in The Hague you don't want to miss out on
I have this sacred tradition where I buy one new book from each city that I visit. During my first trip to The Hague, I bought five new books. I just couldn't help myself, the bookstores I came across were absolutely stunning. We know about which books to read in Dutch but if you are looking for a bookstore in The Hague where you can find English books, read on.
1-Bookstores in The Hague: The American Book Center
A 46 years old family-owned bookstore, the American Book Center or just ABC how the owners call it to easily link the website www.abc.nl with the actual stores, is a warm, friendly and entertaining space. The bookstore has a shop in Amsterdam too, which has been listed as one of the Ten Most beautiful Bookshops in the World, yet the one in The Hague is a bit more intimate and quirky. Additionally, in The Hague location people can also enjoy looking for second-hand books and bargain books. The store also sells magazines, greeting cards, diaries, notebooks and merchandise.
From ABC, I bought Elena Ferrante's Neapolitan Novels, a remarkable series of four books describing the story of a sixty-year friendship between Elena and her rebellious childhood friend, Lila. Now, each time I see the books, I remember the lovely afternoon in The Hague when I entered the American Book Center for my "new city, new book" tradition. All in all, one of the best bookstores in The Hague.
2-Bookstore Hoogstraten: English books since 1881
This one was by far my favourite. Not too large, yet classy, very well organized and knowledgeable, the English-only bookstore will definitely catch the eye of any bookworm passing down that street. During a little chat with the bookstore clerk I've discovered this is one of the oldest, independent bookshops in The Hague and since 1994 they are granted with a Royal Warrant by H.M. Queen Beatrix of the Netherlands.
The store is in a beautiful location, close to the Noordeinde Palace, His Majesty King Willem-Alexander's office. Inside you'll find a huge pile of English books from biographies, fiction, children's books, gardening and cooking to art, antiques and an amazing jewelry and royal history collection. The store is open from Tuesday to Friday and is an excellent place to buy books or simply enjoy yourself for a while flipping through the charming books. I found an interesting book about the writers and artists under the English skies, written by Alexandra Harris and I just had to buy it.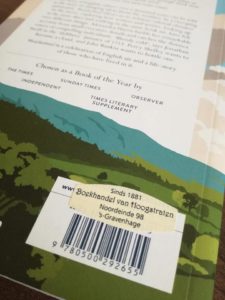 3-Bookstores in The Hague: Paagman
Now, Paagman is more than a bookshop, it's an adventurous journey. From the moment you step in, you are surrounded by the great and very welcoming scent of new printed books and fresh coffee (yes, they have exceptional coffee too!). The staff is really nice and always willing to help and everyone in the library seems happy to be among books.
The children's section is absolutely enchanting, apart from checking the books, kids can watch movies and play games. Children and parents alike can also admire the little mouse house which has a doorbell too.
For those of you who already have enough books (I don't know anyone who would ever say such a thing, but who knows?) you can still spend a couple of hours having a pleasant time at any of these bookshops. You can just wander the aisles, browsing through the endless shelves of stories and characters, flipping through that cookbook you never could decide whether to buy or not. The places are a brilliant experience for any book lover.
Any other bookstores in The Hague we need to know about? Feel very welcome to share them with us in the comments
Hey there! Be sure to follow DutchReview on Facebook in order to not miss out on any other good stuff!