When it comes to food and Amsterdam, and the Netherlands, one thing always comes to mind: cheese. While the Dutch are undoubtedly world-famous for these mouth-watering cheeses there are far more delicious Dutch concoctions that will have you drooling all over the bike paths. Stay tuned for some of the must-eats in Amsterdam!
The stroopwafel, a combination of a waffle and a biscuit with oozing caramel sauce, and Gouda cheese are two items that can't be missed while you're in Amsterdam. If you would prefer to take a more 'relaxing' avenue, the special 'adult' cookies at a local coffee-shop will give you a whole other culinary experience ☘️.
But, if you are a true foodie on the hunt for unique food that gives Amsterdam its vibrant identity, check our top 7 must-eats when in Amsterdam – your tastebuds will thank us!
#1 Must-Eat in Amsterdam: Herring
There are foods in the world that demand an audience: the iconic yet straightforward hotdog in America, or the flavour bursting street-food of India. In Amsterdam, the slippery-slidey herring guarantees it will get your attention – and get you to hold your nose!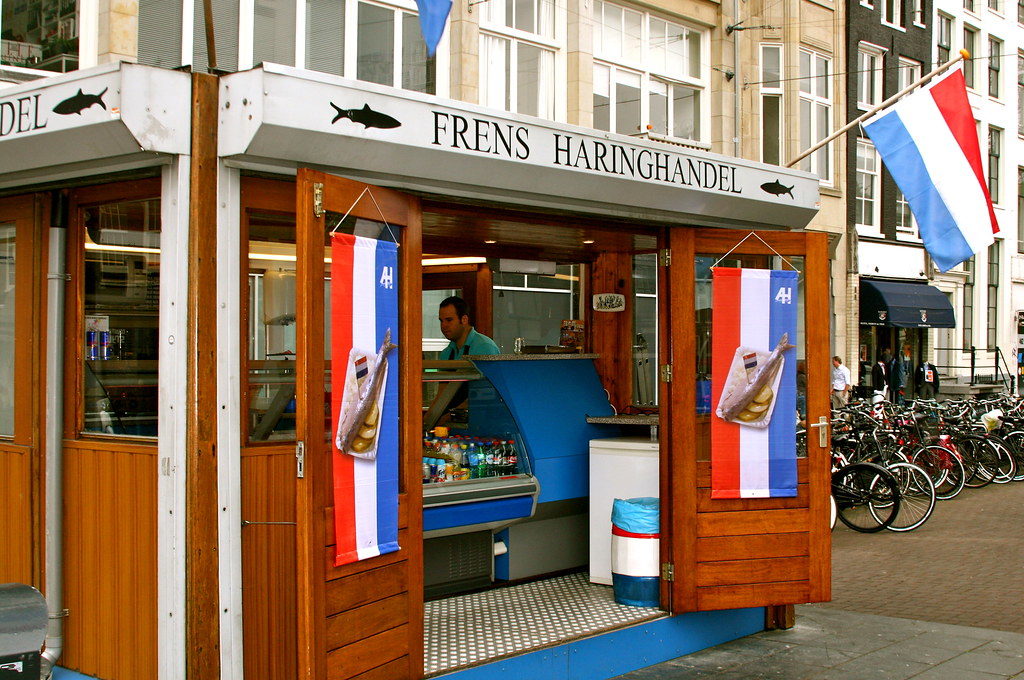 The dish is a favourite with locals and visitors and can easily be found at different stalls around the city, including just outside Centraal Station. Is there a correct way to eat raw fish? You betcha! Hold that sucker up by the tail, tilt your head back, and lower it into your mouth in as big a bite as possible. It's sweet, sour, salty, slimy, and fishy, but love it or hate it, it's a must-eat in Amsterdam.
#2 Must-Eat in Amsterdam: Oliebollen
These tasty balls of delight are basically doughnuts, which makes them pretty dang good in our book. There are a few differences: no donut hole (for the mathematicians out there: that means more donut!) and raisins are also mixed through making it the perfect cosy, winter treat.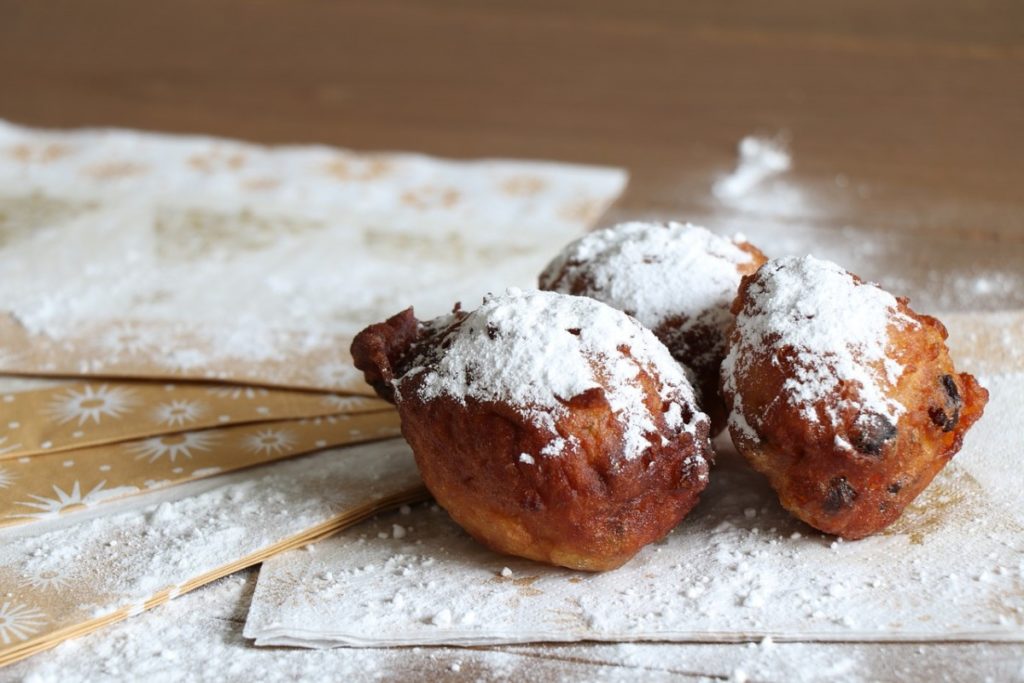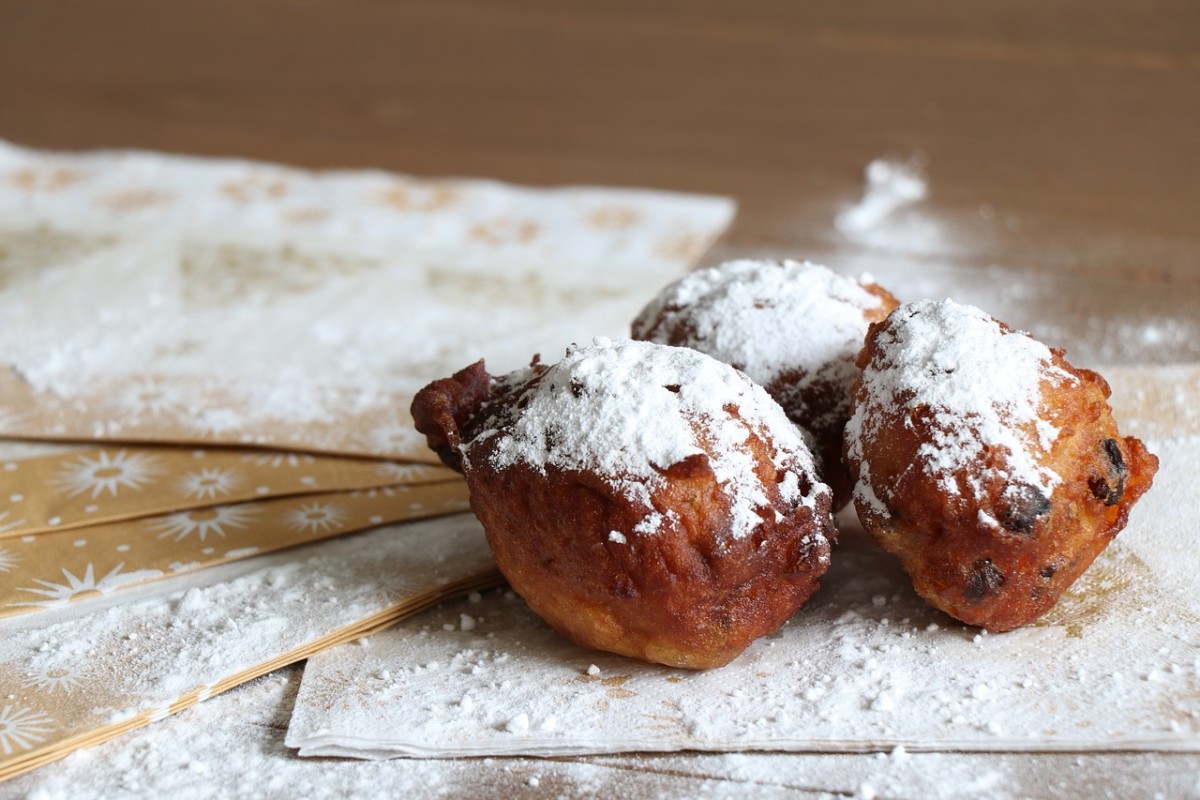 Olliebollen are served with sprinkled powdered sugar on top (ummm, yes!) and are both a quick bite on the go as well as a proper dessert to have during festival times.
#3 Must-Eat in Amsterdam: Poffertjes
Who loves pancakes?! Now, who loves stacks of miniature pancakes smothered in butter and sugar? The crowd goes wild, and so will you for these cute, fluffy, eatables.
Poffertjes are known around the world as 'Dutch Pancakes,' cooked in special pans by the dozen, and are the perfect bite-sized addiction. While these babies may be small, constrain yourselves! They're seriously addictive and a major must-eat in Amsterdam.
#4 Must-Eat in Amsterdam: Stroopwafel
Stroopwafel is a word that kind of falls out of your mouth, and, coincidentally, stroopwafels are the kind of treat that falls into your mouth – repeatedly and in huge quantities. This must-eat in Amsterdam is a Dutch cookie with a kind of waffle texture on the outside and the most smooth, delectable gooey caramel on the inside.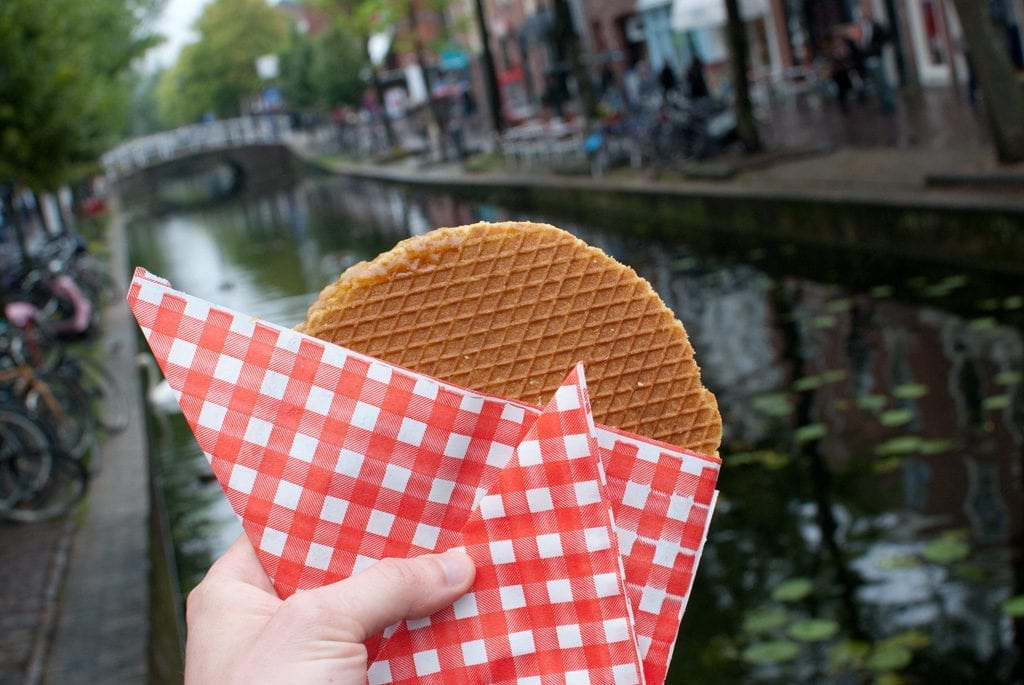 While there may not be a wrong way to eat a stroopwafel, there is the Dutch way. Order a steaming cup of tea or coffee, place your stroopwafel on top of the cup, and let the steam melt the caramel inside.
#5 Must-Eat in Amsterdam: War Fries
With a name so unique, "war fries" are the most popular comfort food when wandering around Amsterdam. Known locally as Patatje Oorlog, the fries Belgian-style and thus thick-cut and fired not once, but twice. So what's in it? Well, more over it: mayo and peanut sauce (the Dutch love their 'sate-sauce').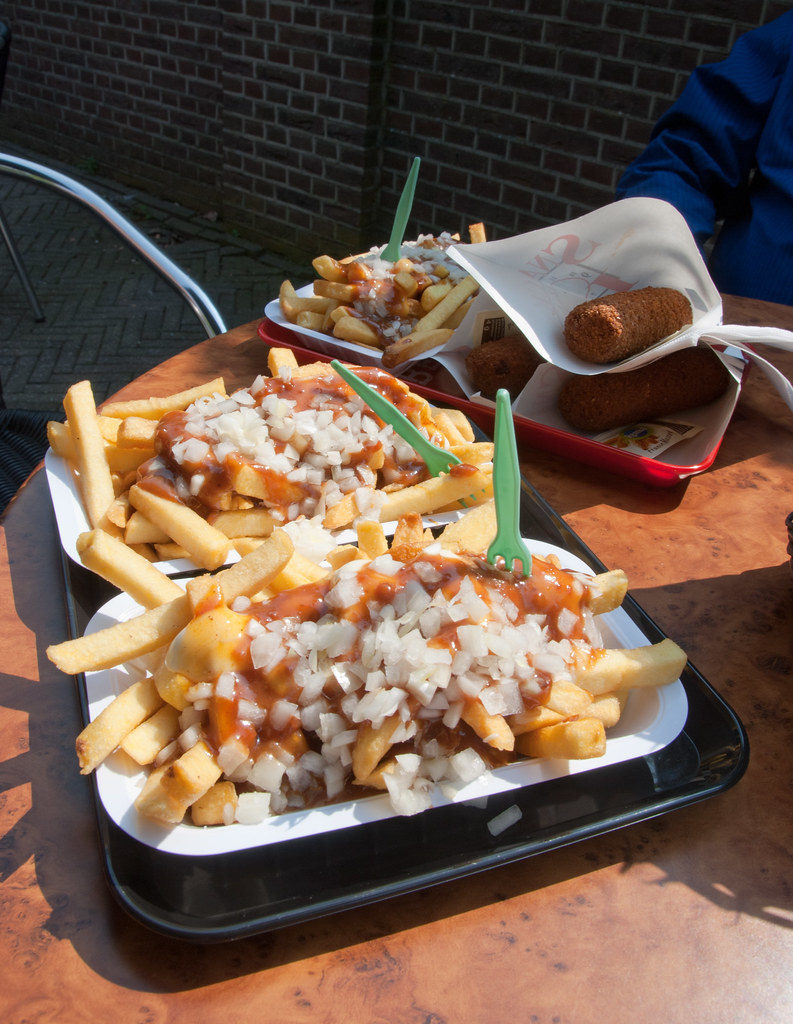 It's one of those typical Dutchie things to do: drink a beer, go to the fun fair, enjoy some war fries, jump on a ride, complain about the weather, have another drink, play some lucky numbers, then have another drink because you got lucky but the weather is still chilly.
#6 Must-Eat in Amsterdam: Spekkoek
Back in the glory days, the Netherlands travelled the world hocking spices. Indonesia was a former colony of theirs, and the two countries are still bosom-buds. Despite the sordid history, spekkoek is one of the delight that emerged.
Spekkoek is a layered Indonesian cake that is made using cinnamon. Soft and satisfying, you are most likely to find the cake at one of the many Indonesian cafes or restaurants that dot the city.
#7 Must-Eat in Amsterdam: Kapsalon
There is some rule of the universe that when you combine a bunch of ingredients onto a base you make something delicious: take pizza or nachos as an example. Kapsalon is the Dutch equivalent. From Turkish roots, kapsalon literally translated means 'hair salon'.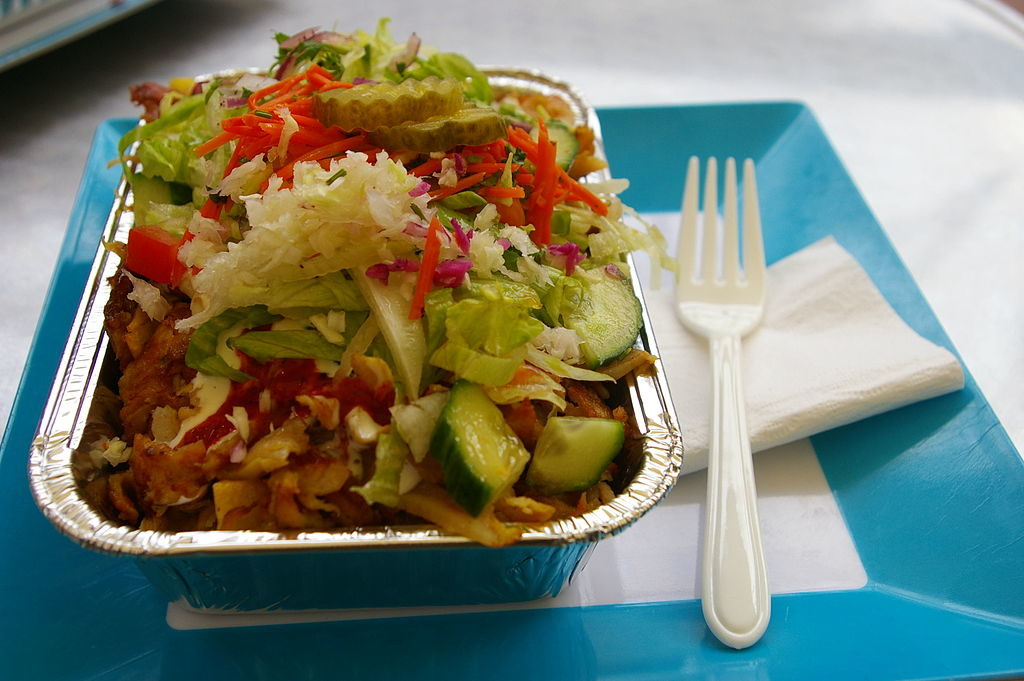 Don't let the name put you off this dish though, because fries, shawarma meat, cheese, and salad layered in a container? This is the perfect post-drinking or munchie meal, and a must-eat in Amsterdam.
Did you try any of these must-eats in Amsterdam? Got a favourite Dutch meal that we missed? Let us know in the comments below!
Feature Image: Mira Pangkey on Flickr, CC 2.0.