Hiking and Amsterdam are two words that are not often paired — but that didn't stop us from trying.
Escaping to the wilderness is an ideal solution for managing stress, yet, it can seem tricky when you're in a crowded sinking city made of brick propped up on stilts and the only elevation gains are the 14,000 stairs to your apartment.
Fortunately, Amsterdam has some surprisingly stunning walking trails in her big bag of tricks, perfect for a little dose of nature therapy.
READ MORE | Hiking in the Netherlands: 4 myths, busted
With no hiking boots required, here's where you can find our top seven spots for "hiking" around Amsterdam, all within cycling distance.
1. Nieuw-West's best-kept secret: Lange Bretten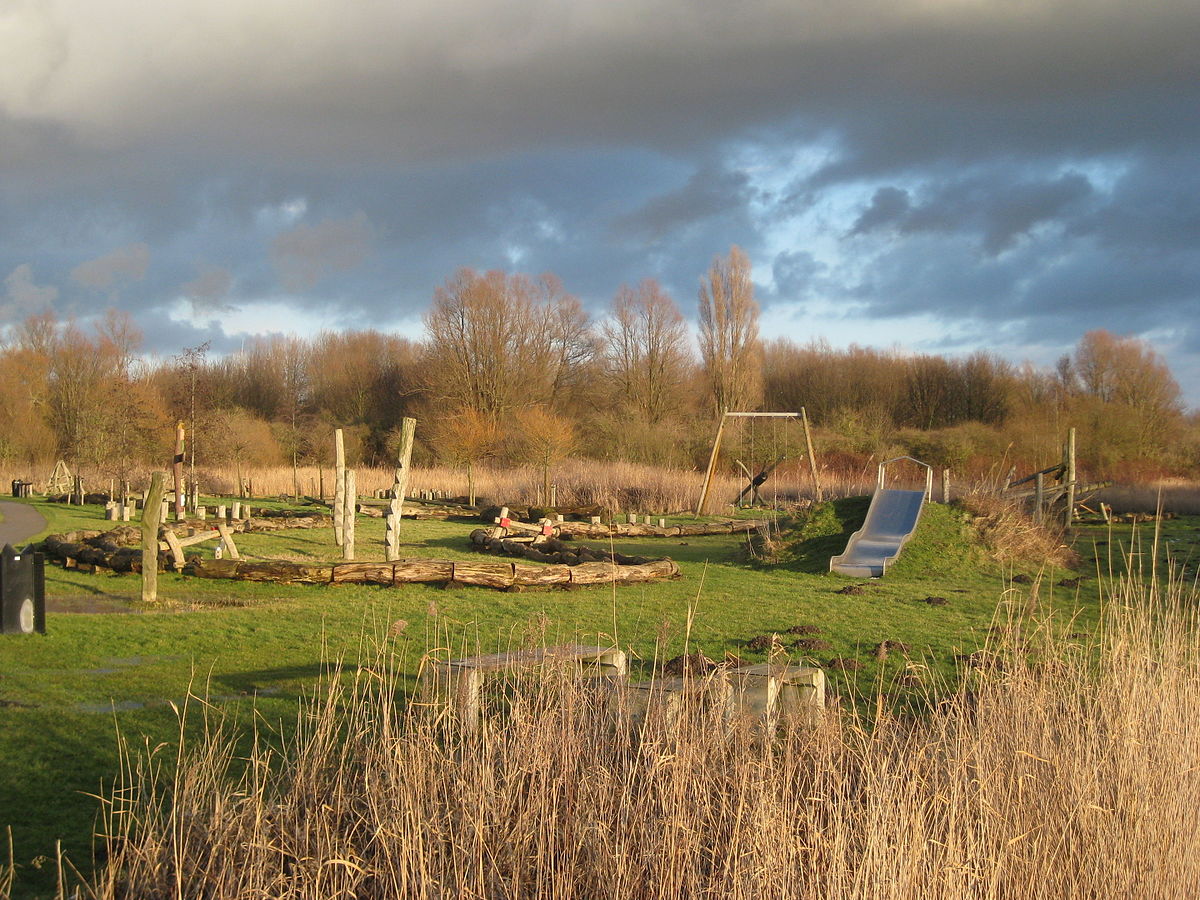 📏 Walk distance: 10+ kilometres, each way.
🚲 How to get there: Lange Bretten is a 25-minute cycle from Amsterdam Centraal.
📍 Starting point: Volkstuinpark De Bretten.
🗺 Route: Keep heading west along any of the paved or unpaved trails.
A nature reserve in Nieuw-West, Lange Bretten is uniquely beautiful, and unlike anywhere else in Amsterdam. It's quiet and secluded, far enough from the city centre that you're unlikely to spot a single tourist, but still close enough to access with ease.🧘‍♀️
An extensive network of trails winds you through 10 kilometres of varied natural landscapes. You'll also find plenty of grassy offshoots along the way to venture off the beaten path.
Lange Bretten is chock-full of wildlife. Big buzzards and falcons fly overhead, while little rabbits and squirrels skitter below. You'll hear croaking frogs and toads and may even spot a few highland cattle.
The hardest part is turning around and heading back — if you simply cannot, head another couple of kilometres west and you'll find yourself in a whole new forest to explore, the Spaarnwoude.
2. Amstelveen's wooded wonderland: Amsterdamse Bos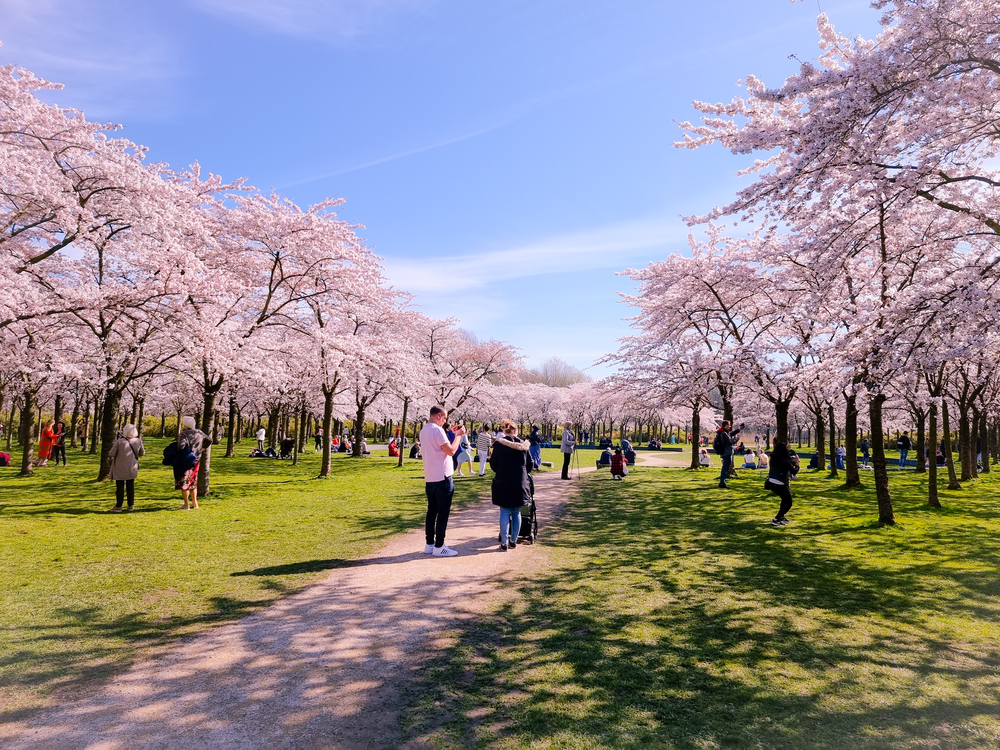 📏 Walk distance: 15+ kilometres (and many shorter routes).
🚲 How to get there: The Amsterdamse Bos is a 30-minute cycle southwest from Amsterdam Centraal.
📍 Starting point: Bosbaanweg (among others).
🗺 Route: There are many routes to choose from. For a nice 15 km wandel, try the Long Forest Walk.
The Amsterdamse Bos (meaning forest) is unrivalled for one of the largest green spaces in the city, the largest being in Amstelveen. Covering over 1,000 hectares, this park is three times bigger than New York's Central Park, and one of the largest city parks in Europe. 🏙
If you're looking to get a little lost, this is probably your best bet within the city. With its infinite winding paths, you can easily spend hours exploring the park
Around 150 indigenous species of trees and over 200 species of birds call the Amsterdamse Bos home. It's the go-to place to spot rare flora and fauna, encounter dozens of varieties of mushrooms, and see a diverse range of birds, reptiles, and insects.
3. The woods of Nieuw-West: Rembrandtpark
📏 Walk distance: A loop around the perimeter is a little over 3 kilometres.
🚲 How to get there: An 18-minute cycle west from Amsterdam Centraal.
📍 Starting point: Main entrance at Postjesweg.
🗺 Route: Lots of space but you won't get lost — follow any of the trails and meander around.
Rembrandtpark is a top choice for a quick urban nature escape. The leafy and watery park spreads over 45 hectares, with a mix of paved, and dirt paths. Tall leafy trees, bushy shrubs, grassy knolls, and water features make Rembrandtpark an interesting area for spotting birds and other small wildlife, while a handful of unexpected art sculptures add a bit of pizazz. ⛲
It's also a nice area for walking dogs, and a family favourite, with a playground, and a petting zoo.
Pro tip: If you're up for a longer wandel, you can link your route to the nearby Vondelpark. Both parks are only separated by a 5-minute walk and this way you can have a good, 1,5-hour walk if you fancy.
4. A suburban sweetheart: Heemtuin Sloterpark and the Ruige Riet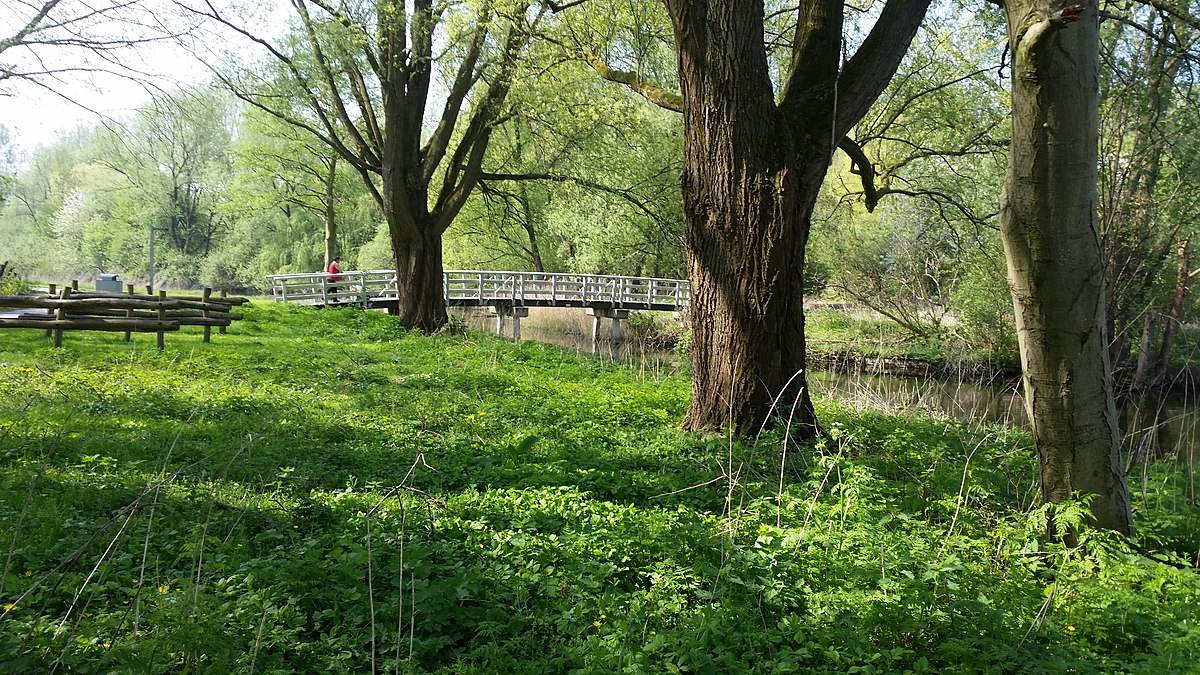 📏 Walk distance: 5.8 kilometres around the lake plus another couple of kilometres for the nearby nature trails.
🚲 How to get there: From Amsterdam Centraal, a 20-minute cycle west.
📍 Starting point: Begin at any point around the lake.
🗺 Route: Take a lap around the lake, or head straight for the nature reserve and wander through the winding paths.
A popular park for walking, the green space around Sloterplas (lake) in Nieuw-West is surprisingly full of trails and wilderness. The Rondje Sloter is a 5.8-kilometres loop trail around the lake. While this loop doesn't quite offer a full escape to nature, add on a wandel in the Heemtuin and Ruige Riet area to forget all about your city woes.
Heemtuin Sloterpark is a young nature reserve, established in 1975 and maintained by volunteers. This stunning little forest hides just west of the Sloterplas.
Native plants and wildlife thrive in these wetlands and woodlands. The reserve also hosts a botanical garden, petting zoo, and a nature education centre called Drijfsijs.
READ MORE | 7 scenic bike paths in the Netherlands
In the north-western-most corner of the park, you'll find the Ruige Riet, a modest 14.3-hectare protected bird island. 🐦
With its rather primitive, mushy trails, you'll almost certainly be bringing home muddy shoes as a souvenir — a small price to pay for this urban nature retreat.
5. Zuid and then some: Amstel River route
📏 Walk distance: From Magere Brug to Amstelpark is 4.5 km, continue as long as you please.
🚲 How to get there: Less than 10-minutes cycling from Amsterdam Centraal.
📍 Starting point: Start anywhere along the river, let's say Magere Brug.
🗺 Route: Head south alongside the river for as long as your legs will carry you.
The Amstel River trail is a wonderfully expansive path that's adored by pedestrians and cyclists alike.
Hop on the trail at any number of entry points along the river. Once there, you can experience the picturesque Dutch landscape, windmills, and cows. Take in the tranquillity of the water along the way, and be sure to pay a visit to the beautiful Amstelpark. It's full of large leafy trees and botanical gardens, including a rosarium and rhododendron garden with 139 varieties. 🌹
Past the park, the trail will lead you as far into the rural countryside as you're willing to go. To give you an idea, from the Magere Brug (Skinny Bridge) in central(ish) Amsterdam to Amstelpark, the distance is about four and a half kilometres. The exit on the opposite side of the park and the river path continues for another six kilometres to Ouderkerk aan de Amstel, a lovely village for a break.
If you still haven't had your fill, take a lap around the Ouderkerkerplas (lake) and you've added on another five kilometres to your walk. Now, if you've got some good trainers, a sandwich in your pocket, and an inordinate amount of pep left in your step, you can keep going as long as you like. After another nine kilometres, you've reached the quaint little hamlet of Nessersluis. Although, anything this far from the centre is obviously achieved more easily by fiets than on foot.
6. The urban classic: Vondelpark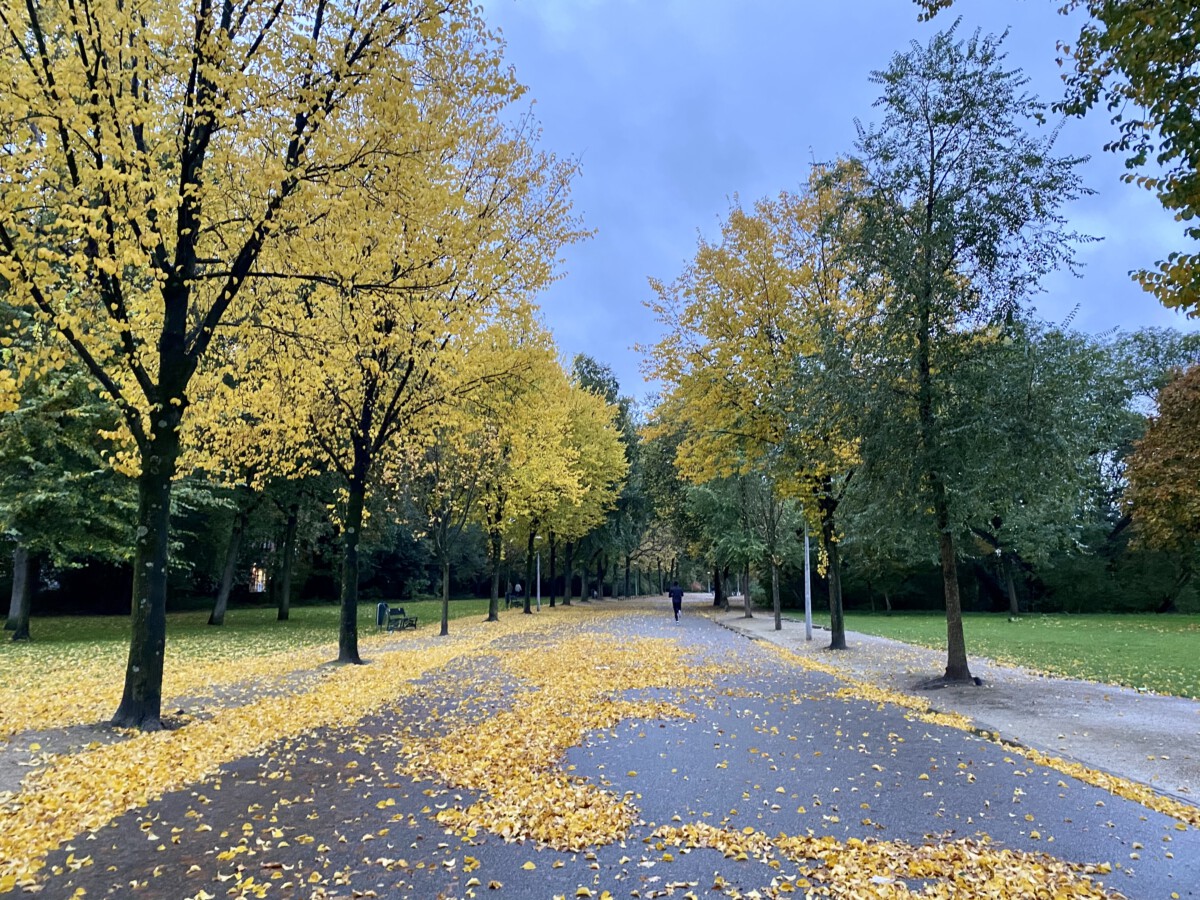 📏 Walk distance: A loop around the perimeter without diversion is roughly 4.5 km.
🚲 How to get there: From Centraal Station, it takes about 15 minutes by bike.
📍 Starting point: Maid of Amsterdam (main entrance).
🗺 Route: Straight ahead, then choose right or left. Make a loop, or weave your way around.
The famous Vondelpark: a park so accessible no wonder it receives more tourists than any other park in the city.
Particularly on an early morning weekend wandel, the park is calm and quiet. The tall trees help you forget you're in the city and the expansive paths lead you through interesting twists and turns. A hearty mix of trees, shrubbery, and ponds invite a range of interesting wildlife, such as grey herons, toads, bats, and even the famous Amsterdam parakeets.
7. North's soggy wandelen: 'T Twiske
📏 Walk distance: 3.5-16 km.
🚲 How to get there: A short ferry from Amsterdam Centraal and then a 30-minute cycle north.
📍 Starting point: An easily accessible starting point is Twiske Speelsloot.
🗺 Route: For a 16 km walk, follow red signs for the Twiskeroute.
30 to 40 minutes north of Amsterdam by bike and a short ferry ride, 'T Twiske is the furthest wandelen area from Amsterdam to make the list. The park has various well-marked walking routes to choose from between 3.5 and 16 kilometres long.
By following the longest route, the Twiskeroute, you can cover a large majority of the nature reserve. You'll walk along both paved and unpaved trails around the Stooterplas (the lake), pass through meadows, dikes, and the Roemersveld and Het Smaal forests. Along the way, you'll have the chance to encounter pheasants, rabbits, countless forest birds, and the handsome Scottish Highland cattle. Plenty of benches line the way to rest your feet and have a snack.
If you're up to exploring more of the region, it's easy to tie in a visit to the neighbouring nature reserves, Ilperveld, Varkensland, and Oostzanerveld. Together, the four reserves form an enormous peat bog complex. A wandel through any of these watery landscapes is sure to offer a rich variety of flora and fauna to feast your eyes upon and the squishy peat will quite literally put a spring in your step.
There you have it — seven incredible areas for a stroll through nature around Amsterdam. So get out and enjoy! And if you're still hungry for more, check out some of the other beautiful forests, lakes, and nature reserves in the Netherlands.
Will you visit any of these great hiking and walking areas in Amsterdam? Do you have any additional favourites to add to the list? Tell us in the comments!
Editor's Note: This article was originally published in November 2020, and was fully updated in April 2022 for your reading pleasure.