With life slowly coming back to normal, it's finally time to start planning your next ultimate Dutch road trip!
Before your mind jumps to canals and windmills, let us stop you right there, because this time, we'll be exploring the streets of Tilburg with its epic murals.
Summer is the perfect time to explore your own country — especially if said country offers nothing but rain most other seasons. So what exactly is Tilburg all about?
A day trip to Tilburg
Tilburg is a place you don't want to miss. Its combination of charming historic corners, edgy urban scene, and probably the loveliest people in all of the Netherlands makes the city stand apart from its big sisters such as Amsterdam and Rotterdam.
Whether it's a bustling creative scene, lush greenery, or the Netherlands' most epic library, Tilburg has plenty to offer for the curious visitor. However, this time around, we teamed up with Ticket to Tilburg to fully dive into the city's incredible street art.
Exploring Tilburg's murals
Don't you sometimes just feel tired of looking at old, dull, grey walls? Well, so did Tilburg.
That's why the municipality decided to invite a number of graffiti artists to brighten up it's streets and turn old buildings into colourful artworks — and boy, did they do a good job. Just see for yourself!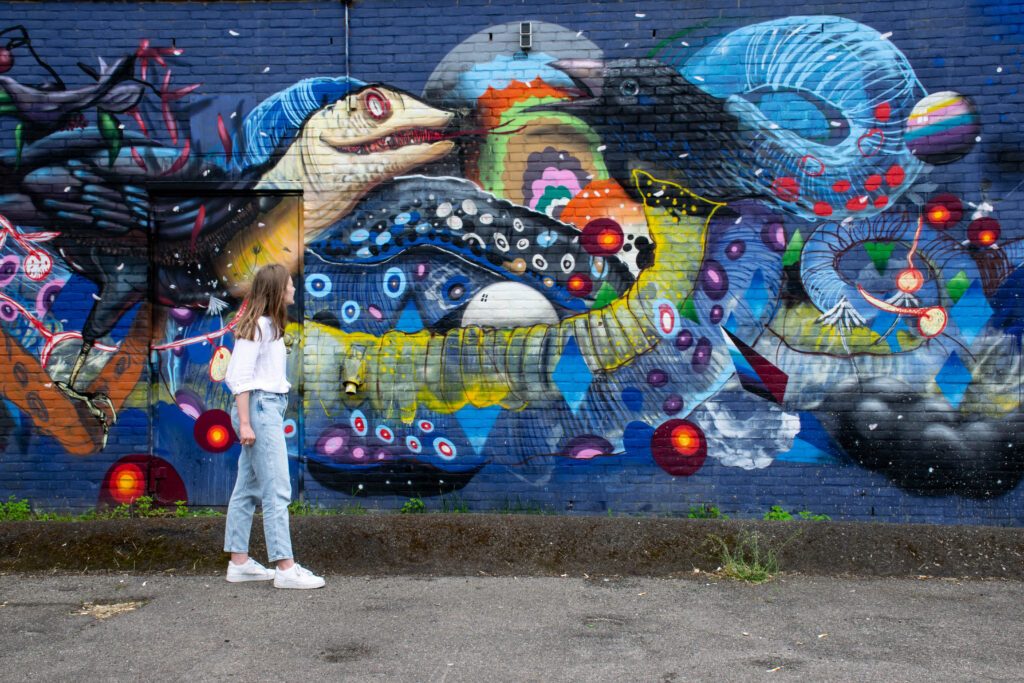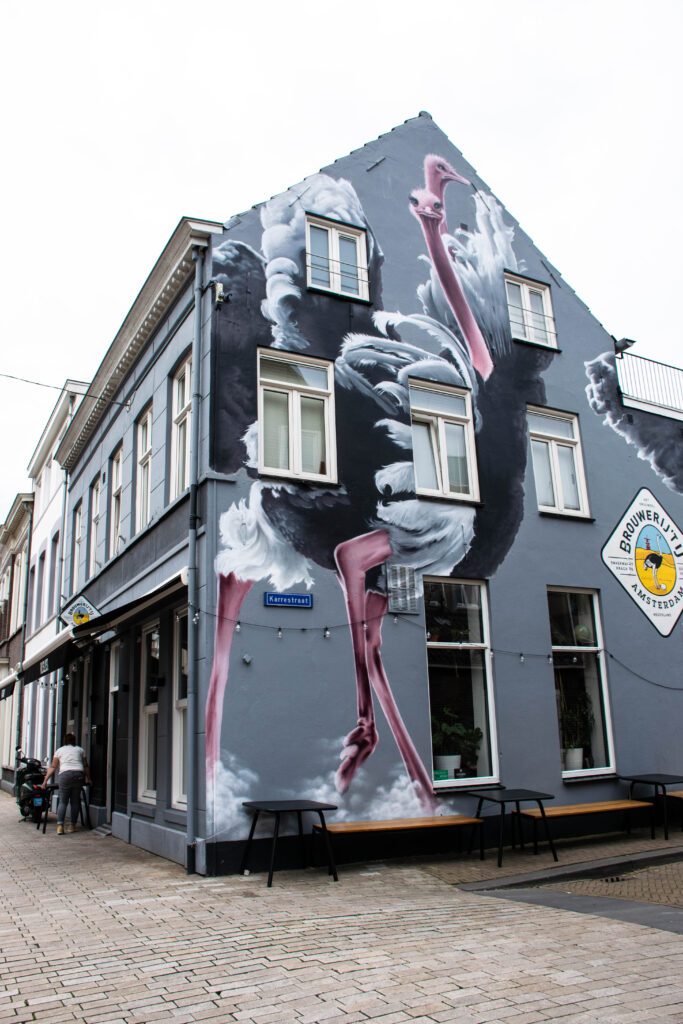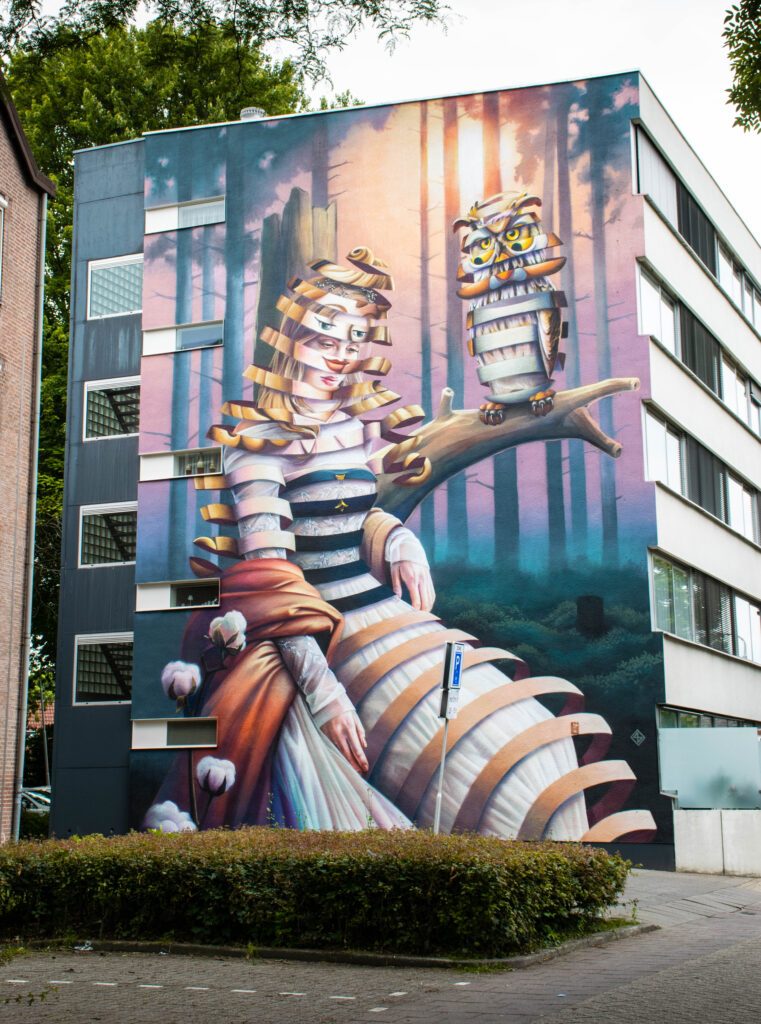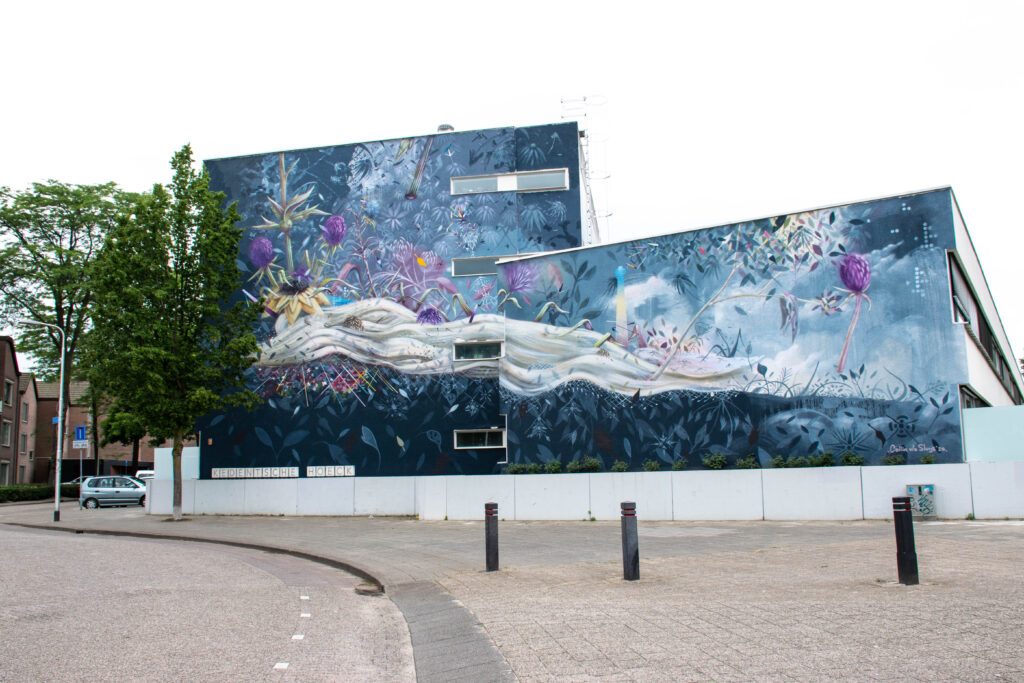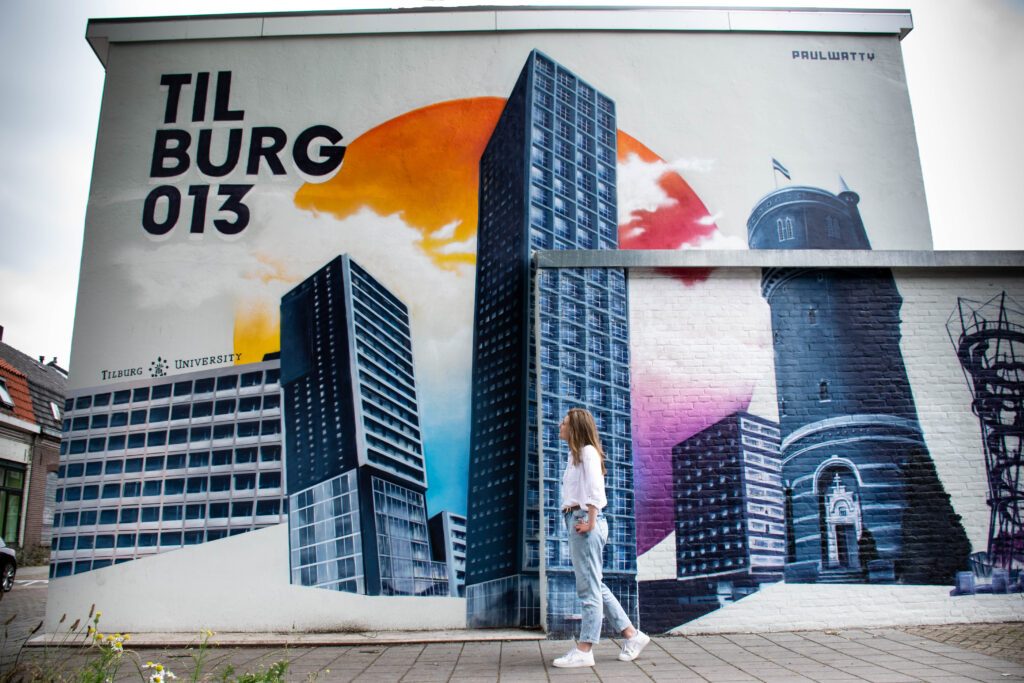 Gliding through Tilburg on an e-step
While you can easily see most of Tilburg's magical murals on foot, we discovered a better, faster, and overall much more exciting way to enjoy them — by e-step.
What's an e-step?
An e-step is an electric scooter with two giant wheels that will have you cruising through the streets of Tilburg at a speed of 25 kilometres per hour.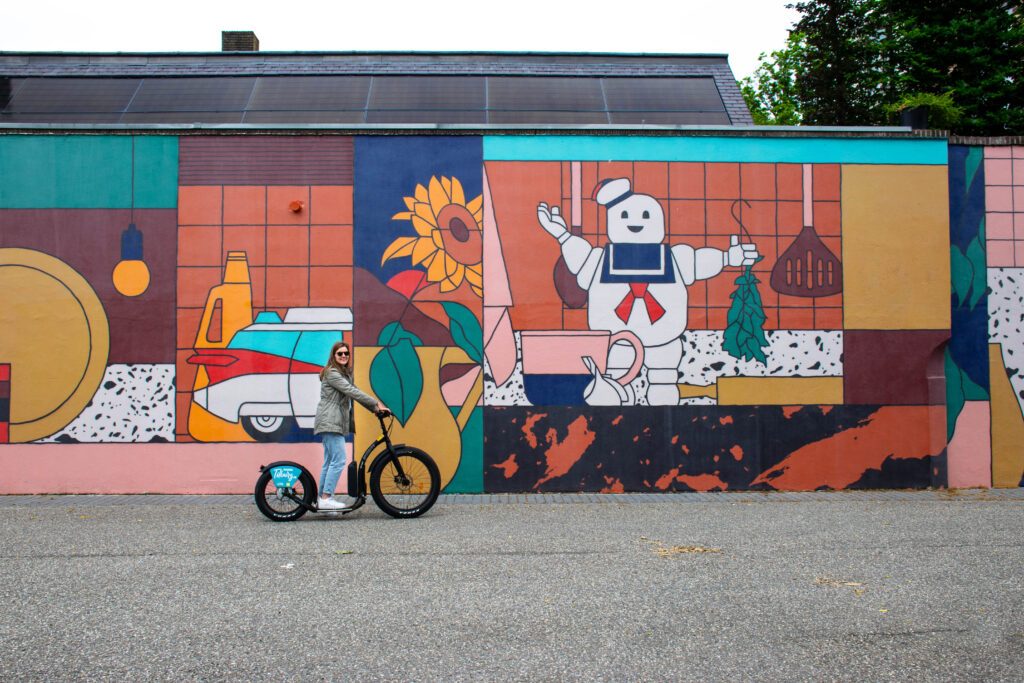 It's the only "special e-moped" approved by Dutch road authorities, as e-scooters are illegal throughout the Netherlands — talk about a bucket list experience!
TIP: The e-step is safe and easy to drive around, but while you may feel like the ruler of the road on this amazing vehicle, make sure you're careful with the traffic. You'll be sharing the path with cars and cyclists so watch out! — especially in the city centre.
Discover Tilburg: urban street art tour
The urban street art tour is the perfect way to get a glimpse of everything this multifaceted city has to offer, especially if you're unsure of where to start your Tilburg explorations.
What's included in the urban street art tour:
🗺️ Map with Tilburg's 18 wonderful murals
🥪 Snack box for two people to keep your energy levels up during your explorations
🍷 Two free drinks at the Grand Café Puur in Mercure Hotel after your tour
You simply start the tour by picking up your e-step at the Mercure Hotel in Tilburg's city centre (at the pretty square with the big church). Here, you'll get a map of the murals and a big snack bag, and you're ready to go!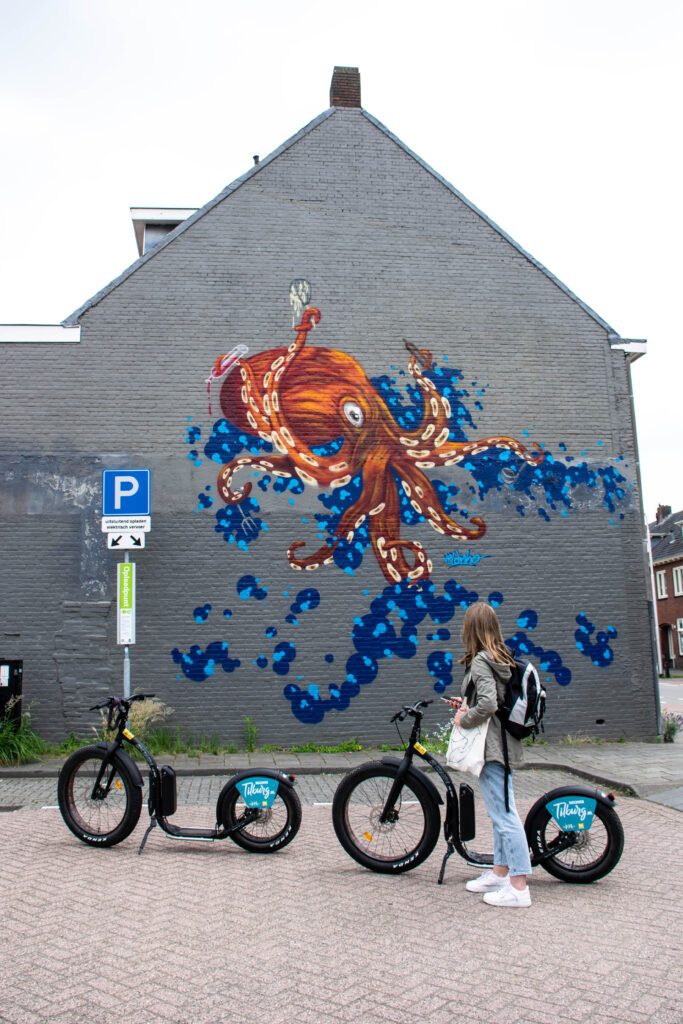 TIP: If riding an e-step is not really your thing, Ticket to Tilburg also offers the option to do the tour by bike or on foot.
Many of the murals are located in and around the city centre, so they can be explored in a relatively short time. We did an e-step tour of three hours and managed to spot, admire, and snap some selfies with most of them.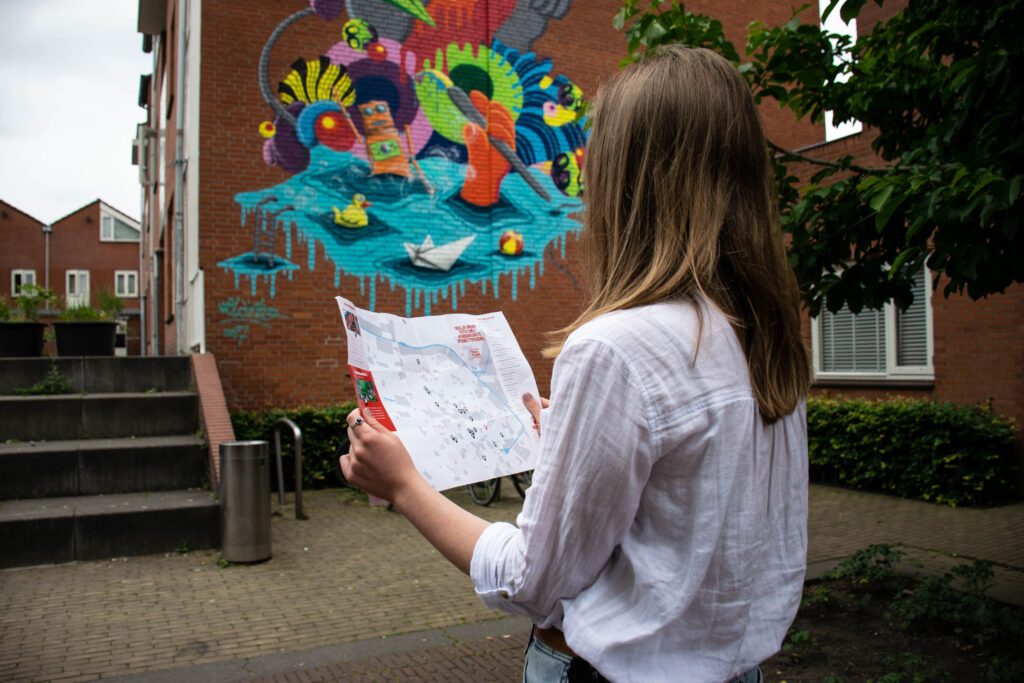 Tilburg has so many murals that you're guaranteed to keep your hands full as you tour the streets and admire the cultural hub that the city is!
Big thank you to Ticket to Tilburg for organizing a lovely day of exploring the city for us!
Will you be planning your trip to Tilburg? Let us know in the comments below!
Feature Image: Jana Vondráčková/Supplied