Het is zo ver! Terrasjes, cafes en restaurants zijn weer open! On June 1, the Dutch government gave the all-clear for Dutch cafes and restaurants to open again as long as specific social distancing measures were taken.
With outdoor seating a staple of Dutch eating out culture, the famous terraces will most likely be the most common form of getting together for many Dutchies ready for their first beer with friends since lockdown began, especially with this glorious weather. On top of that, most cafes and restaurants are finally taking reservations again so that they can keep their capacity within the Dutch guidelines.
If you remember my first post, Leeuwarden: exploring the unmissable Dutch north, way back in February, I talked about Friesland's capital and exactly why you should visit. Well, there's more to it than its glorious cobbled roads and fantastic street art scene — its eateries. So today I'm bringing you a round-up of the best cafes in Leeuwarden.
Let's dive in and take a look at some of the places you need to discover when you visit the capital of the north.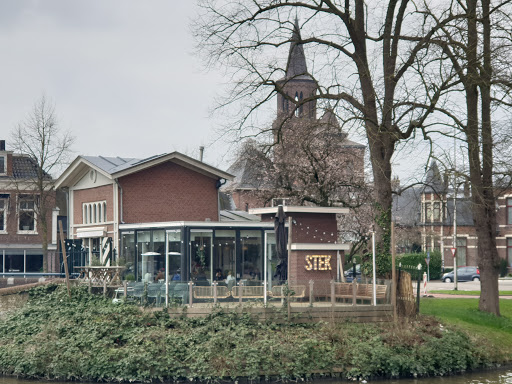 Stek is a fairly new café and sits on the waterfront, where you can relax and boat watch for hours on end. Inside is picture perfect and definitely Insta worthy (take that as an invitation or a warning!), and their food is a health nut's paradise. Homemade soups, tarts, cakes and smoothies are available daily, as well as delicious salad bowls and wraps bursting with veggies. Sweet potato or normal fries on the side? You decide.
They even have plenty of choice for vegetarians and vegans, including switching up the ingredients on menu favourites, so there's something for everyone. Stek is a fantastic spot to enjoy a get together with your closest gal pals, and a popular day date destination.
🍴 I'm eating: a thick slice of their fresh Banana Bread, after a steaming bowl of their soup of the day (with a side of fries of course).
📍 Where to find it: Harlingersingel 2, Leeuwarden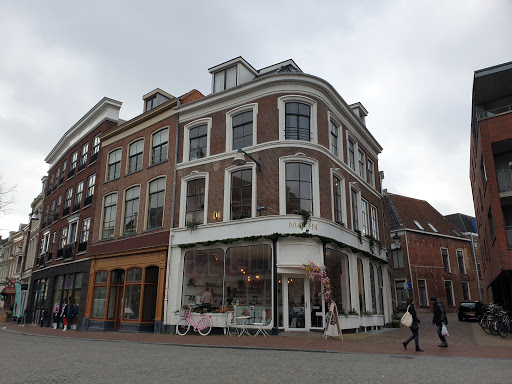 Moon is only a year or so old and takes pride of place on the corner, overlooking the canal, with its flower-covered pink bicycle out front. Another highly sought out 'Insta Spot', the inside squeals wistful, candy-coloured dreams, and their food is the same; all homemade cakes, pastries and sandwiches.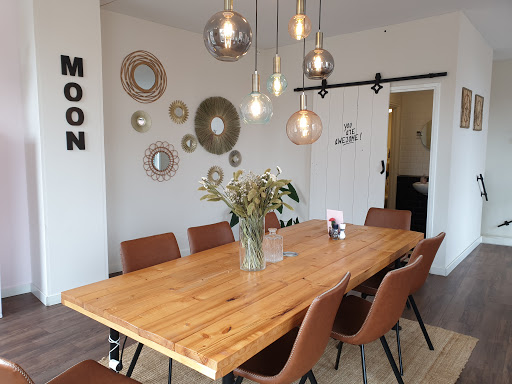 They pride themselves on their healthy and hearty food, and their alternative lattes match the theme of Moon to a tee. Turmeric, beetroot, matcha, blue sapphire — there's a latte for every taste and Instagram feed. Their freakshakes are well known too. Regular coffees and teas are also served, but they're definitely not as pretty.
🍴 I'm eating: Honey Apple Toast, with a Chai Latte on the side.
📍 Where to find it: Kelders 35, 8911 JD, Leeuwarden
For all those meat lovers out there, ROAST is the place to go for sumptuous and juicy cuts of meat with all the trimmings. Sitting proudly on Leeuwarden's Niewestad, ROAST is kitted out in that super-hip industrial style that's so popular nowadays. From the front, it looks unassuming, but take a look inside the tardis and you'll see that it appears to go on for miles. The ambience is chilled, their bar has every sort of drink you could wish for and their food is simply delicious.
Whilst ROAST gives you all the trimmings, it's a little on the pricey side, which isn't a problem of course, but I'd leave it for a special occasion rather than heading in and hoping for a light lunch for ten euros. Plus, veggies and vegans beware, you won't get the full spectrum of choice here, unfortunately.
🍴 I'm eating: the Smoked Duck Salad with figs, hazelnuts, pink pepper and sherry dressing.
📍 Where to find it: Nieuwestad 63, 8911 CK, Leeuwarden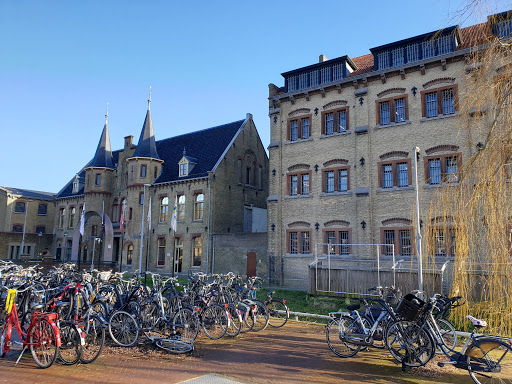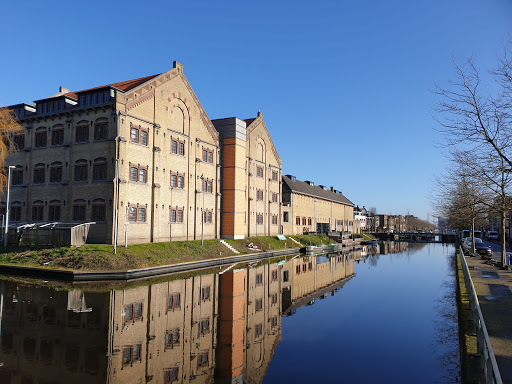 If you're looking for a unique dining experience, heading into Leeuwarden's oldest prison and dining within the cell walls has gotta be up there right? Proefverlof has the perfect old school and modern mix of ambience and low lighting, with similar industrial fittings as in Roast. If you choose to sit outside, you'll find yourself directly on the water, where you can watch boats and people to your heart's content whilst marvelling at the prison building itself.
As far as food goes, it's delicious and homemade, and with a choice of brunch, lunch, finger food and dinner, there's never a better time to head into Proefverlof than right this second. With a dedicated vegetarian menu too and vegan options on top of that, you'll be sure to find something to dig into whatever your tastes.
🍴 I'm eating: Terschellinger Croquettes with bread and mustard – a proper Dutch lunch.
📍 Where to find it: Blokhuisplein 40, 8911 LJ, Leeuwarden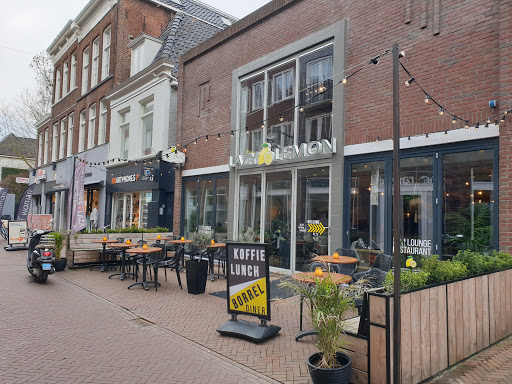 In the centre of a busy market street, you'll find yet another industrial styled restaurant with high ceilings and a killer ambience. Not only is Lazy Lemon the perfect stop for lunch, dinner or a borrel with friends, it's the perfect spot to take your laptop and get some work done. This place screams gezellig and is even kitted out with a mini library and an array of board games — perfect right?
Their food is homemade and delicious, and you get a fat stukje cake on the side of every hot drink. Live music and cocktails are served fresh daily, and there's even a kids corner to keep the little ones entertained.
🍴 I'm eating: Cheese Onion Burger, which comes with all the trimmings, and a slice of Granny's Apple Pie for afters.
📍 Where to find it: Ruiterskwartier 135a, 8911 BS, Leeuwarden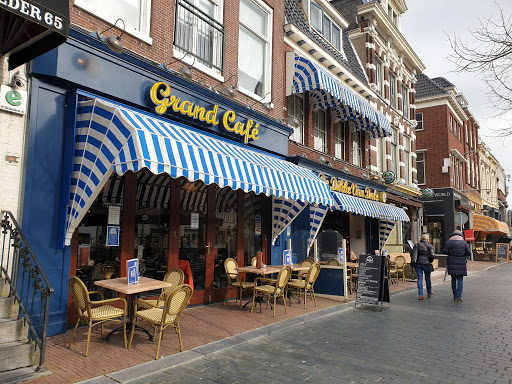 The inside of the Dikke van Dale is like stepping back in time in the best way possible. Mahogany wood bar, tables and chairs, and old school trinkets sat above the fireplace: this place is old school Dutch. Another tardis-like building, you're certain to find a spot even when it's busy, and naturally, on those hot sunny Dutch days, their terrace sits along the canal for the perfect people-watching lunch.
Ideal for your afternoon beer and a borrelhapje or even lunch, you'll find the menu is mostly fried snacks and toasties or sandwiches (although you can get a salad if you really must) during the day, with a larger assortment of main meals served in the evening. The menu is mostly fish and meat, and for vegetarians, you'll only find two options, which is a shame, but their food is cooked with love.
🍴 I'm eating: a serving of bitterballen alongside my rose Hoegaarden, proost!
📍 Where to find it: Nieuwestad 69, 8911 CK Leeuwarden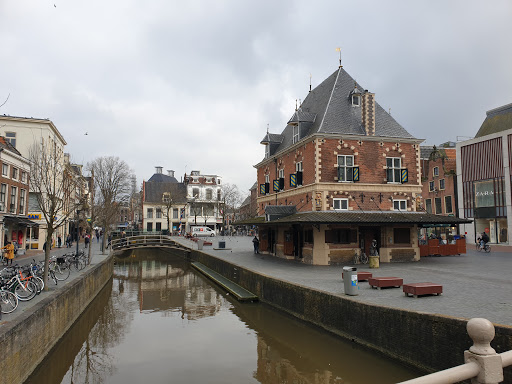 Sat in the centre of Leeuwarden's main shopping street, you'll find the old weighing house from 1596, a cultural monument that's been turned into an eetcafe. I feel like there's a definite theme running through these buildings: the inside of this café is industrially decorated, with high tables and chairs and a wall of beers. It's small and cosy, and the very definition of gezellig. This eetcafe has all the atmosphere you could want, and a menu to match.
Offering all students a daily hangover brunch to bring them back to life, as well as lunch and hapjes for beside your beer, De Stadswaag really gets it. They're very 'bready' though, so if you're looking to branch out past fried snacks, toasties, wraps, and sandwiches, you won't necessarily find that here.
🍴 I'm eating: a Tosti Kip Kerrie and a cold cider!
📍 Where to find it: Nieuwestad 148, 8911 DB, Leeuwarden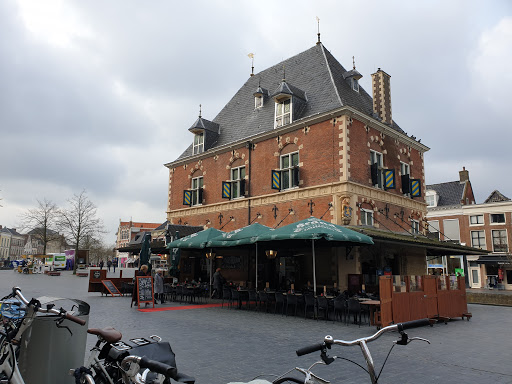 Hidden down one of Leeuwarden's many side streets, you'll find Bistro De Yserman. Known to all the students of the city in particular, Yserman is a classically decorated French and Asian bistro that boasts a new menu with fresh products every week. With a one-price = 3 or 4-course menu kind of deal, you get a hearty feast when you step through these doors.
With a fresh menu each week, you never know what to expect, apart from it being utterly delicious, which is part of the beauty of this fantastic little bistro.
🍴 I'm eating: Rode Curry van Derk and the Rabarber Parfait met Vanille for dessert.
📍 Where to find it: Grote Hoogstraat 32, 8911 HB, Leeuwarden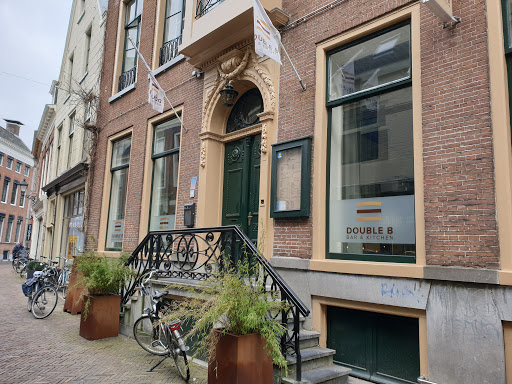 Hands up if you love burgers! Double B's is an awesome burger bar where you top your own burger with a choice of a million (slight exaggeration there, sorry) toppings. Instead of a menu, you'll be presented with a little clipboard where you can decide everything about your meal, from the bread it's served on, to the number of patties (cooked to your preference), to the sides, and of course, all of those delicious toppings.
This restaurant is a busy, eclectic, American style burger joint that gets filled quickly, so it's well worth reserving a spot to build your own burger. With lively music from the 60s and 70s, you can enjoy your burger with some old school classics, whilst washing it down with your favourite beer, wine, or frisdrank.
Vegans and vegetarians are welcome, with a vegan patty up for grabs, so there's something for everyone here.
🍴 I'm eating: a double bacon cheeseburger with pickles, onions, and onion rings, with a little extra aioli sauce on the side.
📍 Where to find it: Weerd 18, 8911 HB, Leeuwarden
Humphreys are a chain of restaurants that can be found around the Netherlands. They're stylish, with a little bit of old school décor, and often do specific theatre menus that are served to theatregoers before their show starts.
Another unexpectedly huge building, Humphreys goes on for miles. Once you're seated, you'll be given the menu, which is massive (literally. It has a regular amount of food on it, but trying to talk to your partner from behind a Humphreys menu is impossible). Best for evening meals, you'll choose from a 3 course a la carte set menu, much like Bistro de Yserman, and you'll often find a few Specials of the Day tucked in amongst the regulars.
Veggies and vegans are catered for in this place, so get down to Humphreys ASAP!
🍴 I'm eating: the Pulled Lamb Moroccan Bulgar Salad and the Spicy Indian Korma, washed down with the Homemade Tiramisu.
📍 Where to find it: Nieuwestad 91, 8911 CL, Leeuwarden
[td_smart_list_end]
Bonus: the best coffee shop in Leeuwarden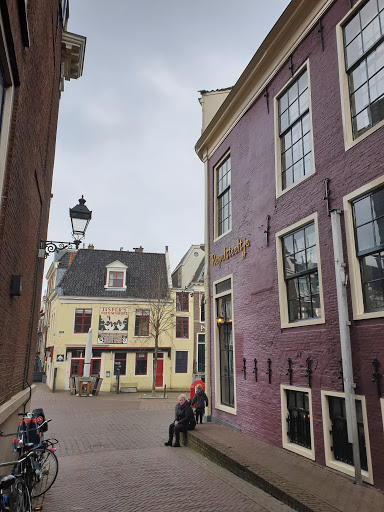 Repelsteetje (or Rumplestiltskin in English!) is a little different from the other picks on this guide because it's first and foremost a coffee shop that sells joints, space cakes, bonbons, as well as a killer chai latte.
Built across 3 floors (with the steepest steps you'll ever ascend in your life), Repelsteeltje is old school. Like proper old school. Naked wooden floors, old mismatched furniture, a piano in the corner — this place is awesome.
Their drinks list is expansive, and you can enjoy a treat (whether that be sugary or weedy) whilst you chill out, transported back in time with the uniquely furnished surroundings.
🍴 I'm eating: a vanilla chai latte and literally whatever cake they have.
📍 Where to find it: Grote Hogestraat 44, 8911 HB, Leeuwarden
---
So there you go: these are the best places to dine on your trip to the north of the Netherlands. Looks like you'll have to make it a long weekend so you can make your way through this list though.
For now, don't forget to stay on top of social distancing rules and stay 1.5 metres from everyone at all times! And don't forget to reserve a table if you want to be sure to get a space. Enjoy!
Have you checked out these top cafes for Leeuwarden? Got another one that should be on the list? Drop it in the comments below!
Feature Image: Simone Kynaston/Supplied