There are so many Dutch foods you need to try before you die, or at least before you leave the Netherlands.
Despite what you may have heard, Dutch food can be incredibly tasty! From Christmas-themed pepernoten to the everyday krentenbol there are so many delicious Dutch foods you just have to try. 😋
1. Poffertjes: the cute version of Dutch pancakes
Think of this Dutch dish as mini pancakes, but puffier. They're made with yeast and buckwheat flour and are typically served topped with powdered sugar and butter.
But why limit yourself, when whipped cream, syrup and strawberries are also possible toppings? 🍓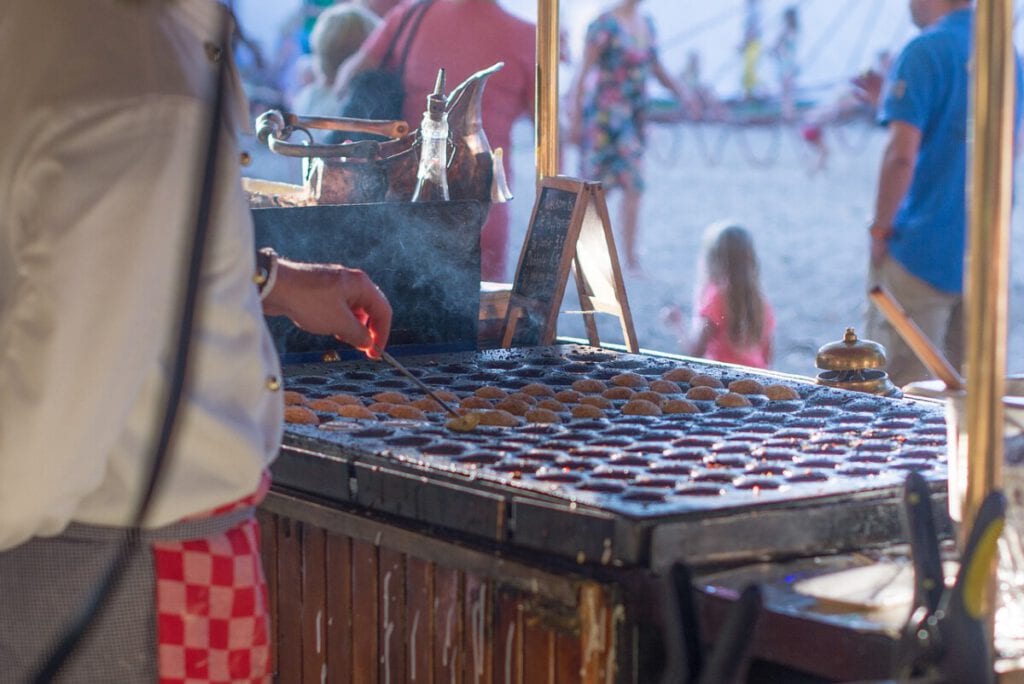 These cloud-like bites of heaven can usually be bought from street vendors in the winter. Poffertjes are typically served in mini cardboard boxes, which can be eaten with (of course) mini plastic forks.
It's all about the small things in life, right? 😉
2. Bitterballen: one of the most savoury Dutch foods
These savoury bite-sized balls of chewy goodness are perfect for you if you don't have much of a sweet tooth!
Bitterballen are battered in a crunchy breadcrumb coating and filled with a gooey mixture of chopped beef, beef broth, flour, butter, herbs, and spices.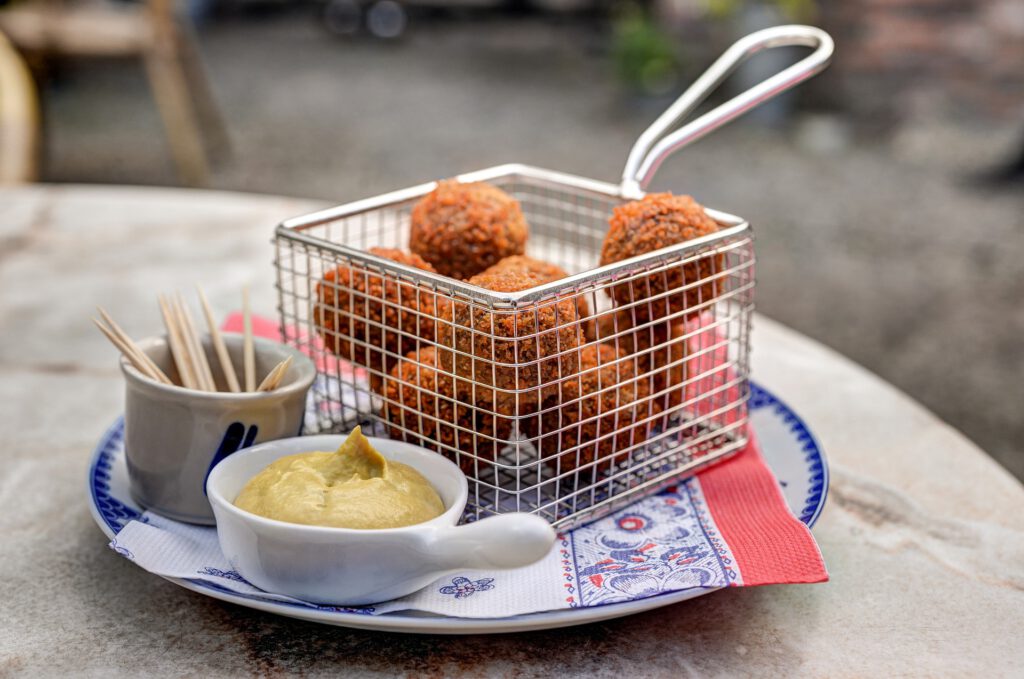 And if this doesn't already make your mouth water, you get mustard on the side too.
Available at almost every cafe and bar in Amsterdam, bitterballen go extremely well with a glass of cold Dutch beer. 🍺
3. Stroopwafels: the most popular Dutch cookies
Stroopwafels are one of those delicious treats that you buy for your friends and family when you go back home. Made from two thin layers of batter with a sticky syrup filling in the middle, these Dutch cookies are simply delicious.
You can buy them in bulk from every Dutch convenience store and they're great for stocking up for the cold Dutch winter! 🥶
Shops also offer these stroopwafels in a very unique Dutch-style tin packaging, so it's the perfect souvenir!
But if you want to try the real thing, just buy fresh ones from street vendors in Amsterdam. Small tip — stroopwafels go great with tea or coffee. ☕
4. Hollandse Nieuwe Haring: Dutch sushi
Think of it as the Dutch version of sushi, but not really! This raw fish might not be up to everyone's taste but you must try it at least once! Herring fish is typically served with chopped onions. Mmm!
You can also eat it with bread and pickles as a sandwich if you want to tone down the explosion of flavours a bit. Lekker? 🐟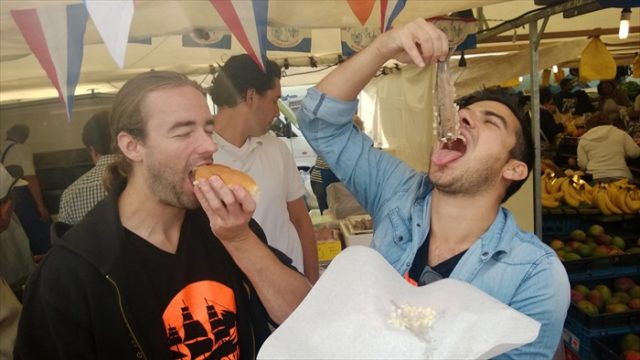 The traditional way of eating herring is by holding the fish by its tail and eating it in one go with your head tilted backwards.
This method is attempted only by the most daring tourists! Oh, and don't forget to have a mint after that, just so that you don't kill anyone with your breath. 🤢
5. Kroket: you will absolutely love this Dutch snack
Think of kroketten (croquettes) as a bigger and better version of the bitterballen. The original Dutch kroket is made from beef or veal. But recently, many other different flavours have been popping up.
You can try chicken satay, shrimps, goulash or even vegetarian croquettes. If you want to, you can eat it just like that. However, the Dutch usually prefer it in sliced white bread with mustard. 😋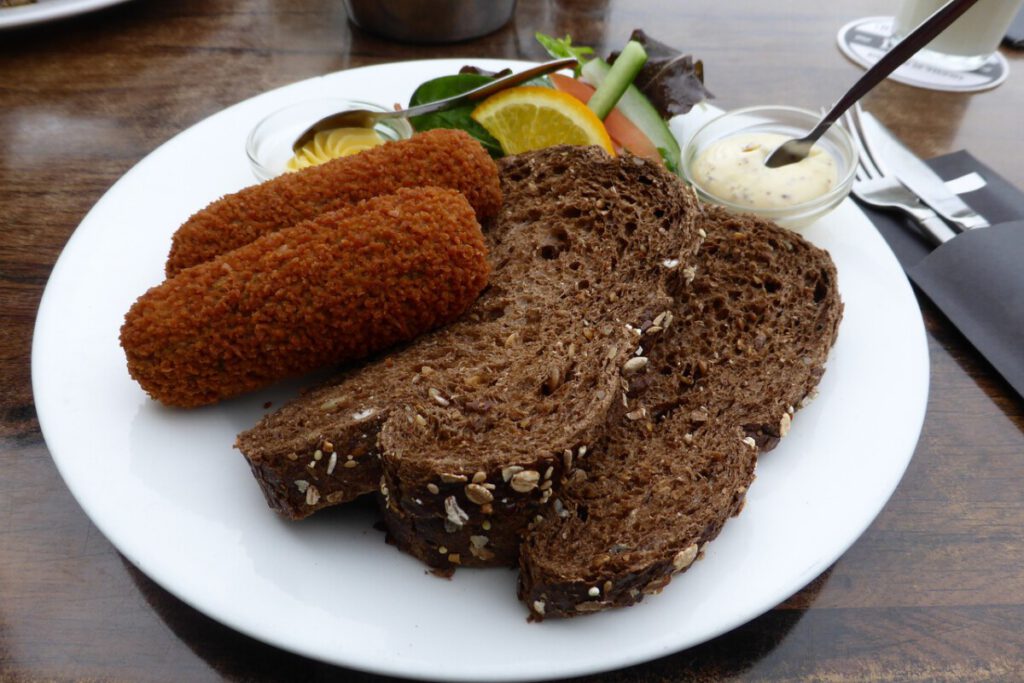 You can easily find Dutch kroketten in vending machines (yes, I meant what I said). The Netherlands has cafes with special vending machines that keep different types of food warm.
All you have to do is put some coins in and voilà, a small door opens and you can grab your kroket. Genius! 🧠
6. Erwtensoep: a must when visiting the Netherlands in the winter
Erwtensoep, or green pea soup, is something that the Dutch absolutely love! The main ingredient is, of course, green peas, but the rest is all up to you.
Typically this soup is cooked with slices of rookworst (smoked sausage), celery, onions and leeks. However, some Dutchies like adding some potatoes and carrots in there as well. 🥕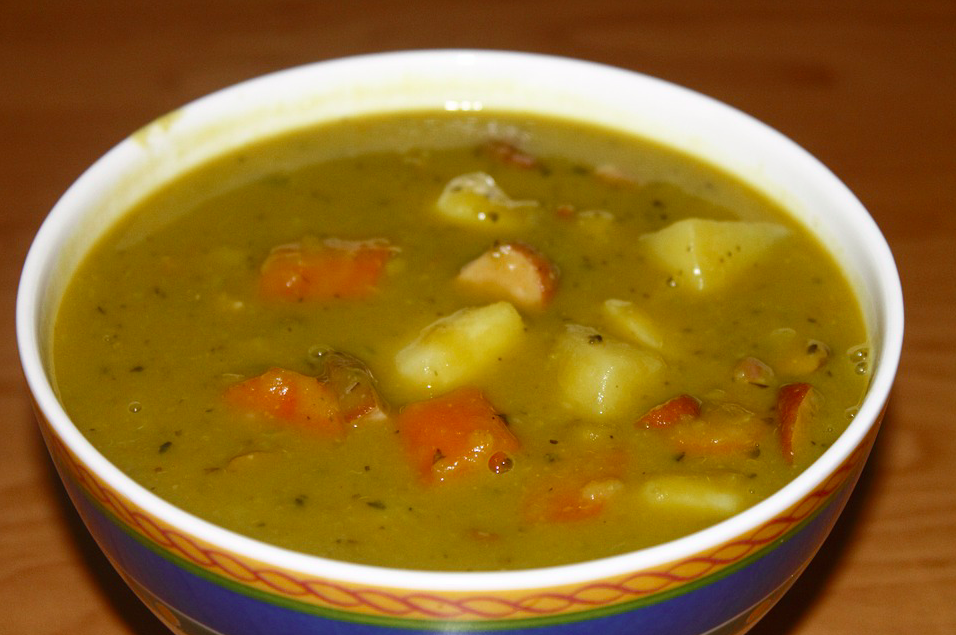 The point is, you can go wild with any ingredients you want, as long as the accent is on the green peas.
This thick soup is usually very popular around wintertime, so if you happen to be in Holland when it's cold, you know what to order! Your body and soul will be warmed up instantly. ☺
7. Cheese: the food that the Dutch excel at
You can live in the Netherlands for as long as you want, but you'll probably never get to try all the variations of cheese or kaas. Dutch people have so many different types of cheese, that you can eat it every day and never get sick of it.
Of course, the most popular one is Gouda Cheese, but you'll be missing out on so much if you just stop there. 🧀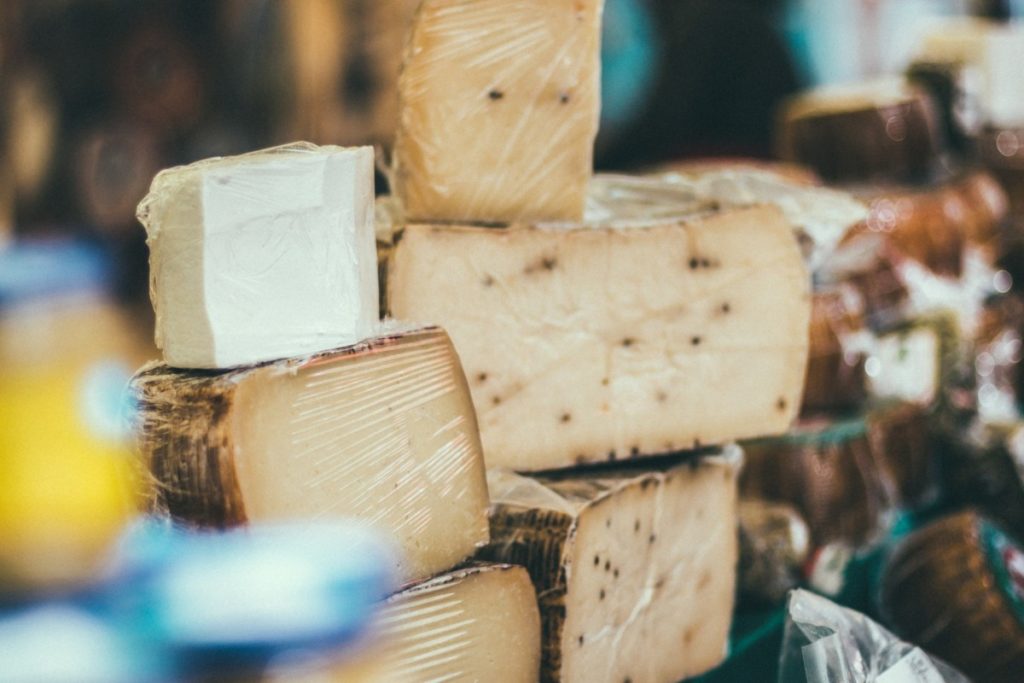 Apparently, the Dutch have been making cheese since 800 B.C. In fact, they got so good at it that the Netherlands is the largest cheese exporter in the world. Wat leuk! 🌍
So if you're walking down the streets in Amsterdam and feel like having a cheeky little bite, walk into any cheese shop.
READ MORE | The time Dutchies used cheese to defend themselves against the French
There are so many cheeses to taste, that you will get full in no time. Not to mention that you can also buy cheese packages for your friends and family from back home. How cheesy!
So there you have it! Seven Dutch foods you need to try before you die. Did we miss out on any of your favourite Dutch foods? Let us know in the comments below!
Editor's Note: This article was originally published in May 2018 and was fully updated in December 2022 for your reading pleasure.