Zwarte Piet is coming to town! And Amsterdam is serving us a whole new version of Black Pete in order to 'end the discussion'
It took a while for the 'Zwarte Piet discussion' to start in our country, but it's here and nicely at the first day of frost! We almost missed it! This time the city of Amsterdam is going head first into the heated discussion as they have announced that at the arrival of Sinterklaas (called 'Sinterklaasintocht' better read up on these things in this Expat guide to Sinterklaas) on Sunday 19th of November in Amsterdam will feature 400 Black Pete's with a completely different look!
The new Black Pete of 2017 in Amsterdam#zwartepiet #sinterklaas pic.twitter.com/V6uWtfBblh

— DutchReview (@Dutchreviewing) 7 november 2017
The new version of Zwarte Piet will wear brightly colored suits and wigs with semi-long, dark brown wavy hair. According to Pam Evenhuis, the spokesman for the Sint in Amsterdam, the Pete's should look like Spanish noblemen from the sixteenth century. "We have watched a lot of pictures and the noblemen-look seemed the best one to us." When it comes to the make-up of this new version of Zwarte Piet, Amsterdam is doing the same thing as they did last year, reports NH News. (Meaning the soot-stroke-look, I also can't believe we have all this vocabulary for it.)
New version of Black Pete: no slave
Evenhuis emphasizes that he wants the Pete's in Amsterdam to be in no way associated with people from the times of slavery (Spanish 16th century noblemen might not be your safest bet, but okay). According to the organization, the era of the traditional Zwarte Piet has past and the new version puts an end to the annual Zwarte Pieten debate in the city, they've worked for over 2 years on this new version of Zwarte Piet and have also bought these costumes instead of renting it like previous years. And although the debate this year is obviously flaring up in all brutality once again, indeed in Amsterdam it may be a whole bit easier in 2018.
Nederland: "Waarom is Sinterklaas racistisch?"
Also Nederland: pic.twitter.com/md2BN1M5RB

— Youri (@KropslaYouri) 6 november 2017
Commando Piet in action!
I guess Amsterdam will also stop calling them 'Zwarte Piet'? Anyways, in this children's party, there are 6 sorts of Pete's this year as the arrival of Sinterklaas will feature a Chimney Pete, DJ-Pete, Horse-Pete, Post-Pete and a 'Commanding'-Pete. Sadly every year there are also a bunch of Security-Pete's.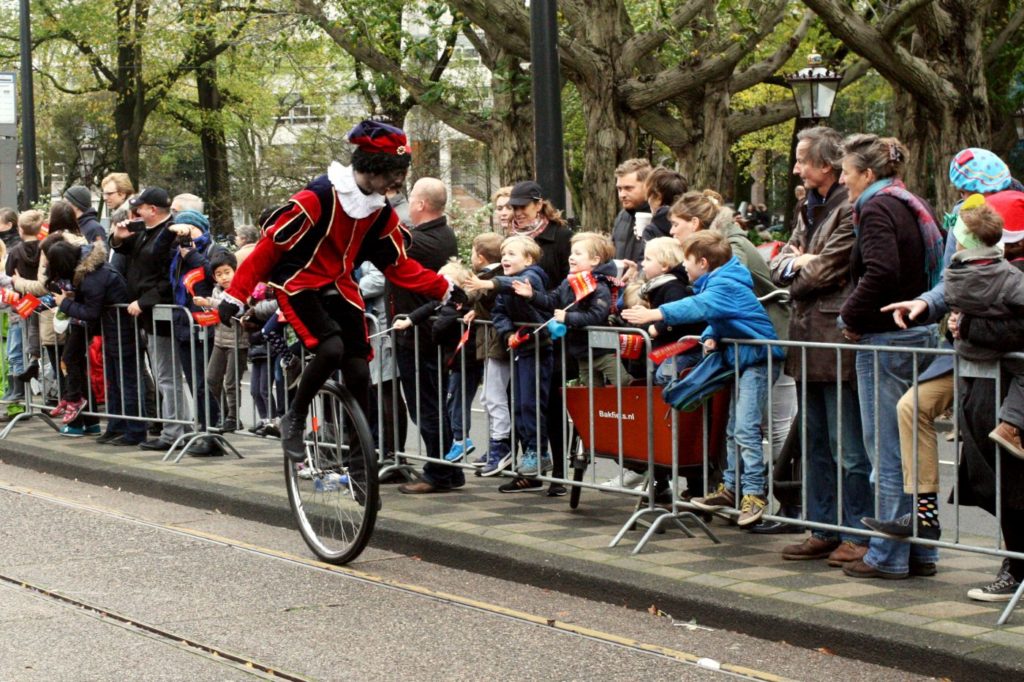 The annual Zwarte Piet discussion
The broadcasting organization NTR, responsible for the 'Sinterklaas-journaal', already published a press release this Monday announcing that this year Sinterklaas will be helped out by a "motley crew of helpers" and nowhere did the press release said anything about Zwarte Piet. And so begins our annual tradition of the Zwarte Piet discussion.
We've made a movie about Sinterklaas his arrival into Leiden a year ago, here you can see the arrival and the discussion in all it's 'glory':
What do you think of this new look of Piet? Feel free to comment but keep it decent folks!