Netherlands' Prime Minister Rutte and US President Donald Trump have announced their friendship to the world in a press conference at the White House. The two appeared briefly in front of a crowd of reporters, before retiring to the Oval Office to continue talks. 
The meet-up was much awaited after Rutte made headlines last year when he interrupted Trump with a firm "No," contradicting a statement from Trump that it was a good thing that there was no positive solution for the trade-dispute between the EU and the US, a topic that was raising plenty of eyebrows last year.
So did the Netherlands and the US combine nations into a giant Holl-erica? Did they make plans to meet each other in an underground boxing ring for a fight to the death later? Well, not quite. But here are four things that happened at yesterday's Trump-Rutte meeting.
#1 Trump and Rutte announced they were best buddies
Well, maybe not in those exact words. But they were a bit cute when describing their friendship. "We've become friends over the last couple of years. We've had a lot of good conversations.  We're dealing on trade, we're dealing on military, we're dealing on intelligence.  And the relationship has never been better." said Trump, will Rutte bobbed his head and said "Absolutely."
We're a bit disappointed that a slumber party wasn't announced between these two, but maybe we'll see some goofy photo-booth pictures coming up, or some tags on Instagram? This is a bromance we could totally get behind.
#2 Jobs were a real task to talk about
Rutte's visit with Trump coincided with a trade mission to Boston, making the discussion of jobs a priority. Trump enthusiastically proclaimed that soon over a million jobs in the United States will directly or indirectly have to do with the Netherlands.
Rutte followed up this statement by saying only 200,000 Dutch jobs have to do with the U.S. It could have been an awkward moment, but these two are bro's, remember? Instead they shared a laugh and a chuckle, while Trump promised to increase this number. The gentle ribbing between these two makes you feel a bit warm inside. Cute, right?
#3 There was a lot of talk about defense
Coming on the heels of the news that the US shot down an Iranian drone in the Strait of Hormuz. This comes only a week after the Dutch cabinet announced they may consider sending a frigate to the same area in case of Iranian threat.
Our countries stand shoulder to shoulder when times are tough – Trump
According to NOS, Ruttle said that Trump asked again about the frigate and also about the deployment of Dutch soldiers in Syria. However, yesterday the Netherlands still refused to make a commitment to the same issue.
"I said we take those requests seriously," Rutte told NOS.
#4 A 75-year-old flag was handed back to the US
One of the highlights of the meeting was the donation of a US flag used in the original D-Day invasion back to the United States. The flag was purchased at a 2016 auction in Dallas by collector Bert Kreuk, who always intended to return the flag back the Netherlands.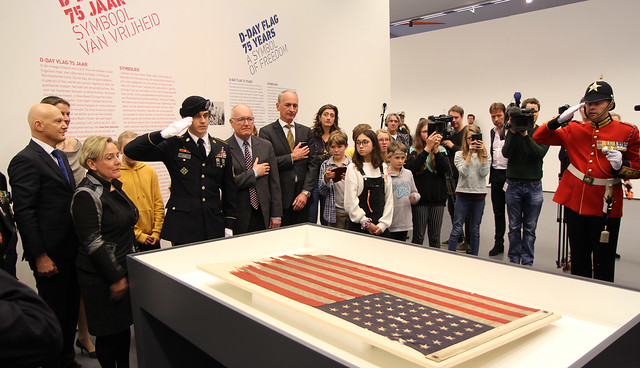 "I cannot keep it myself. It needs to go to the right institution. I need to give it back," Kreuk told Reuters prior to the ceremony.
The bond between NL and the US is strong and centuries old. Today I discussed the special relationship between our two countries with President @realDonaldTrump at the White House. I look forward to continue and intensify our cooperation. #NLintheUSA pic.twitter.com/R3SZhUPgQn

— Mark Rutte (@MinPres) July 18, 2019
Considering the flag cost Kreuk a cool near half-million euros, we still don't quite understand why he's gifting it back to the US. Surely he could get more for it on eBay, after all.
Regardless, the US appeared to appreciate the donation and will hang it in the Smithsonian museum. "It is my honour to welcome this great American flag back home where it belongs," said Trump, also calling it a "a symbol of the close bond between the U.S. and the Netherlands. Our countries stand shoulder to shoulder when times are tough."
#5 The media didn't seem to care about Rutte
As the surrounding reporters at the meeting were given a brief few minutes to throw some questions at the pair, they all focused on uniquely American issues. Rutte, quite simply, wasn't on their radar.
Questions regarding Turkey, the recent congresswomen debacle, and the chant to "go back where she came from" all ranked higher instead. Um, hello? We're here too!
What do you think of the Trump – Rutte relationship? All for the cameras, or a true bro moment? And how involved should the Netherlands be in US defense? Let us know your thoughts in the comment below!
Feature Image: President Donald J. Trump welcomes the Prime Minister of the Netherlands Mark Rutte Thursday, July 18, 2019, to the West Wing Lobby entrance of the White House. (Official White House Photo by Tia Dufour)