Noooo, the rain is back and most of us are hating it! After a nice week, we're sorry to say that it's going to be a rainy day all day today. Check it out:

However, after Wednesday the weather is set to improve once more (phew). So if you think NL has already surrendered to April showers, you're mistaken — for now. Anyway, what has the weather got in store for us in the next week?
Tomorrow (Wednesday)
Yup, it's going to be another showery day – so don't forget those ponchos on the way to work if you're cycling. The weather really doesn't know what it's doing. Expect rain, sun and thunderstorms today. The good news is that the weather is going to vastly improve once Wednesday is over!
Make yo damn mind up, weather!
Thursday
Thursday is going to be grey, so it's certainly going to feel like another miserable day. The good news? No rain is expected, so you shouldn't get drowned on the way to work. However, it is the Netherlands after all – so can you really trust us on this one? 😉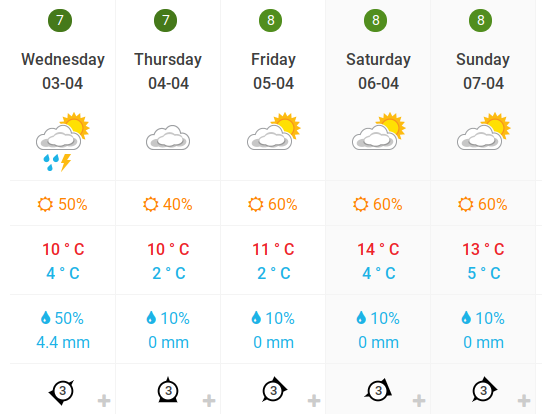 Friday
It's brightening up! We definitely should see the sun today, despite some passing clouds. And despite the fact that we're all dying for it to be summer already, we're only looking at temperatures of around 11 degrees.
Weekend
The weekend is set to be another dry one, with temperatures of around 14 degrees. Not quite cocktail-in-the-sun weather, but we'll take it anyway. It's still not too cold for a beach walk and beer at Scheveningen! (Or to see those wonderful tulips ;))
What are your weekly plans in the Netherlands? Let us know in the comments!