The guide to seeing tulips in the Netherlands in 2019: Amsterdam and beyond
Yep, it's tulip season in the Netherlands, that time of year when you see our gorgeous fields of tulips. But where? You should know by now that there are some spots to see the tulips in between Amsterdam and Leiden. But it's also possible to see those lovely flowers elsewhere in the Netherlands. 
We're going to talk about tons of locations on where to see tulips in the Netherlands. But let's start with the capital first, because there's a tulip festival in Amsterdam!
Oh, don't forget to like DutchReview's Facebook page in order not to miss out on all the feature coverage of these fantastic flowers!
#1 Amsterdam Tulip Festival
The 2019 tulip festival has planted a tulip for everyone in Amsterdam. They're not compromising on anything this year, the tulip festival can be enjoyed in Amsterdam (and across the Netherlands) at up to 85 locations.
Amsterdam streets coloured by tulips all month!
The tulip festival began Thursday on Apollolaan in the south of Amsterdam. 25,000 tulips sprung up after being planted there last November. In the coming weeks, people from all walks of life will scatter about the Netherlands to acknowledge the tulip's simple beauty, Dutch heritage, and varied colours.
Date idea: tickets to Amsterdam, and then tickets to the Amsterdam Tulip Festival pic.twitter.com/4a9YsrZYRA

— Londy (@Londychristine) September 20, 2017
The blooming period of tulips in the Netherlands, especially Holland, is one of the most beautiful sights in the world. There are going to be flower parades, flower markets, long fields of flowers and you can ride your bike around the city to see it all. Some places have ticketed festivals but there will be tulips everywhere. Getting around the Tulip Festival is a serene, cheerful pleasure that would make a fine addition to anyone's bucket list.
"A Tulip for every Amsterdammer" was their motto, the city's population might have been half a million a few years ago, but now it's leaning closer toward one million inhabitants.
🌷RT @GrandCentFloral Record Year for Flowers: 1.4 MIL Visit Keukenhof; 550,000 Flowers in Amsterdam Tulip Festival pic.twitter.com/8kR8nBanD1

— Tulip Festival (@Tulip_festival) June 7, 2017
Where can I find Tulip Festival events in Amsterdam?
So, where do we find perfectly arranged tulips during the festival? Here's where it's all going down if you want to get tickets to the Amsterdam Tulip Festival. All the public displays are free to enjoy, for some museum gardens ticket pricing applies. We have been talking about tulips non-stop! Orange tulips, the Dutch national colour, pink, a widely loved colour and even purple tulips, we love them all.
Now, where else can we see tulips in the Netherlands?
 2. Keukenhof
This is the place a lot of people choose to visit, simply put, it's massive and there are many separate events to check out once you make the short trip to the outskirts of Amsterdam. Keukenhof, in Lisse, is extremely pretty so we've dropped a few happenings below.
April 5 @ 8:00 am

 – 
April 7 @ 5:00 pm. Here's one for the families out there, the Flower Power Weekend will also take place at Keukenhof. At this market, growers can further explain the importance and cultivation of summer bulbs and plants. You can take some home to brighten your balcony! Saturday 6th and Sunday the 7th of April, children can enjoy a flower treasure hunt, get searching because if it's a colorful bulb it's treasure! 
April 1 @ 8:00 am – May 19 @ 5:00 pm. The far-reaching tulips in Keukenhof Gardens are, of course, the effortlessly stunning main attraction. 
Keukenhof Flower Parade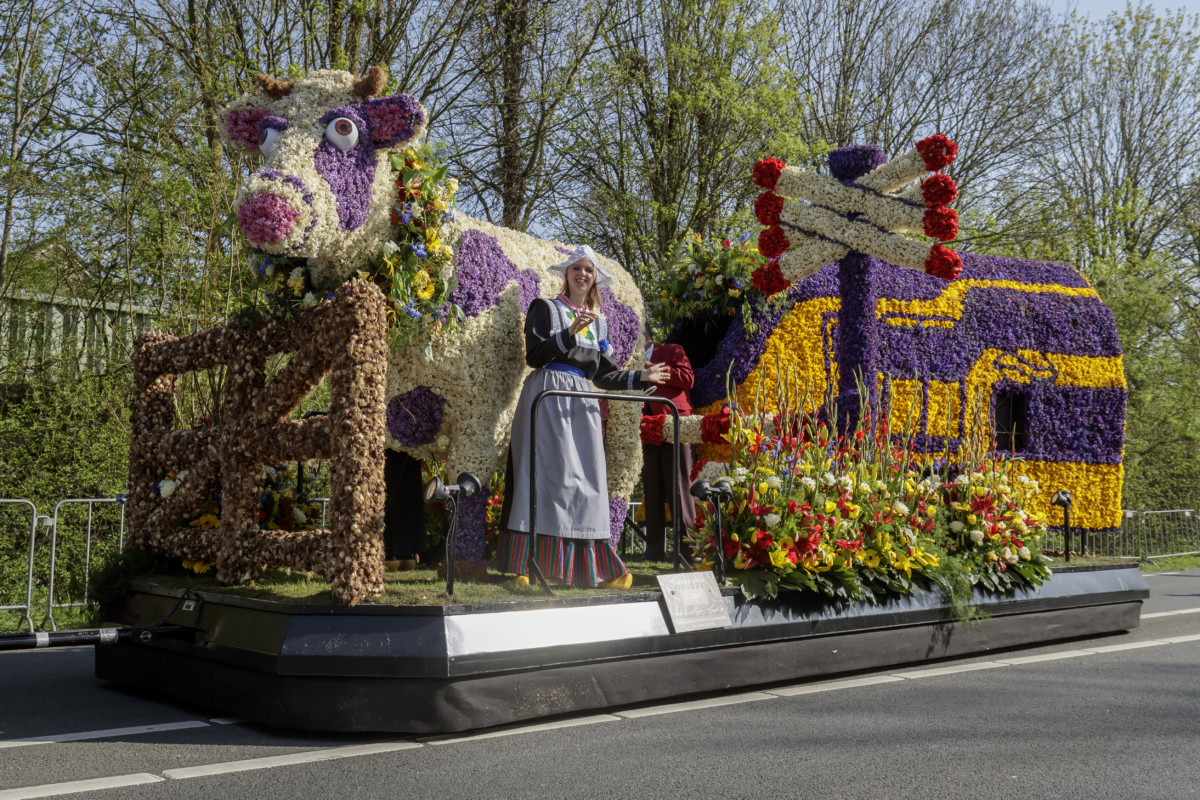 April 13, 2019, The festivities take place 30 minutes outside the center of Amsterdam. The Keukenhof Flower Parade ("Bloemencorso Bollenstreek") has floats adorned with arrangements of Hyacinths, daffodils, and of cours tulips.
It will be held on April 13th because of Easter and King's Day crowding the latter half of April. This year will mark the 72nd time their Flower Parade has been held. Still not excited? Then you'll have to take a helicopter tour above the endless and regal tulips fields.
Location: Keukenhof 
3. Noordoostpolder
Noordoostpolder is a family favourite, there's even a driving route you can take while you take in the view! (delicious scenery, *drools*). There's also a plucking field specifically for taking some keepsakes home with you. This particular area of the Netherlands has agriculture at its heart, it's home to most of the tulip fields in the Netherlands, over 1,000 hectares dedicated to growing just that.
To reach the Noordoostpolder, find your way by car to the center, Emmeloord. From Amsterdam or Utrecht, this is about a 75-minute drive.
Location: Noordoostpolder 
4. Zeeland aka "Zeeuws-Vlaanderen"
So this one is for the real adventurers (not really), it's ages away from most things, half an hour from Antwerp and about 30+ hours from Amsterdam. The fields are a bit smaller but they're also closer together, meaning you'll feel truly surrounded by tulips. You will see some of the Netherlands you've probably never seen, a little adventure never hurt anyone.
Location: Zeeuws-Vlaanderen 
5. The Bulb Region near Leiden
This is where most people go if they want to see tulips in the Netherlands. Heck, it's the tulip fields where our video plays out:
Flower Parade: Noorwijk to Haarlem
Saturday, 13th April 09:00 – 21:00
There are flower parades with hyacinths and tulips and lovely arrangements scattered around the Netherlands in April. This particular stretch of perfectly cultivated flora and fauna is not to be missed! There will be 20 floats and more than 30 wagons in all sorts of colours to show love to the tulips.
The Bollenstreek "bulb region" is about half an hour from Amsterdam or The Hague. If you're in Leiden or Haarlem you're practically minutes away. This one is great for a sunny, tulip-themed bike ride.
Location: The Flower Parade
Location: The Bollenstreek
5. Kop Van Noord Holland and West Friesland
There are a lot of tulip fields in North Holland, the reason? The secret is in the soil. You'll be able to heave in deep gulps of country air and rid your mind of all the small things. At Andijk, Enkhuizen and Bovenkarspel clusters of tulip fields will leave you spoiled for choice.
West Friesland rests at the head of Noord-Holland, you'll have no trouble getting around. Kop van Noord-Holland can be reached by jumping on an inter-city train (not everyone has a car). It's about an hour's train ride from Amsterdam, arriving at Kop van Noord-Holland.
Location: De Kop Van Noord
So that's your full, comprehensive, obsessed guide to where to see tulips in the Netherlands. If you're visiting more than one we wish you all the very best in your travels. Remember, some events are ticketed so make sure to check the websites before making the long-journey.
Know any other spots to see the tulips in the Netherlands? Got some gorgeous photos from around Amsterdam of those tulips? Tag @dutchreview in your Instagram photos and we might repost them!