What are the best coffeeshops in Amsterdam? Whether you're into your Indicas or Sativas, bricks of hash, coffee shops around Amsterdam also offer weaker strains like Jamaica or Thai or you're looking for some Northern Lights – where better to start your journey than our top 5 coffee shops in Amsterdam?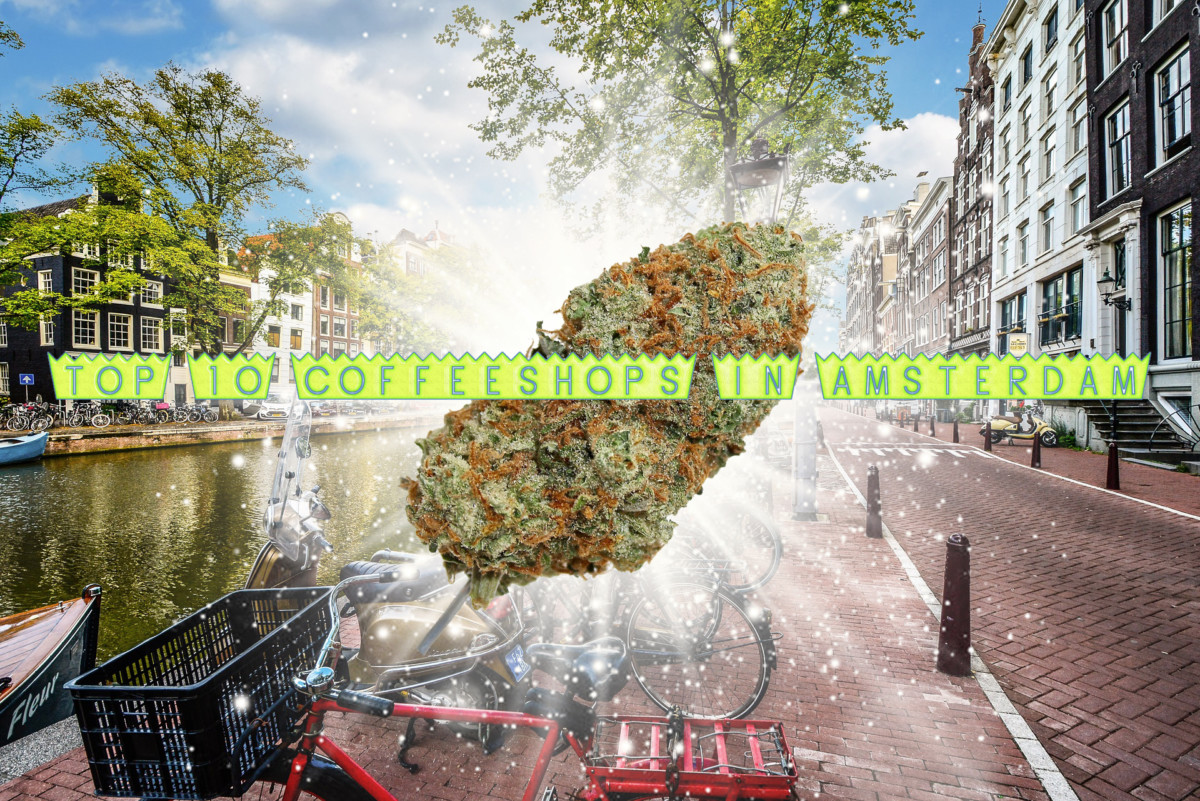 So where should you smoke weed in Amsterdam? 
Let's say we're in Amsterdam to see some friends, they asked if you smoke and you said "yes" even though you smoke infrequently. Okay, guys let's get Amsterdamned, no need to play into stereotypes about tourists, keep it neat lads. In Amsterdam White Widow is probably the first strain you'll see on a coffee shop menu (it's good but it's basic), it's kind of over-produced, making its effects less consistent. Some stores might have the word "bio" in front of the strain, it's not a marketing gimmick it shows that they've really put effort into how that strain was cultivated and it will show.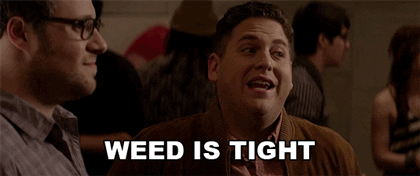 Remember to smoke responsibly, no need to put yourself up against the Seth Rogen's, the Snoop Dogg's, Willie Nelson's or Wiz Khalifa's of the world. You don't just walk into one of these and say in plain English "gimme a pack of weed reds". The challenge? Finding the 12 best coffee shops in Amsterdam. The cremè de la cremè of cannabis, the gauntlet of ganja, throw some tunes on, roll a fat spliff and enjoy.
Amsterdam is a densely populated city with an electric sort of hum that you get leaving the local coffee shop. As the rest of the world seems to spiral into a crazier dystopia every waking day Amsterdam remains a place that's got vibes for days, it's easy enough to unwind before smoking anything. Having said that, what's our first destination?
1. Dampkring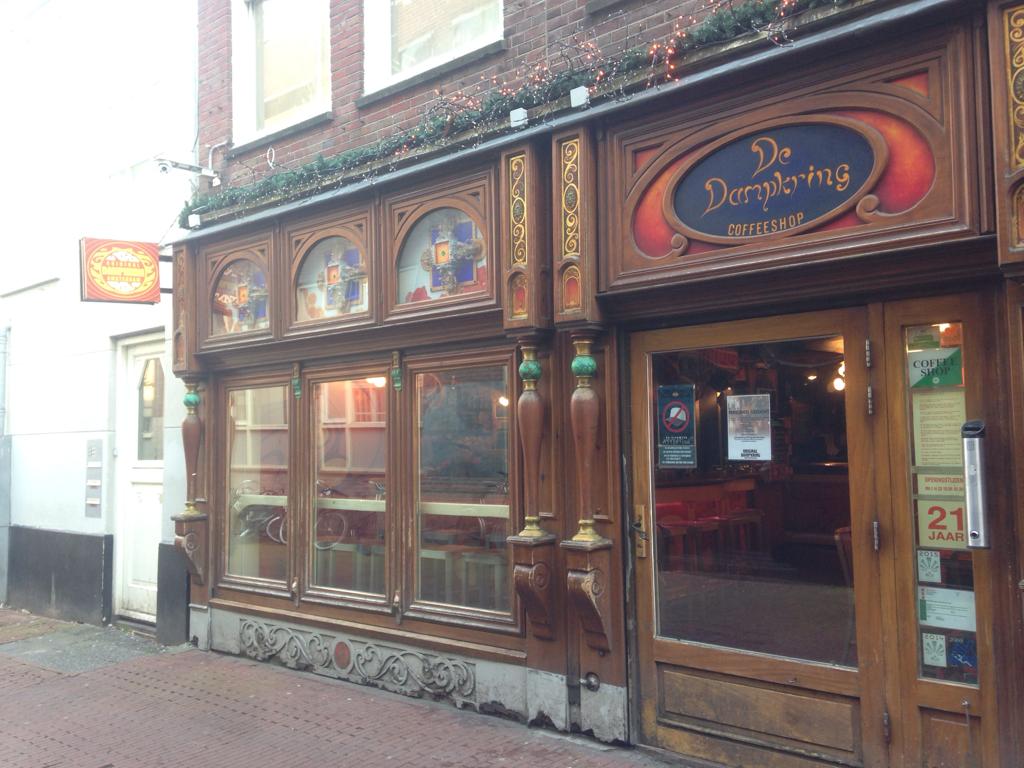 Let's start our trip in the center (don't judge, there are some classics there). A lot of rappers have been known to frequent these spots (Snoop, G-Eazy, YG), this particular spot appeared in the film Oceans 12 (you know, that film with an all-star cast).
Now let's talk chronic, Dampkring is home to an extensive list of weed strains. The staff is accustomed to people being aghast at the selection. Customers aren't allowed to wear hats inside, simply for safety and security – making sure no one is too gacked. They have two bars, one for shakes and juices and assorted snacks, the other for weed. Customers are either just vibing to some great music or playing cards, passing around the weed-chart. Long story short, it's vibes, it even has a cat so if you order a tea it might steal your milk, lovely little feline friend though (maybe not if you're allergic).
Another thing, 14-16 euros for a gram of great weed is the price they set. There are some for 12 but spend what you think is right for you, we're assuming we came to smoke and if it's your first day in Amsterdam it's worth checking out.
Location: Handboogstraat 29, 1012 XM Amsterdam
2. Barney's Coffee shop
Barney's is a coffee shop you go if you wanna sit and take your time, they have a couple of other great cafes. Trust us on this one, Barney's is almost synonymous with Amsterdam. Barney's are the recipients of multiple "High Times Cup" awards. The coffee shop is located in a 500-year-old landmark building on Haarlemmerstraat, it's been running for 23 plus years now and had extensive renovations. Location: Haarlemmerstraat 102, 1013 EW Amsterdam
3. The Point Coffee shop
If you're visiting Amsterdam, don't miss The Point.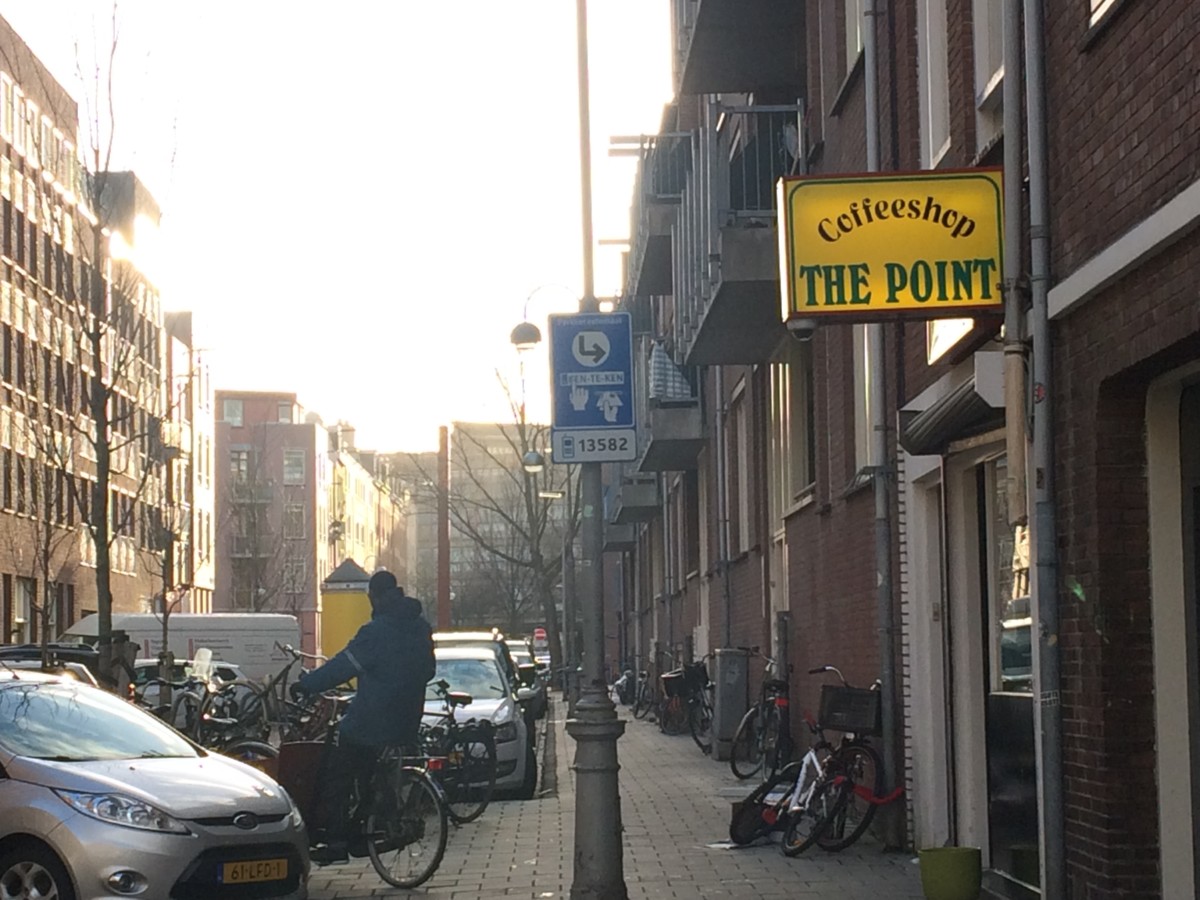 The Point is a must-visit, purely because they will actually ask you "how are you going?". It's strange to think coffee shops are anti-social but damn, ever get weed off a guy that's not smiling? That's just waiting for you to choose without saying anything… It sucks. That's why I love The Point so much, Jeff and Daniel, the guys behind the counter are super nice and will steer you in the right direction for the sort of high you're after.
To elaborate The Point is like the quiet achiever of Amsterdam, they produce their own strain, they called it "The Point Special" it is better than anything you've ever smoked in Amsterdam. Relaxing, even soothing, and if you have joint pain or stomach cramps it's a perfect remedy. The Point Special is a strain to talk about.
The Point is tucked away in the East, you'll have to look for it but once you find it you'll be glad you did. It's around the corner from Bar Bukowski, Go visit them!
Location: Derde Oosterparkstraat 73, 1091JV Amsterdam
4. Boerejongens Amsterdam
This coffee shop is ideal for takeaway-away, they offer many cultivations of the herb, including a brand-name hash at its best. This one is somewhere you come to eat as well though, pretty reasonable for Amsterdam's prices. They have space cakes as well! They're home
It sells quality weed so it can be a bit crowded so if you're not great with crowds maybe a grab and go mission is the ticket.
Location: Utrechtsestraat 21, 1017 VH Amsterdam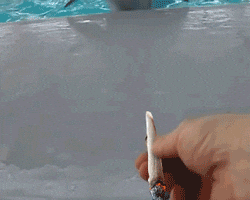 5. 420 Coffee shop
There are a few locations but this 420 coffee shop is the nicest. I love spots with a lot of foot traffic around it, but not so much crowding inside it. It lets you feel like you're on your own hazy island while the world turns. A lot of people love this place for its open-air feel, its kind staff, and its not-too-central placement. Pricing is modest, their pre-rolls are pretty good and you won't be stuck in line for ten minutes. You've got a bunch of really nice surrounding shops and scenery once you leave the 420 coffee shop.
One other thing, this particular 420 coffee shop is ten meters from the best cookie on Earth. The good people at Van Stapele have cracked the recipe to an incredibly gooey chocolate cookie. Head there too and thank us later. Try not to stumble into too many cyclists.
Location: Heisteeg 4-8, 1012 WC Amsterdam
Not satisfied yet? Let's explore another of the best coffee shops in Amsterdam!
6. Katsu Coffeeshop & Gallerie
This coffee shop is in the heart of De Pijp, wedged between Albert Cuyp Markt and the Heineken Brewery. Upon entering there's a pretty irresistible feeling of happiness, relaxation. No one's rushing around fussing the little things, in a lot of ways it improves on what most cafes fail to do eg: let a simple thing be simple. Coffee is coffee, the juice is a juice and Strawberry Kush (wait, Strawberry Kush?).
That's right, Katsu has some of the best strains, the prices are reasonable for the quantity and it's nothing like the overcrowded atmosphere of the Bulldog or Amnesia (although both of those have quality strains).
Location: Eerste v/d Helststraat 70, 1072 NZ, Amsterdam
7. Easy Times Coffeeshop
If you're making a list right now then we better just get right to it. Let's say you have a Sunday to spare and the afternoon is dragging out. It's 1 pm but it feels like 5 pm, well since you're not otherwise encumbered – a visit to Easy Times could reinvigorate your day.
A great experience if this is your first time smoking, and you've escaped to Amsterdam to try it. The staff is patient with everyone and helps you make an informed decision. Great atmosphere and music don't hurt either. They have some astonishing G-13 Amnesia Haze, loved by growers and smokers alike for its aroma, taste and lofty high.
Reach those heights, you know.
Location: Prinsengracht 476, 1017 KG Amsterdam
I can practically feel the sun on my face as we continue down our list of the best places to smoke this summer, the grail of ganja, here are some more of the best coffee shops in Amsterdam…
8. Coffeeshop Pacific
A great place for smoking that's not so dim and dreary inside, it has a lot of natural light and it's kind of reminiscent of a beach house thanks to its Summery colour-scheme.
This coffee shop has a dog called "Seven", he might bark at first but will settle down soon after you enter. The guy that man's the bar has been doing it for years, the place has some chill music, an open-air feel, bright colours and plenty of seating.
If we're looking for something extra special we'll find Northern Lights at a competitive price, you can visit places like Crash Light in Oost for even cheaper Northern Lights. located in the backstreets near the sprawling parks at Museumplein, it's a hidden gem.
One drawback of this coffee shop is that they don't card here, it's cash only.
Location: Balthasar Floriszstraat 10, 1071 VC Amsterdam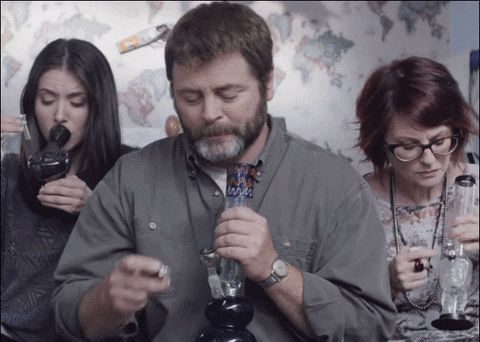 9. Cafe Papillion
Check the butterfly on the exterior, this one is well worth a visit. The music might not be your taste sometimes but hey, it's a vibe. It's worth staying longer than usual, remember to take your time with the coffee shops. Be selective with your choices, mix strains and experiment.
"Papillion" loosely translated from French as "butterfly", is a perfect spot to sit outside for a smoke on a hot evening in Summer. On a sunny day, it is here you want to find yourself.
Location: Van der Helstplein 8, 1072 PH Amsterdam
10.Tweede Kamer Coffeeshop
Tweede Kamer will make you feel welcome to smoke while on premises, as far as coffee shops go this one is definitely passionate about their work. The shop is pretty central and if you've wound up here you're in good hands.
Their selection is plentiful, lowkey, a favorite among many visitors.
Location: Heisteeg 6, 1012 WC Amsterdam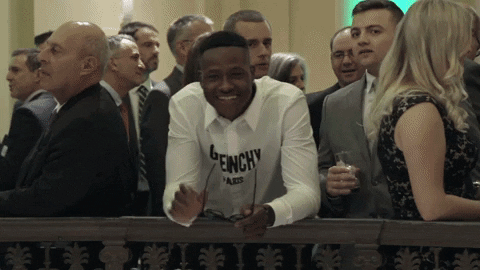 11. Paradox
This is one for lovers of all things weed and all things edible. If it's your first time trying a "space cake" or an edible the staff will be nice enough to walk you through what to expect. You can also find some nice hash and the prices are really fair. To avoid spending too much on weed when you first get to Amsterdam Paradox is a safe bet. The further out of the center you get the cheaper the weed tends to be.
This one will leave you kind of gobsmacked if you're smoking in. You might need a pair of shades to even take to the streets.
Location: Eerste Bloemdwarsstraat 2R, 1016 KS Amsterdam
12. The Internet Cafe & Coffeeshop
As you wind and weave your way through Amsterdam's streets you will find the Internet Coffeeshop that's large enough to bring the whole gang. Look for the @ symbol, then you'll know you've found it. They have a great venue and a great vibe within, roll up at The Internet Cafe while your lunch is being made.
There are plenty of coffee shops surrounding The Internet Cafe but The Bulldog gets crowded by tourists and the staff tends to encourage takeaway to keep up with them. To help you skip what would normally be a ten-minute queue in the city, the Internet Cafe's service is preferable. Their music is always great and its location is perfect for rolling one up then escaping to Vondelpark or market.
Location: Korte Leidsedwarsstraat 77, 1017 PW Amsterdam
Even though we really wanted to put the 12 best coffee shops on this map of Amsterdam, apparently we're only allowed to put 10. :'(
What to do after visiting some of the best coffeeshops in Amsterdam?
Amsterdam is full of surprises, most of which are within walking distance of one another. With so much to do and see, maybe make a list before you smoke.
Maybe stuff your face with pancakes at Mook, ya mook. Or why not check out Little Collins cafe (a homage to Melbourne coffee expertise). Maybe culture-up and visit a museum, there are enough of those around. If the sun is out, get some shades on, take your shoes off and kick back in the grass somewhere (Museumplein is extra nice in the Summer).
Where are your favourites? What are some memories you've made at the coffee shops around Amsterdam? Tell us about your smoke-filled adventures in our Facebook group!
Banner Image Source: Edited from Pixabay