So you're in Amsterdam for a city break and – instead of buying another pair of weed print socks – you'd like to get yourself a more sophisticated souvenir, such as an English translation of Herman Koch's 'The Dinner'. 
Or perhaps you've been living in the city for one year already, but your Dutch is limited to hoi, lekker and doei and you're longing for the comfort of a good bedside-table book (one that you can immerse yourself in, away from all those korte klinkers and lange klinkers that you think you'll never be able to master).
Or maybe you've been living here for quite some time now and engage in lengthy conversations with your Dutch neighbour, but reading Mata Hari's life story in Dutch is simply out of the question. Whichever it is, read on; you're in the right place.
When it comes to English language books, Amsterdam has plenty of options. It's hardly surprising in a city (and a country, for that matter) in which English is no longer a foreign language but, functionally, a second language (according to Leiden University's Alison Edwards). And the good news doesn't stop there. The go-to bookstores are really cool.
Here are my top three. They're centrally located, within close distance of each other, and all span several floors. Each is special in its own way. Maybe one of them, at least, will make it to your top three too.
Scheltema: Boekverkopers sinds 1853
Booksellers since 1853, that is. Located on Rokin, steps away from Dam Square, Scheltema is the largest bookstore in Amsterdam. It's also one of the largest and the oldest in the Netherlands – and Europe. It is simply beautiful. It moved to its current location in 2015, having returned to Rokin after more than 30 years in Koningsplein. The building, formerly known as Gebouw De Roos after the art auction company (CF Roos) that once operated on its premises, dates back to 1911.
It was then renovated and decorated into a quiet, elegant place where one could read, work, have coffee, or even a healthy meal. They serve lunch until early evening every day (so no need to turn to bountiful bowls of bitterballen if you happen to be hungry at 4 pm). Of course, despite my best efforts, my kids manage to disrupt the place whenever I take them there.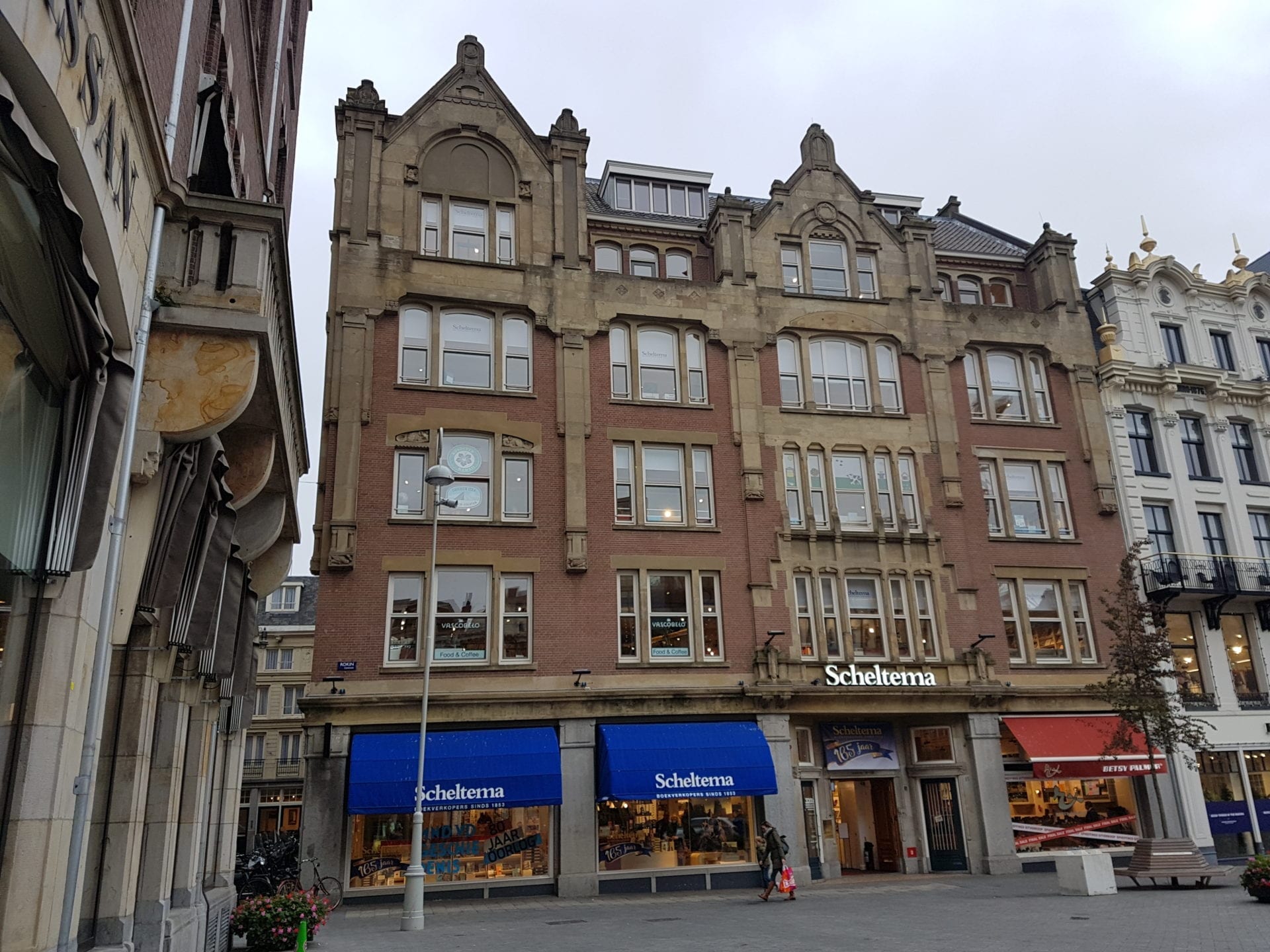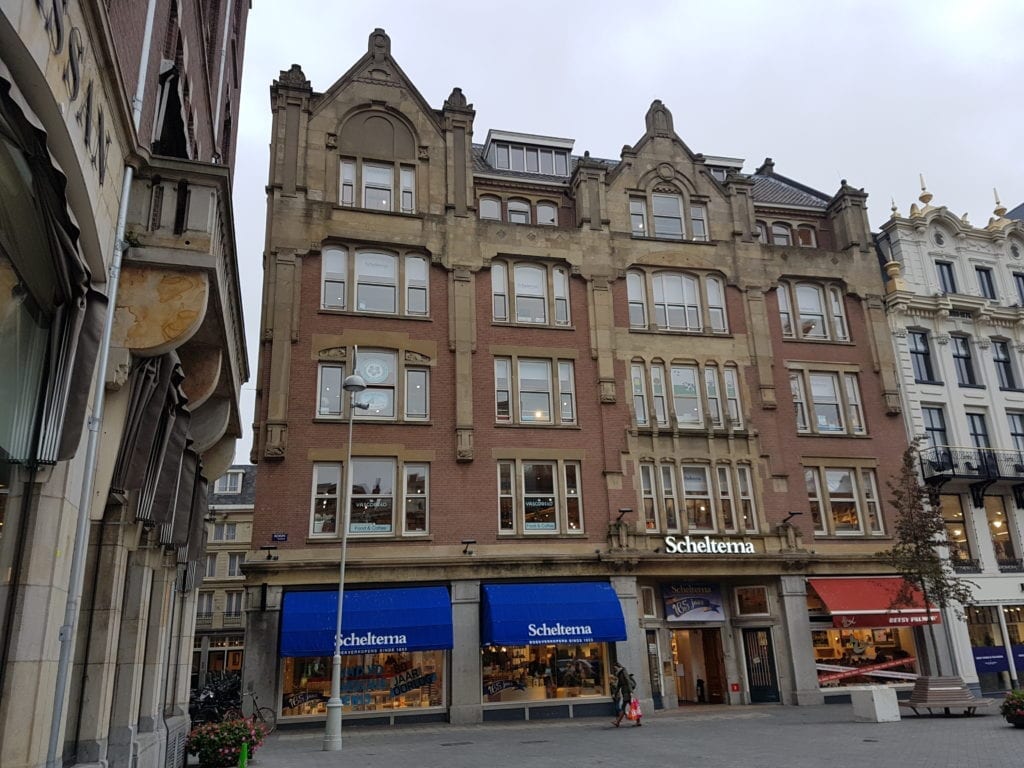 The big question: what kind of books does Scheltema sell?
For English language books, head to the first floor. You will find a few ones at bargain prices in the remainder (ramsj/boekenvordeel) section, right next to Scheltema's Vascobelo V-bar. Nothing too impressive quantity-wise, but don't be too disappointed; the actual selection of English books is on the other half of the floor, at the back of the building.
The section is organized around a stylish reading area. It displays plenty of titles – such as crime, poetry, fantasy and science fiction – ranging from new books by contemporary authors to classics like Dostoevski. No history or politics subsections (which is where I initially head to when entering a bookshop). Surprisingly, though, there are a few history and politics titles on the remainder shelves.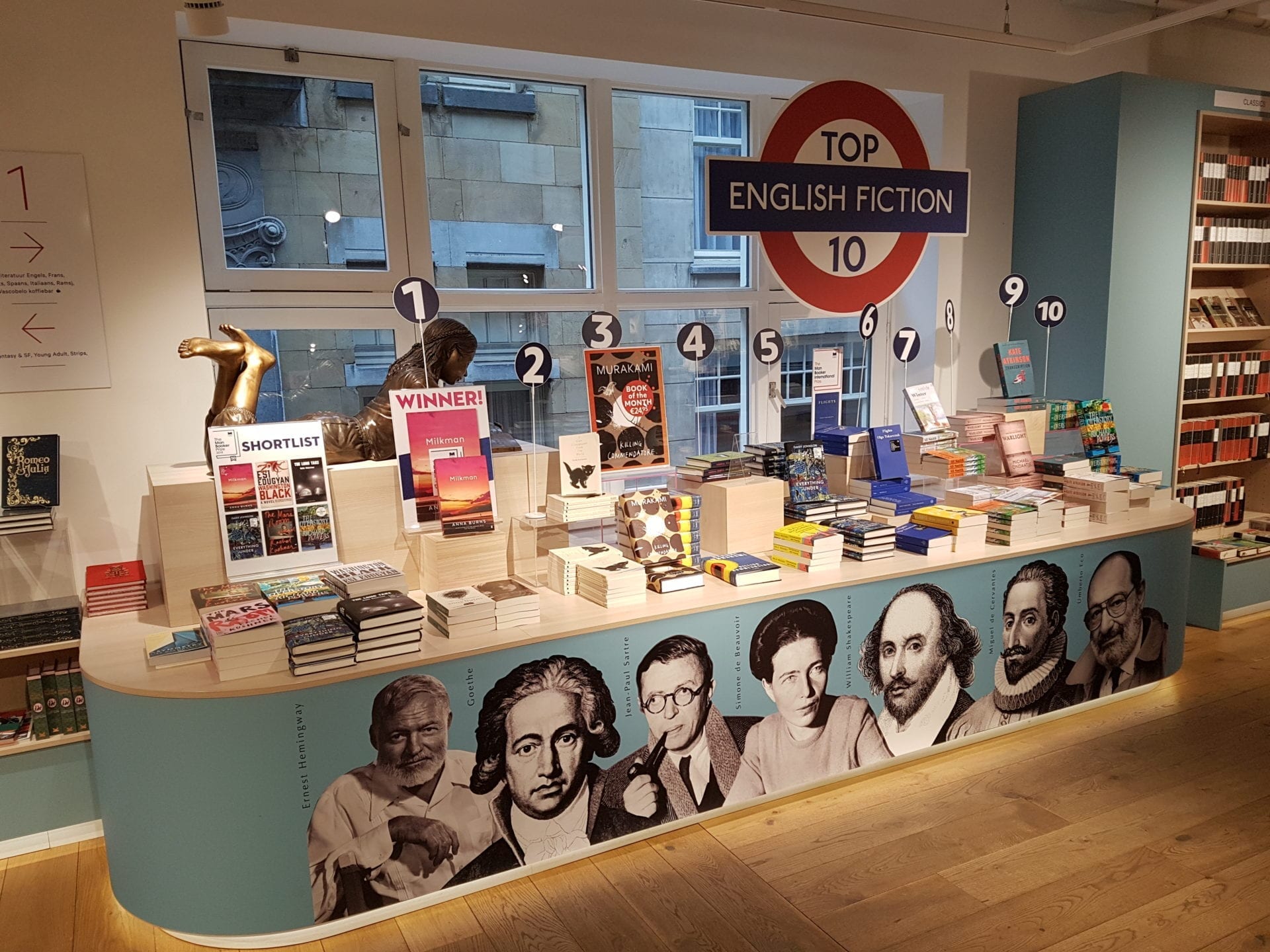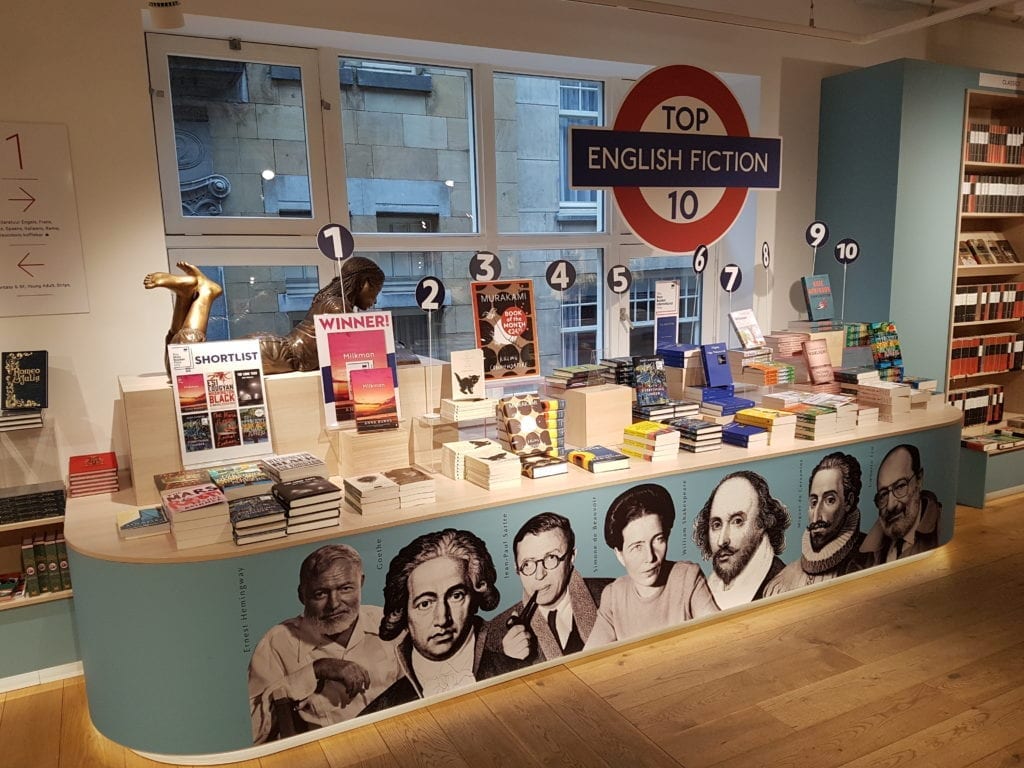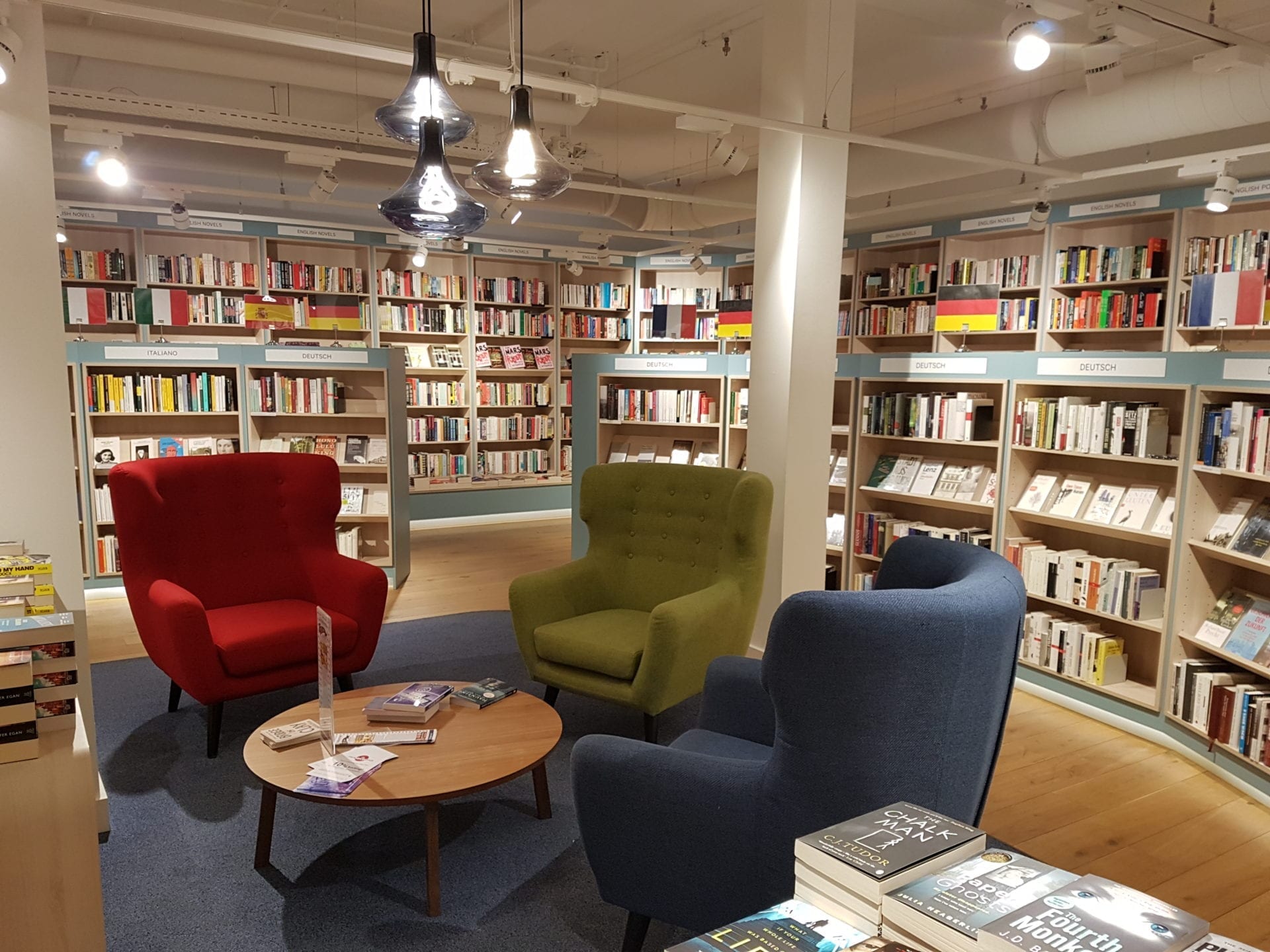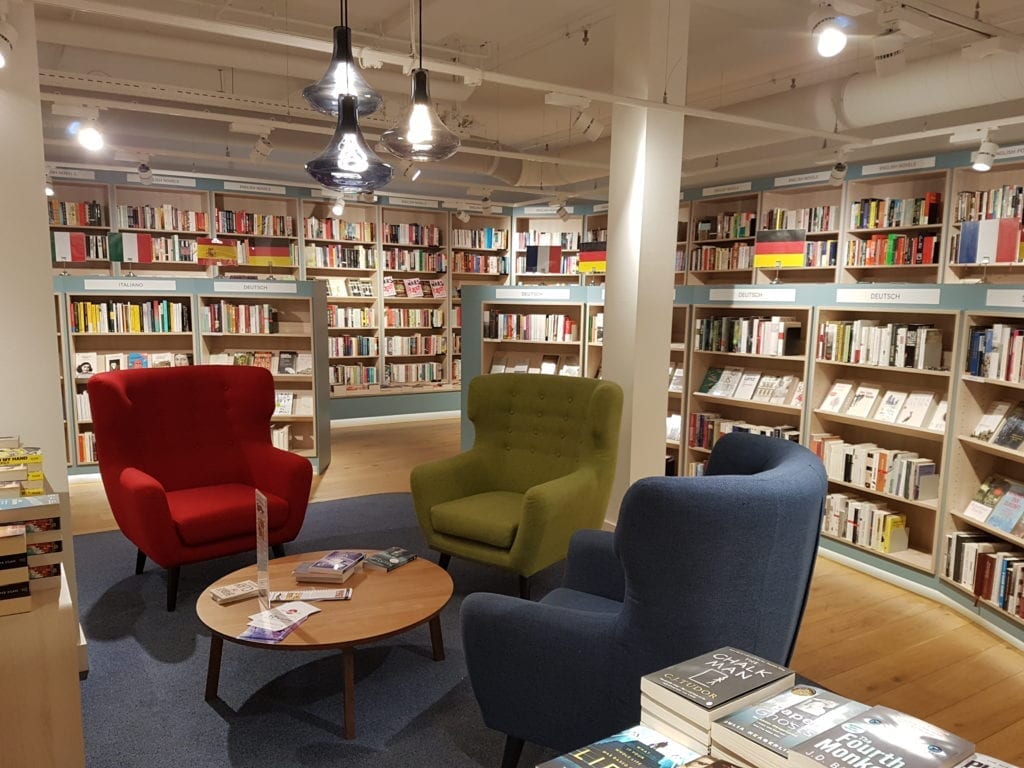 For English language children's books, head to the second floor. If you brought the kids along, brace yourself for some commotion. The children's reading corner is closer to an indoor playground centred around a pirate ship. Add to these two big toy boxes and a beautiful lighthouse, with actual intermittent light. This is where they are supposed to read, I guess, but they almost never do because they're too busy playing. This all comes in handy, though, when you have to motivate them into shopping for a book, instead of a toy. Or bribe them into agreeing to enter the bookstore and allow you a few precious minutes to get a book for yourself.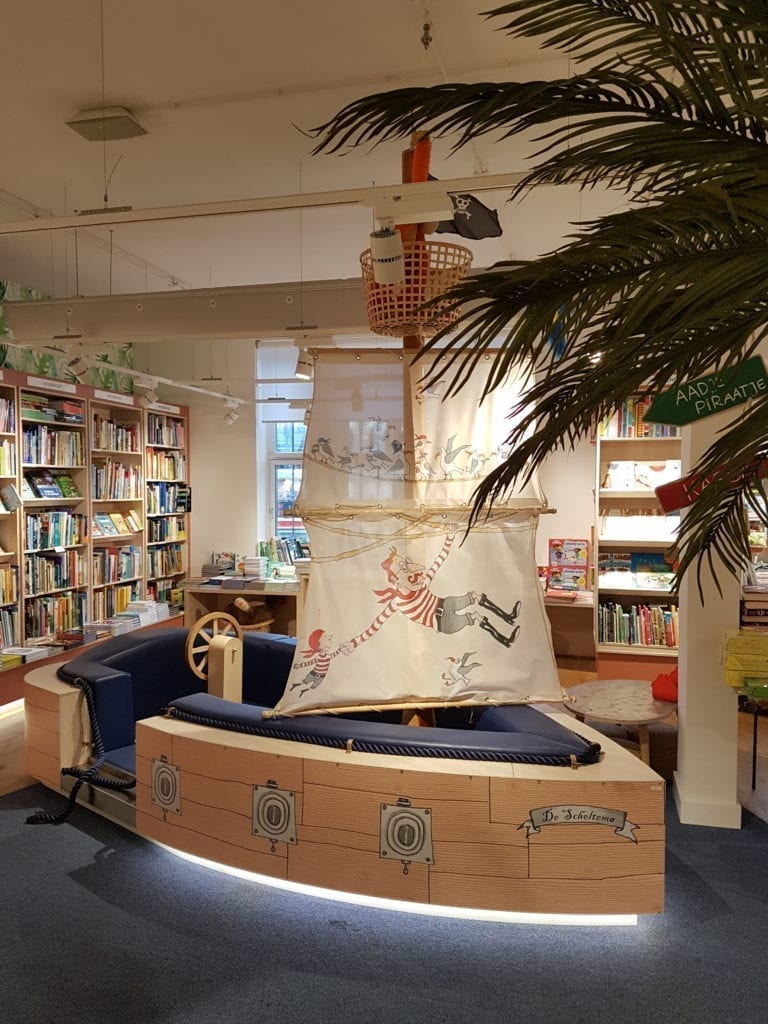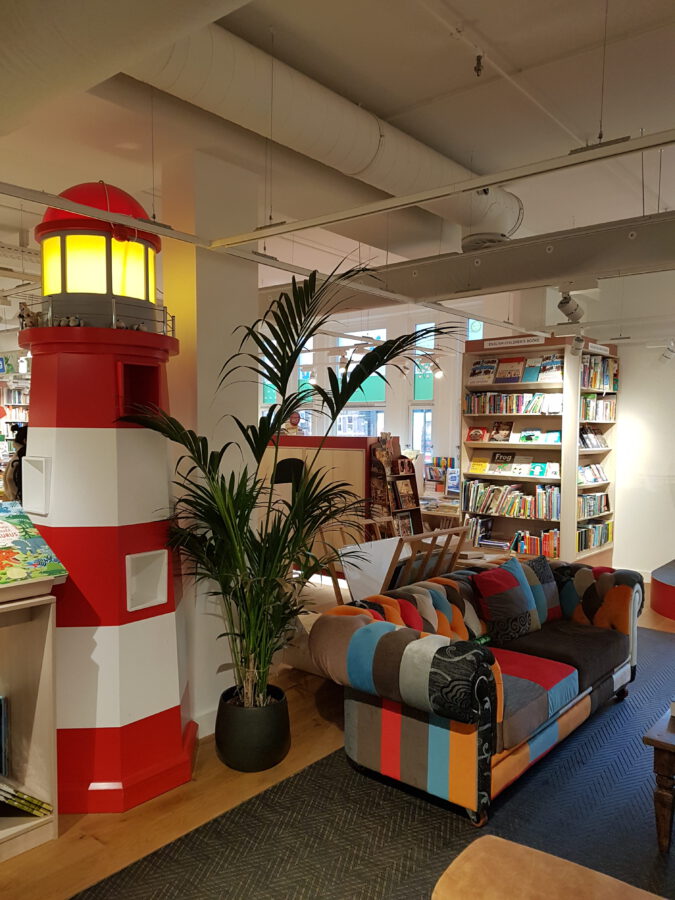 While the overall children's books section is huge and displays a great selection of Dutch books, the English subsection could use some improvement, especially for smaller children. Quality varies, depending on the season. I usually find it gets better around Christmas, but not around the traditional Dutch Kinderboekenweek each autumn. The focus is obviously on the Dutch language. Older kids are luckier. Recent hits, such as "Good Night Stories for Rebel Girls" are almost always available. There is also a small but good selection of English children's books on Amsterdam and the Netherlands. They make great gifts for family and friends abroad.
Finally, there's the travel section, right next to the kids' area, where English editions are also available.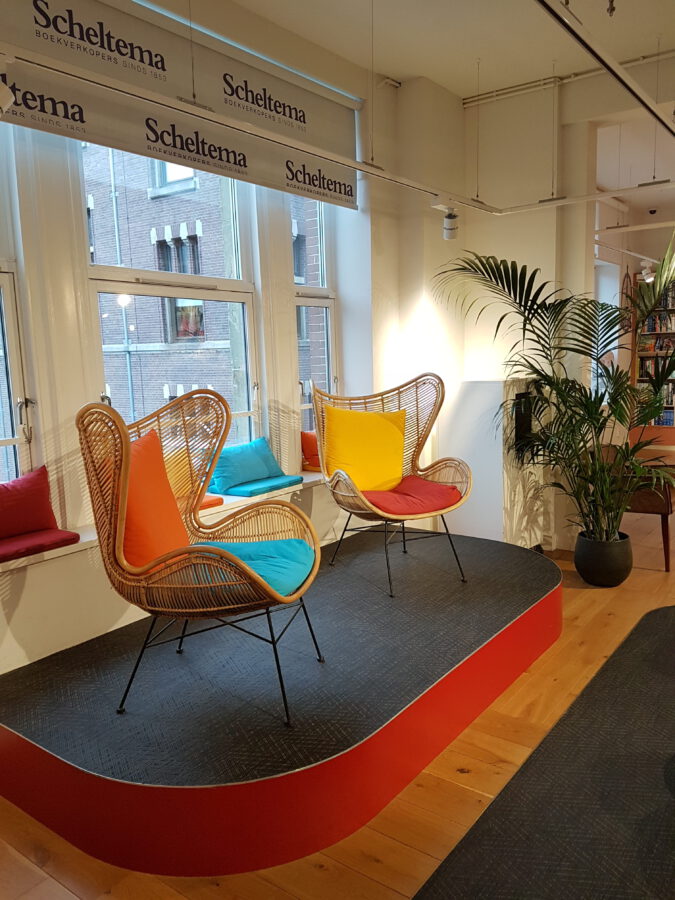 What else is there besides the books?
Last but not least, since babies will be babies even in a bookshop, it's good to know that Scheltema has your back covered. There's a baby changing room on the third floor – very impressive for Amsterdam Centrum. Accessibility is not an issue because of the huge, modern elevator. Plus: if your phone is almost dead but you desperately need it for that Facebook check-in, no worries, there's a smartphone charger station next to the elevator on the first floor.
Address: Rokin 9, 1012 KK, Amsterdam.
The American Book Center: Three floors of ideas
Less stylish than Scheltema, but definitely edgy: ABC, as we lovingly refer to it in Amsterdam, has a fabulous selection of titles. Obviously, 100% English language. I almost never leave with my wallet intact.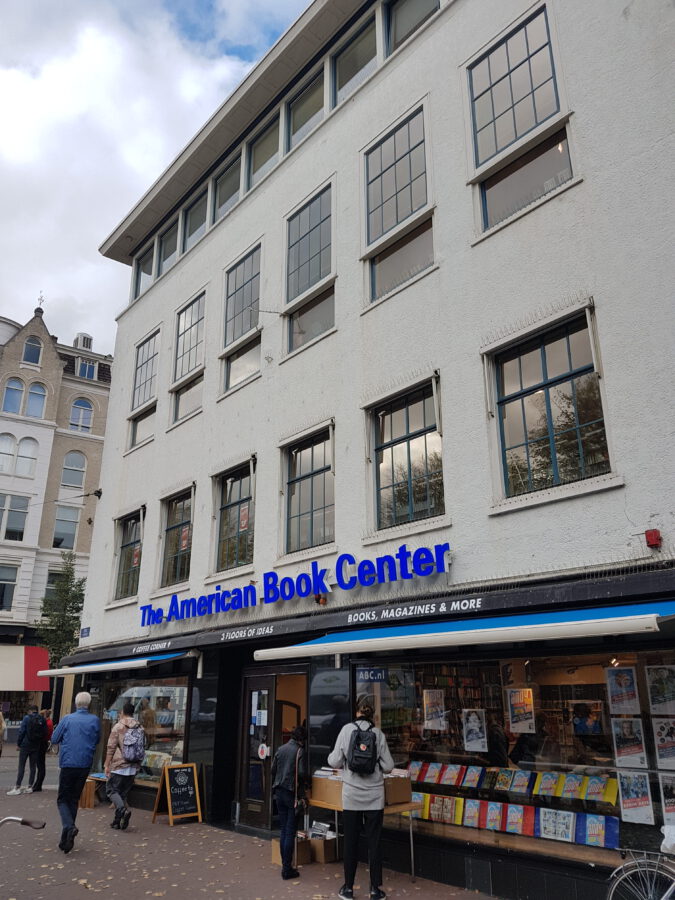 It was founded in 1972 by two Americans, Mitch Crossfield and Sam Boltansky. Mitch was already living in Amsterdam when he came up with the idea of a discount shop for remainder English language magazines and books that his friend, Sam, could bring over from America. Not a bad idea in a city where, in Mitch's words, everybody spoke English. They came up with a long and intricate name that sounds pretty funny today: American Discount Book, Magazine, Poster Retail and Distribution Center B.V. Lynn Kaplanian Buller, a fellow American (who has been managing ABC for more than 40 years now) happened to pop into the newly opened store, looking for magazines.
Over the years, focus moved from discount to completely different criteria for title selection. The business expanded to The Hague, where the store includes an events space called the ABC Treehut, which frequently hosts lectures, workshops and exhibitions. Betty the Bookmaking Machines were added in 2010, the first of their kind on the continent, in order to allow for self-publishing. This is a super interesting service provided by ABC, the details of which are available on their website. The American Book Center is nowadays perceived as an essential Anglo-Saxon cultural hub in the Netherlands. An inspiring story of pioneering, don't you think?
Now you know the history, let's talk books…
I can't even begin to list their sections. There's something for everyone: from urban culture to kitchen, from kids to philosophy. The magazine section on the ground floor is jaw-dropping. Tonnes of design, art and pop culture, and yes – Amsterdam, Dutch and the Netherlands are also on the ground floor. Crime, cooking, manga, romance, travel, kids' books and many more on the first floor. Heavyweight titles are on the top floor, ranging from religion to computer science. Much more than it makes sense to mention here. You have to see it to believe it. Check them all out by yourself.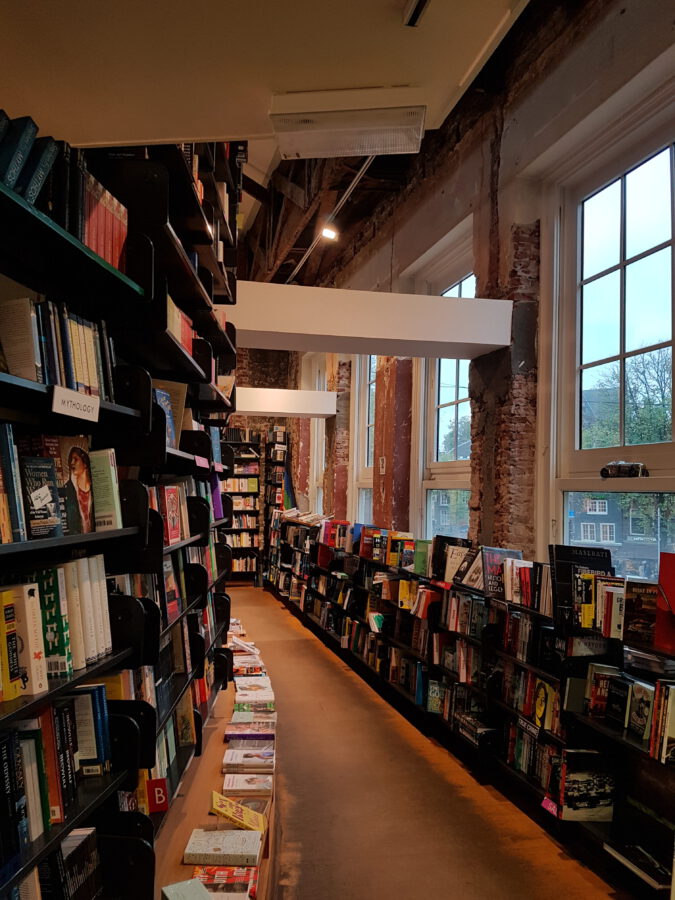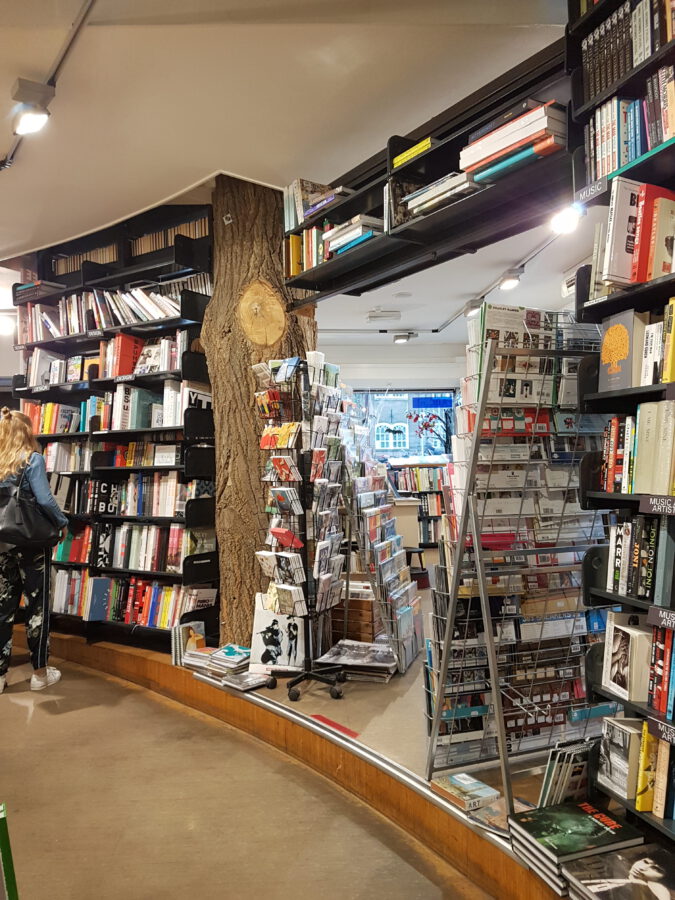 Not surprisingly, their selection of children's books is slightly larger than Scheltema's, but it's less variable in quality and quantity; it's got trendy and classic titles, but the kids' corner, on the whole, is actually quite basic. You can't keep smaller children busy there, but it's definitely worth stopping by if you're alone.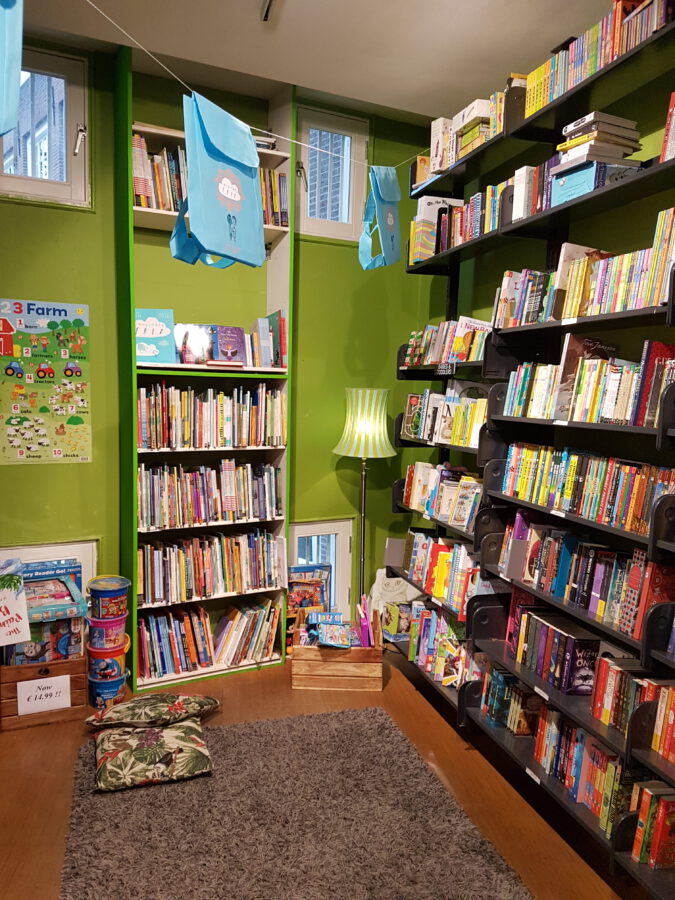 There is a beautiful reading table on the top floor, close to the cash register. Coffee, juice and cakes are available in a small cafe on the first floor.  The elevator is at the back of the store, look for "LIFT" written in red capital letters.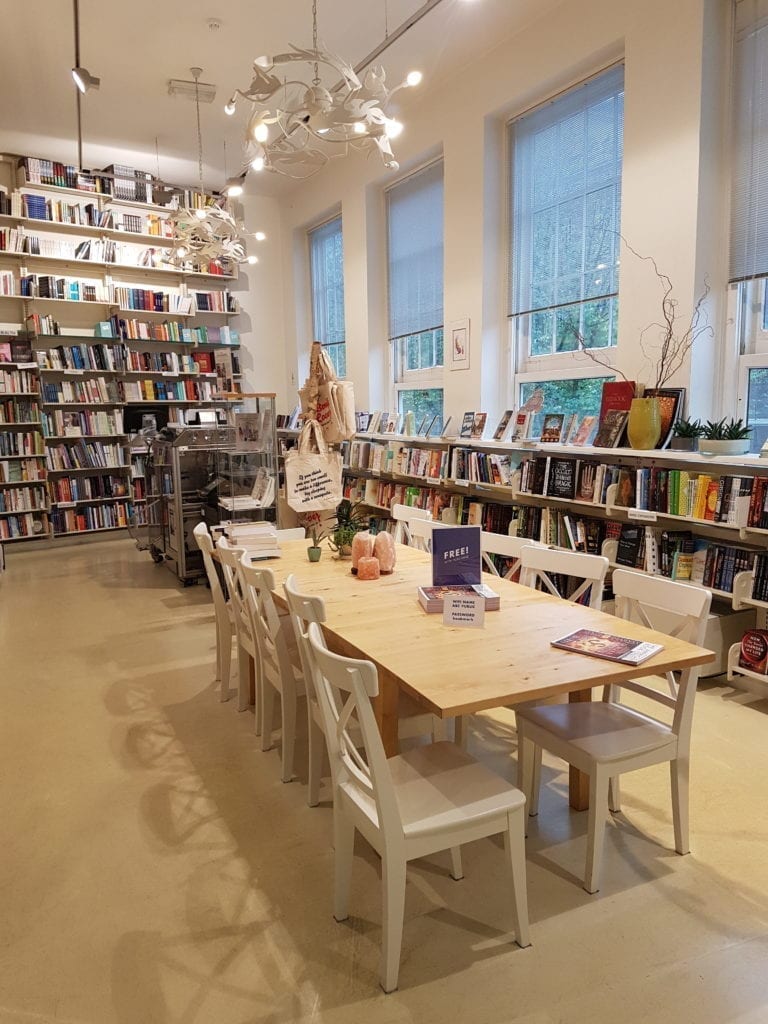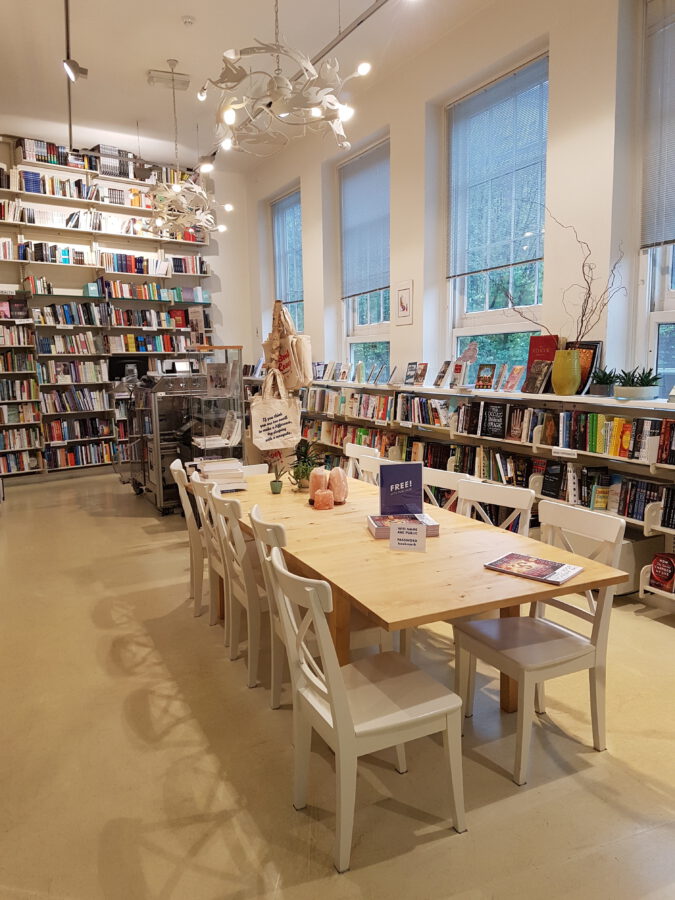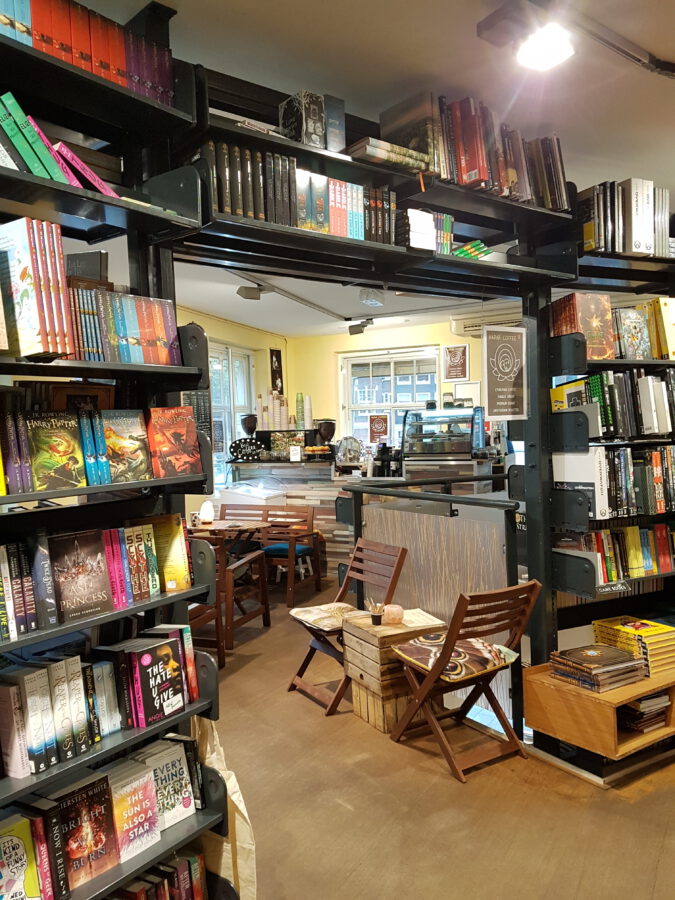 Address: Spui 12, 1012 XA Amsterdam.
Waterstones: Home of English Language Books.
With a very British feel, the Kalverstraat bookstore is part of UK's Waterstones, the country's last surviving bookshop chain (which was founded in 1982 by Tim Waterstone). Its four floors provide a great choice of titles, including many specific to the UK's book market.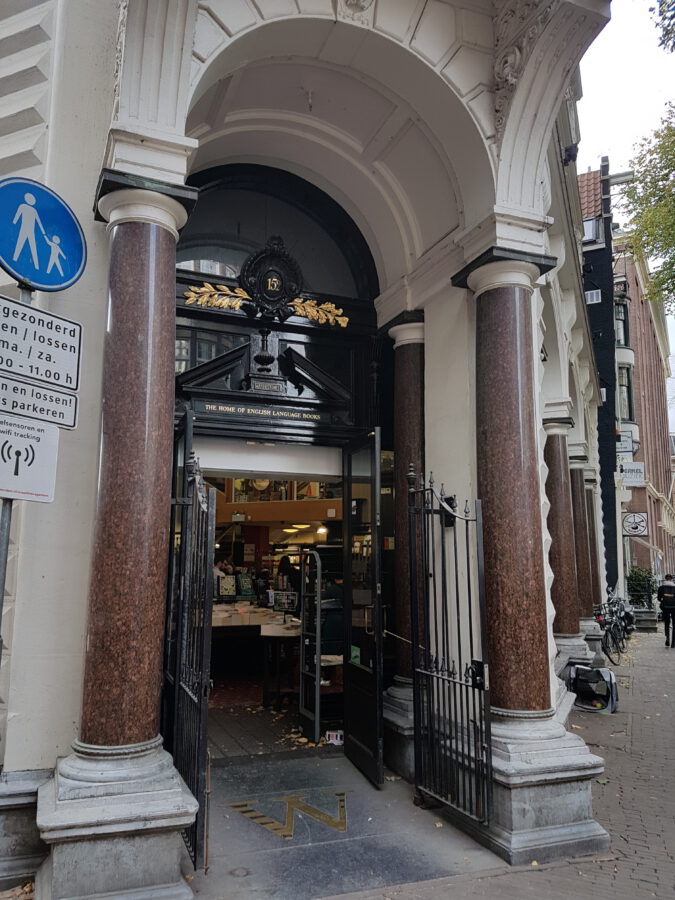 Book sections to look forward to at Waterstones
It's mostly fiction and crime on the ground floor, as well as a collection of gifts. There's a smaller first floor (more like a staircase landing) with greeting cards and various British goodies, such as Cadbury chocolate or Walkers biscuits, as well as seasonal delicacies. There's a great selection of children's books, the best so far, alongside young adult literature, manga and science fiction, on the spacious second floor. The children's section has a cosy, quiet reading corner by the window, overlooking the hustle and bustle of Kalverstraat. On the top floor, you can find history, pop culture, travel, sports and an austere reading table (too austere, perhaps).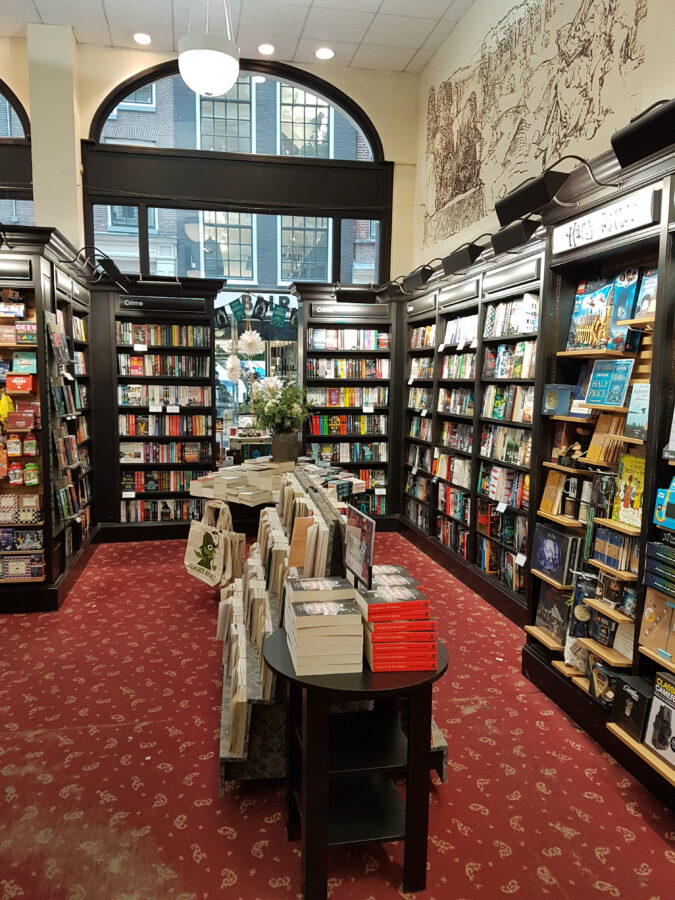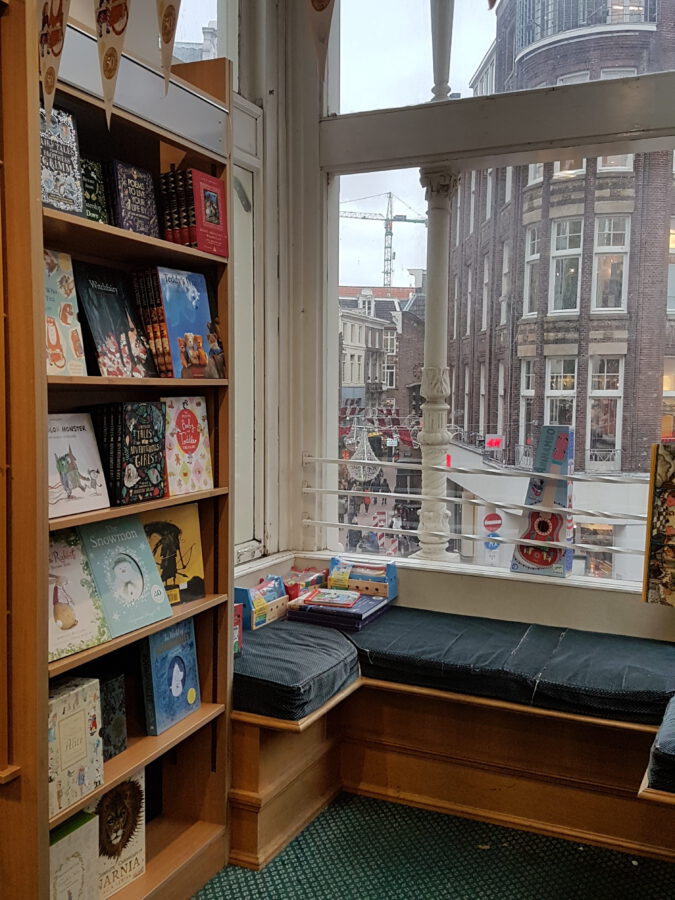 The booksellers certainly go out of their way to help. They offered to bring me a book I was looking for or offered to keep an eye on my stroller and sleeping baby for a few minutes, while I went to fetch what I needed. Unfortunately, there is no elevator at Waterstones. 
Address: Kalverstraat 152, 1012 XE Amsterdam.
If you're still hesitating to go out in the cold, despite all those inviting reading corners, you can always order your books online. Whether you're into paper books or digital ones, the online world will help you. Online is also where you should go in order to keep up with the various cool events these bookshops host. Oh, and don't forget your English-speaking friends. It's Amsterdam – you must have many! If they're big readers, a gift voucher from any of the iconic Scheltema, ABC or Waterstones might just be perfect for an upcoming birthday.
If you liked this, don't miss more helpful expat stuff by following DutchReview on Facebook, Instagram, and Twitter. And, as always, if you have anything important to add to this article then be sure to let us know in the comments!