As spring makes its way towards the Netherlands — yup, you read that right — it's time to bid farewell to the wonderful distraction that was the ice and snow. We thought we'd gather up the best bits to help us remember what the cold was like. 
The guy who fell through the ice — in his underwear
This man took bravery to a whole new level. Not only did he decide that today was the day that he wanted to truly know what it is like to "walk on thin ice", he also decided that underwear was the proper clothing choice for such an occasion. At least he takes a bow once it's all done?
#Amsterdam #ijsnietoveralgoed #keizersgracht pic.twitter.com/mhZAuCQ9x6

— Geertje (@ikkomuitdrenthe) February 14, 2021
The guy who decided to take the workout to the ice 
Gyms have been closed for what feels like ages, but this guy doesn't seem to be bothered too much. He just packed up all his equipment (flat bench included) and hit a frozen lake. 
Fitness life 💪🏼 #fitness #gameplan #fit #sneeuw #fitnesslife #healthcoach pic.twitter.com/QpFaeEjyzH

— Maurice (@maussienl) February 14, 2021
The time the ice became a race car track
I mean, if you're going to skate on the ice you may as well drive on it too…I guess??
Our new video is now online. Racing on ice 💪#kart #gokart #schaatsen #autosport #Daytona https://t.co/pEvYZjndky pic.twitter.com/kHaj7ttP6m

— RaRaRacing (@RaRaRacing) February 14, 2021
The time the police found a lifeless body
The week of snow and ice was no less exciting for the police than it was for the common folk. Police were able to enjoy a chuckle or two once they found out their potential homicide victim was, in fact, a snowman.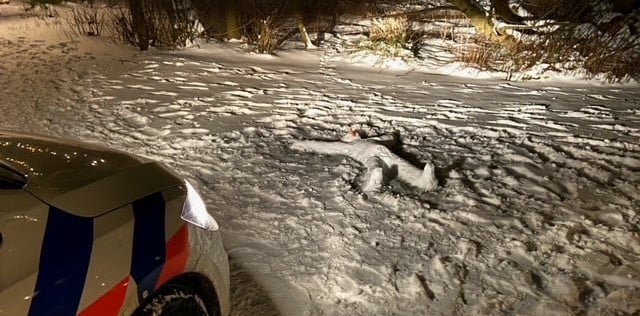 That time everything was really beautiful 
We don't need words for this one, I mean, just look! 
View this post on Instagram
The guy who ruined all the fun
The fun on the ice in Amsterdam abruptly ended for everyone when this guy showed up on the scene. In an attempt to move his boat, he broke a thin layer of ice on the famous Prinsengracht. His little boat endeavour did not leave Amsterdam's ice skaters happy. 
Een ongelofelijke teringlijer heeft zojuist de #Prinsengracht kapot gevaren vanaf de #Brouwersgracht.
Ik ga het spoor volgen.

11.02.2021 09:51 #ijs #ijskapot #Amsterdam pic.twitter.com/tDGd0Vrr9n

— Thomas Schlijper (@schlijper) February 11, 2021
The ice skater who put on a show in Amsterdam
This woman put everyone to shame. And we thank her for it. 
Next level kanaalschaatsen dit pic.twitter.com/5W8QSTE8Ce

— Saskia 🤷🏼‍♀️ #geefspuit (@SaskiaBvR) February 14, 2021
The guy who took Dutchness to the next level 
We all know that a bicycle is like an extended limb for a Dutchman. This year, we also learnt that the Dutch are quite the ice lovers. But would you ever think that some Dutchies manage to do these two entirely different things at the same time?! Neither did we.
That time the King re-proposed to the Queen
Who would have thought that King Willem-Alexander was such a romantic? Proposing to Queen Máxima just once won't do it, he apparently thought. This year, the couple was captured reliving their special moment on ice. 
View this post on Instagram
Now that we have warmed your hearts with these chilly hits, it's time to make way for the warm weather! While the ice and snow may melt away this week, we hope the good memories stick around for a while, if not, you know where to find this article.
Do you have any fond winter 2021 memories? Tell us about them in the comments below! 
Feature Image: IngevGelder/Wikimedia Commons/CC3.0.
This article was co-written by Sarah O'Leary and Jana Vondrackova.