Tiny living is becoming increasingly popular as people strive to spend less on their homes and, in turn, free up money and time for their true passions. But the tiny house pioneer movement has only just started in the Netherlands and the laws that govern tiny houses are playing catchup.
We live in a consumerist culture where many of us criticise materialism. Some have decided to practice what they preach and remove all the items in their house that don't 'spark joy,' a term coined by Marie Kondo, a Japanese organising consultant, whose tips and tricks for a well-organised home has gained her international appraisal.
Why tiny homes?
So why are tiny houses on the rise? Some say it is simply another trend, people eager to prove they can live big in a small home. Many others are turning to tiny houses amongst the housing crisis and the inability to afford a full-size home. Some, just want the challenge of living in a different way. Whatever the reason, the tiny house movement is rapidly growing.
Tiny houses come in all shapes and sizes but one universal trait is that they are intricately and cleverly designed and utilise every space possible. Stairs fold out to provide storage underneath, lofts are added to create dividers in the house to give the illusion of separate rooms and big windows are installed to create natural light and brighten the space.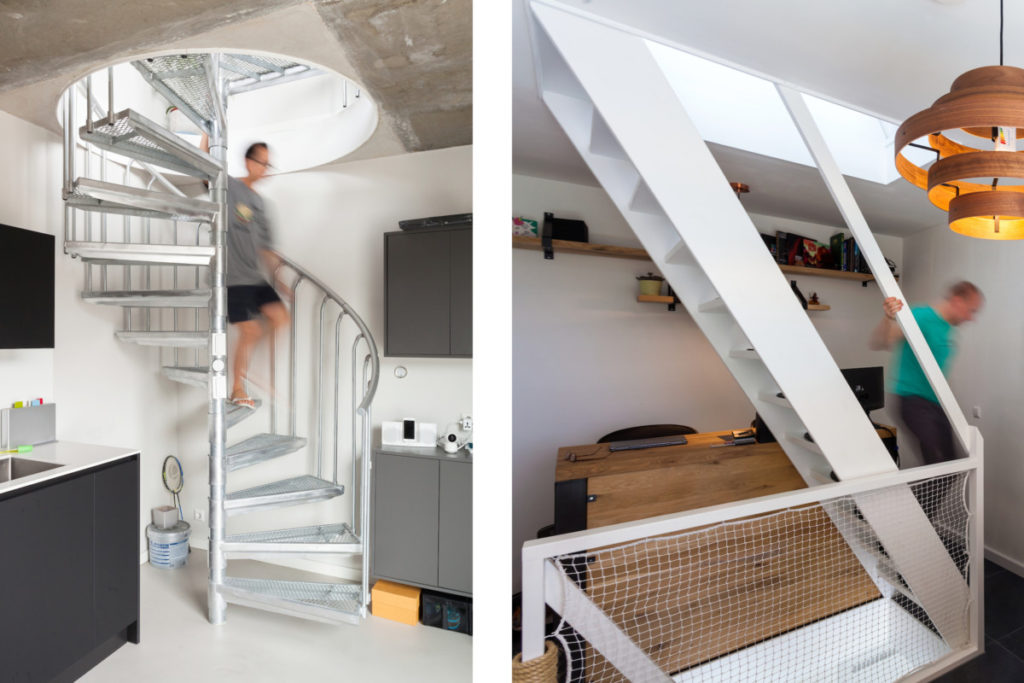 They are far cheaper to run and maintain which allows the owner to spend the extra money on travelling or extra-curricular activities. Remember that badminton team you've never been able to afford? Or that book club you always wanted to attend? Downsize your home and you may be able to!
We got in contact with tiny house architects and tiny house owners and dwellers and asked them some key questions. We hope the information will help you to better understand tiny living!
What are the measurements of a tiny house?
A tiny house needs to be built as a primary and stand-alone dwelling on a small scale. A small house is a dwelling that is less than 1,000 square feet (93 m2). By comparison, a tiny house is a home that is less than 400 square feet (37 m2) and some are even as small as 80 square feet (7.4 m2).
Where can I find tiny house initiatives in the Netherlands?
On this map you can see all of the tiny house initiatives that are taking place in the Netherlands. Get in contact if you are interested in visiting or are considering building a tiny home.
Can you get a mortgage for a tiny house?
As it currently stands, it is not possible to get a mortgage for a tiny house. However, if the tiny house is anchored to the ground you can register the property with your local council and some mortgage providers such as Triodos and Obvion may be willing to give you a mortgage.
How much does a Dutch tiny house cost?
There is no fixed price as it depends on how big you build the tiny house and what amenities and features you include. Some people say €25,000 is doable for a basic home. But it can cost as much as €100,000 if you use more expensive materials and include the latest technology.
Show me those Dutch tiny houses!
Curious about what living in a tiny house in the Netherlands is really like? Here are some tiny houses (with big personalities).
Martijn and Irena's stand-alone tiny house in Ouddrop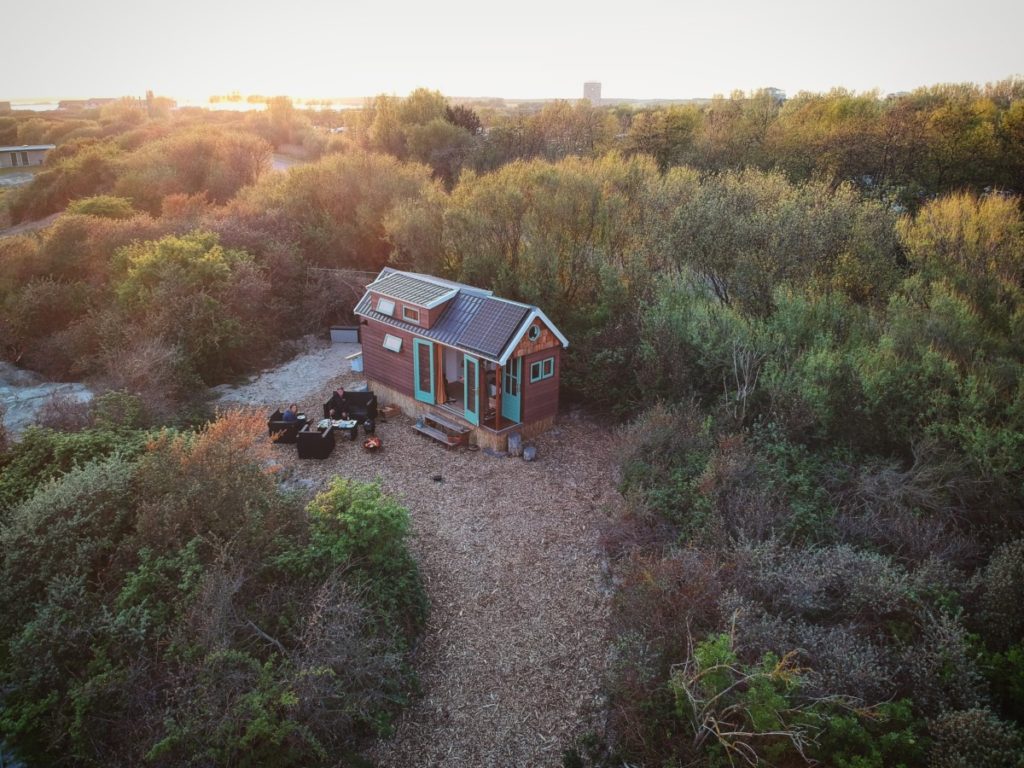 Martijn and Irena built a tiny house in Ouddrop, a village situated in Holland on the Kabbelaarsbank. Their house, 20m2, is considered very small by tiny house standards. But they adjusted relatively easily as they lived in a caravan for three years prior to moving into the tiny home.
"We were used to life without a lot of stuff" they told DutchReview. "For us, the tiny house felt more like upsizing. We've travelled a lot, and lived in campers and tents so we are used to not having much stuff."
The most challenging aspect of tiny living
Martijn and Irena agree that the most challenging aspect of living tiny is the inability to host parties. When they do have people over, it has to be outside or in a small group. "Luckily, most of the time it is okay weather to be outside," the said. "Bad weather doesn't exist, only bad clothing."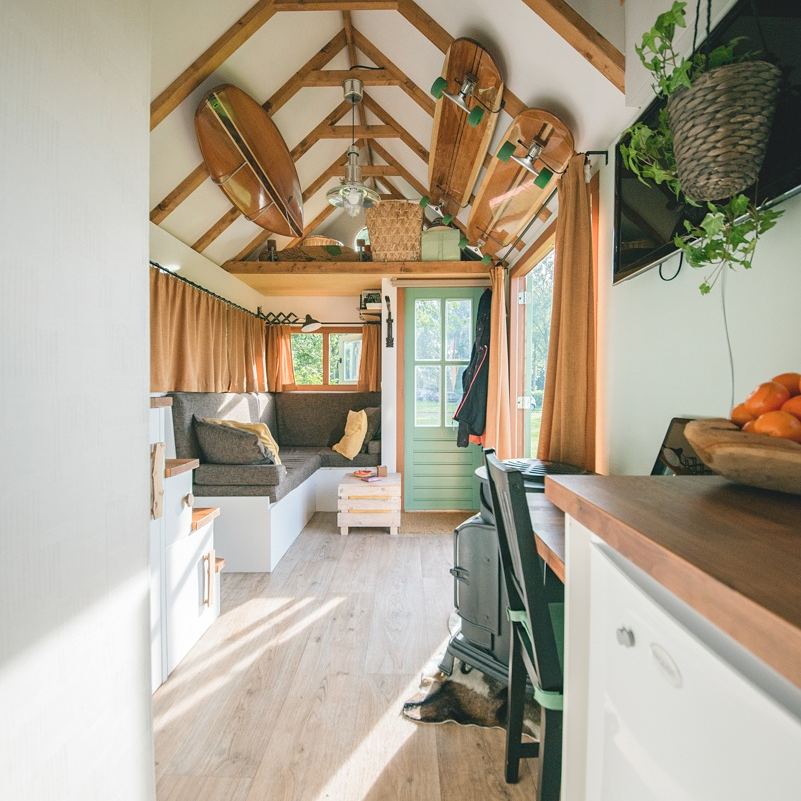 Did the building go according to plan?
When you build anything from scratch there are obstacles. Especially because Martijn and Irena's tiny house was one of the first built in the Netherlands.
"Everything was pioneering and we didn't had any building experience which made it harder. But with YouTube and Google you can build whatever you like," they told DutchReview.
The most difficult legal barrier was that the tiny house can only weigh 3500 kilos.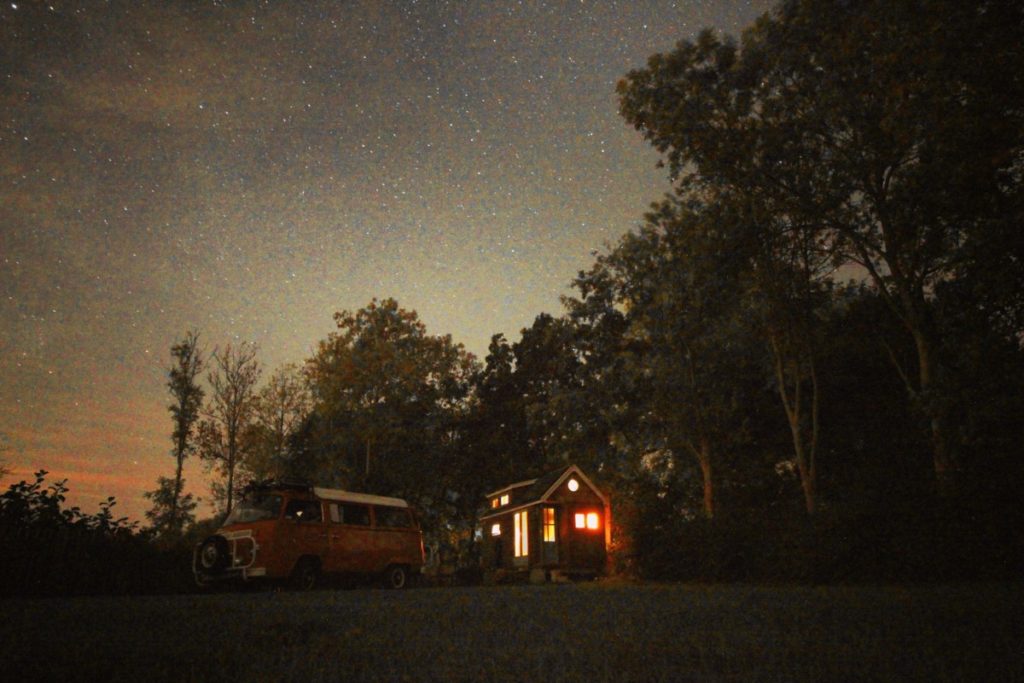 Tiny 'towers' of Almere designed by House of Architects
Niek decided to downsize as he wanted to have more control over the costs of his utilities and what he spends money on. Niek bought one of three Tiny Towers, which are designed by House of Architects. He has a three-floor apartment with a roof terrace but each floor is only 3 x 4.5m2.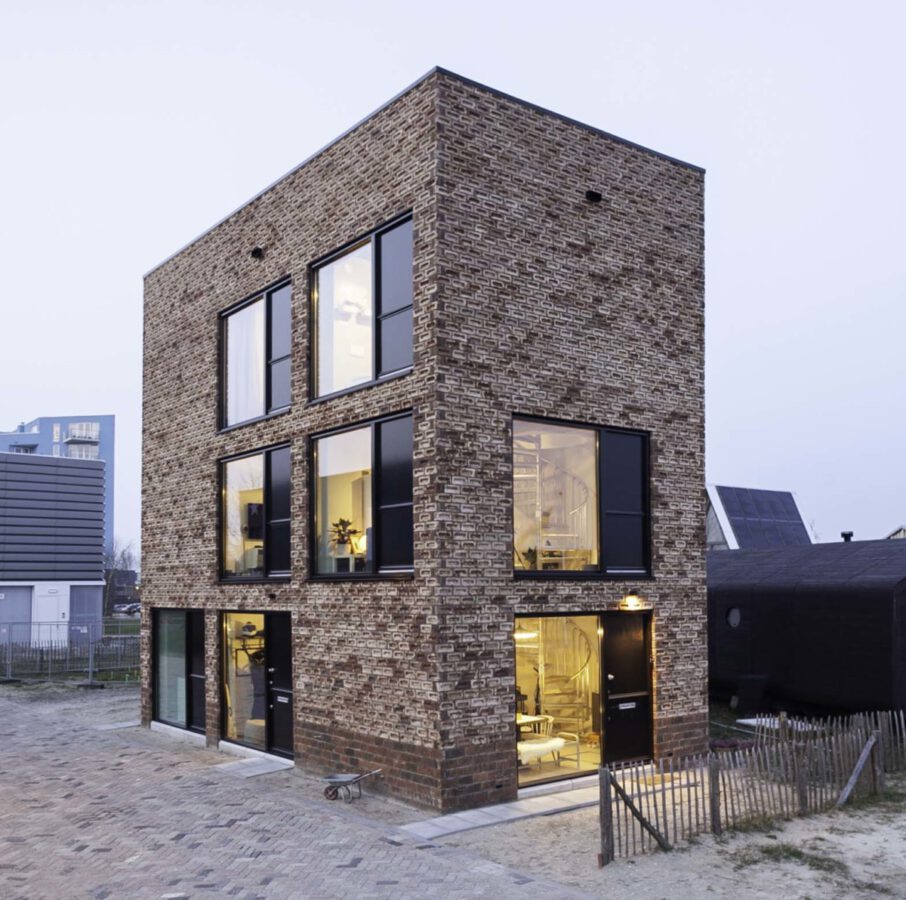 He reasoned that if he had less electricity costs and more solar panels then he can spend more time doing what he truly loves. "I don't want to have to do maintenance for space I don't use," he told DutchReview.
Searching for the tiny house
Niek said that searching for a tiny house proved rather difficult because of exceptionally high housing prices in the Netherlands.
Niek noticed patches of land for sale in Almere and saw that tiny houses were being built there. That kick-started his interest in tiny living. The problem was, there was a massive list of people who signed up for the Almere Houses so he was unsuccessful in his bid for land. "But it planted the seed in my mind," he told DutchReview.
Sometime later, while Niek was browsing housing website Funda, he saw an architect selling a concept for tiny house towers. The build was to commence once they found a buyer "I contacted them and I was lucky enough that I got the house" Niek explained.
The small space is not a problem
Niek doesn't find the small space a problem. "I have never owned a lot of possessions. The room layouts are so smart that I have more space than ever before."
He said the only frustrating aspect of tiny living is "when I need to put something big together like a couch, then I really miss some space" he laughs.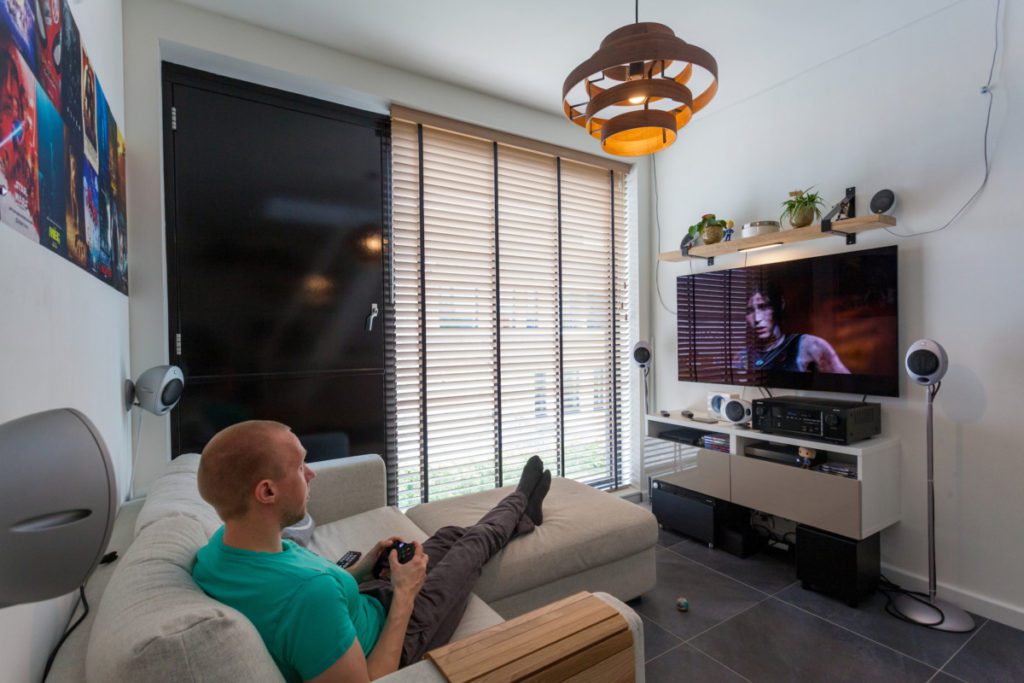 Any advice for those considering downsizing?
"Try to ask some tiny house owners if you can look inside their houses. It will change your perspective about how small it is. It feels a lot bigger inside than people often imagine because the spaces are so well designed and executed."
The Tiny A house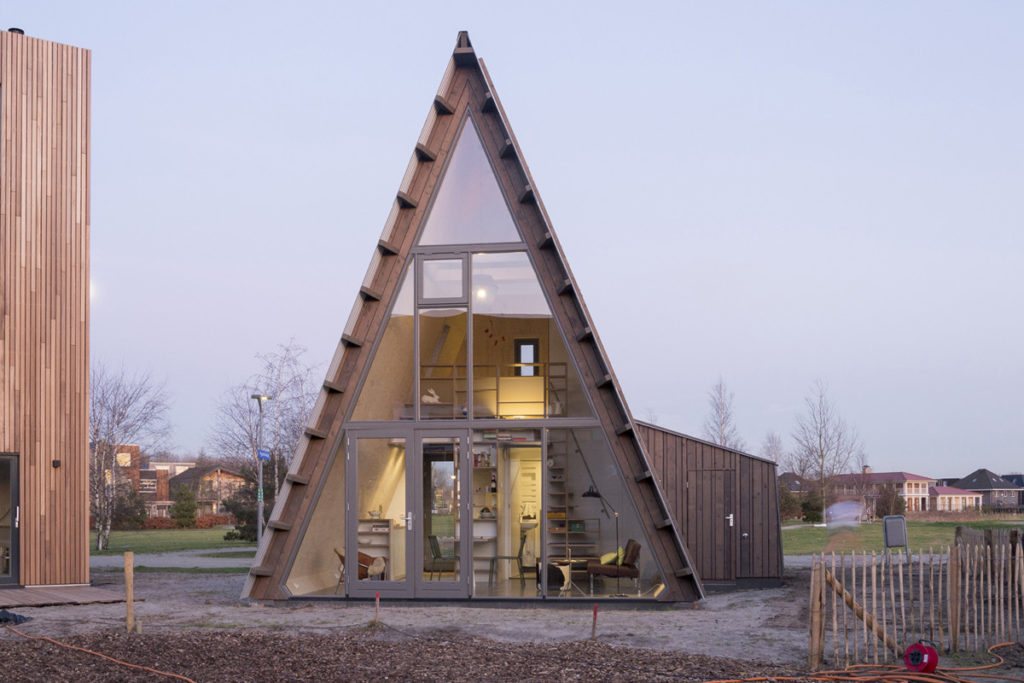 Tiny A is located in Almere Oosterwold, a large patch of land located between the Waterlandse Weg and the A27. Architects who submitted ideas were given the opportunity to realise their dreams through the 2016 Bevrijd Wonen competitions organised by the municipality of Almere. The tiny-A house was one of the award-winning concepts from the competition.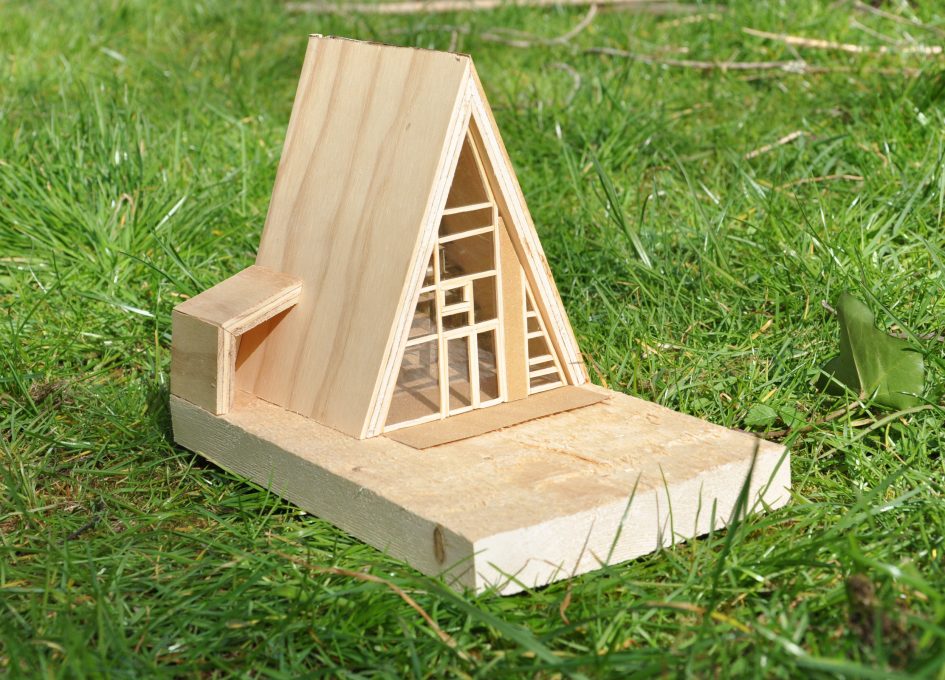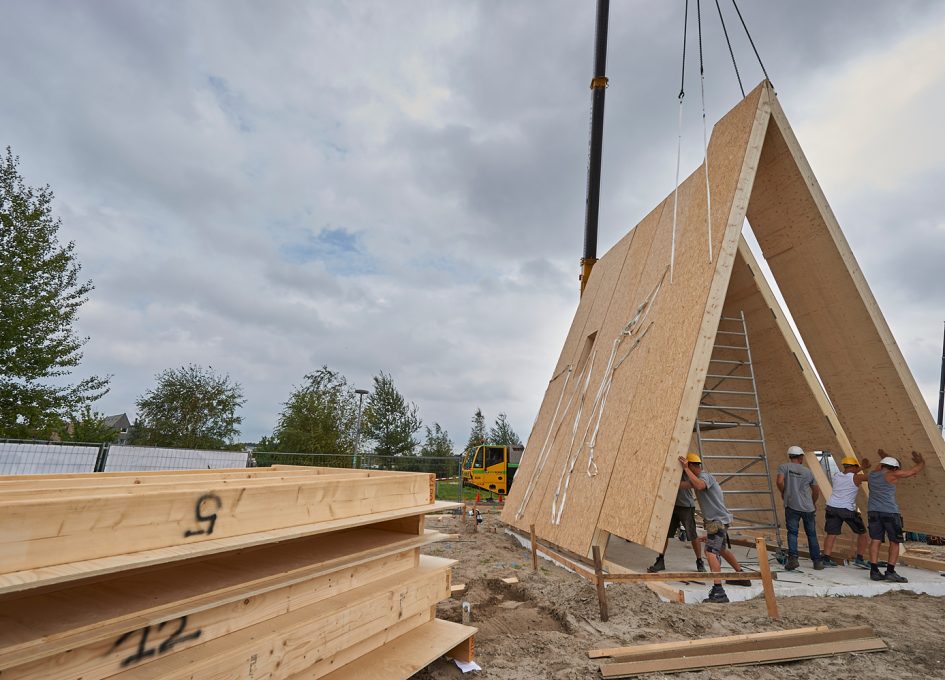 Food, water and a roof?
The Tiny-A house is just a roof that stretches down to the ground to create a triangle shape. Given a roof is the cheapest building element of a house, the architects harnessed this and created one large roof that is anchored to a foundation plate.
The Tiny-A house is a mere 50 m2 but has lots of height due to the seven-metre roof. A large piece of furniture that doubles as a bookshelf and set of stairs, divides the interior and gives the feeling of separate rooms. An intimate mezzanine rests above the kitchen and bathroom where owners can sleep and study.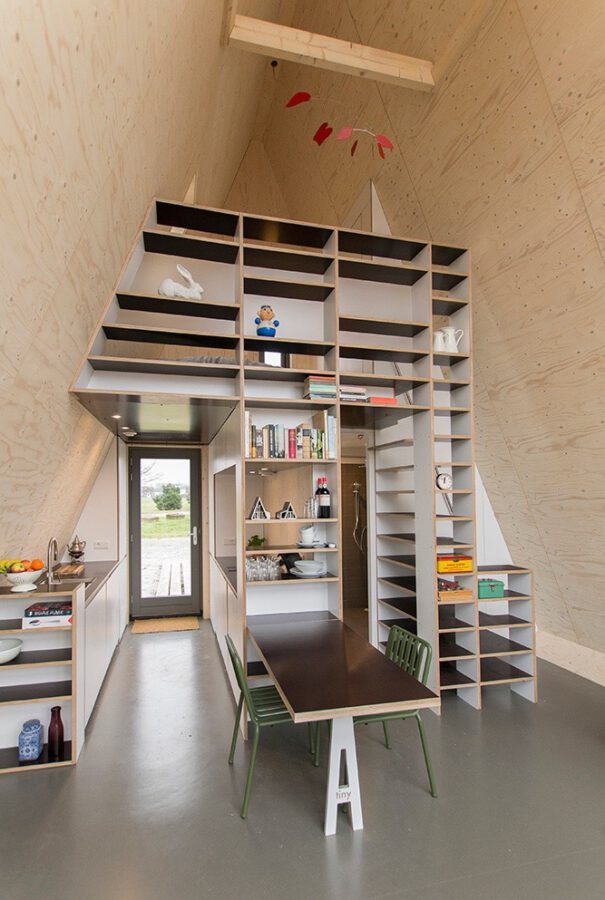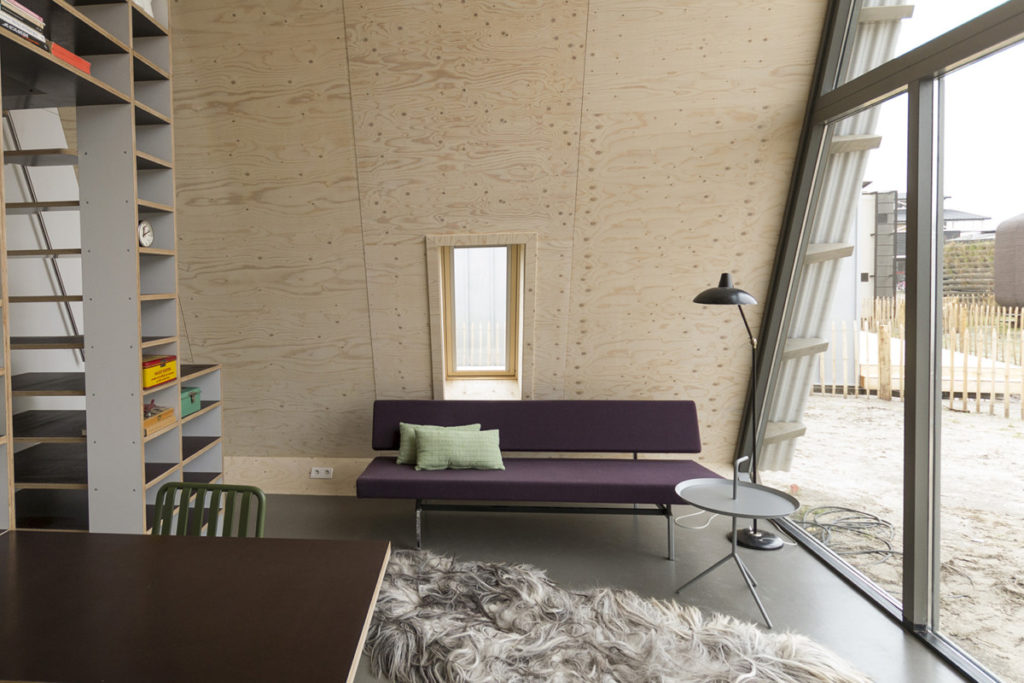 All-electric, energy-neutral and sustainable
15 solar panels are installed along the one side of the roof which provides all the energy required for the house.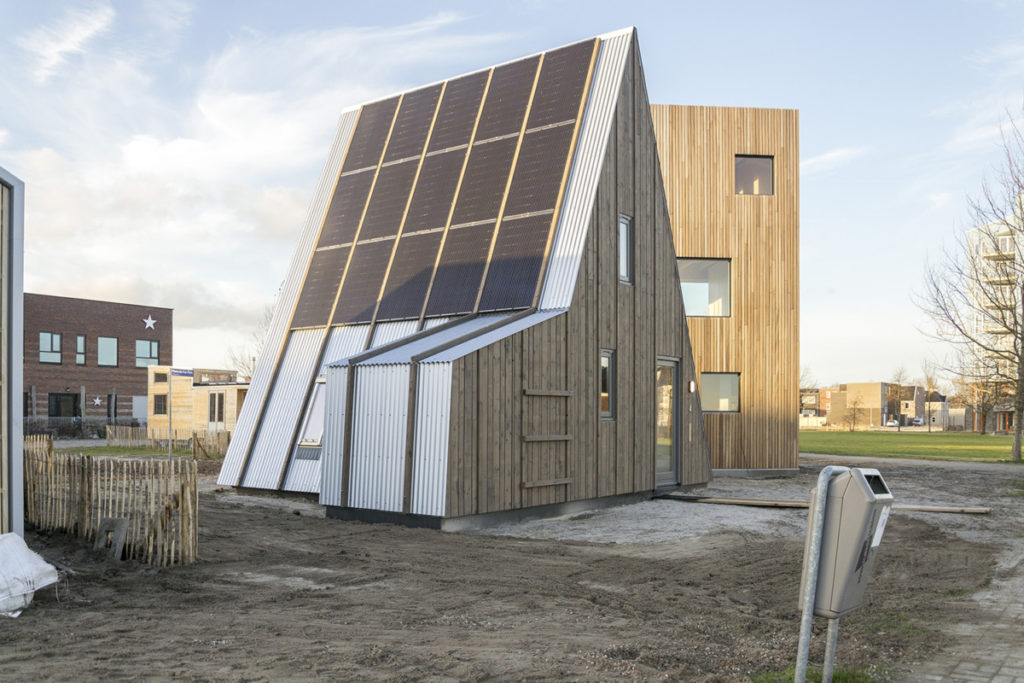 The house also boasts infrared underfloor heating, an E-shower, a Quooker (a kitchen tap that provides both cold and boiling water) and a balanced ventilation system.
Daan Bakker, an architect from the Tiny A project, is currently developing the "Tiny-C" by using a sea container as the foundation, which is far cheaper to build. He hopes to develop a do-it-yourself kit to fit the small budgets of those who want to build a tiny house.
Did this article spark or encourage your curiosity in the tiny house movement? Have you ever considered downsizing? Let us know in the comments below!

Feature Image: DutchReview
Editor's Note: This article was originally published in November 2019, but was fully updated in December 2021 for your reading pleasure.