Everybody knows that you should make the best of those precious rays of sunshine in the Dutch summer and it is a guaranteed good day when you combine sunshine with eating out. I thought it was about time we share some tips with you on where you can eat outside in Leiden. So if you're looking for that great terrace, or simply for some good food in Leiden; you've clicked on the right article!
Let's start this list of great places to eat in Leiden with a favourite of mine that has Summer vibes written all over it!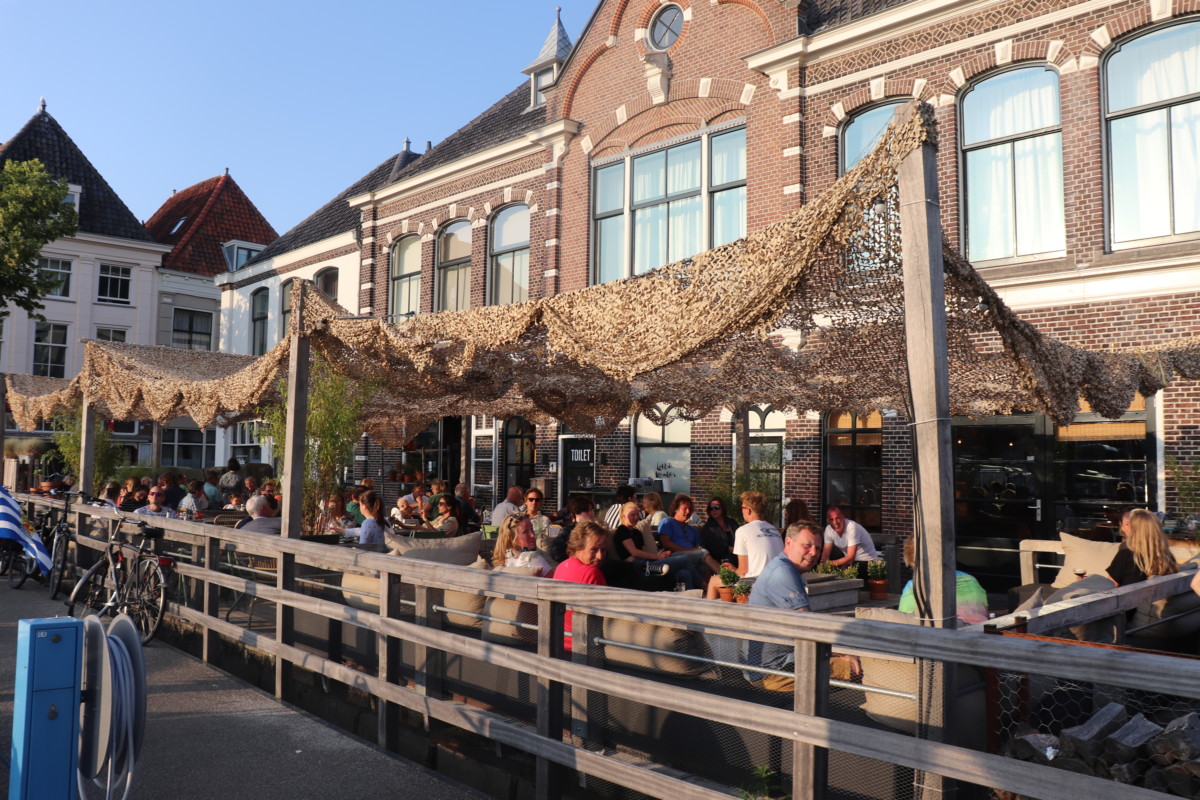 Lot en de Walvis: Majestic nautical setting and terrace
Lot en de Walvis translates to Lot and the whale and I can't believe we haven't talked about this one in Leiden before. It's a staple of the Leiden dinner and drinking scene and one of my favourites whenever the weather permits. It has many things going for it but the main attraction is the awesome location, gorgeous views of the marina and of course it's luscious terrace.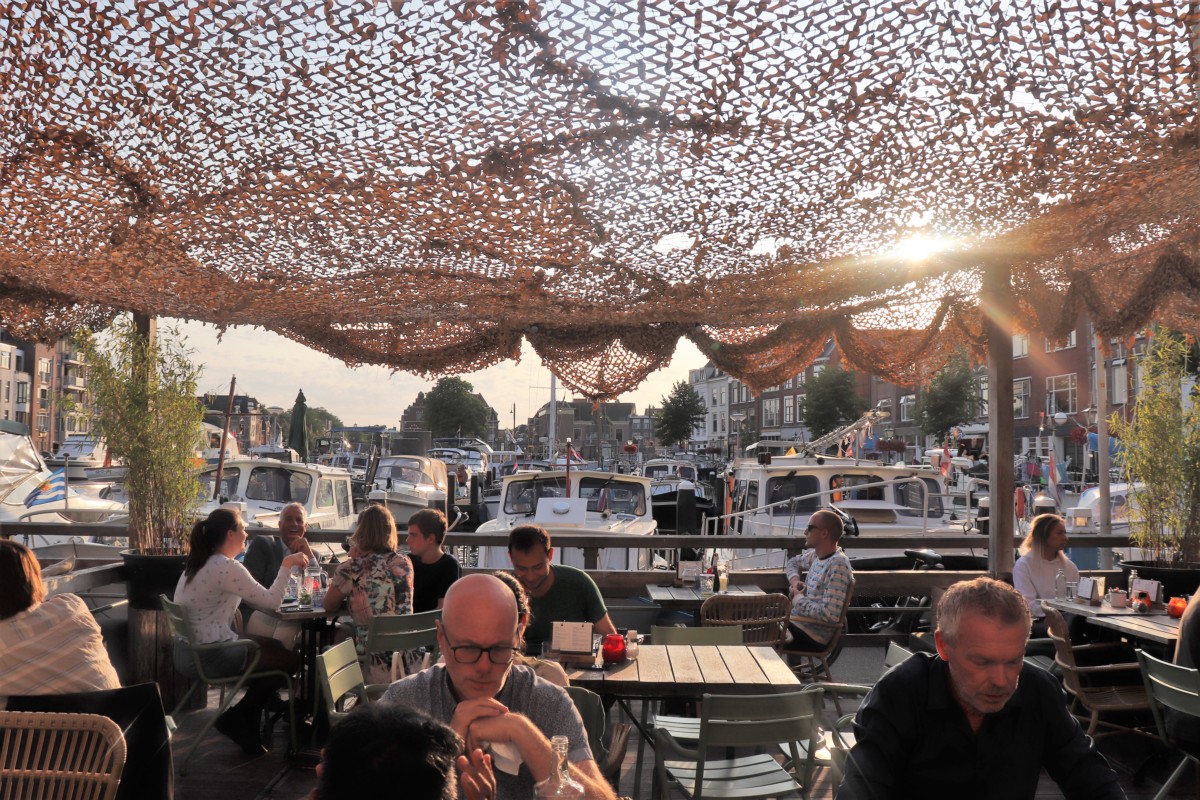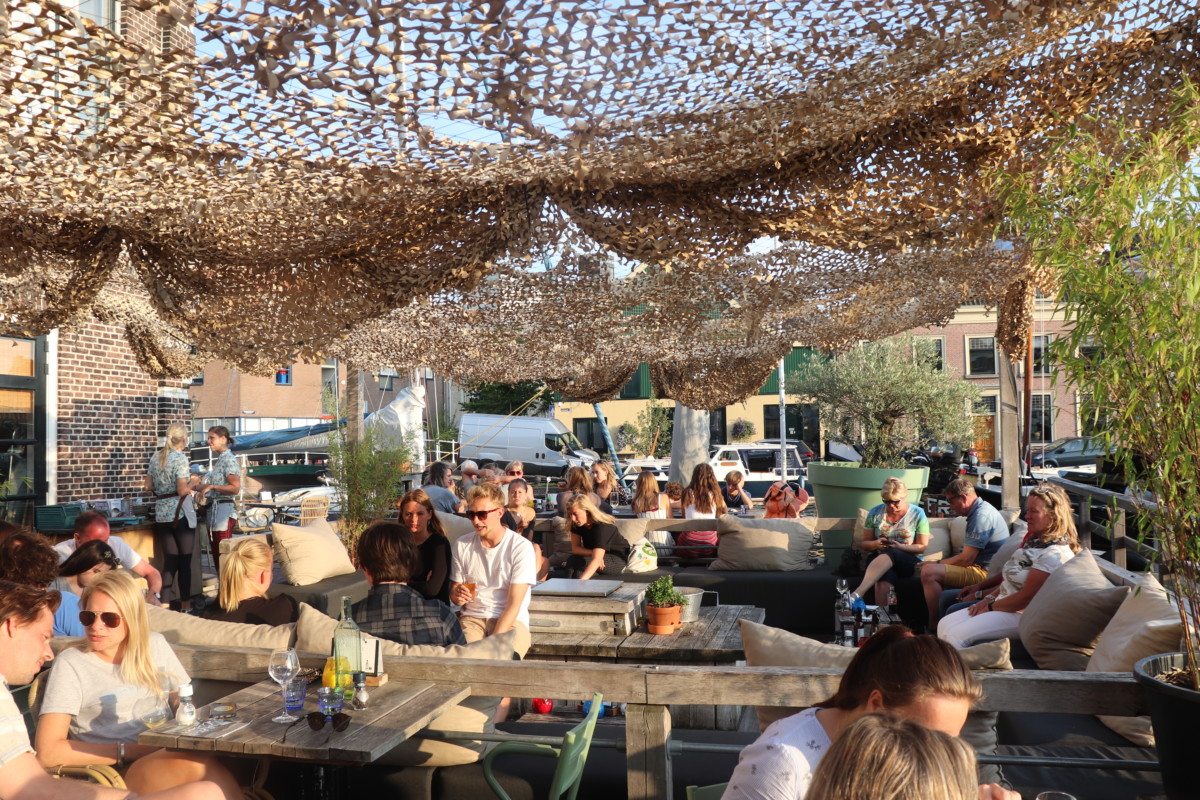 Unsurprisingly, once the sun is actually shining you'll have to get there fairly quickly in order to secure a spot. Another classy way to arrive is by boat (the Dutch are massive fans of a 'sloep') and anchor it to the deck of Lot and the Whale.
Let's talk about the food and the drinks (oh, the drinks!)
Before we get going on what we had for dinner there, I'd like to take a moment to recommend two drinks that made me happy that day (I had more, but these two types did the job).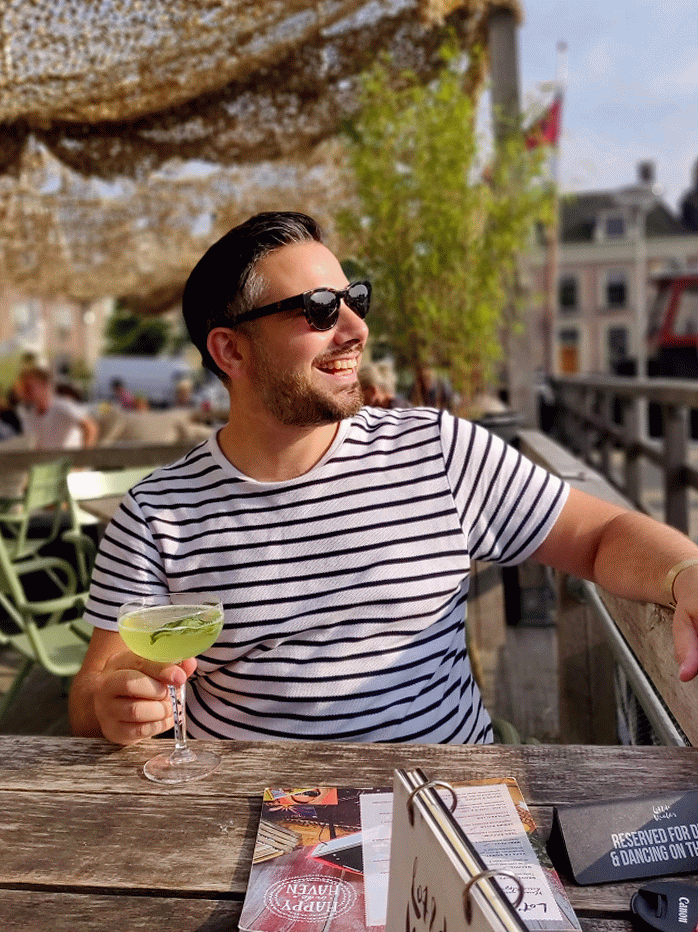 It won't be a surprise that such a spot has some good drinks, but two surprised me. It's that gin basil smash that I'm thoroughly enjoying in this gif here (happy times!). And a smokey cider called the 'Blind Pig' that was a welcome departure from beer or wine for once and very refreshing in the summer.
The menu at Lot en de Walvis has all the classics and a few tasty surprises, once again it's aimed at the summertime. When it comes to the starters, the nachos are always a solid choice – but consider treating yourself and go for the board 'that's a lot'.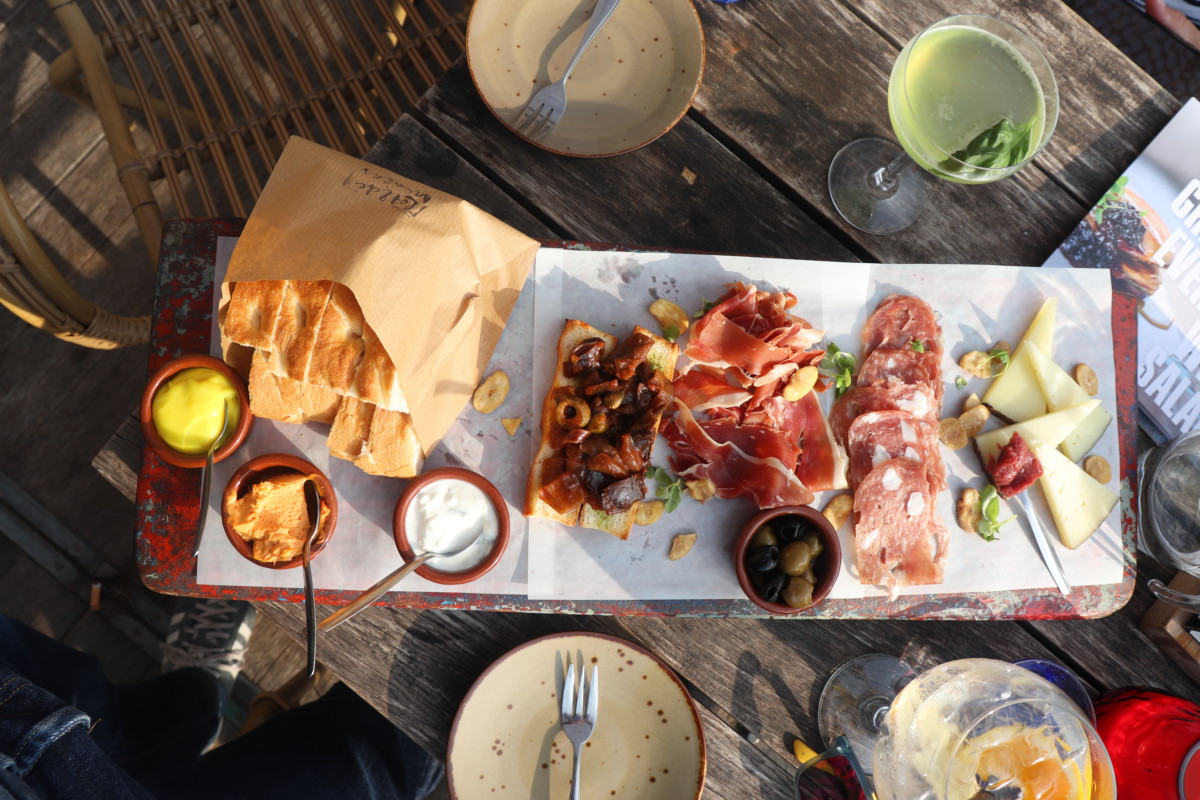 Next up the mains! Before I locked in the burger (which is always a good idea) we asked the friendly waitress for some recommendations and as a result, we ended up with the Sea Bass and the Beef Tataki instead. These tasted just as good as they look on these pics and at just under 20 euro they're also relatively friendly priced and fill you up nicely.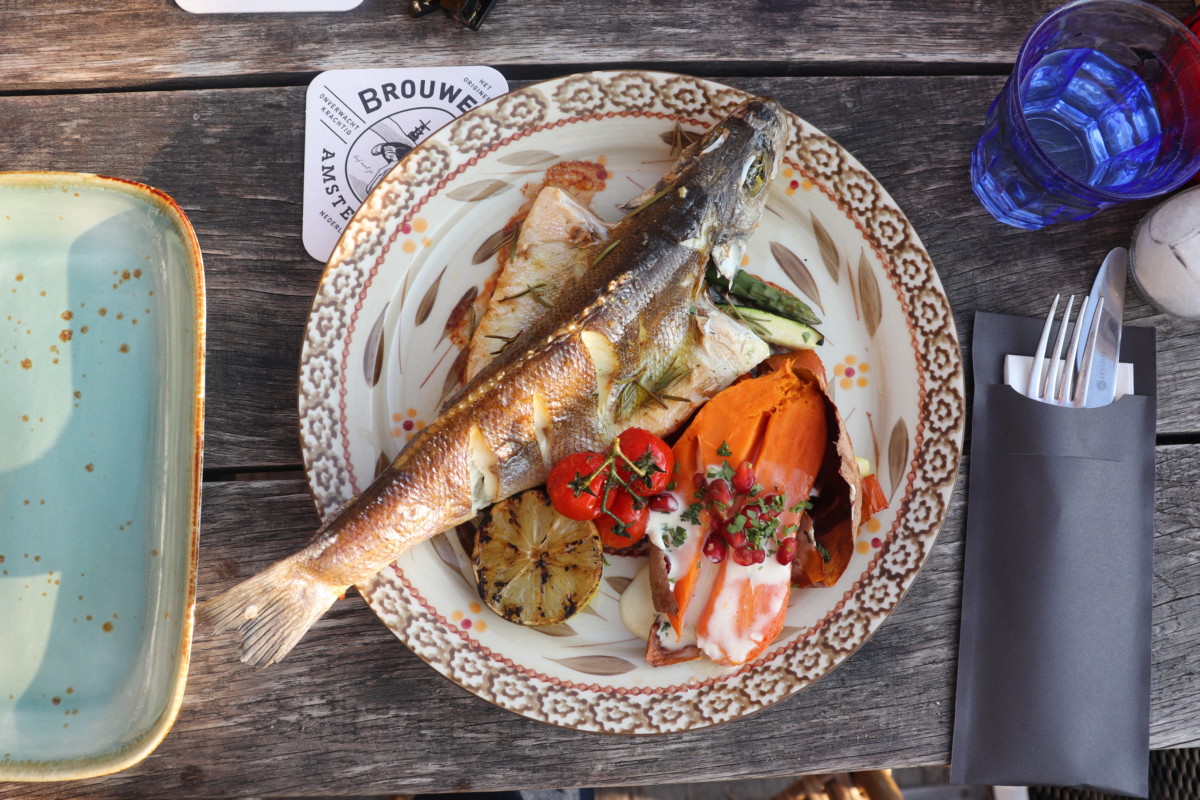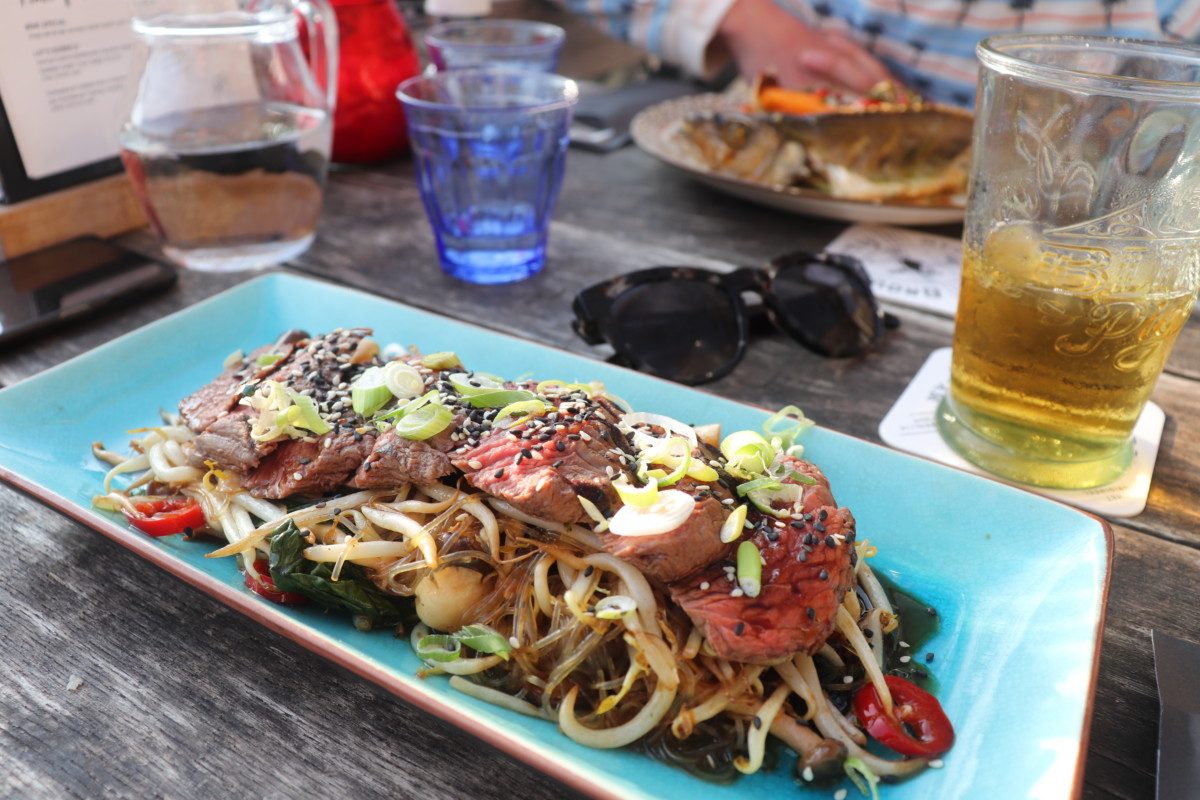 Together with the drinks, the desserts were also the highlights. The names were already excellent- we had Southern style chocolate-banoffee pie and the Lot's of choice (a little tasting of every dessert there).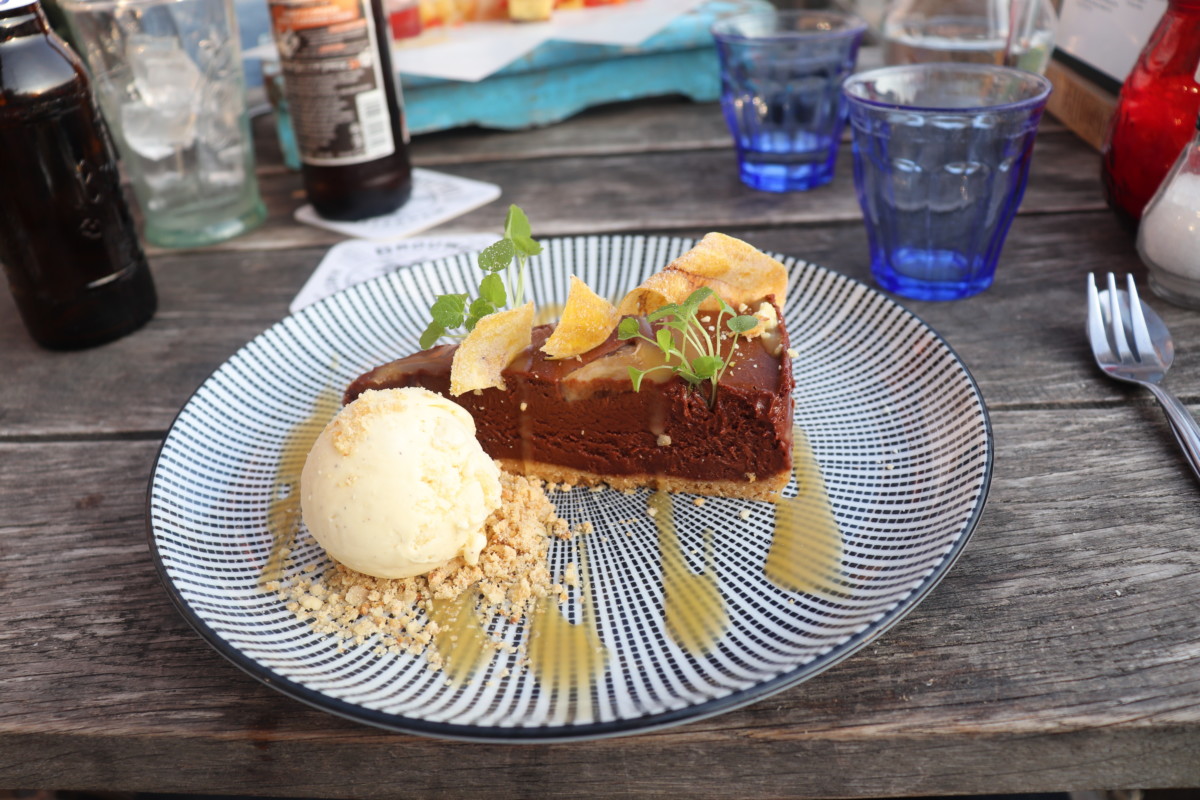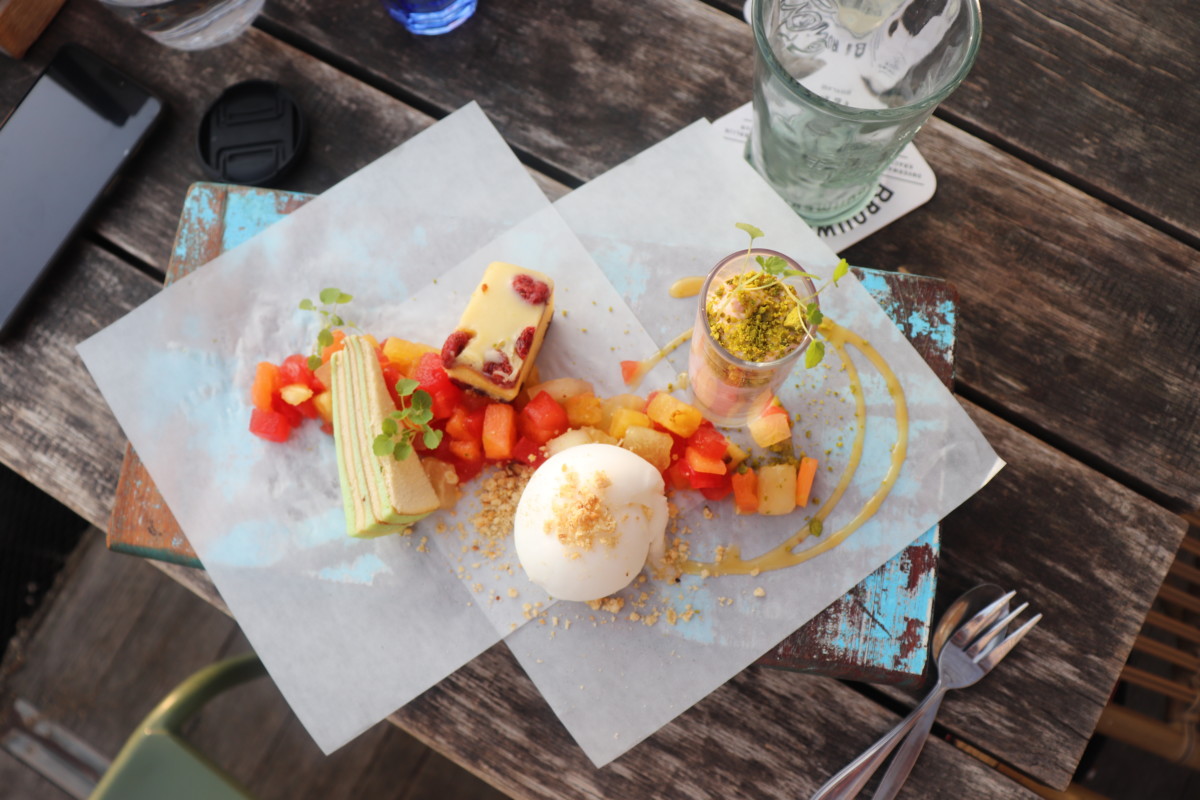 Also, you might be thinking 'what if it rains?' – well, no worries, the decor inside is almost just as nice as the scenery outside.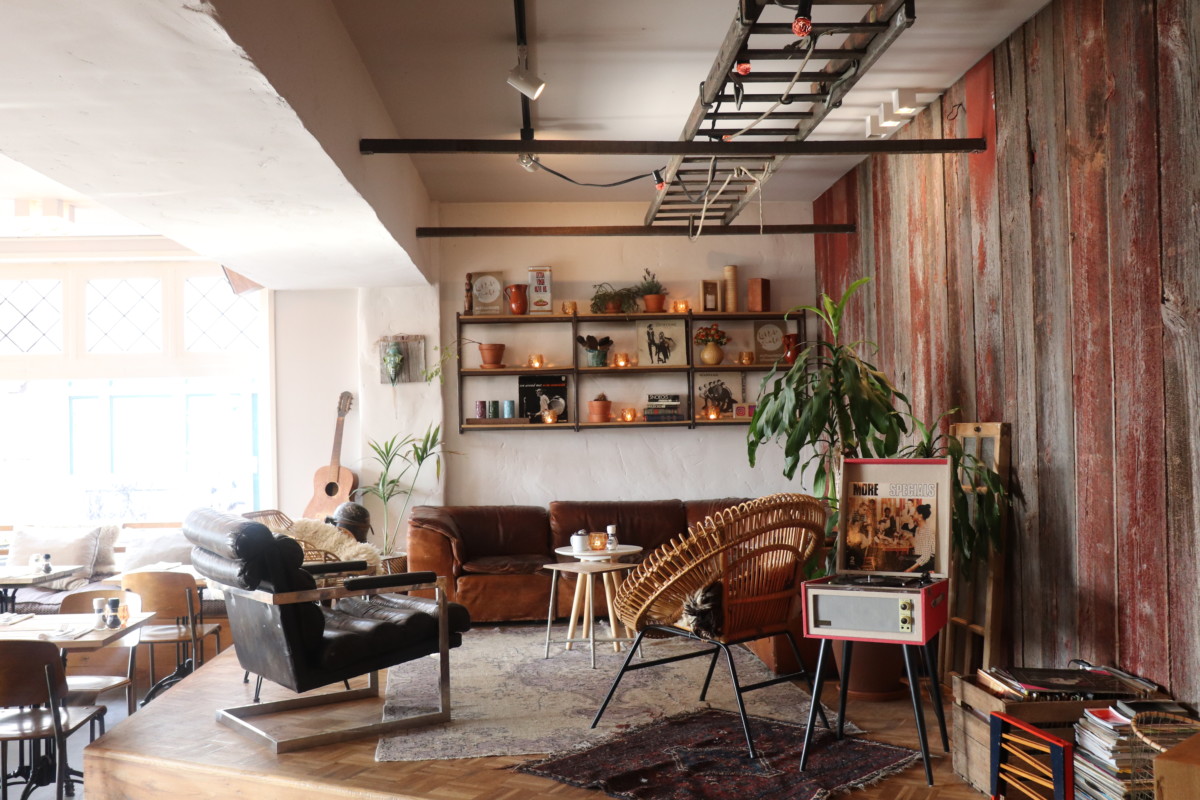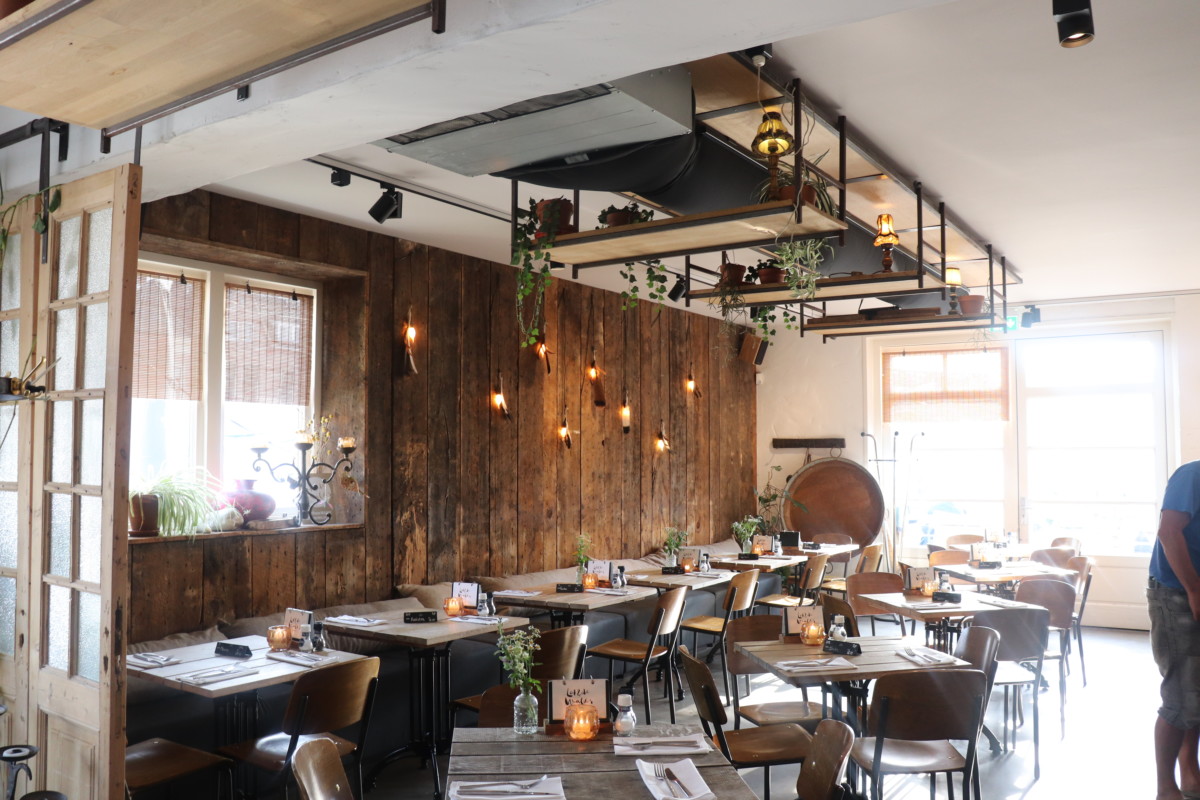 So it's not hard to see why this one is on top of my list of places to eat outside in Leiden (or inside for that matter). But like I said before, when the sun's shining the place can fill up rather quickly so be safe and phone in to secure a reservation.
Address: 
Haven 1
2312 MG Leiden
Website | Instagram | Facebook
Next up, another iconic building and terrace in Leiden to enjoy dinner!
City Hall: Classy location and Italian love
If you've ever ventured into Leiden then you'll probably know this one. City Hall is an Italian bar-bistro located at the city hall of Leiden. There's a lot of good stuff there already in that sentence; Leiden's city hall is gorgeous, centrally located and well, don't we all love Italian food?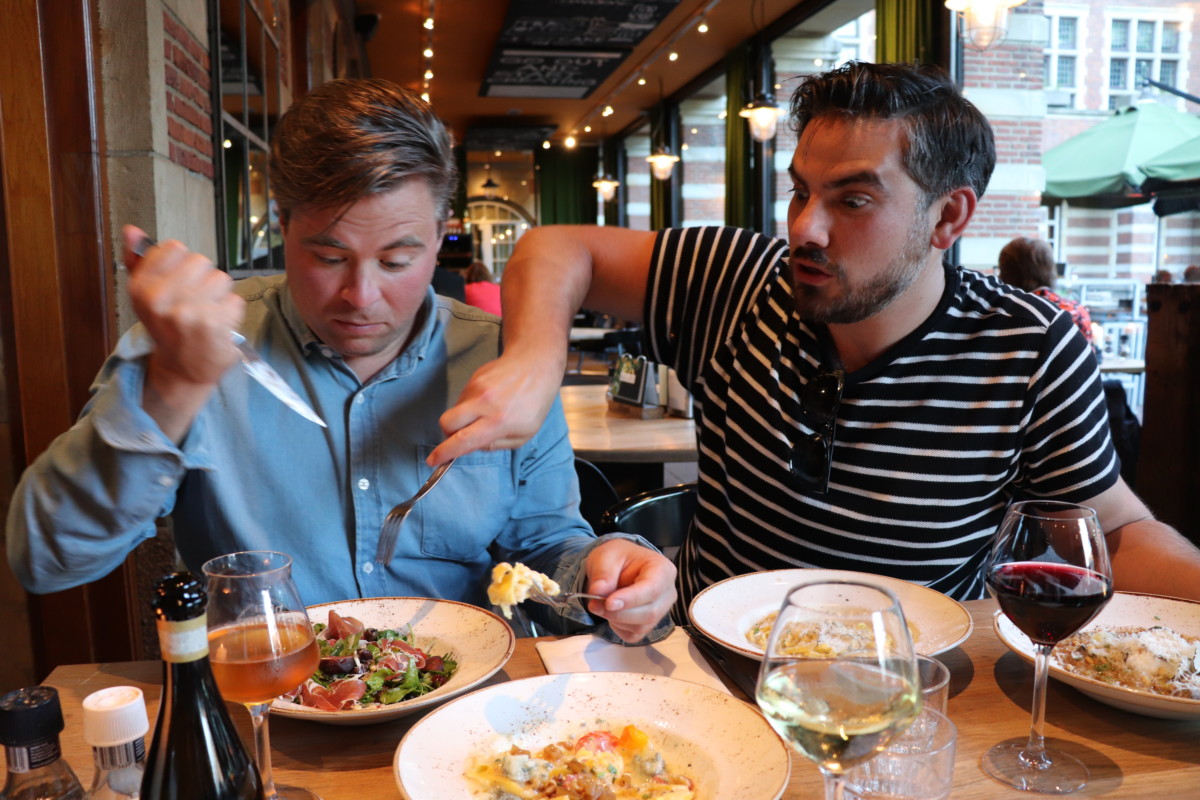 City Hall has an enormous terrace right in between the building and the canal and I've enjoyed dinner outside there tons of times. Typically however, during this visit the sun disappeared quickly and hid behind dark clouds so we gathered up and moved inside. Here are some pics of the terrace of another day: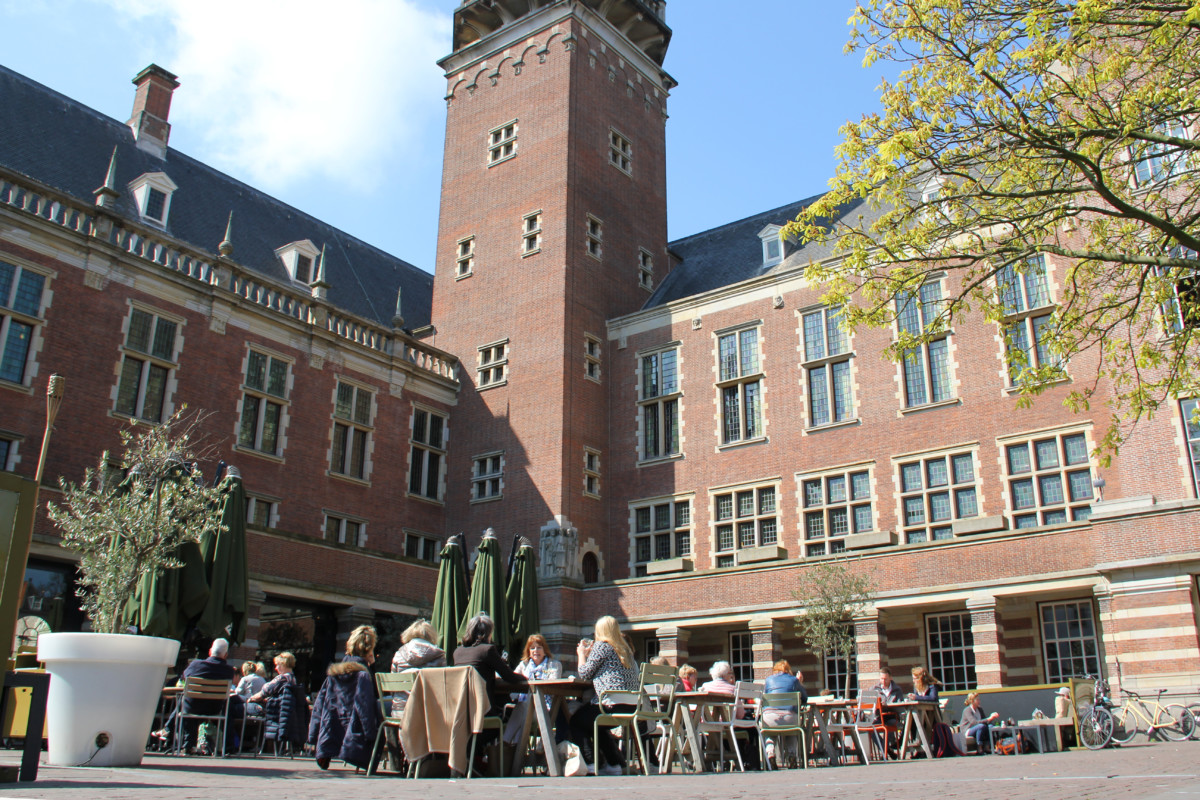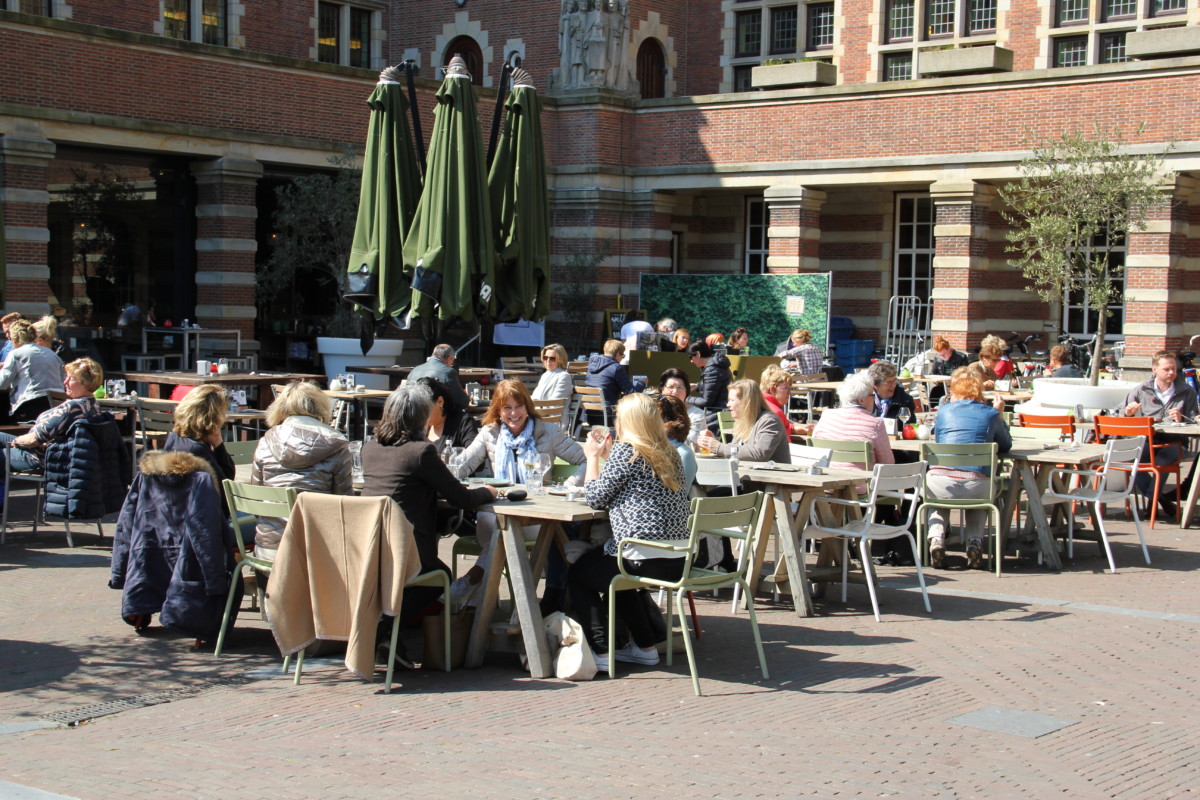 Luckily indoors is also splendid as it is one of the biggest venues of Leiden which offers everything from early breakfast to late night dinner and drinks. Inside is something of a cross-over between an industrial look and Italian vibes, olive-coloured tiles and an open kitchen.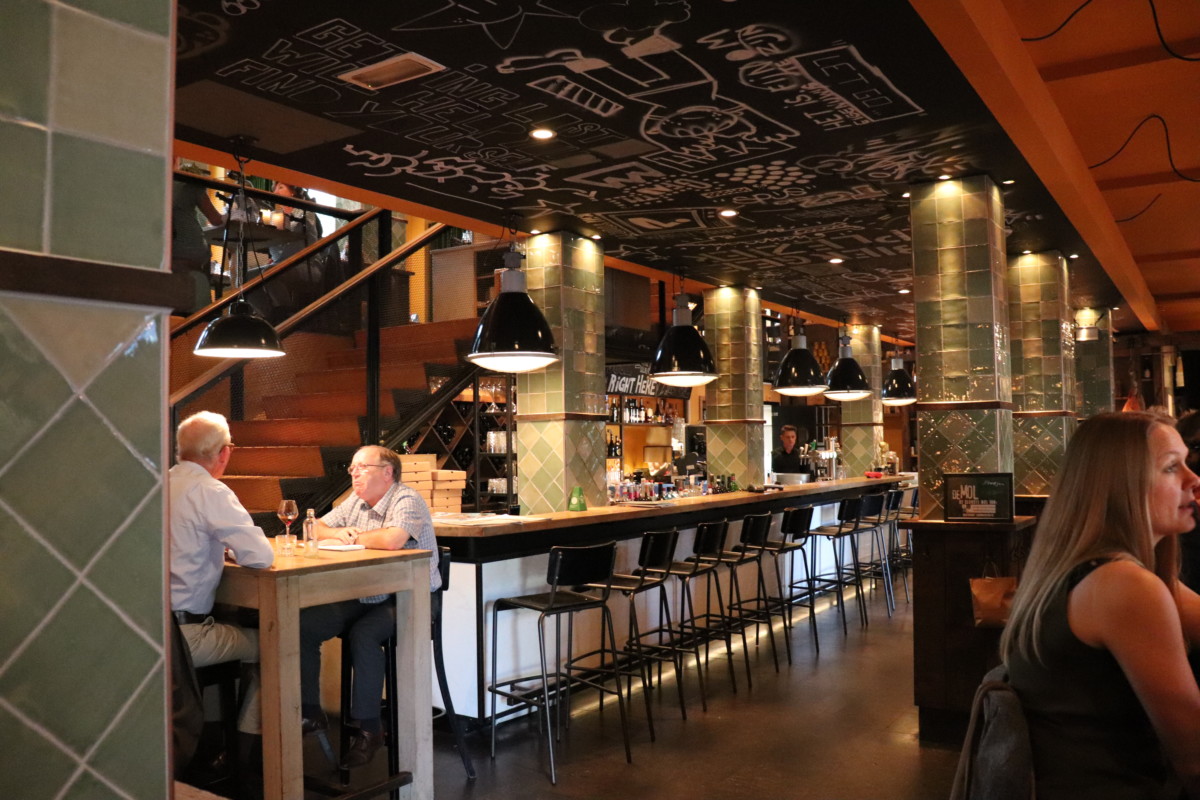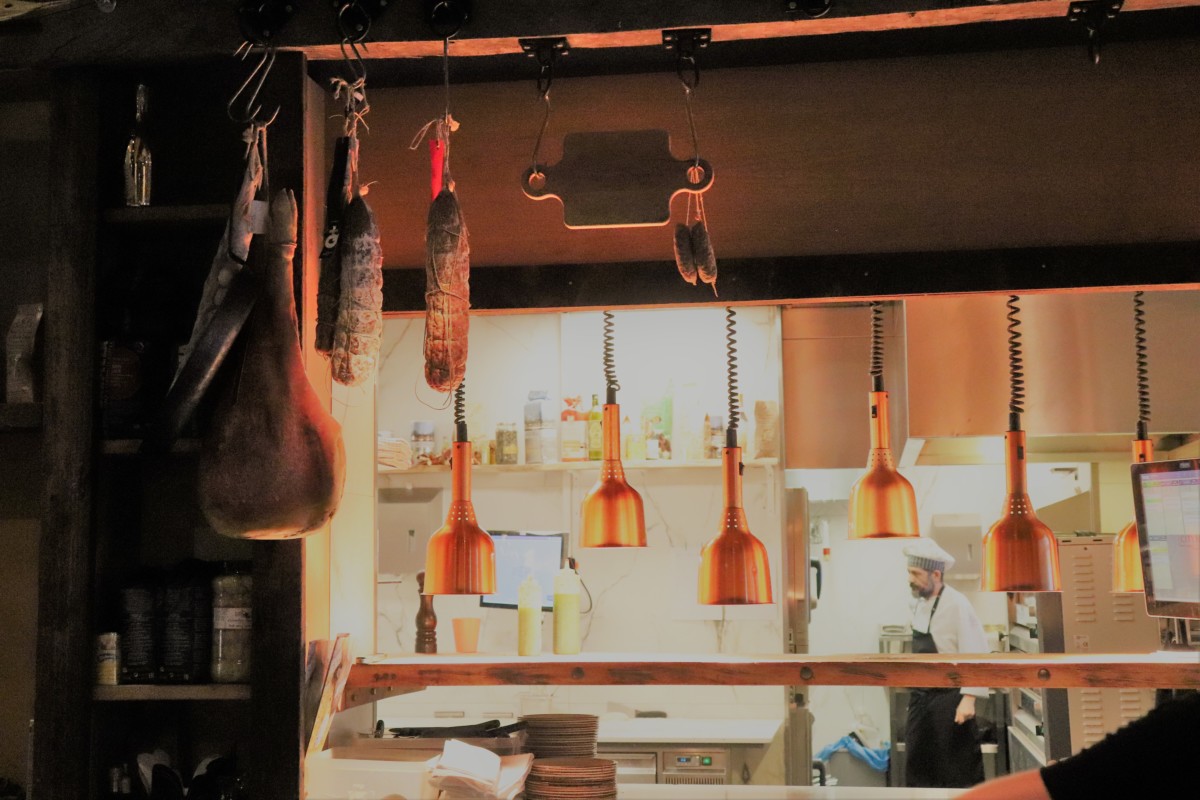 Get to the best of Italy!
Oh yes, the food! City Hall has a pretty extensive menu, so there's bound to be something there for everybody. We started things of with antipasta (di carne) and some calamaris which wasn't a bad start at all.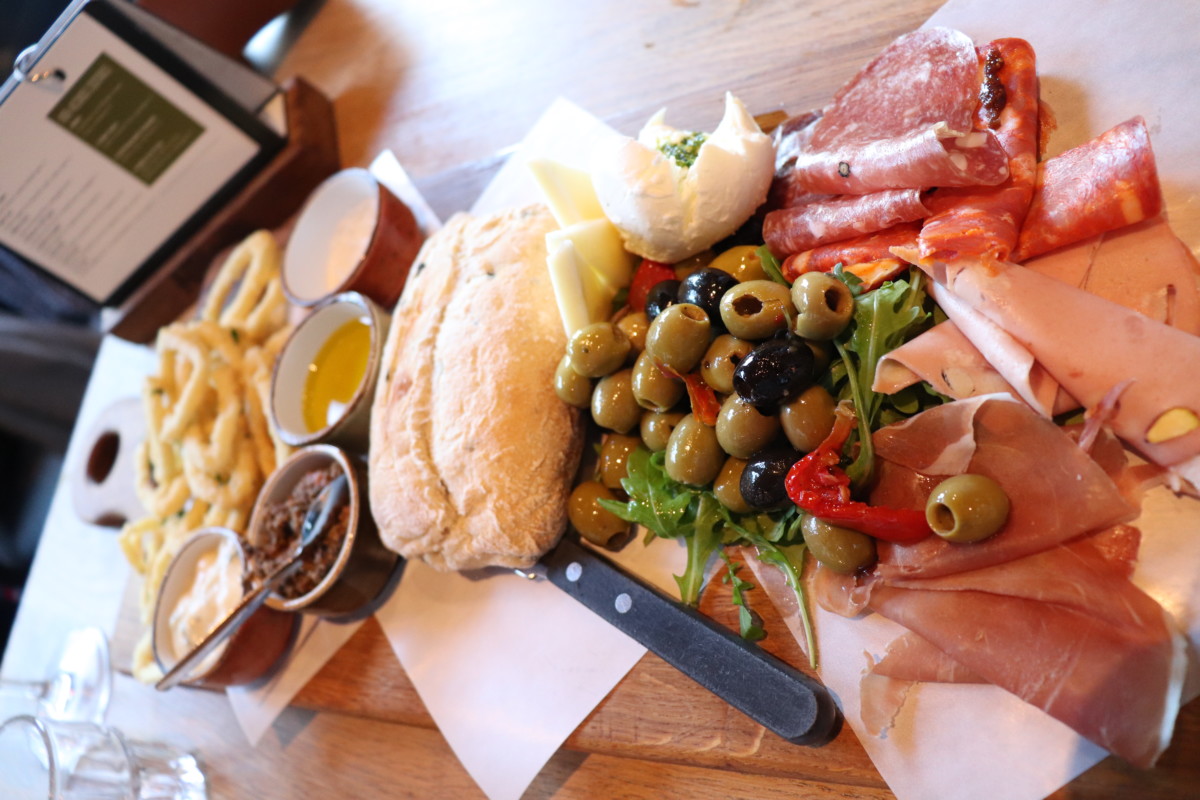 But it's the main course where City Hall really shines. It's not a traditional main course as you know it (as in the first and second dish – primi & secondi) but more of shared dinner style. This is especially awesome due to the fact that the pastas have a small and large version – so if you order a bunch of small pastas you can get as much tasting in as you could possibly want.
So this is how our table looked: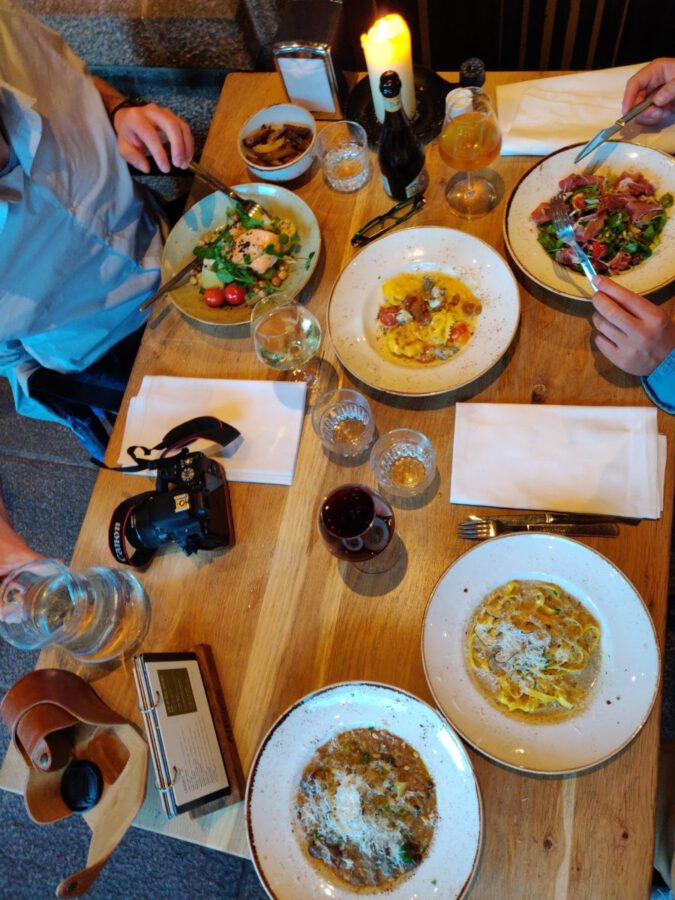 I know:
So what was the best dish we had? The tortellini con pere e pecorino was exceptional and original, tasted even better than it looks: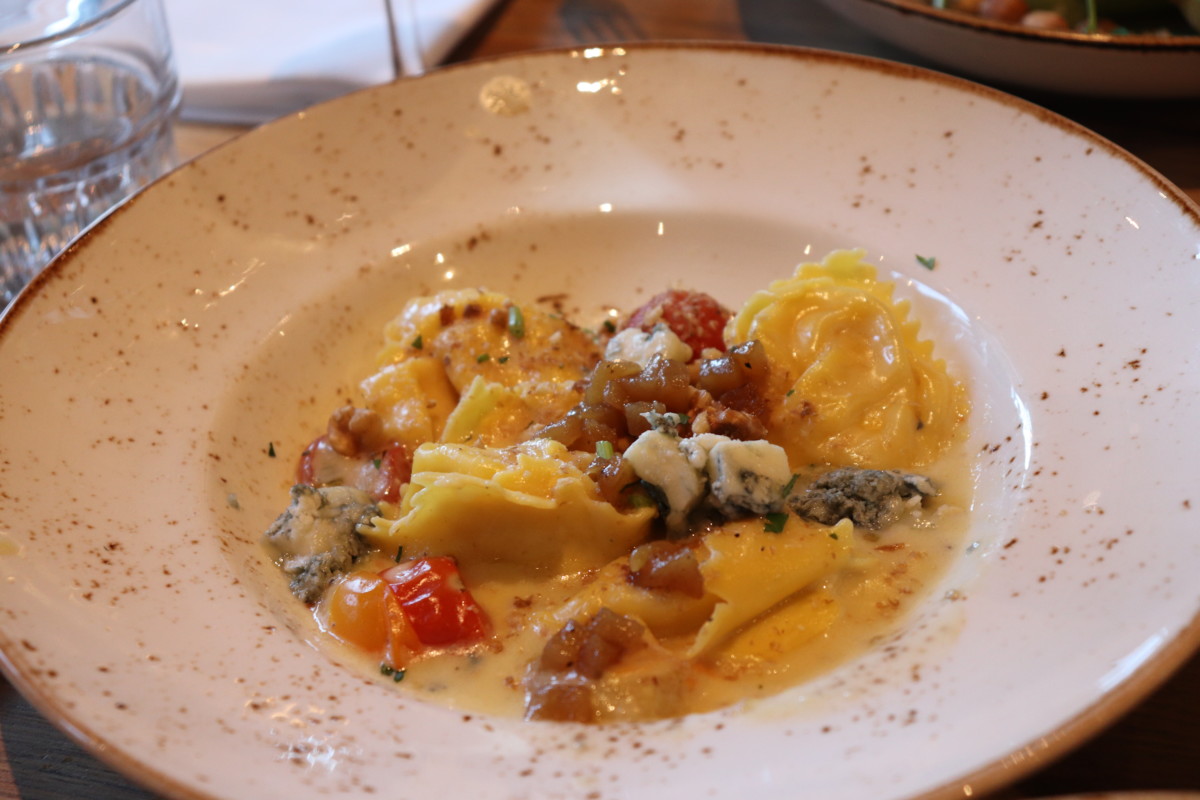 And what can I say? I'm a sucker for anything with truffle. So I got my fix with the Risotto al tartufo e uovo and the Tagliatelle al crema di tartufo. An added bonus was the fact that they grated the formaggio right there at our table. Enjoy the following (food-)porn clip:
We ended the night like we end most Italian themed nights with some pistachio cannoli  and limoncello (and a pound or 5 of extra bodyweight).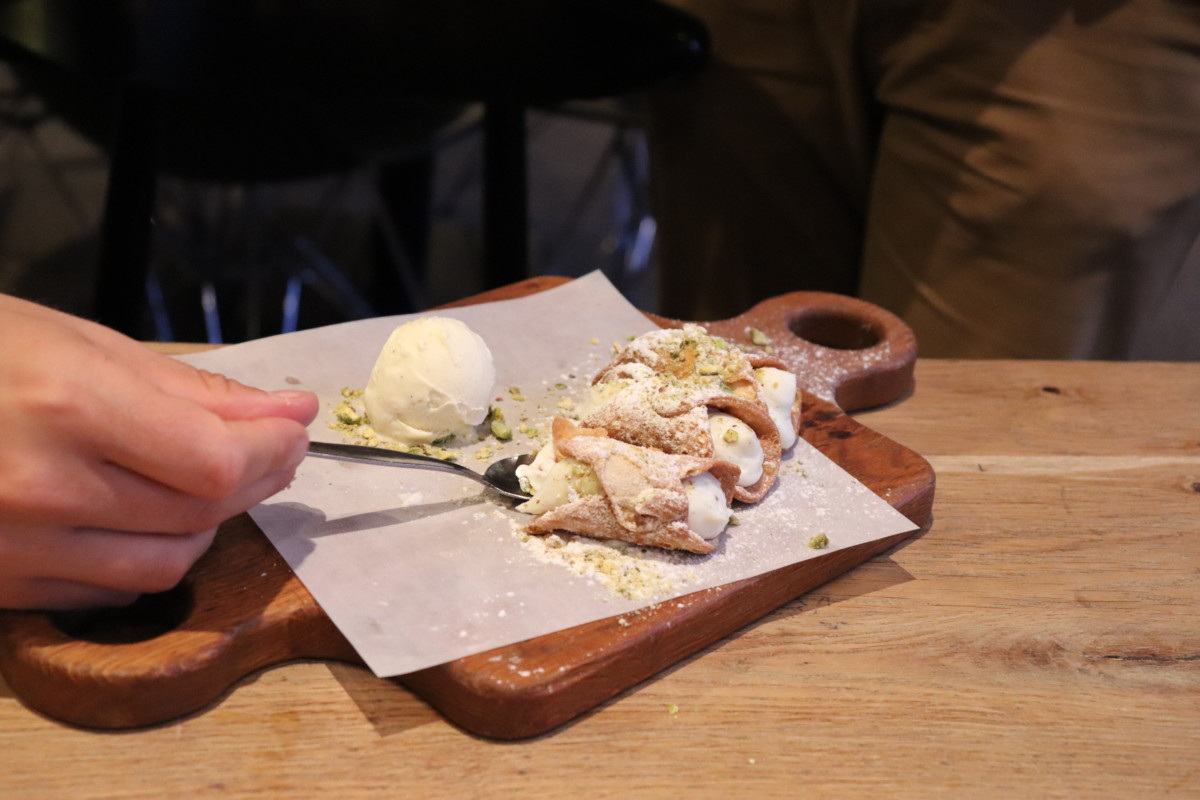 If you're flushed for cash, be sure to hit up City Hall on Monday, Tuesday or Wednesday between 5 and 7 pm when all pasta and pizza is just a measly 10 euros!
That's an offer I can't refuse
Address: 
Stadhuisplein 3
2311 EJ Leiden
Next up, we've had Italian food – now let's go for dinner outside Latin-Style:
Tabú! Bringing the Latin Sun to Leiden
Did you know that Leiden has never even had a proper Latin, Mexican or taco place? That's loco, right? Well, Tabú has solved all of this and brings an awesome terrace with it too. I mean just look at the views to be had here: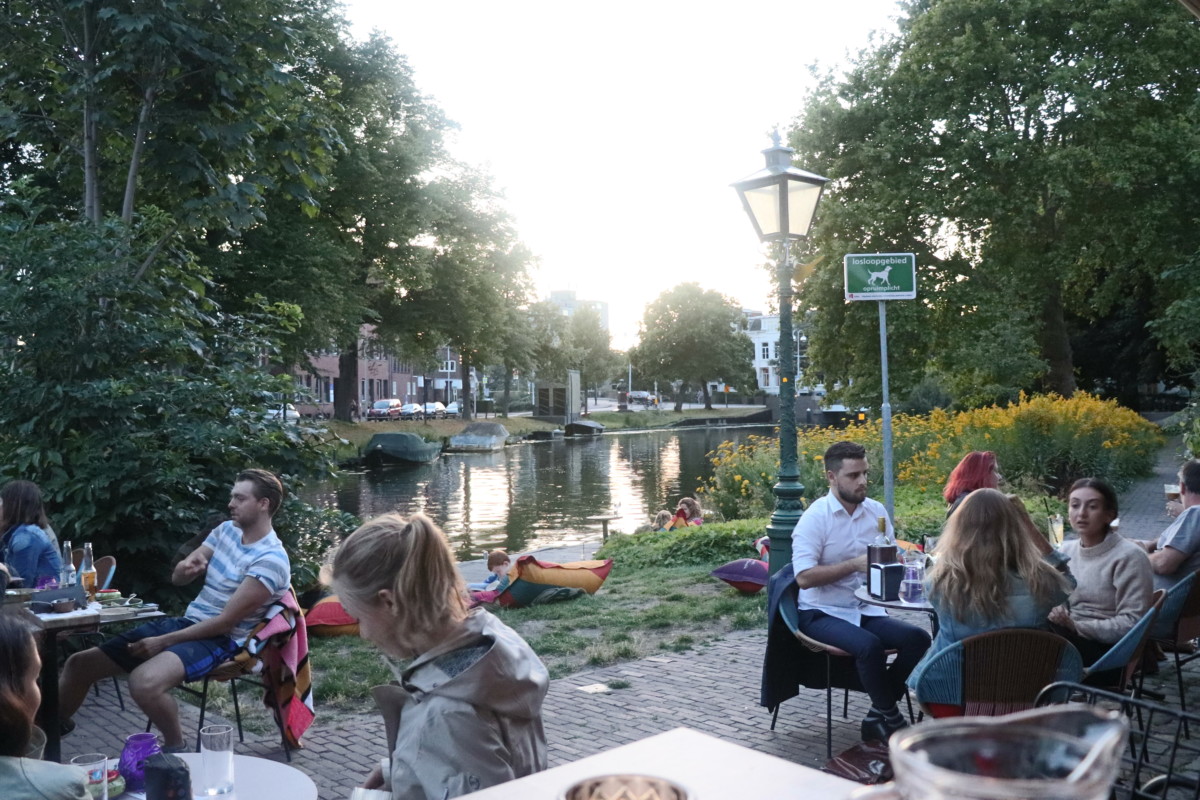 There are canal views to be enjoyed on two sides of the terrace, colourful furniture, great views of Leiden and sunshine beaming from the afternoon until late in the evening (that's important in the Netherlands). Just sitting down here, enjoying a cocktail and watching life on the canals pass by is one of the best things to do.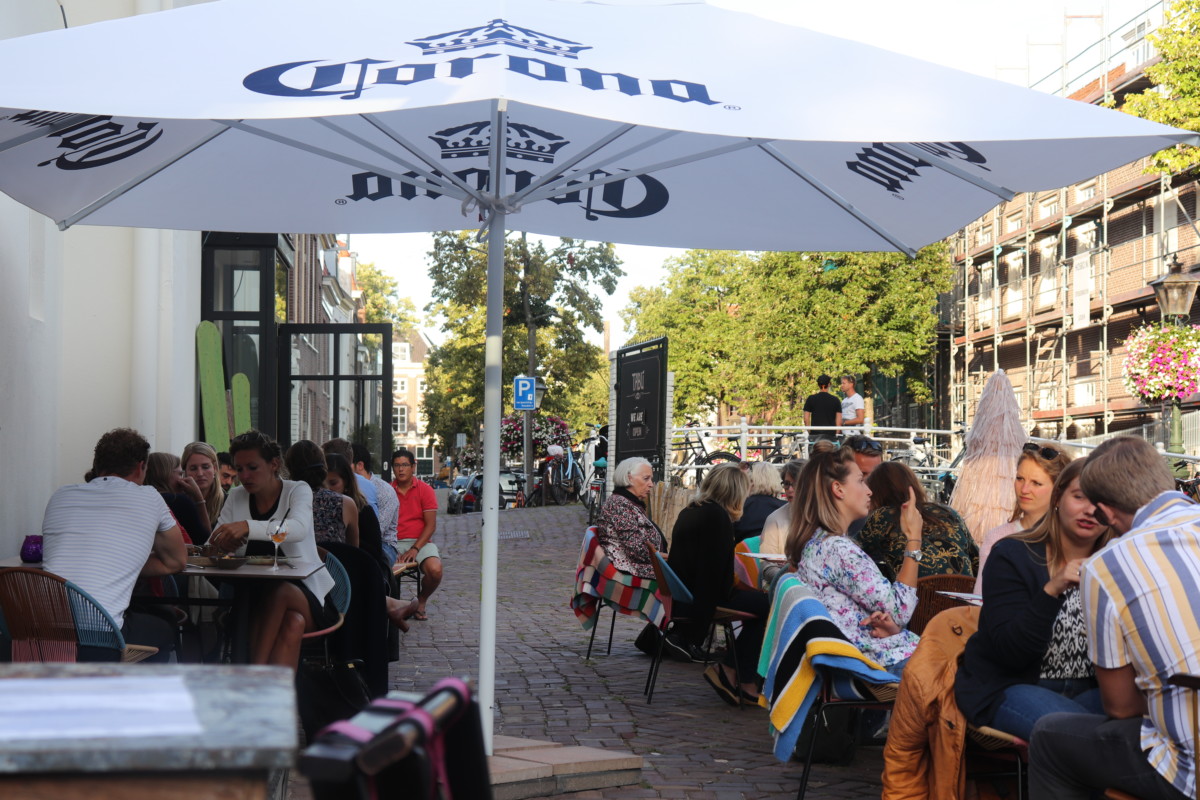 Since nobody wants to wait long for their food, let's get right to it! There's a plethora of Latin-American inspired choices on the menu at the Tabú and once again shared dining is pretty much the way to go. By now you might have caught on that I'm a massive fan of any stuff that comes on a 'plank'  (those wooden boards) so no surprise that we went for the Tabú platter: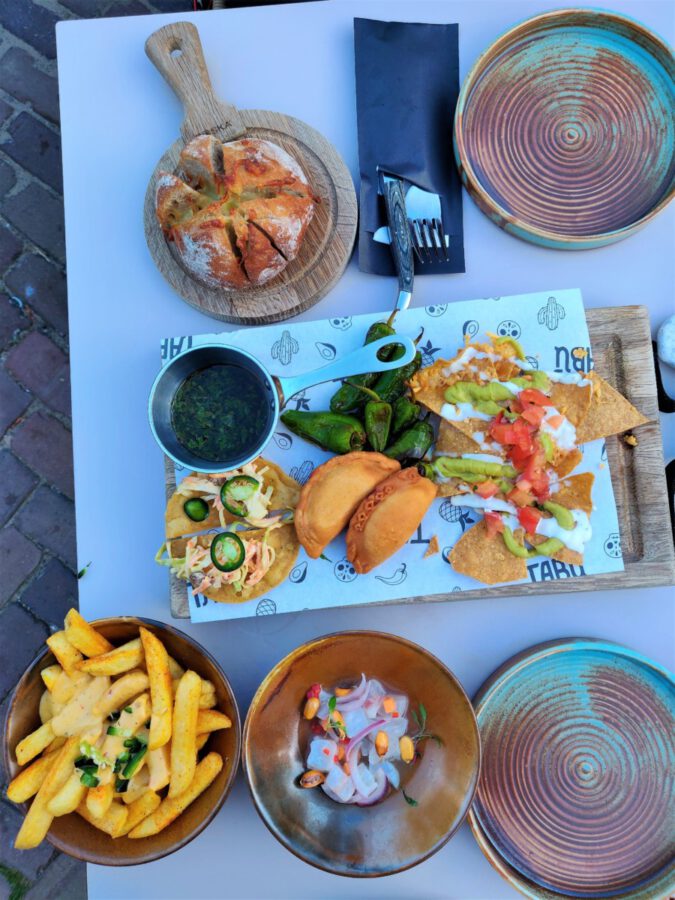 Yes, ceviche is served with it as well as empanadas (the one with pulled pork is to die for!) Order those chilly cheese fries as an extra.
Next up: the taco platter!
Plenty of choice and a party for the eyes as well: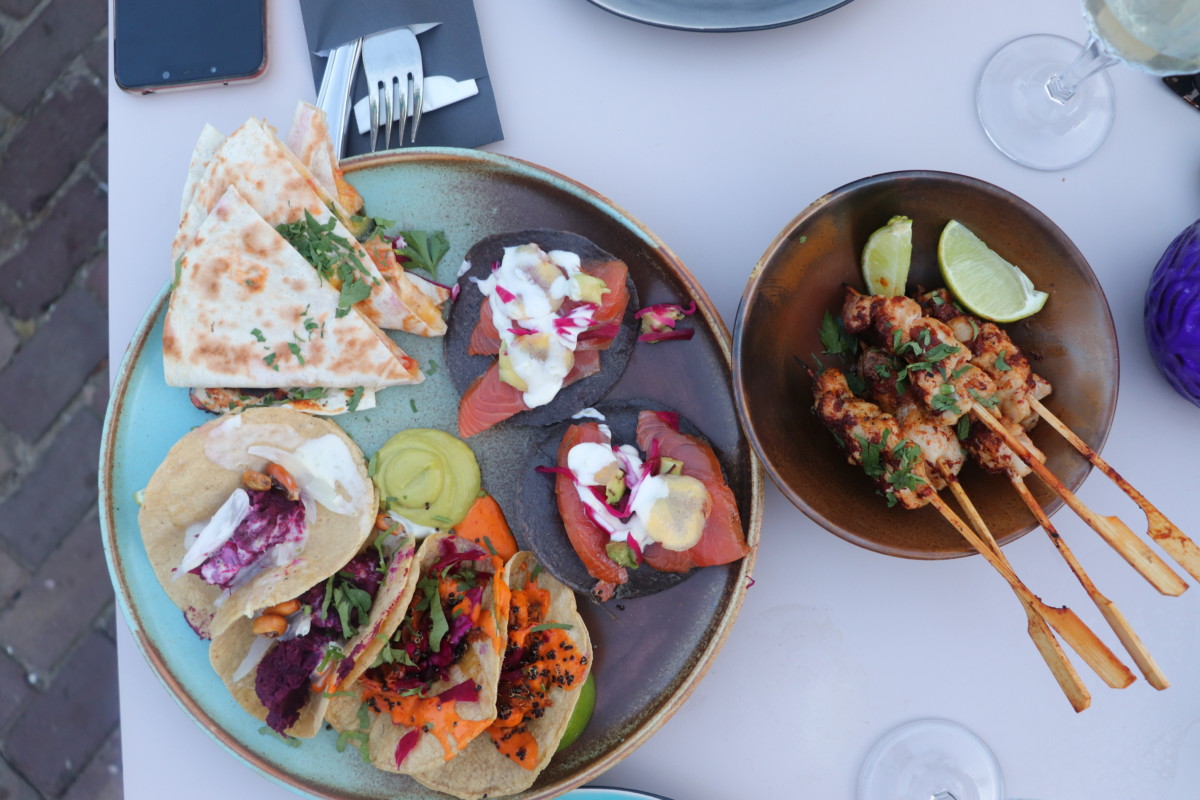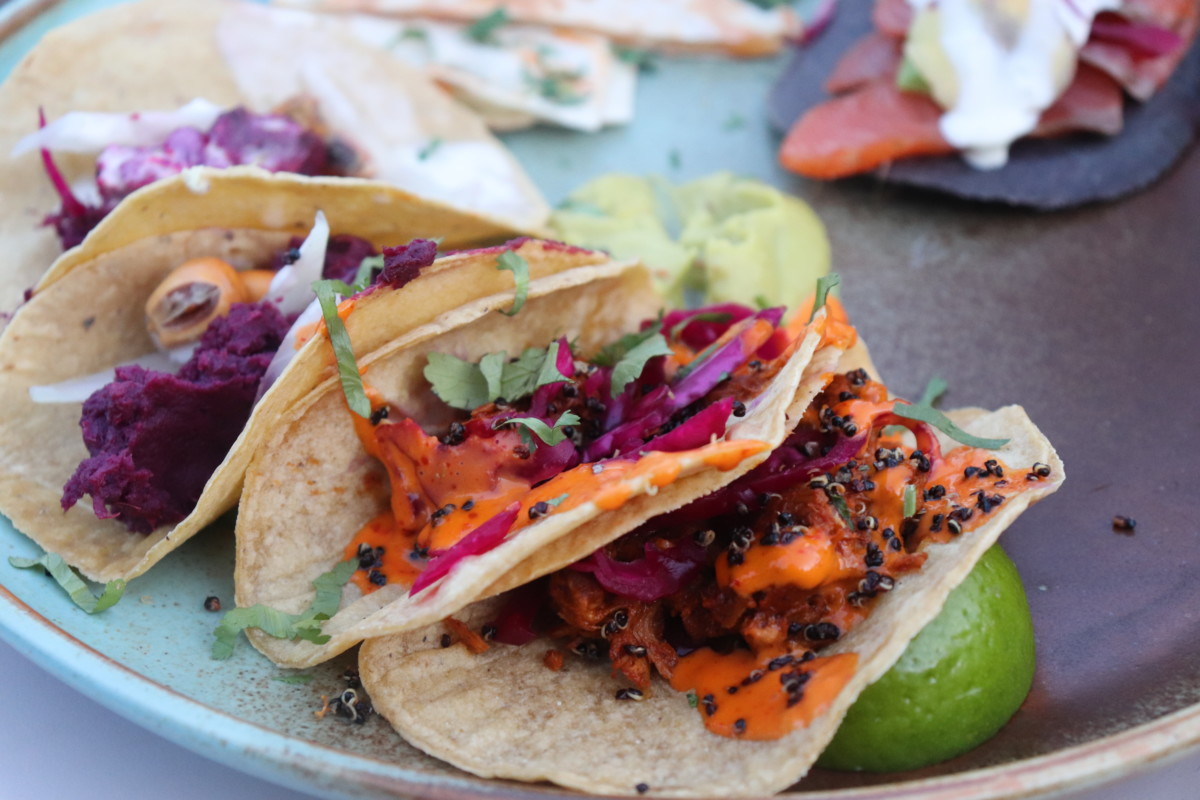 Absolute highlights were the tostada salmone and the quesadilla – our neighbours went for the quesadilla with extra pollo and that looked like a slam dunk. The tacos were good too, but the one filled with the pink sweet potato wasn't the best one – when I told them this when they asked me how it was, they replied they've heard that a few times now and were constantly improving the menu – so it might just have changed by now.
We rounded off the night with dessert and if you're in doubt you should always go for something on the menu that's called choco loco – because how can that not be good?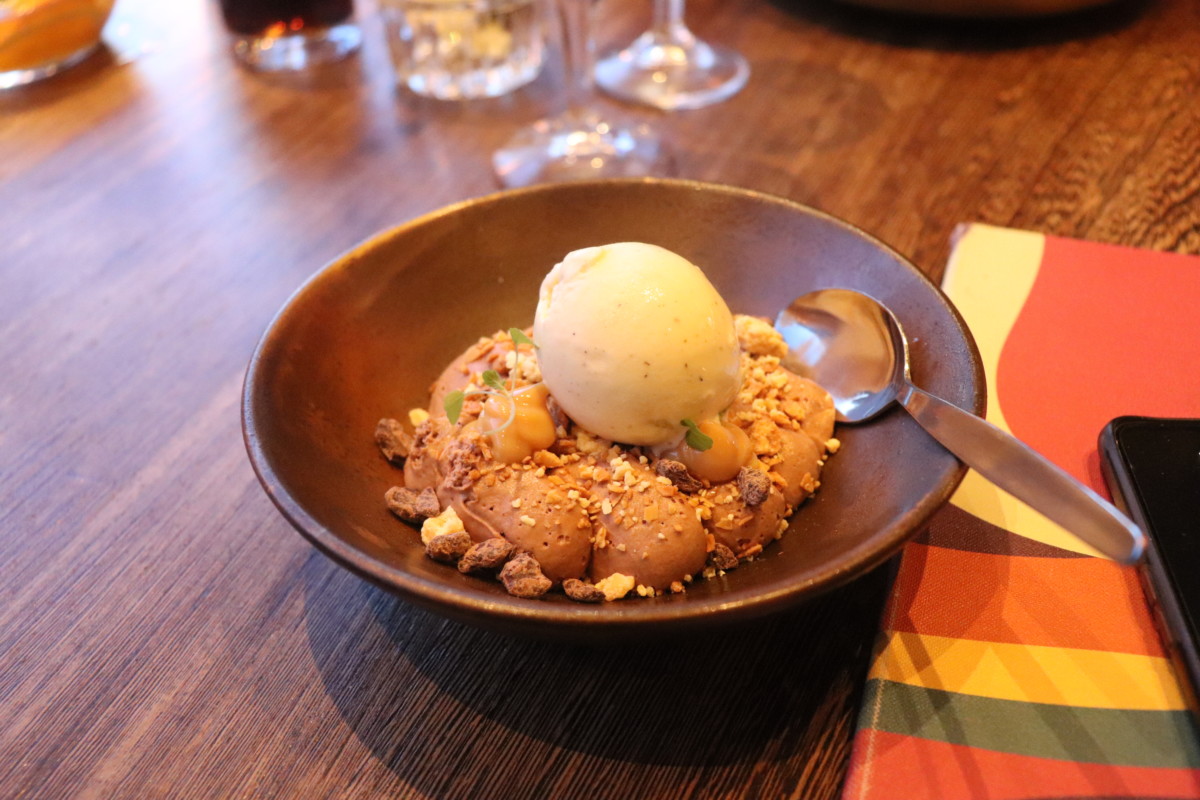 Two things that need to be mentioned, since this post is about eating outside in Leiden, I need to fill you in on the fact that they serve cocktails there and even have cocktail madness every Monday till Wednesday from 5 till 7 pm. It's when 2 of their daily special cocktails are going for 12 euros.
You and me baby:
When it's sadly to cold to eat outside on the terrace, you can still catch some of that summer love inside. The decor at Tabú is vivid, trendy and bright and with just the right amount cocktails you can envision yourself being in a warmer, more latin-ey country.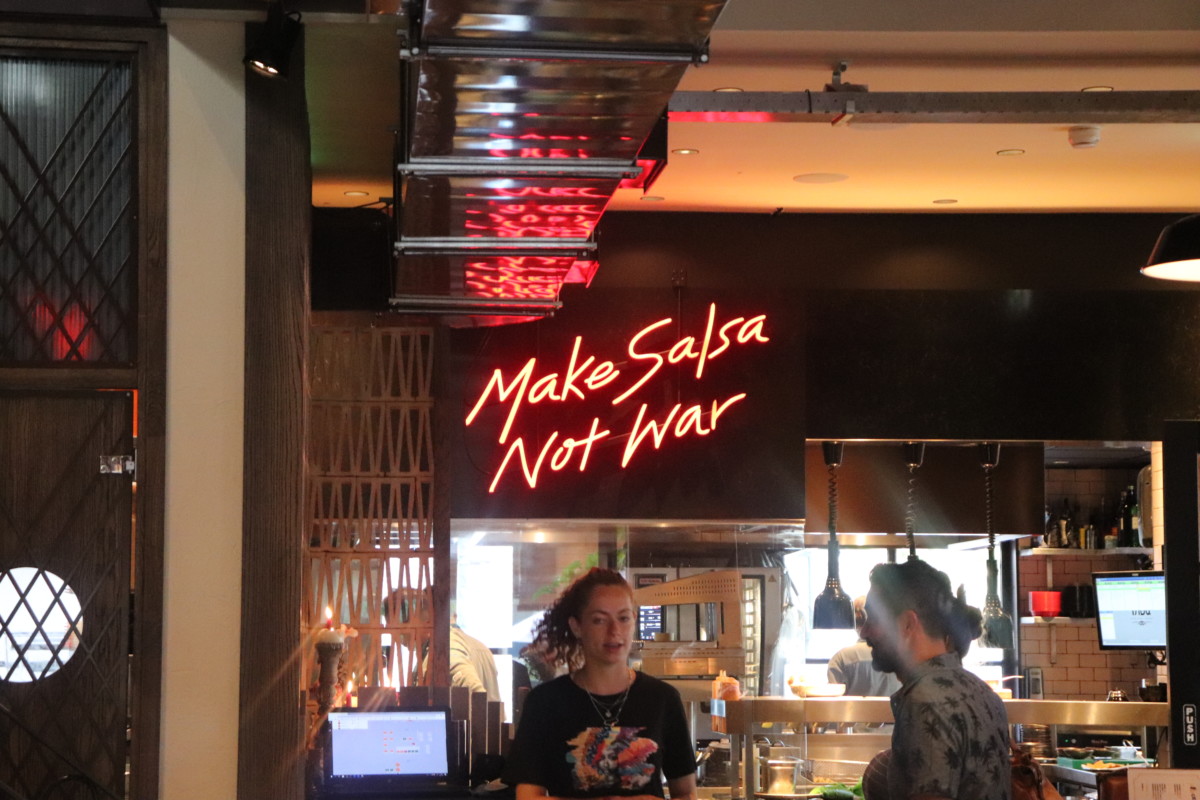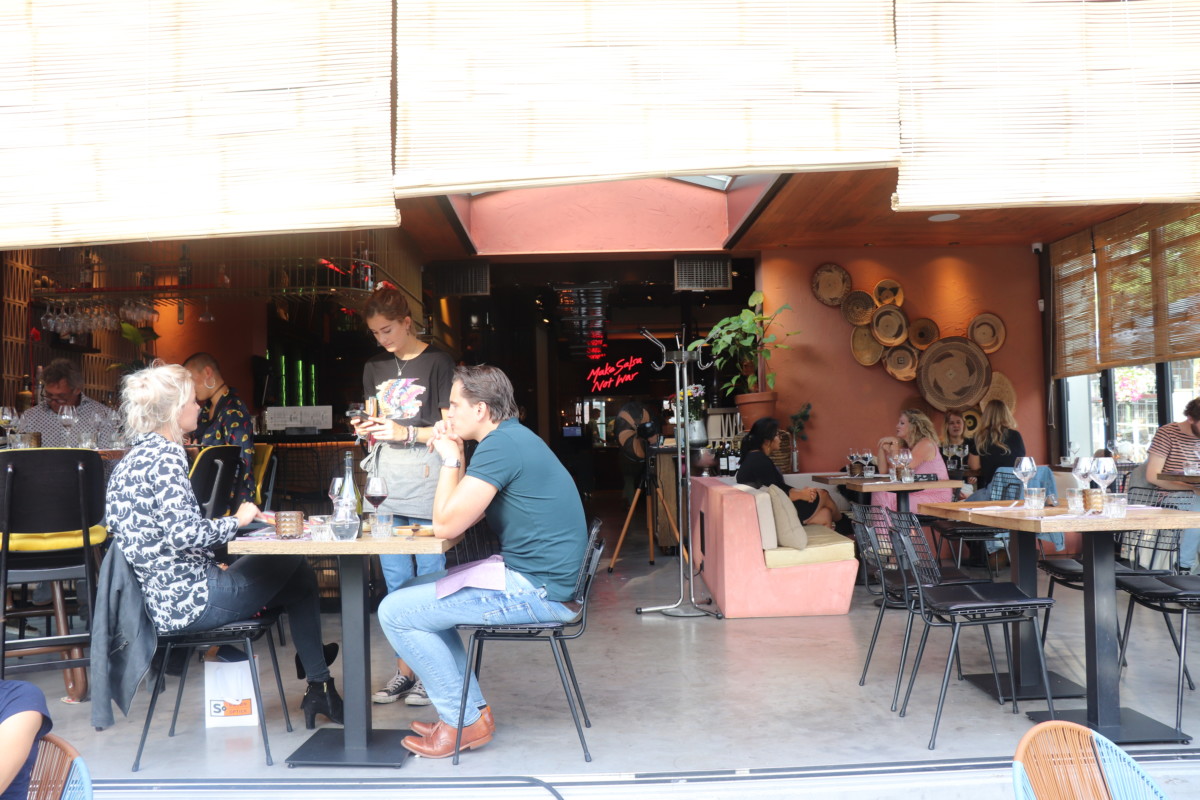 Hasta la vista baby!
Address: 
Rembrandtstraat 27
2311 VV Leiden
Website | Instagram | Facebook
Next up, a classic when it comes to terraces in Leiden:
Van der Werff – The classic Leiden terrace
You know this one too! It has featured in loads of pretty pics of Instagram because the classy Van der Werff building is located right in front of the 'the valk' windmill and a lush canal – which results in these kind of pictures: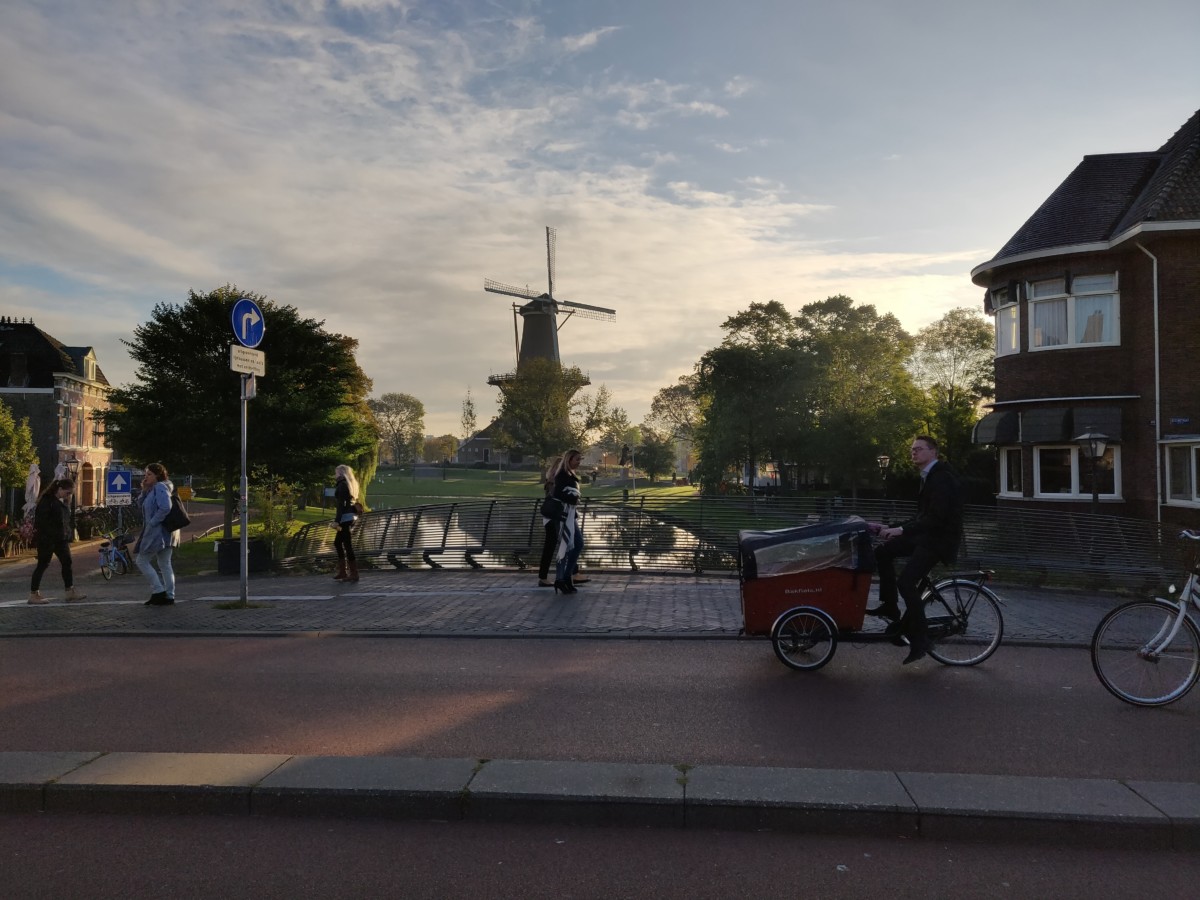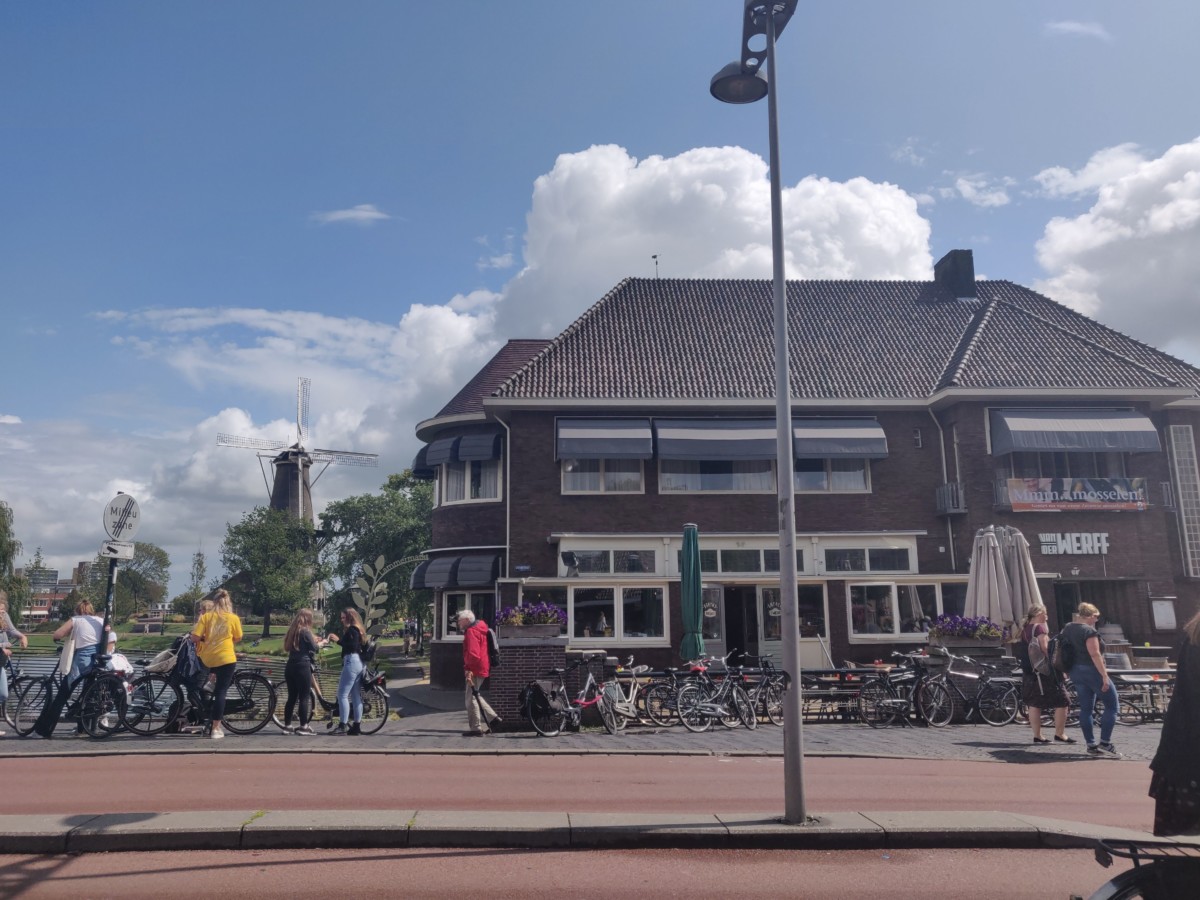 As you can see, Van der Werff is located in a grand building and when it's wintertime you can sit there all cozy and warm and enjoy a hot cocoa. But it's the terrace of Van der Werff that everybody knows, it's a favourite among the local crowd and it's close vicinity to the station makes this perfect for after-works-drinks (or as we call it in Dutch; borrelen).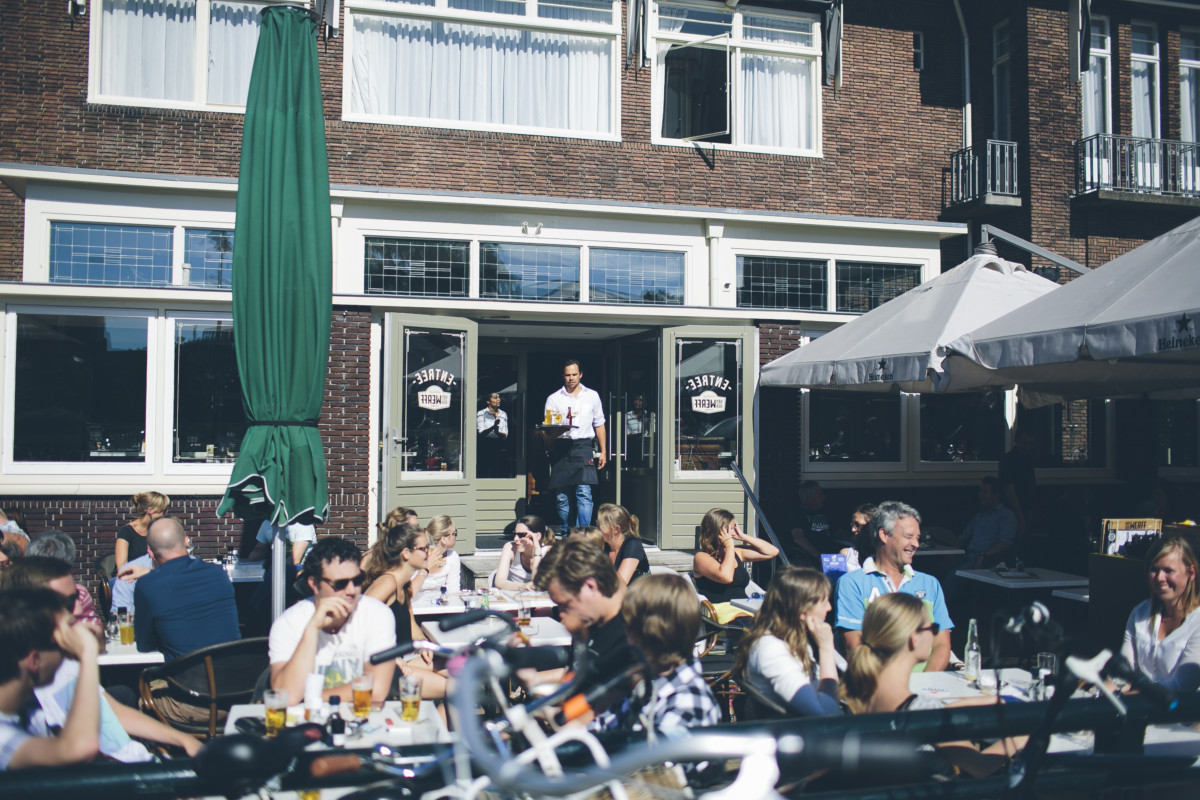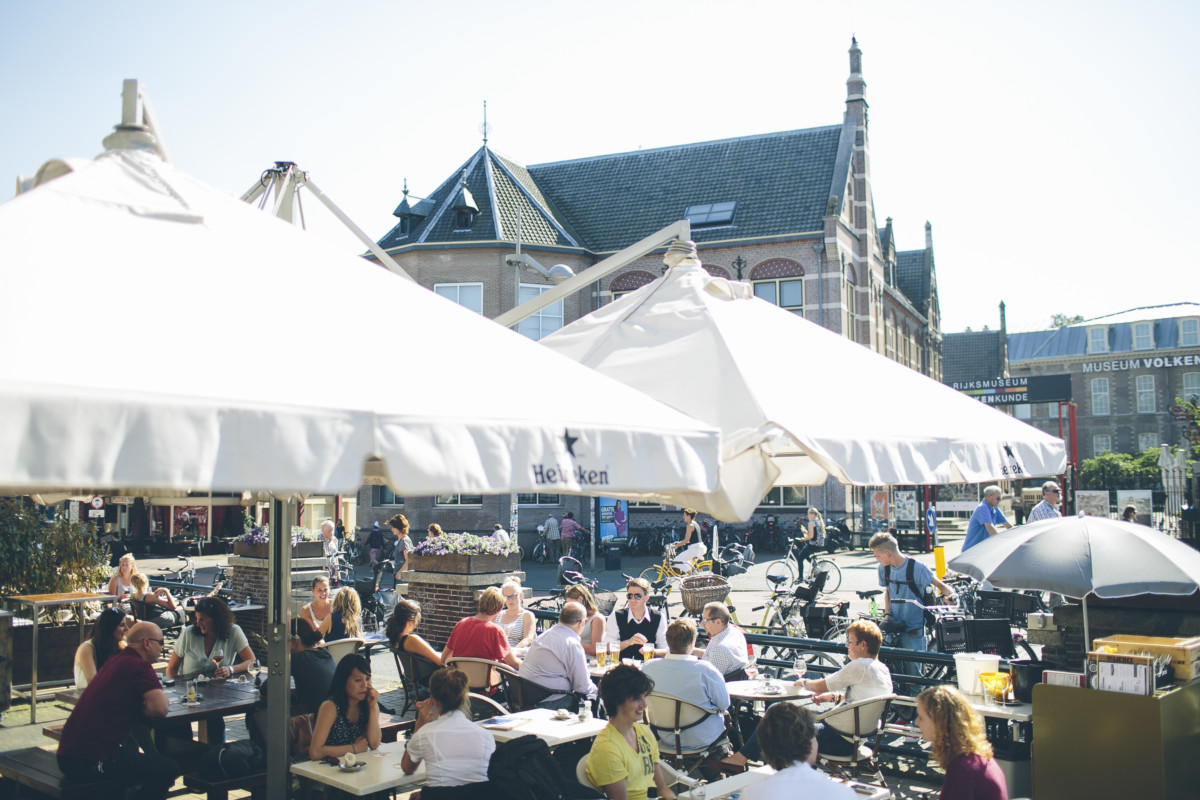 Obviously Van der Werff is a good spot for drinks, but how about having dinner outside here?
Well, I'm a simple man, but a happy man when I see something special for 2 people as a starter on the menu at Van der Werff. So we got the 'Werff's special':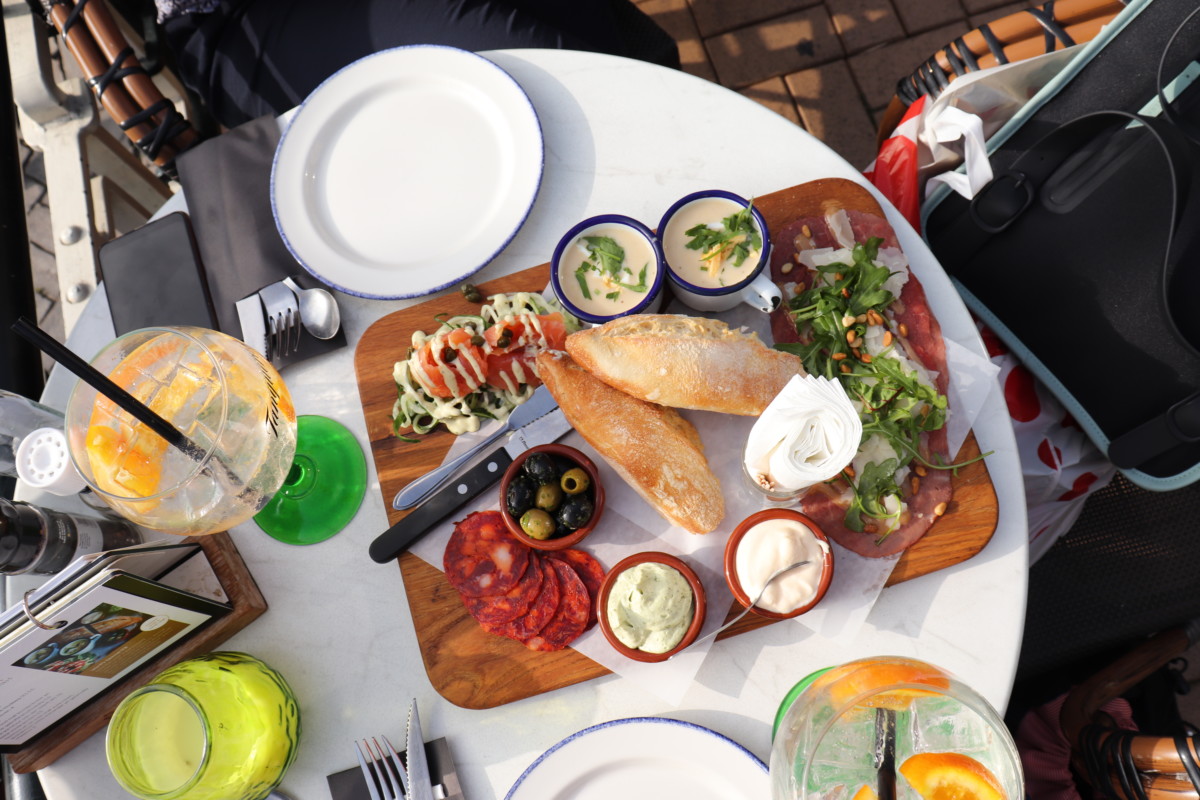 The salmon and soup were highlights here! Why don't they get you more of these little cups of soup with these platters?
Moving on we went for the Werff's Burger and the Ribs (it was Friday, we did a borrel, you want this kind of food).
The Burger was a slam dunk, big and juicy, just what you want when you're craving a burger. The Ribs were done oriental-style and pretty tasty, but as you can see it wasn't the big plate of spareribs you might have expected.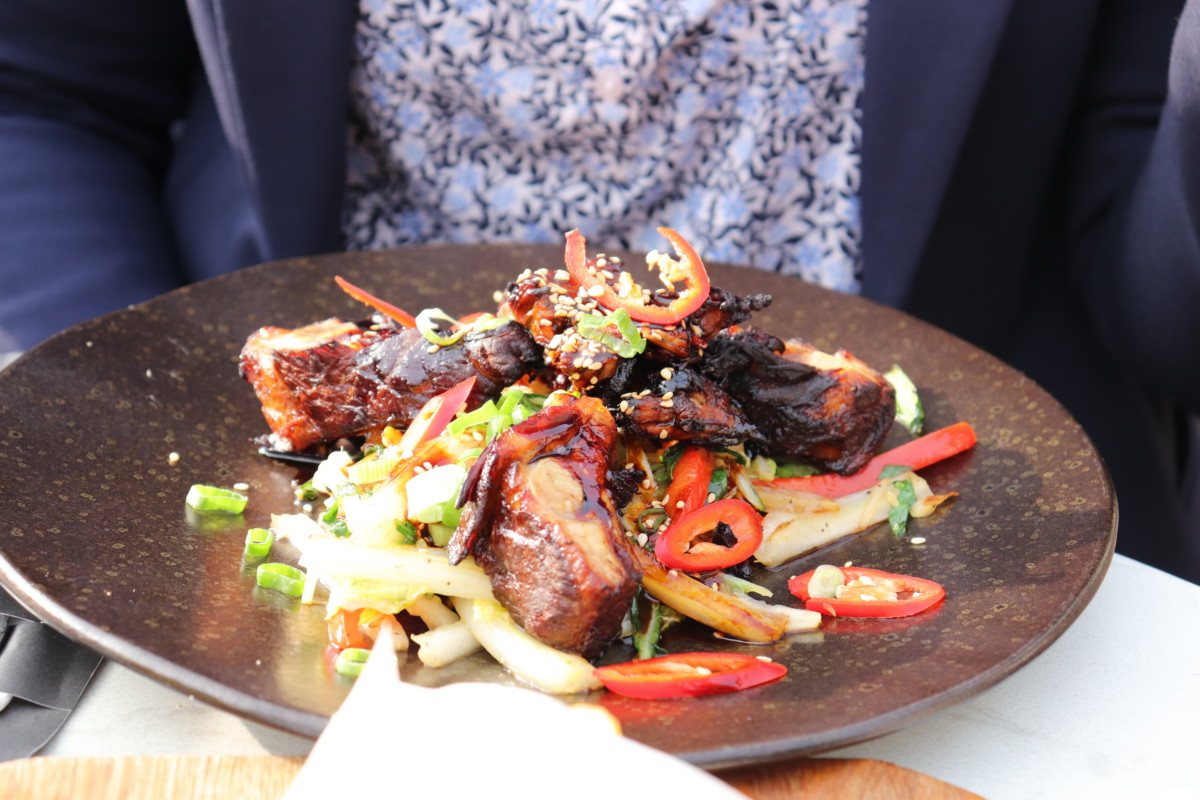 Best part of the dinner was, as so often in life, the dessert – go for the 'short cake' – you won't be disappointed.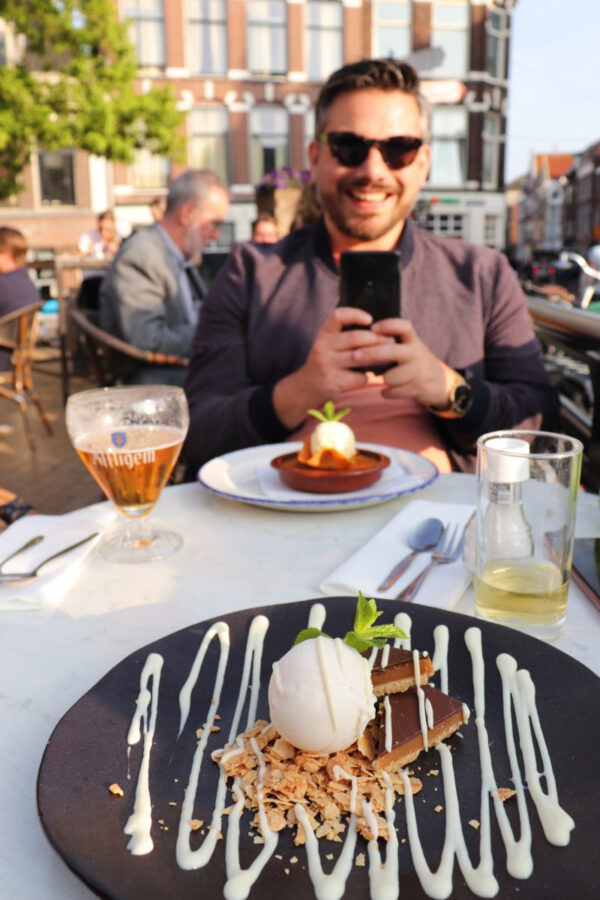 Address: 
Steenstraat 2
Leiden, Netherlands
'Heineken Afterwork'  coming to Van der Werff in Leiden on the 5th of September
If you're thinking that it might be nice to catch afterwork drinks here then you're right, but what's even better is that on the 5 September you can go to 'Heineken Afterwork' – yeah, that's right – drinks organised by Heineken. They already organised a few of these in Amsterdam and they were all the rage, now coming to Leiden!
There will be performances by local legends such as the DJ duo Kraak & Smaak. Just register at the Afterwork website and the first beer is on Heineken!
Eating outside and terraces in Leiden: Honourable mentions
I could write thousands of extra words about great places to eat outside in Leiden. Let's not do that, but I can't finish off this article without mentioning a few other excellent terraces in Leiden.
The Binnentuin Rooftop at PLNT
Isn't the DutchReview office at PLNT? It sure is! And you might have spotted the rooftop in our insta-stories and posts (we might be a little bias but it is honestly one of the best views Leiden in the city).
The Roof at PLNT is a unique place in the heart of the city and in the middle of the Singelpark. It is covered with beautiful flowers and greenery and boasts stunning views over Leiden and yes, even a chicken coop!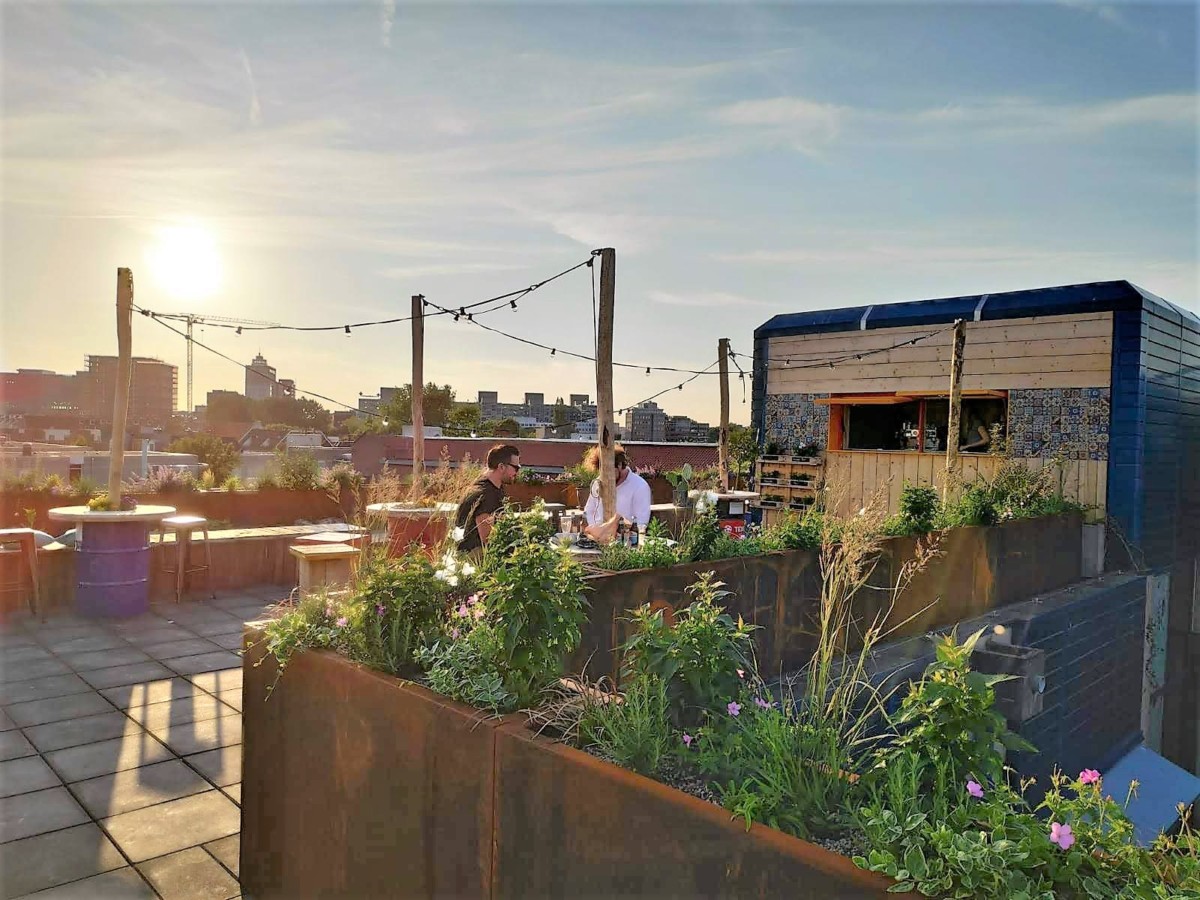 Both at the roof and the indoor 'binnentuin' have plenty of healthy and delicious options and prices are very economical.
Address:
Langegracht 70
2312 NV Leiden
Aan de Rijn
If you're vying for the classic canal views of Leiden, this is the place to be – but Aan de Rijn was recently redecorated their interior so it's also perfectly nice to sit inside when it's raining in the Netherlands. Shared dining is the thing here, and they mean it. The idea is that you select a couple of small dishes for a round and they serve it on a wooden board.  I recommend the shrimp croquettes (served with a lemon and parsley mayo) and the Buddha bowl.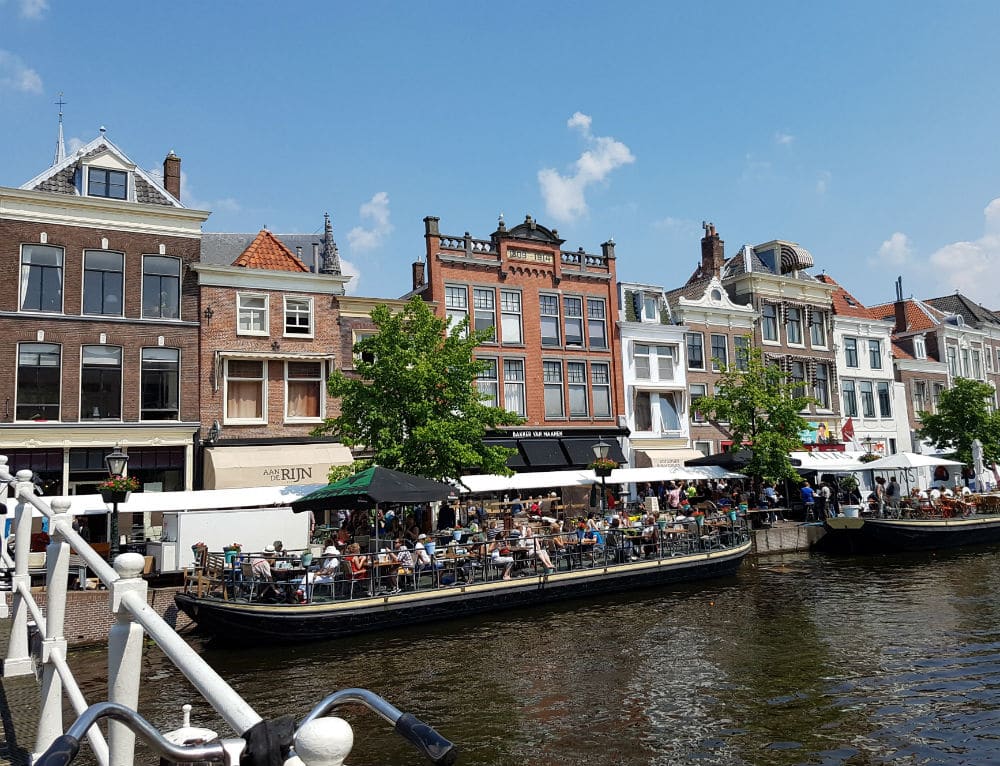 Address:
Nieuwe Rijn 37
2312 JG Leiden
Vet Gezond
Located near Leiden Lammenschans the vintage-looking Vet Gezond brings you an excellent selection of both greasy 'Vet' and healthy 'gezond' food and all that for financially-healthy prices as well. All of that makes it a perfect spot to grab some casual dinner on a week-day or have a dinner as a student without succumbing to a heart-attack when you see the receipt.
It's somewhat of a hidden gem in Leiden and so if you can't find a spot to have dinner outside in the centre, then try VetGezond.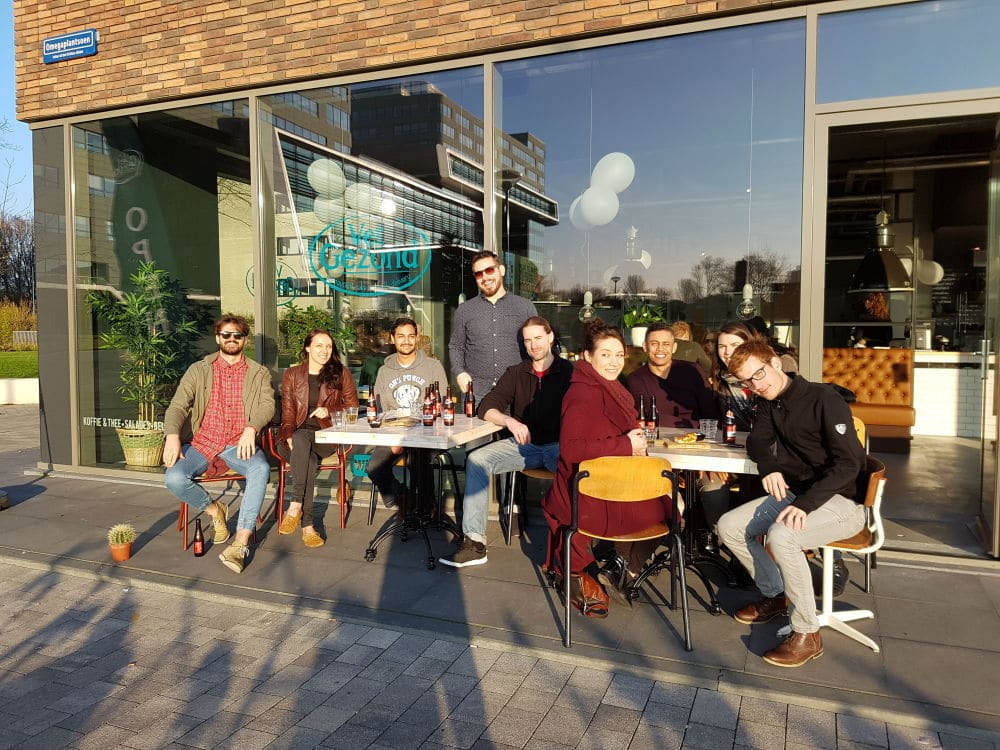 Address:
Omegaplantsoen 4
2321 KT Leiden
That's it for our suggestions for the best terraces of Leiden for now. If you have any then drop 'em in the comments! Or check out our guide to eating, drinking and shopping in Leiden for more tips!
*We worked with the horecagroep on this one, thanks for the pictures guys!