It may have taken me an eternity to finally enjoy a hearty portion of crispy bitterballen. I might have procrastinated for ages until I eventually brought myself to cycle on those crazy Amsterdam bike lanes. I might have shivered throughout my first beach days here, wondering out loud how people could chill on the sand at no more than 15C, let alone do it in their swimwear. But there is one all-time Dutch favourite that I didn't need to warm up to: ice skating! Hopefully, this exonerates me of my prior counterproductive cultural resistance. To prove that I mean business, I'll walk you through my top pick wintertime ice rinks in the Netherlands. Just in time for kerstvakantie.
Winter Station
at

Het Spoorwegmuseum

(the Dutch Railway Museum)

From: December 22 to January 6, 10:00 to 19:00
Address: Maliebaanstation 16, Utrecht

If you plan to entertain kids, then this is the place. The museum alone is nothing short of amazing and warrants a visit, ice rink or not. Established in 1927, it moved to the former Utrecht Maliebaanstation, a national monument, in 1954.

There is an hourly NS connection from Utrecht Centraal to Malibaan during weekends and school holidays. A great way to bring kids over, but make sure you are up to date with the timetable. You don't want to miss a train if it will take an hour to get on the next one. We've been there: running along the platform, the sprint of our life, just to see the doors shut in front of us and the train leave. One minute before actual departure time! Afterwards, dragging a bunch of disappointed kids to the bus was no easy task.

The ice rink is set up in the big hall of the main museum building, across the train platforms from the old Maliebaanstation building. Last year, it was designed as a skating track around an impressive steam engine. According to the museum website, this year comes with a surprise: 150 square meters of extra ice rink, a skateway that will take you through a tunnel and under a bridge. There will be food stalls on the side, as well as a vintage merry-go-round converted into a gezellig bar. Daily live music and children's activities. And, as one would expect, lovely Christmas lights and decorations all over the place.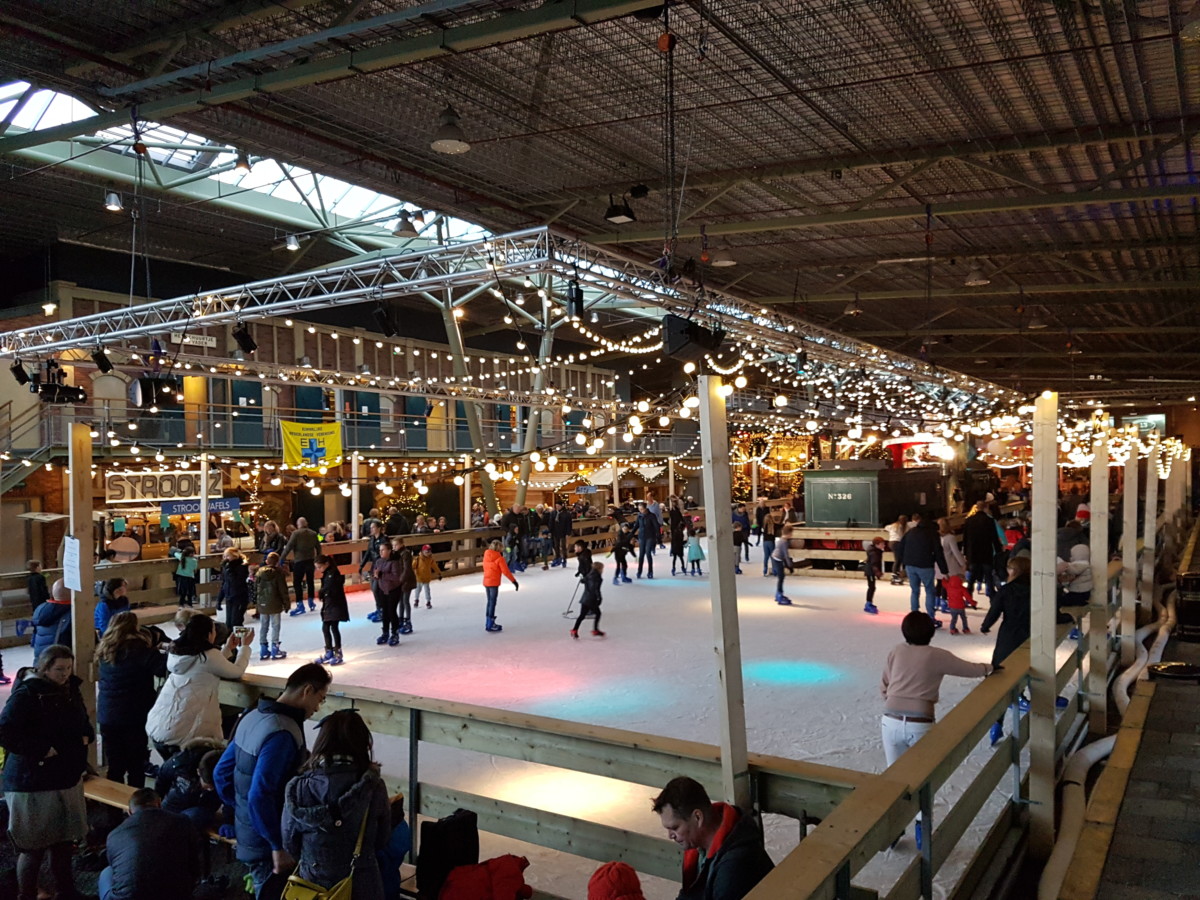 Skates are free to borrow. Training seals are available, but expect fierce competition. And, as with most other Dutch ice rinks, gloves are mandatory.
The Dutch Railway Museum is free with the National Museum Card (Museumkaart).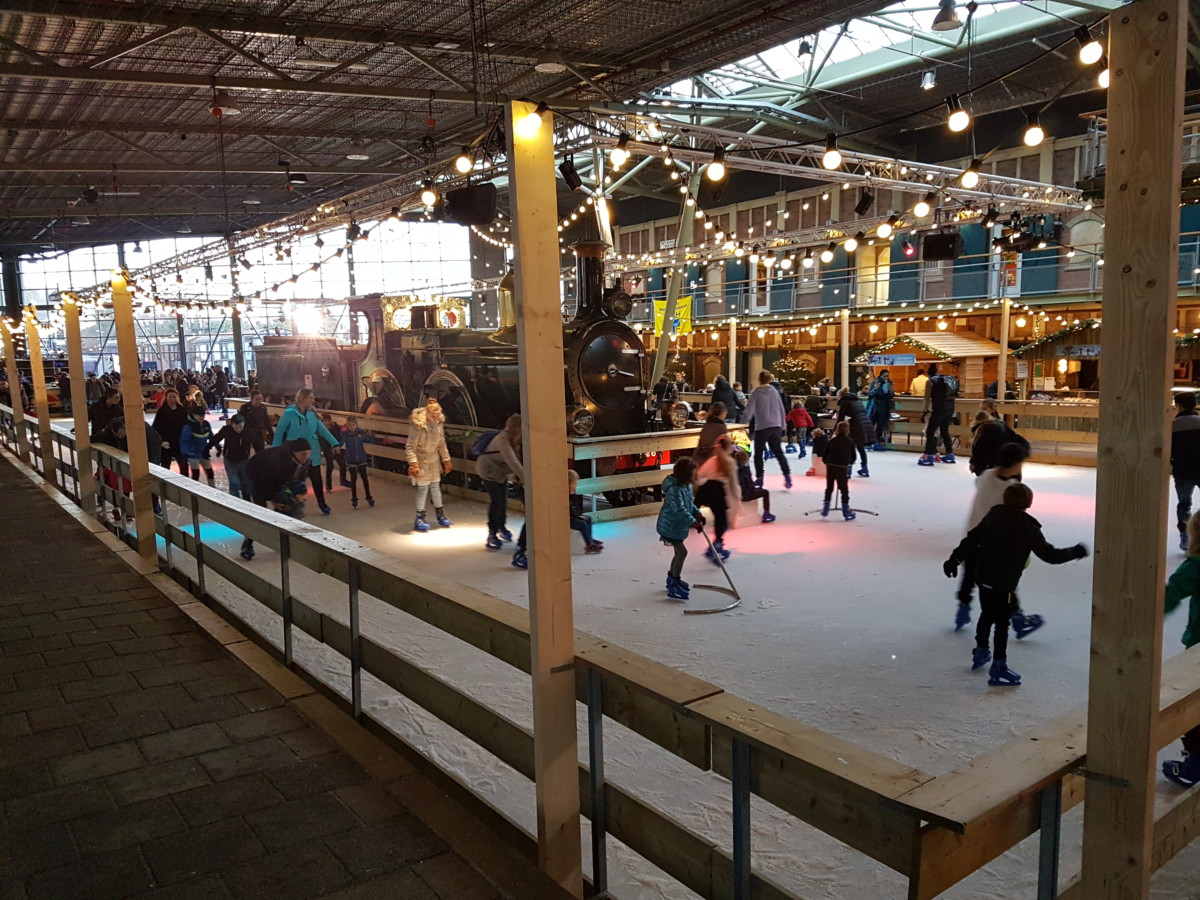 Winter in the Nederlands Openlucht Museum (The Netherlands Open Air Museum)
From: December 8 to January 20, 10:00 to 18:00
Address: Hoeferlaan 4, 6816 SG Arnhem

The Nederlands Openlucht Musem is the fundamental Dutch museum. It will take you through a little bit of everything (well, almost everything) Dutch. You may only go skating for now, but, by all means, return for a proper visit. A whole day is far from enough, even without kids.
The ice rink is located close to the main entrance, between the restaurant, Amsterdam's Westerstraat and the tram station. Once the dark descends, it is stunning.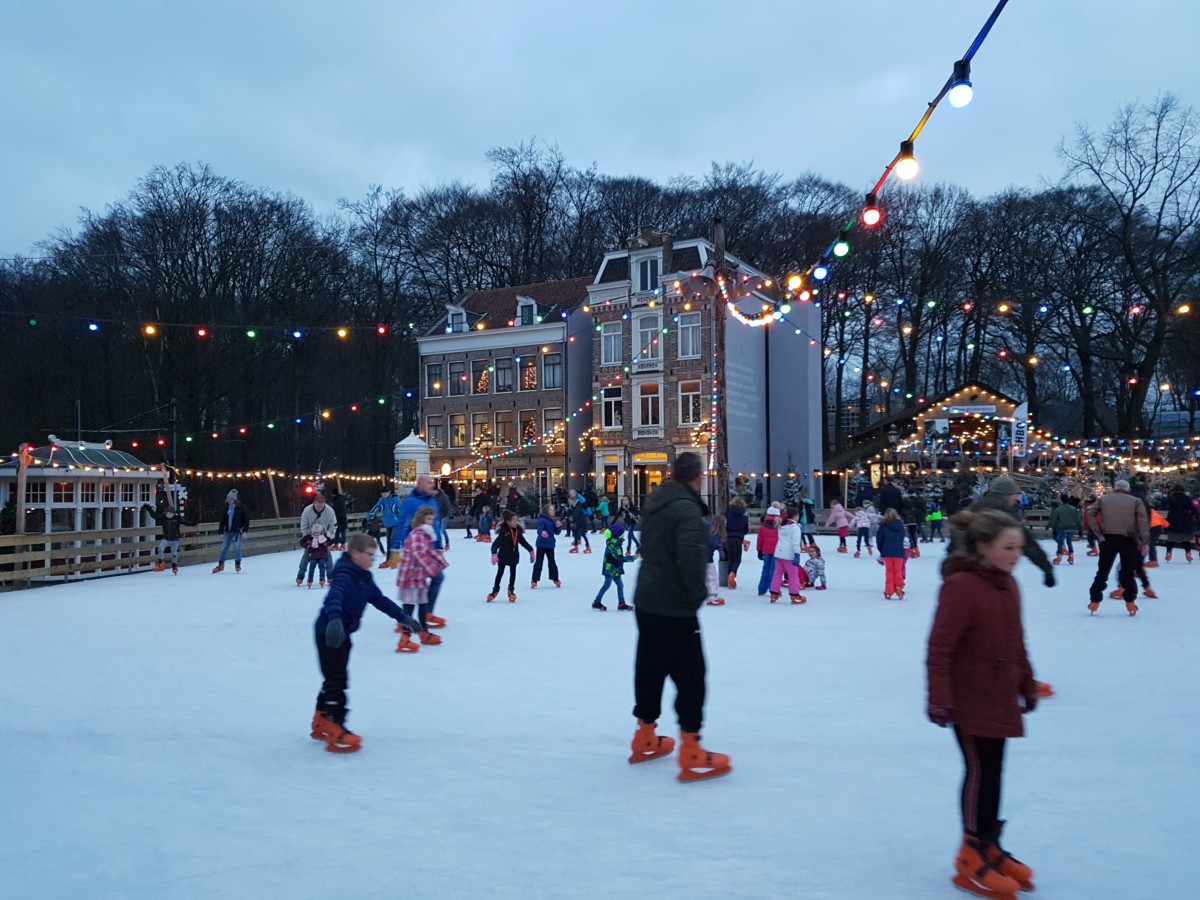 There are two distinct parts to it: the large rink, reserved for stable skaters, and the smaller rink, with training seals, for anyone in the process of learning. The two parts communicate via a rubber carpet track so you can easily move from one to the other. Training seals are not allowed on the regular rink. Skates are free to borrow. Gloves are mandatory.
If you're done with skating for the day, don't leave before you take your ice rink pic on the Westerstraat flank. It will look as if you're skating on a frozen Amsterdam canal. You can always tell your friends you were on your way to work. Just to prove Katie Couric right.
Apart from skating, you might also want to check out the snow tubing run by the big windmill, as well as the winter activities in Zaanseplein.
The Netherlands Open Air Museum is free with the National Museum Card (Museumkaart).
Ice*Amsterdam
From: November 17 to February 3, 10:00 to 21:00 (22:00 on Friday and Saturday)
Address: 5, Museumplein, 1071 DJ Amsterdam

The famous Museumplein ice rink is one of the landmarks of Amsterdam during winter months. With its replica of the Magere Brug and Rijksmuseum in the background, it also consistently ranks among the most picturesque ice rinks in Europe. It is flanked by a pop-up restaurant (including an open air bar) on one side and, currently (14-December to 26-December), a cosy Christmas market on the other.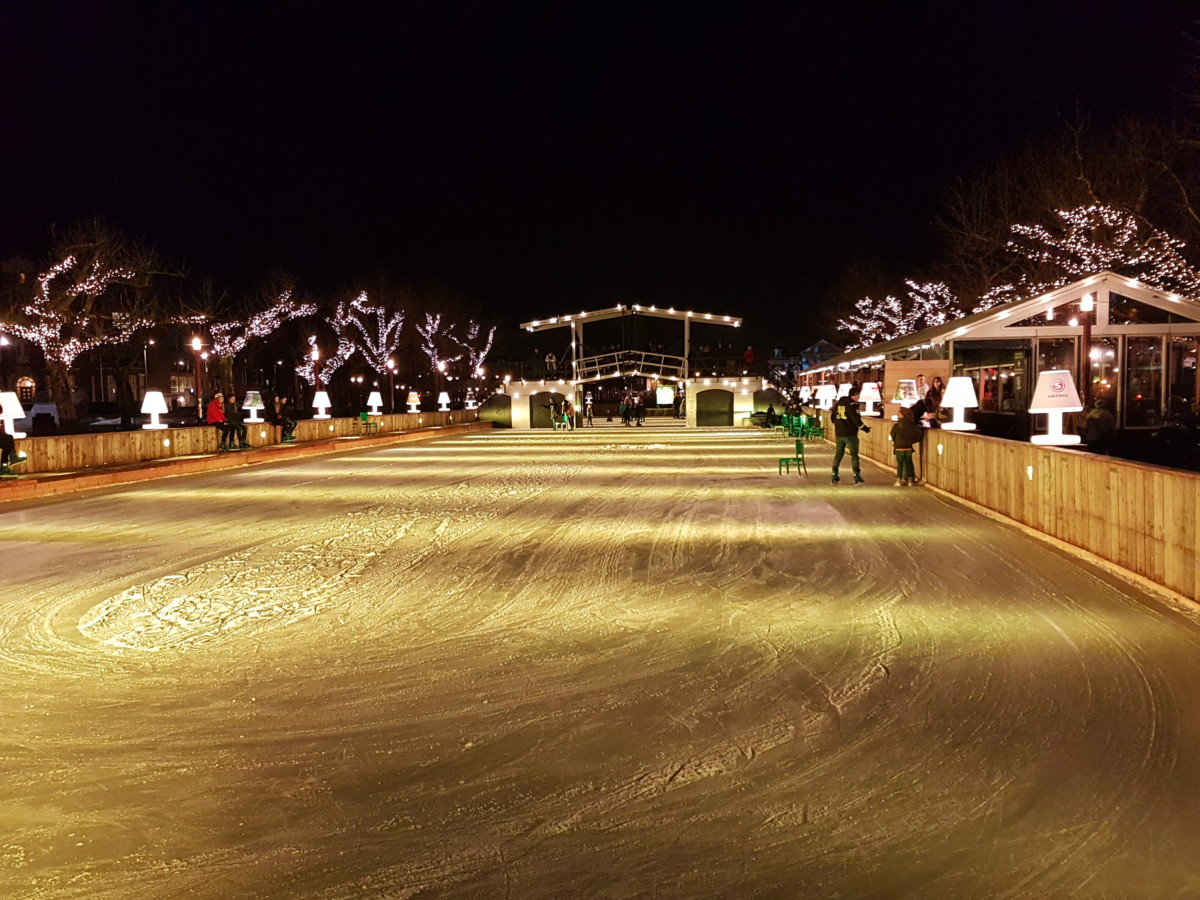 The available activities promise lots of fun: ice sculpting, jeu d'ice, human ice-bowling, human curling, fun curling. Check the website for prices and opening times. Reservations are always required.
Ice*Amsterdam is very popular with both Amsterdammers and tourists. It tends to get pretty busy starting late afternoon, so it might not be the best choice if you or your child are still struggling to keep your balance. Intensive skating lessons are available, though, during winter school holidays, for children between 5 and 9. Always scheduled in the morning.
The rink is not accessible during daily maintenance activity, 11:30 to 12:30 and 17:30 to 18:30.
It is best to purchase your tickets online. It will save you money and time. A simple entry ticket is 5 EUR online. Add an extra 6 EUR for 2 hours in rented skates.
Ijsbaan Rembrandtplein
From: November 18 to January 6, 10:00 to 23:00
Address: Rembrandtplein

I may be biased because I live close by, but I think the Rembrandtplein ice rink deserves its place on the list. It might be smaller than and not as glamorous as Ice*Amsterdam, but it is loaded with training seals and it is almost never too busy. Probably because everyone else in Rembrandtplein is busy with weed and/or booze. There is the occasional intoxicated tourist who will skate in a pair of shorts on a freezing night or will be too loud or too fast for how clumsy he is, but I haven't witnessed things spin out of control.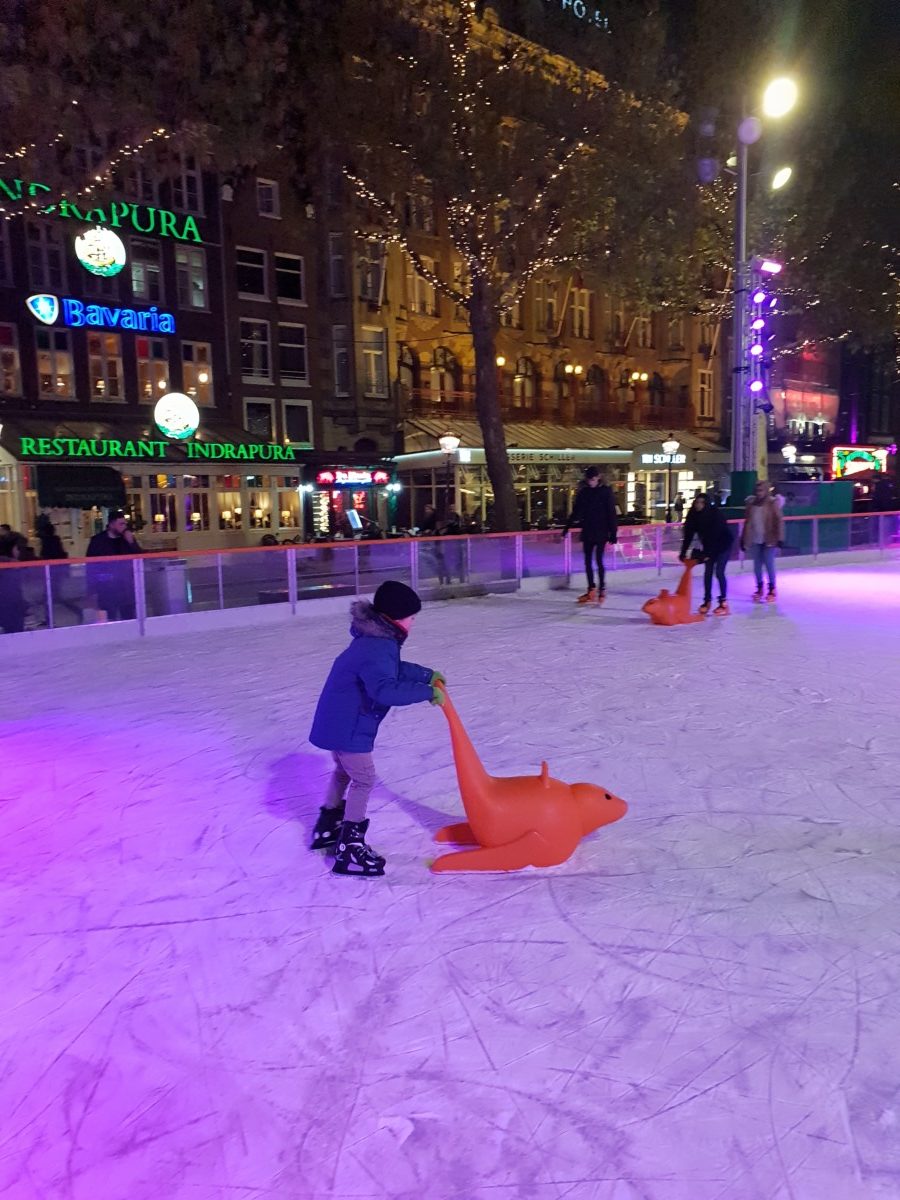 There is also something that looks and feels like a snow gun – until you're actually within its target zone and you realize that it sprays soap foam. Nope, no booze. I would have been happier without it, but it is very popular with kids.
Gluhwein and hot chocolate are available at a nice stall nearby.
The tickets are quite cheap: 2.5 EUR for the whole day, an additional 5 EUR if you also need to rent skates.
Flevonice in Flevoland
From: December 1 to March 3, 09:00 to 21:00 (22:00 on Thursday, 19:00 on Sunday)
Address: Strandgaperweg 20, 8256 PZ Biddinghuizen

Flevoland on ice. And nice. Not just flat and dull, as represented on that viral map of stereotypes of the Netherlands, which keeps showing up in everyone's newsfeed.
You can't go more Dutch than Flevonice. Except for the Elfstedentocht, of course, but that's a completely different story. Flevonice prides itself on a 3km skateway, the longest artificial ice rink in the world. The route takes you across the fields and around a small lake. Skating with the wind pushing your from behind or annoyingly blowing against you.
Don't let the impressive number of professional-looking Dutch speed skaters put you off. There is room for everyone. Nobody will give you a funny look just because you're not wearing noren (Norwegians, in a literal translation to English), which is what the Dutch call their speed skates. Their longer blades are suitable for speed and racing, but not for figure skating or hockey. Just skate cautiously, follow the rules and stay out of faster skaters' way. If you're tired or just feel like a hot chocolate, stop at one of the two beautifully decorated rest areas.
There's more to enjoy in addition to the 3km skateway. A 400m ice rink, a rectangular children's rink with plenty of training seals, a short but fun tubing run, a great outside playground and a karting track. There are changing rooms and a large restaurant in the main building.
Entrance fees are, predictably, higher than what you would expect with a regular ice rink, but e-tickets are cheaper, so purchase online.
Goudse Ijsbaan
From: December 19 to January 13, 09:00 (10:00 on Sunday) to 23:00
Address: Stadhuis, Gouda
Gouda is world-famous for its cheese. Not because cheese was produced in or around the town, but because it was traded here. Its splendid Stadhuis (City Hall) building is a national monument, one of the most impressive examples of secular Gothic architecture in the Netherlands. If cheese, history and architecture are not enough and you need yet another reason to go visit, I'll give you one: De Goudse Ijsbaan.
This beautiful ice rink in the Netherlands follows a track around the Stadhuis building. Again, the skateway concept, rather than a common rectangular ice rink.
Entrance fee is 4 EUR per 2 hours, with an additional 1 EUR for skate rental. Training seals may also be rented for an extra 1 EUR.
Opening times may vary. It is always best to check the website before setting out for the day. The same goes for any of these ice rinks in the Netherlands (check first just in case).
Hope you enjoy these great ice rinks in the Netherlands! Head on over to any one of them instead of curling up with a good book in front of a crackling fire.
What's are your favourite ice rinks in the Netherlands? Drop it in the comments!
Feature Image: Guilhem Vellut/Flickr