There are plenty of great things to see and do in Amsterdam, all of which would take too long to cover in one article. So here are our top picks which you don't want to miss out on!
Get ice cream (maybe you're a sorbet person), visit the zoo, both? Amsterdam is certainly an interesting place, you might uncover some great fun if you branch out. There are both gratis (free) things to do around the city, so let's run through some attractions and things to do in Amsterdam.
Coronavirus note: COVID-19 is still around in 2021, of course, so for now this list is best used for dreaming up those future adventures — so much to look forward to!
ARTIS Amsterdam Zoo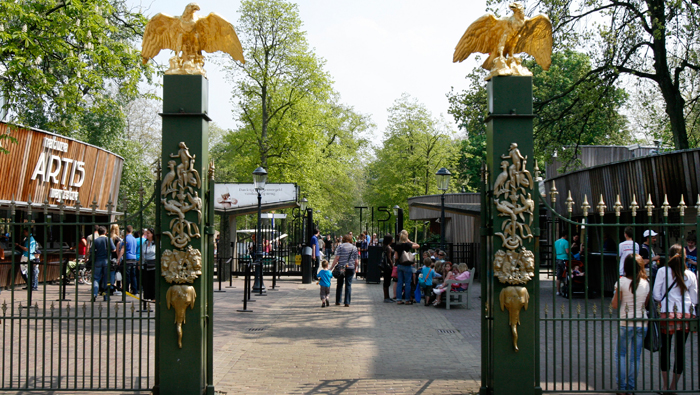 Butterflies, lemurs, elephants, lions, gorillas and penguins. What do all these animals have in common? You can see them all at the ARTIS Zoo in Amsterdam. Wheelchair access is spread widely throughout the park, there is a planetarium and an aquarium. Unfortunately, you'll need a separate ticket to access the planetarium, but the aquarium is a part of the park grounds and a Zoo ticket will get you in.
The ARTIS Zoo in Amsterdam houses a glorious amount of wildlife. The zoo had some adorable baby gorillas a couple of years ago, they've probably grown a bit since then (still adorable though). Adult tickets are 24 euros, kids younger than 2 get in free and for kids younger than 9 admission is 20 euros.
Take a boat ride on the canal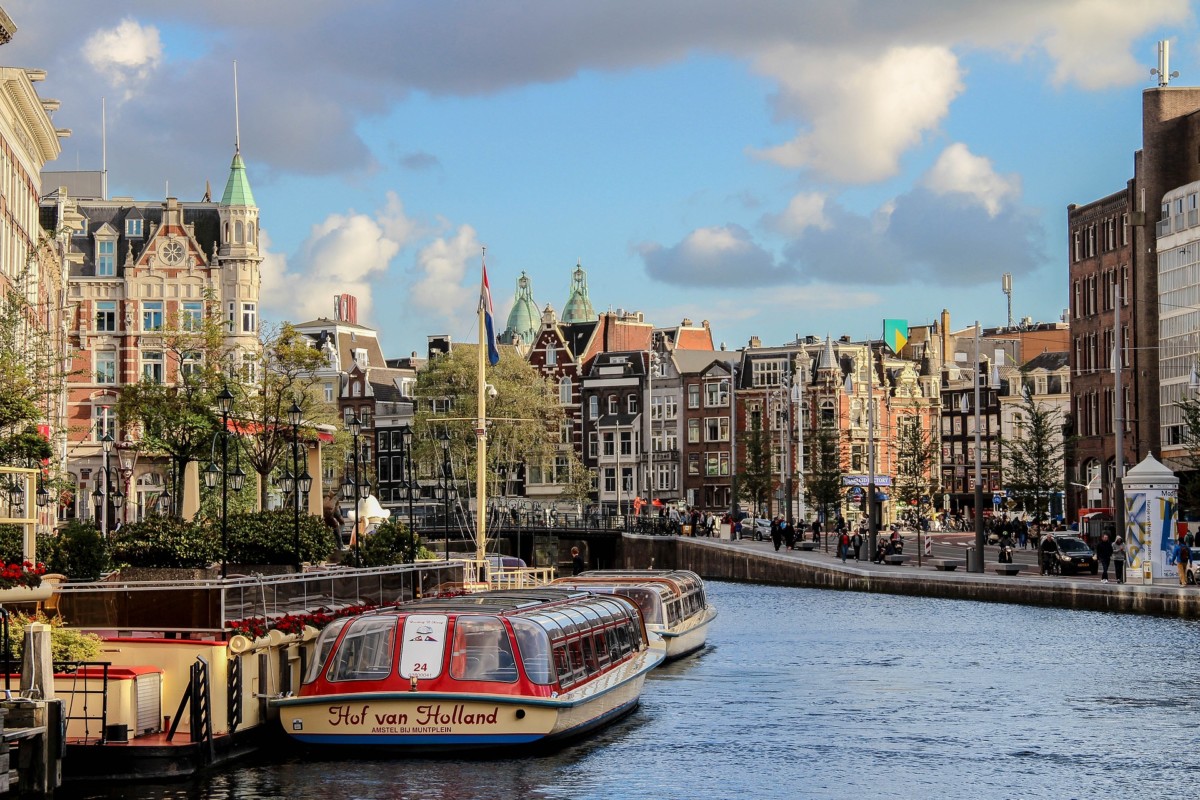 A canal cruise and a boat ride are not the same things — you can rent your own boat and paddle it yourself. Sound appealing? I wish I was there right now, in the sun is just what the doctor ordered. Think some friends might want to come? Invite them, they're docked in many parts of the city. Finding a boat ride is easy.
Even if it's something that the tourists do, they do it for the same reason people do anything, because they can. It can be a great way to unwind, just remember sunscreen!
The Botanic Gardens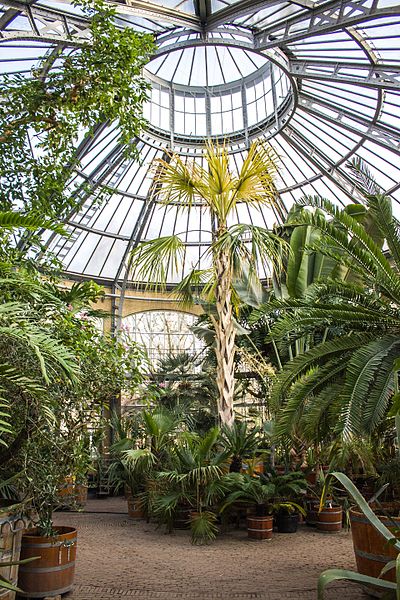 For as little as 10 euros you can witness the splendour of Amsterdam's Botanic Gardens or "de Hortus Botanicus" as it is known. If you've got an event coming up like a wedding or a birthday party then the gardens are also available to lease from time to time but it can reach up to a thousand euros so make it count!
The Botanic Gardens in Amsterdam are known for their beautiful tulips, greenhouses and butterfly enclosure within the city.
Explore everything the nightlife has to offer with the Amsterdam Nightlife Ticket
As much as we love a good museum or walk in the park, if you're coming to Amsterdam, chances are you want to enjoy the nightlife of the city, as well. If you want to party hard, then the Amsterdam Nightlife Ticket is perfect for you.
Enjoy complimentary entrance to more than 30 clubs in Amsterdam for 2 or 7 days, and experience the city's nightlife scene on Rembrandtplein, Leidseplein and near Central Station.
Choose from a list of clubs popular with the locals, including the exotic Club Prime, on of the the techno clubs: Panama and house/eclectic parties at club Escape. Dance the night away at the famous Hip Hop Party Encore in De Melkweg or visit the biggest casino & entertainment centre of Amsterdam: Holland Casino. Hear crazy music at the Bubbels Bar and join boisterous karaoke singers at Candela, Meet the locals and mix with people from around the world in the Nightlife Of Amsterdam.
Discover which clubs in Amsterdam best suit your mood. Party all week long, and spend your nights out when and where you want to go. You will never be bored with this ticket! Ladies even get a free make-up touch-up at Douglas, with an Amsterdam Nightlife Ticket.
Before your big night out, visit the Hard Rock Café and benefit from 2 for 1 on all cocktails, unlimited for 2 or 7 days with this ticket. You can also go to the biggest casino-entertainment venue of Amsterdam, Holland Casino, where you get free entrance and a welcome drink, also unlimited for 2 or 7 days with this ticket.
Check out the best recommended Clubs in Amsterdam.
Things to do in Amsterdam? See Dam Square of course!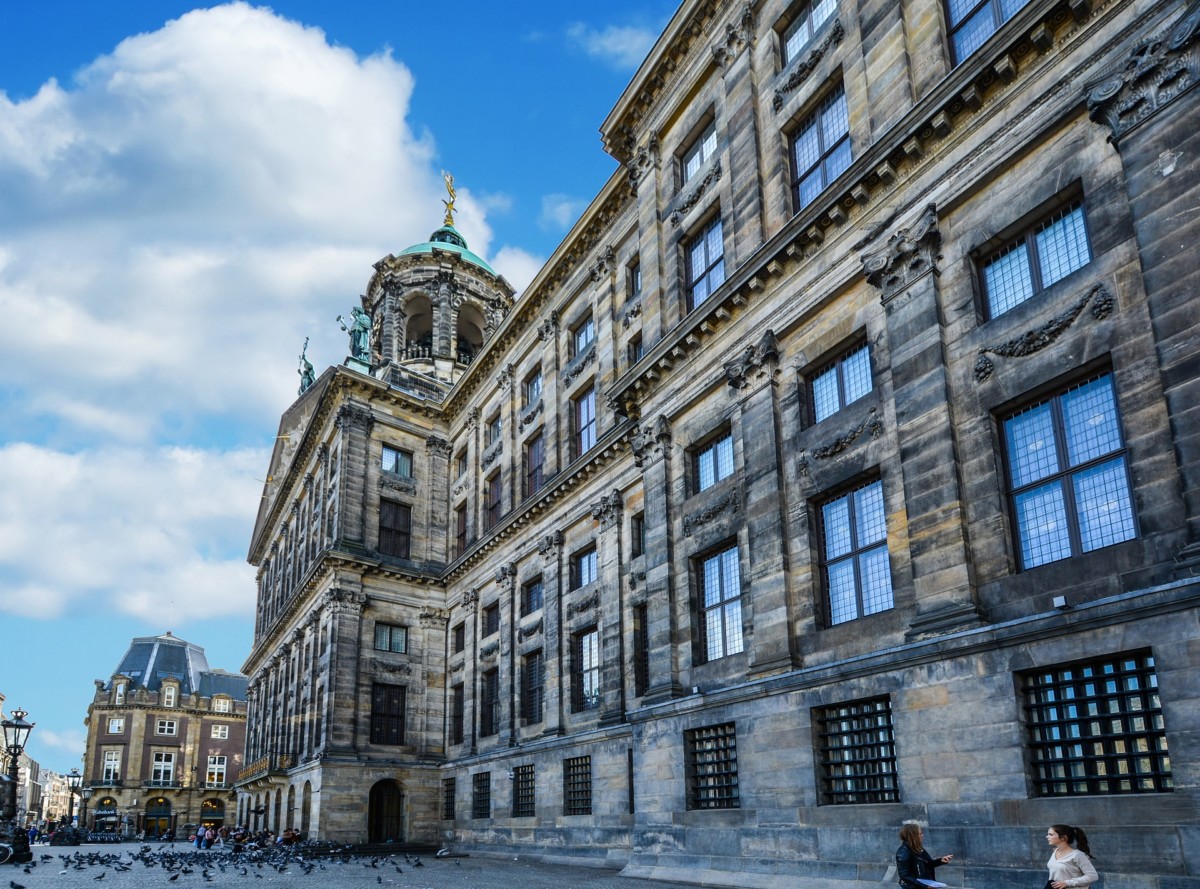 Dam Square is home to the Royal Palace, it's smack bang in the center of the city. Being in the center of Amsterdam will leave you spoiled for choice. There's a scrumptious cake-store called "De Drie Graefjes" (The Three Countesses) is hidden down a narrow alley on the right side of the Royal Palace, a 30-second walk away. There's nothing quite like cake and coffee to remind you that things could be worse, right?
Besides, once you know where things are in relation to Dam Square the city tends to make sense more and more. As for the cake shop? You can thank us later!
Begijnhof, for calm things to do in Amsterdam
Ah yes, Begijnhof, Amsterdam's worst kept secret. Founded in the middle ages, these serene laneways and monuments in the Begijnhof part of Amsterdam are lovely. 17th and 18th-century buildings are quite humbling, seeing gothic architecture is always cool. Amsterdam has plenty of it! The Begijnhof is the place to be for a storied and enchanting day out.
If you need some laid back things to do in Amsterdam the Begijnhof might be a good place to start. The statues and old buildings are lovely reminders that the world can be still and at peace if you only look for the right place.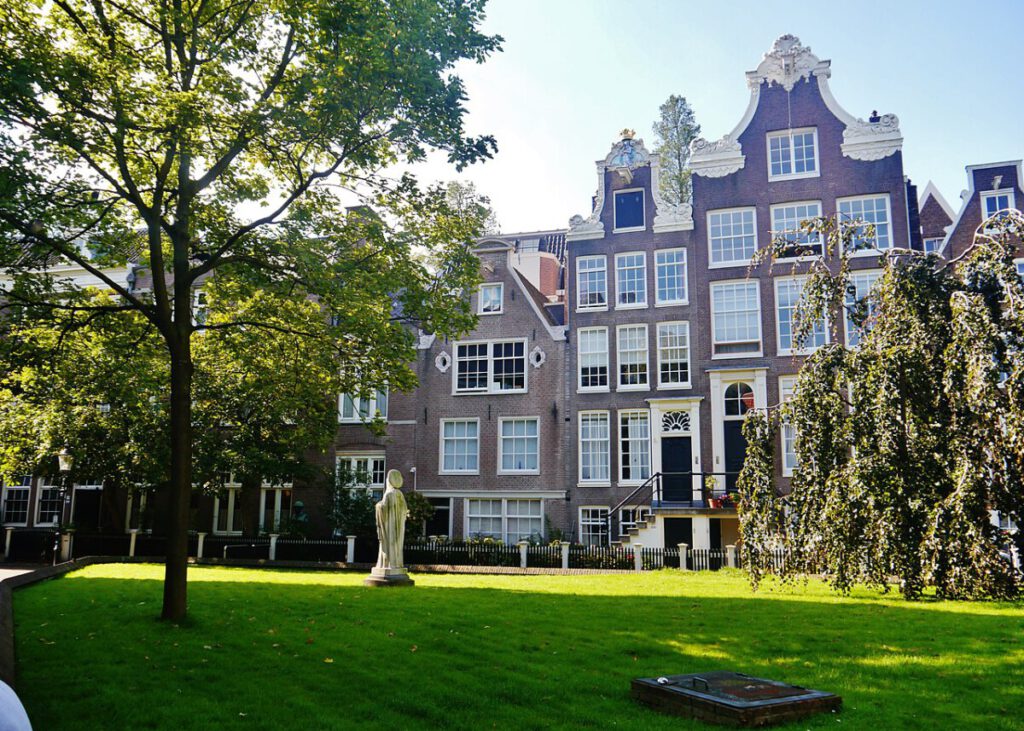 Amsterdam-Noord
Grab your jacket, we're going to hipster-central, call the gang we're hitting up Norderlicht bar and NDSM-werf to prove we're edgy and cool enough to hang in the industrial/artsy area. Sure, it's a bit of a ferry-ride but it will be a laugh, the stillness and quiet beauty that seamlessly becomes a packed-out night with great music, drinks and good company can't be denied.
The ferry is only ten minutes or so across, and can be boarded at Central station, you'll notice a crowd of cyclists and people waiting for it to dock. Notably, Norderlicht and the other bars up North are a better vibe on a weekend night and it can get chilly so rug up for that return ferry!
On your way to the ferry, you'll see some really lovely scenery, the NDSM-werf being one of them. The north is pretty hipster, it's very out of the way of everything, there's no city vibe but the venues up north are proper. People usually visit more in the Summer, but it can be a really nice vibe with a glass of red on a warm Spring evening.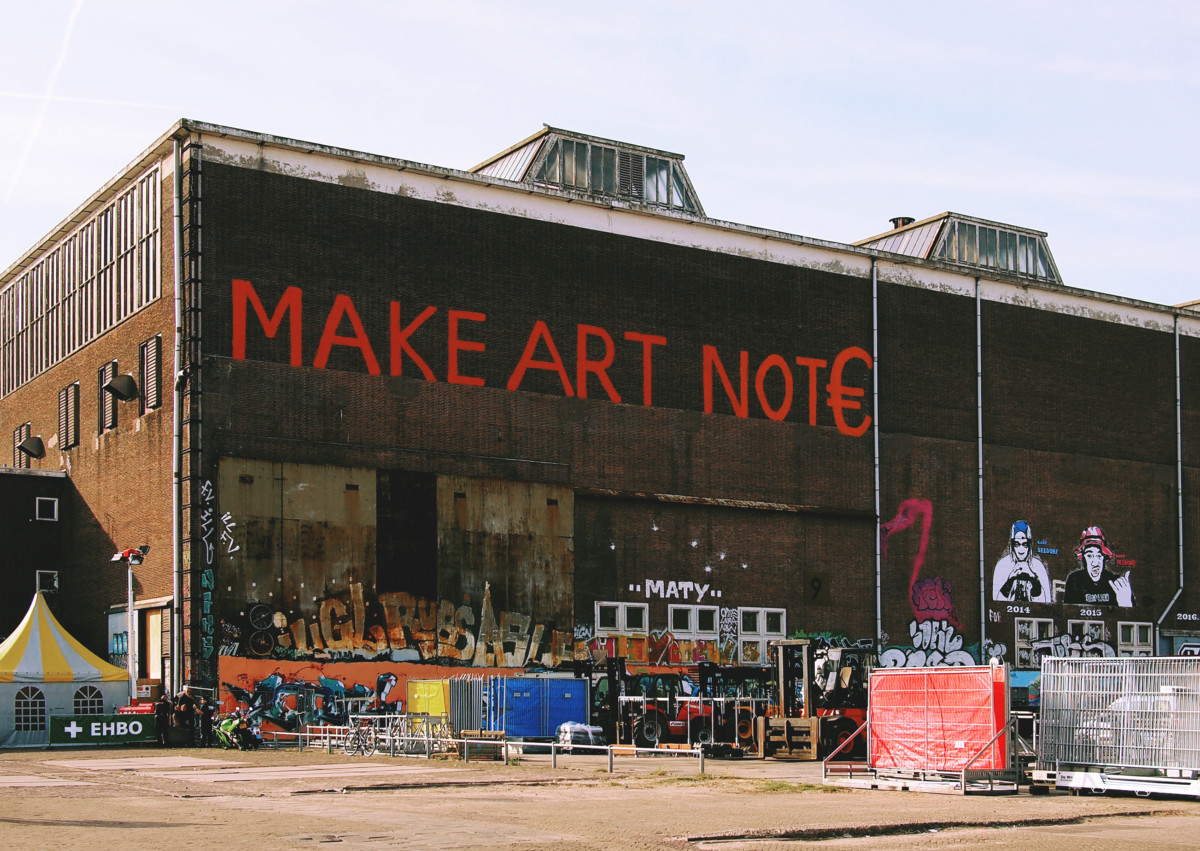 Oh, and if you're into architecture, definitely check out our video of awesome new buildings coming to Amsterdam in the future:
Enjoy Amsterdam's parks
Vondelpark, Oosterpark, Westerpark. Each of these parks is awesome, usually great starting points for a calm day out. Take a book, take a football, take a cold drink, take your friends, take a picnic blanket, take your child, distract your child by giving them bread to feed the ducks while you fall asleep in the sun.
When it comes to things to do in Amsterdam enjoying the parks is free and my goodness it's relaxing, take that phone off the hook guys, strictly no calls while you're chilling.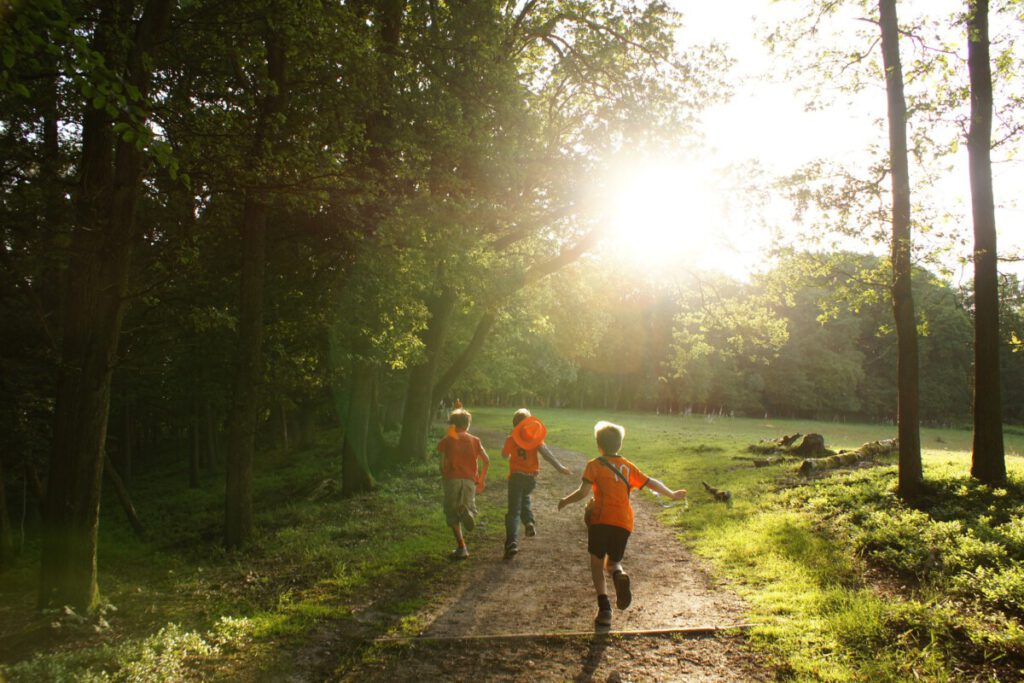 Visit the Rijksmuseum and Museumplein
This area is photogenic, classic Amsterdam and about as leisurely as it gets. Lay on the grass in the Rijksmuseum's massive square. From there you can visit the Rijks, you can do some shopping, visit the Stedelijk Museum. Many things to do, so little time.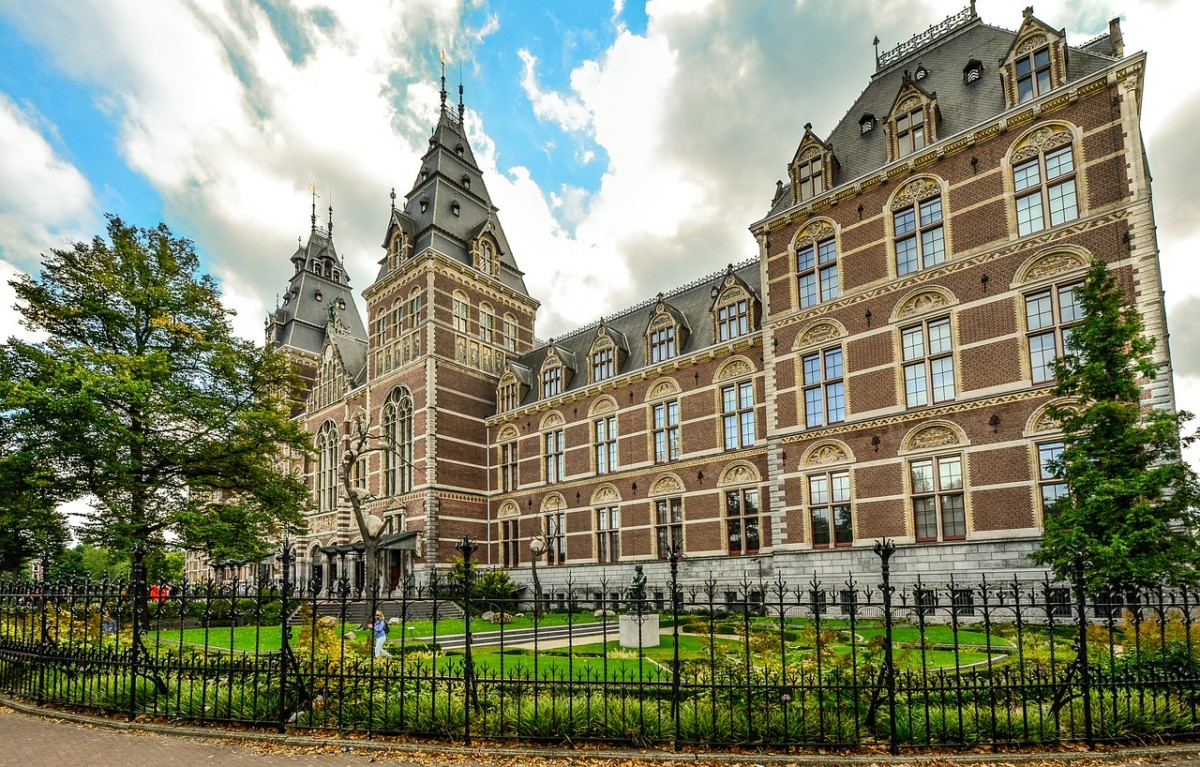 Flower market
The flower markets of Amsterdam are splendid. Bloemenmarkt is for everyone to enjoy. While in Amsterdam it's always important to enjoy the colours and variety found at a local flower market. Stop and smell the roses or tulips, as it were.
Located in the south, in Amsterdam Singel, this floating flower market is perfect for a chill day out. If you've been wondering how the Dutch and tulips became so synonymous you owe yourself a visit to the flower market.
Located: Singel, 1012 DH Amsterdam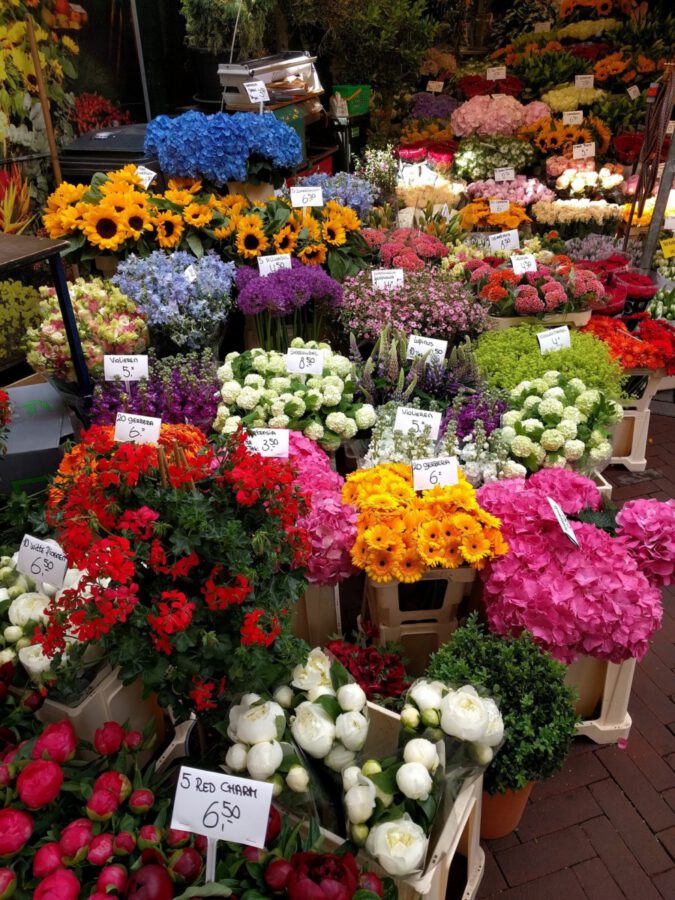 Eye Film Museum
I love films (so much that I call them films instead of movies, like a snob). We all love films, right? We've all seen the Dark Knight, yeah? What about Mama-Mia (okay I gave that one a miss) but for anyone looking for things to do in Amsterdam, they have films covered.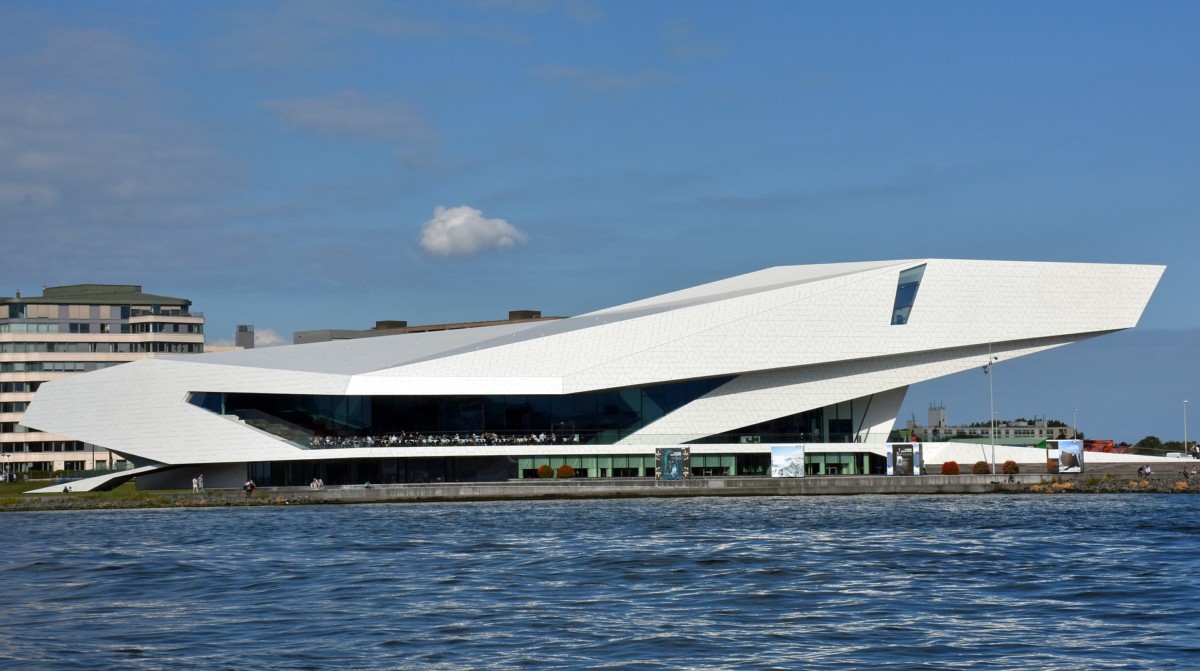 The building looks dope, like something out of Blade Runner, if you take a picture in front of it maybe just maybe people will call you a sophisticate of cinema. You have to actually see something, of course, they had a screening of Jonah Hill's directorial debut "Mid-90's" last month. They also have screenings of classics like Taxi Driver (you know the classics, no need to ramble).
If you've been to a cinema back home that you adore, then consider Eye Film Museum the mother of all cinemas. As a film lover, the singularity of this building's design is a testament to the art of film, there is nothing quite like it. There's your Instagram caption right there, you nailed it.
Visit a coffeeshop
The coffeeshops in Amsterdam are famed and look, they should be, they're great at what they do and in a few places, they're really accommodating. The best part of paying a visit to one of Amsterdam's coffee shops? The vibe, don't just grab a bag and run, stay a while, chat with the owners, take your friends, play some chess or read a book. (or you know, smoke some weed in Amsterdam)
We have an entire guide to the best coffee shops in Amsterdam, so you won't get lost when you go looking. We encourage you to branch out, other cities also have coffee shops and tend to be just as chill.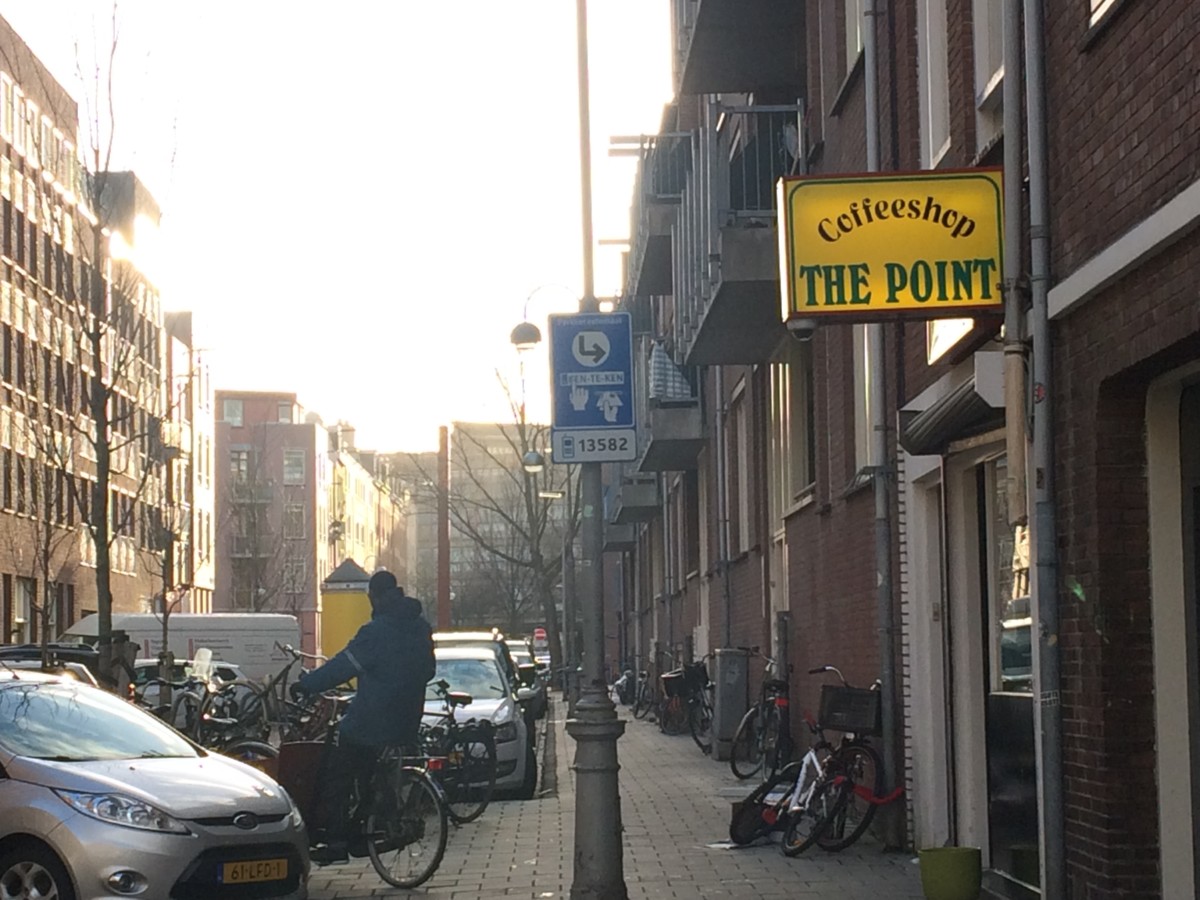 A'DAM Lookout
If you know some adrenaline junkies looking for thrill-seeking things to do in Amsterdam then the A'DAM lookout will hit the spot. This giant swing suspends over the edge of the highest look-out point in Amsterdam.
The DutchReview crew, obviously on the neverending quest for awesome things to do in Amsterdam, tried out the A'DAM lookout swing a while back.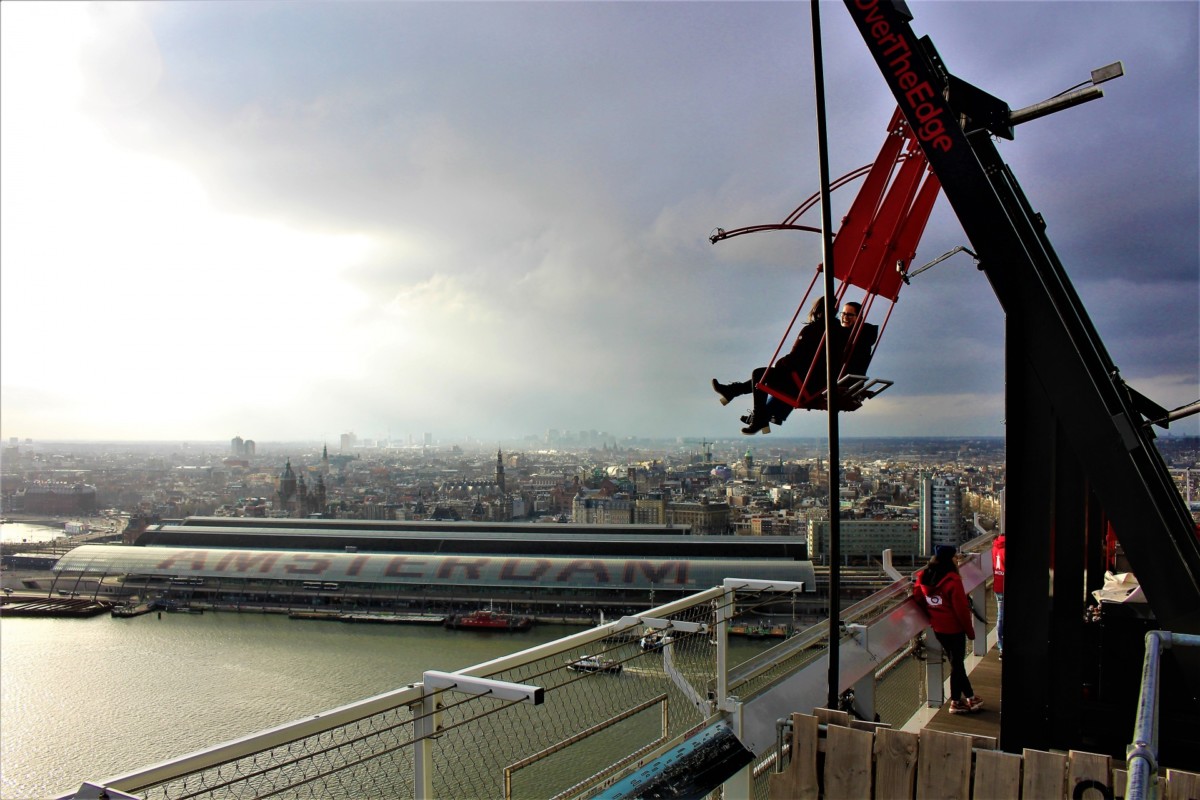 Take a romantic boat tour (private during corona)
There are plenty of themed boat tours in Amsterdam, but if you want something special, romantic, and personal then you can't go wrong with Rocco's romantic boat tour through Amsterdam.
It's perfectly cosy, and typically sails around the sunset hours, taking you to all of Amsterdam's most amorous spots. The tour includes special details like a glass of bubbles, romantic anecdotes about the city, and music that will have you falling in love all over again. And Rocco keeps it classy so you won't have to worry about it being cheesy (although, fun fact, some cheese is served onboard).
Normally, you'd be joining several other couples, but while corona is around Rocco just caters to one couple at a time — extra romantic! Check out his website and send him our regards!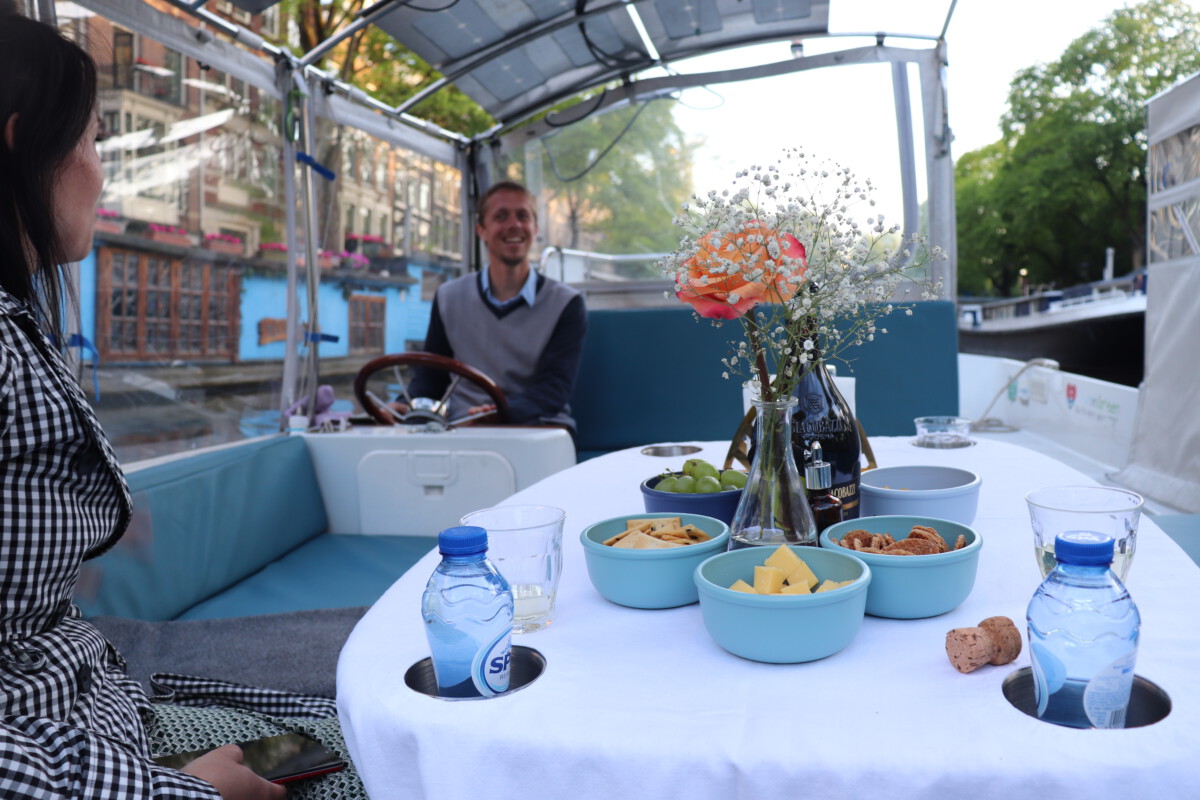 Check out the quality restaurants
Every major city in the world has its share of fine dining. Amsterdam is the proving ground for many a chef and restauranteur, as much as you think "Paris" when you hear "baguette", you might find yourself thinking "Amsterdam" for food in general.
It's no secret, the Dutch have been cultivating cheese since 400A.D. and dedicated themselves to the delectable tastes of Dutch cuisine for generations, think about it if they can focus on cheese for that long, imagine what else they can do. DutchReview has a great list of trendy food spots to get you started.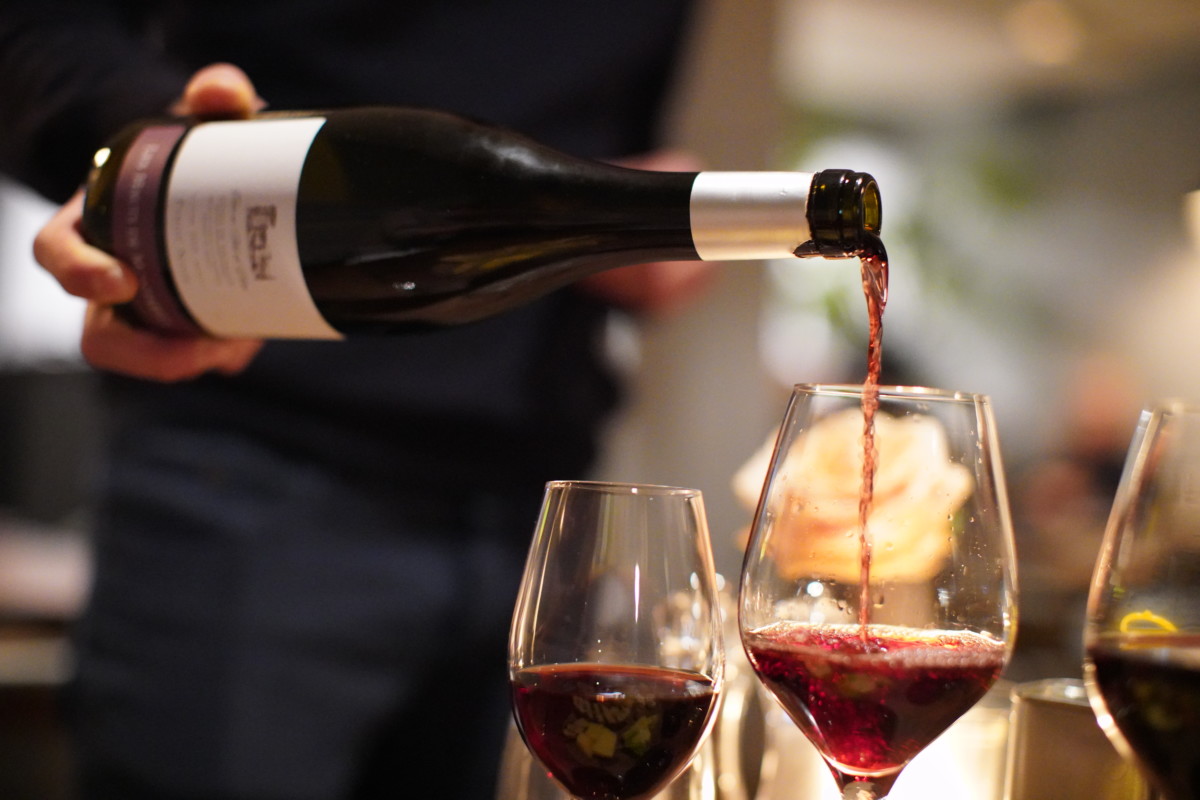 Walking tours?
If you're into that, then sure, find a tour and join a group to learn all about the history of this great city and the buildings in it. They can be really informative, it will help you know your way around the place after taking them too.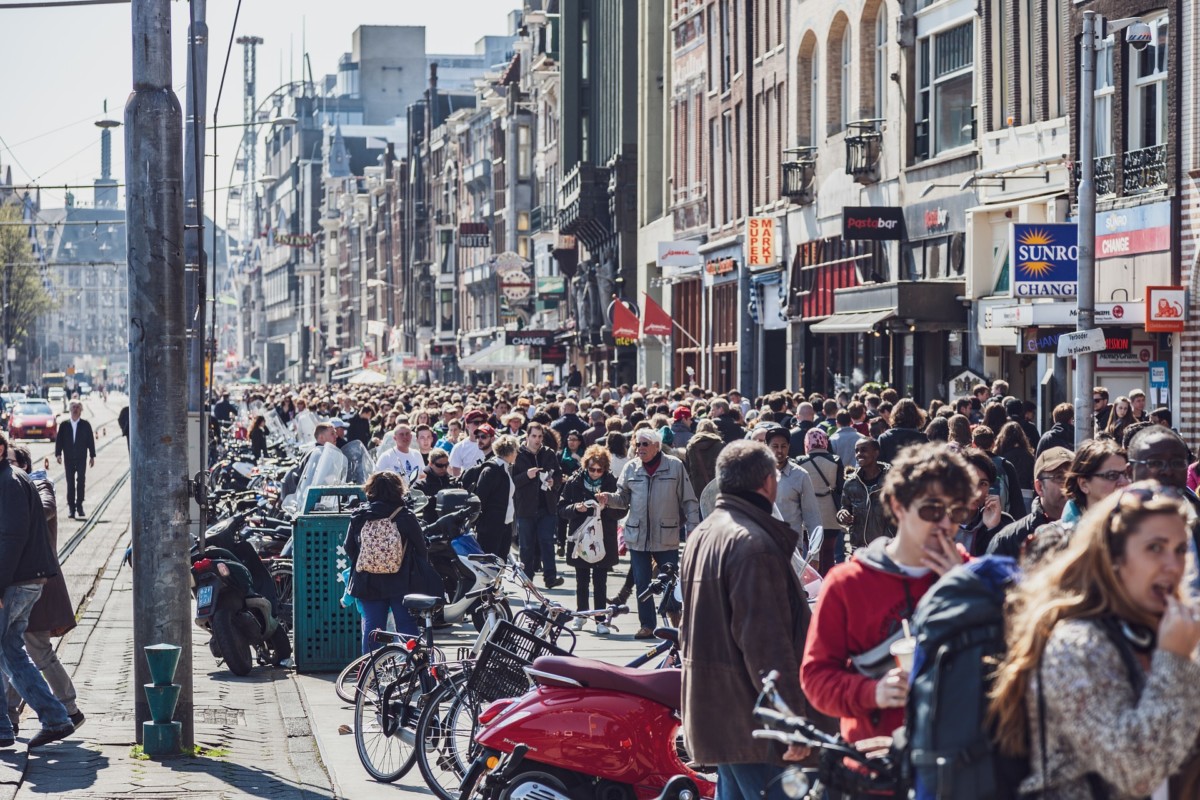 Amsterdam is one of the oldest… Ah, who am I kidding, you'll learn all about it on the tour. 😉
Visit the Van Gogh museum
When trawling through countless lists of things to do in Amsterdam you'll come across this suggestion a lot. The reason the Van Gogh Museum is the giant tourist attraction of Amsterdam? Quite simply Van Gogh was a Dutch master artist and his works are just as breathtaking today.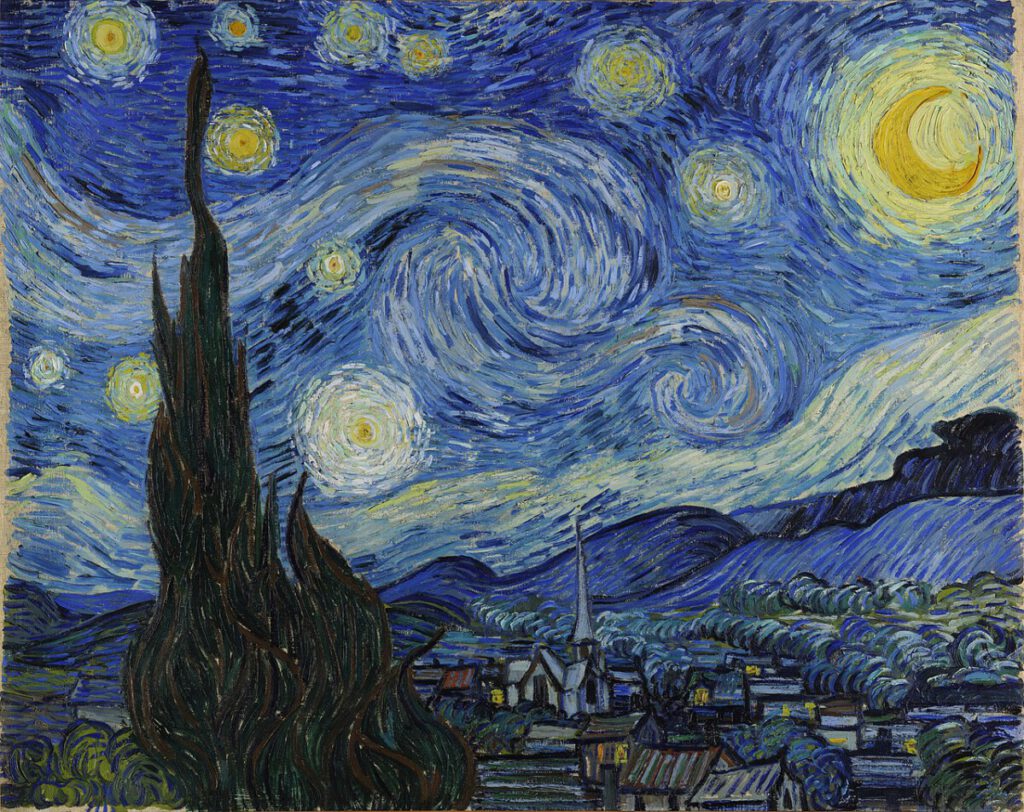 Why else? Because the giant scale of the surrounding area will make you feel small, and yes that's a good thing, Amsterdam is a major city and the Van Gogh is a major attraction. Also quite major is the size of the Stedelijk museum of modern art right next to the Van Gogh at Museumplein.
Markets, everybody loves cheap mangos
Whatever you're into, maybe it's rhubarb, maybe it's cabbage for a soup, the markets are for everybody to enjoy. Visit the market for the smells and ambiance alone, then follow your nose to some cheese or a euro black coffee from the passing cart.
Albert Cuyp, Dappermarkt, Waterlooplein. When thinking of things to do in Amsterdam, Albert Cuyp is a great day out. This street market in the elegant neighborhood of De Pijp has a twist, it is the busiest in the Netherlands. In peak summer, with 260 stands all selling great produce, it can get pretty shoulder-to-shoulder so slow your roll, take your time. The famous Dutch Stroopwafels are prepared fresh here, that hot syrupy aroma is simply breath-taking.
Read more︱Six of the Best Markets in and around Amsterdam
The Heineken Experience
Should you visit the Heineken Experience while you're in Amsterdam? You've heard about it, seems like a bit of a tourist trap (and hey, it kind of is) but it's fun to do once.
We have some of the ancient Heineken bottles on display. Which one do you prefer? https://t.co/yh91Jm81uJ pic.twitter.com/OJCEjU125g

— Heineken Experience (@Heineken_Exp) April 9, 2016
This one is for the beer lovers, the connoisseurs, if you don't get it you never will. From Guinness to Pilsner, Amsterdam has perfected beer and played a pivotal role in brewing and exporting it every year for generations. Heineken is a testament to that, grab a cold and frothy beer and head down to the Heineken experience. Tickets go for 18 euros (15 online), you get a free drink and you'll get a free map of Amsterdam when you leave.
Vintage shops, finding trendy clothes is a great thing to do in Amsterdam
Everybody loves vintage shopping, right? Right, because you don't have a denim jacket and you should. These stores might seem a little pricey but they have some really cool clothes.
"Episode" is a good first stop, then peep "Rumors Vintage" for some out of the ordinary gear, then pay "We Are Vintage" a visit. If you still haven't found your fit then Marbles Vintage & Design, Bij Ons vintage or Kilo Shop will have what you need.
Foodhallen
You have some money to spend, you have an appetite, take that hungry belly of yours all the way to Foodhallen. Variety is the factor that Foodhallen offers above all others, it's best to try a little of everything. From sushi to burgers plus an incredible gin-bar.
Perfect for entertaining large groups or just taking a date somewhere different, walk inside one end and nibble your way to the other. There's an abundance of delectable foods to try. It's a great destination if you're already walking around Amsterdam because it's reasonably accessible, located at Bellamyplein 51, 1053 AT, Amsterdam.
House of Bols
Need more things to do in Amsterdam? We've still got you covered, there's also drinking involved (woo!). Have you ever wondered how delicious cocktails come together and what makes them work so well? Look no further than the House of Bols. This museum of cocktails will take you on a tour of the process, encompassing all the smells and tastes that make cocktails so damn fancy and delicious.
Another cool picture from @HouseOfBolsNL #amsterdam. Enjoyed learning about the history of cocktail making! pic.twitter.com/nCfPhqQS3o

— Charlene (@NoLoveSincerer) May 25, 2016
Tickets are 16 euros, you must be legally allowed to drink, and a cocktail is included in the ticket price (espresso martini anyone?). You can then buy cocktails all night long for 6 euros each — Proost!
Visit Madame Tussaud's wax museum
For all things wax, if you've never been to a wax museum (and honestly I don't know many that have) then why not? Tickets online are 20 euros per person so maybe a bit pricey. The likeness is supposedly uncanny though.
Do you want your face on Bieber's bicep? They can achieve this for you, using a projector and imagination, Madame Tussaud's will project an image of your face onto the wax figure of the teen pop sensation. (I swear I wasn't drunk when I wrote this, it's a real thing).
Get lost in Amsterdamse Bos
Amsterdam has a forest, and there's quite a lot of fun to be had there. It's got an adorable little gnome trail for the kids. Maybe a scenic boat ride through the canals is more your speed, how about a drink and a forest walk? Sometimes it's nice to just take a deep breath and look up at the far-reaching trees, stoic and tranquil. Eat, drink, relax.
If the forest is boring you, what about a goat-farm? These hilarious little critters with scruffy hairs on their chin (I could watch baby goats for hours). "Geitenboerderij Ridammerhoeve" has over a hundred goats that produce cheese, butter, yoghurt — and according to Amsterdam Bos' goat farm, "even the ice cream is made of goat-milk". The farm is also home to a handful of chickens, cows, and pigs. It's been in Amsterdam since 1988. Again, great for families!
Foam Photography Museum
Finding things to do isn't always easy, sometimes we'd like to enjoy a day on our own, maybe soak up some sun then take a guided tour of the Foam photography museum. It's close to the center of Amsterdam, on Keizersgracht st.
Tours are offered in Dutch and English but starting times for each tour may vary so plan a visit to Foam now. Just the other month they had Daniel Shea in from New York for a Q&A about his exhibition.
Droog Art Gallery
A store, a cafe, a co-working space, an art gallery. A place where you can expect something entirely different on almost every visit. It's a trendy spot in Amsterdam, somewhere with coffee, some sleek design, and events of some description. Look no further than Droog art gallery.
If you walk in, have a coffee and realize you like something you saw in Droog, see if it's for sale. They also host events like book launches and discussions.
Spend a day getting lost in Moco Museum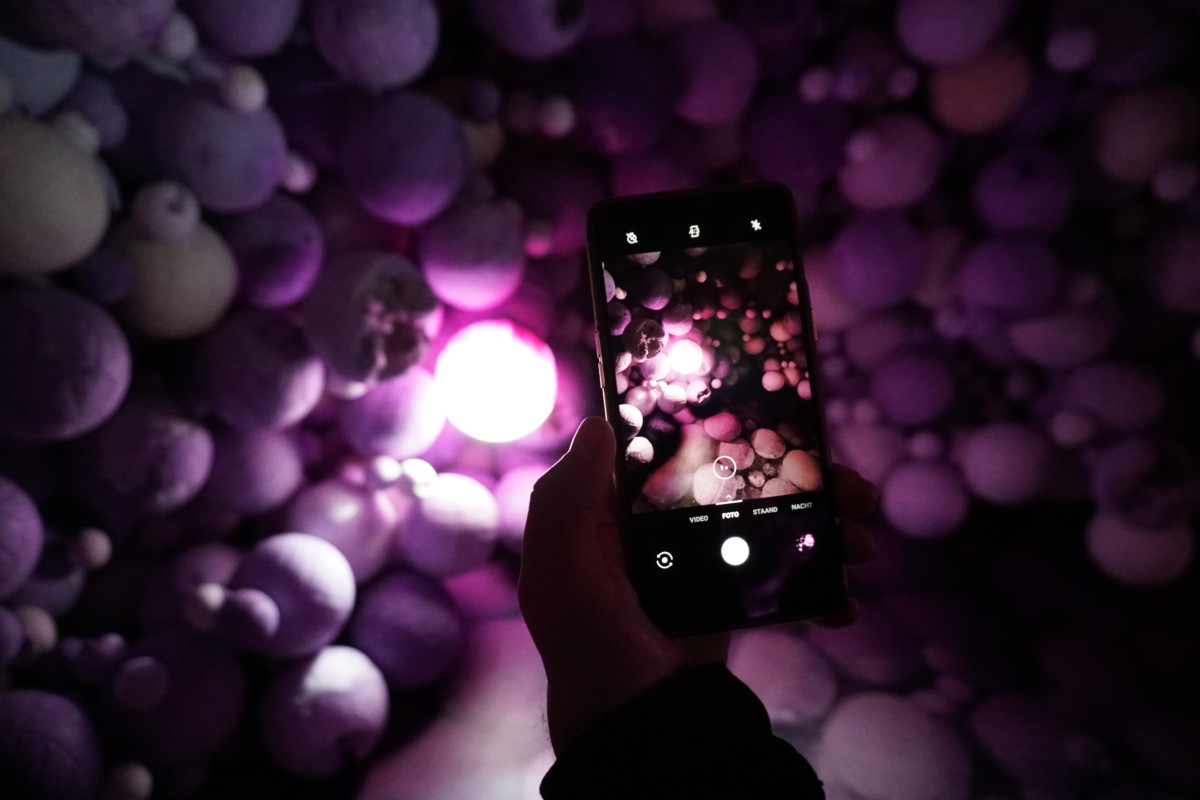 Tired of the age-old paintings of Rembrandt? Are you looking for something a lot more contemporary? If you're into the Banksy at all, then the Moco Museum (Modern Contemporary Museum) is the place for you to go. Right in between the Rijksmuseum and the Van Gogh Museum, this place of wonderment is the perfect place to spend a day getting lost.
My Escape Club
Tired of the hustle and bustle of the big city? Do you want to escape? Are you a thrill-seeker? Then head on over to My Escape Club and escape the real world for a while. Work through simulations of…well, just watch our video and find out!
Boom Chicago
Boom Chicago in Amsterdam is where you should go if you want some good quality improv comedy, all in English! We were intrigued to check out what this place actually was and we left with a catch in our stomach from laughing too much. If you want to know more, we have a whole article about it just for you!
Read more︱Boom Chicago in Amsterdam: the place to go for comedy in the Netherlands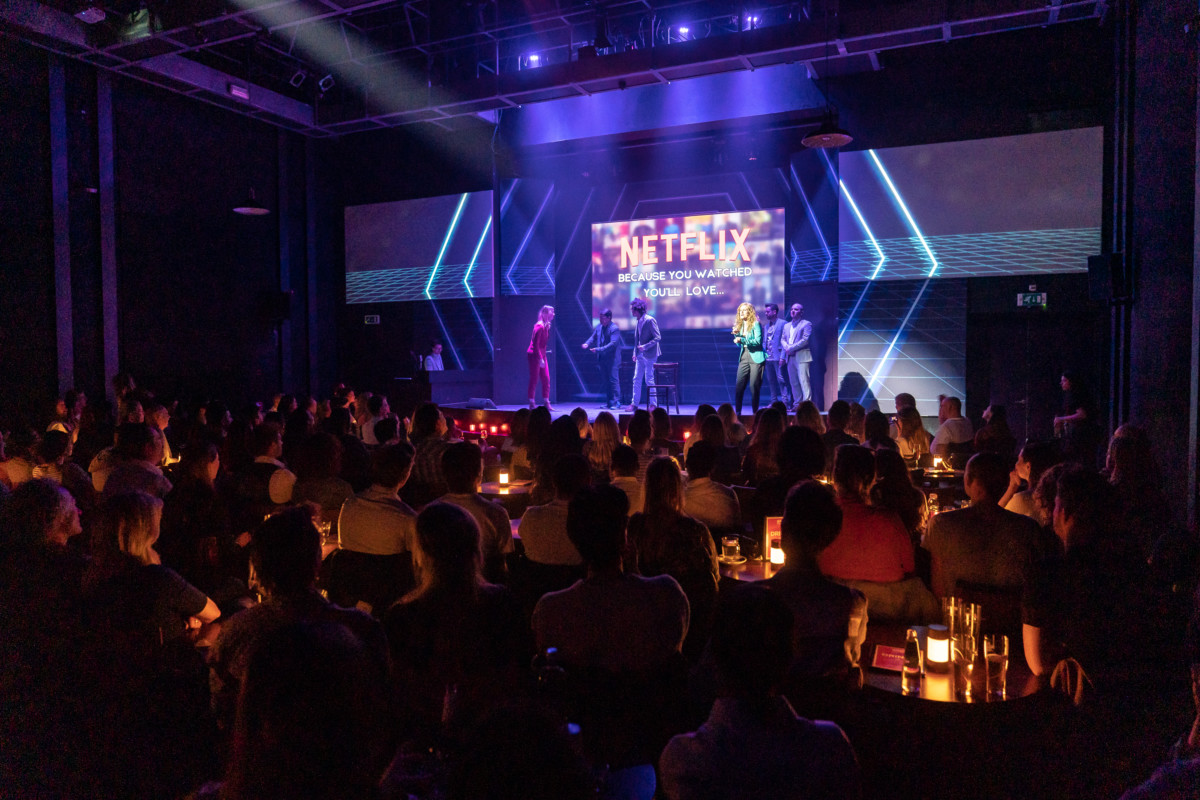 Red Light District
The Red Light in Amsterdam is infamous for a lot of things, but there are things you might miss there because of its reputation. If you are in the area to explore, we have made a list just for you. We also cover etiquette for the creeps out there, museums in the area and whether you can take (ethical) tours through the district.
Well, we've arrived at the end of our guide. If you've been crossing all the attractions off one by one, congratulations, you're more than prepared to explore the best of Amsterdam.
Which one of these attractions interests you the most? Tell us in the comments below!
Feature image: Patano/Wikimedia Commons/CC3.0
Editor's note: This article was originally published on April 14, 2019, and has been updated in January 2021, for your reading pleasure.