If you're an expat like me, you've probably gone through the process of setting up a bank account here. I have taken the liberty of outlining the steps, and then making some generalizations about the system.
Step One for a Dutch Bank Account: Determine you need an account.
If you're an American, this won't take you long to figure out. Your credit cards are worthless in this fine land. Bank of America tried to solve their problem of exorbitant international withdrawal fees by not fixing them, but instead offering more credit cards. Well, apparently The Netherlands believes in security more than in the States, because those credit cards don't work. They don't have that fancy chip, apparently. Rejected. Your plastic money is not worthy here.
Even if all those nice cards did work, Dutch people don't even really use credit cards that much. You're not even impressing anyone by carrying them around. Oh, look at all my shiny plastic. Said no one ever. At least for those people trying to steal your wallet, you have nothing of value. Joke is on someone else. Maybe?
Without a Dutch debit (pin) card, you can not use the train or buy a salad at the bougie pin-only vegan place up the road. Why do those ticket machines at train stations only take coins or pin cards? If you have an OV-chipkaart, who in God's name has the twenty euro minimum in coins to keep it going? You check anyway, digging through your purse. Determine for the third week in a row that you still don't have 20 euros in coins. Wait in a 15 minute line for a teller to sell you a ticket, when your train leaves in half that time. You miss your sprinter (no toilets!). You drool lustfully over the 15 euro salad you can not buy with cash. Pin only. Each one of these adventures makes you realize you need a checking account here. ASAP.
Step Two for a Dutch Bank Account : Determine which bank is right for you
I would have liked to pick some hippy dippy bank that saved whales or creates eco friendly landfills or feeds orphans, but all those banks only exist online, in Dutch, or don't exist at all. So I picked one that seemed to provide English friendly services.
Step Three: Attempt to Set Up An Account
If you have the unfortunate luck of being an American, you need to wait up to three months for your paperwork to get through before happily bringing it to the bank, to set up an account. When my time finally came, I rushed into the bank and, after an agonizingly long chat, it was determined I needed an appointment. I find this funny because in NYC, there are handsome suited men from all the big banks out on the streets, constantly trying to convince you to open an account by gifting free lollypops and standing by balloons. Is this a party you think? No, it's a checking account promo! Here, in The Netherlands, when I tried to open an account, I got the third degree. The lady looked at me like I had three heads. "Why do you want to do that?" "Well, because I proudly carry around a million American credit cards that don't work here. I am a resident now, and I'd like to be able to pay for things." Fine. We'll make you an appointment in three days. But we're not overly excited about it. No balloons.
* 2017 Pro tip time: the newest bank of the Netherlands: bunq has just launched an app for expats, read about it here or sign up straight away here.
Step Four: Open Account.
The time has finally come! Your appointment is here. Your life will be easier soon. Both times I went to the bank it smelled like weed or just really cheap coffee. Nothing brings confidence to your banking decisions quite like the smell of drugs on a Monday morning. In my appointment, I was asked to wait in some nightmare "living room" space in the middle of a massive empty area. "Why does this bank need so much space?" I kept thinking to myself. There was no one there. There was not even anything happening in the empty space. No furniture or people or brochures. Emptiness. Symbolic of banks usefulness in life maybe. A void. Just there. Being a nuisance. Either way, you need them in this moment. You're getting ready.
When I was finally invited in to have my appointment, the woman took about 20 minutes to create my account. Quick enough. She had me look over the paper, and I politely pointed out to her that my last name was spelled incorrectly. I have a "De" at the beginning of my last name, with a capital D. She had only capitalized the second part of my last name, not this first 'd.' The woman assured me though that in The Netherlands, that is how you spell my last name. She even tried to convince me by showing me her business card, also with a "de" last name. Well, okay. I mean, who am I to say how to spell it?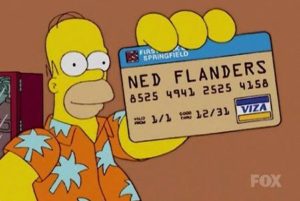 Step Five: Regret everything. Reflect and Repair.

You've done it. You've made an account! Now, in a very Dutch way, there will be a series of letters stating that you will be receiving more letters. You will collect all the letters and set up online banking. This requires a fancy contraption to  literally pin into your computer. Yes, an online username and password is not secure in this country. Security at the risk of efficiency. In the States, efficiency at the risk of security.
When I finally logged in, I noticed that not only was my last name spelled differently (as I had approved) but my nationality and birth date were wrong as well. Everything needed to set up my account was incorrect. The woman had my American passport to copy information from. How do you get my birthday completely wrong? And my nationality confused from an American passport? This is when your former self, the one who is not self consciously living in a new country, comes out. Unacceptable.
Sometimes it's moments like these that are good reminders for me. Even though I don't know Dutch and am trying to be respectful of how things run here, I still expect the same kind of service as any reasonable person would. Each one of these situations is practice, making you stronger for the next time. More confident. More able to determine what's cultural, and what's not okay. Get mad, and then take a deep breath and handle it as anywhere else would. Contact the woman. Get it fixed.
Step Six: Come Out A Victor
Like most things in The Netherlands, the set up is the longest and most irritating part. Once you're in the system (whether it be for wifi, city registration, health insurance or banking), things seem to run pretty smoothly. There are some exceptions. You may still curse every time you want to log in online and realize your pin contraption is in the other room. You may be inconvenienced every time you have to transfer money internationally, or want to check your balance at an ATM (not always something you can do). But overall, you have made it. You can buy fancy salads. Take the train. Live your life.
Step Seven: Transfer some money through the world
Whether you want to send your little American niece a little something for her b-day or you finally want to cash in on that African prince's his lost treasure -chances are that if you're an expat you want to wire some money throughout the world. Turns out that capitalism isn't just a friend who helps you without wanting anything back in return. Yes, banks and other organizations can charge you hefty costs and commissions when it comes to transfering money. I've found that TransferWise is the way to go in this day and age.
TransferWise offers a streamlined and relatively inexpensive approach for its international money transfers. This up-and coming United Kingdom-based company combines low overall costs with a convenient web experience for sending money to family or friends in other countries. Its foreign exchange rates tend to be among the best available. But the service isn't for everyone. TransferWise sends only online- and mobile-initiated international transfers to bank accounts in 60 countries. Pay them a visit and transfer that money if the service is available for your country of choice!
Step Eight for a Dutch Bank Account: Reflect on the Process
In the States, credit cards and cash rule all. If you don't have it, you can spend it anyway, with credit. If cards aren't accepted though, you're only as good as the cash you have on you. A lot of small restaurants and mom-and-pop stores are cash only. The fees to pay to use a card (debit or credit) are too high. They value you as you stand in front of them, digging in your wallet.
Here in the Netherlands, you're only as good as what you're legally allowed to have – a checking account, and thus a pin card. If you don't have that, you'll struggle to pay for a gym membership, a train ride, an online job fair, etc. Pin only. When I first moved here, I cursed silently every time an establishment wouldn't take my cash, every situation that only took a pin card. Why am I not good enough to use the money I have, I would think. I am sure the Dutch banking system was not set up to make foreigners feel this way, but the effect is the same. Other. Different. Can't pass go.
At the same time, in a lot of ways, it's a better system than what I am used to in the States. You are only able to spend the money that is in your account, nothing more. No fancy credit cards. No "I'll pay later." You pay here, and now. Securely. This is just like the Dutch in a lot of ways – upfront, no extra frills, and only easy for people if you're from here, not an outsider.
Hopefully this post will encourage you in the process, knowing you aren't alone in the adventures of Dutch banking.