We have all been there – super high wandering the streets of Amsterdam with the munchies. The biggest obstacle is no longer avoiding getting hit by a bicycle, but avoiding the food tourist traps. The truth is, the munchies take over your wallet.
We don't even know how it happens – what are the munchies even? According to BuzzFeed, the THC in marijuana stimulates your endocannabinoids, the compounds that signal to you that you're hungry or full. Even if you're totally full, you'll still feel hungry!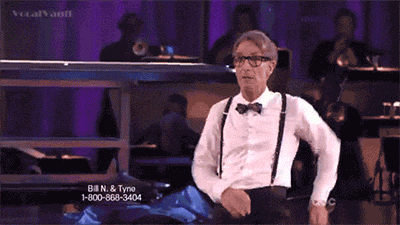 Perfect if you want to try the 10 best munchies in Amsterdam below. Instead of just giving you the top places, I'm deciding to tell you what to order because you're probably too high to choose. You're welcome!
And don't forget your smoke breaks to stimulate your endocannabinoids!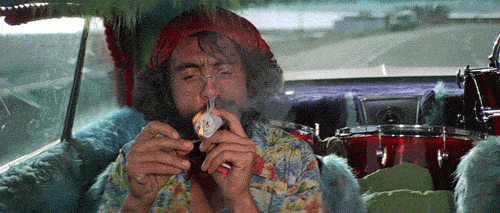 Fries are a must have after a trip to a coffee shop in Amsterdam. At Moeke's you can get some homemade fries for 3,50€. The key for the best fries is in the sauce and topping so it might be worth spending some extra cash on these. I recommend the pulled pork and smokey BBQ sauce for an extra 6€ if you're feeling fancy.
Location: Zeedijk 71, 1012 AS Amsterdam
#2 Krokets with mustard @ Van Dobben
A 10-minute walk from Rembrandt House, the krokets at Van Dobben are as typical as Dutch krokets get. Deep-fried and filled with meat, these mouthwatering krokets are served best with mustard.
You can also buy 18 frozen of these at Albert Heijn for 3.55€ to eat at home when you have the munchies again. Much cheaper than a take out.
Location: Korte Reguliersdwarsstraat 5-7-9, 1017 BH Amsterdam
Open every day until 10 pm, Van Wonderen is the specialist in the field of stroopwafels. Worth the long queue, you have a large range of toppings to choose from, including marshmallow and smarties. Order the chocolate with marshmallow stroopwafel and snap a photo for Instagram if your followers are into food porn.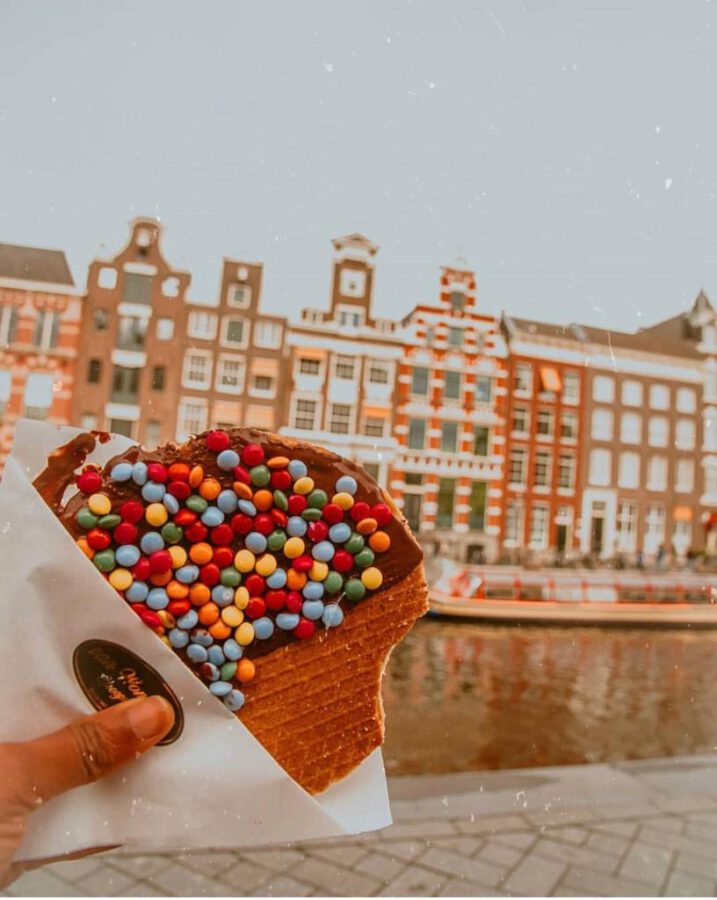 Location: Kalverstraat 190, 1012 XH Amsterdam
Munchies and pizza go together like the Dutch and cycling. For less than 10€, try the margherita pizza at Sotto. It has a crispy base and the PERFECT tomato/cheese ratio.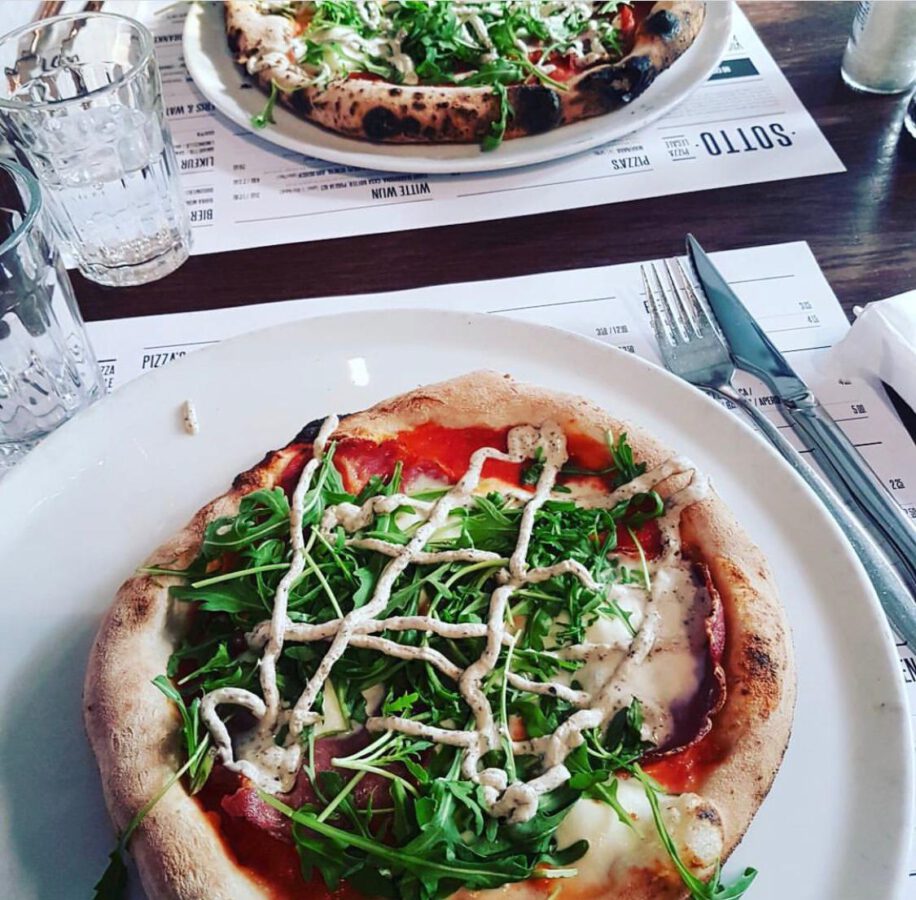 Location: Amstelveenseweg 89, 1075 VW Amsterdam
Perfectly situated a minute walk away from 420CoffeeShop, you cannot miss the cookies at Van Stapele Koekmakerij. Made from high quality chocolate dough, with a soft white chocolate filling, you won't mind standing in line to try these unique cookies.
These are so well-known in the city that they tend to sell out before the end of the day, so get there early! Maybe have them for breakfast after you wake and bake?
Location: Heisteeg 4, 1012 WC Amsterdam
Starting at 5€, you can get all kinds of funky dogs at Bulls & Dog with the craziest names. They have hot dogs for everyone, from lamb to tuna dogs. They even have a "This Is Not a Dog" for the vegans, made with soybeans, hummus and POPCORN! Order the bacon and melted cheese one seen below.
Location: Van Woustraat 58, 1073 LN Amsterdam
The pastry tompouce is an iconic staple of the Netherlands. These have two layers of puff pastry and usually pink icing on top. Have it on King's Day and the icing will be orange – festive! Also, prepare to eat two or three if you have the munchies.
Location: Vijzelgracht 15, 1017 HM Amsterdam
The cue at Leeman Doner can be a hassle, but worth the wait for less than 4€. They're a genuine family owned business and even make their own doner rolls. Many say their kebabs are the most authentic in Amsterdam and even Europe!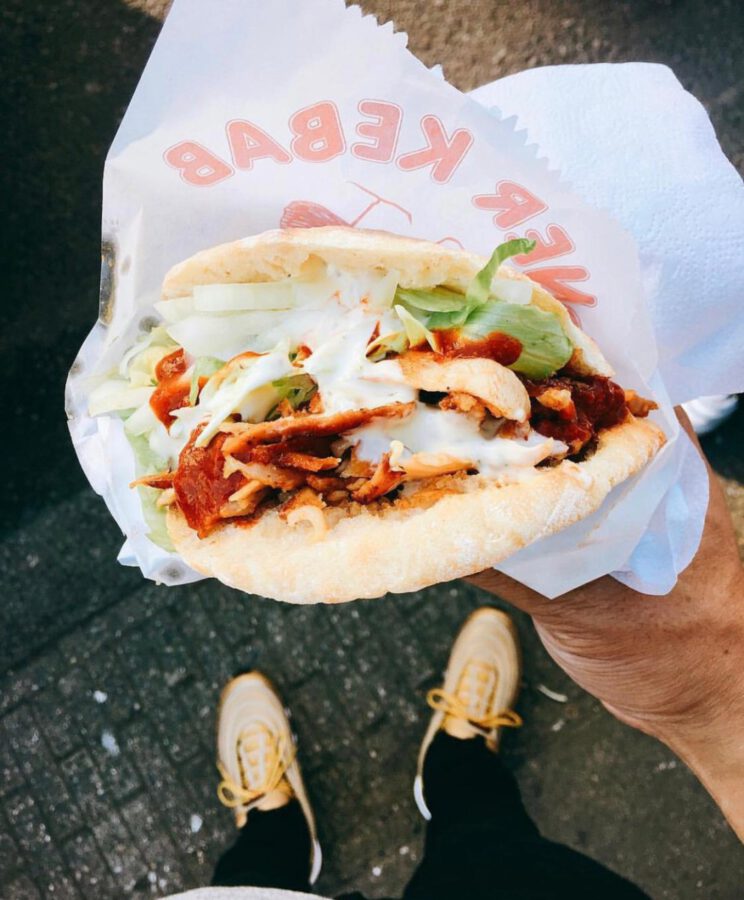 Location: Van Woustraat 160, 1073 LW Amsterdam
Located in the heart of the Jewish quarter the "Jordaan", Winkel 43 is home to an award-winning apple pie. Served with cream, this apple pie will literally blow your mind and I didn't even have the munchies when I tried it.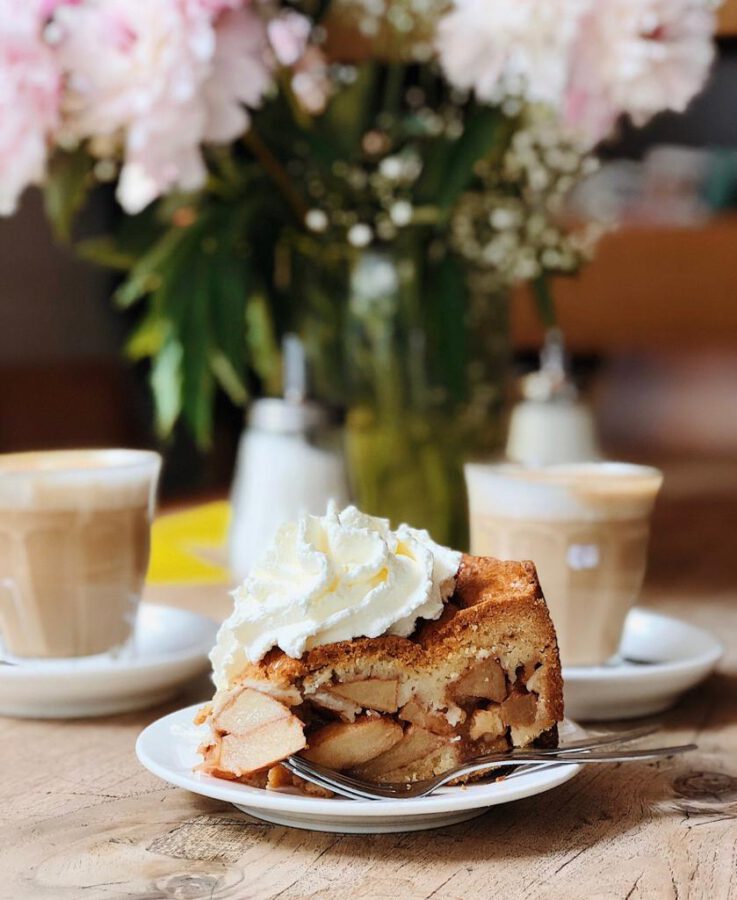 Location: Noordermarkt 43, 1015 NA Amsterdam
The Chicken Bar is the best place to enjoy rotisserie chicken in Amsterdam. Just 10 minutes away from Leidseplein, get yourself some chicken wings.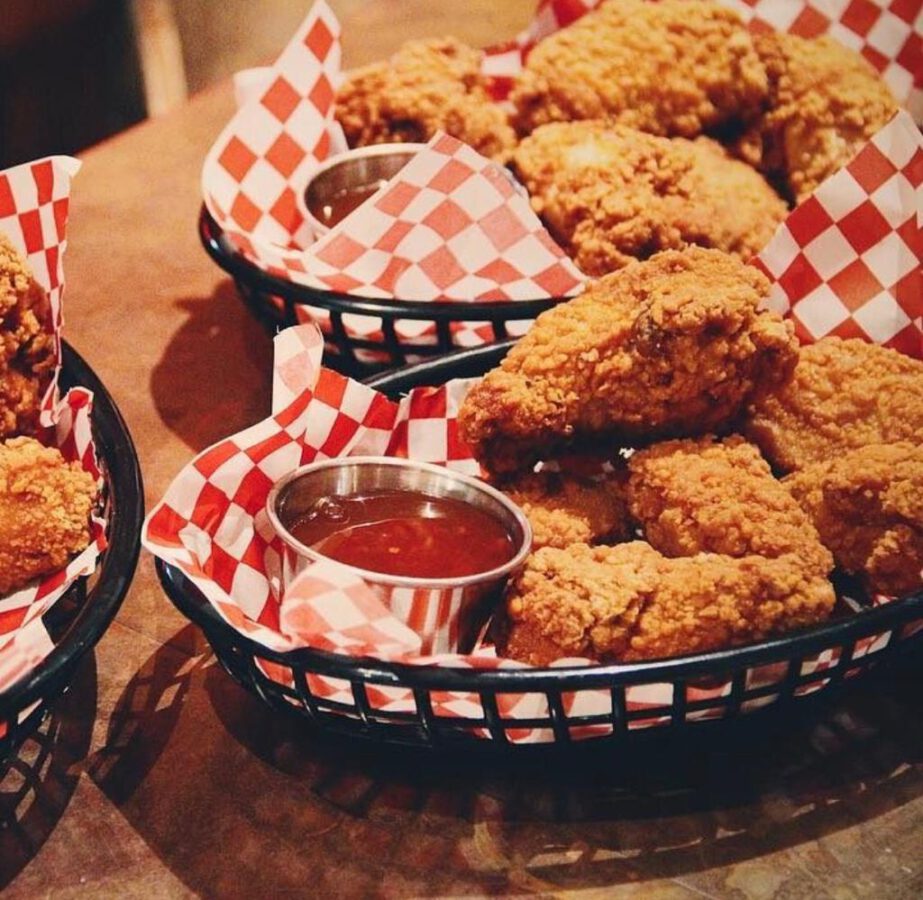 Location: Voetboogstraat 6, 1012 XL Amsterdam
Cereal & Chill opened in De Pijp last November where you can enjoy the best of 90s gaming and create your own bowl of cereal. Even better than the cereal – their nutella toastie with banana or marshmallow.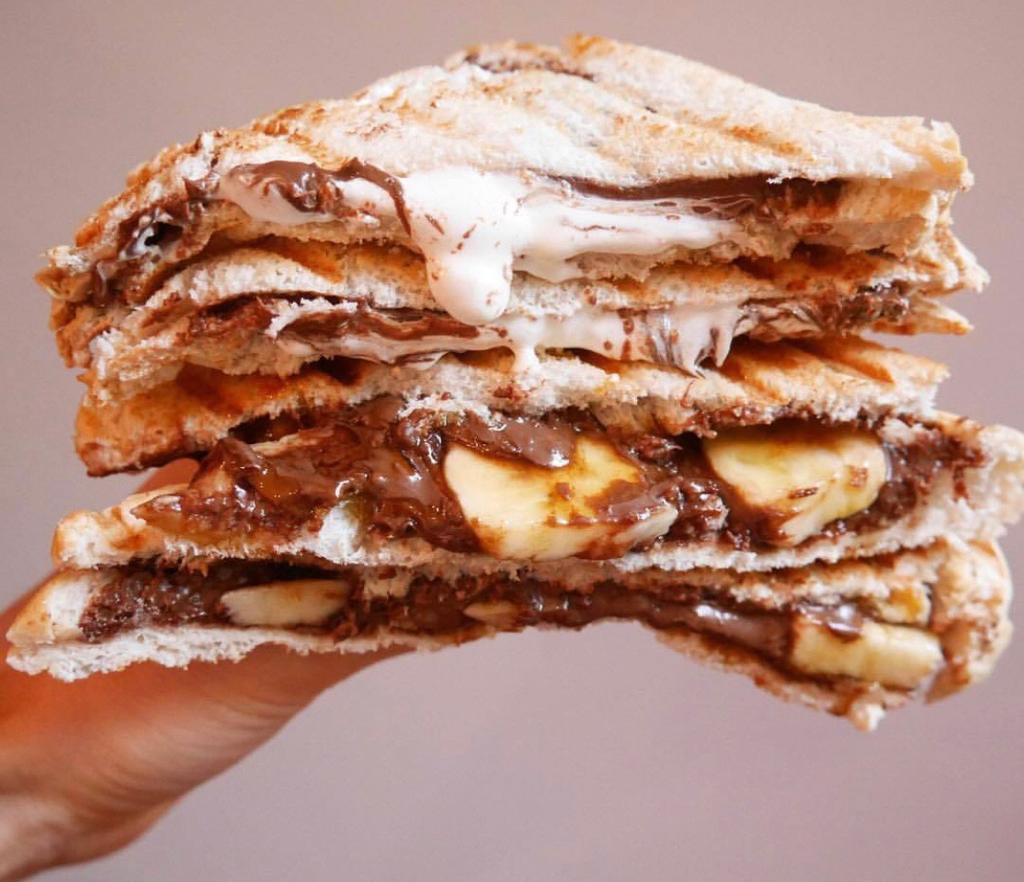 Location: Dusartstraat 22, 1072 HS Amsterdam
#12 "Freakshakes" at @ REE7
Finally, if you're willing to REALLY let the munchies take over your wallet, pick up a "freakshake" at REE7 in Reestrat. These are quite expensive at over 10€ but c'mon they have donuts on them! They come in delicious flavors and my favorite – cotton candy! Worth it for a special occasion.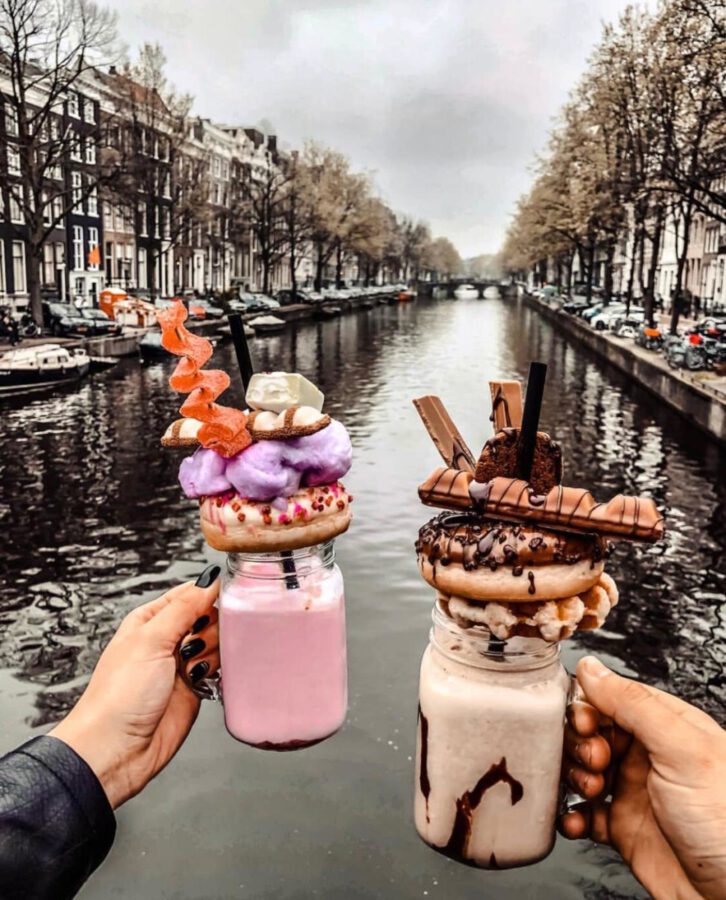 Location: Reestraat 7, 1016 DM Amsterdam
I dare you to cover all these places in a day! If you ever get full and want to smoke up, check our 12 best coffeeshops in Amsterdam. Also take a look at our ultimate guide to smoking weed in Amsterdam for some inspiration. Tag us in your Instagram posts with #DutchReview to be featured. 
What are your favorite munchies in Amsterdam? Let us know in the comments!