It's hard to deny the massive growth of urban culture in the country's second-largest metropolis and this is leading to even more awesome architecture in Rotterdam. Is it the new centre of cool? These incredible buildings may just prove so. 
With local initiatives popping up almost daily and an increasingly vibrant nightlife, it should not be surprising to see the city rising to claim a larger place on the world tourism stage. Of course, this growth and gentrification is still far from problem-free, but it is resulting in an abundance of new reasons to visit.
What mainly sets Rotterdam apart from other Dutch cities, however, is its modern and innovative architecture. Ask any Dutch citizen about Rotterdam and (save for a myriad of snide comments that may occur when asking an Amsterdammer) they'll probably tell you about the city's architecture.
The city's buildings stray away from the traditionalist Dutch style. As a result, the city arguably has the most prominent skyline of any city in the country. It has even picked up the nickname, 'Little New York' (although being a proud New Yorker myself, I have my issues with this statement).
Architecture in Rotterdam: A Brief Modern History of Rotterdam
So how exactly does a Dutch city suddenly stray so far from its roots? Well, in short, it was bombed. On the 14th of May, 1940, the German army wiped out all but a few of the buildings in the city centre. Hence that Rotterdam is frequently referred to as 'stad zonder hart' (city without a heart). Even now, more than 75 years later, the event is still shaping the city today; Because instead of simply rebuilding, they decided to design a new city.
Led first by W.G. Witteveen, and later by Cornelius van Traa, the city's redesign was largely characterised by wide streets and sidewalks, as well as (more problematically) the separation of districts. This separation of districts designated the centre of the city to be reserved almost solely for commercial and business purposes. Residential areas were moved to the outskirts and what resulted was a city centre largely devoid of any nightlife.
Backlash from citizens erupted in the late 60s and early 70s, and life started crawling back into the heart of the city, but it wasn't until recently that we are truly seeing the rebirth of the city centre.
The city's bombing essentially meant a clean slate for architects to work with. Combine that with a city government that is always looking forward, and the result is an architect's playground. While there are many, many examples of modern architectural innovation in Rotterdam, I've selected some of my favourites to prove why Rotterdam is the best architectural city in the Netherlands.
Architecture in Rotterdam: Erasmus University College – Nieuwemarkt 1A
Ok, so right off the bat I'm already pushing the boundaries of this list's unspoken rules. You see, Nieuwemarkt 1A isn't really a modern building. In fact, it's one of a handful of buildings that managed to survive the bombing. Designed by J.B. Logemann, it was originally built in 1924 as the public library. It takes first place in our list because it is also where Witteveen and his team initially set up shop to redesign the city.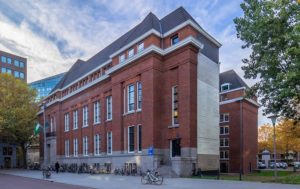 Since then, however, the building no longer plays host to the library, which has moved to a new home nearby. Today, Nieuwemarkt 1A is home to Erasmus University College (EUC), a liberal arts and sciences college of Erasmus University (It also happens to be my own study, so sure I'm a bit biased).
While the building was temporarily occupied by an educational museum, the arrival of EUC came alongside a massive interior renovation. This renovation, led by architect Erick van Egeraat, brought an injection of modernity into the former library and created what we have today: a meeting place of the old and new. Although it's no longer frequently open to the public, you can take a virtual tour through the whole building here.
Architecture in Rotterdam: De Rotterdam
Known affectionately as 'De Reus van Rem' (The Giant of Rem), this building, designed by Rem Koolhaas, was completed in 2013. Although not the tallest, it is the largest building in the Netherlands, with a total floor space over 160,000m2.
Currently, it is used as space for the Nhow Hotel Rotterdam, several apartments, and a number of offices, many of which are owned by the municipality. The Council on Tall Buildings and Urban Habitat even awarded the structure the 'Best Tall Building in Europe' Award in 2014.
Since its completion, it has quickly become a landmark and symbol for the city, which shouldn't be surprising given its relative enormity; And with a name like De Rotterdam, how couldn't it be on this list?
Architecture in Rotterdam: Montevideo
Sticking with the Wilheminapier for our next entry, we come to Montevideo, which also happens to be my personal favourite. Call me shallow if you want, but this building has found its place on my list simply due to its exterior. The Montevideo is home to apartments and offices, but who really cares about the inside? I mean, look at it! (It's pretty.)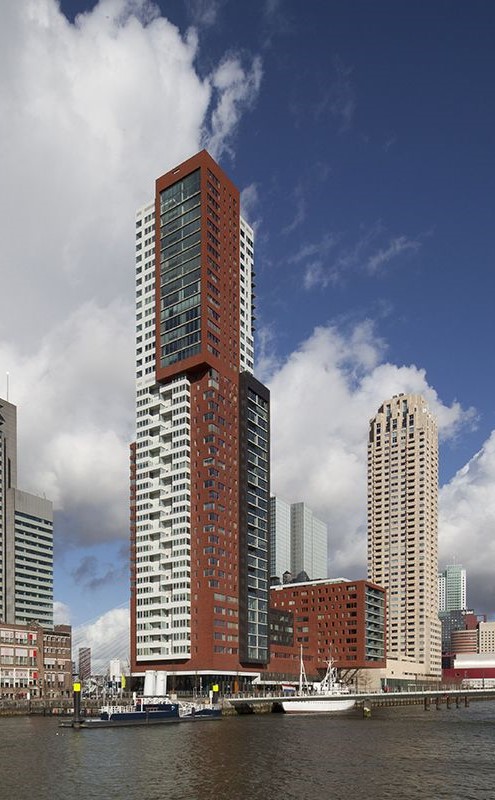 It's also one of the tallest buildings in the country, standing at 139.50 metres, although that's not saying much given that there aren't many tall buildings in the Netherlands. If you count the giant 'M' on top, however, it comes to 152.3 metres! Ok, so that's still not that much if you compare it to a city like New York, where there are currently 250 completed structures that top 150m. But on the bright side, the 'M' on top of Montevideo also acts as a weather vane, so that's cool.
And if you're wondering, Rotterdam is tied 108th on the list of cities with the most buildings of 150m or higher.
Architecture in Rotterdam: Rotterdam Central Station
This had to make the list, didn't it? Let's be frank, Rotterdam Centraal is awesome. Probably the best station in the country.

It might also surprise you to hear that the city didn't actually have a central station until the 1950s. Instead, the city had four separate stations stationed in and around the center. Designed by architect Sybold van Ravesteyn, the original central station was completed in 1957 and was eventually closed in 2007.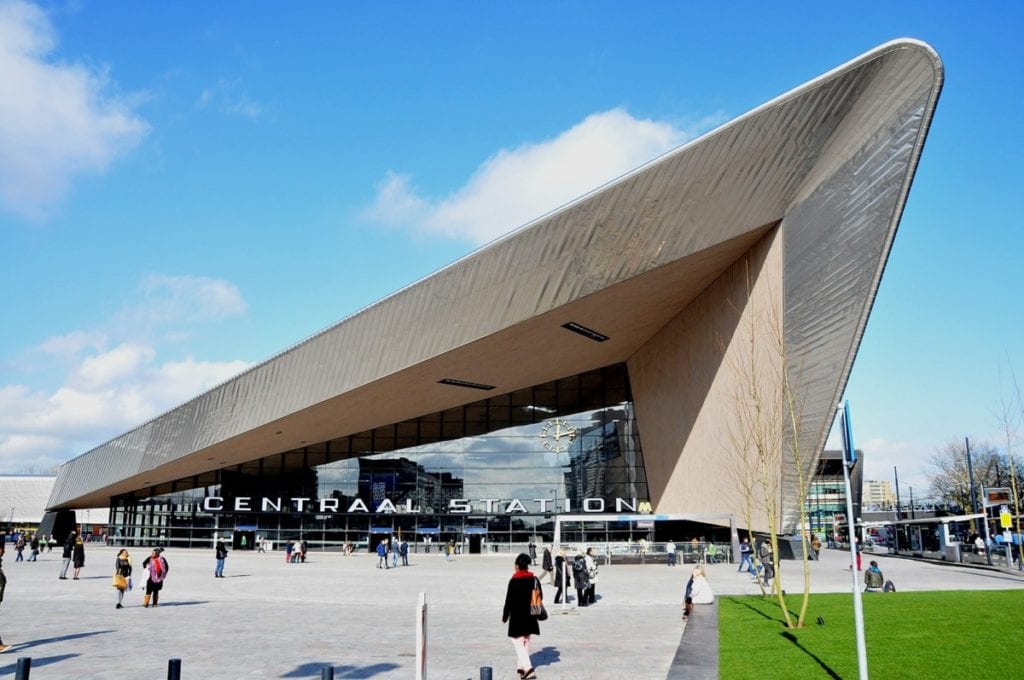 The new station was opened in 2012, with the completion of the station square finalizing the renovation in 2014. The building's most prominent architectural feature, namely the shiny metal roof, has led to the fitting nickname 'Station Kapsalon'. For those unaware, kapsalon refers to what is definitely Rotterdam's most famous dish (and also incidentally the Dutch word for hairdresser).
Despite the modernist architecture that defines both the interior and exterior of the building, there are still many Easter eggs of the past to found. While I won't spoil too much, the most obvious sign comes in the form of, well, the sign. The lettering that embroiders the station's façade, as well as the clock, were actually originally part of the first central station. How's that for a fun fact?
De Markthal
De Markthal, or Market Hall, became a landmark of architecture in Rotterdam even before its completion in 2014. It's placement directly next to the city's bi-weekly marketplace and the Blaak train station essentially guarantee there is no way to miss it. Thus, the entire construction fell under the daily watch of the town's citizens.
The massive arch contains mostly residential apartments throughout its upper sections, but the ground floor is open to the public daily. More importantly, however, is the fact that the Markthal is home to food. It's a paradise of food. Just food everywhere. The entire ground floor is covered from wall-to-wall with different food stands and vendors. There's almost literally nothing else.
Don't believe me? Check out the map. Save for an Etos, every store either sells food or drink, or food-related products. That fact alone bought (or bribed) this building a place on my list.
Oh, and of course the fact that it's a pretty building. Oh, and that the ceiling is host to one of the world's largest artworks in Arno Coenen's Hoorn des Overvloeds, which covers approximately 11,000m2. So that's pretty cool too.
Cube Houses
You've probably seen a picture of these pop up somewhere or another. And no doubt, you've then asked yourself, 'Is it even practical to live in a house where all the walls are slanted?'
There's a simple answer to that question: No, or rather, it is simply much less practical than straight walls. Furniture needs to be custom-built, framed decorations can only be placed on the outward-slanting lower walls (unless you really want to invest into nailing it solidly to higher walls), and moving in is just plain chaos. Not to mention that you're likely to be wasting a massive amount of potentially liveable space. But if you can deal with all that, it's not all bad.
The work of architect Piet Blom, the cube houses are intended to feel and look like an urban forest. Personally, I didn't really see that until I walked in between them. And if you're ever in Rotterdam, I would highly recommend walking through the complex. Because while strolling between the crooked blocks, with the sunlight (if there miraculously is some) piercing through the gaps, it does truly feel like a walk through metropolitan woods.
Erasmusbrug
Yes, yes, I'm cheating again, sue me (please don't). The Erasmusbrug, or Erasmus Bridge, isn't technically a building, but rather simply a structure. It's also due to a similar technicality that the Euromast, a tower, didn't make it to the list. Well that, and the fact that it's just not pretty enough.
Nevertheless, the Erasmusbrug had to be here because, simply, it's the Erasmusbrug. It's modern, elegant, practical, and situated over water. For a modern port city like Rotterdam, there's really no better symbol. It's no wonder that the bridge seems to land a place on every postcard.
The 802m long bridge connects the north and south parts of the city and has taken the name of the city's most famous scholar, Desiderius Erasmus. But naturally, being a Dutch structure, it has also received a nickname (because apparently all Dutch structures need nicknames). In this case, De Zwaan/The Swan, for obvious reasons (It looks like a swan, just in case you missed that…okay, so like an abstract swan).
Architecture in Rotterdam is epic! (But what about other Dutch cities?)
And there you have it, 7 beautiful reasons why Rotterdam architecture is king in the Netherlands (Sorry Willem-Alexander). Sure, you say, what about all the other cities? Don't they have beautiful buildings too? Well, that's true, I can't really deny that. Especially if we're speaking of older architecture, Rotterdam is not the place.
It is also true that there are plenty of beautiful modern buildings in the rest of the country. But frankly, when it comes to architectural innovation and risk-taking design being produced on a city-wide scale, then there's no better place than Rotterdam.
Disagree with my list of Architecture in Rotterdam? Or have your own additions? Let me know!
Feature Image: Spoorjan/Wikimedia Commons
Editor's Note: This article was originally published March 30 2017, but was fully revised and updated October 11, 2019, for your reading pleasure.