Things you need and things to know when starting life as a student in the Netherlands
Want to study in the Netherlands? Are you wondering what the hell to do next? We're here to help! Starting as a student in the Netherlands can be stressful, especially if you have never been here before. Also, if this is your first time away from home, then this only adds to the stress of student life. We feel ya!
To make things a little easier we've teamed up with Starter Kit to bring you the ultimate guide to 7 things you need to know before you start as a student in the Netherlands.
Before we begin on the essentials you need in Dutch student homes and such, don't forget to take into consideration the cost of living in the Netherlands (it ain't all that cheap out here).
1. You need to have an idea of where to study in the Netherlands
This is a good starting point when you're thinking about starting your student life in the Netherlands. For a small country, there are plenty of great places to study here, so make sure that you research them all before you make your decision. We actually have an extensive guide to all the student cities in the Netherlands for this, but we'll give you a quick lowdown of 5 of the most popular student cities.
Amsterdam: Of course this is a big one being the capital and all. There's certainly a lot to do there, but it's on the pricey side if you're on a tight budget. You're sure to make friends from all over the world in Amsterdam too.
Groningen: The student city of the north! It may be far from Amsterdam but there is plenty to do there and the prices are much cheaper than in the Holland region. The nightlife is good and so is the uni (6th in the country).
Leiden: [The home of DutchReview] – and the place is absolutely stunning. It's like a mini (IMO much better) version of Amsterdam, with lots to do, a good student atmosphere and a good university.
Delft: A picturesque little place between Rotterdam and The Hague and very popular with students. It has a good university and also has a lot of life considering it's such a small little place!
Rotterdam: The second biggest city in the Netherlands. Full of life, different nationalities, places to study and a real go-to place for young people.
2. Student Housing: You need to find somewhere to suitable to live
Now, this needs to take a MASSIVE priority when it comes to moving and studying in the Netherlands. It is incredibly densely populated here, with a large housing shortage, which makes finding a property a difficult task. Last year students were sleeping in tents and lecturers were taking students into their homes (so yeah, it's really that bad). Plan early, plan well and set a realistic budget. Furnished student rooms or just an empty room, be happy with what you can get nowadays.
We have a guide for this, so make sure to be keyed up and aware that finding student housing here can be tough.
Finding a house be like…
Once you've got that out of the way, rejoice, and start thinking about what student room essentials you actually need in the Netherlands.
3. You need a lot of stuff to move in with (basically, everything)
When starting as a student in the Netherlands you're going to need everything and I mean everything. Different clothes – if you're not used to all that rain. 😉 All of your notebooks and pens, laptop, then the bedroom, kitchen and toilet items. I remember that day well and it was stressful as hell because there really was just that much to remember.
This is when Starter Kit came up with an excellent idea to get all this stuff done for you. You buy the starter kit and everything you need will be in it. It has all the perfect study room essentials! They even have a '100% ready kit' – which literally has every single thing you need all packed up into one box and ready for you to start using (less time for shopping and more time for drinking, am I right?)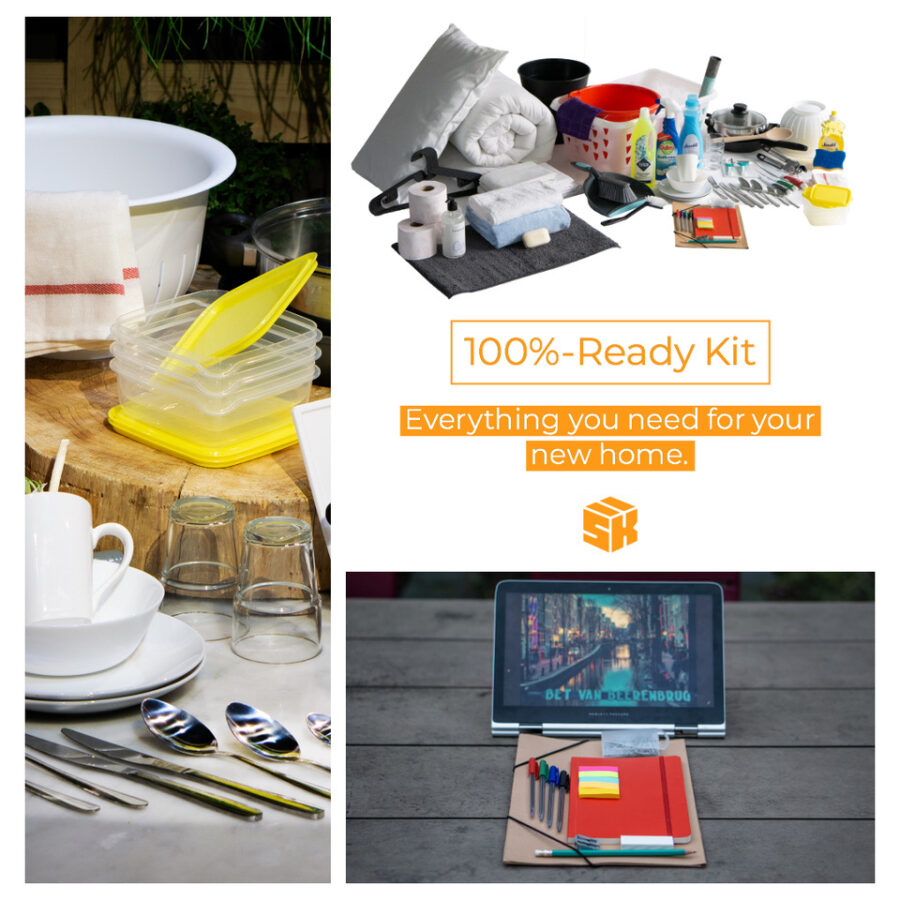 I know what you're thinking – 'well buying it separately is cheaper.' That may be true in some cases, but you'll be amazed how it all adds up. PLUS, when you're moving to the Netherlands for the first time, you are clueless about the best places to shop (and the cheapest) and it's a complete hassle getting everything. Especially without a car. Starter Kit was actually started BY students FOR students, so they know their stuff.
No packing stress when prepping to study in the Netherlands!
They've lived through the struggles of the student life in the Netherlands, so they will also schedule their sending of the starter kit at the exact day when you're moving into your new home. There are also plenty of starter-kit options to choose from if you're needing one thing but not the other thing.
4. You can make your money go a long way
Student discounts. Ah, the holy grail of our student existence. If you didn't know already, as a student, you usually qualify for a lot of cheap deals. From vodka shots to mobile contracts – you're bound to find a little bit of everything (and who doesn't love a freebie or a korting?), so look around.
Starter Kit also has some great student deals. If you get one of their kits, you get access to their exclusive benefits such as a pre-paid mobile sim card with €10 of free credit, discount for a Dutch bike, and a personal student assistant to help you with all the questions you might have about moving to the Netherlands, student discounts and much more. Make sure you go Dutch and make the most of saving those cents! 😉
5. Get keyed up on allowances and insurances
When studying in the Netherlands, you need to take things like insurance into consideration. There are plenty of student insurances out there, that aren't too expensive and will protect you against damage and theft.
Another really important thing to sort is your health insurance (we have all about this covered here)! You can get an allowance for this if you are not earning much. If you are working, make sure you are aware of your right to work, wages (those visas!) and other important info (sounds boring I know, but it's necessary).
Study in Holland has great info on all of this too and also about tuition fee costs.
To sort all of this, you will need a Dutch bank – most of these incur fees, but if you get an online bank like N26, you can use it like any other bank, but without costs to you and with a great exchange rate (also handy for us students).
Just make sure you do your research and it will make your stay go a lot smoother!
6. Learn how to get around the Netherlands
You'll be pleased to know that getting around the Netherlands is easy. It's also not too expensive if you do it right. In the Netherlands, we have a variety of different trains, underground and overground metro's in some cities, buses, trams, cars and rented bicycles.
Getting around is easy, as you have an OV Chipkaart that you use to pay for all of these, which sets you back 7,50 euro. Just top it up with money and you're good to go! You can buy subscriptions to make it cheaper and if you have Dutch student finance, you'll even get your transport completely free (yup, you heard that right).
Cycling is the transport of choice though, of course. You'll learn that pretty early on. 😉 It is the Netherlands after all.
If it's not your grandma's old wardrobe on the back of someone's bike, it's sure to be this…
Word to the wise, Starter Kit has some excellent student discount deals which will get you on a bike or in a van and driving throughout the Netherlands for a good price.
7. Living that student life in the Netherlands: friends and partying
With student life, comes lots of new friends, experiences and parties. If you're a party person, then you're sorted. If you're not, then there are plenty of other things to do and not everyone digs the partying lifestyle either, so you aren't alone.
There are many student societies in Dutch universities, ranging from the most bizarre to the generic sports societies (trust me, there's something for everyone). So get researching! And yes, it's okay to request a stroopwafel society – that's something most of us would get behind. 😉 Enjoy your new experience with new friends and a new country to go with it.
As you can see, Starter Kit takes at least some of those worries away when it comes to prepping yourself for student life in the Netherlands and preparing to study in the Netherlands. And to make things even better, we have a great offer for our readers: Free shipping using the discount code: DUTCHREVIEW2019 (minimum order purchase of €40,00). Yup, you read it right – they'll even deliver it to your door for free.
There's lots to think about and organise. Good luck if you're planning on taking the plunge – and don't forget those textbooks!
Is there anything else that you must know as a student in the Netherlands? Are you planning to study in the Netherlands? Let us know in the comments!