Studying in the Netherlands is a popular choice for many international students thanks to the large number of degrees taught in English. Although, the beautiful cities and heaps of cheese also have a lot to do with it. 😉
We're all looking for that elusive Goldilocks quality when it comes to picking a university — not too expensive, not too boring, and nothing less than high-quality education. We want something that's juuuust right.
Well, search no more! Universities in the Netherlands are the wild card for many international students thanks to their relatively low tuition fees and high standard of education. Who knows, the Netherlands might just be the place for you too!
Tuition fees in the Netherlands
So, how far is a world-class university going to send you into the red? Actually, if you're studying in the Netherlands, not far at all — at least in comparison to most other English speaking nations.
For example, let's say you want to do a bachelor's degree in business. You don't hold an EU, British, Australian or US passport, but you want to study a degree taught in English. Here's a rough estimation of what you can expect to pay as an international student (other subject areas may differ):
| Country of study | Total tuition for a degree | Converted to euros (€) |
| --- | --- | --- |
| Netherlands | €24,000-30,000 | €24,000-30,000 |
| Britain | £60,000-75,000 | €68,000-85,000 |
| Australia | AU$100,000-140,000 | €63,000-89,000 |
| United States | US$80,000-220,000 | €65,000-181,000 |
Even better, if you do hold an EU or EEA passport, your tuition fees will be closer to €7,000 for the whole bachelor programme!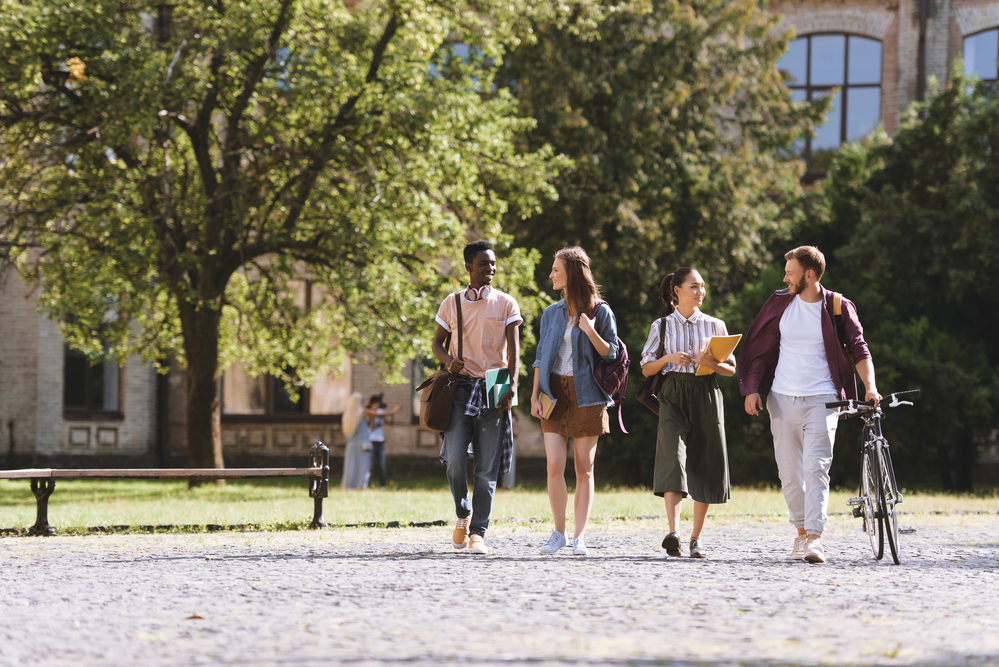 Scholarships for international students to study in the Netherlands
But if the Netherlands is still looking too expensive for you, the good news is that many Dutch universities offer scholarships aimed at international students.
Head to the scholarship page on the university's website and you'll find a list of scholarships that you may be eligible for to cut down the cost of your study in the Netherlands.
The Dutch Ministry of Education, in collaboration with other institutions and universities, also funds various scholarships for non-EEA students to encourage more diversity in student communities.
Holland Scholarship
The Holland Scholarship is for non-EEA students pursuing a bachelor's or master's programme in the Netherlands. The scholarship amounts to €5,000, which you receive in your first year of study. Check the website of each participating university for the application deadline.
Orange Knowledge Programme
The Orange Knowledge Programme is for citizens of a select group of developing or emerging nations and is open to mid-career professionals wanting to do a short course or master's programme in the Netherlands. Focus areas have been chosen for each country, so you're only eligible if your study falls within one of these categories.
Orange Tulip Scholarship
The Orange Tulip Scholarship is for students from Brazil, China, India, Indonesia, Korea, Mexico, Russia, South Africa and Vietnam. The value of the scholarship varies depending on how many scholarships each participating university chooses to offer. But this can be up to a full tuition scholarship and/or help contribute to living expenses in the Netherlands.
READ MORE︱Finding a scholarship for international students in the Netherlands
Entry requirements for universities in the Netherlands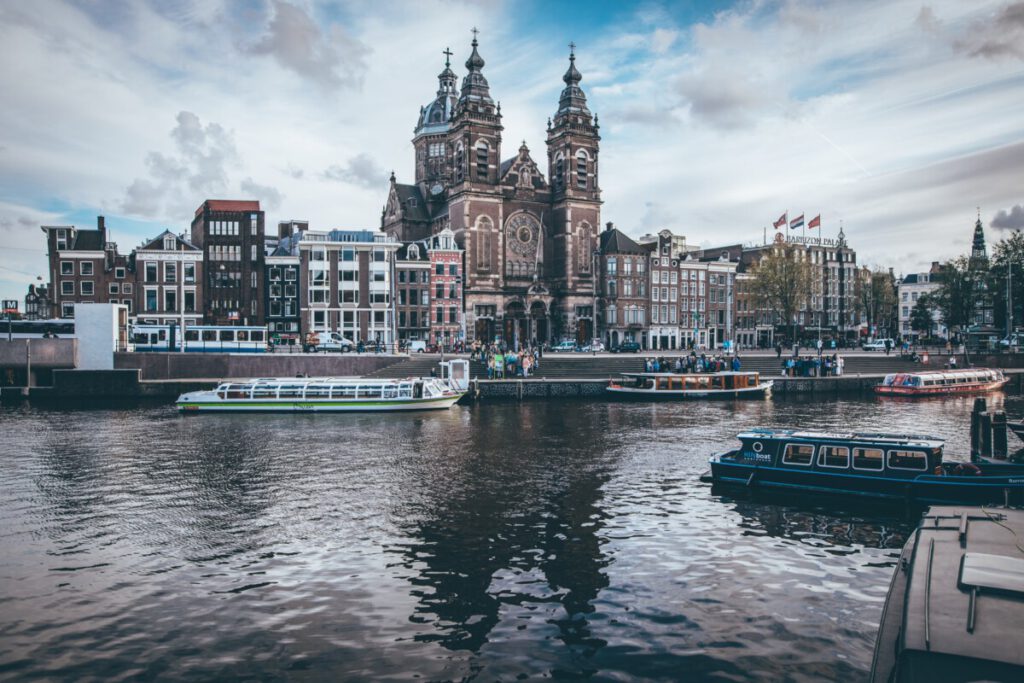 Getting into a Dutch university as an international student typically comes with more requirements than if you were applying to a university in your home country. Usually, you will need to prove that you have a sufficient level of English to study in a Dutch university. Tests for this include:
the TOEFL (minimum 550 paper based, 213 computer based), and

IELTS (minimum average of 6)

GMAT or,

GRE.
But if you're a native speaker — you're in luck! Those coming from an English speaking country, or those who have already completed high school or a bachelor's degree in English may not have to take any tests to prove their proficiency.
To study in the Netherlands you'll also need to have graduated from a high school with a minimum grade point average equal to at least 7-7.5 in the Dutch grading system.
If you're coming from the UK or Ireland, you might notice that Dutch universities tend to have lower entry requirements in terms of grades than those at home.
That doesn't mean that standards are any lower, of course, but it does mean that if you don't perform well in exam situations, you can still enjoy a fabulous education in this country.
Most universities will request a transcript, a motivation letter, proof of identity, a residence permit (if you come from a country outside the EU/EEA) and perhaps a writing sample (though this is less common).
Depending on the degree you are applying to, there may be courses that you need to show you have done before. But don't sweat it if your previous courses don't match all the requirements for the degree you are applying to. The Dutch university may decide that you can first take a preparatory year of courses before studying your degree of choice. This would take place at the Dutch university itself.
Good to know: if the university does not recognise your diploma, you may have to have it converted through a professional institution.
Types of universities in the Netherlands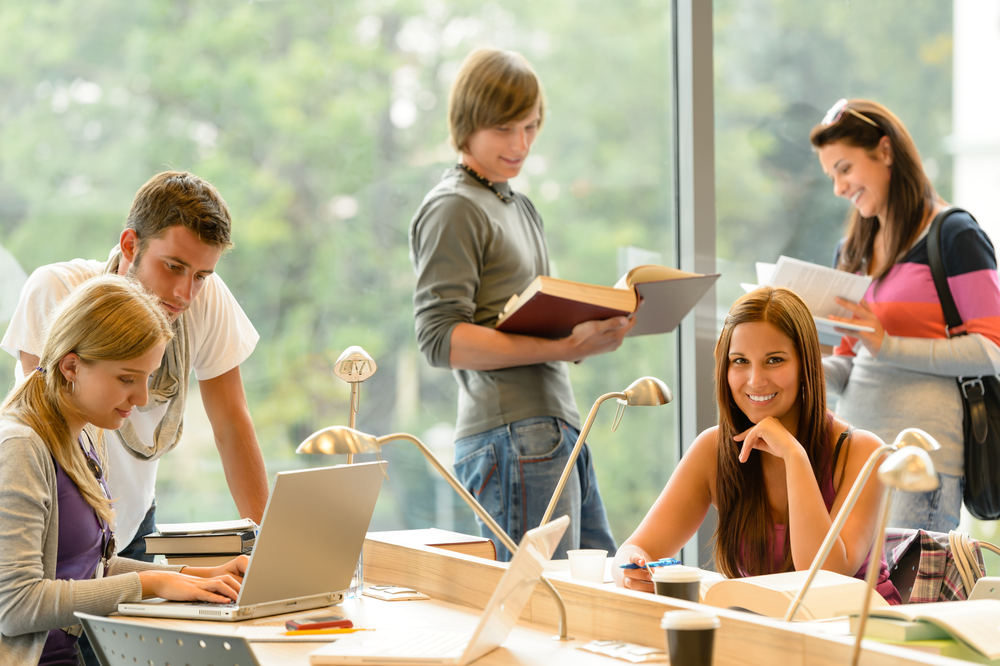 There are two types of higher education institutions in the Netherlands: research universities (universiteiten) which offer research orientated programmes (wetenschappelijk onderwijs, or WO); and universities of professional tertiary education (hogescholen) which offer more practical programmes (hoger beroepsonderwijs [HBO]).
Degrees in the Netherlands from a universiteit are more academically focused, and bachelor degrees especially are more general. Degrees from a hogeschool will be focused on preparing you for a specific career, and usually have a combination of theory and practical learning. Both institutions offer bachelor's and master's degrees.
How the grading system works in Dutch universities
Universities in the Netherlands use a unique but simple grading scale of 1-10, with one being the lowest mark and 10 being the highest.
The pass mark for most courses and universities is a 6, and a grade of 8 or higher is considered very good. It is quite rare that a grade of 10 is given, since it would indicate absolute perfection.
In fact, in the Dutch academic culture receiving a 10 is almost impossible. It's a very different approach to the American system, for example, which grants full marks to a student who has fulfilled all given criteria. With a grade point average of 8 or higher in the Netherlands you can graduate cum laude (with distinction).
The Dutch academic calendar
The academic year in the Netherlands begins in September and ends in June or July. Students are given a two week break for Christmas and two or three months for the summer holidays. Some Dutch universities also offer programmes that start in February, which are designed to appeal to international students.
Netherlands semester calendar (bachelor's degrees only): general guide
| Semester | Start | End |
| --- | --- | --- |
| First | First week of September | Mid-late January |
| Second | Early February | Mid-late June |
Various introduction weeks for incoming students to socialise and sign up for activities and clubs take place towards the end of August. Many student associations and clubs will start at the end of August too, so it's not uncommon for students to arrive for their studies a couple of weeks early.
Student visas to study in the Netherlands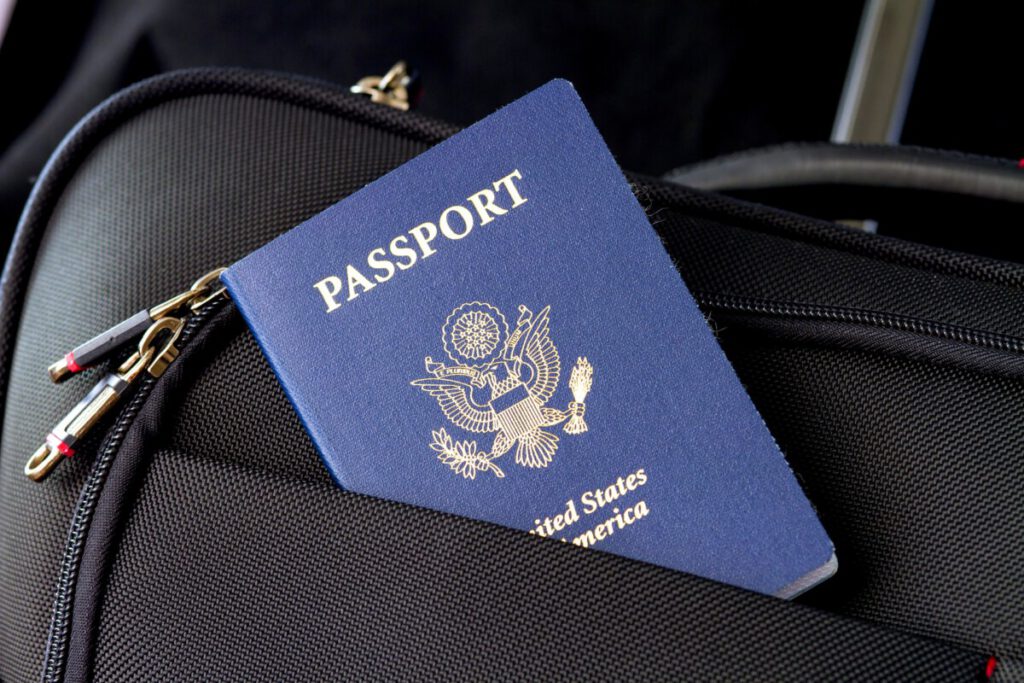 Of course, there's no studying in the Netherlands without the right paperwork to get you here. I found the process of applying for a Dutch visa surprisingly easy — but undeniably tedious. The type of visa you will need (if you need one at all) will depend on your nationality, so cross your fingers and let's see who the lucky ones are:
If you are a citizen of an EU member state, Iceland, Liechtenstein, Norway, or Switzerland, you do not need an MVV or a residence permit to study in the Netherlands. So you can come on over, no questions asked, and hit the books.
But if you hail from the land of Andorra, Australia, Canada, Japan, Monaco, New Zealand, San Marino, South Korea, the United States, or Vatican City, you will need a study permit. The good news is, you will not need an MVV entry visa, which makes it a little bit easier.
For those of you who have none of the nationalities above, you will need both the MVV entry visa and the study permit. You apply for the MVV in your home country by showing evidence that you have been accepted into an accredited Dutch university.
The MVV allows you to enter the Netherlands, after which you must switch over to the student resident permit (VVR). This will allow you to stay in the Netherlands for the duration of your studies. The university applies for the VVR study permit on your behalf, so communicate with your study institution about this process.
Living costs for students in the Netherlands
Living costs in the Netherlands vary from city to city, with Amsterdam taking the crown as the most expensive place to live. But in general, you should budget between €700 and €1,000 a month for living costs as a student in the Netherlands.
Example costs of living and studying in the Netherlands
| | Amsterdam | Rotterdam | Utrecht | Maastricht |
| --- | --- | --- | --- | --- |
| Student room in the centre | €800-1,000 | €600-800 | €650-1,000 | €500-600 |
| Student room outside the centre | €350-700 | €400-600 | €400-600 | €350-500 |
| Week of groceries | €30-50 | €30-50 | €30-50 | €30-50 |
| Prepaid sim card (5GB) | €10-15 | €10-15 | €10-15 | €10-15 |
| Restaurant inexpensive meal | €18 | €13.50 | €16 | €14 |
| Domestic beer (0.5 litre draught) in a restaurant | €5 | €4 | €5 | €5 |
| Crate of beer (24) from the supermarket | €10 | €10 | €10 | €10 |
| Cappuccino (regular) | €3.30 | €2.90 | €3.15 | €2.90 |
| Milk (1L, regular) | €1.08 | €0.94 | €0.97 | €0.90 |
| Rice (1kg) | €2.07 | €1.90 | €2.01 | €1.90 |
| Chicken fillets (1kg) | €7.90 | €7.68 | €7.80 | €7.70 |
| Jeans (chain store) | €20-50 | €20-50 | €20-50 | €20-50 |
| Sweater (chain store) | €15-40 | €15-40 | €15-40 | €15-40 |
Student benefits that will save you money
The most significant way to save money as a student in the Netherlands is with the toeslag allowances that the Dutch government gives to low-income earners — even if you're not from the EU. These include subsidies for housing (huurtoeslag) and health insurance (zorgtoeslag), which can cut hundreds of euros from your expenses each month.
Internationals will need a job or internship to qualify for the health insurance benefits, but this needn't worry you. I got a small job at the university, working only six days of the year, and that was enough to qualify me for the zorgtoeslag.
READ MORE︱Toeslagen: save money with these allowances in the Netherlands
How to find student housing in the Netherlands
Not everything in the Netherlands is perfect. Mostly, it's the student housing.
Because of the country's recent increase in population with international students, demand for housing has shot up, much faster than supply.
Depending on the city where you're going to study, accommodation can get really difficult and expensive.
Utrecht, Amsterdam and Groningen are the worst in this regard. But there are ways to find housing in even these crazy cities: read our guide to finding student housing to find out how.
Student life in the Netherlands
As we've said before, the subject you study is not the only important thing to research before beginning your student life. You're probably wondering what student life is like in the Netherlands: what is the maximum number of drunk friends you can fit on a bike? Can you procrastinate assignments until the last minute? And will your new friends really ask you to split the bill down to the last cent?
Studying in the Netherlands for the introverts
If you're an introvert like me, don't worry. There are plenty of opportunities to enjoy quiet, calm activities while your wild friends talk to other people, or whatever it is they do. As with everything in life, studying in the Netherlands is what you make of it. You can enjoy the rich culture the Netherlands has to offer by making the most of your student discount at museums, attend events like the Crossing Border festival or Museum Night, and enjoy the many international and English-language bookstores the country has to offer.
Studying in the Netherlands for the party animals
If all this bookish talk is frightening you, don't worry. Dutch students know how to party, and most universities will have student associations that you can choose to join (Leiden is especially known for this). There are always lots of really cool festivals and annual events for you to enjoy as well: from the Relief of Leiden to King's Day.
And if we're talking about partying, we also need to talk about food. Although you won't find anyone, especially not a Dutch person, recommending Dutch food, good stuff does exist! Also, the Netherlands' migration history has rewarded it with delicious food from other parts of the world.
Biking as a student in the Netherlands
A quintessential part of studying in the Netherlands is having your bike stolen. It's a dramatic, heart-wrenching moment when you look at the bike rack you know you parked your bike in — and it's empty. Despite this momentary panic, biking around this beautiful, flat country is something you absolutely cannot miss during your time here.
Top universities in the Netherlands
Universities in the Netherlands are known for their high standards of education. For example, seven Dutch universities feature in the top 100 in the Times Higher Education's World University Rankings 2021. Pretty impressive for such a small country!
The top ten universities in the Netherlands, listed below, all have a wide range of degrees taught entirely in English so be sure to check them out.
1. Wageningen University & Research
🏅 #62 in the Times Higher Education's World University Rankings 2021
Fascinated by environmental or agricultural science? Then Wageningen University and Research is the place for you. As one of the best universities in the world for life science and social science, the university draws in around 4,000 international students a year. There are around 40 undergraduate and graduate programmes taught entirely in English.
2. University of Amsterdam
🏅 #66 in the Times Higher Education's World University Rankings 2021
University of Amsterdam is the largest university in the Netherlands by enrolment, with around 24,000 students. Degrees range from law, business, dentistry, medicine, humanities, science and more. With about 150 degrees taught entirely in English, there are more than 3,000 international students from 100 countries. UvA ranks especially high in the departments of art, humanities and social sciences.
3. Leiden University
🏅 #70 in the Times Higher Education's World University Rankings 2021
The oldest and one of the most prestigious Dutch universities is Leiden University, founded in 1575. Members of the Dutch royal family, politicians and prominent cultural figures have studied here, and 16 Nobel prize winners have been affiliated with the university. With over 200 degrees taught in English, more than 100 nationalities are represented in the 28,000 students.
4. Erasmus University Rotterdam
🏅 #72 in the Times Higher Education's World University Rankings 2021
Erasmus University Rotterdam, named after the 15th-century humanist and theologian Desiderius Erasmus Roterodamus, is a public university situated in the heart of urban Rotterdam. The university's multicultural scene and array of programmes taught in English draw in over 5,500 international students.
5. Utrecht University
🏅 #75 in the Times Higher Education's World University Rankings 2021
Founded in 1636, Utrecht University is regarded as one of the Netherlands' most prominent research universities. The 12 undergraduate and 90 graduate programmes are all taught in English and cover a wide range of disciplines including natural sciences, law, governance, life sciences, humanities, social sciences and earth sciences. Some 118 nationalities are represented here, so again, a very international study environment.
6. Delft University of Technology
🏅 #78 in the Times Higher Education's World University Rankings 2021
Here's one for all you engineers and techies: Delft University of Technology. While most of their 14 undergraduate degrees are taught in Dutch, they do offer 30 postgraduate programmes in design, engineering and science that are taught in English. Almost 25,000 students attend the university, around one-fifth of them being international students.
7. University of Groningen
🏅 #80 in the Times Higher Education's World University Rankings 2021
With over 6,000 international students, the University of Groningen is another popular option for those coming from abroad. The university offers 35 undergraduate and over 90 master programmes taught in English, across 11 different faculties.
8. Vrije Universiteit Amsterdam
🏅 #116 in the Times Higher Education's World University Rankings 2021
Vrije Universiteit Amsterdam is the second largest publicly funded research university in Amsterdam. The 'vrije' (free) in their name refers to their independence from the state, so if you were hoping for zero tuition fees, you're out of luck. This Dutch university offers 25 bachelors and 150 master programmes in English, spanning nine faculties.
9. Maastricht University
🏅 #121 in the Times Higher Education's World University Rankings 2021
Maastricht University is known for being one of the youngest universities in the Netherlands with top-notch results. Their unusual Problem Based Learning differentiates them from most traditional universities, and with over 10,000 international students, they are one of the most diverse student bodies in the country.
READ MORE | Studying in Maastricht: guide to Maastricht University and more
10. Radboud University Nijmegen
🏅 #136 in the Times Higher Education's World University Rankings 2021
Known for its green campus, you'll find Radboud University Nijmegen in one of the oldest cities in the Netherlands. The university offers 13 bachelor's programmes and 36 master's programmes fully taught in English, with a strong focus on research.
Where to study in the Netherlands
Being a student is not just about what you study — it's also about where you study it. Both the university and the city where you choose to spend your time in the Netherlands will shape your experience.
Universities in the Netherlands
In the Netherlands, most universities offer a wide range of degrees, from science to business to humanities. However, most are also known especially well for one particular field.
Leiden is known for social sciences and law, Delft for science and technology, Wageningen for environmental research, and so on.
Be sure to research this before you select your university — while the feel of the city is important, so is the field your university specialises in.
The best student cities in the Netherlands
We already have an article on the ten most popular student cities in the Netherlands, but the most important thing to remember is that your options are absolutely not limited to Amsterdam.
Delft, The Hague, Rotterdam, Eindhoven, Maastricht, Utrecht and Groningen are all amazing options, to name just a few.
No matter whether you'd rather live in a small, cosy city like Delft or Leiden, or a bustling, international place like Amsterdam or Rotterdam, there's an option for everyone in the Netherlands.
And if you want to learn more about individual cities, we have city guides to Amsterdam, Rotterdam, and The Hague.
Speaking English and learning Dutch in the Netherlands
One of the most attractive things about studying in the Netherlands is the fact that not only do most Dutch people speak perfect English, but a lot of degrees are also taught in English.
This means that Dutch universities are highly international, attracting a wide range of people from all over the world.
Though there has been some worry about the decline of the Dutch language in academia, the internationalisation of Dutch universities does not look set to change in the near future.
If you come here as a native, monolingual English speaker, get ready to feel bad about yourself and your life choices. Most Europeans speak more than one language.
The good news is that Dutch is pretty easy for English-speakers to pick up — so you can heal the damage your parents inflicted on you by raising you in an English-speaking country.
Pros and cons of studying in the Netherlands as an international student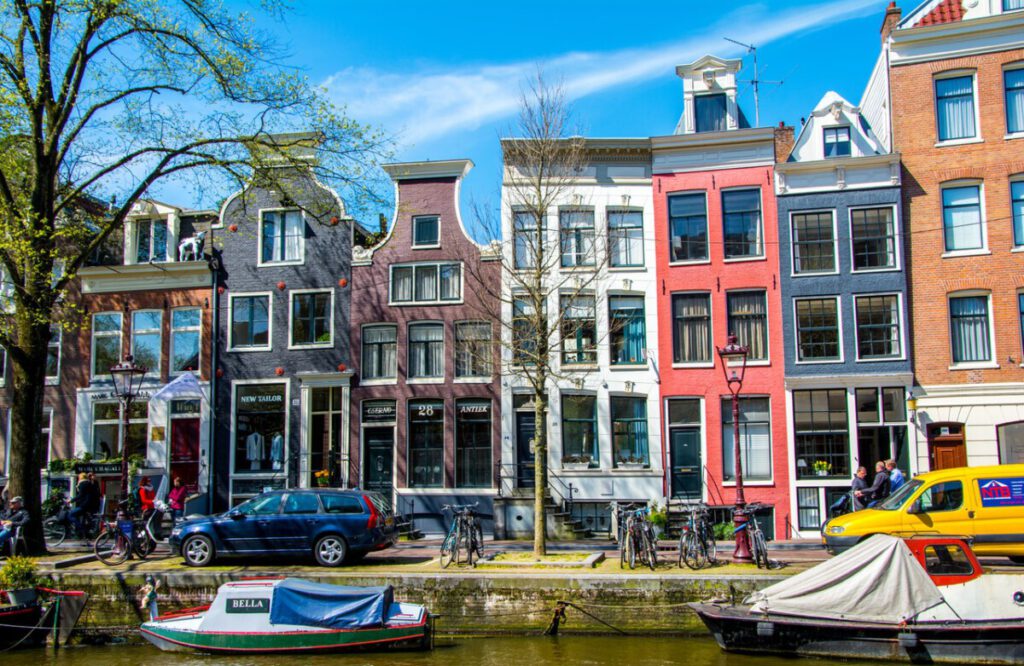 From someone who has studied in this country for three years, I'm going to practice some Dutch directness and give it to you straight. The good, the bad, and everything in between when it comes to being an international student in the Netherlands.
Pros of studying in the Netherlands
👍 Quality and affordable education
The main reason I (and many other internationals) chose to study in the Netherlands is because education here hits the perfect sweet spot between quality and affordability. Dutch universities are recognised as some of the best in the world, and offer a wide range of degrees taught entirely in English. Yet, as I laid out earlier, the international student fees are a fraction of the price of what you'd pay in a British or American university.
👍 Great quality of life
The quality of life in the Netherlands is also high, with well maintained infrastructure, low levels of crime and plenty of beautiful parks to escape to. For those of you interested in European history or art, there are a string of famous museums and cultural events to dive into.
👍 Perfect for exploring the rest of Europe (and beyond)
The Netherlands also offers a great base point for the travel-junkies out there looking to explore Europe. Your student visa will give you access to all EU countries for the duration of your studies, so use those long weekends for a trip to Italy, Greece, Portugal — whatever takes your fancy!
Cons of studying in the Netherlands
👎 Cloudy and grey weather
But life as an international student in the Netherlands is not always a walk in the park. Many have a hard time adjusting to the grey, wet weather that consumes the country for months on end. The lack of sunlight in the winter can be a real mental and emotional strain which is especially tough when you come from a warmer climate.
READ MORE︱How to survive the Dutch winter: weather, clothing and more
👎 Lack of available and affordable housing
The lack of housing in the Netherlands is also a growing problem that affects international students most profoundly. Often landlords prefer meeting potential tenants in person before signing contracts, or even specify that they only want Dutch students.
Internationals are also more vulnerable to housing scams since they cannot check properties in person before signing contracts. Many international students end up living in hostels or hotels for their first few months before they are eventually able to find accommodation.
The key to avoiding this is to look early. Many internationals will rent rooms from June or July just to secure a place for themselves when they arrive in August or September. Applying for university accommodation is often better than relying on the private housing market alone.
👎 Dutch culture can be hard to break into
Finally, there is often somewhat of a divide between the international students and Dutch students. This is obviously a generalisation, and many Dutch students are great to hang out with. But it's not uncommon for international students to feel excluded when it comes to student life in general.
The international student bubble in the Netherlands is a blessing and a curse. On the one hand, you can make friends from around the world, allowing you to build a global network and learn from people with completely different backgrounds to you. On the other hand, experiencing the culture of where you actually are can be quite hard to break into.
But don't let that deter you — student life in the Netherlands is a blast and I thoroughly enjoyed my time as a student here. I've walked away with a quality degree, fantastic travel experiences, and a global network of friends. So, what are you waiting for?
What have your experiences of studying in the Netherlands as an international student been? Tell us in the comments below!
Feature Image: Adrien Olichon/Unsplash